Author Marcella Hazan, who died this past week at the venerable age of 89, has long been known as the woman who introduced classic Italian cooking to America.
Her many books, beginning with 1973's The Classic Italian Cook Book: The Art of Italian Cooking and the Italian Art of Eating and stretching right up to 2008, when she gave us her autobiography,  Amarcord: Marcella Remembers, helped opened our eyes to the simplest dishes: roast chicken, whose only adornment was two lemons in its cavity; the creamiest, easiest polenta; Parmesan and olive oil crostini, which she helpfully annotated, "Your fingers will get sticky handling this. Italian children lick theirs clean."
And then there's her Tomato Sauce. That's right - just plain "Tomato Sauce." Four ingredients. Forty-five minutes over a burner. Heaven on earth.
I'd heard fellow foodies rave about this recipe for years, yet I'd never made it myself. Which is a bit odd; with an Italian husband who could eat pasta three times a day, you'd think Marcella's sauce recipe and I would have gotten together long since.
But you know how it is; hub loves Grammy's sauce recipe, so Grammy's recipe it's been – for 37 years.
Time to branch out!
Time to see what all the fuss is about.
Marcella's Tomato Sauce can be found, with slight variations, all over the Web. One thing is constant, though: those four ingredients.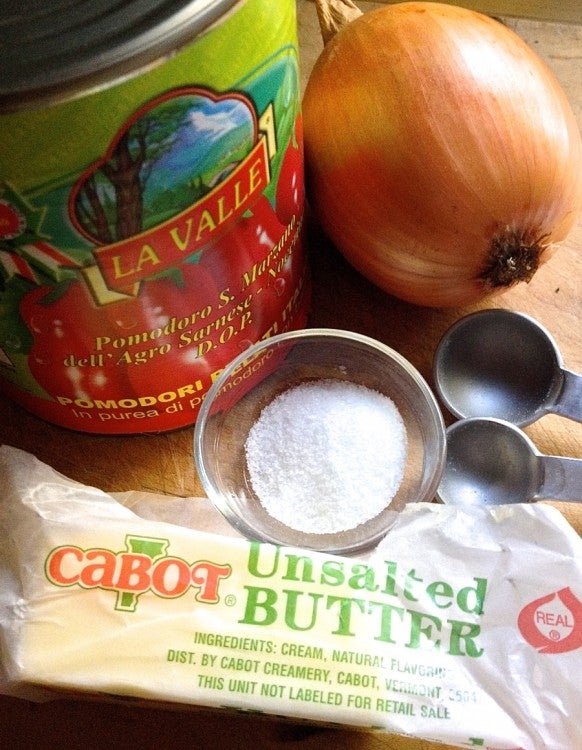 A 28-ounce can of San Marzano whole tomatoes. Five tablespoons butter. One yellow onion, peeled and halved. And salt – which ranged anywhere from "2 pinches" to 1 1/4 teaspoons.
I'm a salt-lover, so I went with the 1 1/4 teaspoons. In retrospect, I'd cut it back to 1 teaspoon.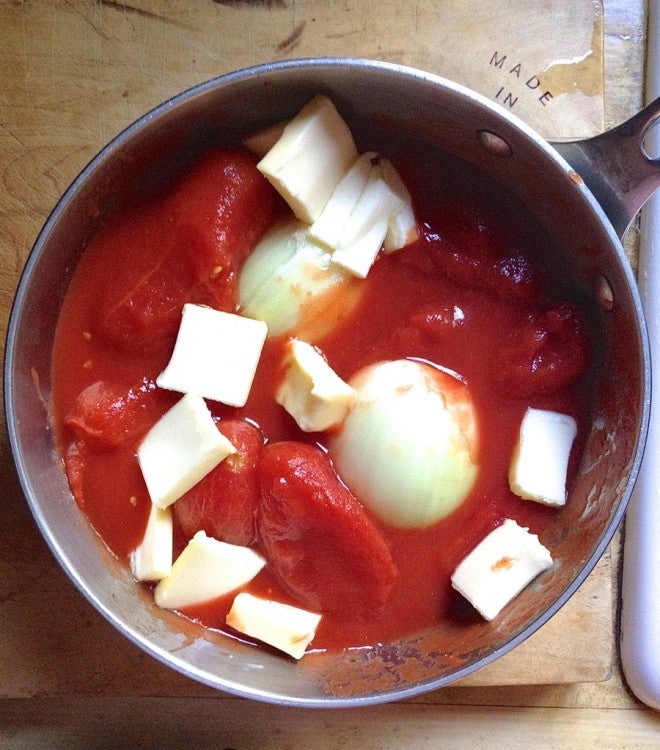 Combine everything in a saucepan.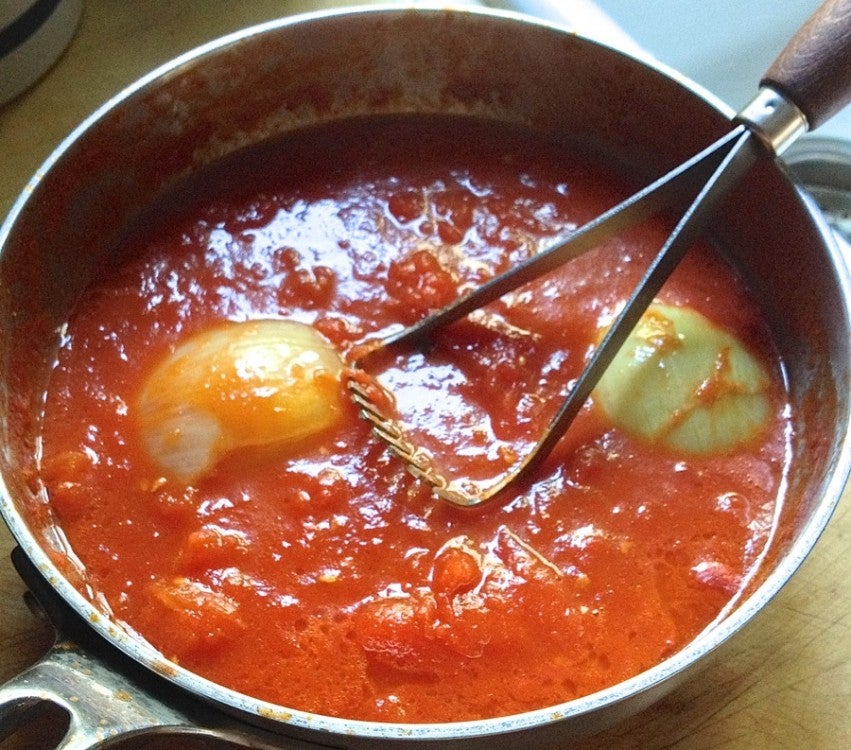 Bring to a simmer over medium heat; crush the tomatoes.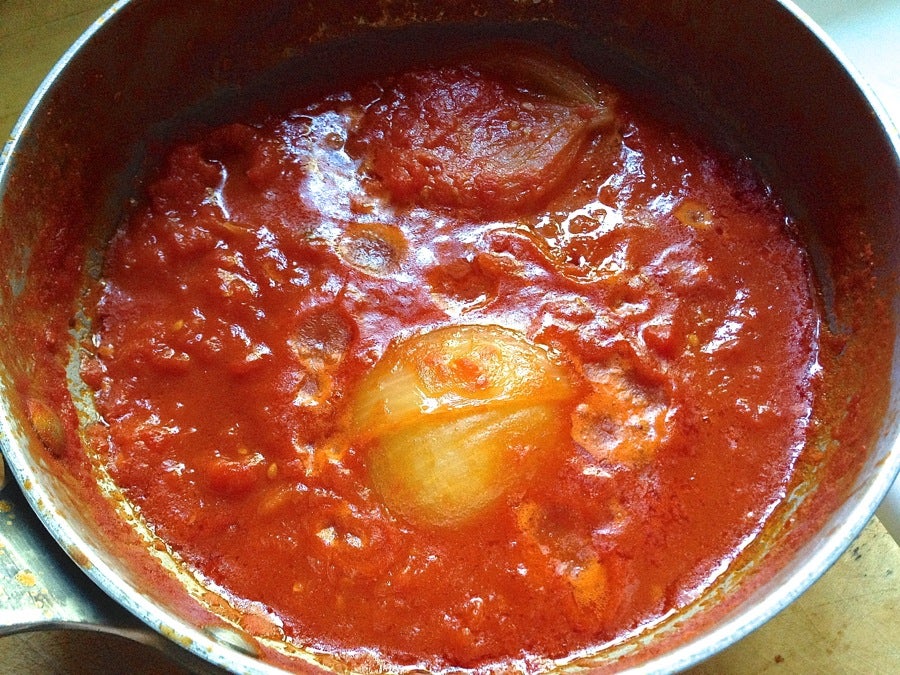 Simmer until thickened; small pools of butter will appear on the sauce's surface. This took about 45 to 50 minutes over low heat, in the pan I used.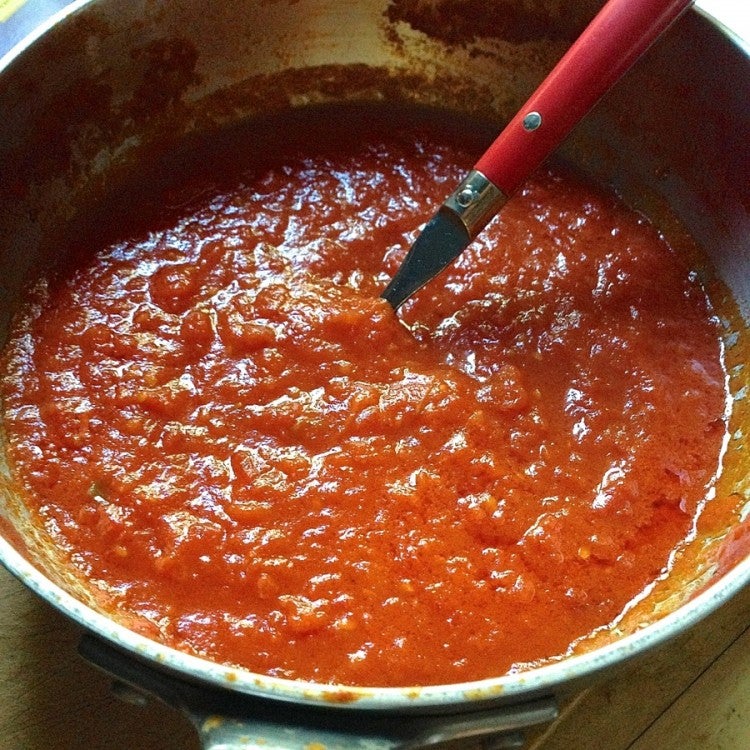 Take the sauce off the flame. Remove the onion, and stir to combine.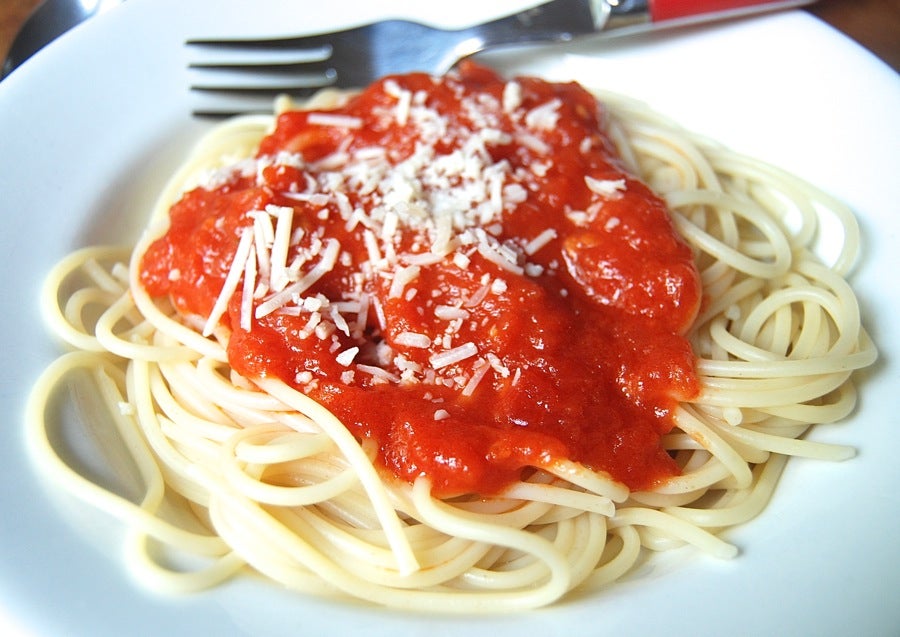 Serve over spaghetti, with grated Parmesan. This recipe makes 2 cups of sauce, which Marcella says is enough for a pound of spaghetti.
That will vary, of course, according to how much/little sauce you and your family like on your pasta; but try it her way first. Cook a pound of spaghetti; top with sauce and cheese; roll your eyes heavenward.
Marcella's up there, smiling.
Full disclosure: in my house, we're SO used to Grammy's sauce recipe, we found Marcella's a bit too acidic. So, as any Italian cook worth her salt (and sugar) will often do, I tweaked the recipe: a tablespoon of sugar made it perfect, in our opinion. Remember, no Baking Police; whatever tastes good to YOU is "right."
Want to go the extra culinary mile? Try using this sauce to top homemade fresh pasta. (We have a gluten-free recipe too!)
Jump to Comments