Let's set the scene. I'm in Florida visiting my mom. My brother, his wife, and his sons are driving down from Georgia for a mini family reunion.
Since I'm in the South, I decide to make a pot of pulled pork, and some biscuits. Nothing like living dangerously, right?
I make the pork; score! Delicious. Stash it in the slow cooker.
Then the biscuits. A third of them sweet, dusted with cinnamon-sugar; a third studded with cheddar cheese chunks; and a third just plain and simple.
YUM. I love them. But will they pass muster with my adult nephews, born-and-bred Southerners who've consumed probably 1,000 times more biscuits than I'll ever see?
The Georgia contingent arrives. The boys doff their ball caps, kiss their grandma, and settle right in to eat.
Ned: "Did you make these biscuits? These are good. These are REAL good." I can see the surprise in his eyes. His Massachusetts aunt can bake good biscuits?
"I like how you put the cinnamon-sugar on top," he adds. Apparently this is a Northern variation – who knew?
So, how did I pull off this minor culinary miracle – baking biscuits that pass muster with true Southerners?
Easy. It's all in the flour – and the recipe.
Fact: It's impossible to make bad biscuits with this recipe.
Really. I know, because biscuits have frustrated me for years.
Sure, I could make a pretty good biscuit. I mean, it wasn't hard as a rock, or flat as a pancake, or any of those other failed biscuit descriptors.
My biscuits were... OK.
But then I discovered the happy symbiosis between our self-rising flour and heavy cream and, as they say in those Facebook memes: everything changed.
Meet my new NBBF (New Best Baking Friend): Easy Drop Biscuits (formerly called Never-Fail Biscuits).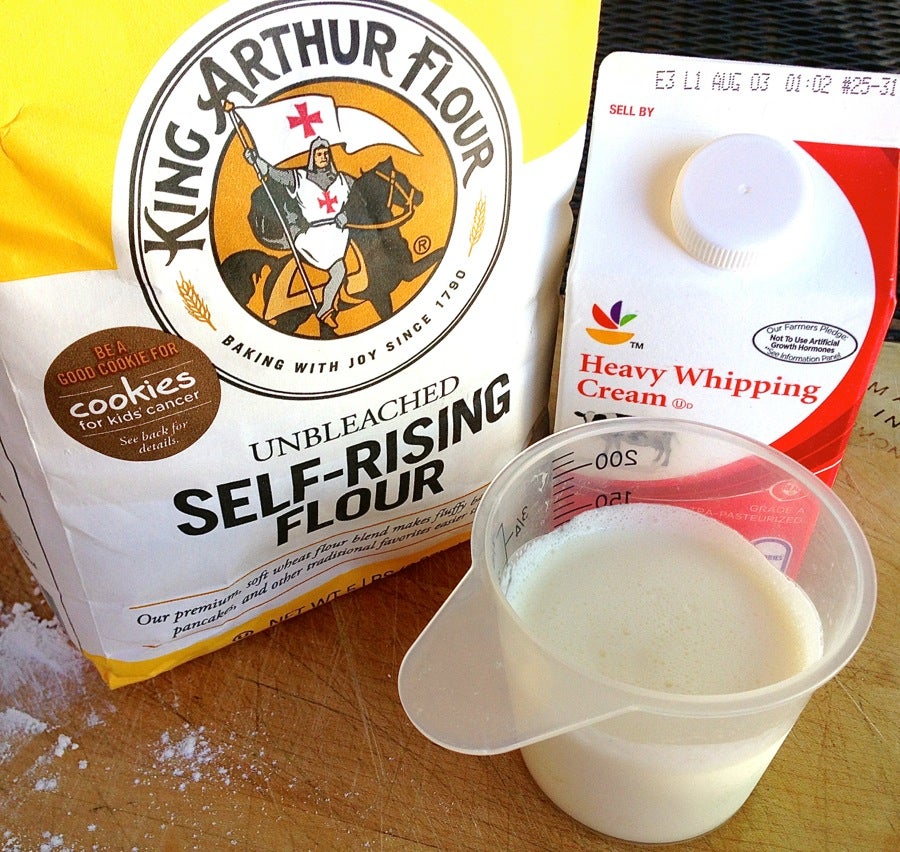 Here's the recipe: Equal parts King Arthur Unbleached Self-Rising Flour and heavy (or whipping) cream, by weight.
Which translates, in this recipe, to 1 1/2 cups (6 ounces) self-rising flour and 3/4 cup (6 ounces) heavy/whipping cream.
And you know what's even niftier? (Yes, niftier; so shoot me, I'm a Boomer!)
Since each biscuit is made with 1 ounce of dough, you can easily make exactly the number of biscuits you want: 6 ounces flour + 6 ounces cream = 12 biscuits. Thus, this recipe is ridiculously easy to scale up (or down).
Hey, even if you were never a math whiz you can make that calculation, right?
Let me show you exactly how this is done.
First, preheat the oven to 450°F, with a rack in the top third.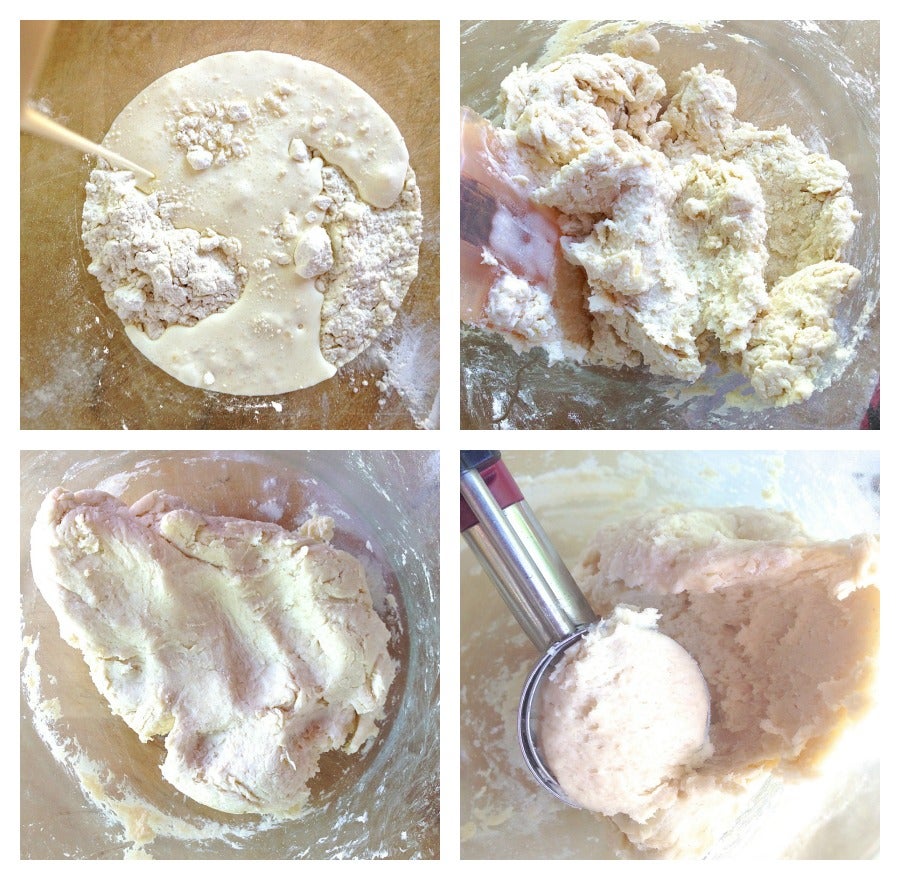 Mix the cream into the self-rising flour, stirring until cohesive. Use your fingers to give the dough a couple of smoothing kneads.
A tablespoon cookie scoop, just slightly heaped, will yield an ounce of dough. If you're measuring rather than weighing, the ball of dough will be a generous 1 1/4" in diameter.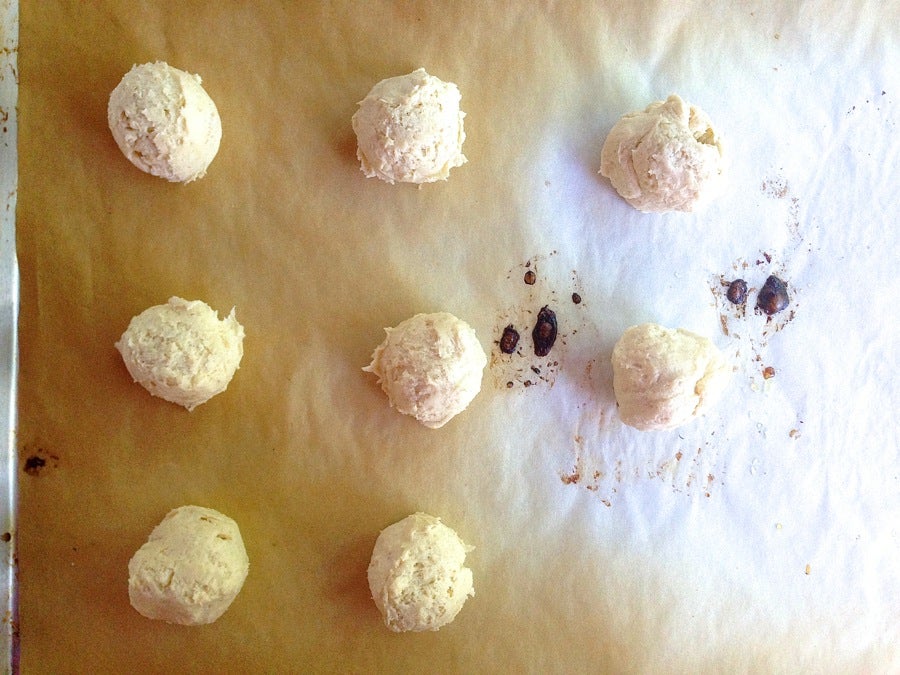 Scoop 1-ounce balls of dough onto an ungreased or parchment-lined baking sheet. Leave a couple of inches between them.
Brush the tops of the biscuits with cream, milk, or water; this will help them rise.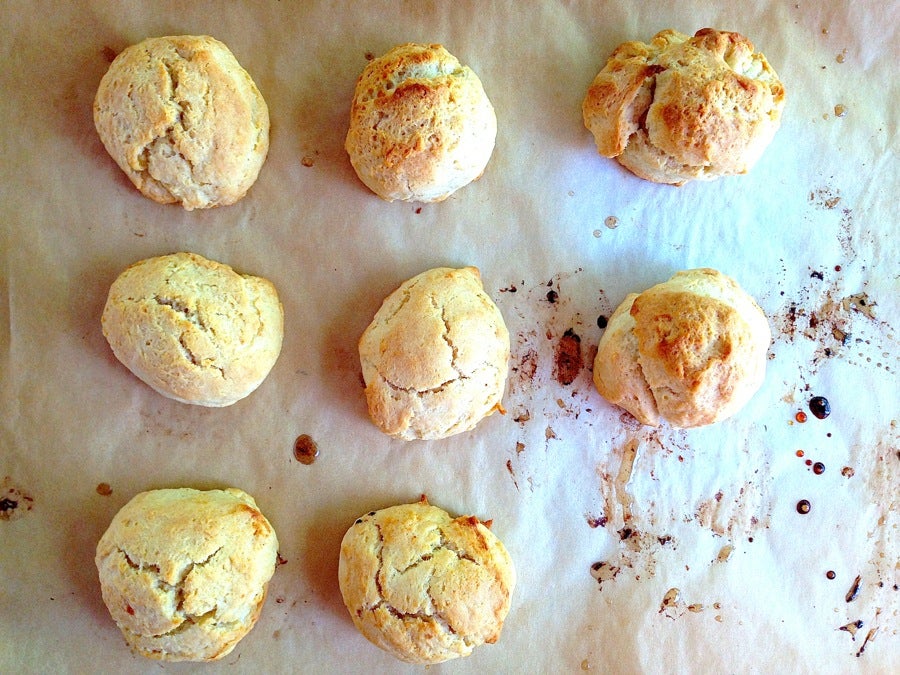 Bake the biscuits for 10 minutes, or until they're light golden brown on top. Break one open — it should be baked all the way through.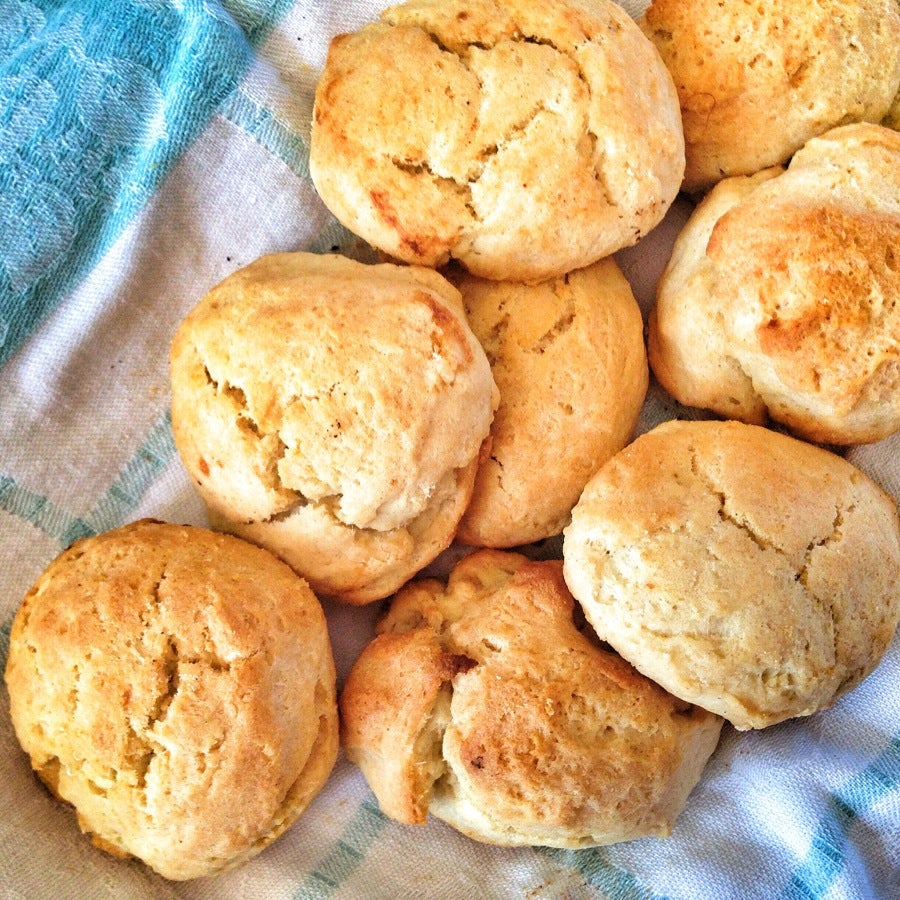 Remove the biscuits from the oven, and serve warm, or at room temperature.
Biscuit bliss.
Now, one caveat: these aren't flaky biscuits, the kind that crumble apart in layers; that type of biscuit requires working butter into flour, as well as folding the dough over on itself a few times and cutting it with a biscuit cutter, rather than simply scooping it.
These biscuits are simply tender, though and through. And for me, at least, ease, tenderness, and flavor trump flakiness.
And, bonus: unlike a typical biscuit, these don't turn into hard little rocks as soon as they cool off. Wrap them up once they're cool, store at room temperature, and they'll stay nice and tender for several days.
Now, why do I brush the biscuits with liquid before baking?
I always thought it was simply for flavor and browning. But a short experiment I did while fooling around with this recipe proved otherwise.
Note: Ignore the fact the biscuits are square; that was a test to see whether you can pat the dough out and cut it with a cutter if you like. And yes, you can.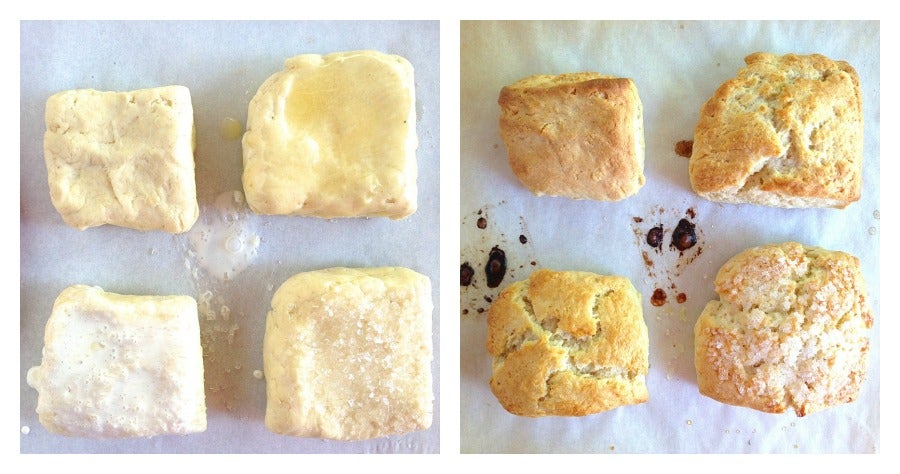 Biscuits that are brushed with butter, milk, cream, or water rise better. I assume this is because their moist top surface doesn't present any physical barrier to their rise, as a dry/stiff top surface might.
See the biscuit in the upper left corner of the photos above? It went into the oven dry. It's a bit hard to see, but it didn't rise nearly as well as its fellow biscuits, which had been brushed (starting at upper right and going clockwise) with butter; with water (and sprinkled with coarse white sparkling sugar); and with cream.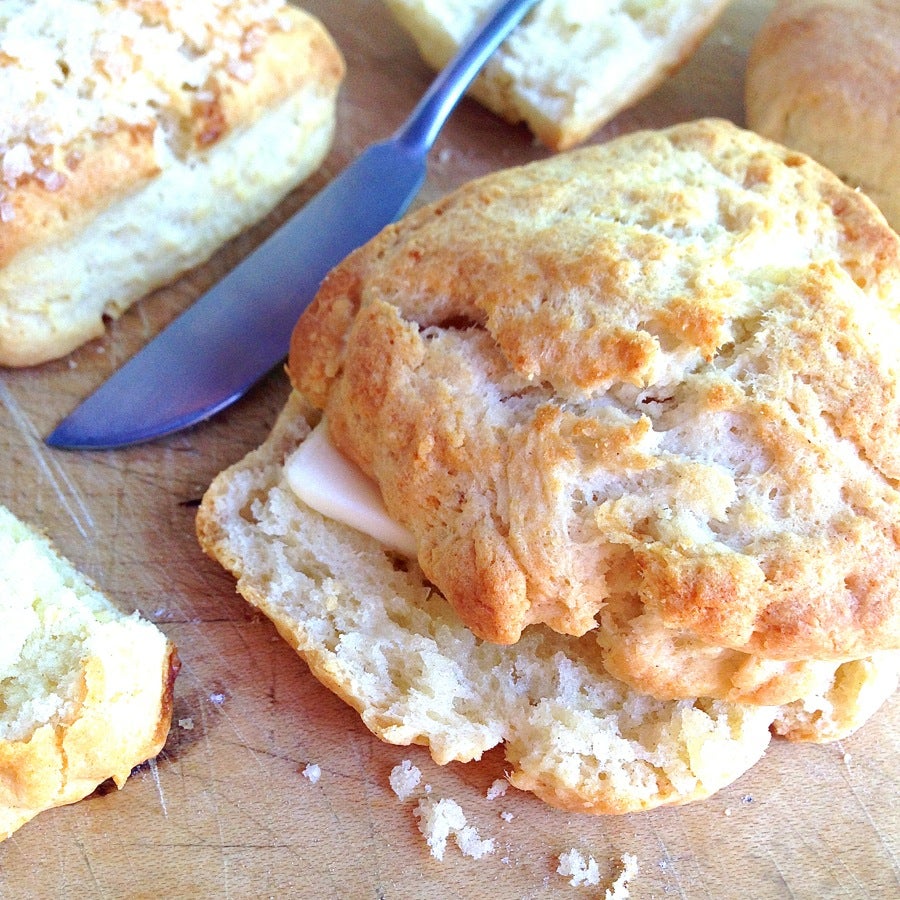 This biscuit looks a bit flat, eh? That's because it's bound for glory as the base for blueberry shortcake. To make shortcakes, perfect for berries and whipped cream, add 3 tablespoons granulated sugar to the dough. Flatten the balls of dough to about 1 3/4" wide before baking. Brush with cream, milk, or water, and sprinkle with coarse white sparkling sugar, if desired. Bake as directed in the original recipe. These biscuits are more tender than traditional shortcake biscuits, so slice them into top half/bottom half carefully, lest they crumble.
Oh, and one more thing: there's no need to limit yourself to plain biscuits. This dough is very amenable to additions of berries, cheese cubes, crumbled bacon or diced ham, chopped scallions, chocolate chips, dried fruit... use your imagination.
I know whatever you try, Ned will give you his Georgia blessing!
Read, bake, and review (please) our recipe for Easy Drop Biscuits.
Jump to Comments