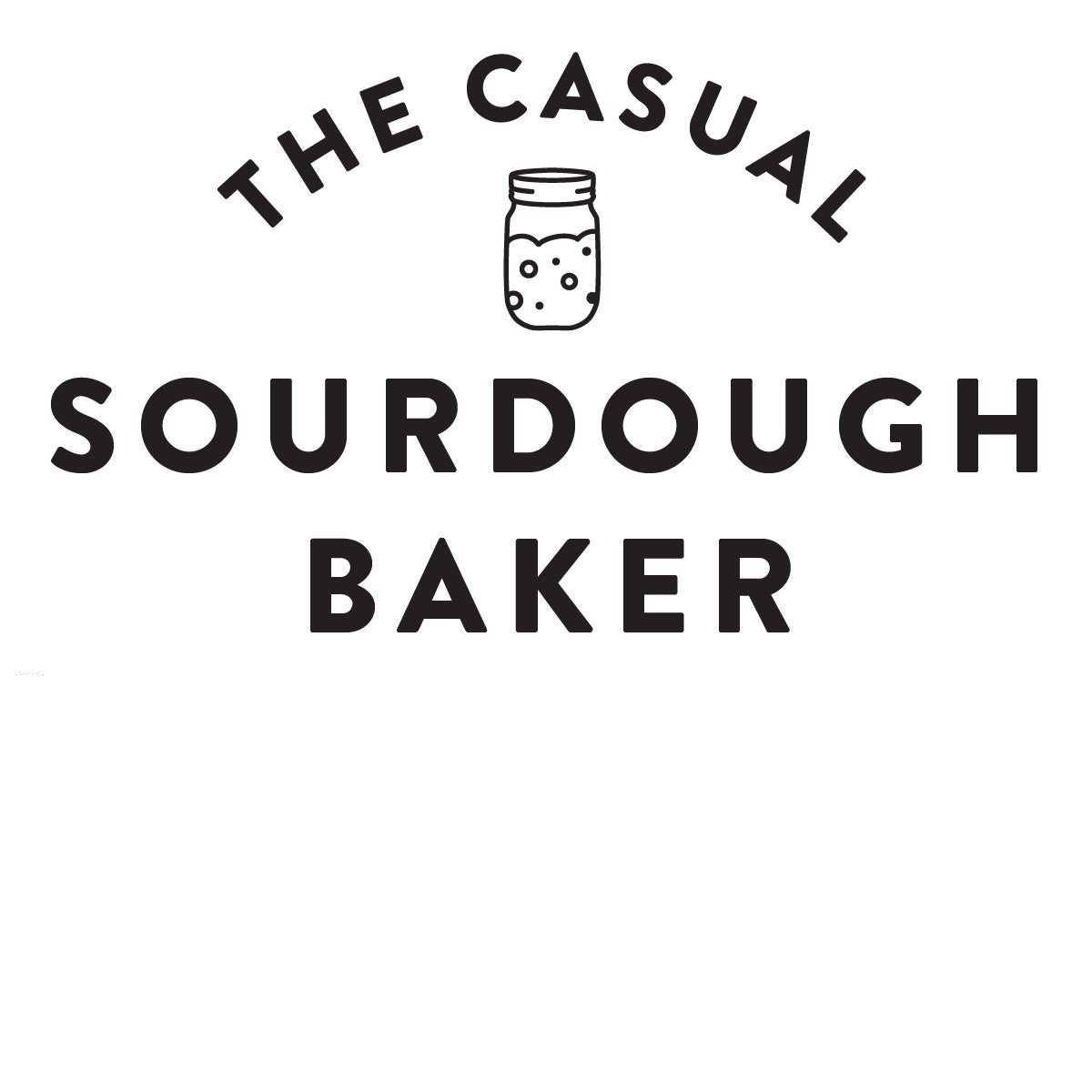 Love sourdough, but looking for a bit more flexibility and ease when you bake with a starter? In The Casual Sourdough Baker, PJ shows you just how wonderfully stress-free sourdough baking can be, from simple but richly flavored loaves to countless easy ways to use your discard. If you're just beginning your journey, our Sourdough Baking Guide lays out the basics you need for success — whether you decide to become serious or go casual!
* * *
Do you ever find yourself in a mental rut? After the pandemic year we've all been through, the answer is probably an emphatic YES. Cooking dinner what feels like 989 days in a row; doing the monotonous slog from home to work and back, often within the same four walls … it gets old, doesn't it?
That's where I recently found myself with breakfast. Oatmeal, bran flakes, oatmeal — yeah, I know whole grains are good for you, but after a while they (sadly) fail to excite my interest.
Surprisingly, given the huge array of possibilities out there, my sourdough baking had recently tended toward the humdrum as well. While I bake Easy Everyday Sourdough Bread twice a week and usually add a scoop of starter to my bagels, I hadn't been trying anything new. Until this past weekend, when I rediscovered a recipe I'd helped develop years ago: Bacon Cheddar Chive Scones.  
"You had me at bacon," right? But bacon and cheese (plus tasty little flecks of green onion) in a fall-apart tender scone? Heaven. And let's not stop there: a dollop of discard sourdough starter to heighten flavor (and extend shelf life) is a brilliant touch — and so easy to do when you've got starter in the fridge calling your name.
Bored with breakfast? Perish the thought! Grab your sourdough starter and make Bacon Cheddar Chive Scones.
I'm assuming you'll want to use your discard starter in these scones, so I've amended the recipe to reflect that. To make them without starter, simply go to the original recipe.
1 generous cup (127g) King Arthur Unbleached All-Purpose Flour                      
1/2 teaspoon salt
1 tablespoon (14g) baking powder
2 teaspoons sugar
4 tablespoons (57g) cold butter
1 cup (113g) very coarsely grated or diced cheddar cheese
1/3 cup (about 14g) snipped fresh chives or 1/3 cup (21g) finely diced scallion tops (the green part)
1/2 pound (227g) bacon, cooked, cooled, and crumbled (about 1 cup, 93g)
1 cup (227g) sourdough starter, ripe or discard
generous 1/3 cup (85g) heavy or whipping cream, or enough to make the dough cohesive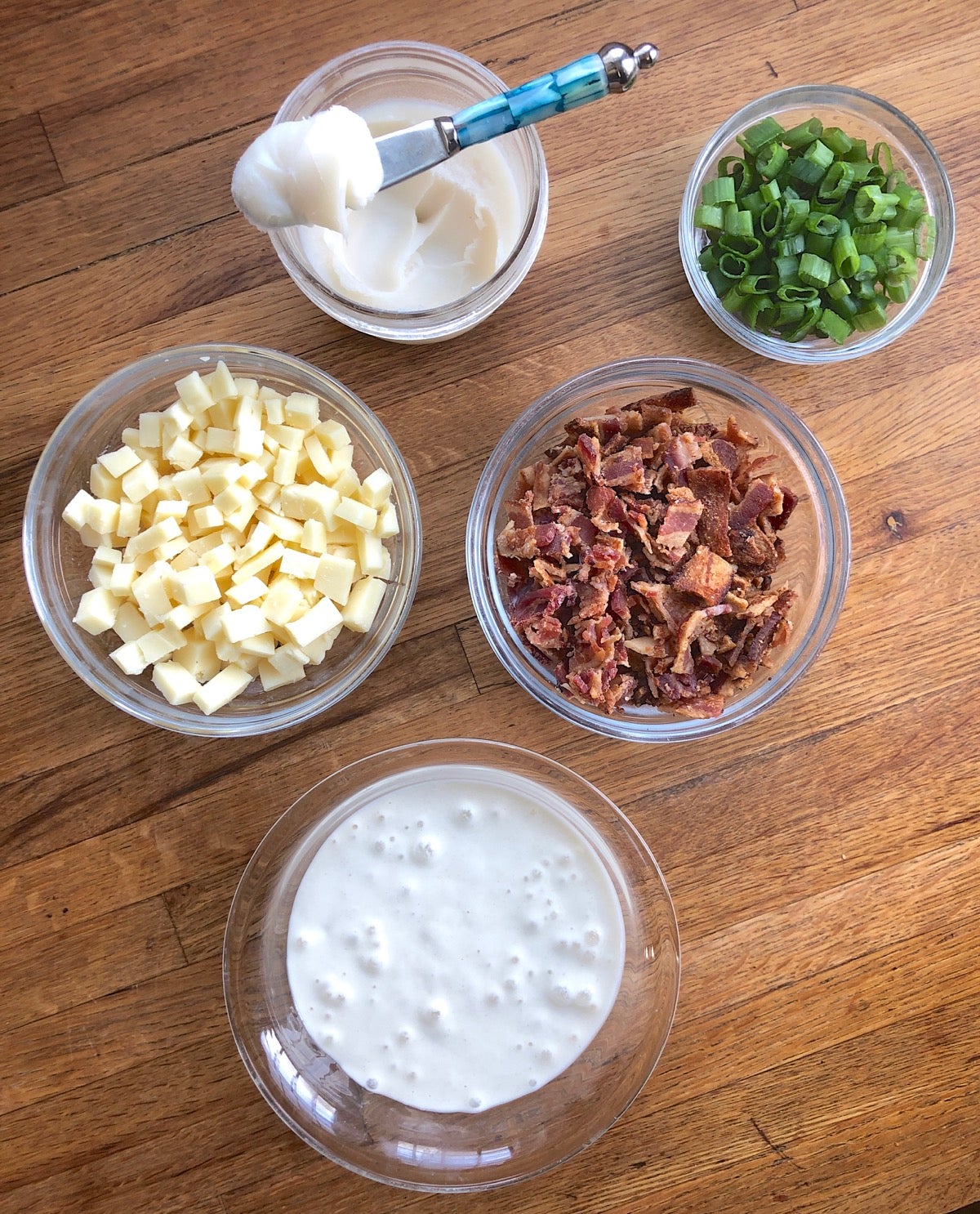 Let's talk ingredients 
The recipe calls for grated or diced cheddar cheese. I use as sharp a cheddar as I can find, and I dice it. Grated cheese can give the scones an odd speckled appearance, while diced offers lovely pockets of melting cheddar in each delicious bite.
As for chives, they're much more difficult to find, especially out of season, than simple scallions; they're also more expensive. Use a pair of scissors to snip the green tops of scallions into small bits, and you'll never miss the chives.
Now, bacon: To cook it, I lay it flat on a parchment-lined baking sheet and bake it in a preheated 350°F oven until it's crisp and brown; for details, see this blog post: A better way to make bacon.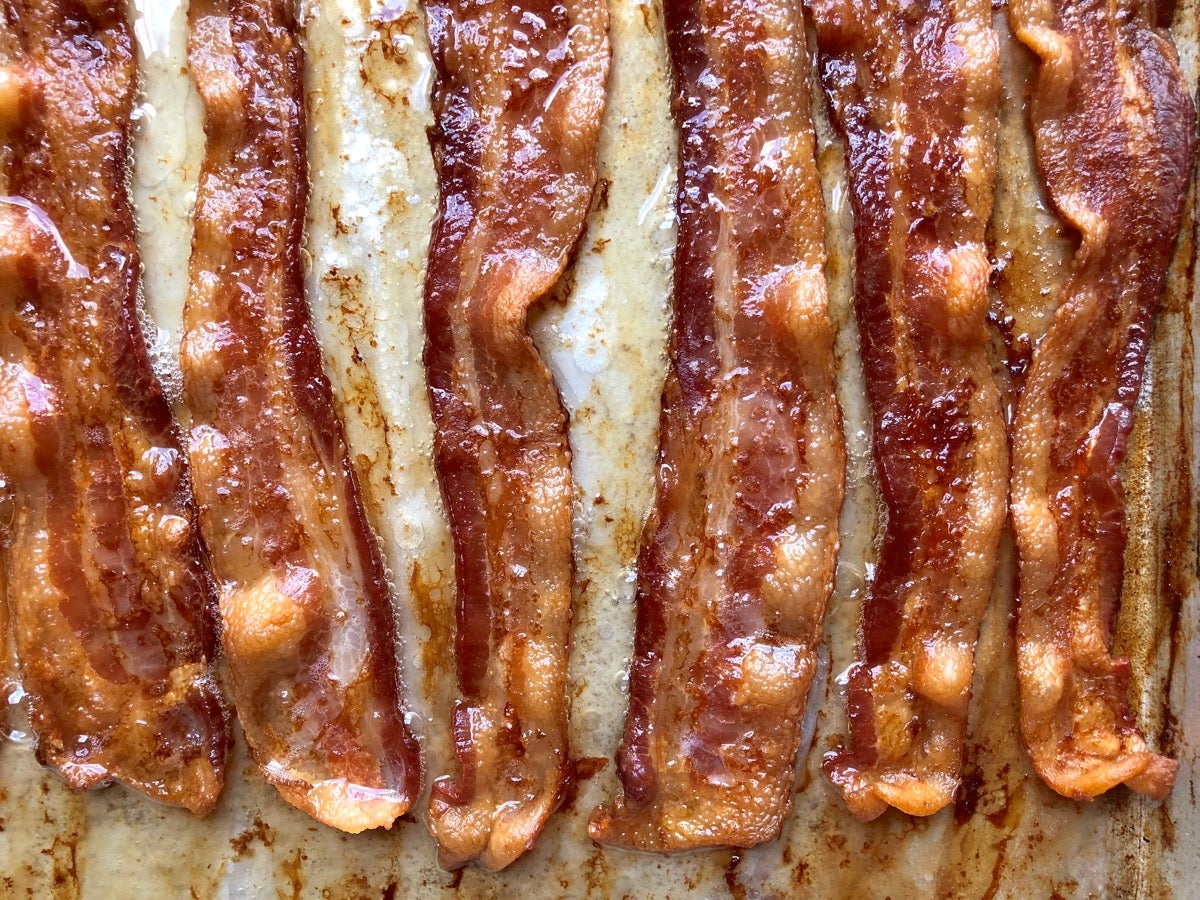 To answer your question: No, it doesn't spatter and smoke in the oven. It sizzles quietly, stays completely flat, is totally hands-off and, in my book, is the best way by far to cook larger quantities of bacon.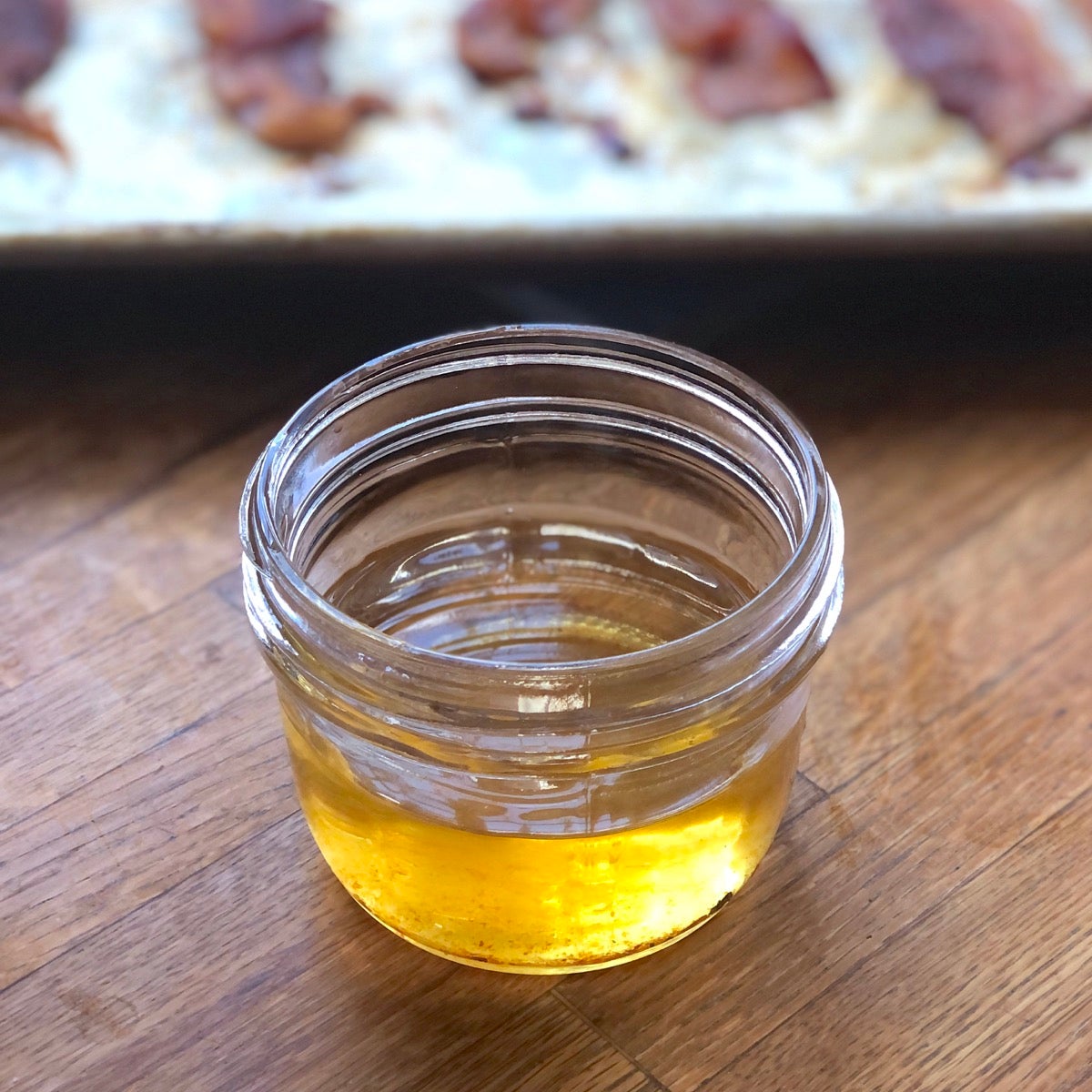 When the bacon is cooked, drain the fat into a heatproof jar or other container and store it in the fridge. You may want to use it in your scones and, if not, it's always good for frying potatoes, or making aromatics (vegetables and herbs fried up to become part of a stock or sauce).
Lay the bacon on a paper towel-lined plate to drain and cool. If you're not making the scones right away, freeze it; you'll need to crumble it for the scones, and crumbling frozen bacon is a snap.
Next, sourdough starter, which can vary quite a bit in texture. Some starters are thin and pourable, some so thick they need to be scooped from their container. In general, the longer it's been since you've fed your starter, the more liquid it's likely to be: starter produces alcohol as it ferments, becoming thinner in the process. If your starter seems thin, you'll need to use less cream (or milk; see below); if it's on the thick side, you'll use more.
Finally, heavy cream — while it adds richness to the scones, you can get by with plain milk, either dairy or plant-based. Since your substitute will be lower-fat (and higher in water) than cream, compensate by working an extra tablespoon of butter or bacon fat into the dough and using a bit less of whatever milk you select. 
Now, on to the scones
When you're ready to make the scones (either as soon as you've cooked the bacon, or after it's been cooled and frozen), preheat the oven to 425°F with a rack in the middle to upper third. Line a baking sheet with parchment, and flour the parchment generously. If you don't have parchment, just flour the baking sheet.
In a medium bowl, whisk together the flour, salt, baking powder, and sugar.
Work the butter into the flour until the mixture is unevenly crumbly, with some of the butter remaining in larger pieces.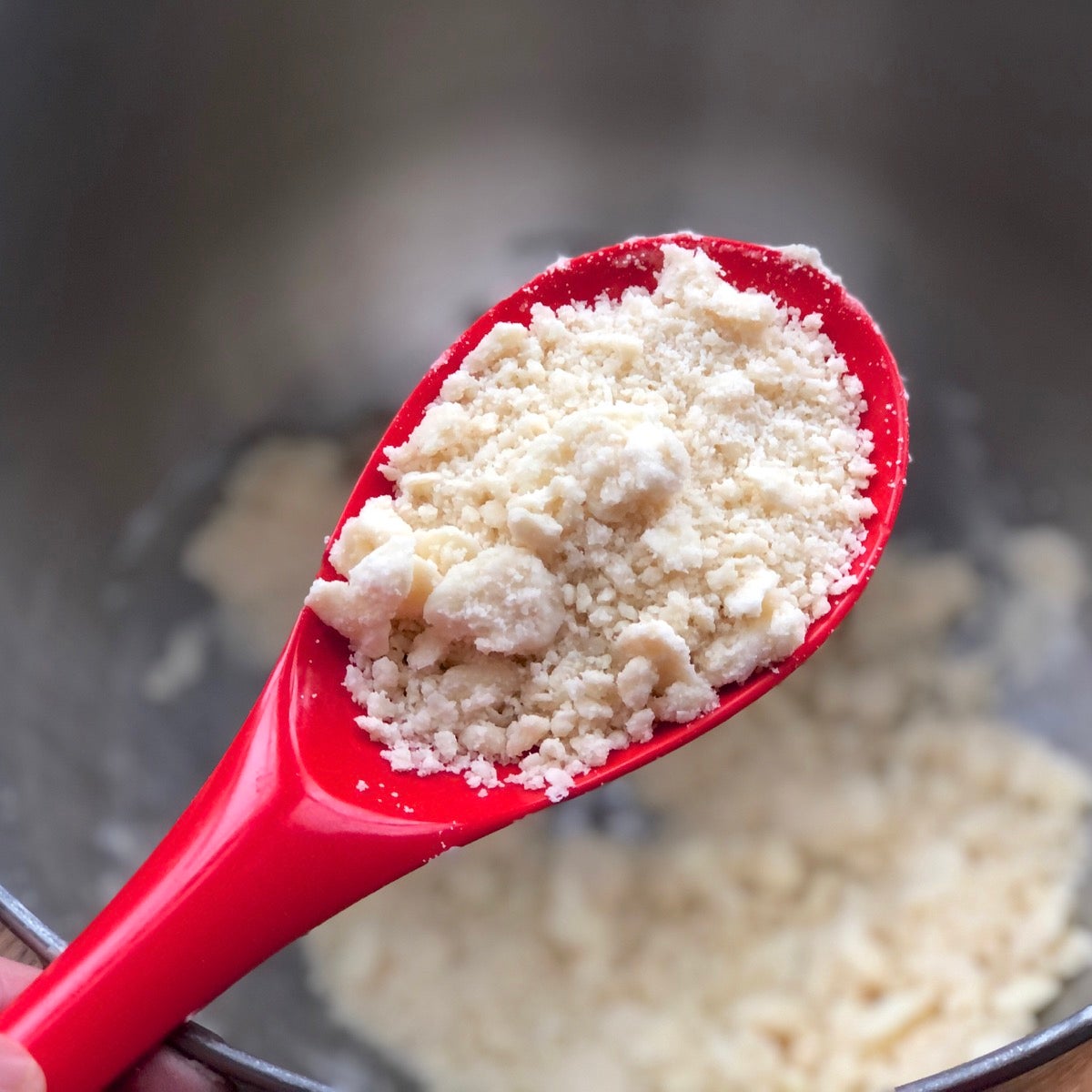 Want to add even more bacon flavor to your scones? Substitute some of the reserved bacon fat for some of the butter. I tried substituting bacon fat 100%, but found the scones greasy; so I ultimately subbed 2 tablespoons (28g) bacon fat for 2 tablespoons (28g) of the butter.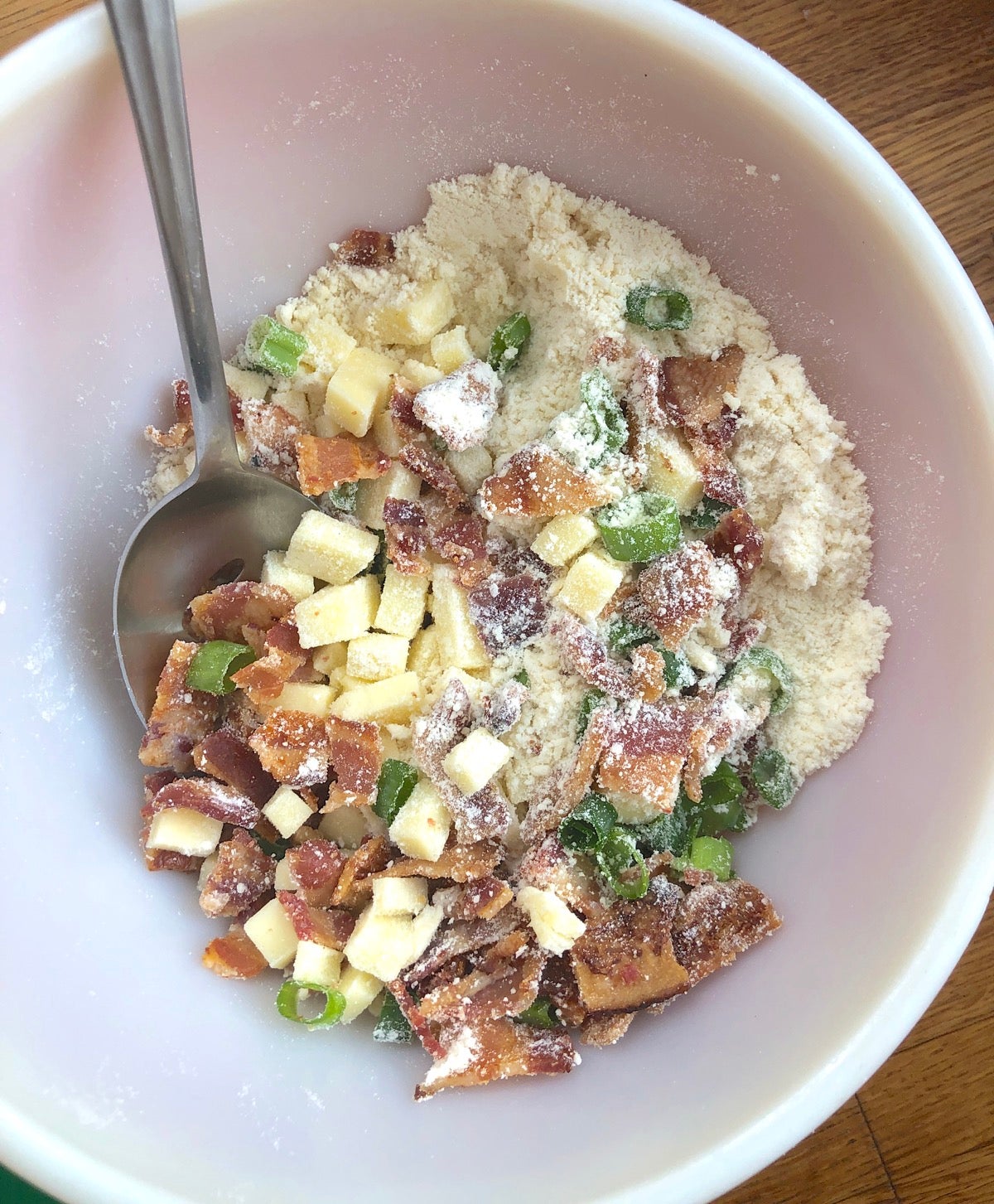 Mix in the cheese, chives or scallion tops, and bacon until evenly distributed.
Add the starter, stirring to combine; depending on the liquidity of your starter, the mixture will be crumbly or will start to come together in large-ish clumps.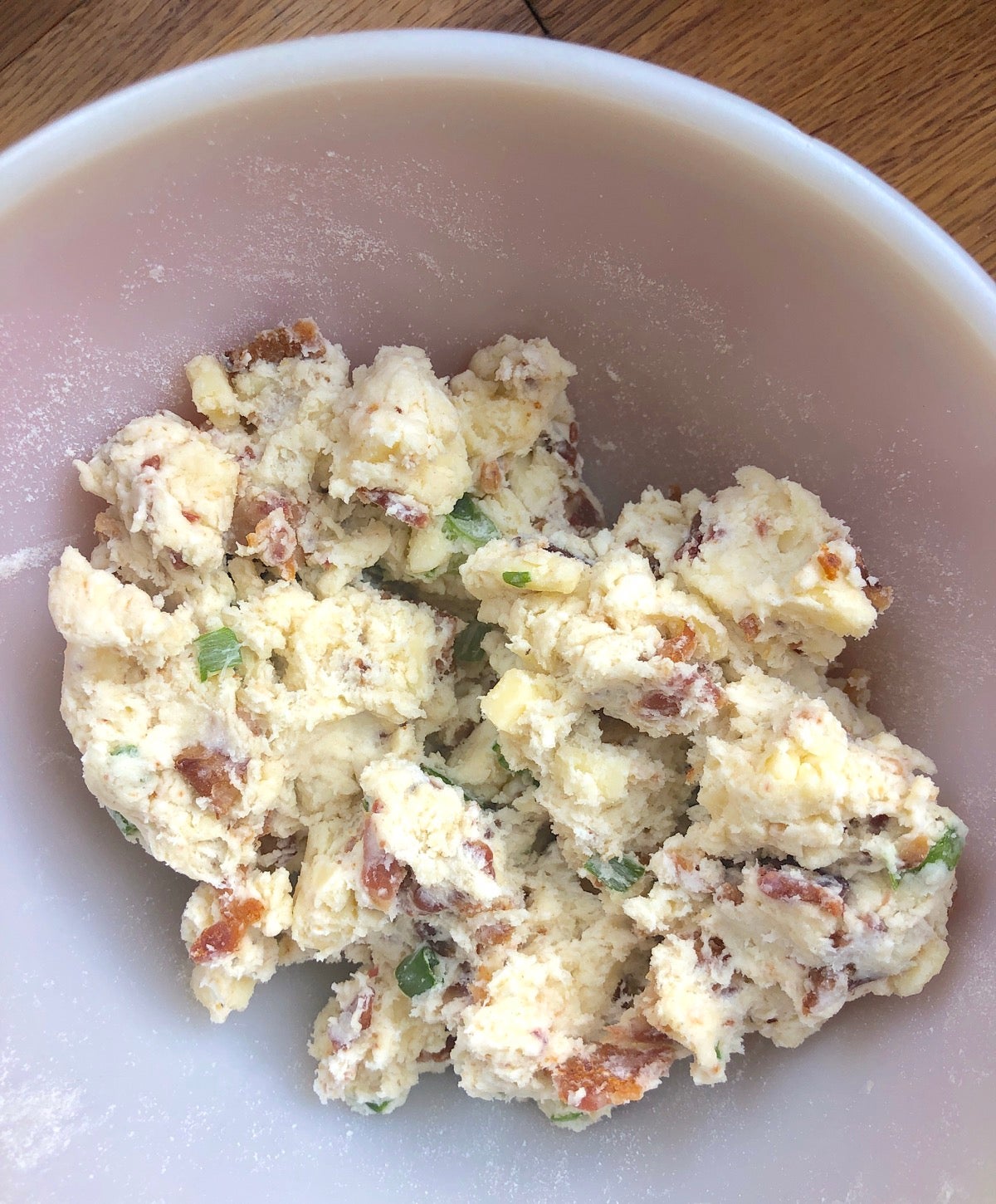 Pour the cream (or milk of your choice) into a spouted measuring cup. With your mixer going (or stirring by hand as you go) drizzle in the cream, adding just enough for the dough to become cohesive. The amount of cream will vary depending on how liquid or thick your starter is. Squeeze the dough; when it holds together nicely, with no chunks breaking off or crumbs left in the bottom of the bowl, you've added enough cream.
Transfer the shaggy dough to the prepared baking sheet.
Divide the dough in half, and pat each half into a disk about 5" wide and 3/4" to 1" tall, spacing them out on the baking sheet.
Use a knife or bench knife to cut the disks into six wedges each, spreading the wedges apart a bit on the pan. Adding this breathing room allows the scones to expand as they bake without fusing into one another in an amorphous mass.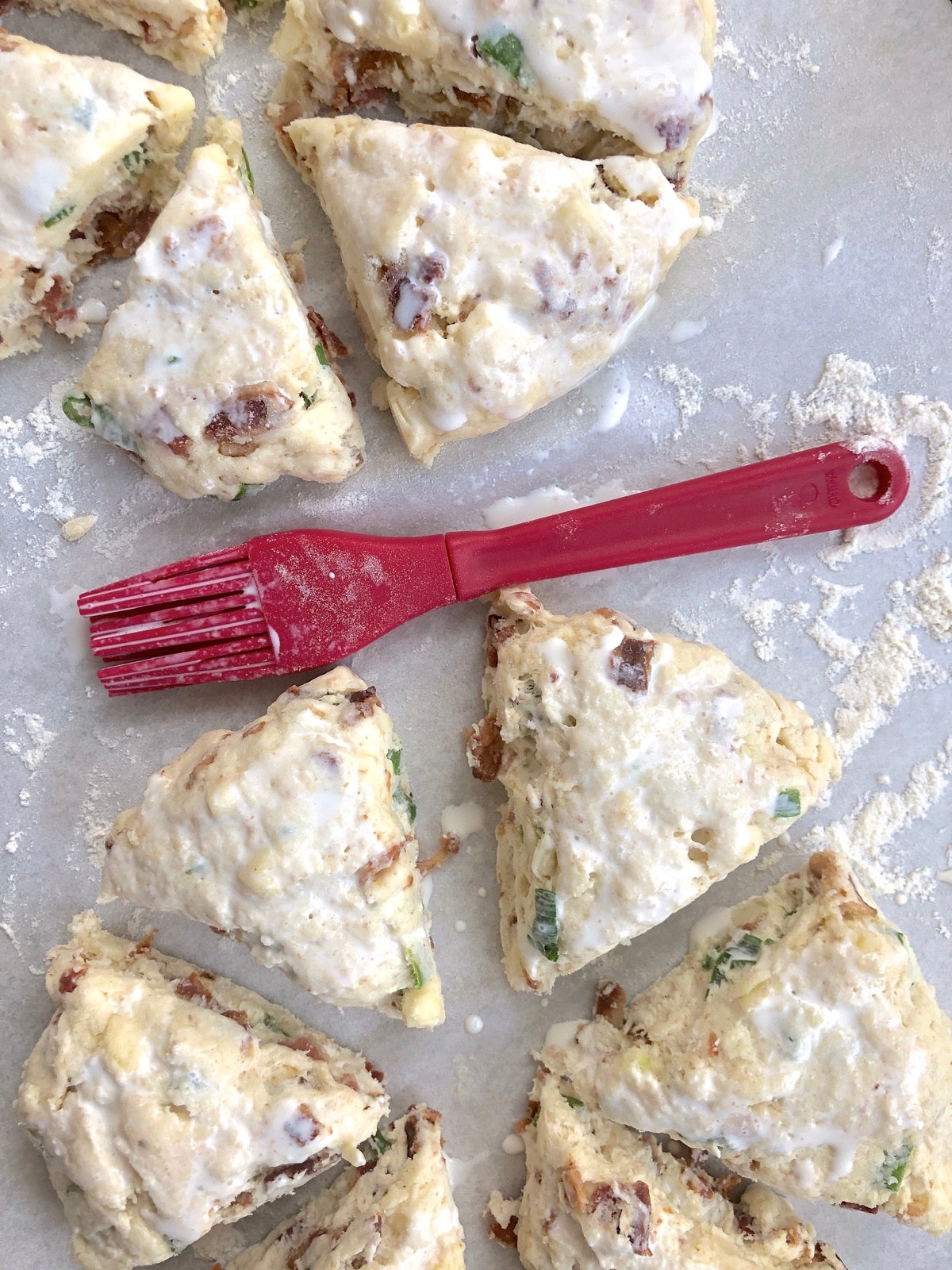 Brush the scones with a bit of cream or milk; this will help their crust brown.
Bake the scones for 22 to 24 minutes, until they're a light-to-medium golden brown. You don't want to overbake them; better they should be pale brown and moist inside than golden brown and dry.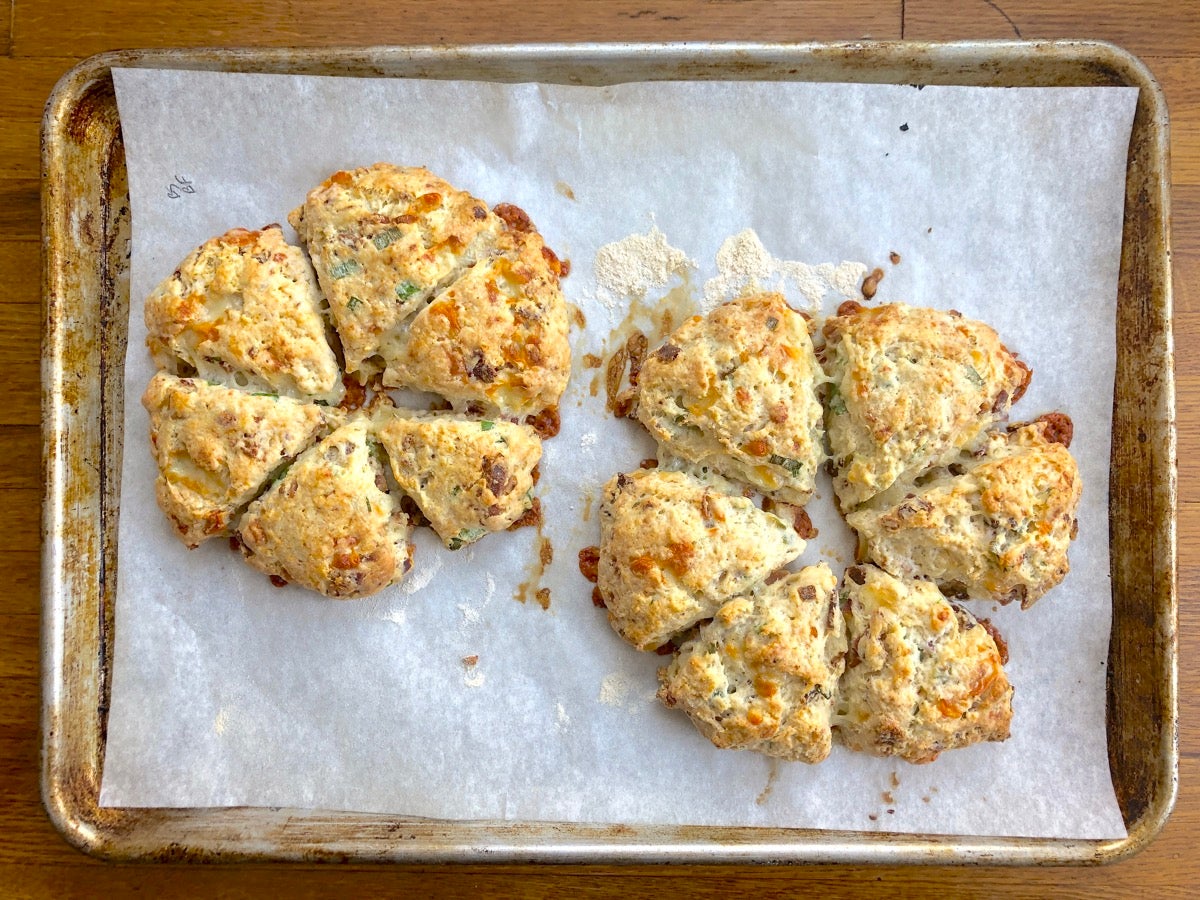 Remove the scones from the oven, and cool them briefly right on the pan. Serve warm, or at room temperature. Since they include bacon, it's best to refrigerate any leftovers. And, since a warm scone is twice as inviting as a chilled one, please reheat before serving: either in the oven or very briefly in the microwave.
Can I add sourdough starter to other scone recipes?
Yes, though some recipes are more suitable than others. Recipes that include a liquid of some kind (water, milk, cream) are better candidates for an infusion of starter than recipes moistened only by fat or an egg. Here's how to do it:
Decide how much starter you want to use. For a scone recipe using 2 cups (240g) of all-purpose flour, 1 cup (227g) of starter is the maximum you'd want to add; that amount will enhance flavor and extend shelf life without messing too heavily with the liquid/flour balance.
Your starter is basically half flour and half water by weight, so adding 227g starter means you have to cut back the flour in the recipe by 113g and the liquid in the recipe by 113g. (Yeah, I know, 113g + 113g = 226g, not 227g; we're rounding off here.)
Your recipe calls for 240g of flour; 240g minus 113g = 127g. This is your new amount of flour.
Your recipe calls for 198g of liquid (milk, cream, etc.); 198g minus 113g = 85g. This is your new amount of liquid.
Make the scone dough as directed in the recipe, stirring in the starter just before adding the called-for liquid.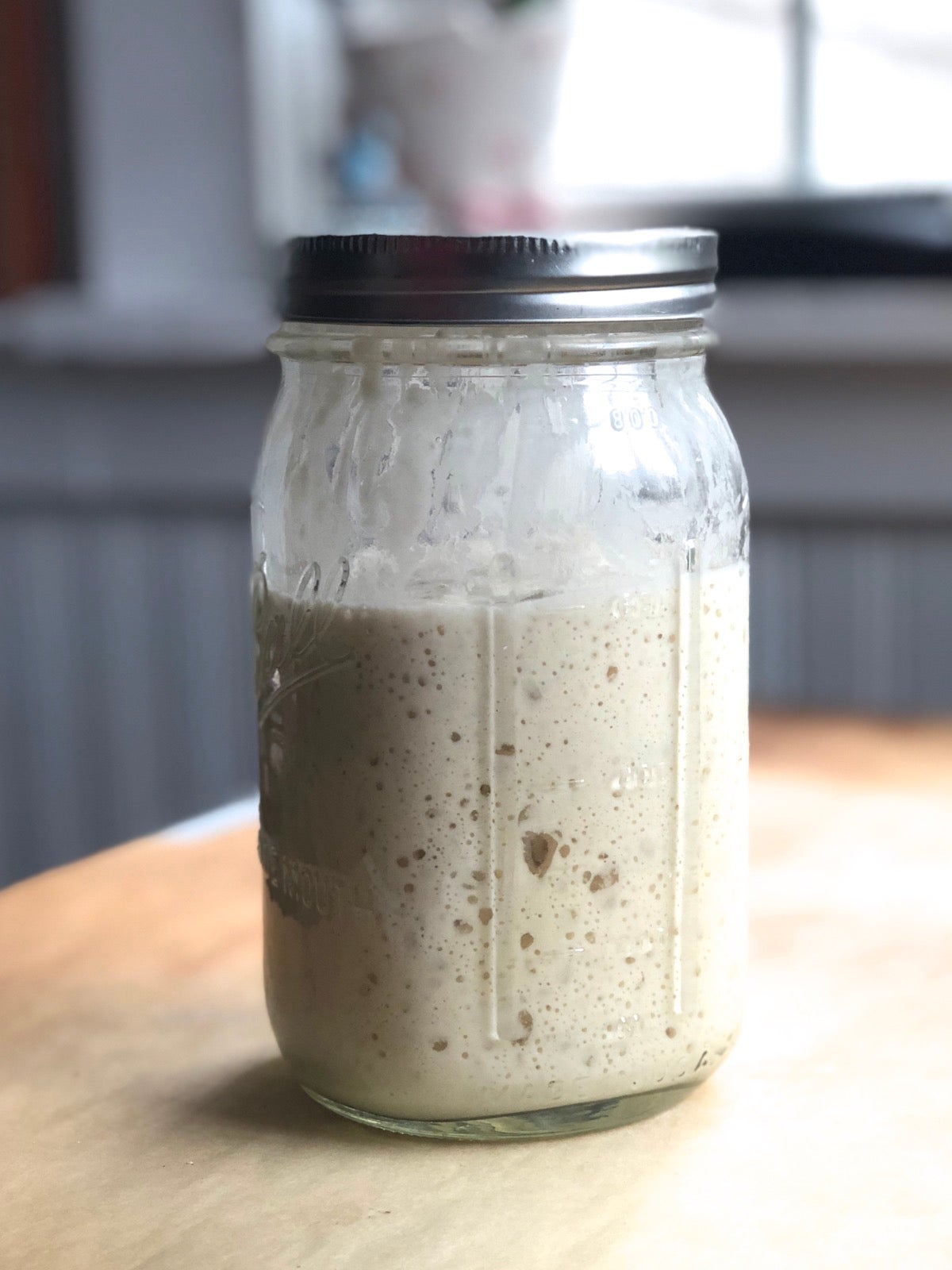 Some final thoughts
Can you make these scones gluten-free? Sure, if you use a gluten-free starter and substitute our Gluten-Free Measure for Measure Flour (1:1, by either weight or volume) for the all-purpose flour called for in the recipe.
Can you make them vegan? Yes, substitute plant-based milk for the cream, and your favorite vegan substitutes for the cheese, butter, and bacon. Interested in other dairy-free breakfast offerings? See our post, Dairy-free breakfast.
How does adding sourdough starter extend shelf life? When you bake with sourdough, you're naturally increasing the amount of time your bread, scones, muffins — you name it — will stay fresh. Without getting too heavily into the science, an acidic environment (read: sourdough starter) keeps the starches in grains from releasing their liquid as quickly as they might. The more liquid retained, the softer/fresher your baked goods will be.  
Hey, I may seem like a casual sourdough baker, but I do take advantage of sourdough's wonderful qualities whenever possible! Want to try scooping some starter into your next loaf of quick bread, batch of biscuits, or [fill in the blank]? See this blog post: Adding sourdough to a recipe.
Jump to Comments