Have you ever wondered how to make your favorite recipes dairy-free? Let us show you the way by making some of our most well-loved recipes without dairy. In this post we explore how to make a dairy-free breakfast, complete with biscuits, scones, pancakes, waffles, and a sweet treat to end the meal.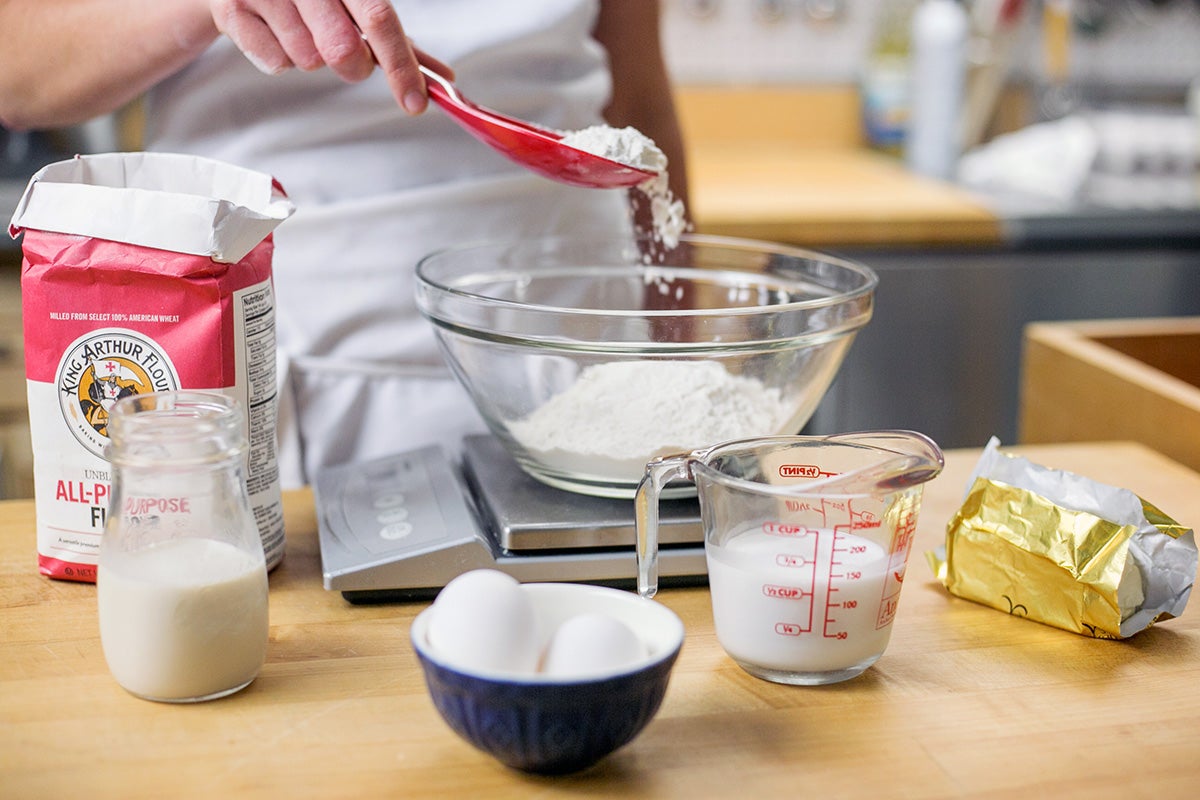 Breakfast is quite possibly the best meal to bake and share with others. There's coffee, plus you can have a sweet or savory baked good (or one of each). But what happens when you find out one of your breakfast companions is dairy-free? Don't abandon your favorite recipes! We'll show you how to make a dairy-free breakfast that's sure to please everyone.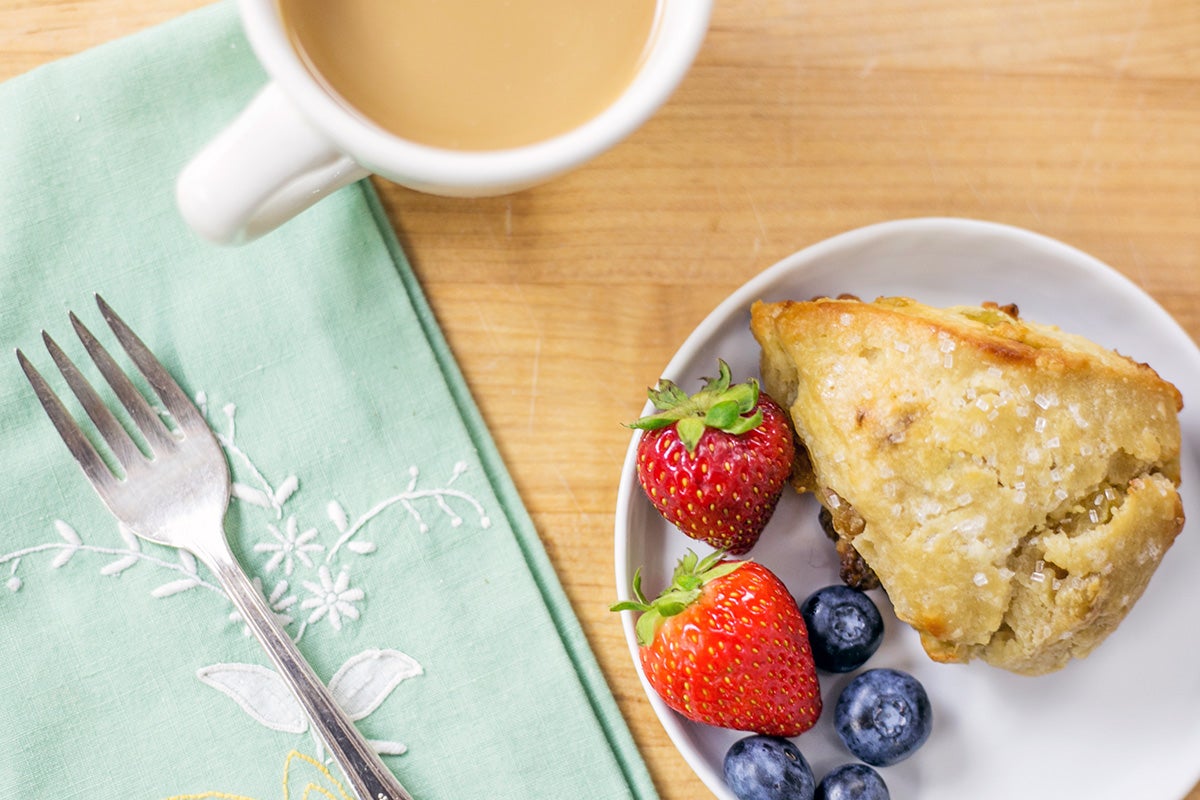 Dairy-free scones
I like to start breakfast with a bit of a warmup: a hot drink and a slightly sweet treat, preferably a classic scone. These humble baked goods are set apart by their craggy crust and tender crumb.
Typically scones achieve their perfect texture because of the butter and milk in the dough. But what to do when these ingredients are off the table?
We head to the test kitchen to find out.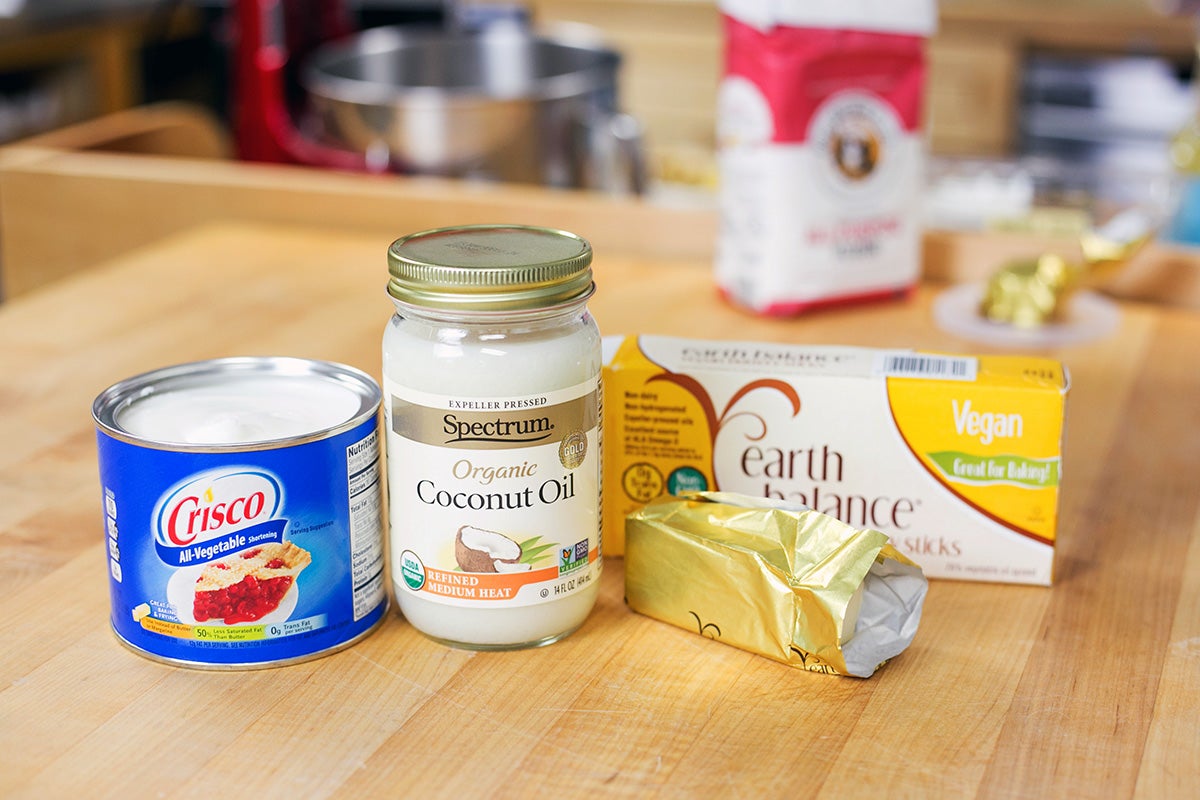 In place of butter in scones, you can use a number of dairy-free alternatives like coconut oil or shortening. These fats both add their own particular flavor, and the scones' texture is a bit heavier and richer than usual.
To make dairy-free scones that are practically identical to those made with butter, try using a non-dairy butter alternative like Earth Balance Vegan Buttery Sticks. They can be found at most grocery stores, and offer a surprisingly delightful, buttery flavor.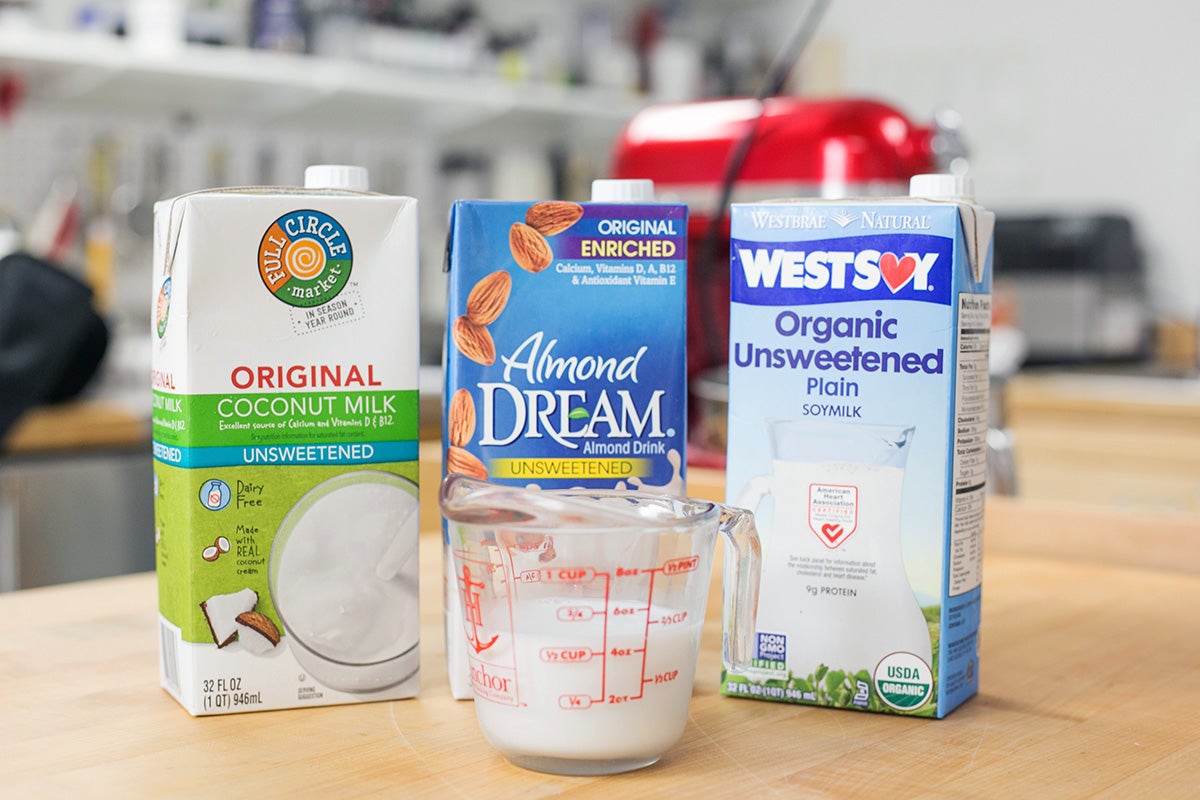 Most scones also call for liquid, like milk or half & half. In this case, use your favorite non-dairy milk instead. Choose plain, unsweetened milk so you can control the sweetness of the final scones.
The fat content of non-dairy milk will affect the texture of your baked goods. Higher fat milks (like coconut, hemp, and soy) create a more tender crumb and taste richer. Those milks with mid-range fat contents (almond and rice) will behave similarly to 2% milk — pleasant mouth-feel and flavor. Low-fat or fat-free milk options (cashew and flax) will make a "leaner" baked good that's not quite as moist but still tasty.
We like the flavor and texture when either soy or almond milk is used in scones. Almond milk, in particular, has just the right amount of fat to add tenderness without making the scones greasy.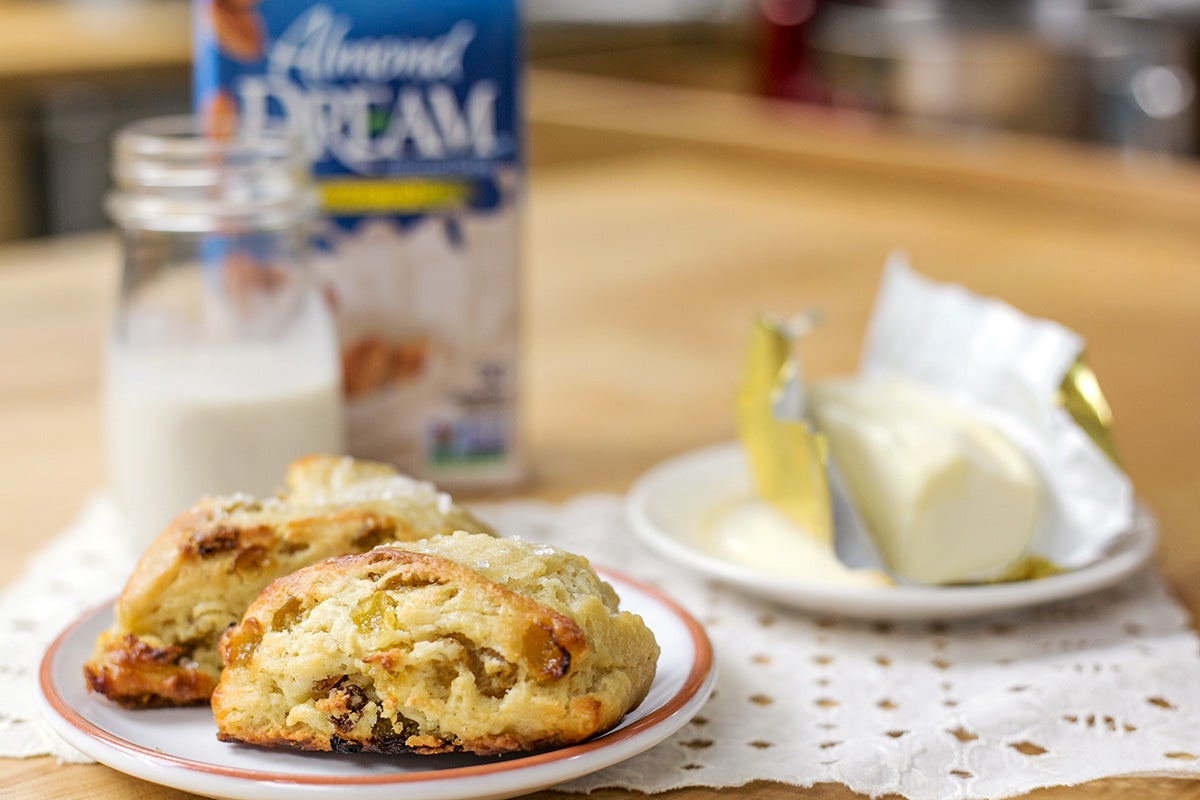 Dairy-free scones recommendation: Earth Balance Vegan Buttery Sticks and almond milk.
Dairy-free biscuits
Perhaps you're more of a savory person and like to start off the day with a buttery biscuit. Now you might think that a biscuit without butter or dairy isn't possible or tasty, but I promise it can be both.
We test two different kinds of recipes to find the best biscuit to add to your dairy-free breakfast menu: classic Baking Powder Biscuits and our two-ingredient Never-Fail Biscuits.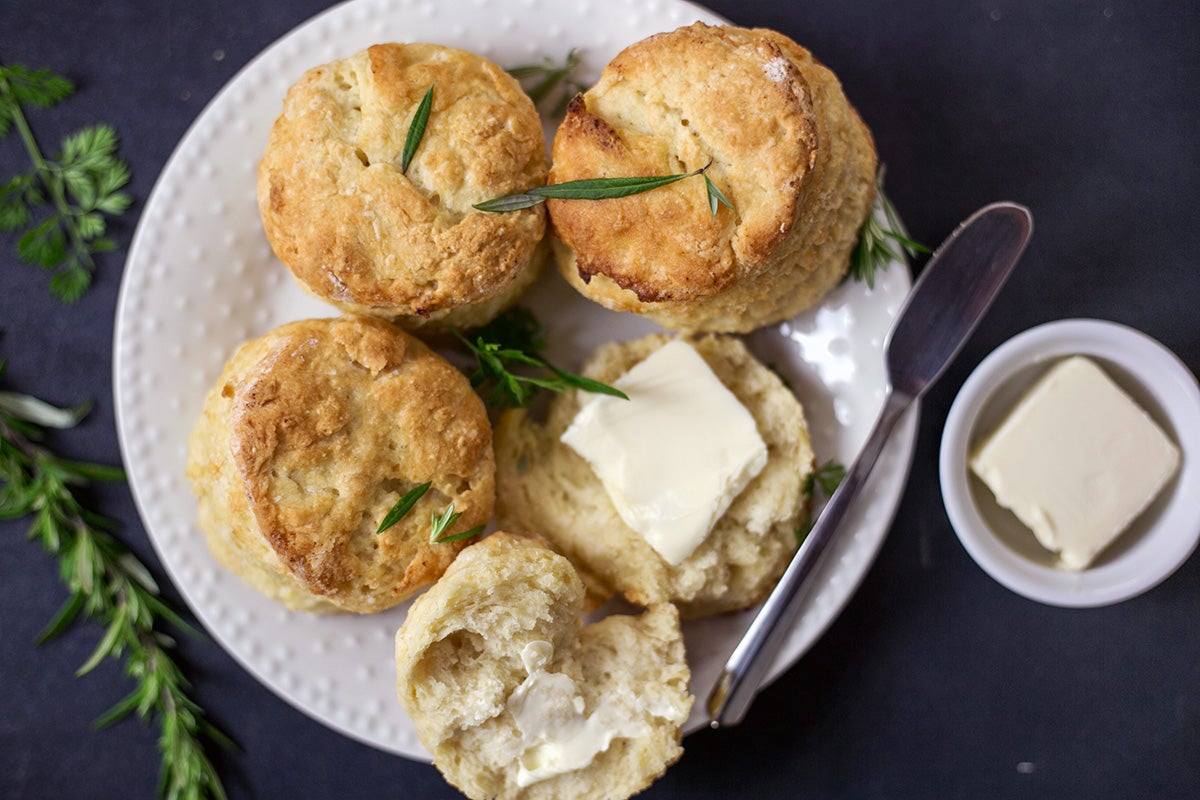 These flaky, lofty biscuits get most of their charm from the butter that's cut into the flour. We experiment with other solid, non-dairy fats to see if any can hold a candle to butter. Coconut oil, shortening, and lard all get a chance to make a perfect non-dairy biscuit.
Similar to scones, the rich, buttery flavor comes through best when we use Earth Balance Vegan Buttery Sticks. They're surprisingly tasty!
The other options aren't bad either; they each impart their own flavor and texture. If you'd like to read more about what to expect from these other fats, check out this blog about using different fats and liquids in biscuits.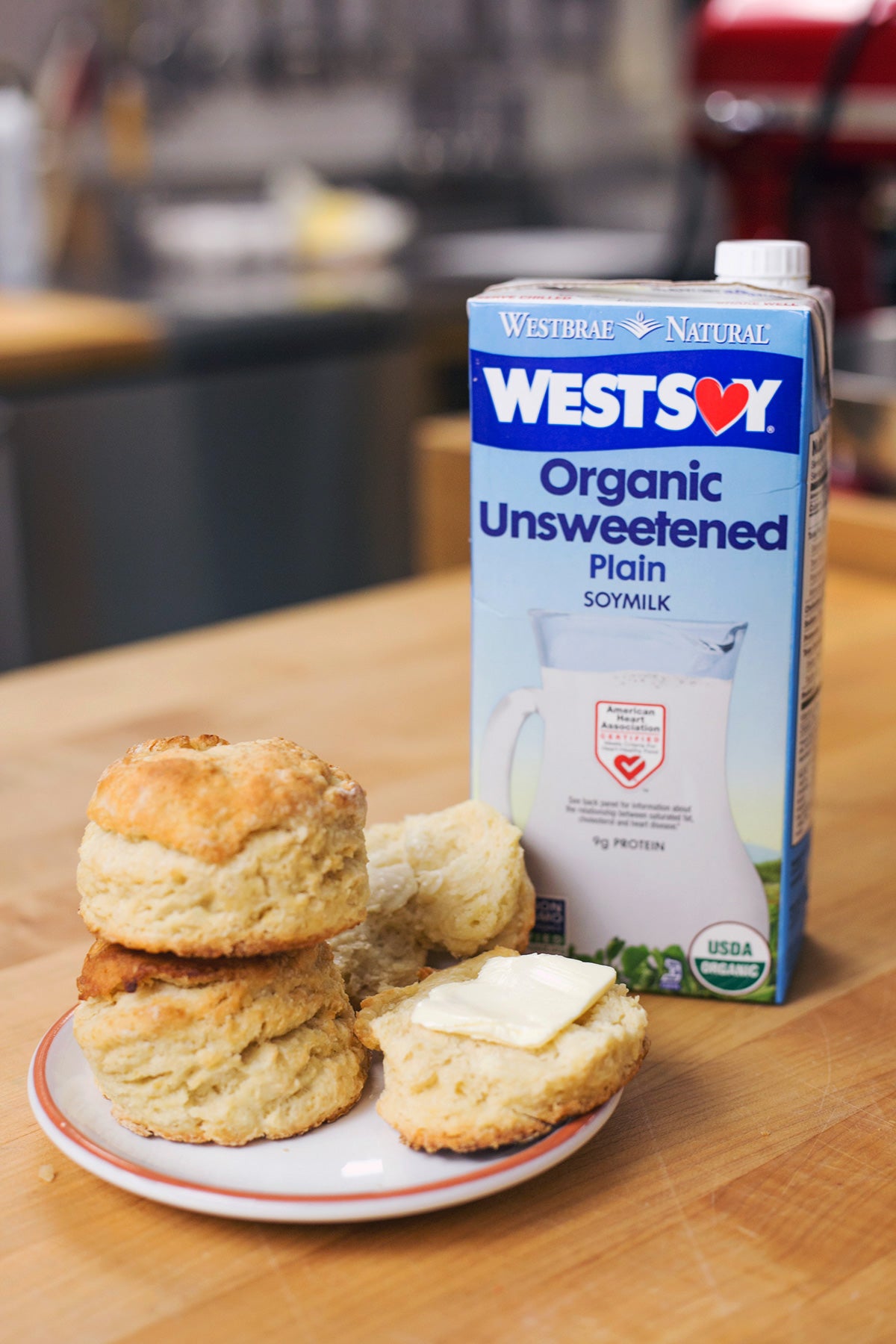 Speaking of liquid, that's something you'll want to consider too. For biscuits, we like plain, unsweetened soy milk. It's richer (has a higher fat content) than other non-dairy milks, and when it comes to biscuits, that means a more tender crumb.
If you use other non-dairy milks, you can experiment with using an additional 1 to 2 tablespoons of fat to achieve best results.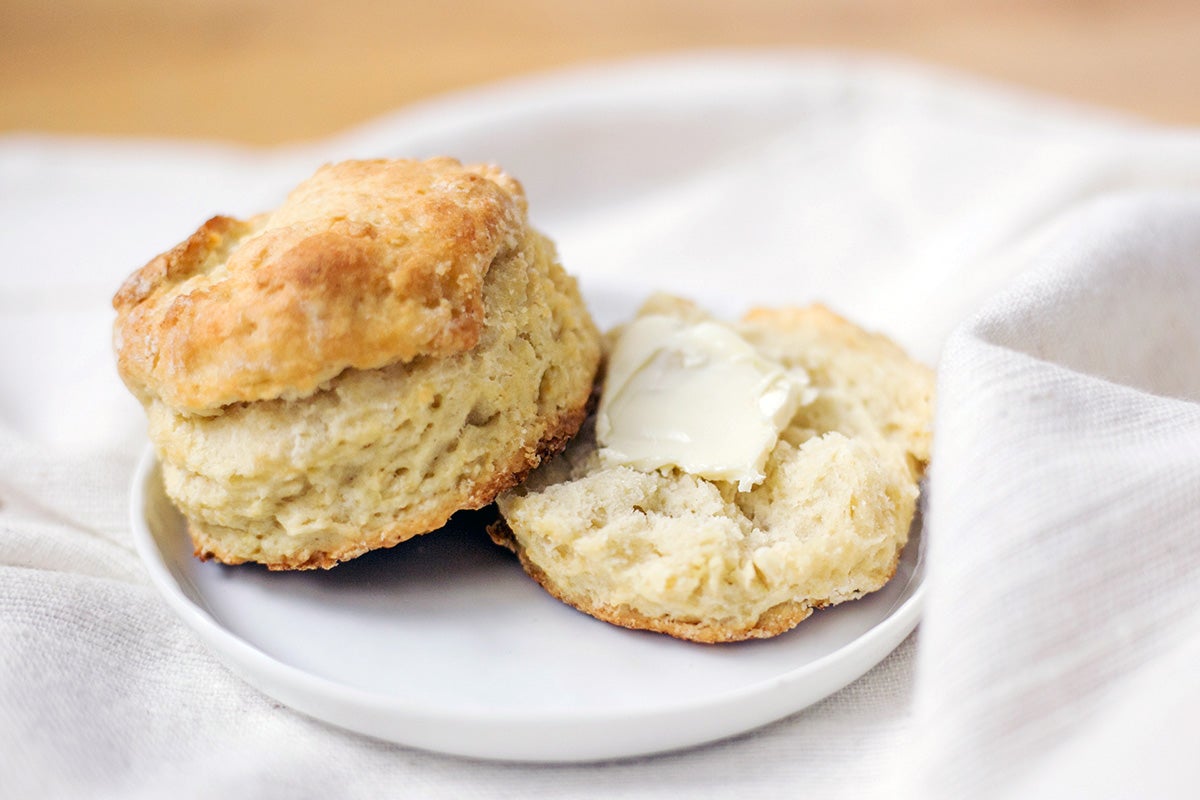 Dairy-free classic biscuits recommendation: Earth Balance Vegan Buttery Sticks and soy milk.
What about biscuits that use heavy cream or half & half to achieve their lovely brown crust and tender texture? They can be part of your dairy-free breakfast plan too!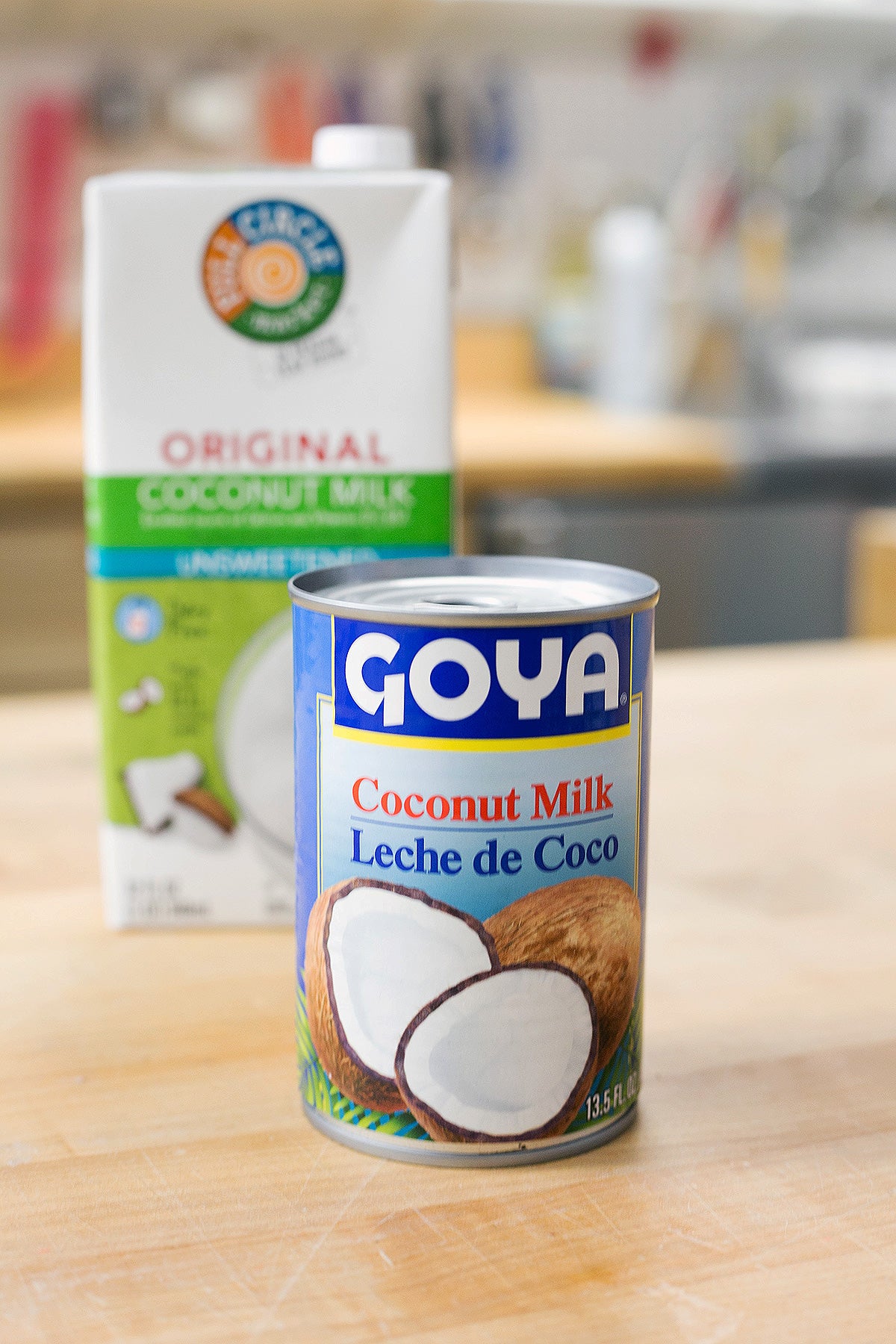 Our Never-Fail Biscuits are just as fast and delicious when cream is replaced by canned coconut milk, which is both dairy-free and high in fat. It's important to use canned coconut milk; it has a high fat content, which is what we're looking for here.
Other non-dairy milks just aren't going to cut it in this recipe. The test versions came out wet, flat, and tough. However, you can try using plain, unsweetened non-dairy creamer if you can't get your hands on canned coconut milk.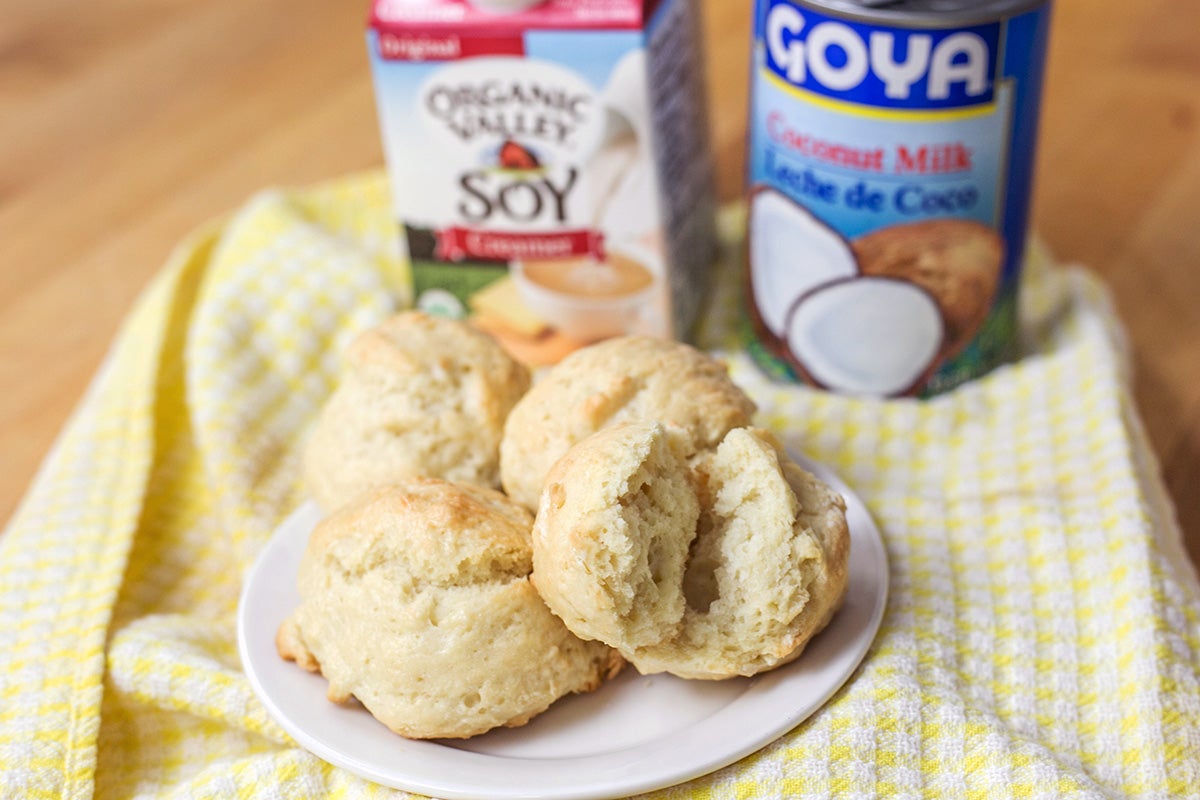 Dairy-free stir-together biscuits recommendation: canned coconut milk.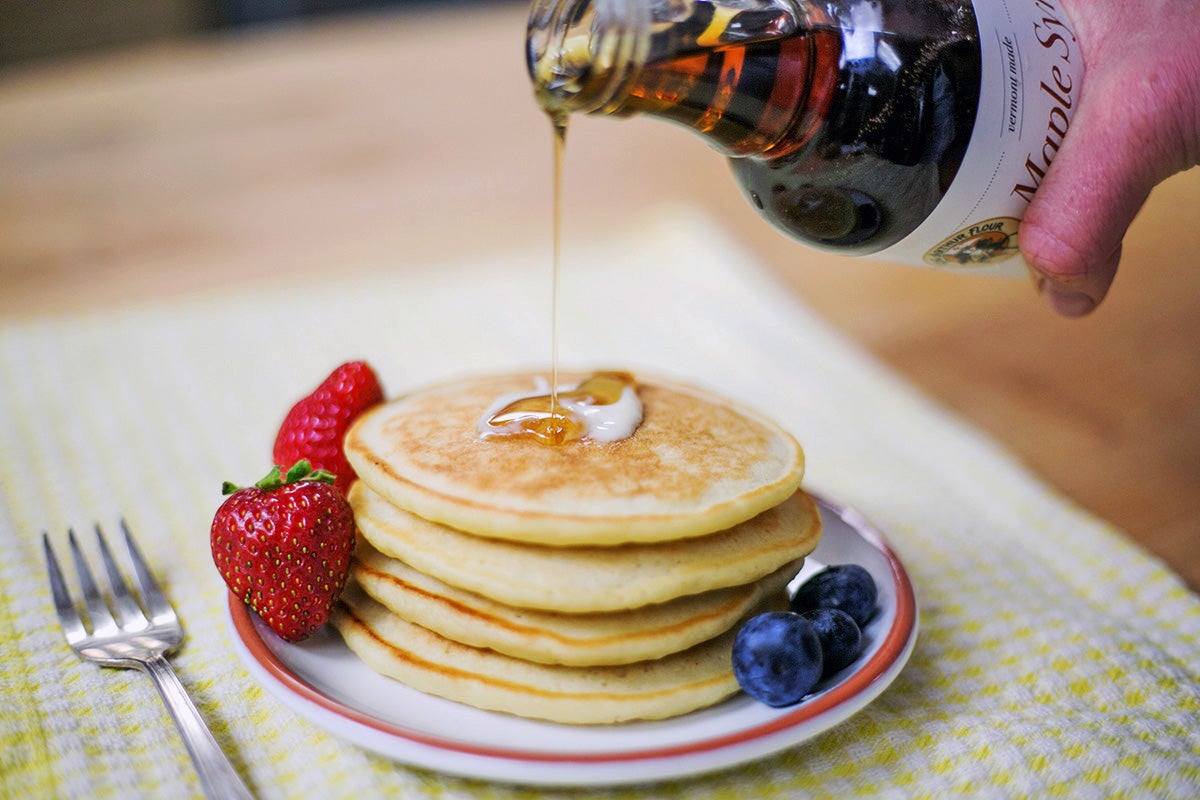 Dairy-free pancakes and waffles
Once you've had a scone or biscuit, it's time for the main event: pancakes! Or perhaps you're a waffle-lover. We'll include tips for you, too.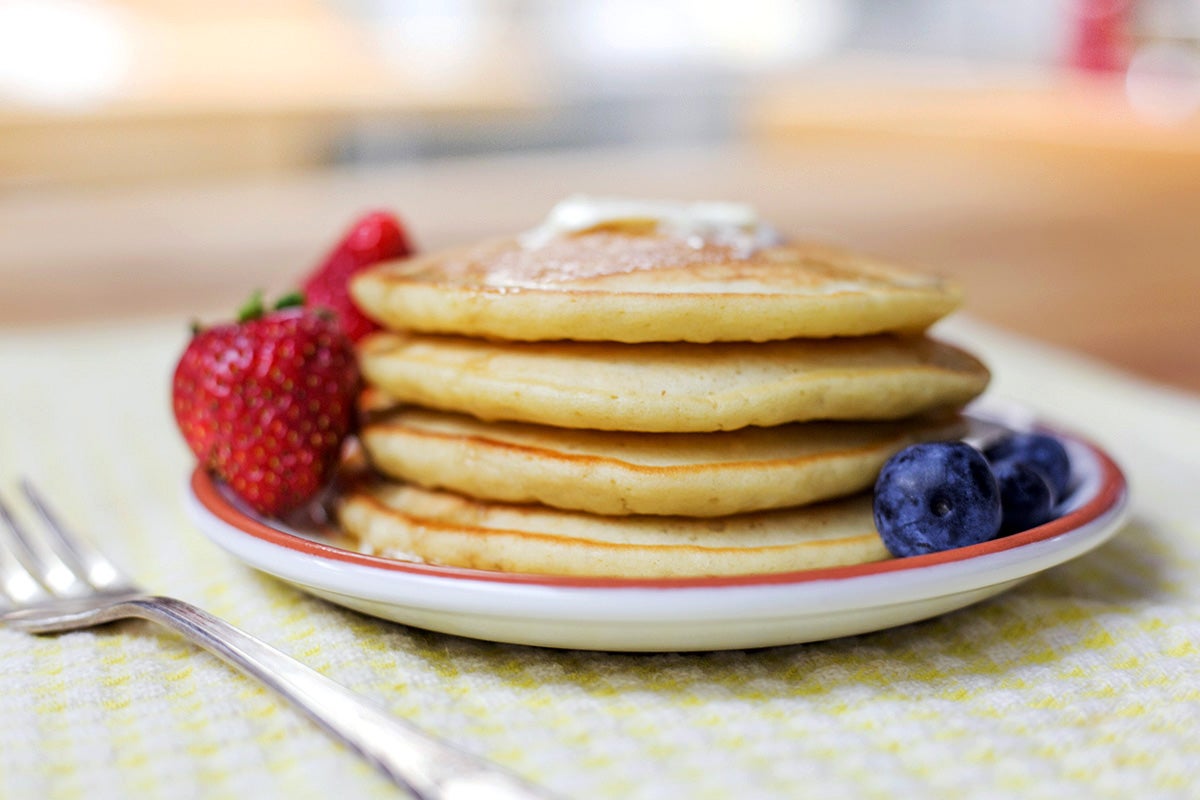 We test our favorite standby pancake recipe, Simply Perfect Pancakes, with dairy-free alternatives for the butter and milk.
This is easy: use a neutral-flavored vegetable oil if your recipe calls for melted butter.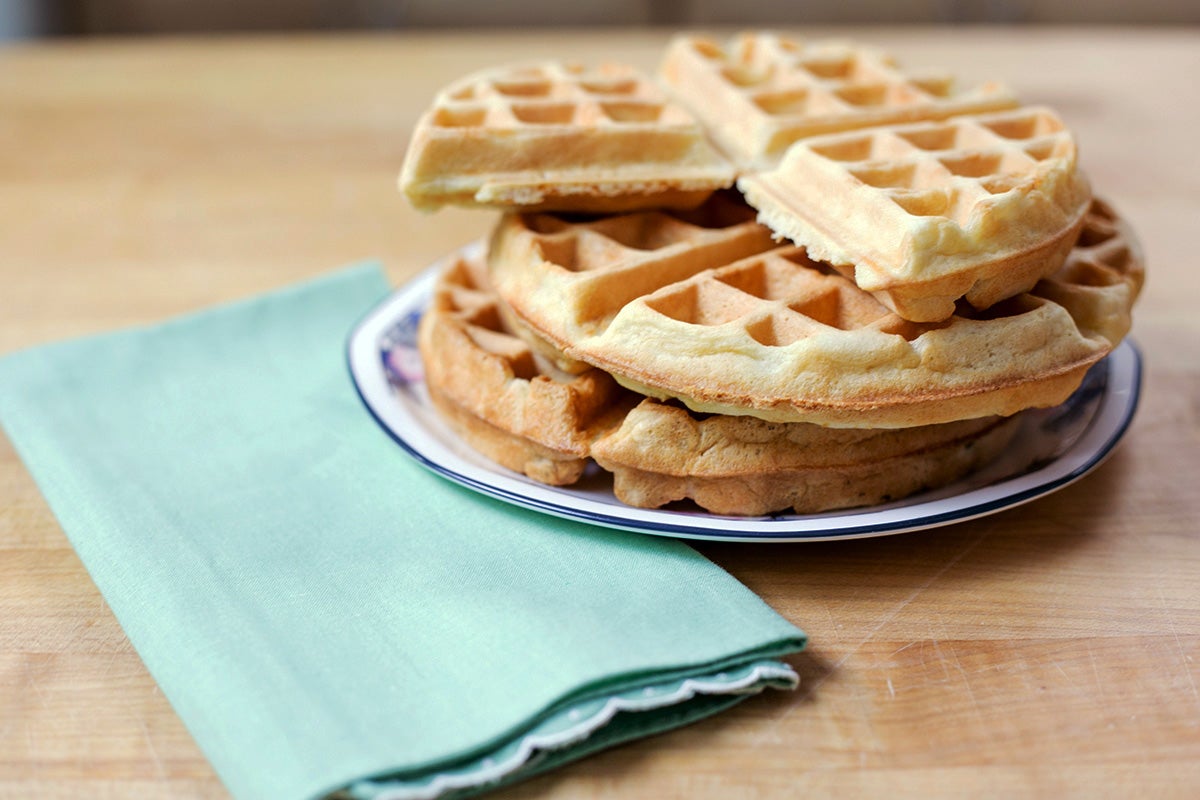 As for the milk, you really can't go wrong with any plain, unsweetened non-dairy milk. Almond and soy milk are almost always good choices if your recipe calls for either 1%, 2% or whole milk.
We like the subtle nutty taste of almond milk when it's used in pancakes or waffles. Maple syrup brings out the best of this flavor.
Dairy-free pancakes and waffles recommendation: vegetable oil and almond milk.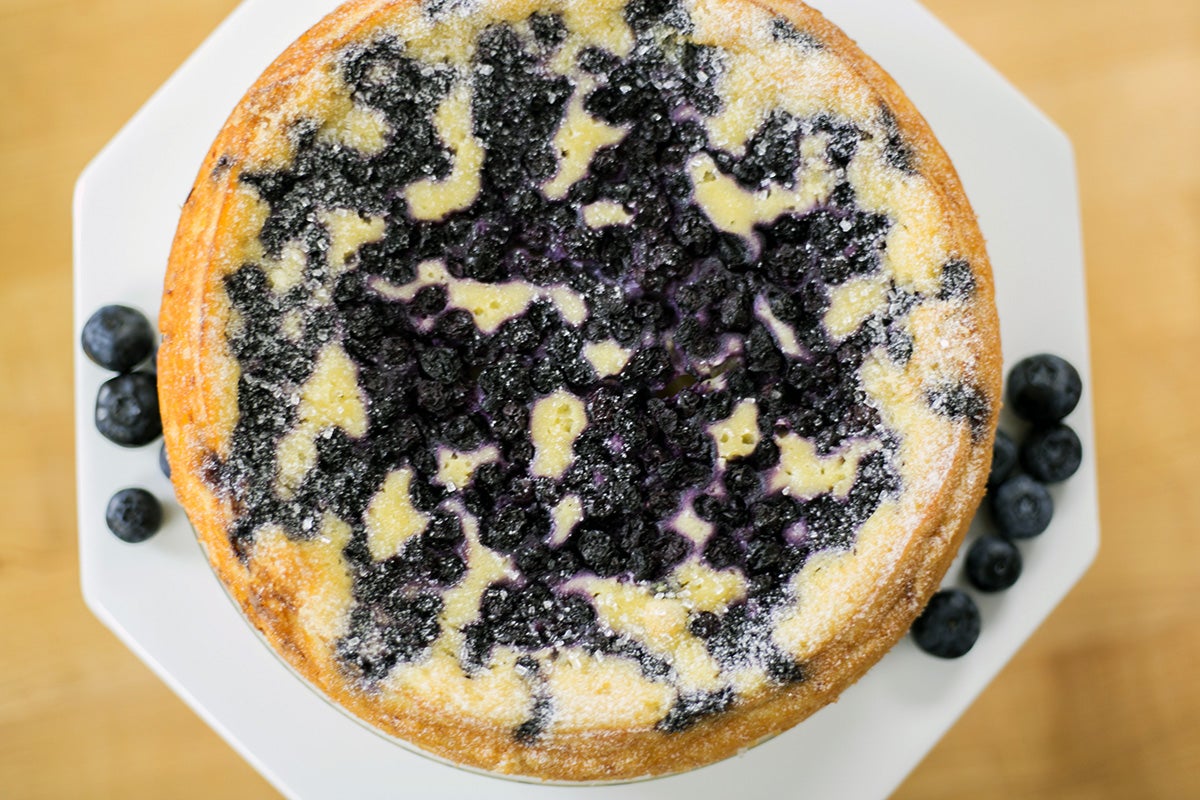 Dairy-free breakfast cake
A special breakfast isn't complete without a sweet ending, whether you're baking dairy-free or not. One of the most perfect ways to impress your breakfast guests is with Blueberry Breakfast Cake: a souffle/cheesecake-like treat that's studded with berries.
At first glance, this recipe might make any dairy-intolerant baker cringe. It calls for butter, cottage cheese or ricotta, and sour cream. But believe it or not, there's no need to skip recipes like this simply because you're making a dairy-free breakfast.
In this recipe, butter is melted and combined with eggs and sugar. Melting an equal amount of coconut oil works like a charm here. It can add a subtle floral flavor, depending on the kind you use. Melted Earth Balance or shortening will also work to replace the butter.
Next two cups of creamy dairy are added to the batter: 1 cup of cottage cheese or ricotta, and 1 cup of sour cream. Don't fret! We've got this.
In place of the cottage cheese or ricotta, use 1 cup of coconut or almond milk yogurt. Add 1 tablespoon of lemon juice to the yogurt before you start gathering your other ingredients. By the time you're ready to use it, it will have a small curd-like texture.
For the sour cream, use plain, unsweetened soy milk yogurt. It tends to have the tangiest flavor of all non-dairy yogurts, which helps balance the flavors in the cake.
The final result is impressive, to say the least: a slice of Blueberry Breakfast Cake is worth including in your dairy-free breakfast.
Dairy-free breakfast cake recommendation: melted coconut oil, coconut milk yogurt curdled with lemon juice, and soy milk yogurt.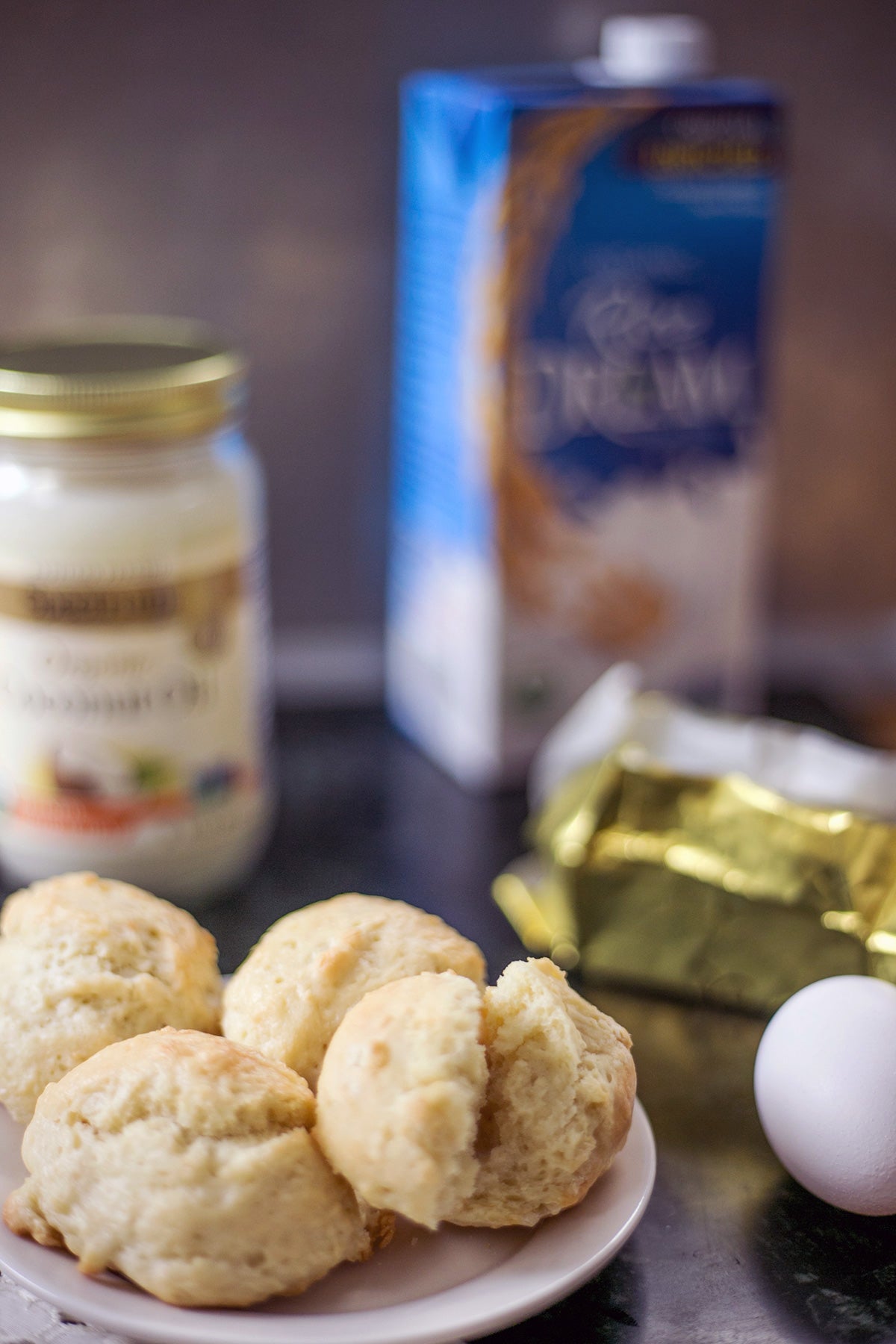 Enjoy your dairy-free breakfast!
All that's left to do is invite some friends over and plan the menu. You've got a full selection of baked goods that can easily be made dairy-free.
Need to bake gluten-free too? Simply use our Gluten-Free Measure for Measure Flour to replace the all-purpose flour in these tempting breakfast recipes, and follow the dairy-free tips shown here.
If you're looking for more dairy-free recipes and substitutions, there's more to come. We'll be exploring the best ways to make other typical baked goods dairy-free: cookies, bars, bread, pie crust, and cake/muffins in posts next winter and spring.
Do you have any other tips when it comes to baking dairy-free breakfast? If there are other recipes you'd like to see made dairy-free, let us know in the comments, below.
Thanks to Anne Mientka for taking the photographs for this post.
Jump to Comments