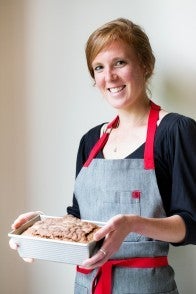 About Kye Ameden
Employee-owner since 2015
Kye Ameden grew up in Fairlee, Vermont and has always loved food, farms, and family. She spent her teenage years working by her chef/uncle's side in an industrial kitchen, cracking hundreds of eggs, slicing cheesecakes into 13 perfect slices, and developing her passion for precision and baking. 
After graduating from St. Lawrence University, she transitioned to working at the Sylvia Center, a non-profit that aims to teach inner-city children where food comes from. Kye helped run their garden-to-table and after school culinary programs, where she taught students in New York's Hudson Valley how to cook with whole, fresh food. During her time there she also worked in kitchens and bakeries of all sorts, including a food truck with a wood-fired pizza oven on board. 
Shortly after, Kye's love of European-style desserts landed her at a family-owned bakery called Dutch Desserts, where a small group of bakers produced hundreds of handmade tarts each day. (The Dutch Apple Tart made with apples from the local orchard is worth the trip to Kinderhook, New York.) The only thing stronger than Kye's love of the bakery's Fudgy Chocolate Tart was her love for the Upper Valley region of Vermont and New Hampshire. She moved back in 2015 and soon found herself a part of the King Arthur family. 
Kye started at King Arthur answering questions on the Baker's Hotline and on social media platforms before becoming part of the content and editorial teams. Today, Kye is King Arthur's Associate Recipe Editor and tends to the site's recipes as if they were each their own little treasure, creating one giant trove of baking joy. Her favorite part of working at King Arthur — aside from the free flour — is spending time with people who love talking about food just as much as she does.