There are only so many cookies you can decorate in one month. (That's a lie — we'll never get tired of cookies!) But if you're looking for another festive holiday treat to serve alongside your cookie plate, we've got the solution: Christmas tree bread. 
This season, turn one of our favorite shaped breads into a stunning (and tasty) display of holiday cheer. 
For all of you decoratively challenged folks like me, it's also an easy way to craft a creative Christmas dish without too much fuss. Despite the intricate appearance, I promise it's not much trouble at all.
The bread recipe 
To make this Christmas tree bread, start with the master dough recipe for our Cinnamon Star Bread. If you're going the savory route with your filling (more on that below), reduce the sugar in the recipe to 1 tablespoon and omit the vanilla extract. No other changes needed! 
If you're baking gluten-free, you can use our Gluten-Free Cinnamon Star Bread recipe, also reducing the sugar and ditching the vanilla if you're making savory bread. 
To get started, prepare the dough as directed in the recipe through the first rise. After the dough has proofed, you'll be able to start your Christmas tree bread.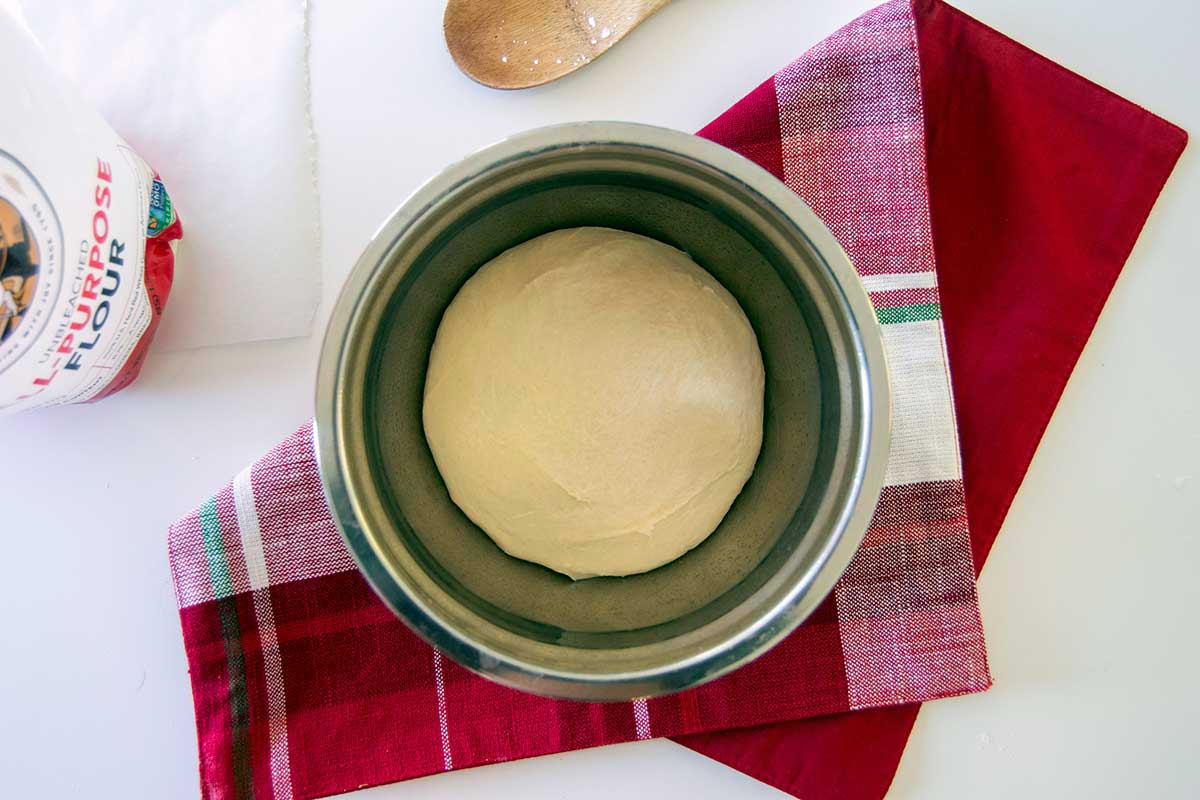 Filling your bread
Depending on your taste buds, you can elect to make either a sweet or savory Christmas tree bread. To really lean into the holiday theme, I like to make this bread with a green and red filling. For a sweet bread, I'll use pistachio paste and pomegranate seeds; for savory, pesto and sun-dried tomatoes, as demonstrated in the example below.
You certainly don't have to stick to this color theme though. For example, use the original cinnamon-sugar filling in the Cinnamon Star Bread recipe, or try one of the flavor ideas suggested in our blog post on savory star bread. 
Shaping the dough
Once you've prepared your dough and let it proof once, you're ready to start shaping. Form the proofed dough into a ball, then cover and let rest for about 15 minutes. Since this dough can be sticky, make sure to lightly grease or flour the surface where you leave it to rest.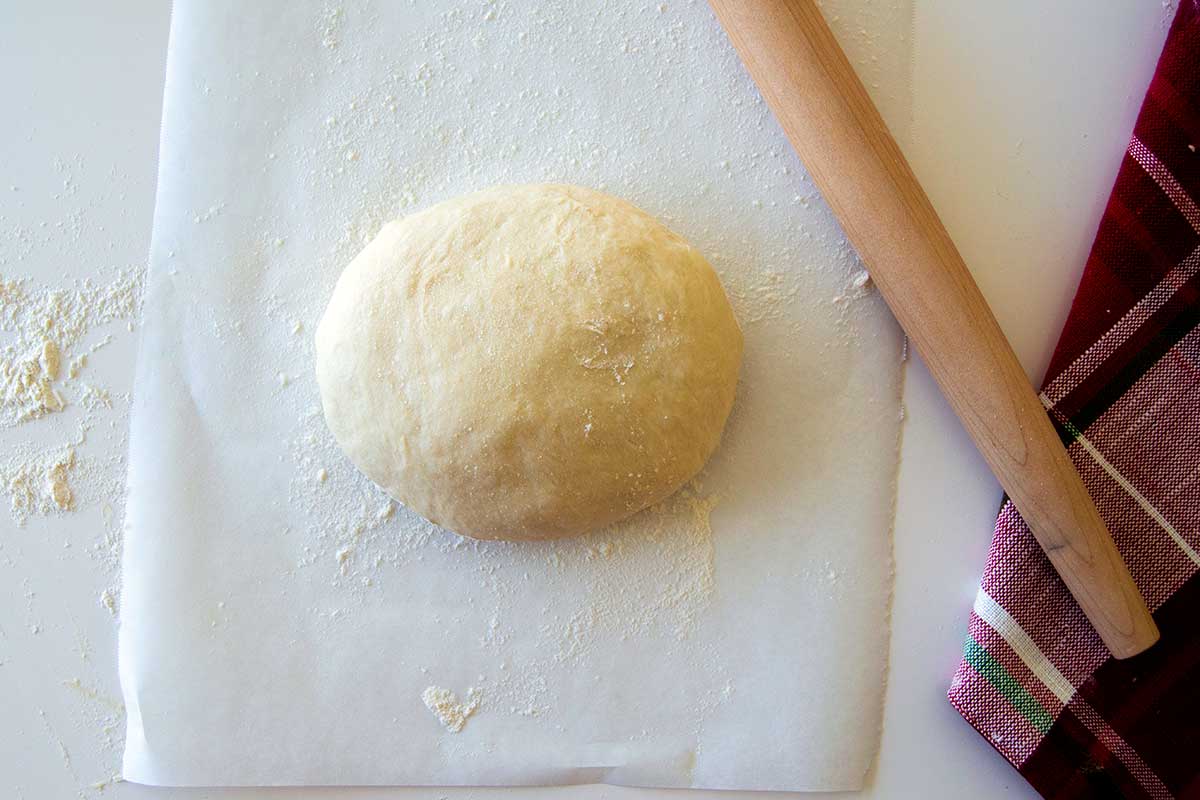 On a lightly floured sheet of parchment paper, roll the dough into a roughly 11" x 15" rectangle. (Don't stress about being too exact here). If the dough continually snaps back as you try to roll it, cover and let it rest for 5 to 10 minutes to relax before trying to roll again. 
Using a pizza wheel or sharp knife, cut a Christmas tree shape out of the dough — essentially, a triangle with a small rectangle at the bottom as a stump.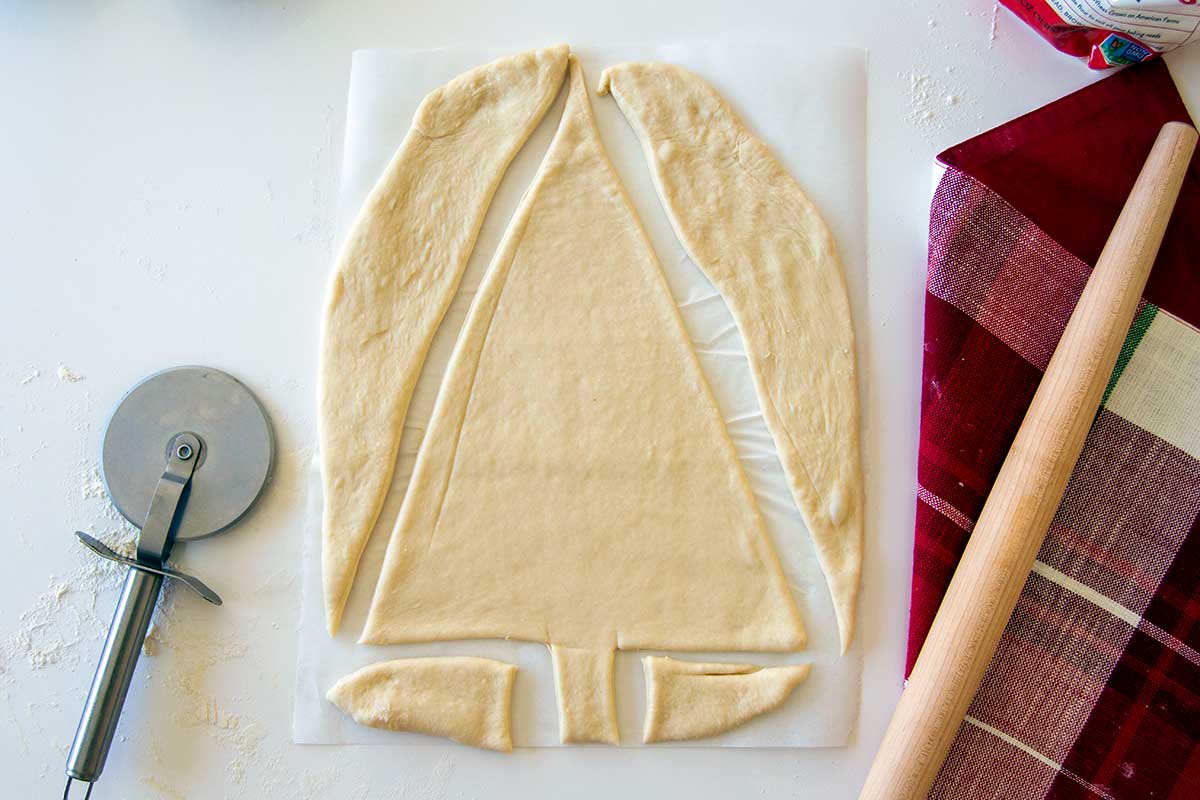 Carefully remove the two large pieces of excess dough from each side of the tree shape. Transfer these pieces to another sheet of parchment paper, then line them up next to each other so that they form a rough triangle similar to the Christmas tree shape you just cut. Use another small piece of dough left over from cutting to form the tree stump.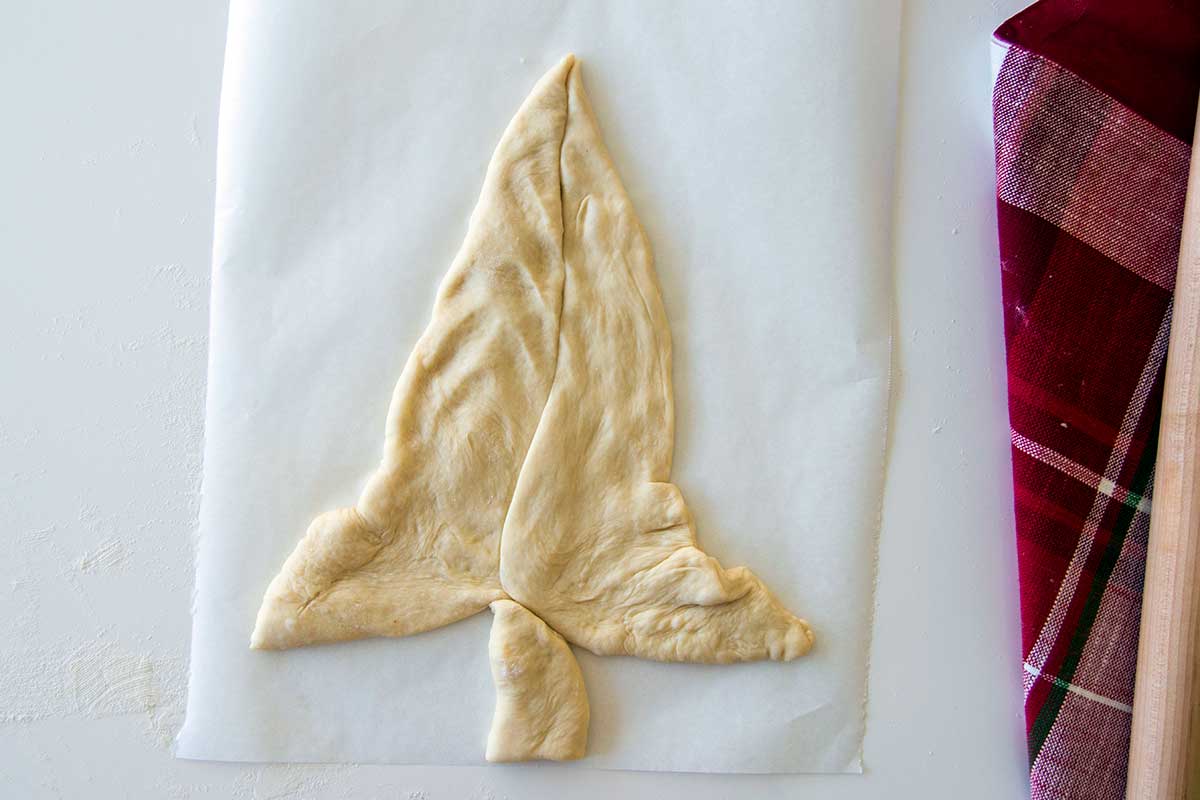 Use your fingers to gently press each of the pieces of dough together and carefully stretch so that they're the same size as the original Christmas tree you cut. Use a rolling pin to smooth and shape, then use the pizza wheel to cut straight edges along the sides. This will be the bottom of your bread — it's OK if it's a little wonky.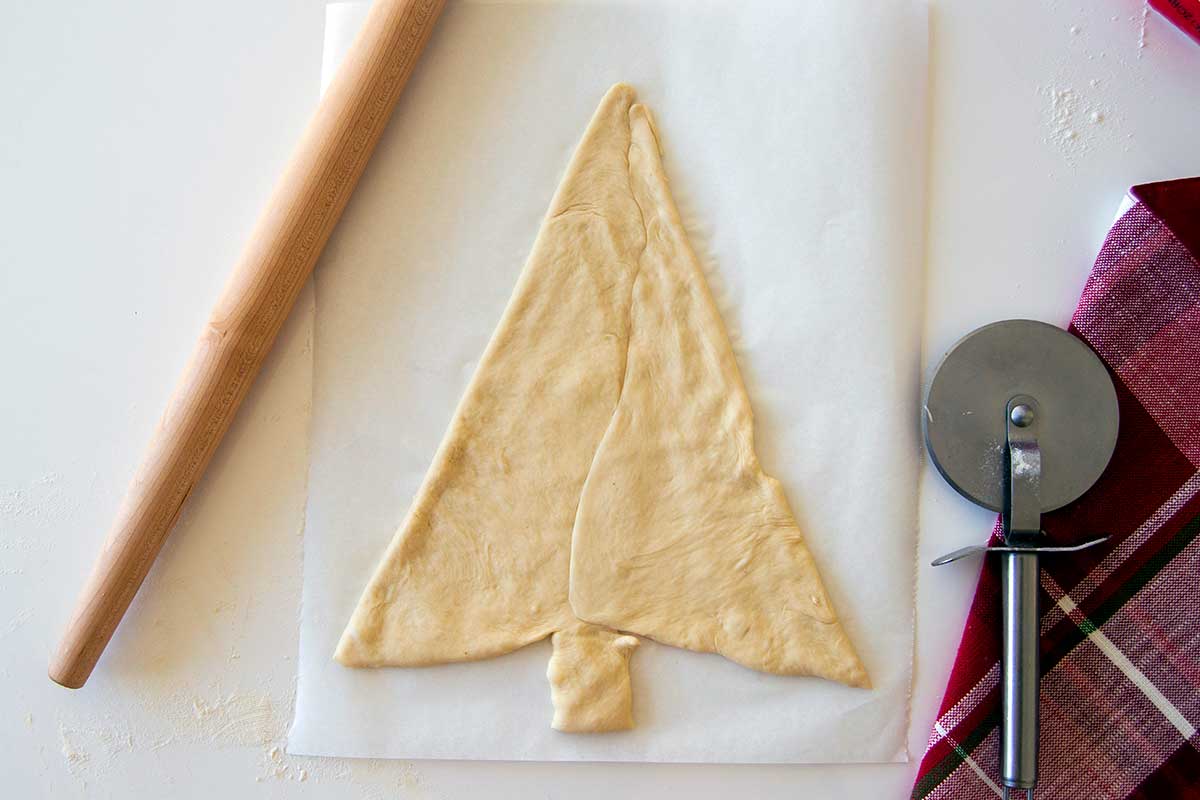 Brush the bottom piece of dough with your filling of choice; for this bread, I'm using pesto. Sprinkle on any additions, like chopped sun-dried tomatoes.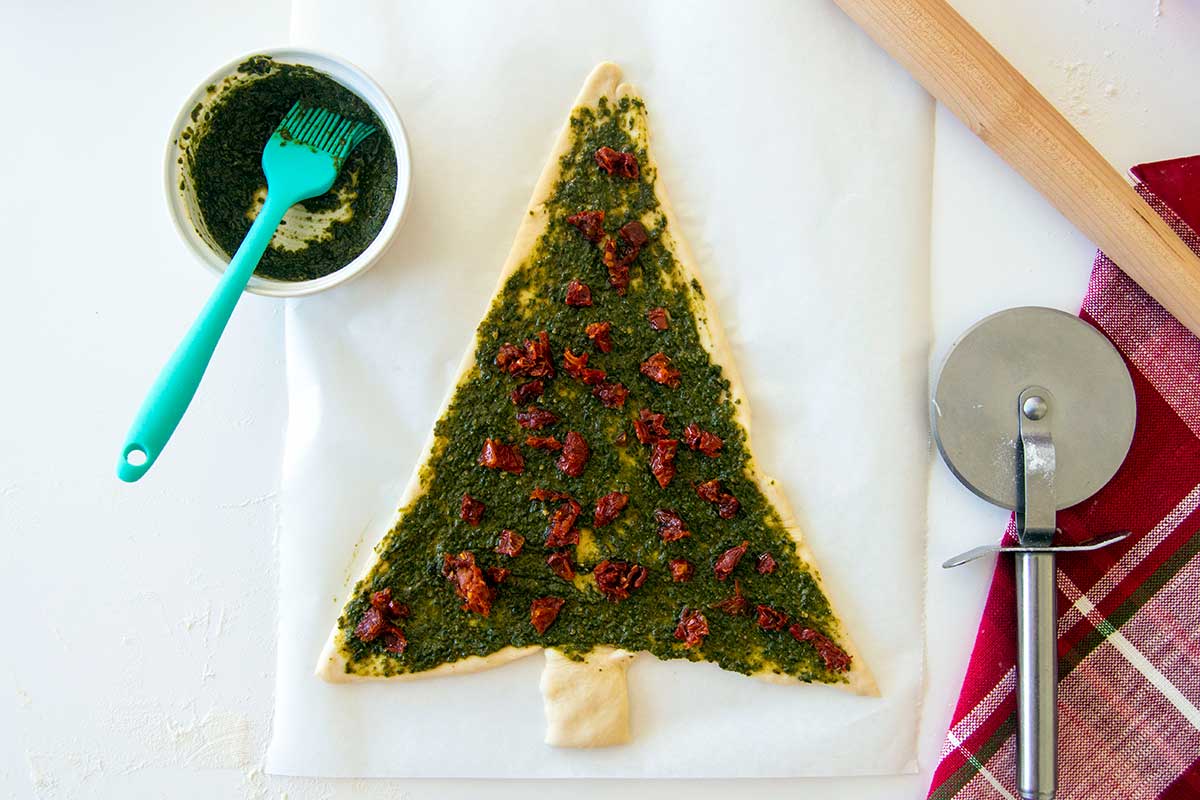 Use the parchment paper to carefully flip the first piece of dough on top. Adjust and stretch as needed so that the top dough tree entirely covers the filling. 
Next, use a pizza wheel to cut 1"-wide strips on each side of the tree shape, leaving an approximately 1"-wide column of dough down the center of the tree untouched. If you'd like, you can place a ruler or the handle of a wooden spoon down the middle of the tree to act as a guide, or just eyeball it.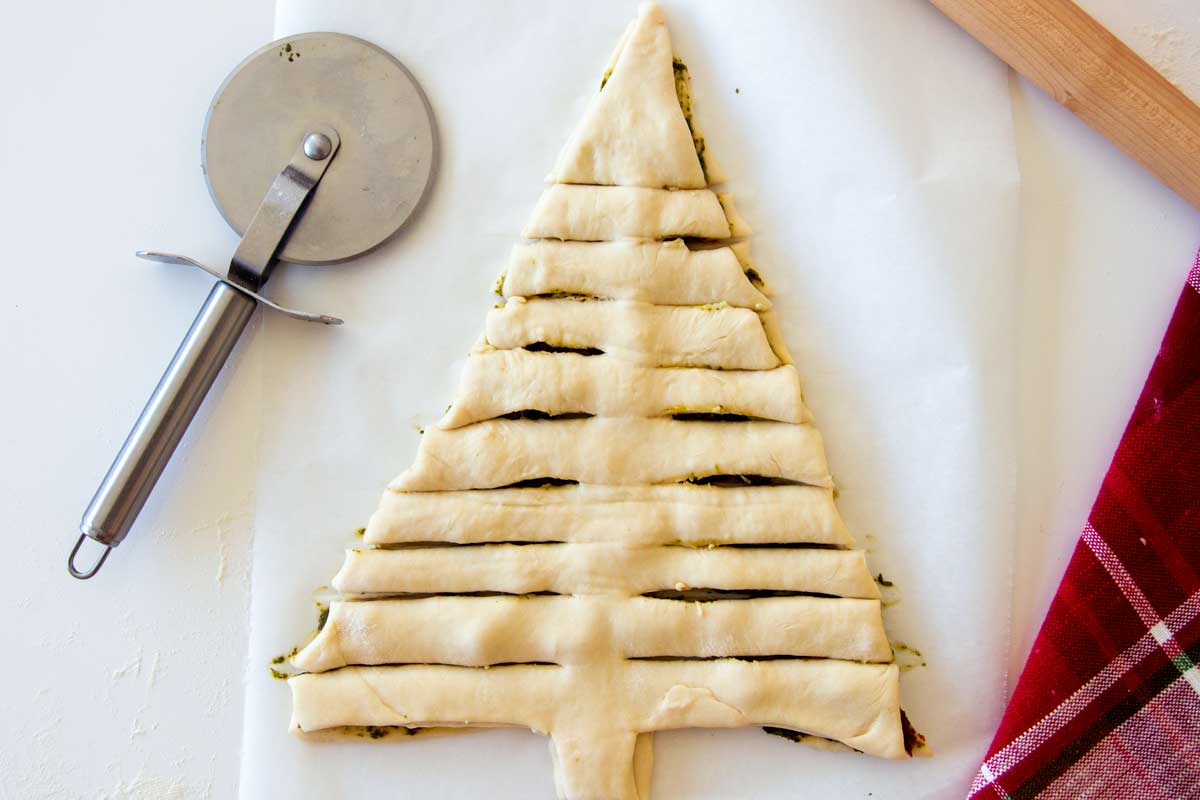 Starting at the bottom of the tree, take a strip of dough and twist, forming a spiral with the filling peeking through. Set the twisted strip back down. Repeat with all of the strips of dough.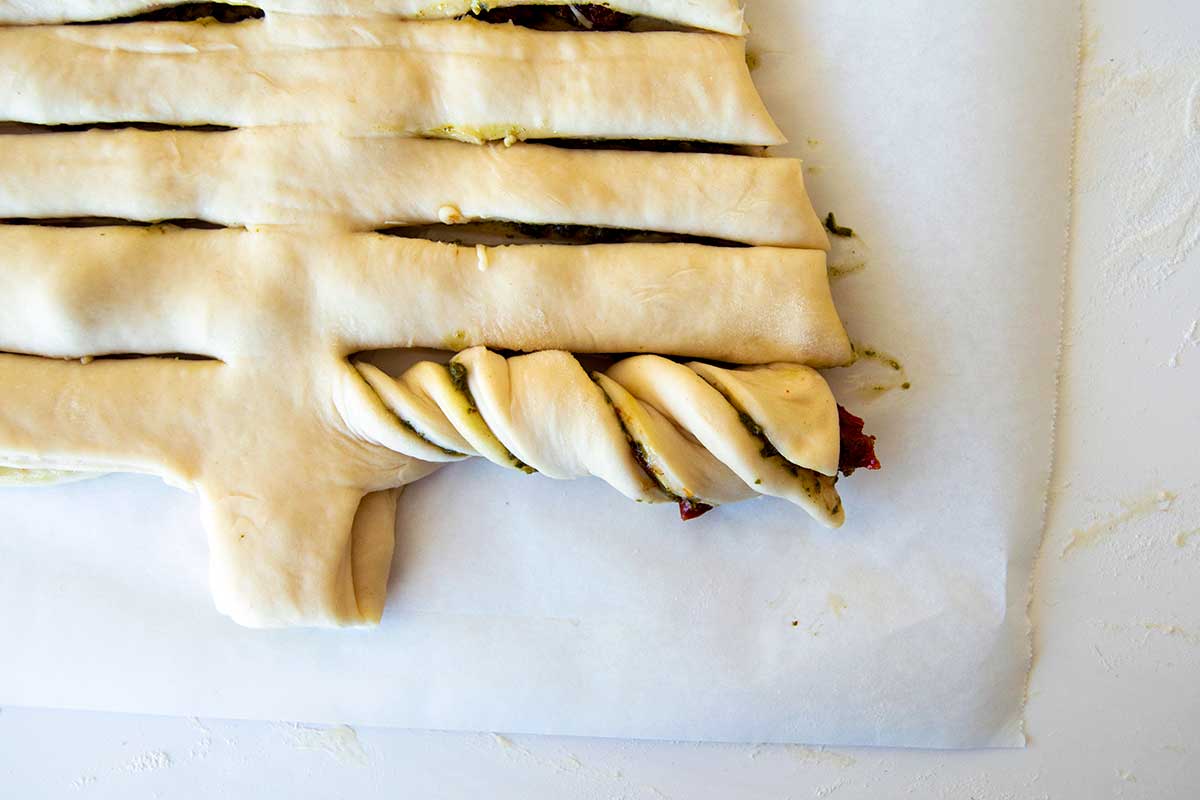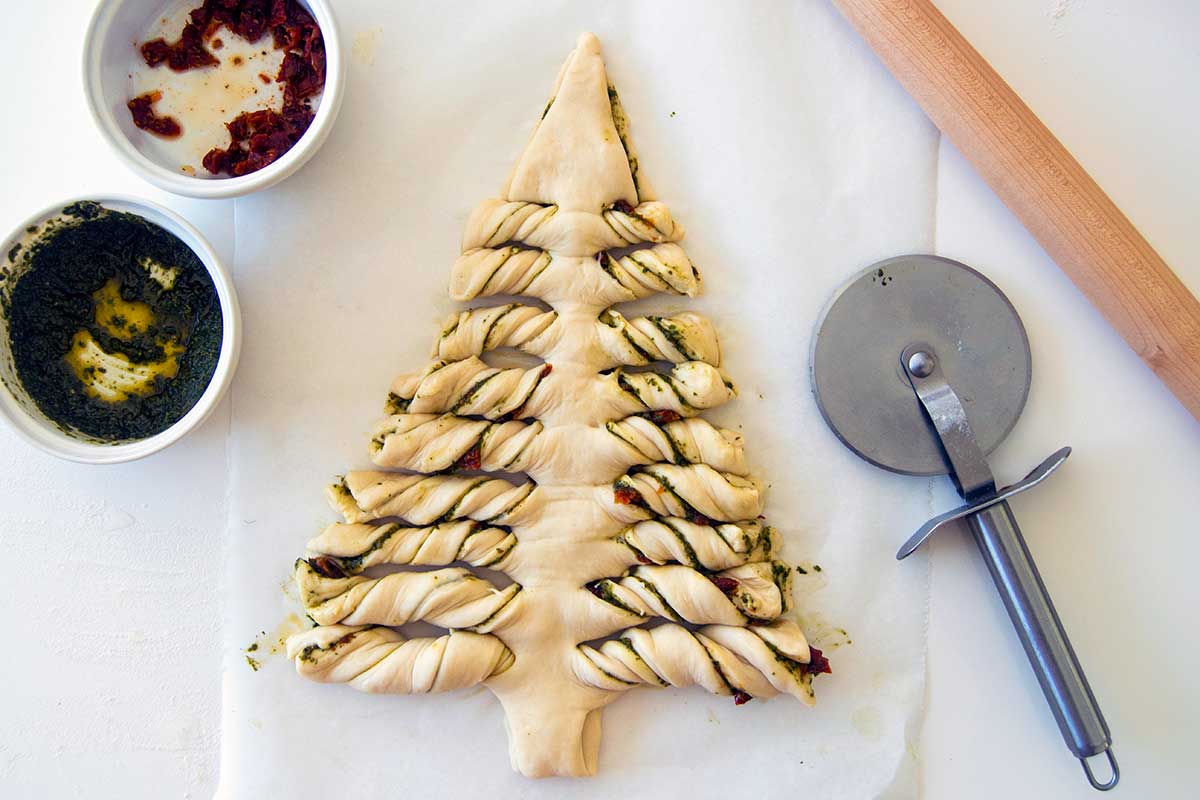 Bake the bread 
Using the parchment paper, slip the bread onto a baking sheet, then cover the bread and let it rise for 45 minutes, until noticeably puffy. Meanwhile, preheat the oven to 400ºF.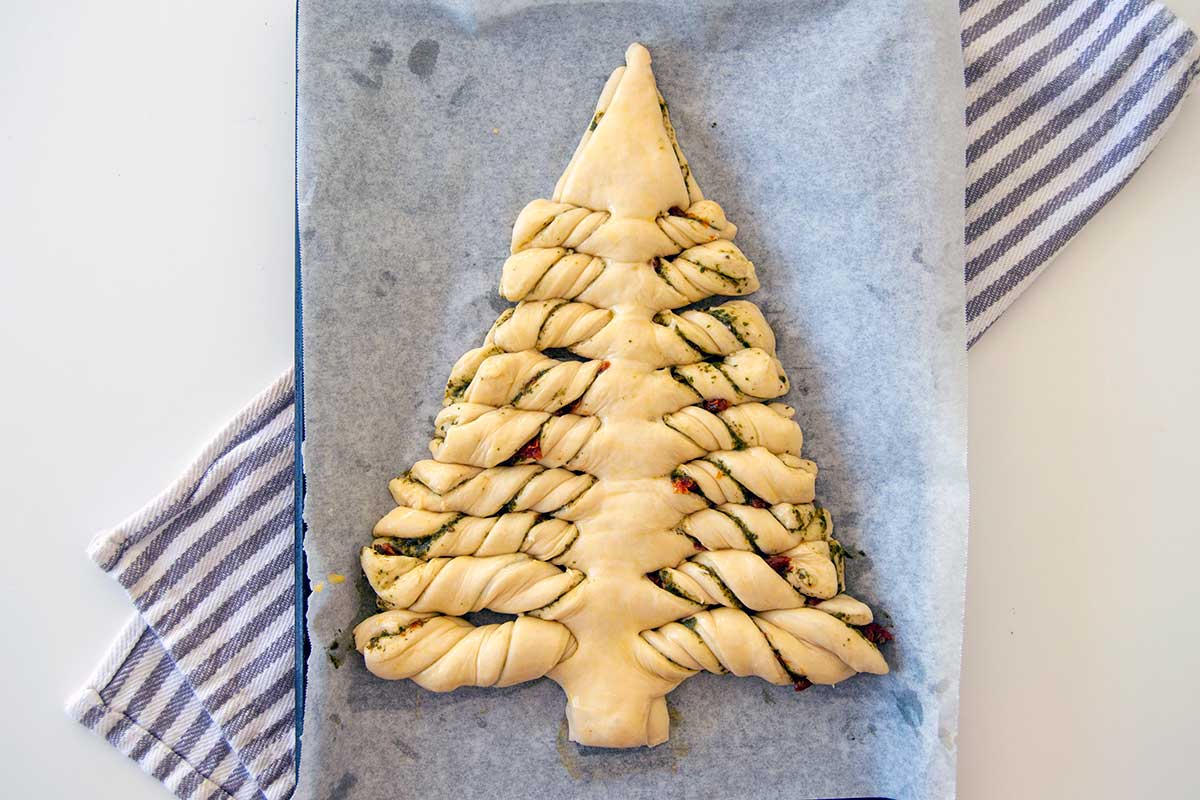 When ready to bake, brush lightly with a beaten egg. Bake for 12 to 15 minutes, until golden brown all over.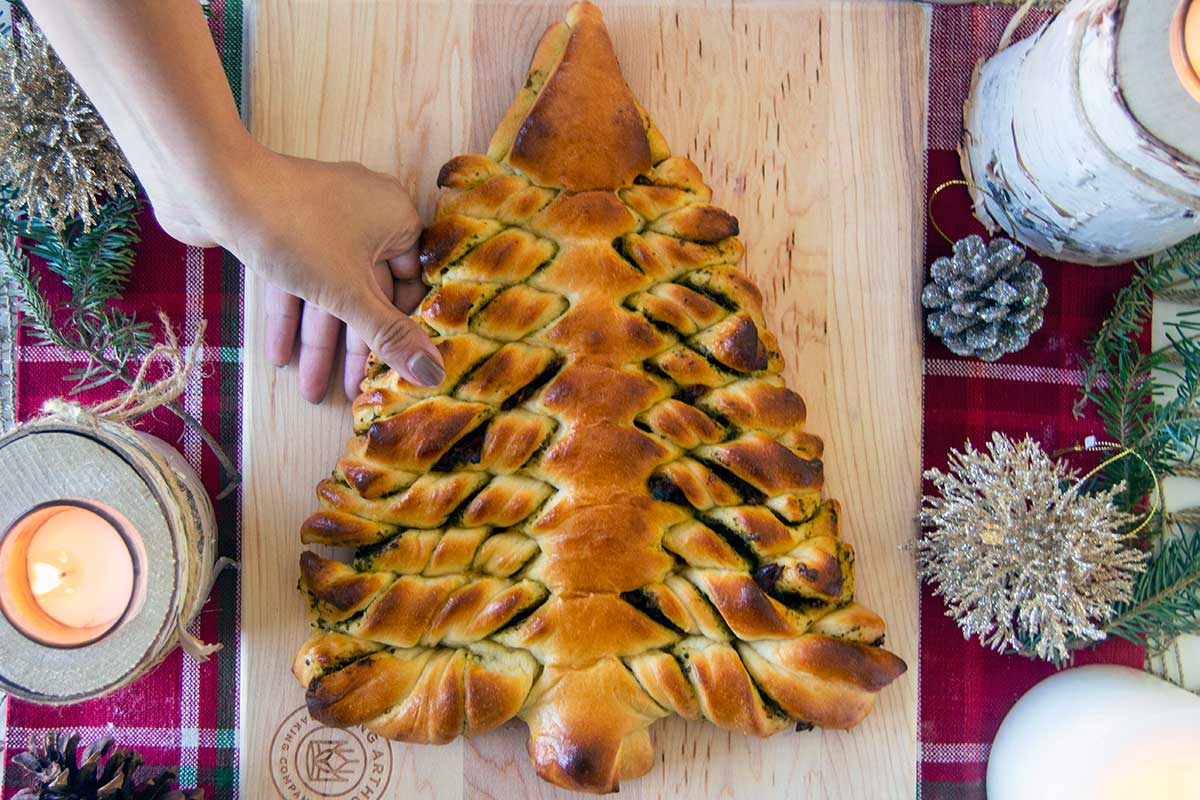 This bread makes a lovely pull-apart appetizer or dessert to serve to your family — each person can pull off their own "bough" to enjoy. Because each branch is like its own individual breadstick, it's also fantastic served alongside dips for easy dunking, such as Hot Popper Dip or Hot Spinach Dip . 
Another option: Christmas tree puff pastry 
Looking for another way to embrace the holiday spirit?
I gave this method a try using our Fast and Easy Puff Pastry, and it works just as well — using the same shaping, filling, and twisting technique, you can create a similar Christmas tree shape. Simply omit the second rise after shaping, brush with egg, then bake at 400°F until golden brown, about 20 to 25 minutes.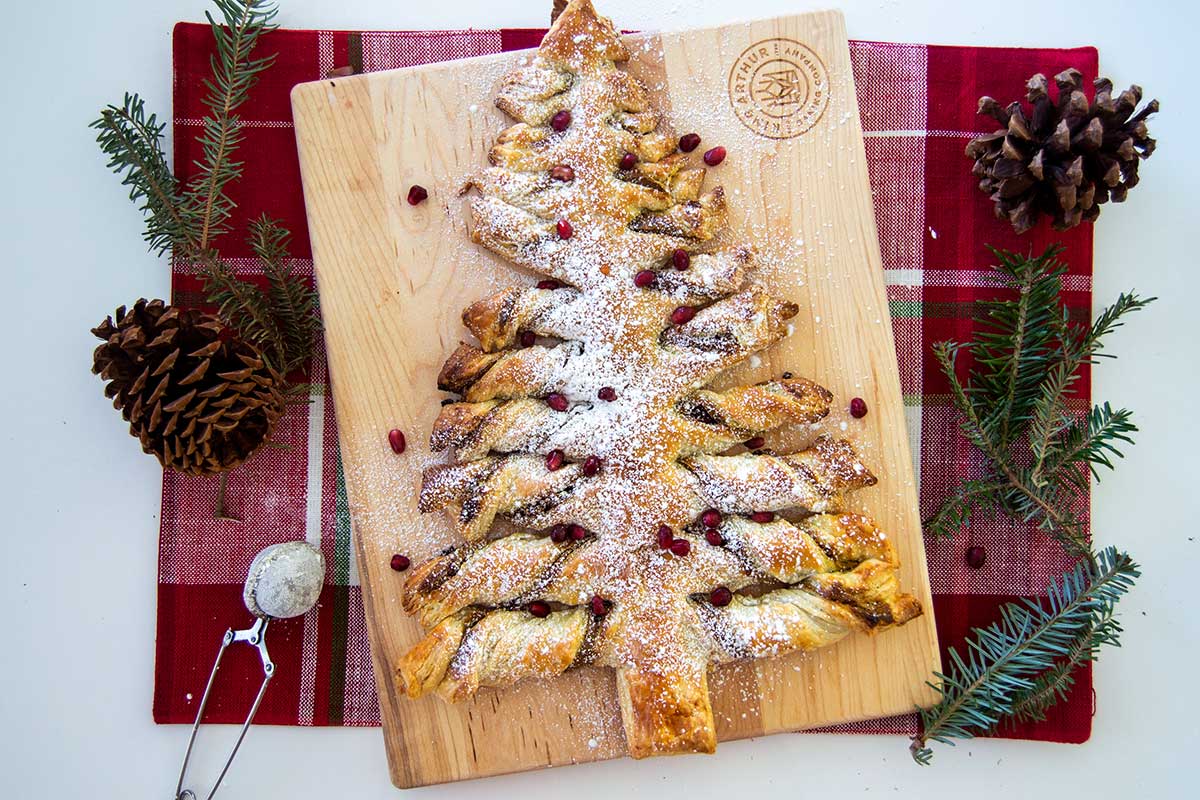 The puff pastry version bakes up into a light, crispy, incredibly flaky treat that you can customize to be sweet or savory. This time, I filled mine with pistachio paste and pomegranate seeds for another green and red-inspired look. Let your taste buds guide you and your imagination run wild! 
O Christmas tree (bread) 
As fragrant as your towering Douglas Fir may be, I doubt it smells as enticing as freshly baked bread straight out of the oven. Take inspiration from your decorated Christmas tree and twist up a stunning and satisfying bread to enjoy this season.  
For more beautiful holiday breads, see the lovely loaves in our post Sweet breads for the holidays. 
Jump to Comments