The arrival of the holidays marks the start of festive baking. Like most of you, I turn to favorite classics and I search for new seasonal inspiration. By far the most creative and crowd-pleasing holiday recipe on my list is star bread. Not only is it stunning in a seasonally appropriate way (who needs ornaments when you have an edible star on the table?!), but it's incredibly fun to bake. Surprisingly simple considering its intricate appearance, star bread is a wonderful project for any baker (and fun with kids in particular).
The majority of holiday baking seems to be sweet: butter cookies and peppermint chocolate brownies and all manner of traditional sweet yeasted breads. There are cookie trays galore and candy everywhere and gingerbread houses. Fittingly, here's a sweet version of one of our most popular holiday breads: Cinnamon Star Bread.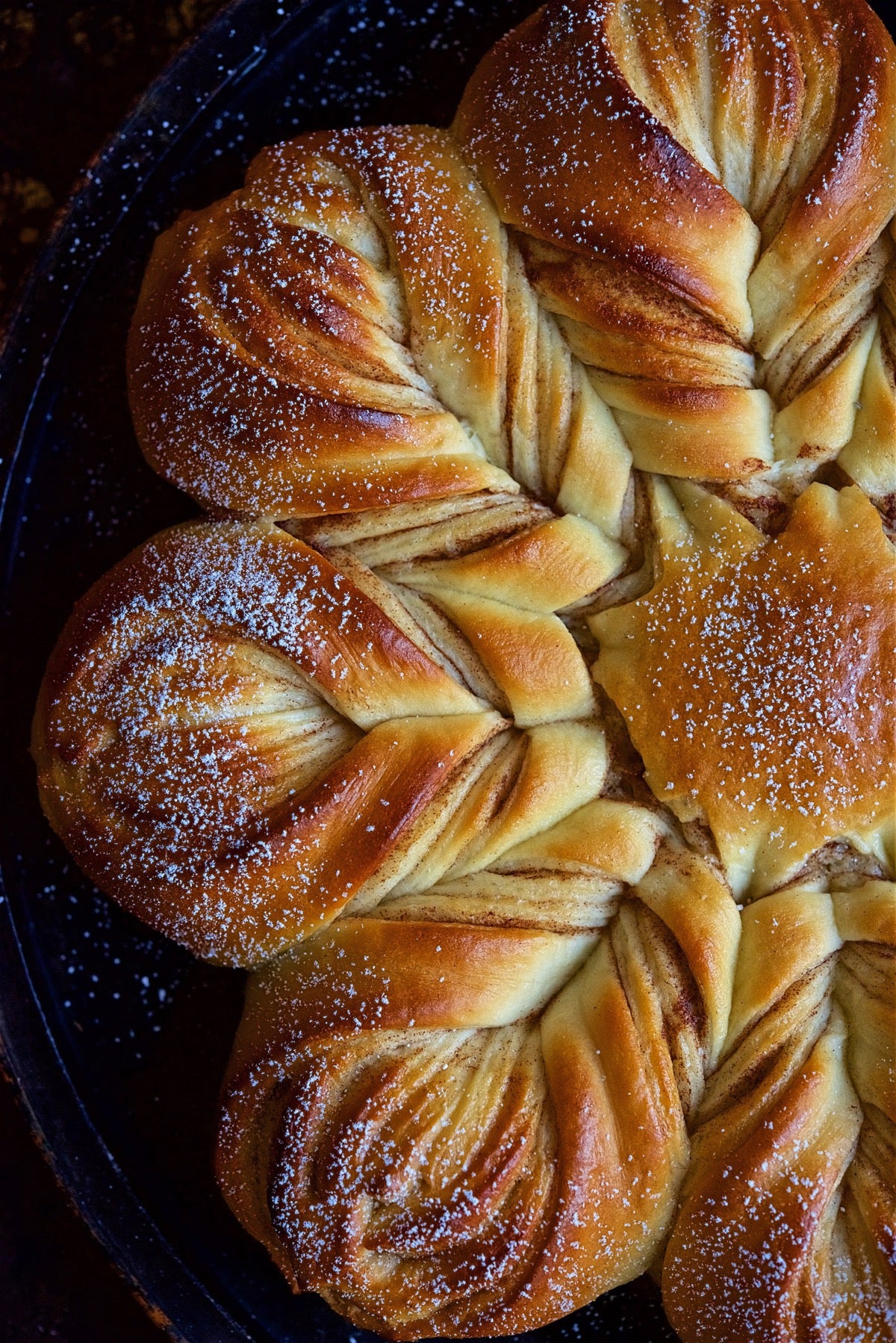 Today, we're going to talk about turning that gorgeous recipe savory. Star bread is such a versatile template: Just take the soft, pliable dough and swap in your favorite fillings. Savory star bread is a great choice for a festive appetizer; it's basically a pull-apart bread, so it's perfect as a finger food for holiday cocktail parties.
Choose a simple filling (like cheese or butter and herbs), and it becomes a prettier, fancier version of a classic dinner roll. Serve it alongside holiday meals, or even just weeknight suppers!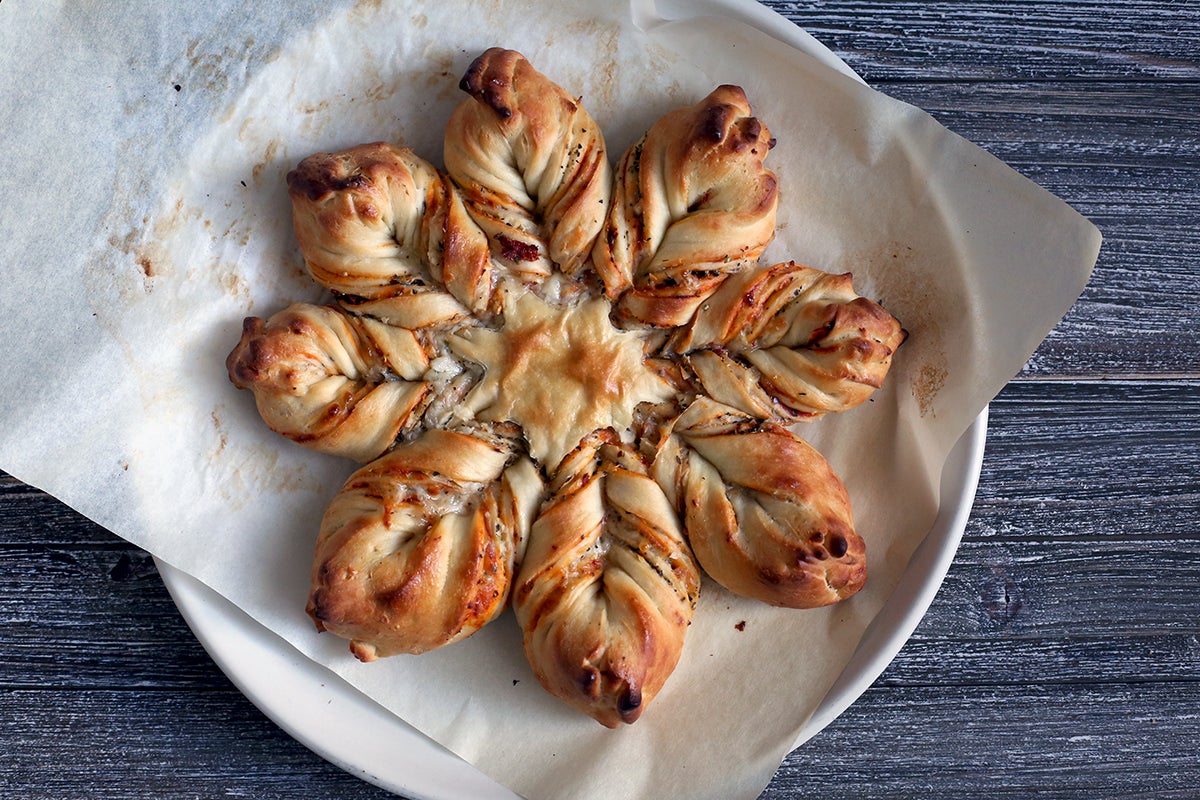 You could even seriously embrace the star bread concept, and host a party of all star breads, from appetizer-inspired versions to entrée-inspired versions, and finishing up with sweet versions.
How to make it
Here's how to riff on the original sweet recipe to make a savory star bread. You can start with our master dough recipe, and scale the sugar back to one tablespoon instead of two, and omit the vanilla extract. For detailed instructions on how to shape the dough, read our Cinnamon Star Bread blog post.
You can also follow our recipe for a savory salami and herb star bread, which uses a slightly different dough. Both are great and incredibly easy to work with, so you can't go wrong.
Baking gluten-free? Follow our gluten-free star bread recipe and reduce the sugar to one tablespoon.
Now it gets fun! Instead of using cinnamon sugar for the filling, you can use any savory filling you like. There's no limit to the flavors you can create, since the dough is a blank canvas.
The important thing to keep in mind is that you don't want your bread to be too messy, so don't choose a filling that's too fluid, as it'll ooze everywhere as you twist the dough; or too chunky, which will make the dough too difficult to twist.
Think about what flavors you like! Butter? Pesto? Cheese? Herbs?
Take inspiration from other dishes, like pizza or spanakopita or grilled cheese or Cobb salad or fattoush. Pull those flavors into your star bread recipe.
My favorite savory star breads
Two of my favorite savory star breads are pesto and pizza.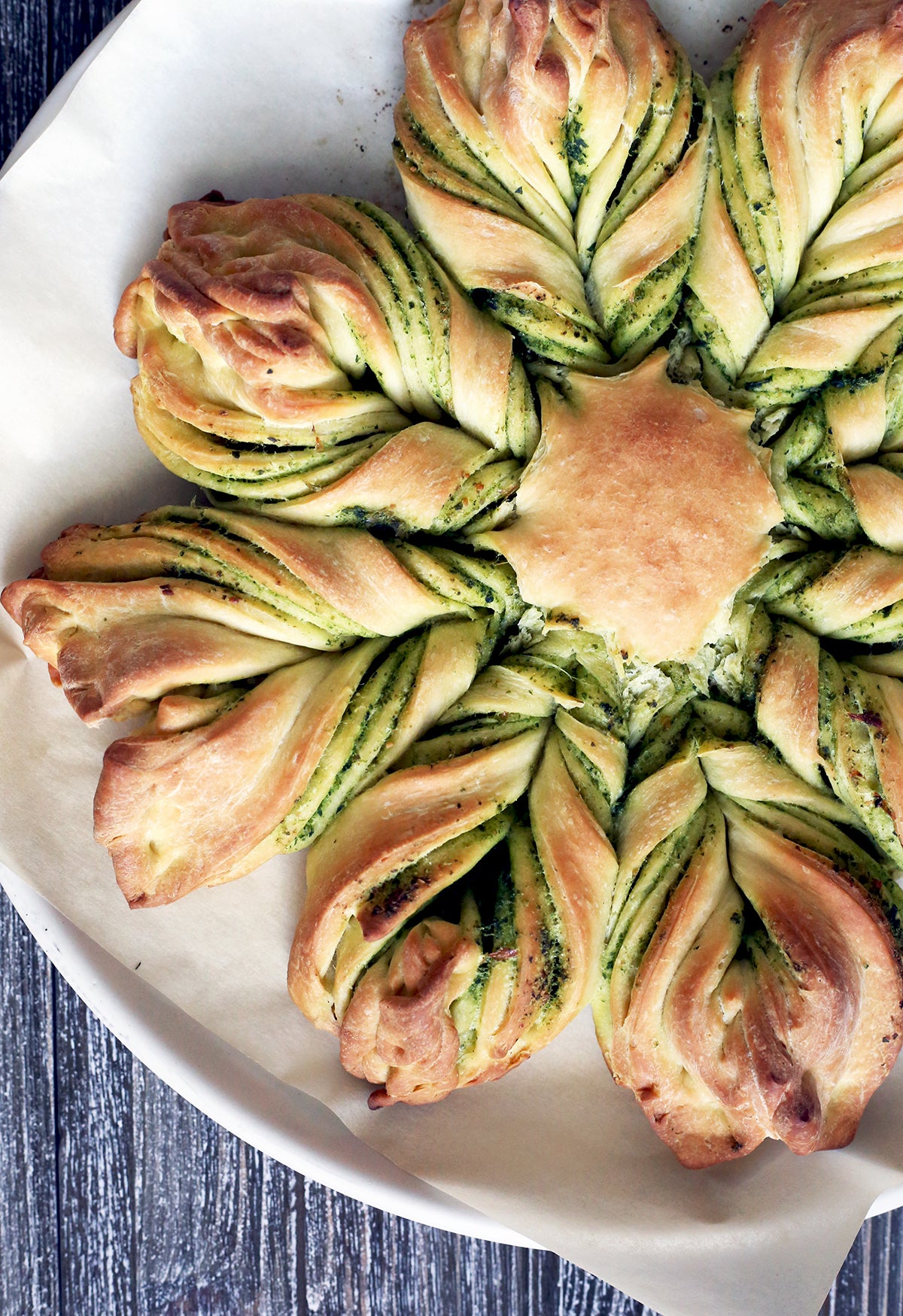 For pesto star bread, spread a thin layer of pesto between each circle of dough (leaving an inch on the outside edge of the dough bare). It's ideal to use thicker pesto, rather than thinner. If you want even more flavor, sprinkle some grated Parmesan cheese or chopped toasted pine nuts over the pesto.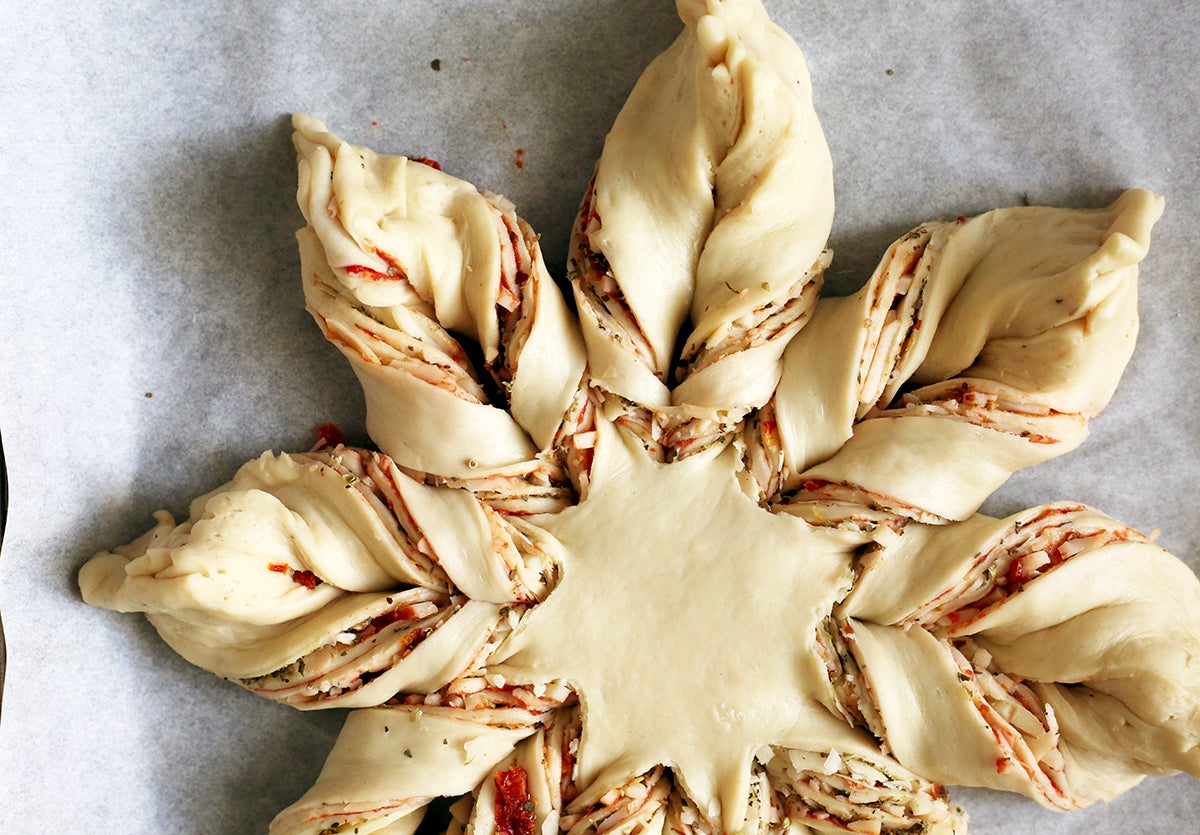 For pizza star bread, brush each layer of dough lightly with butter (leaving an inch on the outside edge of the dough bare). Spread a thin layer of tomato paste over the butter, then top with chopped sun-dried tomatoes, dried oregano, dried basil, chili flakes, and shredded cheese (I like a blend of mozzarella and Asiago). Adjust the amount of seasoning to your liking. If you want to really capture that pizza flavor, use our pizza seasoning blend!
More savory star bread ideas
The sky's the limit with savory star bread. Here are some creative ideas to get you thinking. Tell us which combinations you're trying out at home, and tag your photos on Instagram or Facebook with #bakealong to show us your show-stopping star breads!
Simple herbed butter: Brush melted butter over your dough and top with a simple blend of your favorite herbs, dried or fresh. I love using thyme and rosemary with some flaky sea salt for a wonderful take on a traditional dinner roll.
Calzone: Spread soft ricotta cheese over your dough and top it with chopped spinach, shredded provolone, and diced prosciutto.
Lasagna: Mix together tomato paste and ricotta and spread this over the dough. Top with grated cheese and a thin layer of cooked ground beef or turkey.
Garlic bread: Brush butter over the dough and top with minced garlic and chopped fresh parsley. Add some Parmesan cheese if you want a more decadent bread!
French onion soup: Brush butter over the dough and top with shredded Gruyère cheese and a thin layer of caramelized onions. (Tip: Add toasted bread crumbs for extra texture!)
Cacio e pepe: Take a cue from the beloved classic Italian pasta! Brush beaten egg over your dough and top with plenty of finely grated pecorino cheese and a shower of freshly ground black pepper.
Nachos: The most fun party appetizer, in bread form! Spread a small dollop of sour cream on your dough and top it with shredded cheddar cheese, taco seasoning, and crushed tortilla chips. You can also try using guacamole or black beans, but make sure your filling doesn't get too thick.
Japanese vegetable pancake: Inspired by the delicious, crispy, savory Japanese pancakes called okonomiyaki, this savory star bread is full of Asian flavors. Make a tangy sauce by blending ketchup, Worcestershire sauce, soy sauce, Dijon mustard, minced fresh ginger, and rice wine vinegar. (Start with small amounts of each and adjust according to your taste). Spread this over your dough, then top with shredded cabbage or kale, toasted sesame seeds, and sliced scallions. You can also mix Kewpie mayonnaise (a rich Japanese-style mayonnaise) into the base for the sauce.
Loaded baked potato: Transform the ultimate comfort food into star bread! Spread a thin layer of sour cream over your dough and top with sliced scallions, chopped cooked bacon, and shredded cheddar cheese.
Baked brie: Spread your dough with a very, very thin layer of jam (I like fig or apricot) and dot the surface of the jam with small bits of Brie cheese.
Now you're ready to make some savory magic with beautiful star breads — and give holiday desserts a run for their money!
Ready to bake? See our Cinnamon Star Bread recipe for the master dough and shaping techniques. Or try our recipe for already-savory Salami and Herb Star Bread.
Jump to Comments