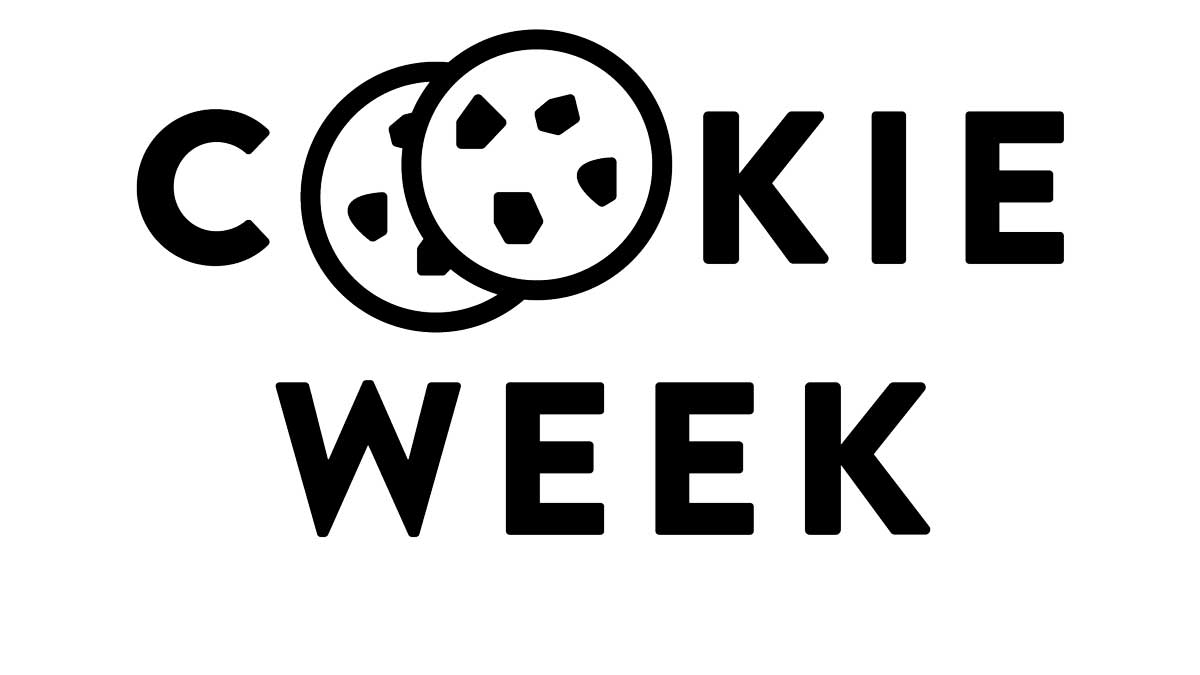 As we ring in the holiday season, we've officially declared this week to be Cookie Week. To celebrate, we're covering all things cookie-related, from decorating to gifting to going gluten-free. Join us for festive inspiration and plenty of holiday cheer.
* * *
Creating beautiful cookies to share is one of the great joys of baking, especially during the holidays. No matter your skill level, we've got recipes and techniques to help you create show-stopping cookies this season, whether you're a master decorator or don't even own a pastry bag. 
With these festive cookie techniques — ranging from easy to advanced — you might just add a new trick to your decorating toolkit.
Let's spread some joy and make some cookies!
Easy: Scoop, drop, and roll 
Whether you're new to cookie decorating or just looking for a quick and easy way to create cute cookies, rolling your dough in a coat of sugar before baking produces lovely cookies that can be shared, shipped, or just enjoyed with your afternoon tea between Zoom meetings. 
Recipes to try: This method works with just about any type of drop cookie, but we particularly recommend these Chocolate Gingerbread Cookies for seasonal spice, or Vanilla Polka Dots for classic flavors. 
How to do it: These stunners are super simple to make and won't require additional tools.  Just make your dough, scoop into balls, and roll in the sugar of your choice. 
Try Swedish pearl sugar for a darling polka-dotted cookie, sparkling sugar for a shimmering crunch, or colored sugar for a bright twist.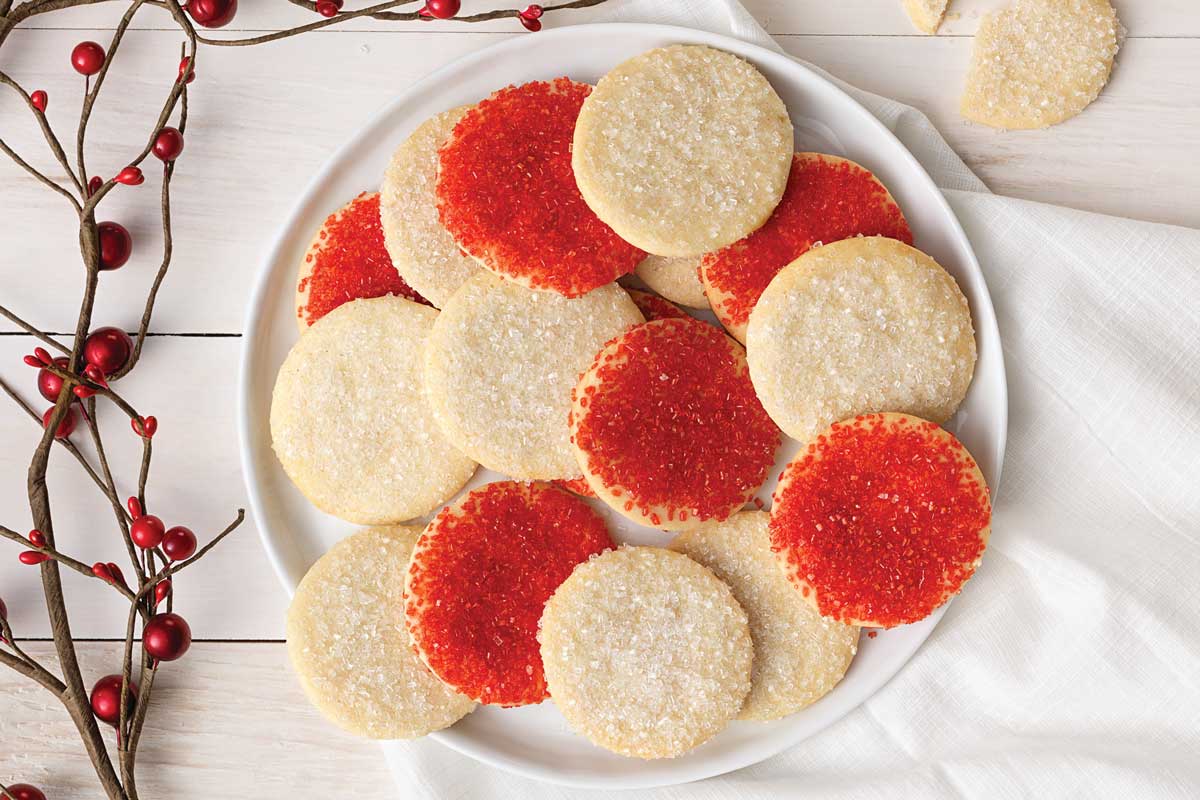 Coarse sugar like Demerara will give the cookies a pleasant crunch, while finer sugar like sanding sugar or table sugar will add a subtle sparkle and have a minimal effect on the texture.
A tablespoon is a good size for these drop cookies, or a teaspoon will make tons of adorable cookie "buttons."
Tip: Want to take it up a notch? Add a filling! We like this raspberry filled version and these decadent chocolate buttons.
Easy: Make an impression
Up your cookie game with a cookie stamp. These cool tools press stunning designs into dough that look beautiful when baked, so you can create professional looking cookies with no decorating skills required.  
Recipes to try: These simply snazzy maple sandwich cookies and these brown butter beauties both make gorgeous options that are easy to roll, stamp, and bake.
How to do it: Once you have your dough prepared and rolled out, all you need to do is press down and stamp your cookie patterns. Check out this blog post for extra tips to create perfect stamped cookies.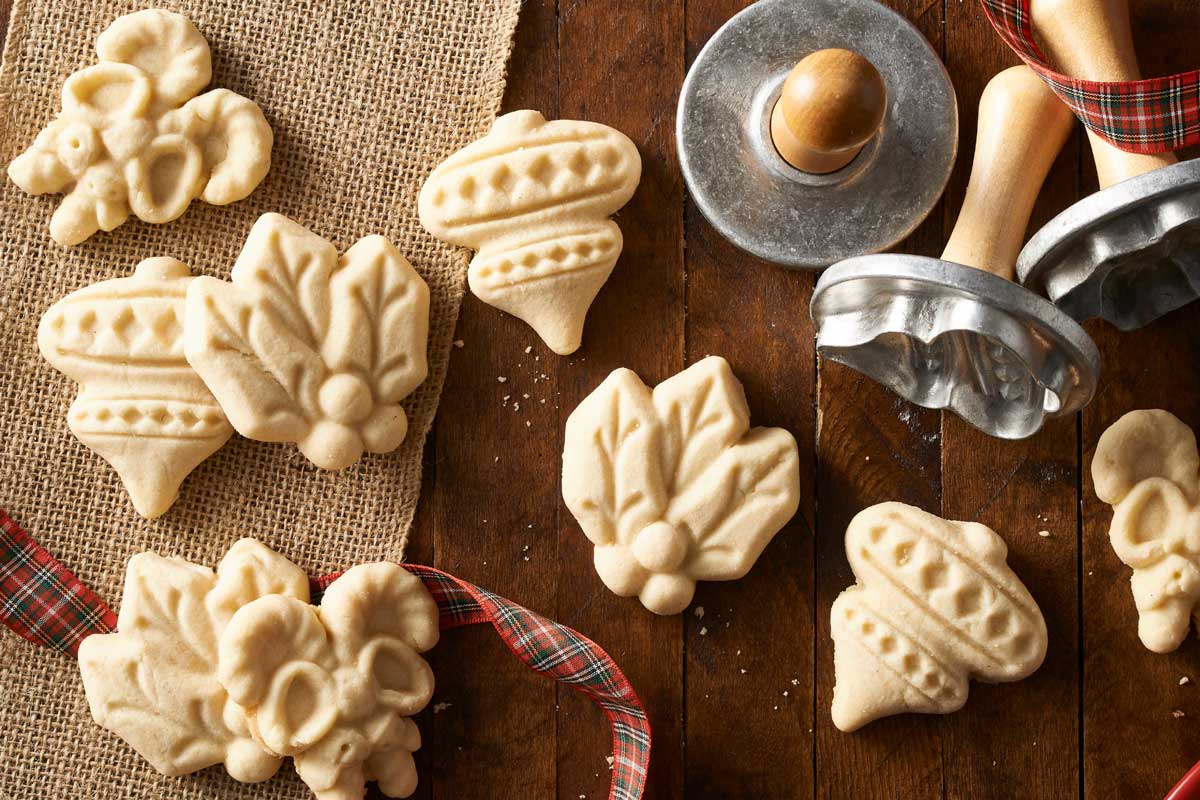 Tip: Use different cookie stamps to play around with designs, shapes, and textures. Go classic with this round geometric design, mix it up with this snazzy collection full of different shapes, or add extra holiday cheer with these festive stamps. And if you don't have a cookie stamp set, never fear! We have advice in this blog post on how to achieve eye-catching designs with common kitchen tools. 
Medium: Icing on the cake ... er, cookie
Ready to add a new skill to your cookie decorating repertoire? Piped frosting opens a world of possibilities for making gorgeous (read: gift-worthy) cookies. Thick, soft frosting is easy to use for decorating and hard to mess up, perfect for bakers who aren't as comfortable with piping.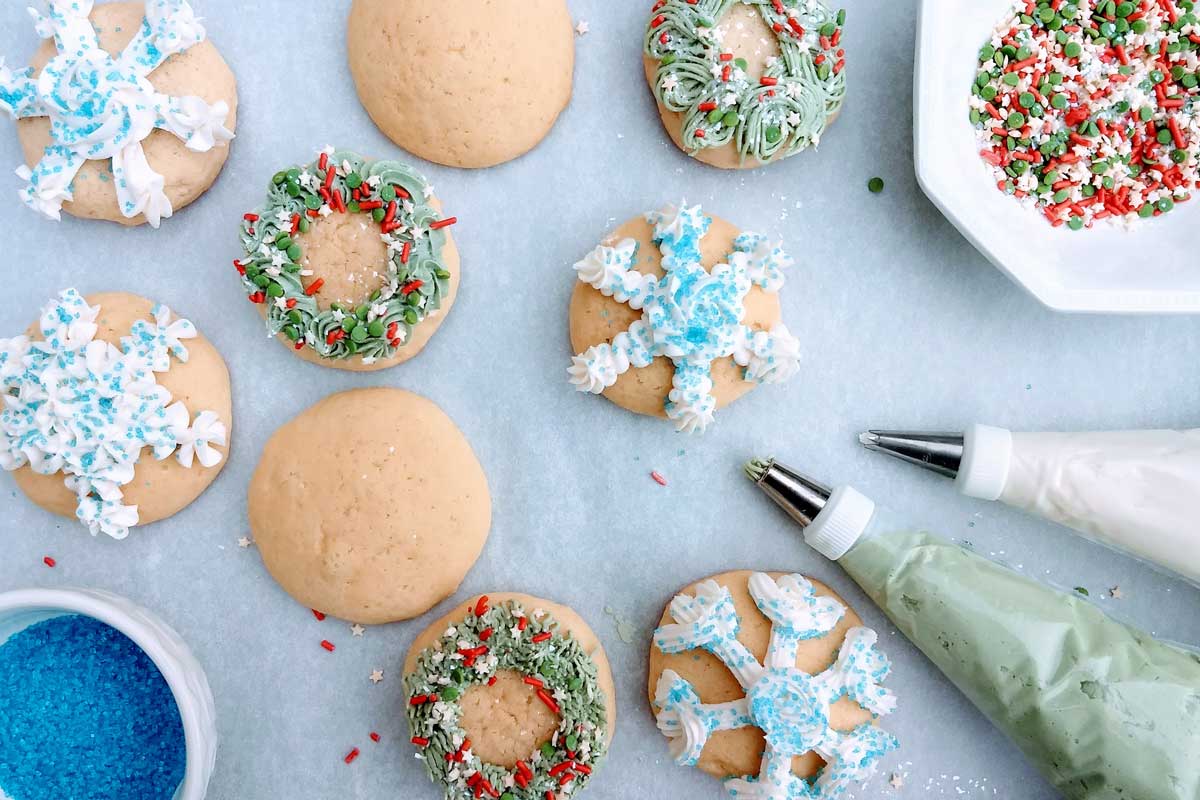 Recipes to try: Swirls of piped frosting sit atop cakey, pillowy sugar cookies reminiscent of colorful grocery store favorites. For a not-too-sweet base that's almost more cake than cookie, this recipe for Black and White Cookies is a perfect companion for sweet and fluffy Soft Cookie Frosting and yields nice round cookies without the need to roll and cut dough.
How to do it: You'll need a pastry bag, decorating tips (and a coupler — which lets you use different decorating tips with the same bag of icing if you'd like to switch between multiple tips), and a little time to practice. To get you started with piped frosting, like Soft Cookie Frosting, this video will show you how to assemble and fill a pastry bag.
For the wreath design, use a pastry bag fitted with a coupler and a decorating tip (open star, closed star, or grass tip are all fun options as shown) to pipe dollops or swirls of green frosting around the cookie's edge, leaving the middle open to resemble a wreath.  
For the snowflakes, use an open star tip to pipe three intersecting lines, then accent with dollops of white frosting to form a six-pointed design. Top with sprinkles and admire your handiwork!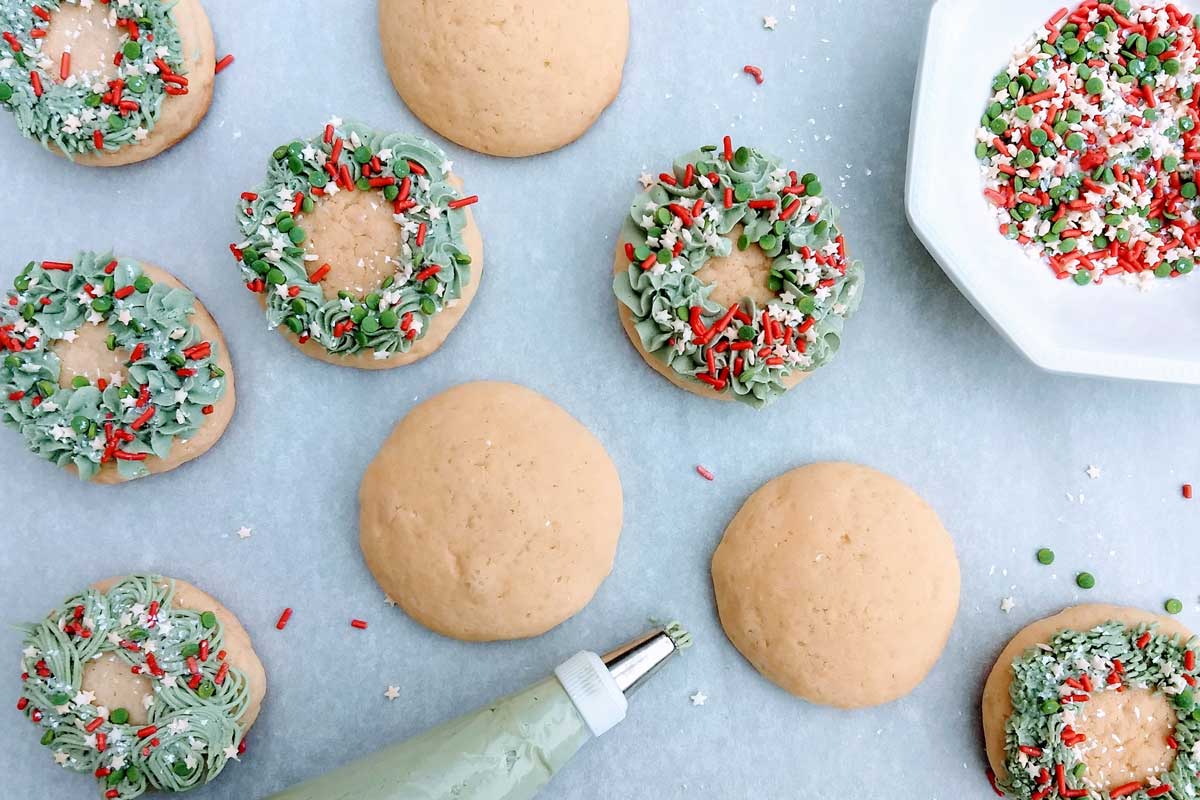 Tip: These will stay soft and delicious for several days, but aren't ideal for stacking and shipping. If you're looking for cookies that can be easily transported, read on ... 
Medium: Simple, sturdy, and spectacular 
Hoping to send your decorated creations to loved ones near and far this season? For a sturdier decorating option, you'll want to decorate with a firm- setting icing like Simple Cookie Glaze. No need to panic — with just plain white icing and a little sparkling sugar you can create a flurry of elegant and festive snowflakes that are sure to spread joy.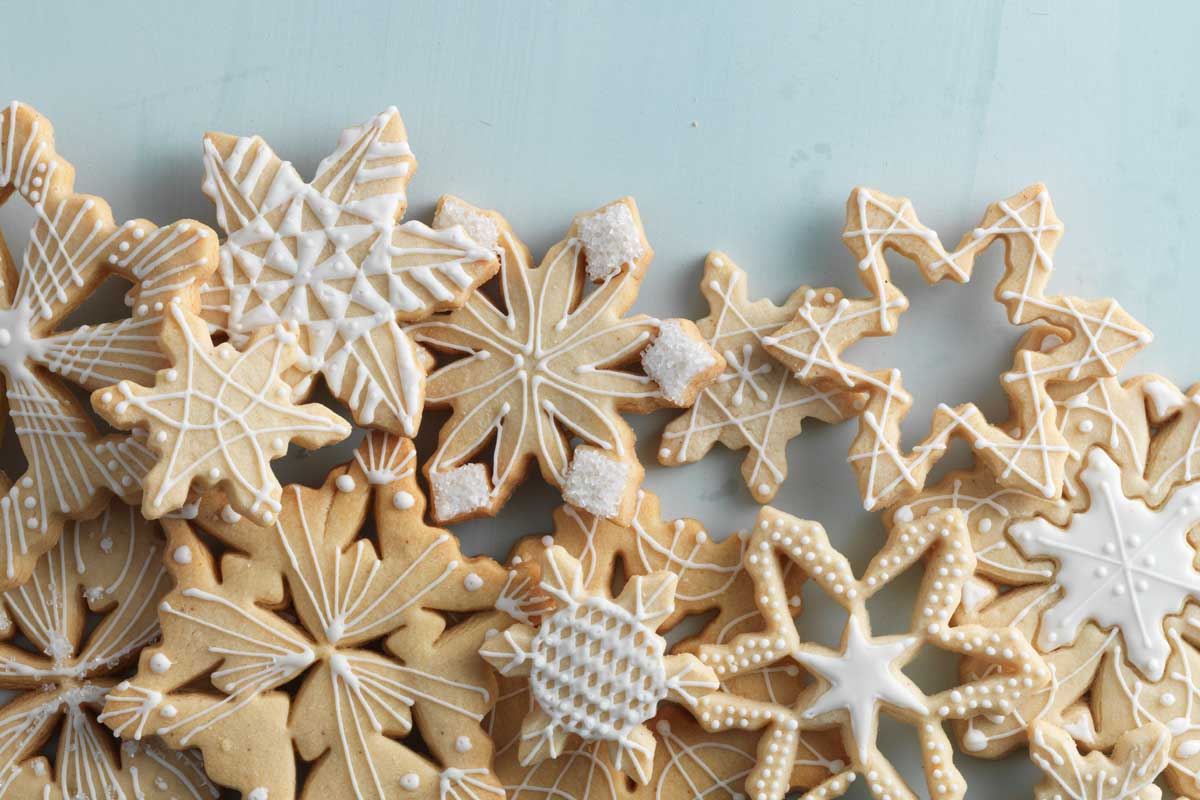 Recipes to try: Bake up a batch of Gingerbread Cookies or Holiday Butter Cookies, then make sure your beautiful design stays put with Simple Cookie Glaze or Royal Icing. 
How to do it: This video will help you find the ideal icing consistency for piping. Use a pastry bag fitted with a small round tip, or just cut the very end of the tip off the bag. 
To help ensure even lines, sift the confectioners' sugar to avoid lumps that could clog the tip, and use your free hand to steady the bag while you pipe. Practice piping on parchment or set aside a few practice cookies (they'll be delicious) to get the hang of it. Steady movement and even pressure are the keys to piping neat lines. Add sparkling sugar while the icing is wet.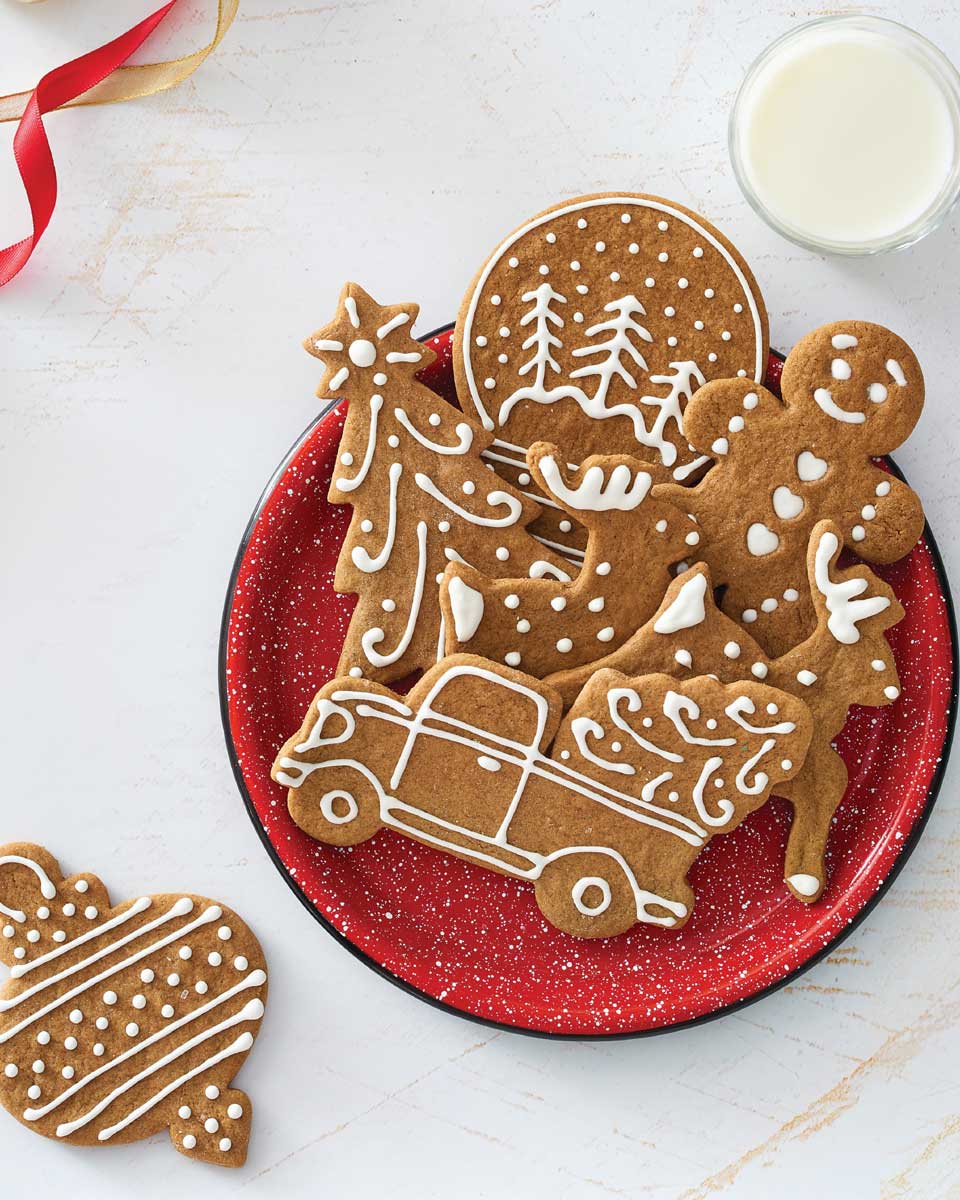 Don't stop at sugar snowflakes — gingerbread looks magical with white icing, too.
Tip: Make sure to plan ahead and let your cookies dry for 24 hours to make sure they've set completely before stacking or packaging them.
Advanced: The (jingle) bells and whistles
So you've dropped, rolled, stamped, glazed, piped, cut, and sprinkled your cookies, and now you're ready for a new challenge. Bake up a batch of your favorite cutout cookie shapes and let's jazz them up!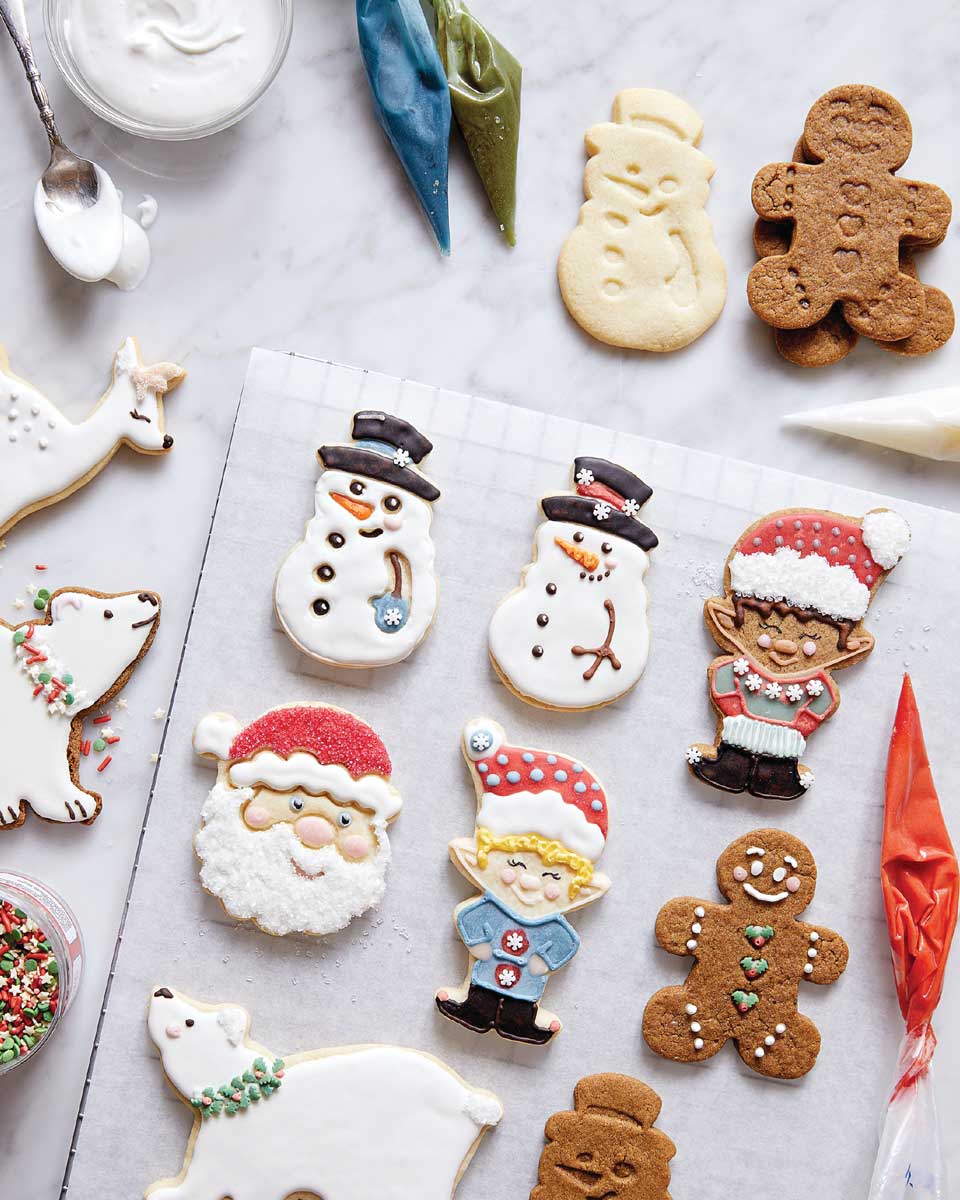 Recipes to try: For classic holiday cookies that are easy to cut and bake into shapes, we recommend sticking with these Gingerbread Cookies or Holiday Butter Cookies. For decorating, Simple Cookie Glaze is my favorite icing for this type of cookie design. 
How to do it: Hop over to this blog post for the basic techniques like flooding, flocking, and marbling using Simple Cookie Glaze. Looking for color inspiration? Here's a guide to using our natural food colors for a range of lovely color options. Once you know the basics, you can combine techniques and customize your cookies however you'd like.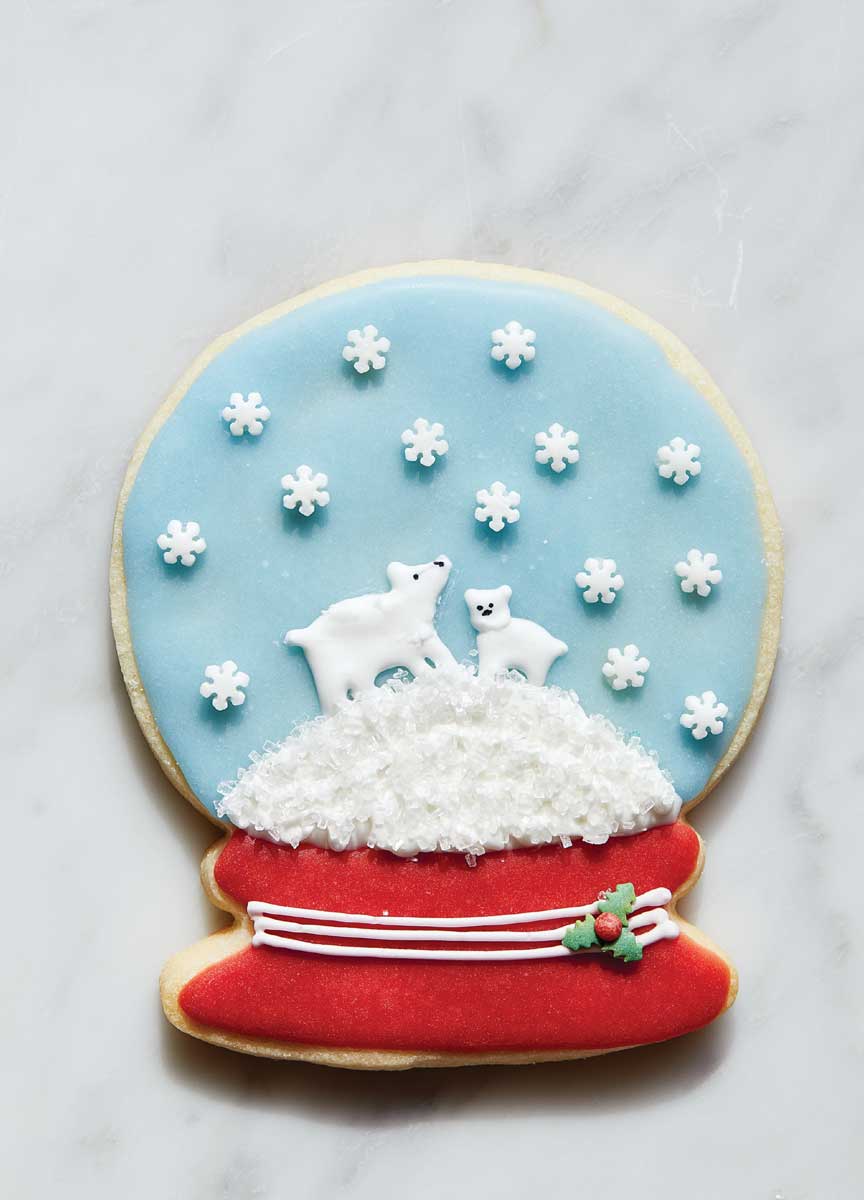 Tip: To create snow globe cookies like these, you'll need light blue, red, and white glaze in piping bags, as well as sugar decos. Outline and flood the globe portion with blue icing and place snowflake decos on the wet icing. Outline and flood the base with red icing. Once those layers have dried, add the mountain shape in white icing and flock with sparkling sugar. Pipe line details on the base and attach sugar decos to the wet icing to form the holly. 
To make the little bears, cut a very small opening in the piping bag (or use an 00 or writing tip) and a toothpick. Start by piping a small oval to form the body and use the toothpick to guide the icing down to shape the legs.  Let dry, then add another small dot for the head and use the toothpick to guide out an ear shape. Once the white icing has dried, use a toothpick dipped in black icing or a fine-tip black food pen to add the facial details.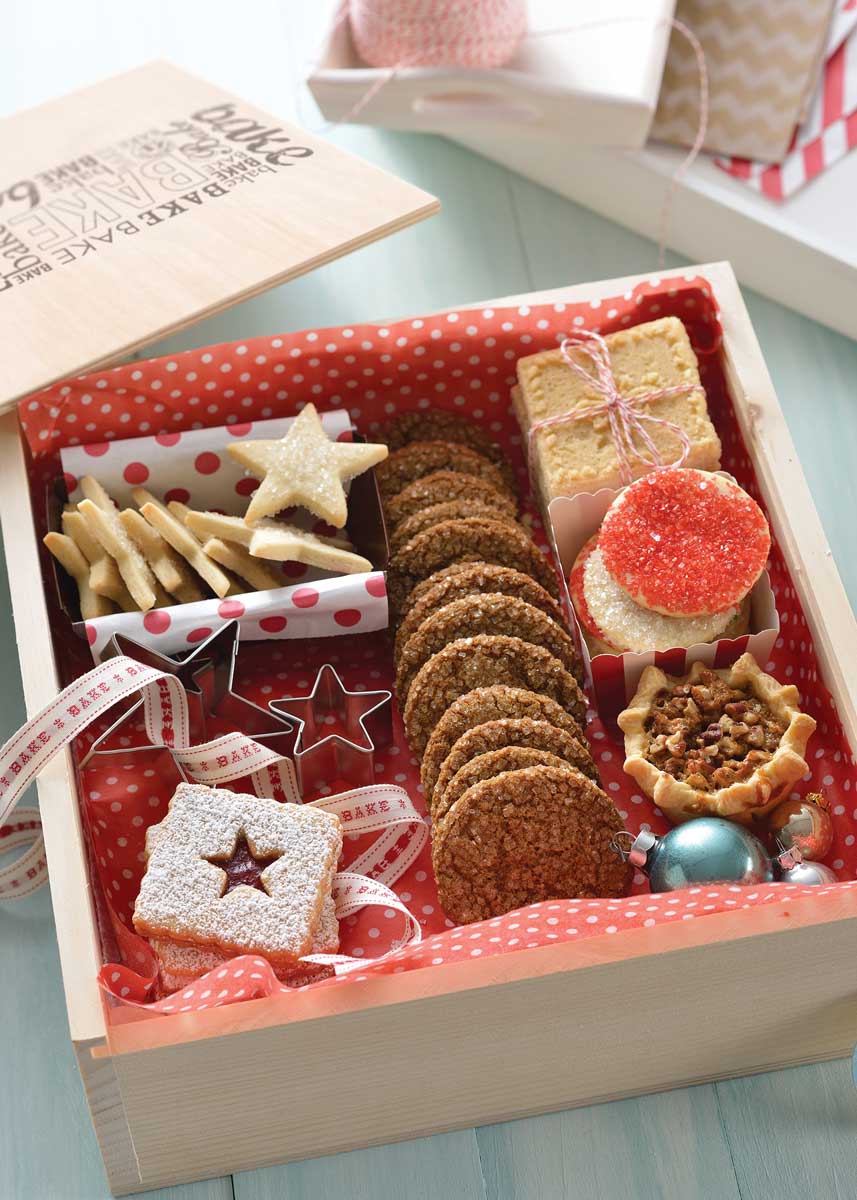 Cookie creativity for every baker
Any of these recipes would be great for dropping off gifts for your friends and neighbors or for a perfect family-friendly activity if you're staying home. I enjoy giving cookie gift baskets that include a few kinds of mini sugared drop cookies packed into tea tins and a generously sized iced cookie customized with the recipient's name. (These snow globe and polar bear cutters are perfect for this.) My girls love to help decorate cutout cookies with all the colored icings and sprinkles they can pile on, and we save those extra-special ones for Santa.
Do you have cookie decorating traditions in your family? Will you be trying something new this year? Please share your favorite ways to dress up cookies for the holidays in the comments below!
In the cookie baking spirit? Follow along here for more Cookie Week posts in the coming days! 
Cover photo by John Sherman
Jump to Comments