This year, all of the cookies in King Arthur Flour's holiday catalog (and in this blog post) were made using natural food colors, cocoa powder, and naturally colored decorating sugars! 
I wanted to create vibrant, beautiful cookies without a drop of artificial color, so you can feel good about sharing and enjoying them. Most natural food colors are less concentrated than their synthetic counterparts, so I've found it takes a bit of adjustment if you're used to traditional gel pastes. Now that I've done the legwork, I want to share my drop-by-drop guide to an entire rainbow of colors for any cookie-decorating adventure.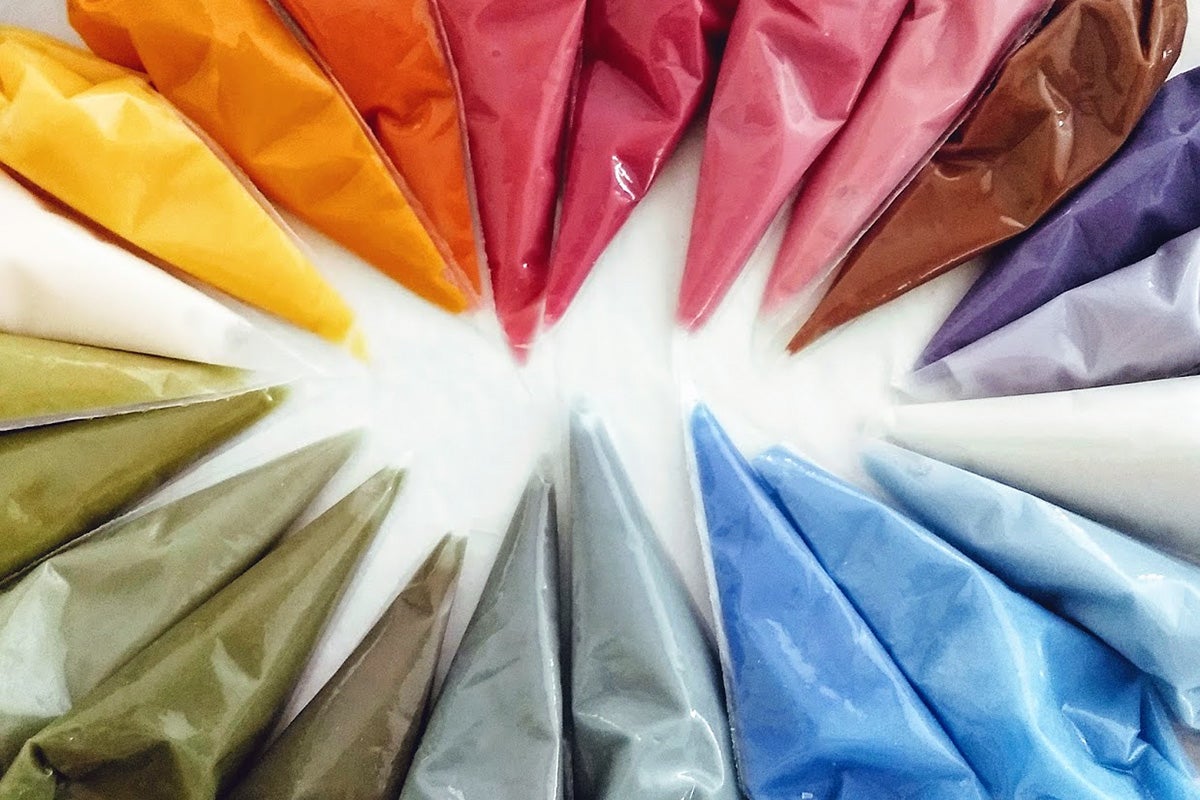 For the food colors, I used our Natural Food Colors Set. The set of four pigments — vivid blue, bright yellow, deep pink, and rusty red — mix easily to create an impressive range of hues. Plus, these natural food colors check a lot of boxes: they're plant-based, vegan-friendly, certified kosher, and free of allergens such as gluten, eggs, and peanuts. 
For the cookies this year, I used our Simple Cookie Glaze to make the colored glazes, and Royal Icing for the bright white backgrounds and accents. Glaze takes less pigment than royal icing to achieve rich colors, so the natural colors really shine in a glaze.
Simple Cookie Glaze is my go-to for cookie decorating. It's a snap to make, easy to color and flavor, and fun to use. Here are the ingredients you need to make it:
2 1/4 cups (255g) confectioners' sugar, sifted
2 tablespoons (35g) light corn syrup or honey
1 to 2 tablespoons (14 to 28g) milk
To make the glaze, simply mix all of the ingredients together. (I like to swap in honey instead of corn syrup.)
Stir until smooth; a fork works fine. The glaze should be thick, but soft enough to "settle" when you spread it. If the glaze is too thick, dribble in another teaspoon of milk, 1/2 teaspoon at a time.
You can read more about the recipe and my techniques in Cookie decorating techniques: easy steps for standout cookies.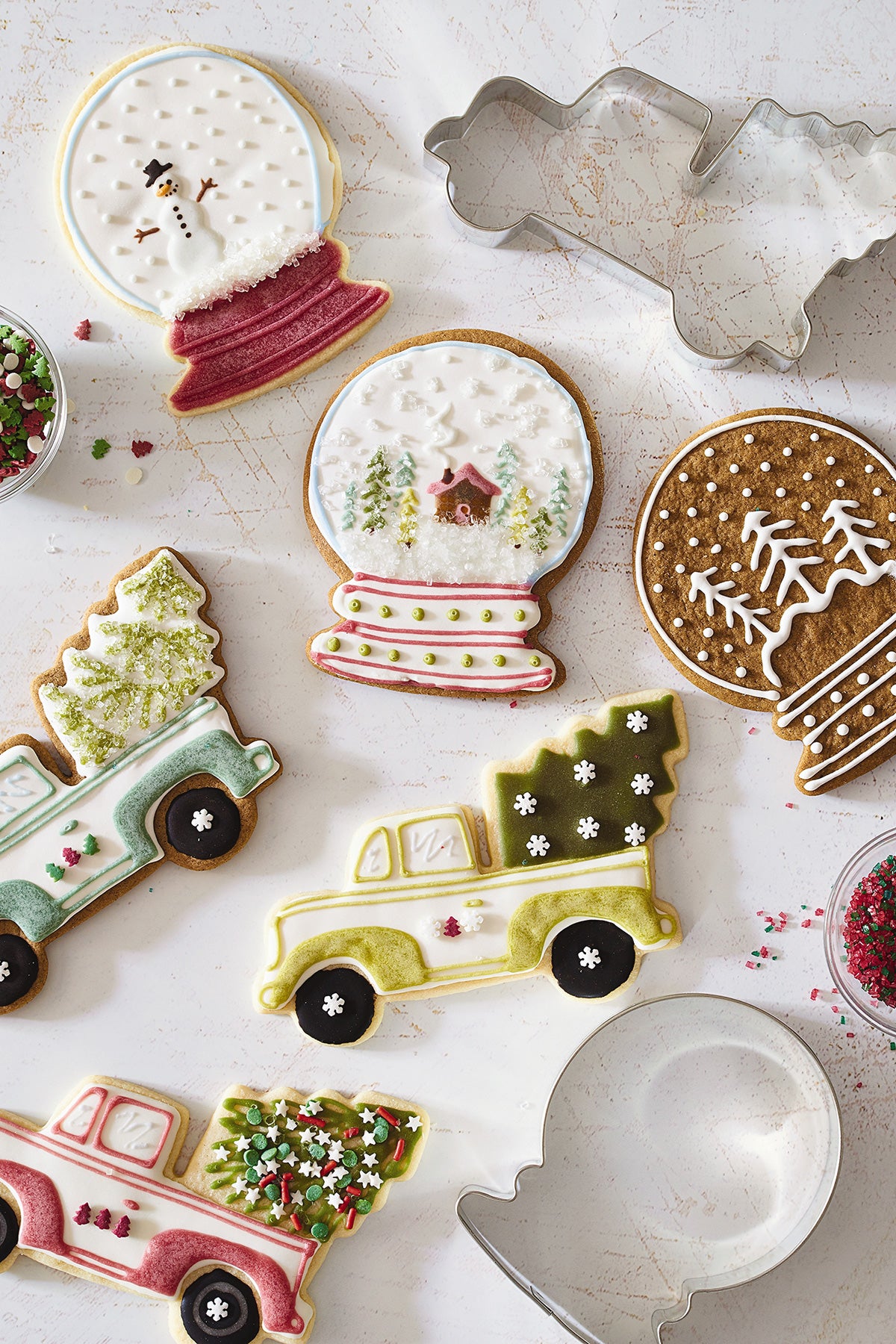 To make these trucks, snow globes, bulbs, and ornaments, I flooded each cookie with a layer of royal icing and let them dry overnight. The next day, I had perfect blank canvases ready for decorating.
Stir together a batch of Simple Cookie Glaze and let's start coloring!
For the guide below, the numbers indicate how many drops of red (R), yellow (Y), blue (B), or pink (P) to mix into 1/8 cup (2 tablespoons) of glaze to achieve the colors shown. One batch of glaze will yield about 3/4 cup (about six 1/8-cup portions).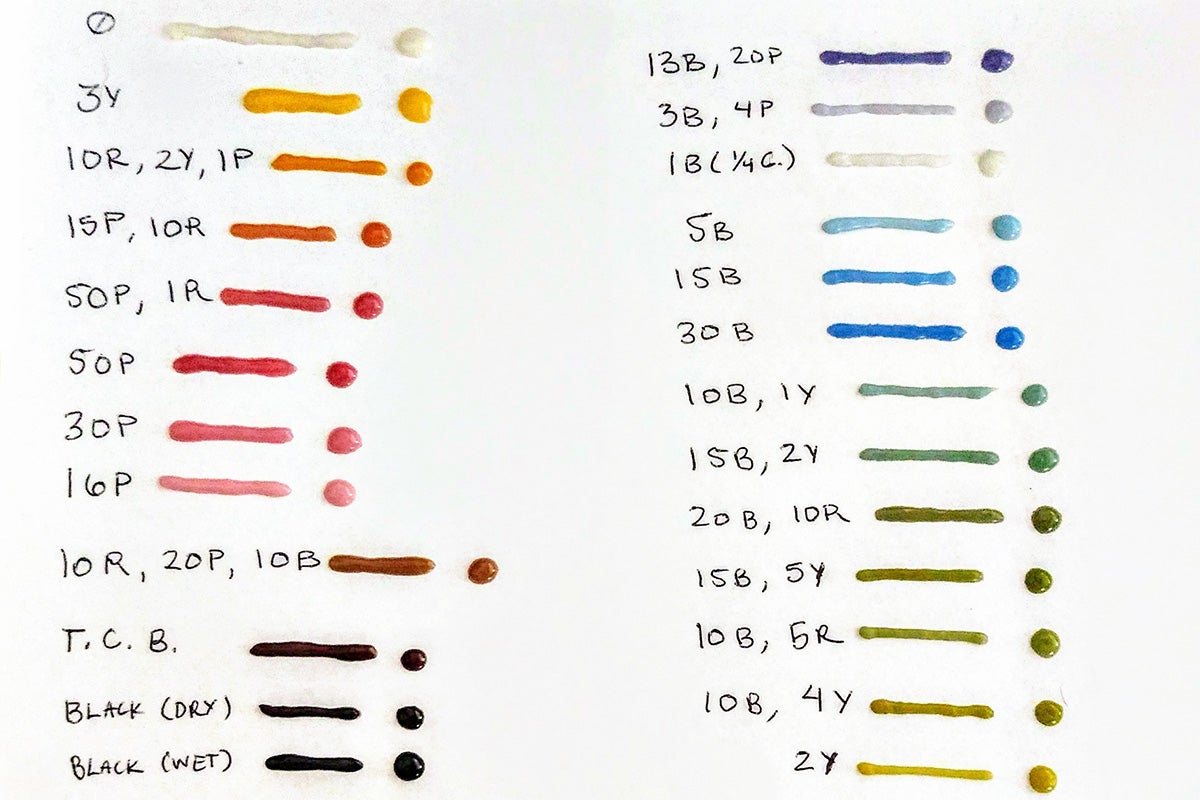 An eighth of a cup might not seem like much glaze, but it goes surprisingly far. One full batch of glaze (3/4 cup) makes more than enough to decorate a couple of dozen decent-sized cookies. For more, it's simple to double or triple the recipe.
Also, 50 drops might seem like a lot of food color, but it's less than a teaspoon. (For reference, each bottle in the Natural Food Colors Set contains about 125 drops.) Gently squeeze the bottle just until a single drop falls freely from the spout: that's 1 drop, our unit of measure.
In addition to the natural food colors, I used our Black Cocoa and Triple Cocoa Blend to achieve rich shades of black and brown, ideal for truck tires and tree trunks. Yes, the glazes do taste a little chocolatey, but it's subtle and complementary to the flavor of both sugar cookie and gingerbread.
For the cocoa powder-based colors: Mix 1 teaspoon cocoa with a few drops of water to make a thick paste. Gradually mix the paste with 1/8 cup of thick white glaze. Saturating the cocoa in water first rather than adding it directly to the confectioners' sugar in the recipe yields richer color, and allows the cocoa to be mixed in bit by bit, like food coloring, until you achieve the desired color.
The water in the cocoa paste will thin the resulting glaze, so you may need to readjust the consistency to your liking after adding the cocoa paste. Use a little more confectioners' sugar to thicken; milk or water to thin.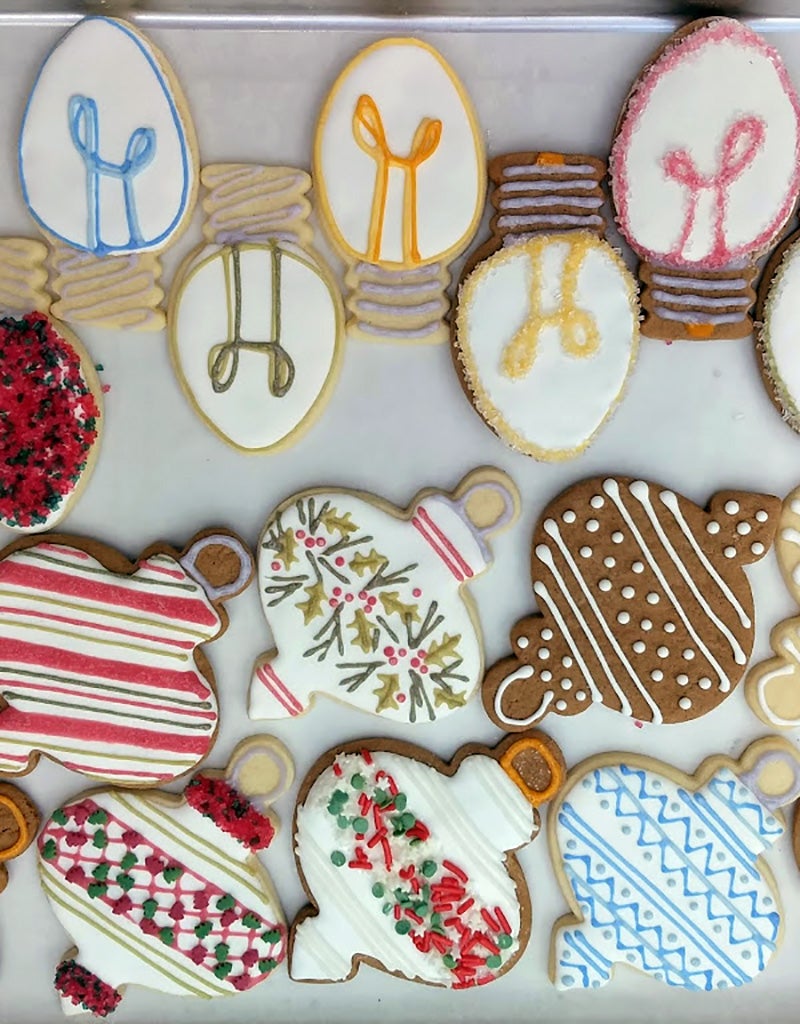 To speed you on your way to the holiday cookie swap, I narrowed the spectrum down to two color palette ideas for the season, based on the cookies I decorated in this year's King Arthur Flour Baker's Catalogue. I call them classic holiday, and winter whimsy.
Classic holiday
This classic holiday palette features bright red, green, and blue with accents of black, brown, and yellow.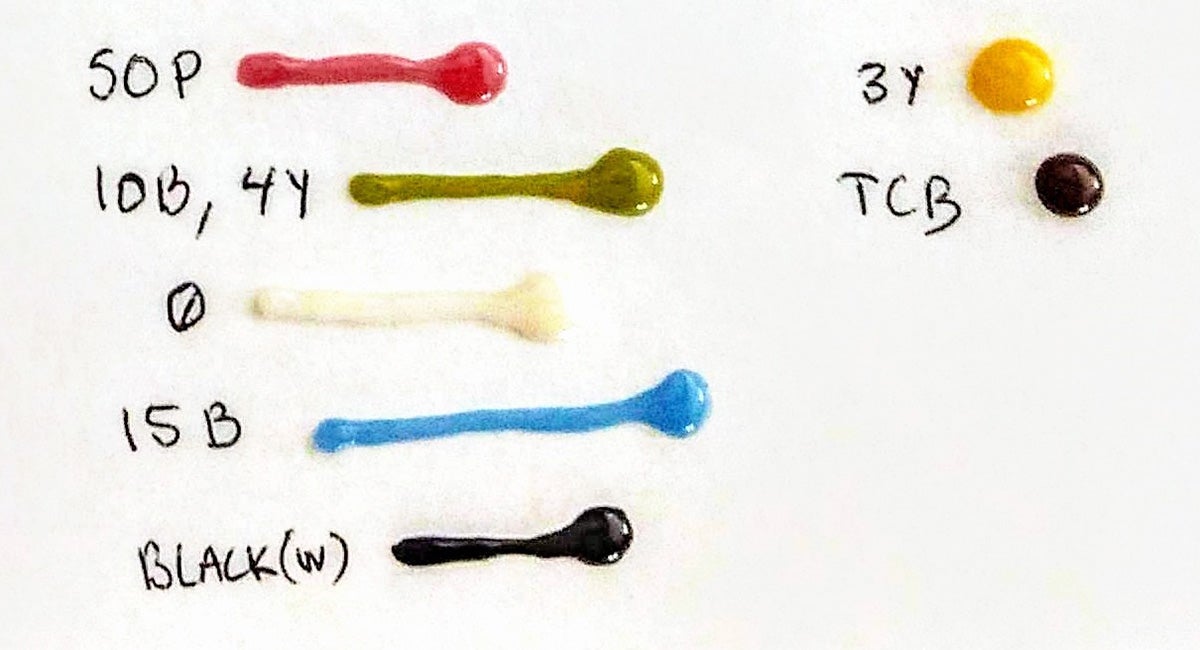 To each 1/8-cup uncolored (white) glaze, add:
Winter whimsy
For more detailed cookie designs, winter whimsy has light and dark blues, multiple greens, bright red and light pink, plus yellow, silver, orange, black, and brown.
To each 1/8-cup uncolored (white) glaze, add:
Red: 50 drops pink, 1 drop red
Pink: 16 drops pink
Light green: 5 drops blue, 2 drops yellow
Dark green: 20 drops blue, 10 drops red
Light teal: 10 drops blue, 1 drop yellow
Bright blue: 30 drops blue
Light blue: 5 drops blue
Orange: 15 drops pink, 10 drops red
Yellow: 3 drops yellow
Silver/gray: 4 drops pink, 3 drops blue
Brown: Triple Cocoa Blend
Black: Black Cocoa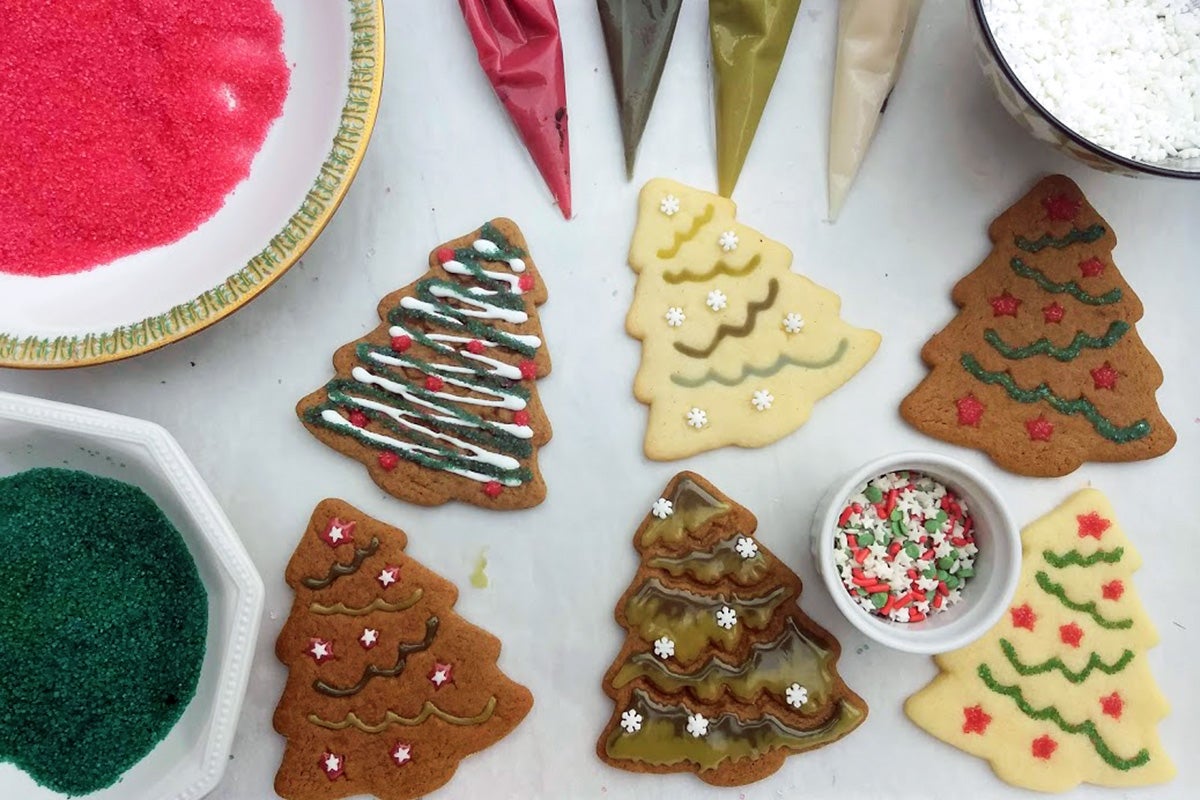 I like using our naturally colored red and green sanding sugars (above, left) to add accents of color, like on these evergreen trees or on a Santa hat, for instance.
For extra texture and darling details, our new Very Merry sprinkle set and Twinkle Sprinkle Blend decorations include naturally colored snowflakes, stars, glitter, confetti, mini trees, and more to dress up your designs.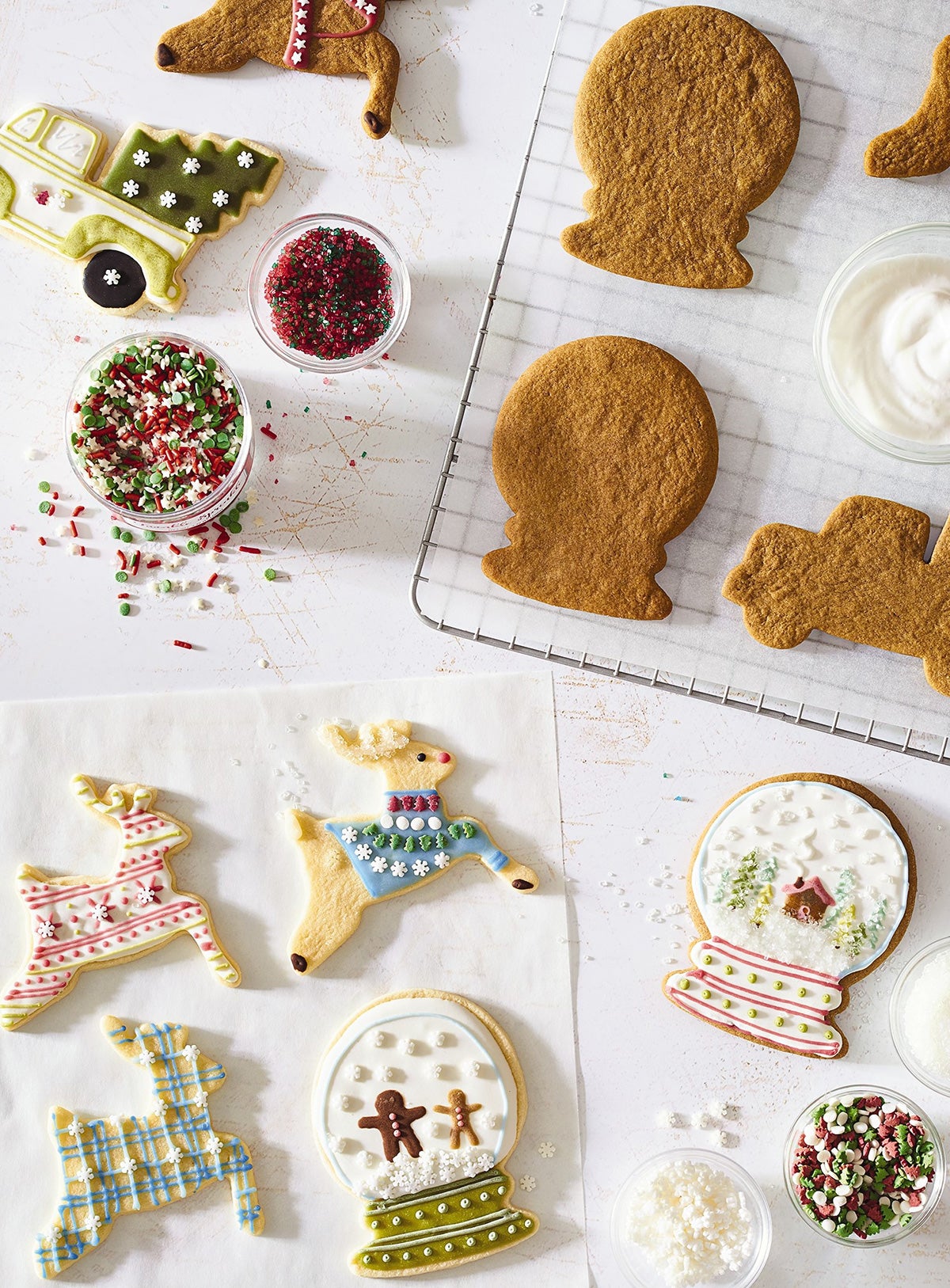 I'm thrilled that these Natural Food Colors blend so well with our go-to Simple Cookie Glaze recipe. Now I want to see your cookie masterpieces. Share your work with us on our Facebook page or with the hashtag #kingarthurflour or #kingarthurbaking on Instagram. Happy baking!
Jump to Comments