Is it a pastry, or a cookie? Rugelach — buttery, tender dough wrapped around any variety of tasty fillings — perfectly straddles the line. Popping one of these treats into your mouth feels like a bite of pie, an edge piece that's as much crust as filling. Flaky, fruit-filled Danish comes to mind, too. Your overall impression is RICH: from its cream cheese pastry to the sweet combination of nuts, fruit, and/or chocolate inside, rugelach is the perfect cookie for a special occasion.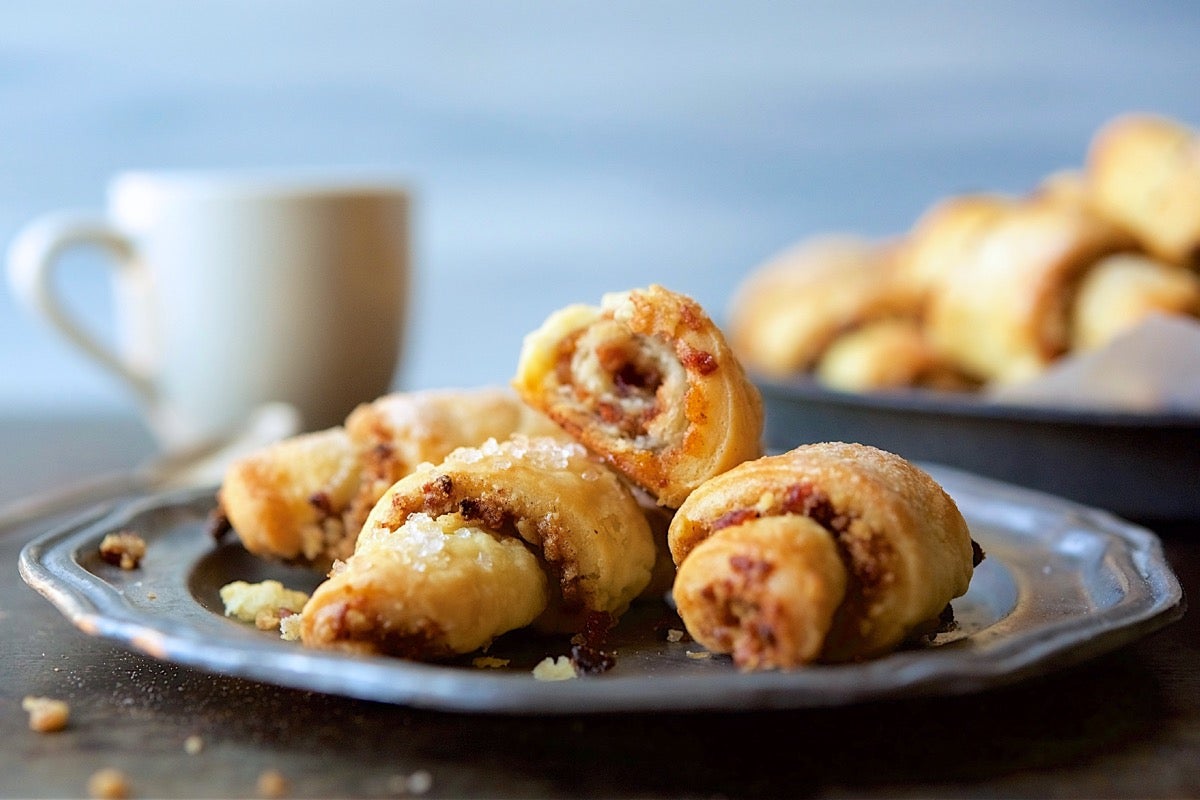 Begin with the crust
This dough is wonderfully supple and easy to roll out — so long as you keep it cool. Let it warm up, and it'll be annoyingly sticky. So definitely chill the dough thoroughly before using.
16 tablespoons (227g) unsalted butter, at room temperature
6 ounces (170g) cream cheese, at room temperature
1/3 cup (74g) sour cream
1/2 teaspoon salt
2 cups (241g) King Arthur Unbleached All-Purpose Flour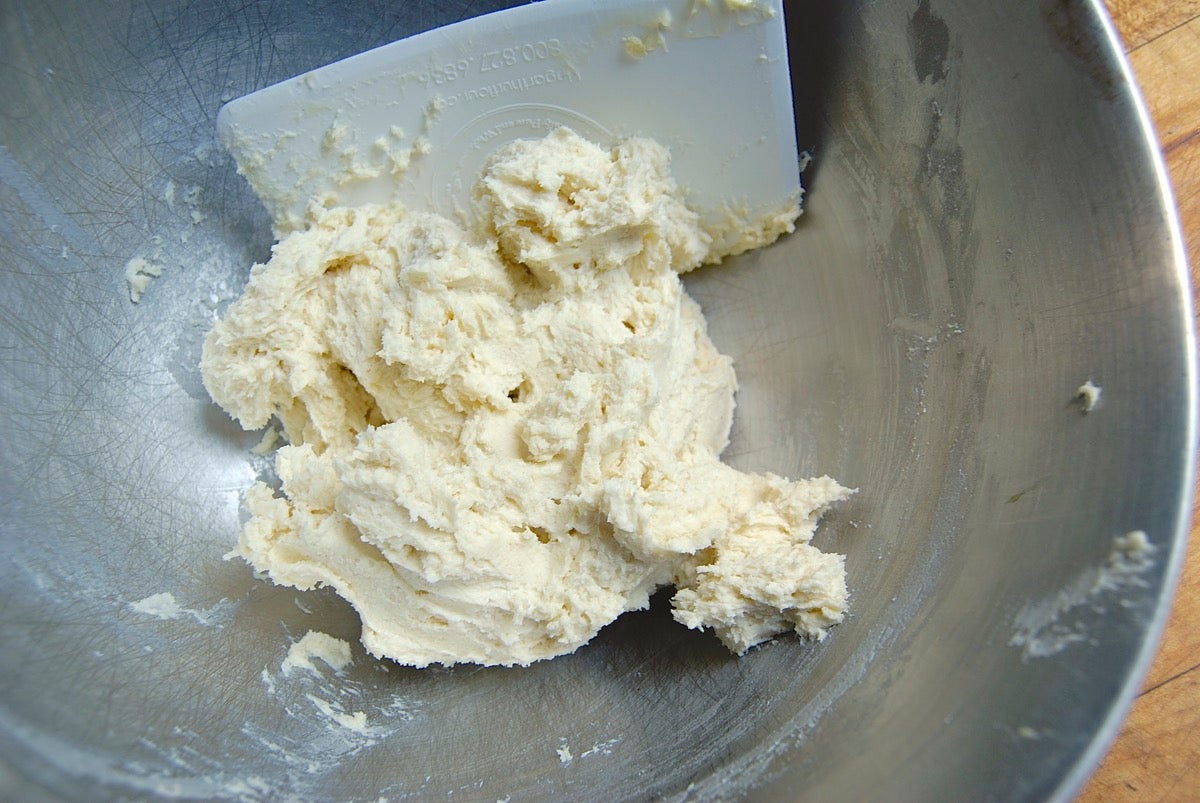 To make the dough using a mixer: Beat together the butter, cream cheese, sour cream, and salt until smooth. Add the flour, mixing to make a stiff dough.
To make the dough using a food processor: Place the flour and salt in the bowl of a food processor. Pulse briefly to combine. Cut the butter and cream cheese into chunks and add to the bowl along with the sour cream. Pulse just until the dough forms chunks, and you can squeeze it together.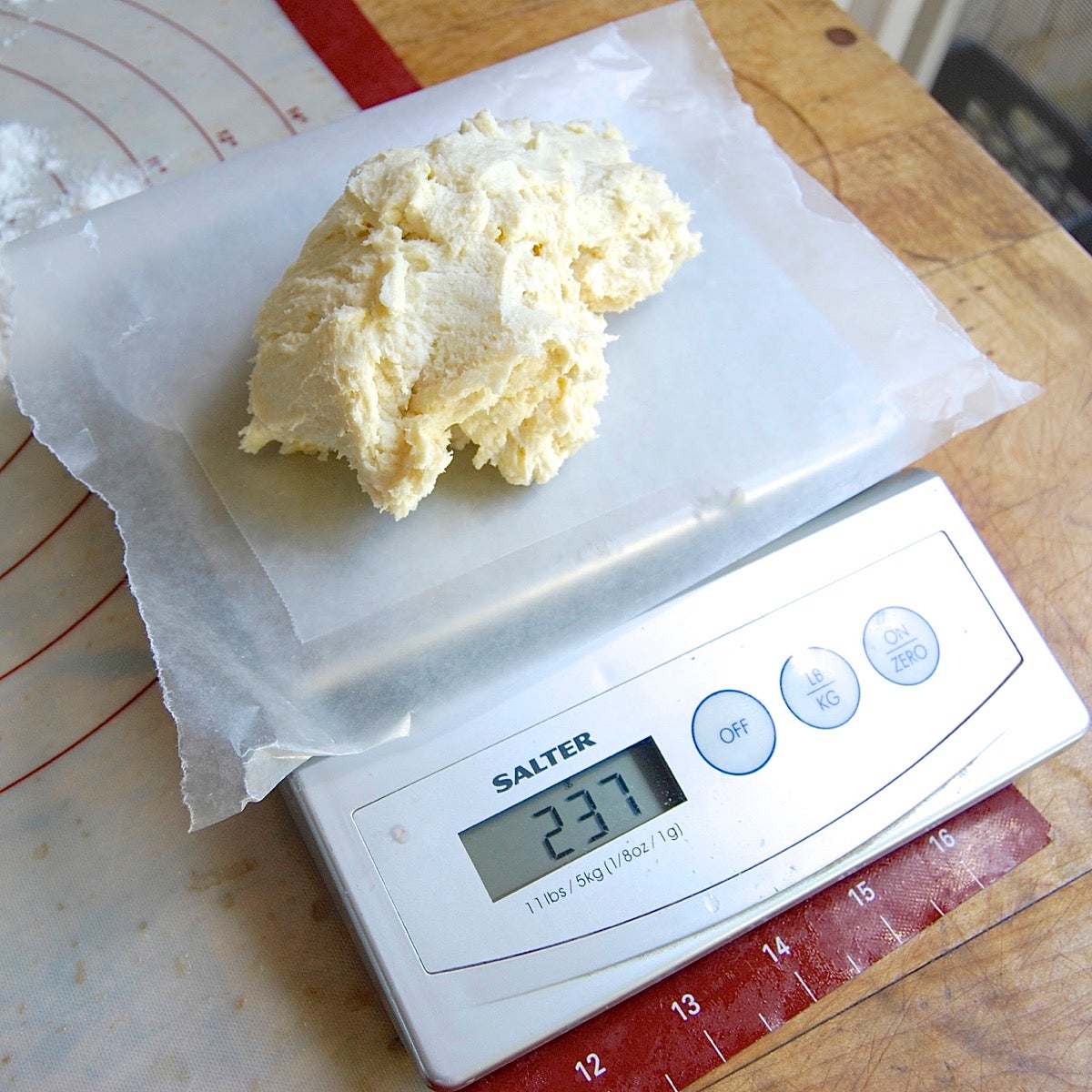 Divide the dough into three equal portions. A scale is your tool of choice here.
What, not baking with a scale yet? Once you start, you'll wonder how you ever got along without one!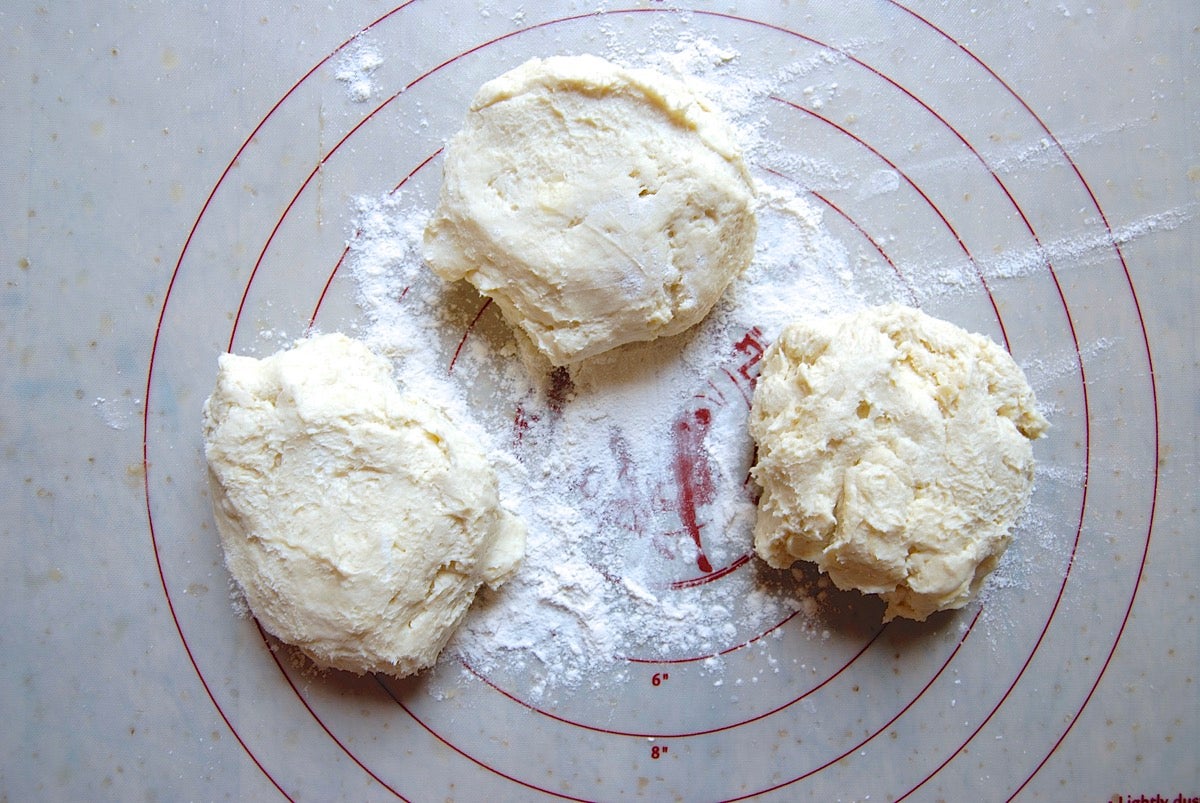 Press each piece of dough gently into a disk.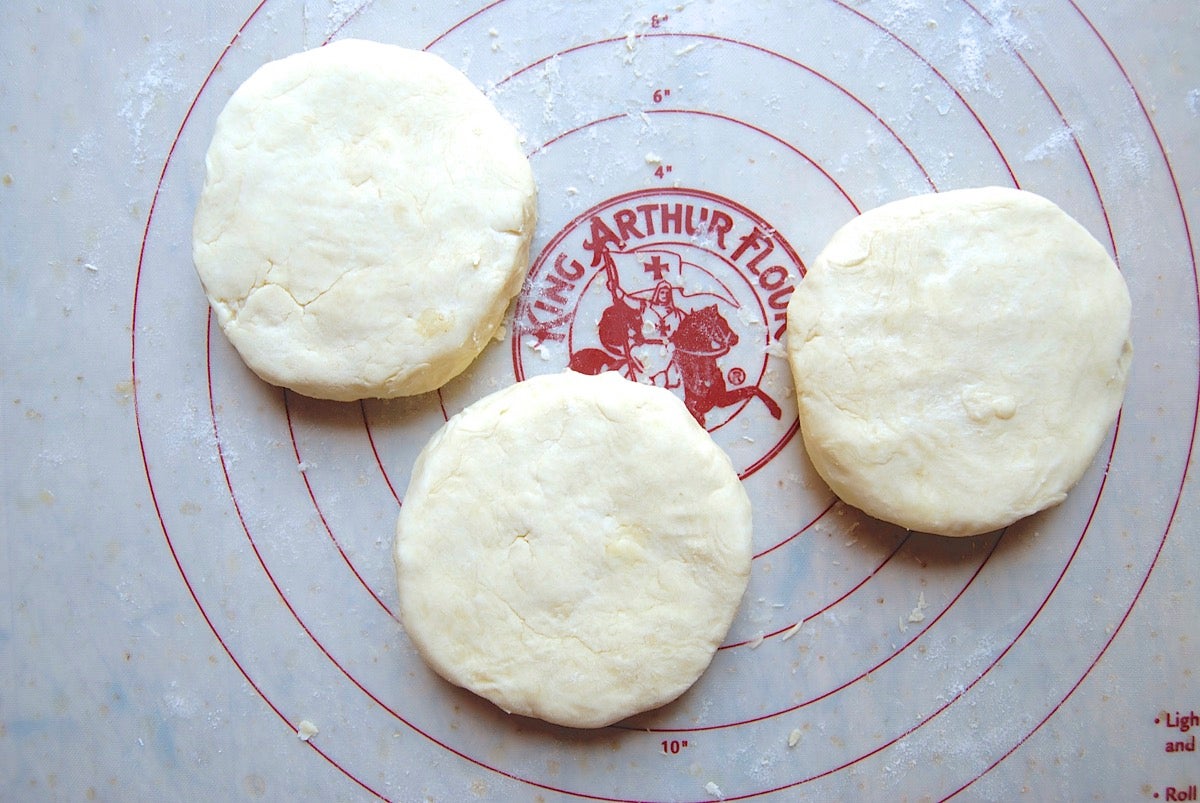 Make the disks as round as possible, smoothing their edges; this will allow you to roll them into perfectly round circles, making the resulting rugelach more attractive.
Wrap the disks in plastic, and chill the dough for about 1 hour, until it's firm but not rock hard. Or chill longer (up to overnight), then warm for about 45 to 60 minutes at room temperature, until the dough softens enough to roll without cracking.
Make the filling
While the dough is chilling, let's get our filling ingredients together.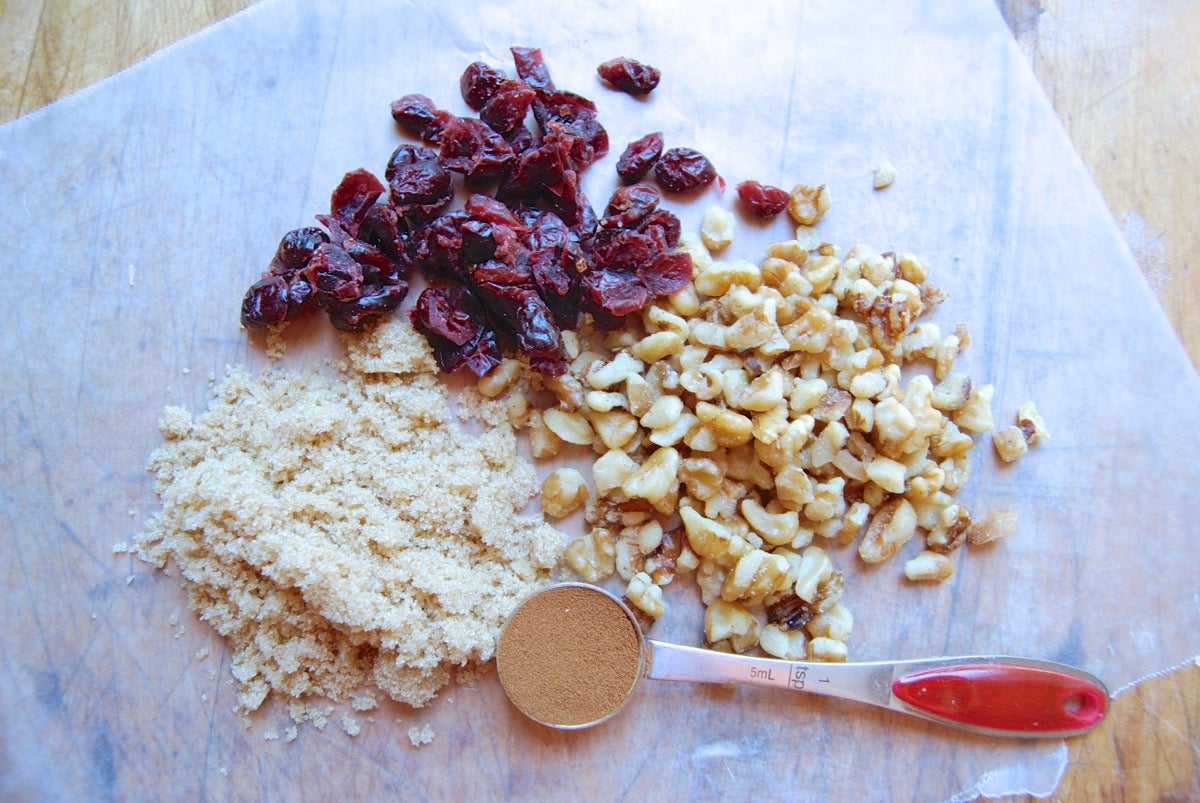 There are lots of tasty options for filling rugelach. I'll show you one here, plus share a few others at the end of this post. Feel free to come up with your own ingredient combinations, as well.
1/2 cup (106g) brown sugar, packed
1 cup (113g) walnuts, chopped
1/2 cup (85g) dried cranberries, raisins, or currants
1 tablespoon ground cinnamon
water for brushing dough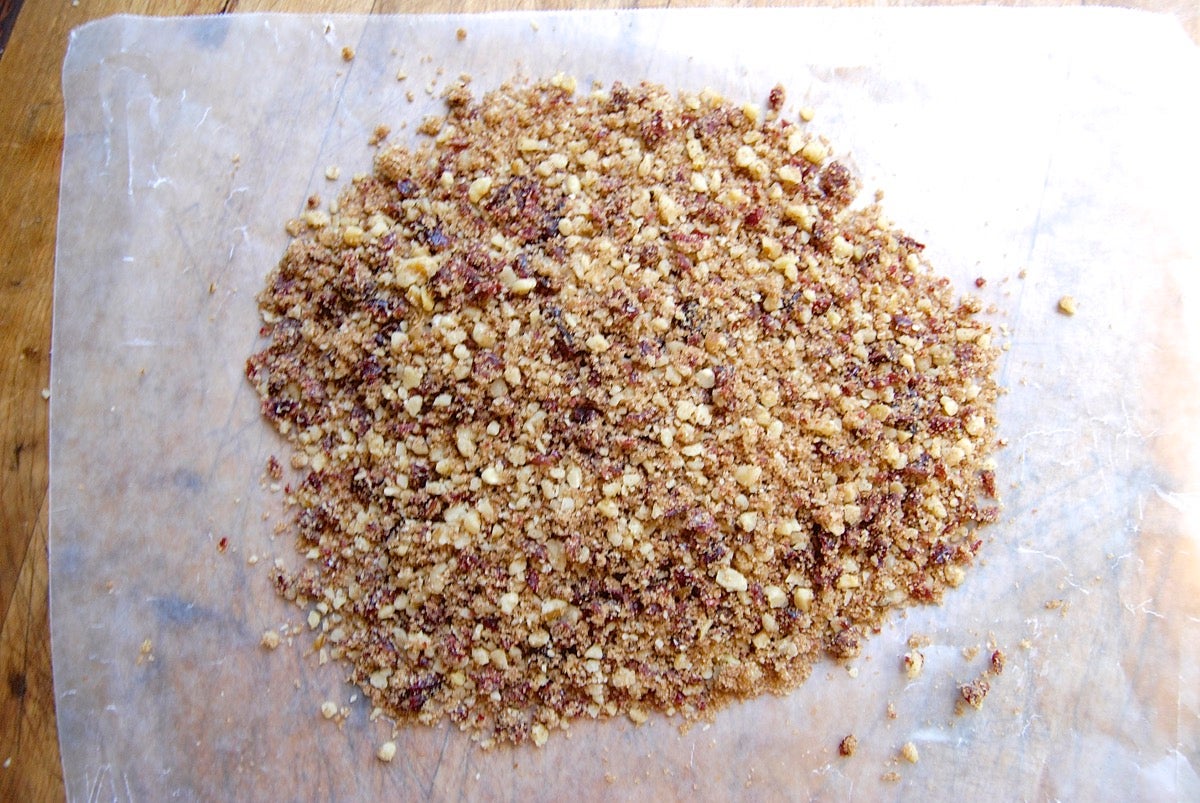 Process the sugar, walnuts, dried fruit, and cinnamon in a food processor or blender until finely chopped and well combined (but not pasty).
Don't have a food processor? Chop everything with a chef's knife. Or simply stir together the filling ingredients; your filling will be chunky rather than smooth.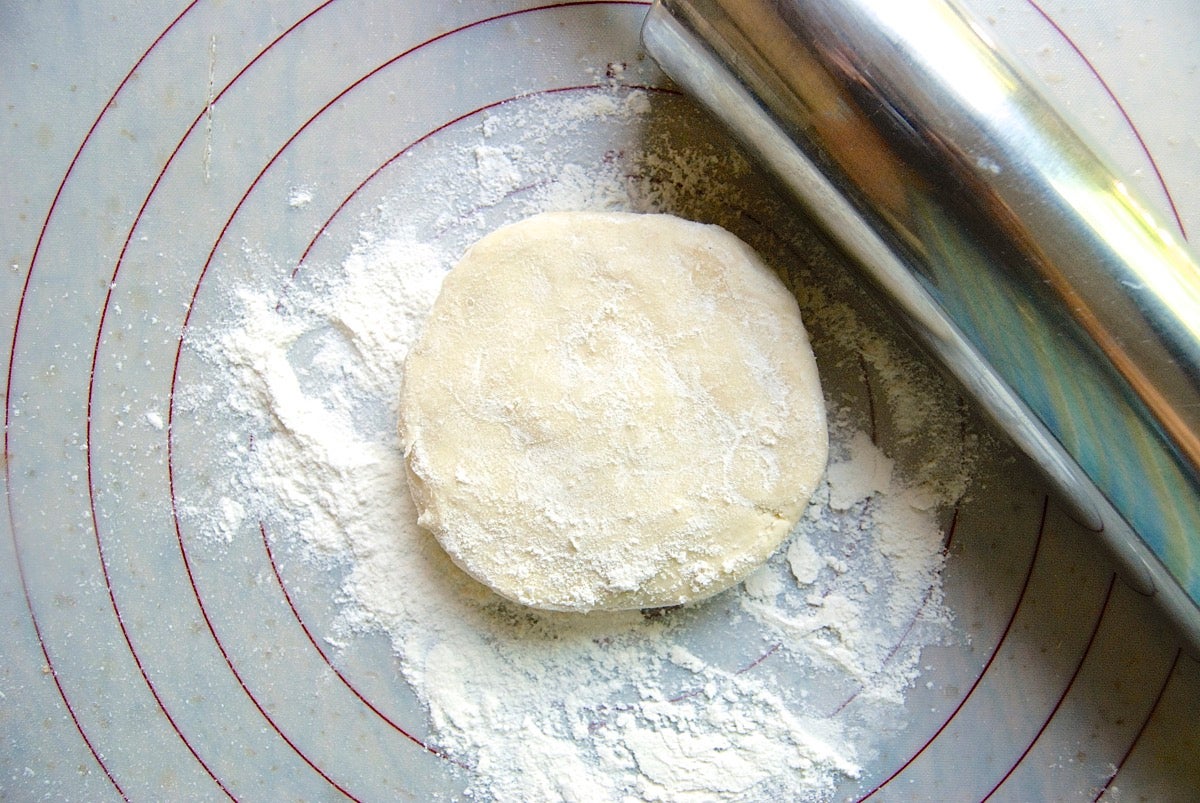 Assemble the cookies
Working with one piece of dough at a time, place it on a generously floured surface.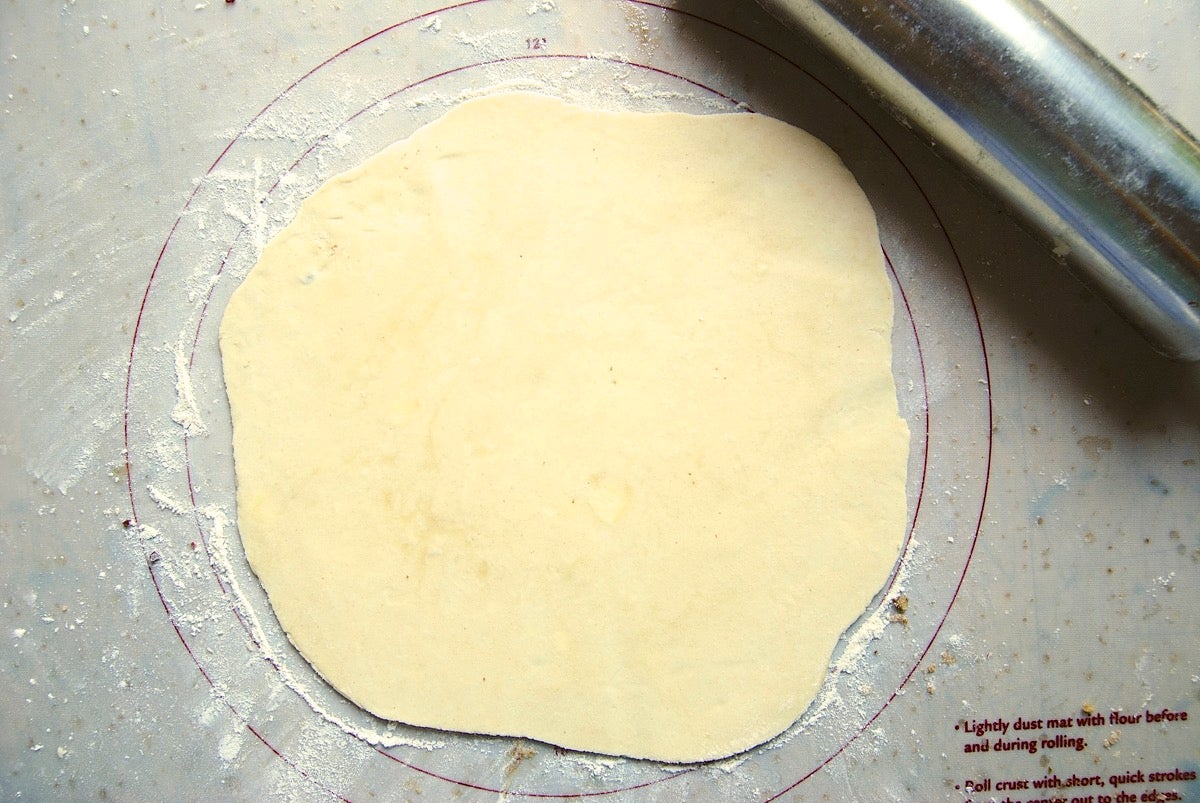 Roll the dough into a 10" circle.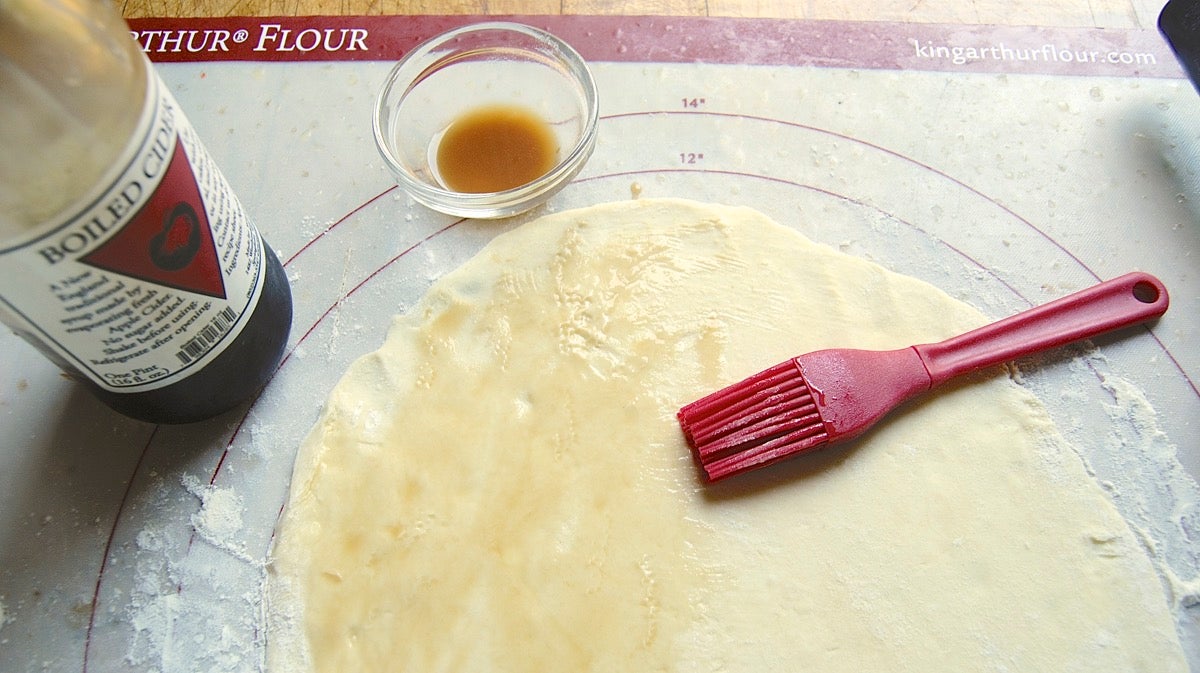 Brush it lightly with water.
Or, for a flavorful touch, brush the rolled-out rugelach dough with boiled cider, or warmed apple or currant jelly, instead of water.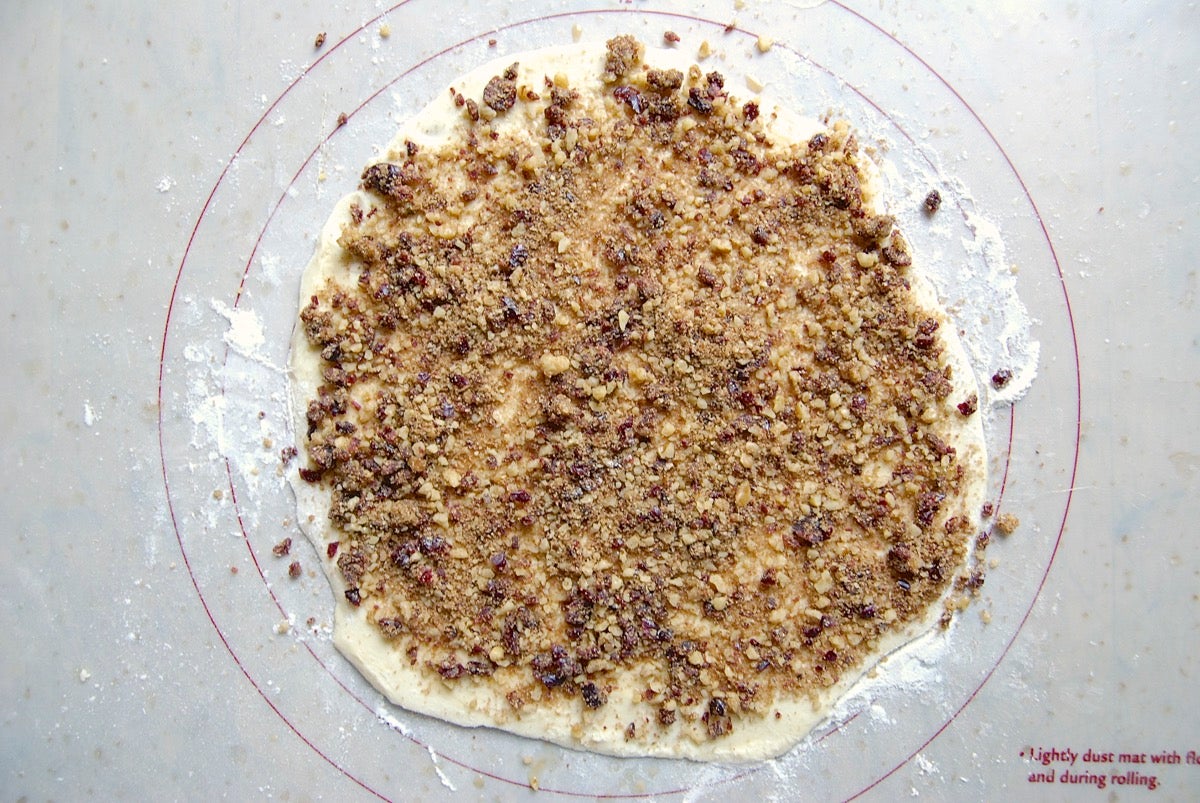 Use your fingers to spread about one-third of the filling onto the round.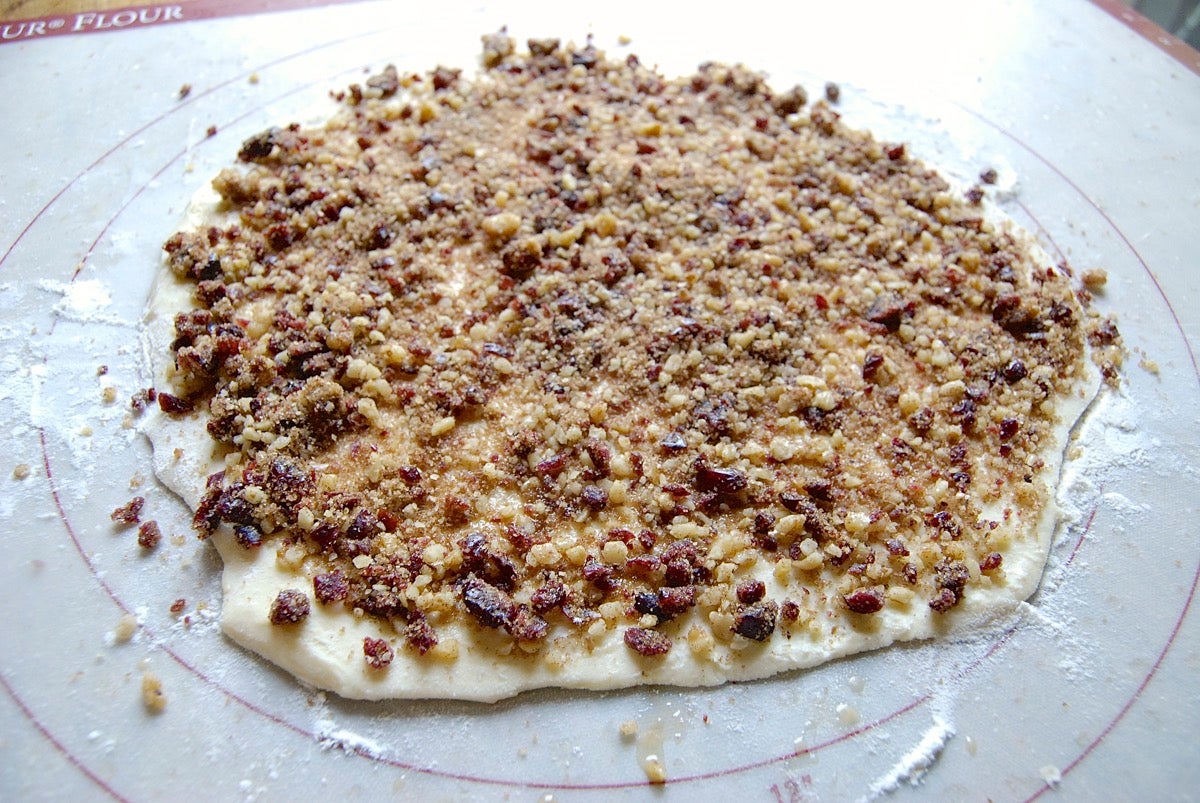 Make sure to go all the way to the edges, gently patting the filling to help anchor it to the dough.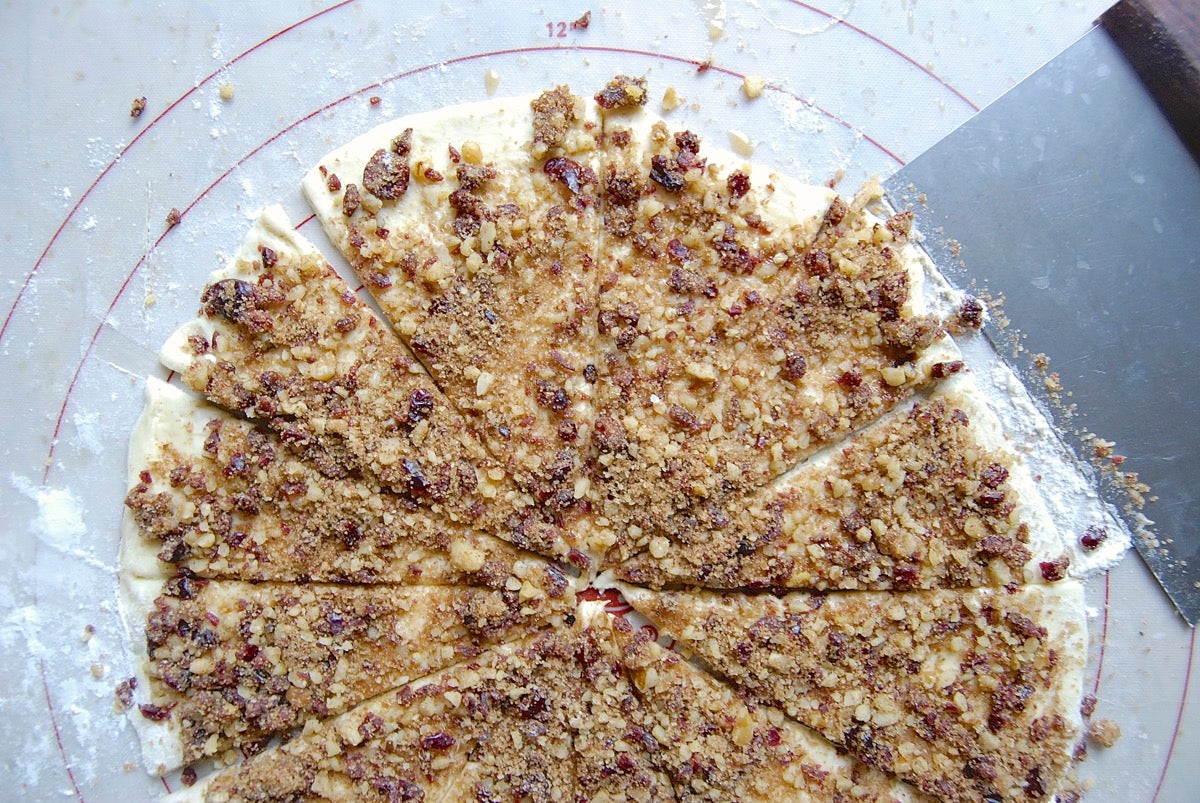 Using a pizza cutter, baker's bench knife, dough scraper, or sharp knife, divide the dough into 12 equal wedges. If you're working on a silicone mat, as I am here, be careful not to cut the mat; the dough scraper is your safest bet if you're worried.
For smaller rugelach, divide the dough into 16 wedges. But if you're a rugelach rookie, you might want to stick to 12 wedges. The more wedges you cut the longer it takes, the warmer the dough becomes, and the stickier it is to work with.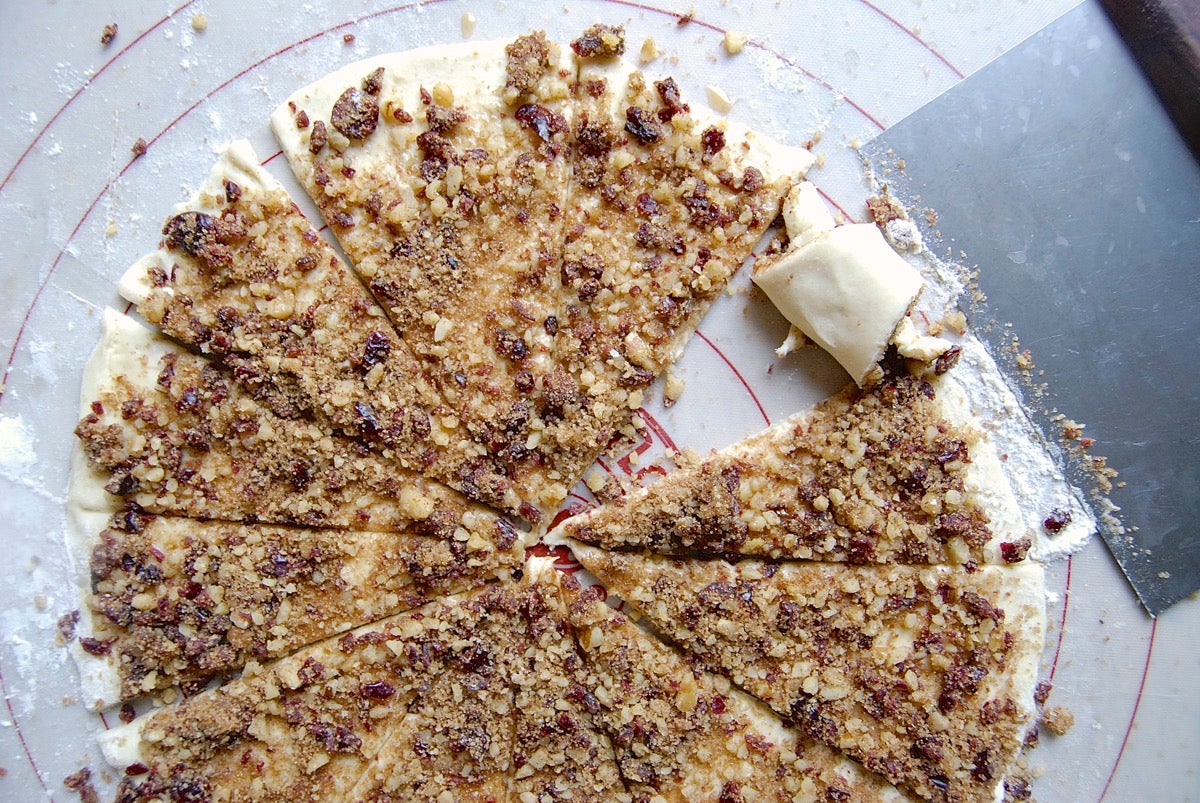 Roll each wedge up, beginning with the wide end and ending with the narrow end.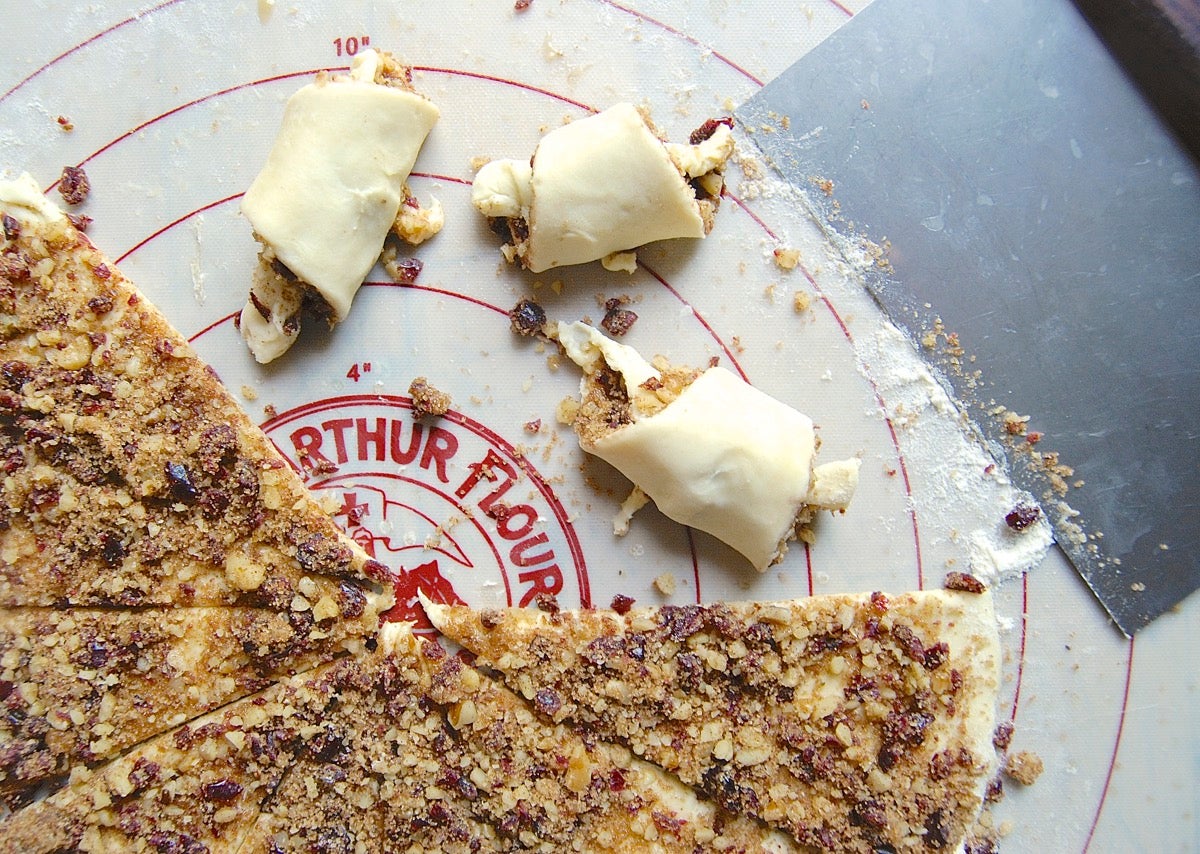 The more wedges you roll, the more space you'll have to spread everything out; it gets easier as you go.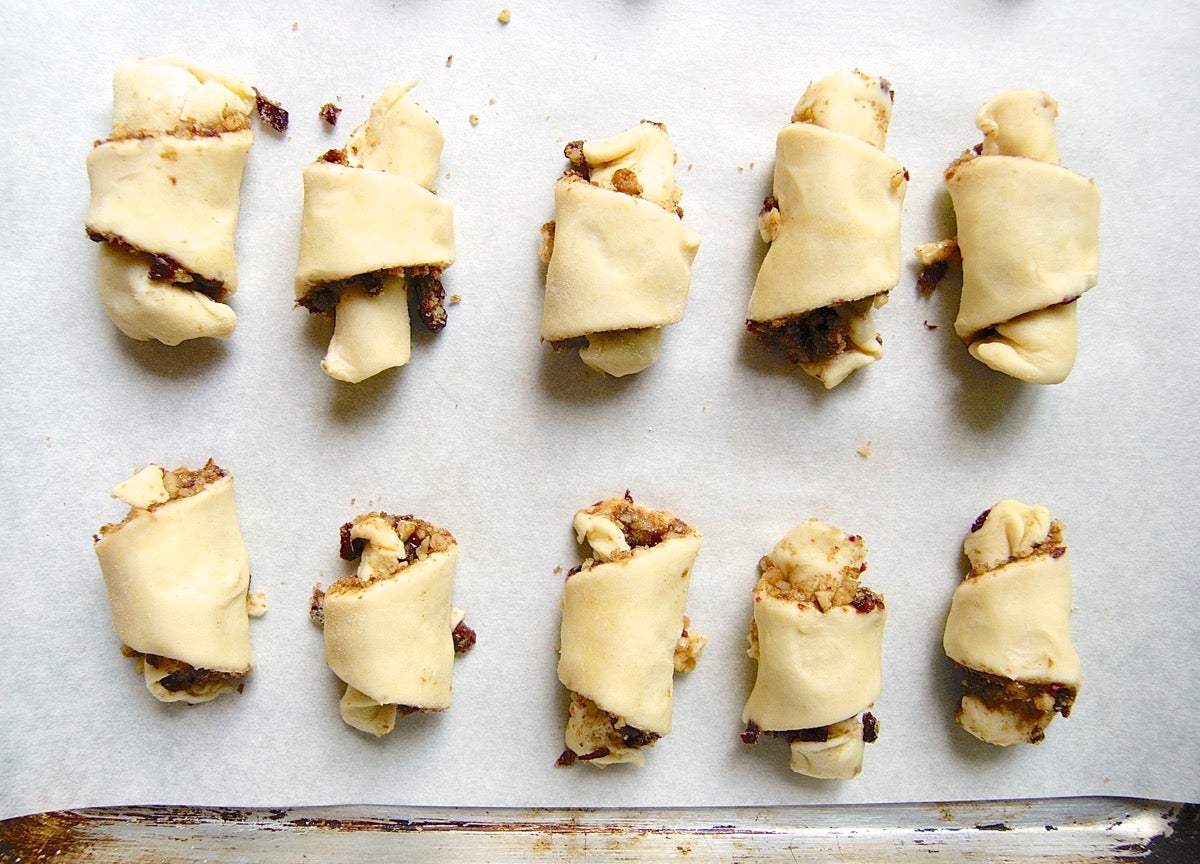 Place the rolls point-side underneath on a baking sheet; lining the baking sheet with parchment will help with cleanup.
Repeat with the remaining dough and filling.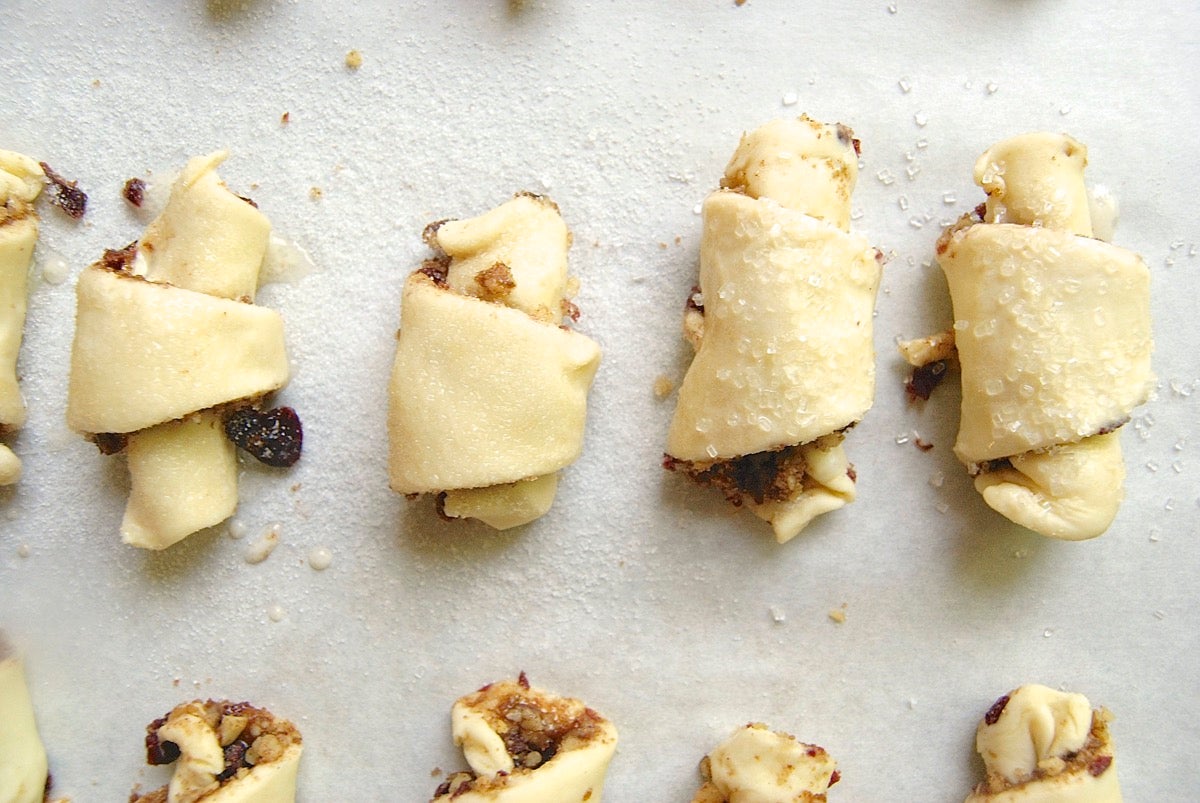 Brush the rugelach with milk or cream, and sprinkle with granulated or coarse white sparkling sugar, if desired.
Preheat the oven to 350°F; refrigerate the rugelach while the oven is preheating. This short chill in the fridge will help solidify the filling, which in turn will help keep it from leaking out as the cookies bake.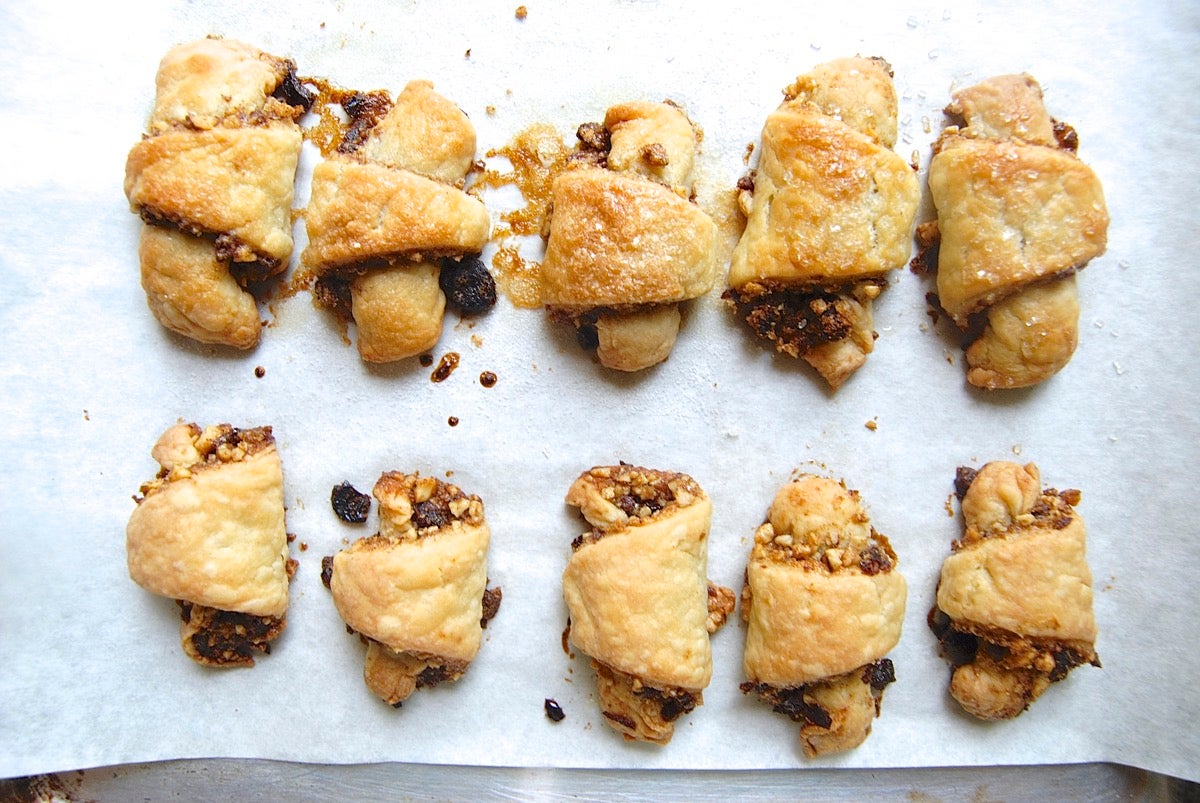 Bake the rugelach
Bake the rugelach for 25 to 30 minutes, or until golden brown. Remove them from the oven, and let them cool right on the pan.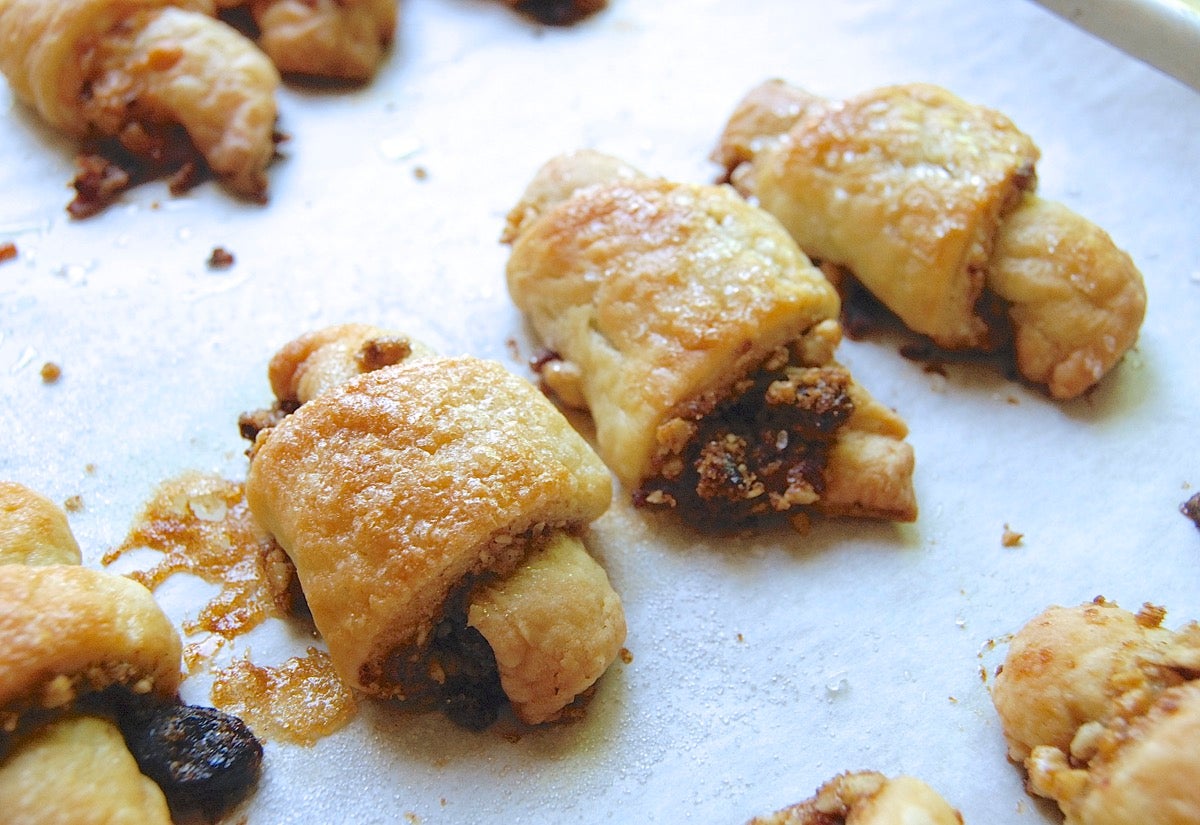 See how the granulated sugar on top caramelizes? Nice!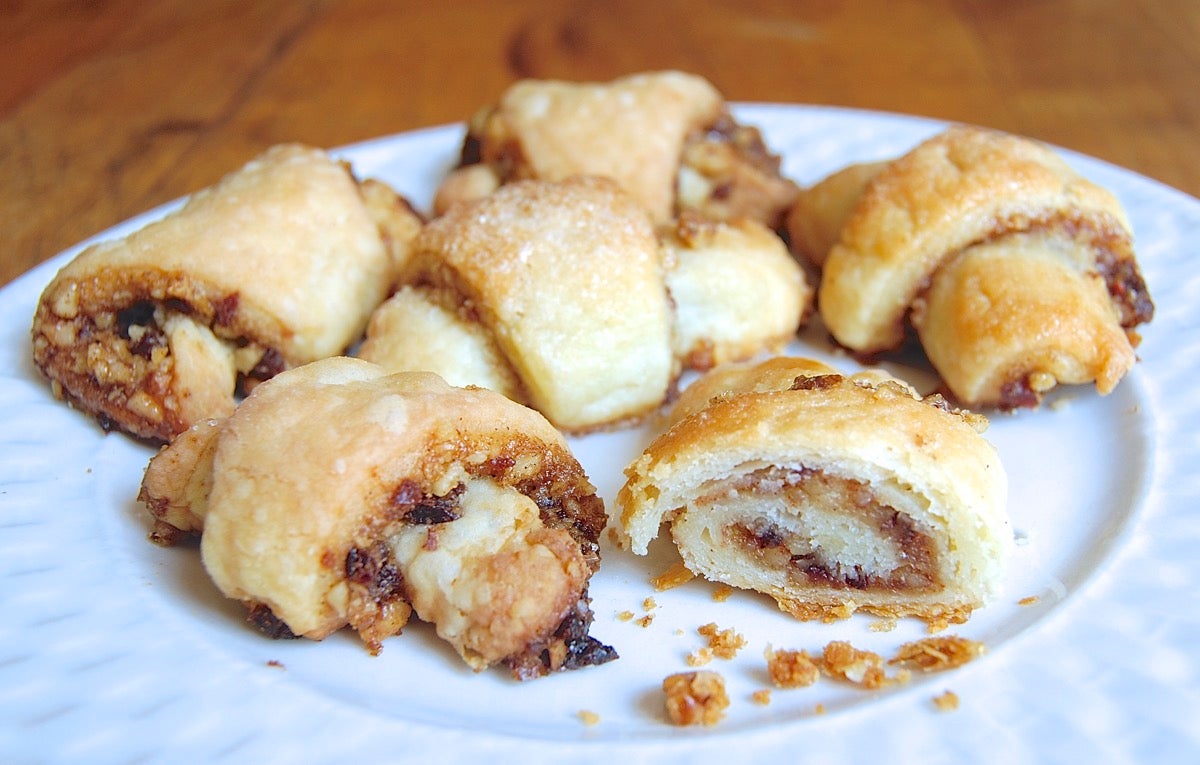 Serve warm or at room temperature.
Store leftover rugelach in an airtight container at room temperature for several days. Freeze for longer storage.
More rugelach fillings
I promised you some alternate fillings, didn't I? Here they are. Each makes enough for one-third of the dough, so feel free to mix and match various fillings using a single batch of dough.
Dark chocolate: Whisk together 1 tablespoon brown sugar and 1 teaspoon unsweetened cocoa powder; add 1/4 teaspoon cinnamon, if desired. Sprinkle atop rolled-out dough. Sprinkle with 1/4 cup (1 1/2 ounces) mini chocolate chips or chopped semisweet chocolate.
Double apricot: Process 1/2 cup (3 ounces) chopped dried apricots, 3 tablespoons (2 ounces) apricot jam or preserves, 1 teaspoon lemon juice, and a pinch of salt until the apricots are finely chopped, but the mixture isn't totally smooth.
Apple-cinnamon: Combine 2/3 cup (about 4 ounces) peeled, grated apple; 2 teaspoons lemon juice; 1/3 cup (2 3/8 ounces) sugar; 2 tablespoons (1/2 ounce) cornstarch, and 3/4 teaspoon ground cinnamon in a small saucepan. Stir to thoroughly combine. Cook over low heat, stirring frequently, until the apple starts to release its juice. Increase the heat to medium, and bring to a simmer. Simmer, stirring, until the mixture thickens, 1 to 2 minutes. Remove from the heat, and set aside to cool to room temperature; if you want to hasten the process, place in the refrigerator.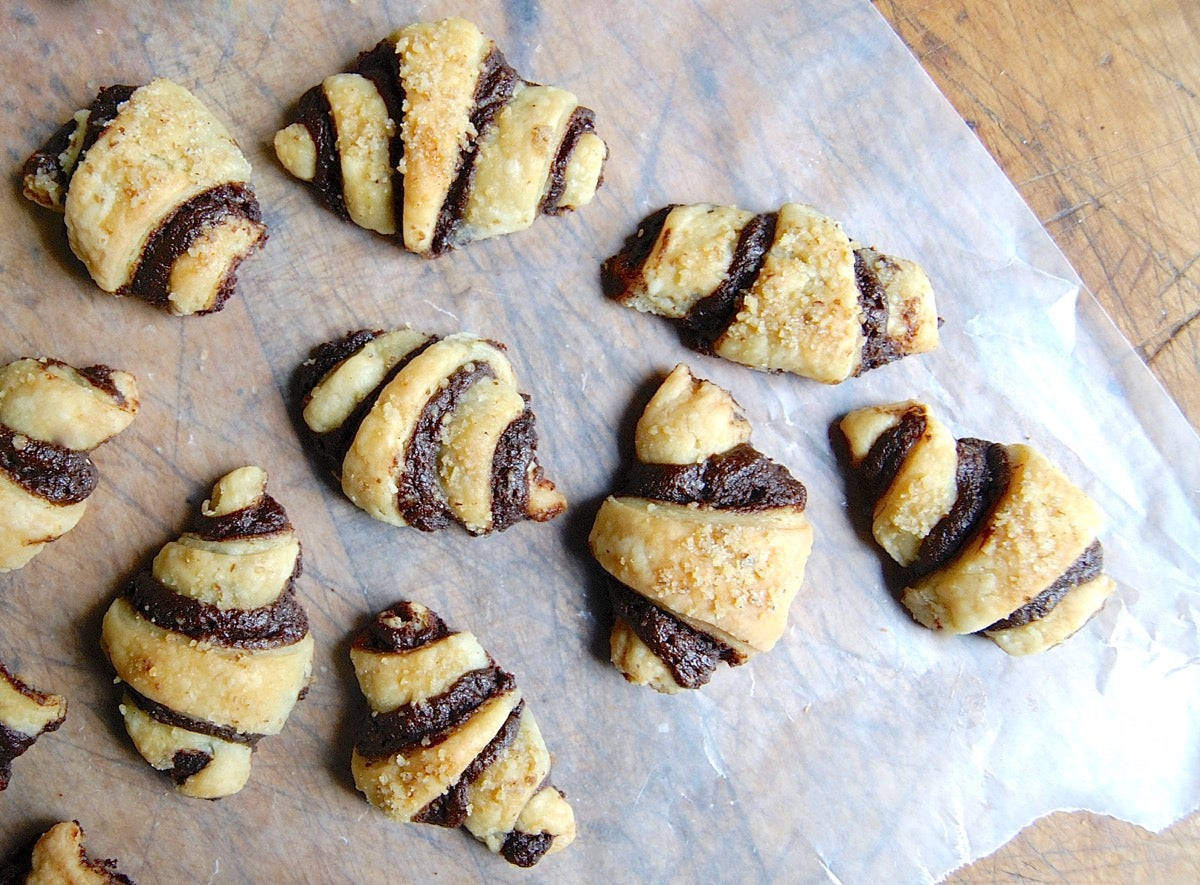 Create your own rugelach fillings
I had some leftover heavy cream to use, so whipped up a ganache using 1/4 cup heavy cream and 2/3 cup chocolate chips. After chilling the ganache long enough to thicken it, I spread it on one of the dough circles, then cut, rolled, and baked.
I also made tasty rugelach from just plain marmalade, which is thick and chunky enough that it doesn't leak during baking. Another tasty combo: raspberry jam sprinkled with chopped dark chocolate and nuts.
What sounds good to you? Top rolled-out dough with water, jam, or syrup to anchor the filling, then sprinkle with your favorite combination of chopped dried fruit, nuts, and/or chips. Let us know what you come up with!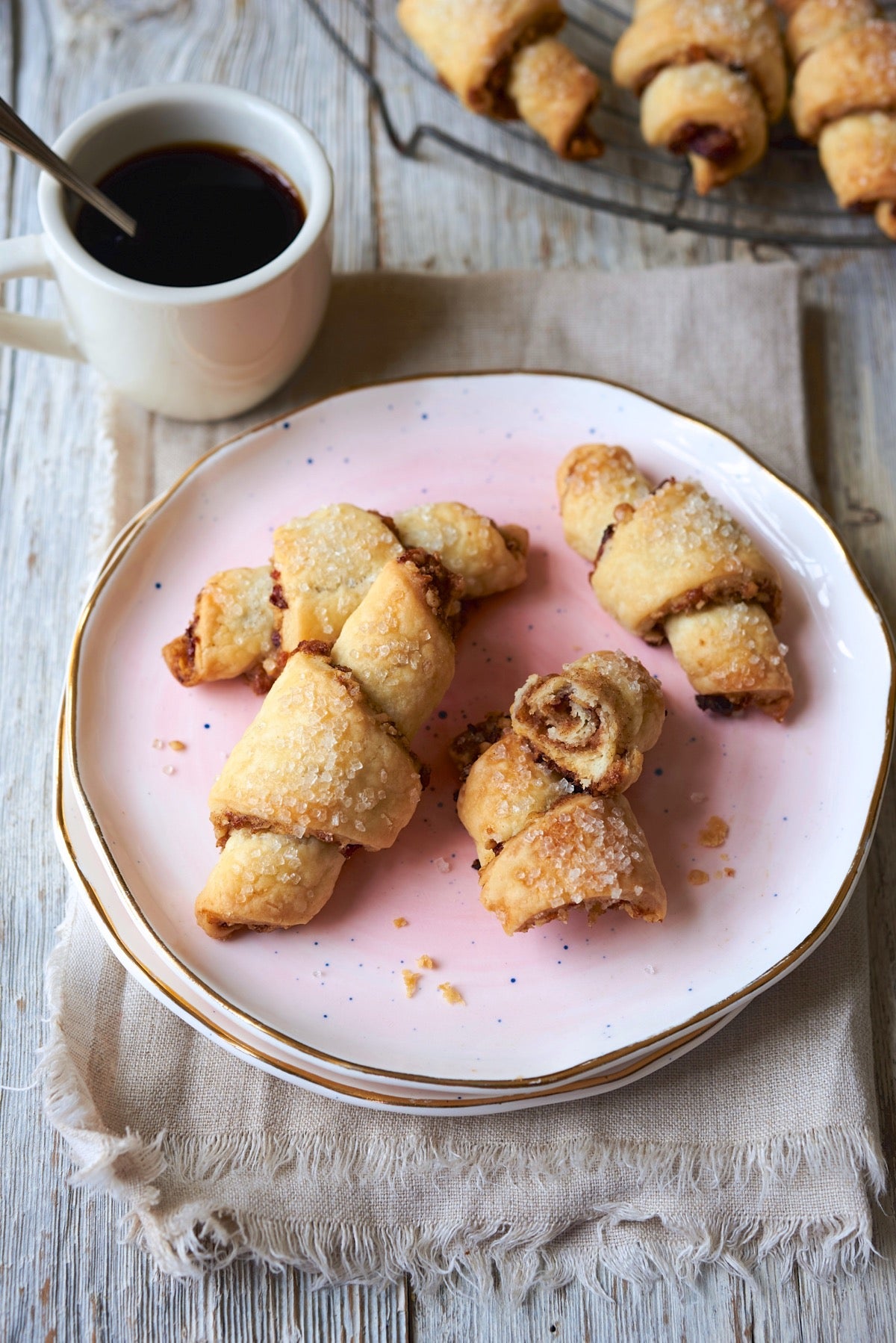 Baking gluten-free?
We've got you covered! This recipe works very well when you substitute Gluten-Free Measure for Measure Flour for the all-purpose flour called for. The dough may crack just a bit as you roll it out, but simply smooth the cracks and continue; the cookies will be fine.
Make & freeze
Both the rugelach dough and shaped, unbaked rugelach can be made ahead, wrapped, airtight, and frozen up to 4 weeks before using. For best results, thaw in the refrigerator overnight, wrapped, before using.
High-altitude adjustments
Do you bake at altitude? Check out our high-altitude baking tips.
Interested in more? See our complete collection of Bakealong recipes.
Jump to Comments