Three of our favorite pumpkin pies
Take your pick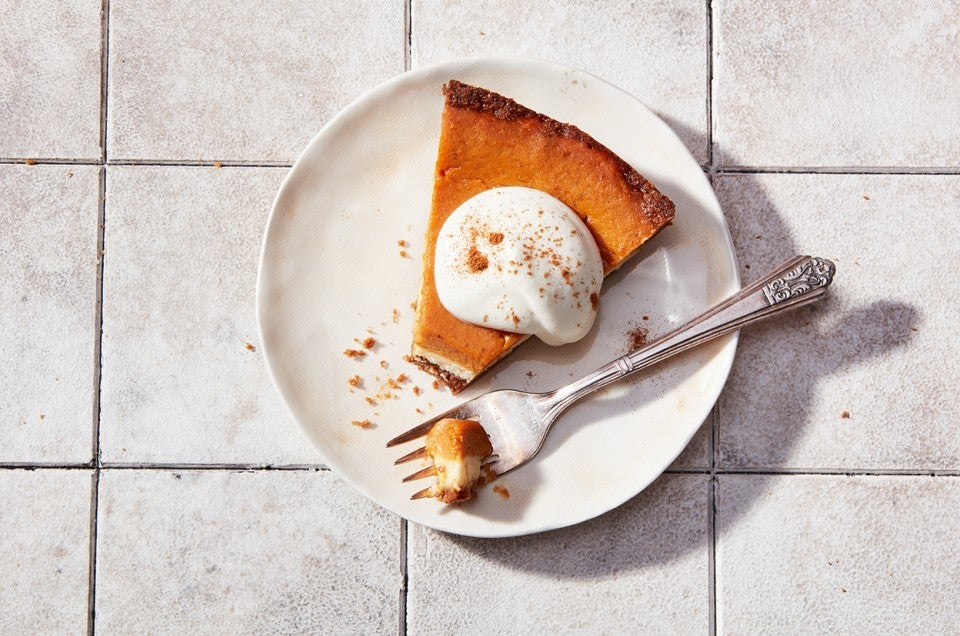 Ah! on Thanksgiving day, when from East and from West,
From North and from South come the pilgrim and guest,
When the gray-haired New Englander sees round his board
The old broken links of affection restored,
When the care-wearied man seeks his mother once more,
And the worn matron smiles where the girl smiled before,
What moistens the lip and what brightens the eye?
What calls back the past, like the rich Pumpkin pie?
Thank you, John Greenleaf Whittier, for summing up perfectly the central place pumpkin pie holds at any Thanksgiving celebration.
Well, maybe not any. There are those (yes, you know who you are) who don't like pumpkin pie.
I admit, it's somewhat of an acquired taste. Pumpkin's not like chocolate, marshmallow, caramel, or any of the other candy-like flavors you seamlessly transfer from childhood to the rest of your life.
No, pumpkin is... odd. Tasted alone, it's bland and earthy. Tarted up with sugar and spices, it tastes like – well, like autumn, the season when we typically enjoy pumpkin treats.
Pumpkin bread. And bars. Pumpkin doughnuts and, my personal favorite, pumpkin scones.
But pumpkin pie? It's a hard sell for many, with its thick mahogany slab of dense filling atop a neutral crust. Chocolate cream? Of course. Apple? Naturally. Pumpkin? Hmmm...
Still, for those of you wedded to Thanksgiving's traditional dishes, pumpkin pie is probably the most classic, along with turkey. So gather round, all ye gray-haired New Englanders and worn matrons (I confess to neither – yet!) and anyone else who's actually looking forward to pumpkin pie this Thursday – these recipes are for you!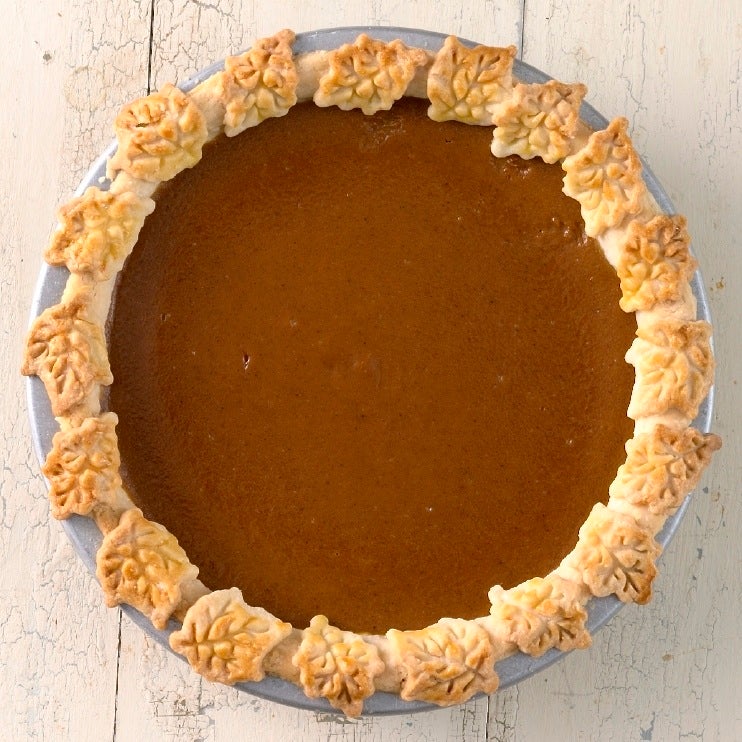 Recipe: Pumpkin Pie
This is the classic pumpkin pie, in all its simple, delicious beauty.
Reader rave: "This is the BEST pumpkin pie I have ever made, and I've made plenty... My husband raved about this pie and he is very picky. My search for the BEST pumpkin pie is now officially over, as this is it. Thank you so much for the recipe." Bev – Brookline, MA
Baker's tip: Watch your baking time carefully; over-baking the pie will cause the filling to crack. Remove the pie from the oven while the center is still wobbly. For a taste of complementary ginger, Light Spice Cookie cutouts are an easy way to dress up the top of the pie.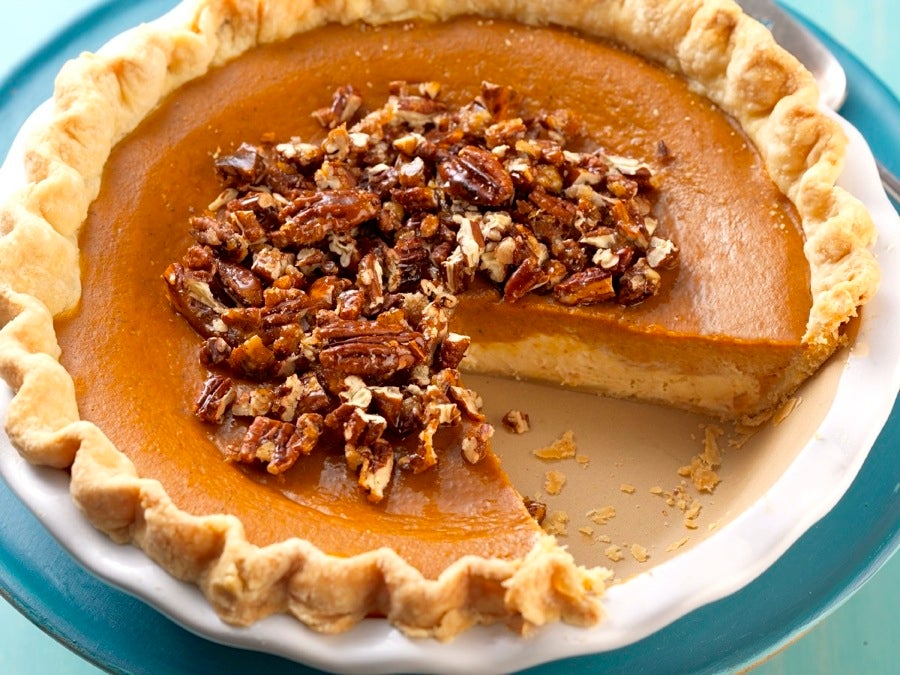 Recipe: Pumpkin Cheesecake Pie
With its layers of sweet/spicy pumpkin, and smooth, rich cheesecake nestled in a buttery crust, this pie has won over many a traditional pumpkin pie enthusiast.
Reader rave: "This pie is absolutely fabulous. I have never served it to anyone who did not start raving about it. I share this recipe all the time... I shared this pie with friends and they said that I should make these and sell them!" Connie – Sarasota, FL
Baker's tip: When pouring the pumpkin filling over the cheesecake layer, pour VERY slowly; pour over the back of a large spoon; or refrigerate the cheesecake layer for 30 minutes before adding the pumpkin, to firm it up. You want to keep the layers separate, without any marbling.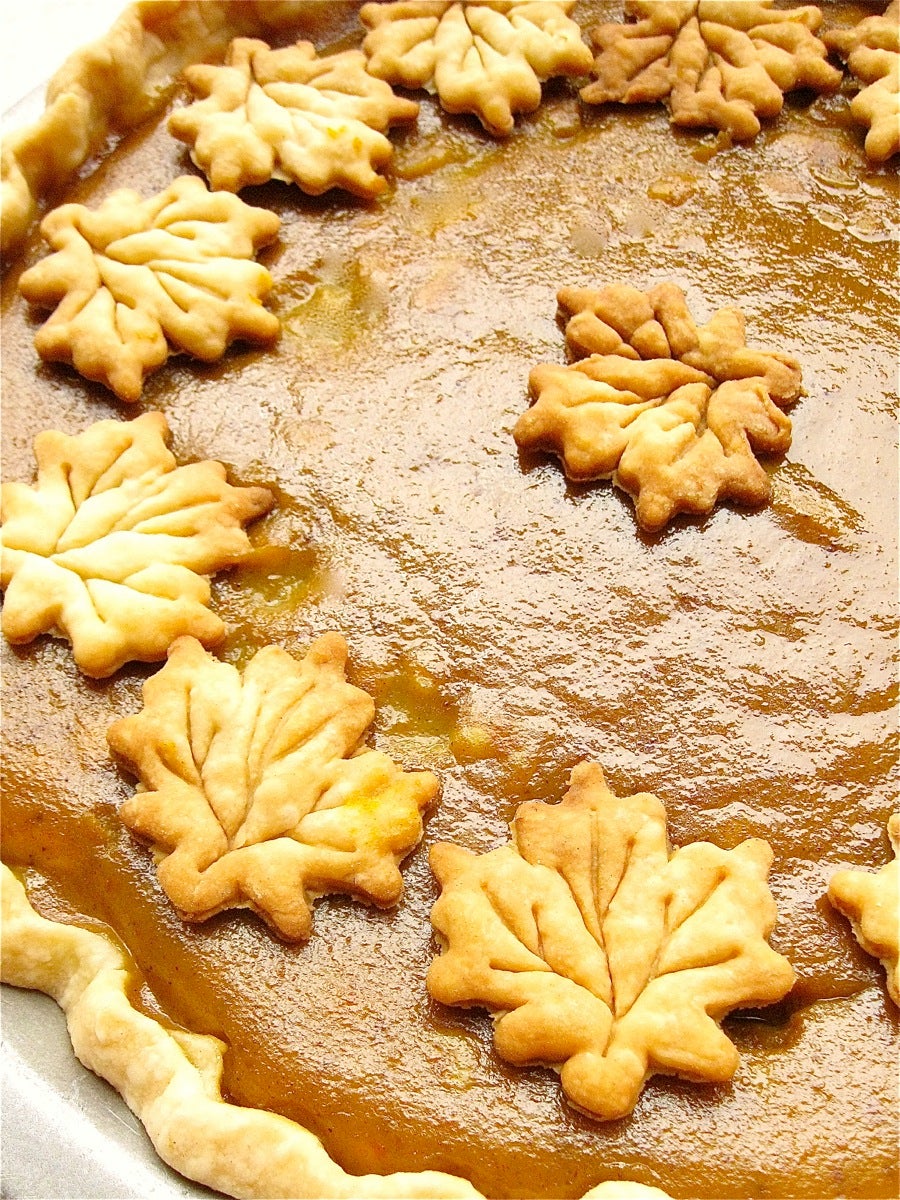 Recipe: Smooth and Spicy Pumpkin Pie
Blog Post: A Special Pie for a Moveable Feast
Canadians seem to like their pumpkin pie a bit spicier than their U.S. neighbors to the south, who prefer a "blander," more pumpkin-y pie. We think the secret to this pie's engaging flavor is potent Vietnamese cinnamon.
Reader rave: "Oh. Wow. The lightest, creamiest pumpkin pie filling ever! ...With this and the Classic Single Pie Crust recipe, I feel like I've conquered the pumpkin pie. I am thankful for King Arthur Flour and I know my diners will be as well." deeter – NE PA
Baker's tip: Allow the filling to rest overnight in the refrigerator before using. This allows its flavors to meld, and will make the filling smoother.
So – which pumpkin pie will YOU be making this week? Share your thoughts in "comments" (below). And may the best pie win!
Jump to Comments