Blueberry Crisp
It SHOULD have been a piece of cake...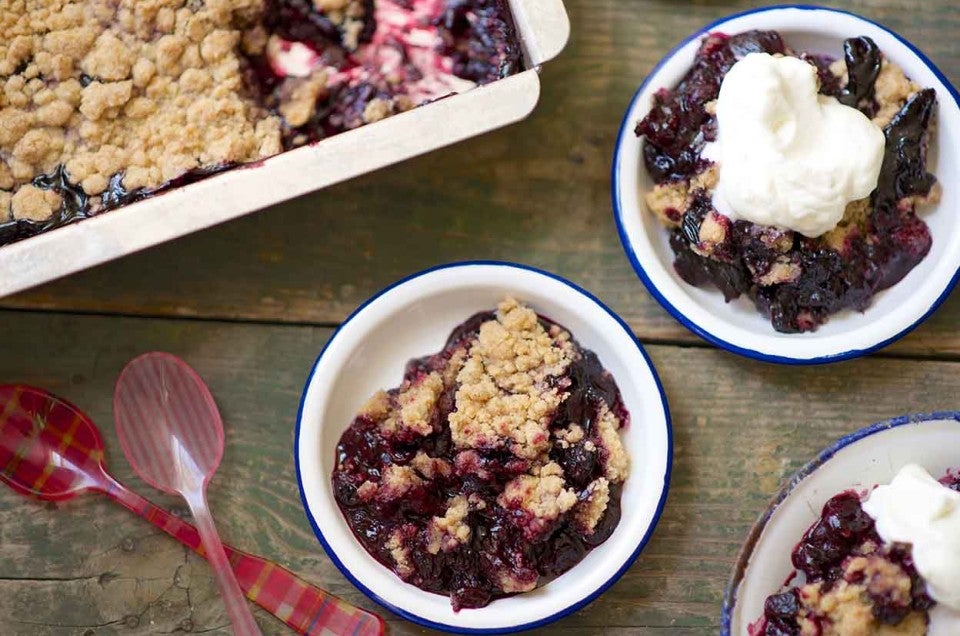 Ah, blueberry crisp: ideal for Mother's Day. A simple recipe anyone can make. No rolling dough, no scary knife work, no fancy techniques. Just 1) mix, 2) pour, and 3) bake. Or so I thought.
Two weeks and about 39 versions of blueberry crisp later, I have one I like. And I also feel like a tornado picked me up and whirled me around and finally deposited me, upside down, miles from where I started.
Baking ideas are like that; they can fool you. The flaky pastry that looks like it requires a CIA degree turns out to be a no-brainer. And the simple fruit crisp—berries on the bottom, streusel on top—becomes a multi-headed monster, finding a different way to fail every time it's baked.
Mind you, my co-workers here at King Arthur Flour didn't deem any of the "no-pass" versions a failure. Each and every one was eaten with gusto. Still… none was exactly what I wanted. And what, pray tell, was this lofty goal, the shining ideal of blueberry crispdom? Berry filling that was EXACTLY the right consistency: not stiff and rubbery, not a puddle of berry-filled juice, but soft enough to barely ooze when cut. The crisp had to be crisp, but not hard; and it had to stay heaped on top, not sink into the berries and become doughy.
And, since the point was to make an EASY recipe for Mother's Day, something that anyone in the family who knows how to turn on the oven and find a mixing bowl could make: the thickener had to be flour, and the filling made from frozen (not fresh) berries, since both are pretty much universal ingredients.
Though it didn't turn out to be QUITE as simple as I'd hoped, this blueberry crisp is still pretty much 1) mix, 2) pour, and 3) bake. There's some microwaving involved: melting butter, thawing berries. You do have to stir together both the filling, and the topping. But other than that, I'd reckon it's something most people could do, even those whose only previous exposure to baking has been to unwrap and slice an Entenmann's coffeecake.
So, all you moms out there—if your family wants to bake you something for your special day, point them to this easy Blueberry Crisp, then clear out of the kitchen. Go read a book; catch some rays in the yard. Your mission, should you choose to accept it, is to buy a pint of vanilla ice cream and have it ready when it's time to add "à la mode" to your family's Blueberry Crisp.


First step: frozen blueberries. Dump them into a microwave-safe bowl. If you want to make this recipe with fresh berries, try our recipe for Summer Fruit Crisp, substituting blueberries for the peaches.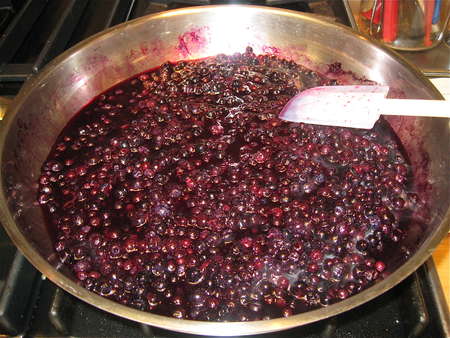 Next step: NOT THIS! I thought, hey, why not simmer off all the excess juice first. Not only will it concentrate the flavor, it'll cut down the baking time—I thought.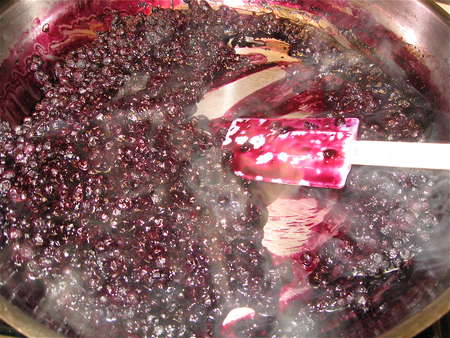 Great! After a 35-minute simmer, almost all the juice had been absorbed. One problem: it still had to get its streusel on top and be baked. And there was so little juice that when it came out of the oven, it was dry and gluey. Plus, simmering for 35 minutes prior to baking isn't really saving much time or energy. Back to step one: frozen berries.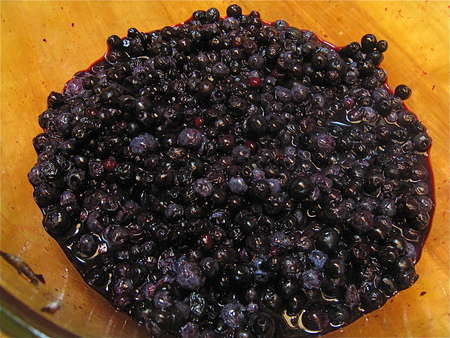 This time, I microwaved them for 5 minutes, just enough to thaw them and bring them to room temperature.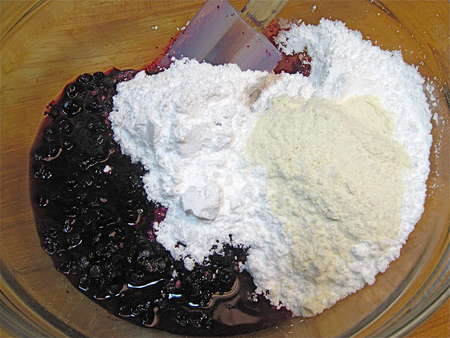 Stir in the remainder of the filling ingredients: confectioners' sugar (the starch acts as a thickener), flour, spices, lemon juice, almond and vanilla extracts, and butter. Butter may seem like excess baggage here, but I've found that just a couple of tablespoons helps enrich the flavor and texture.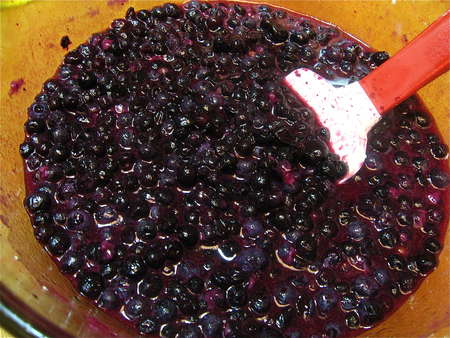 Stir it all up, spoon it into the pan, and into the oven it goes for 30 minutes, sans topping. How come no topping? Because I found that if I applied the topping immediately, it melted into the berries as they simmered. So I figured, let the berries cook awhile, THEN add the topping.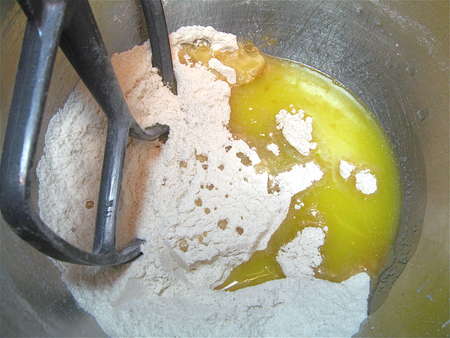 This is my favorite crumb/streusel topping. It differs from the norm in that you melt the butter before combining it with the flour, sugar, and cinnamon.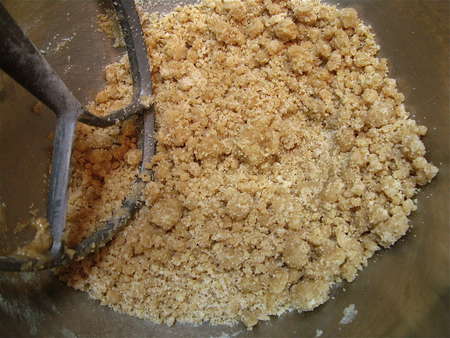 Melting the butter makes lovely, irregularly sized crumbs, crumbs that turn into crunchy/soft nuggets as the streusel bakes.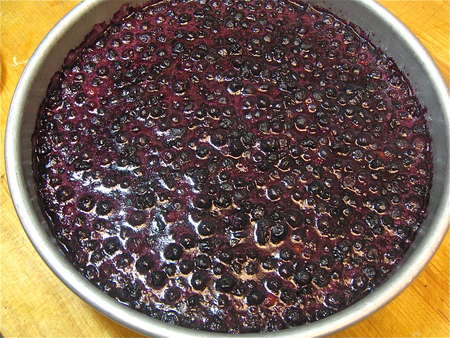 The berries have baked for 30 minutes, and they've started to bubble. If this was YouTube, you'd be able to see it. Since it's not, you'll just have to take my word for it.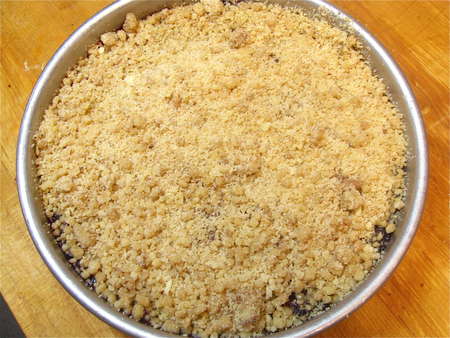 Spread the streusel evenly over the berries, and return to the oven.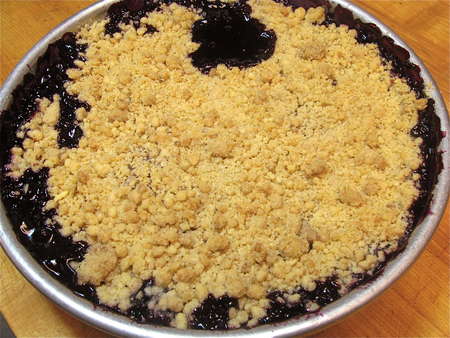 Bake for another 45 minutes. The berries will bubble vigorously and flow up over the filling in spots. That's OK; you're going to be dishing this into individual servings anyway. If you serve the crisp immediately, it'll be very liquid-y. I prefer to let it rest for several hours, preferably overnight. The berries re-absorb a lot of the juice.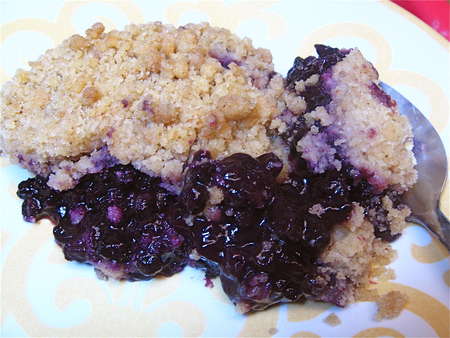 Next day, reheat each serving briefly (about 20 seconds) in the microwave. And there you have it: good old fashioned blueberry crisp. Make it à la mode at your own risk!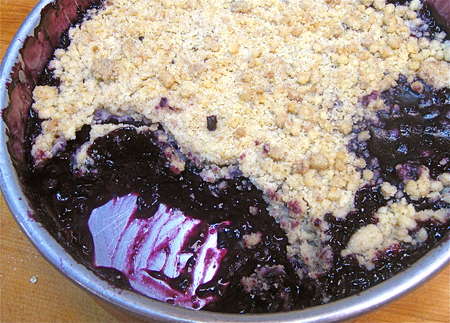 Now here's the result I was really hoping for: blueberry crisp without the puddle of juice in the bottom of the pan. Success!
Read the complete recipe for Blueberry Crisp.
Jump to Comments