In the crisp, crumble, and cobbler world, apple tends to get all the attention. Apple crisp is a classic, and rightly so, but don't overlook the delicious potential of summer fruit crisp. Once you master a good crisp recipe with our tips, you can use it all year round with whatever fruit is in season.
Crisps are simple and humble affairs. There's little in the way of technique, and they have a pleasingly rustic appearance — a boon for anyone who doesn't want a recipe that requires a deft touch with decorations or garnishes, like a frosted cake or lattice-topped pie.
Now you might be asking yourself: What's with all these fruit desserts and what's the difference? There are crisps, crumbles, cobblers, slumps, and more. For a full breakdown on the differences, check out our post on summer fruit desserts, but for today we're sticking with crisps.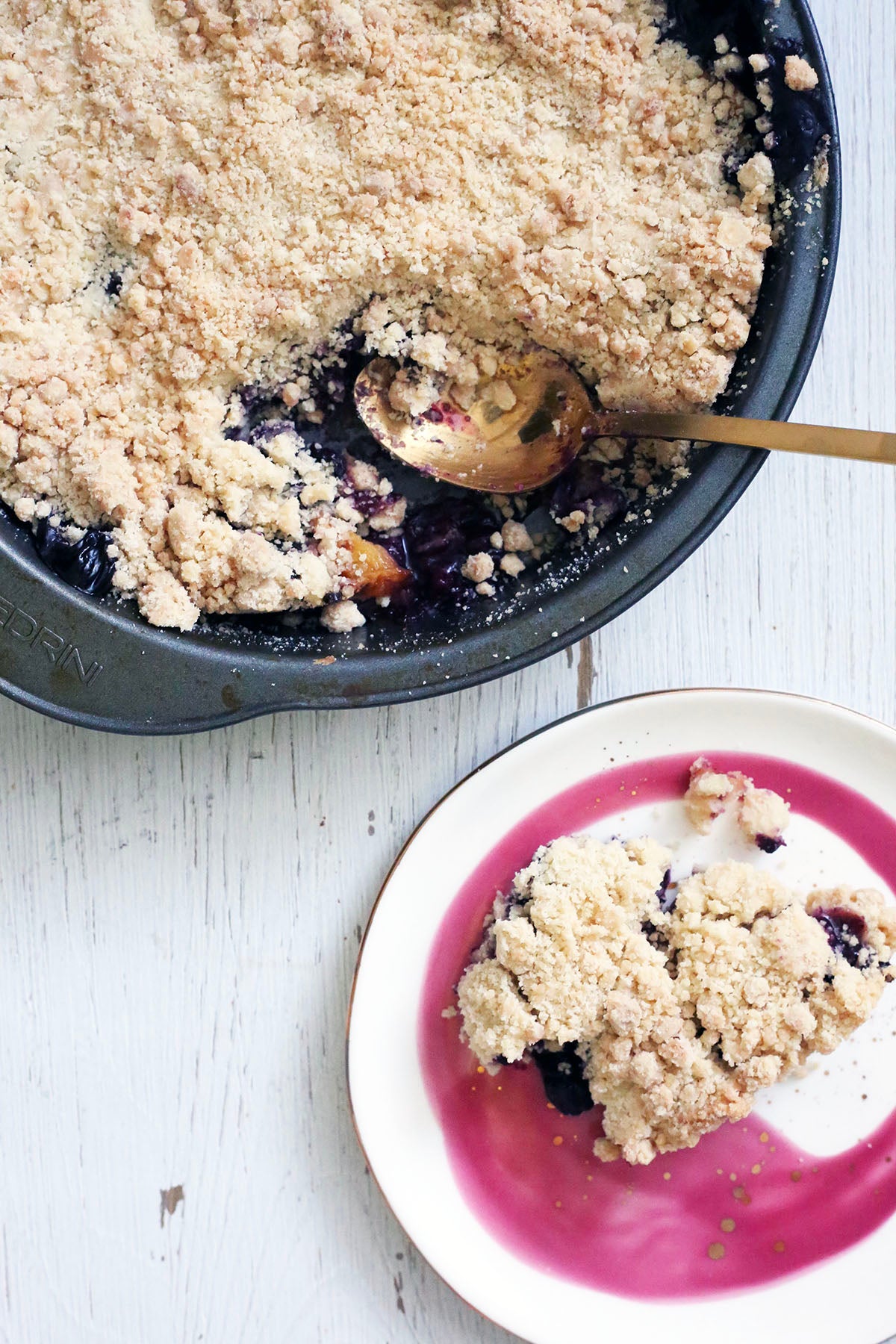 Now technically a crisp usually features a simple flour-butter-sugar streusel topping, whereas a crumble usually incorporates oats or nuts (hence the name: a crisp topping will be crisper, and an oat-y crumble topping will be more crumbly).
Recipes don't always stick to those exact definitions, and both a topping with and without oats will make a delicious fruit crisp! It's all about what you like best, so today we'll take a look at two of our very favorite standby recipes (Summer Fruit Crisp and Blueberry Crisp) to show you the difference. Pick the one that appeals most to you, and get baking to use up all that excellent summer fruit.
Both recipes begin with a similar method for the filling: Just toss your fruit (fresh or frozen) with a thickener, some sweetener, and some flavorings. Cover it liberally with your topping, bake, and eat!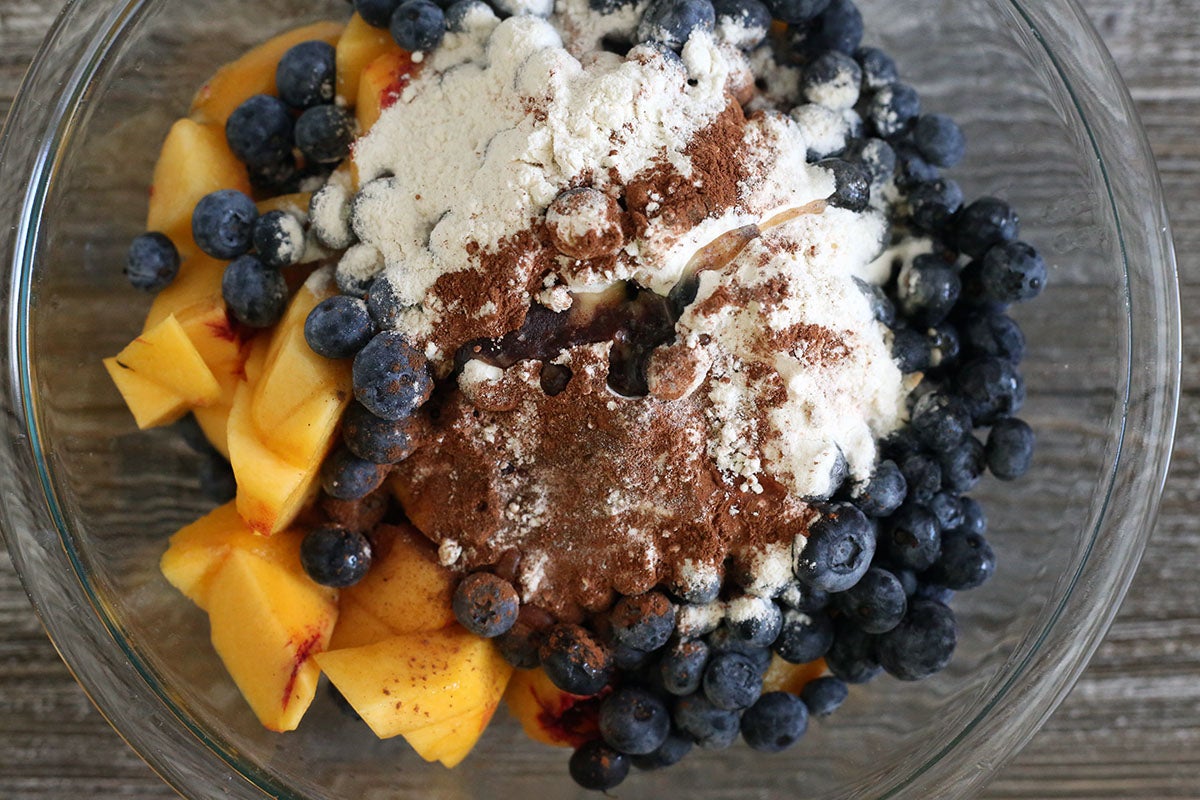 If you're curious about when to use fresh fruit, read our advice on fresh vs. frozen fruit.
While the components aren't complicated, there are some key tips that will take your summer fruit crisp from "Sure, I'll eat this because it's dessert" to "This is the only thing I want to make every summer."
A perfect crisp filling should have the right texture, like a fruit pie. It should be thick enough to easily spoon up, but not thick enough to turn gummy. The topping should be nicely browned, buttery enough to adhere to the filling, and not too dry on the edges.
Let's take a look at both recipes, then talk about some tips to ensure success.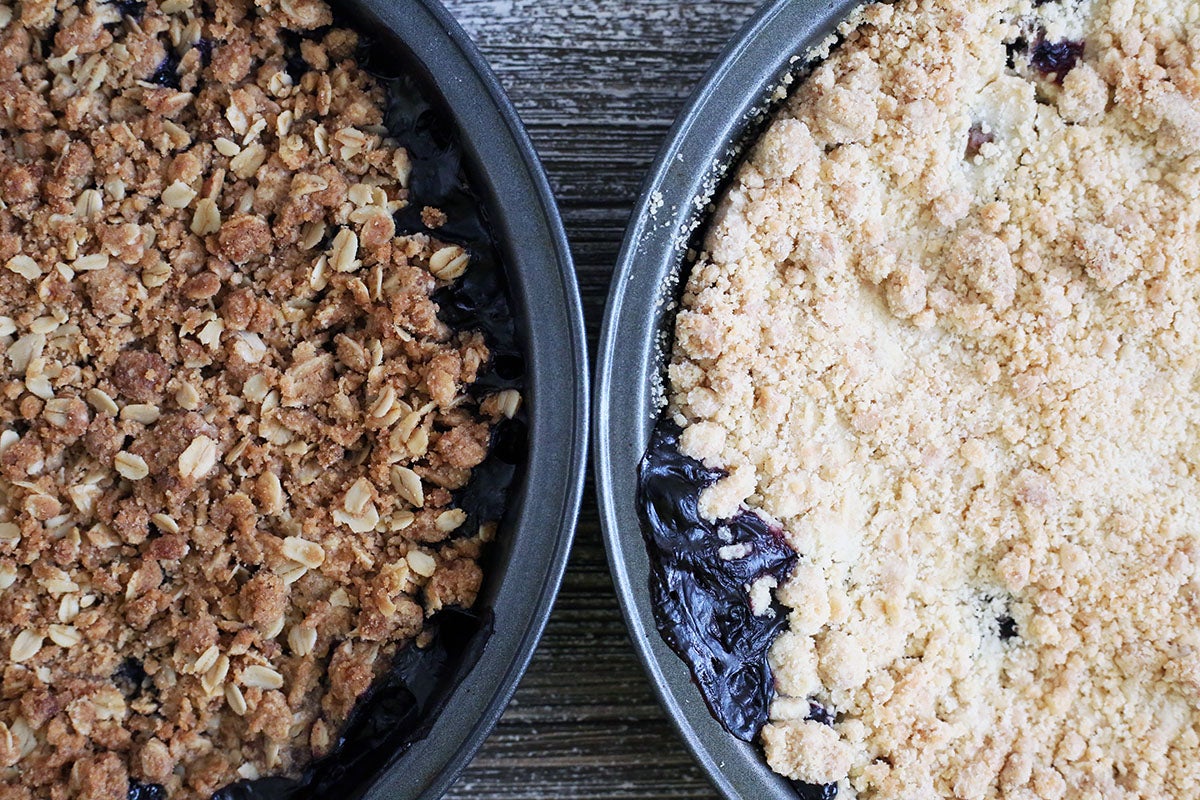 Battle of the crisps
Both crisp recipes have nearly identical fillings, but differ in the toppings. Our Summer Fruit Crisp recipe uses oats (and optional nuts) as well as softened butter in the topping. Our Blueberry Crisp recipe has no oats or nuts and uses melted butter.
First, let's look at the Summer Fruit Crisp.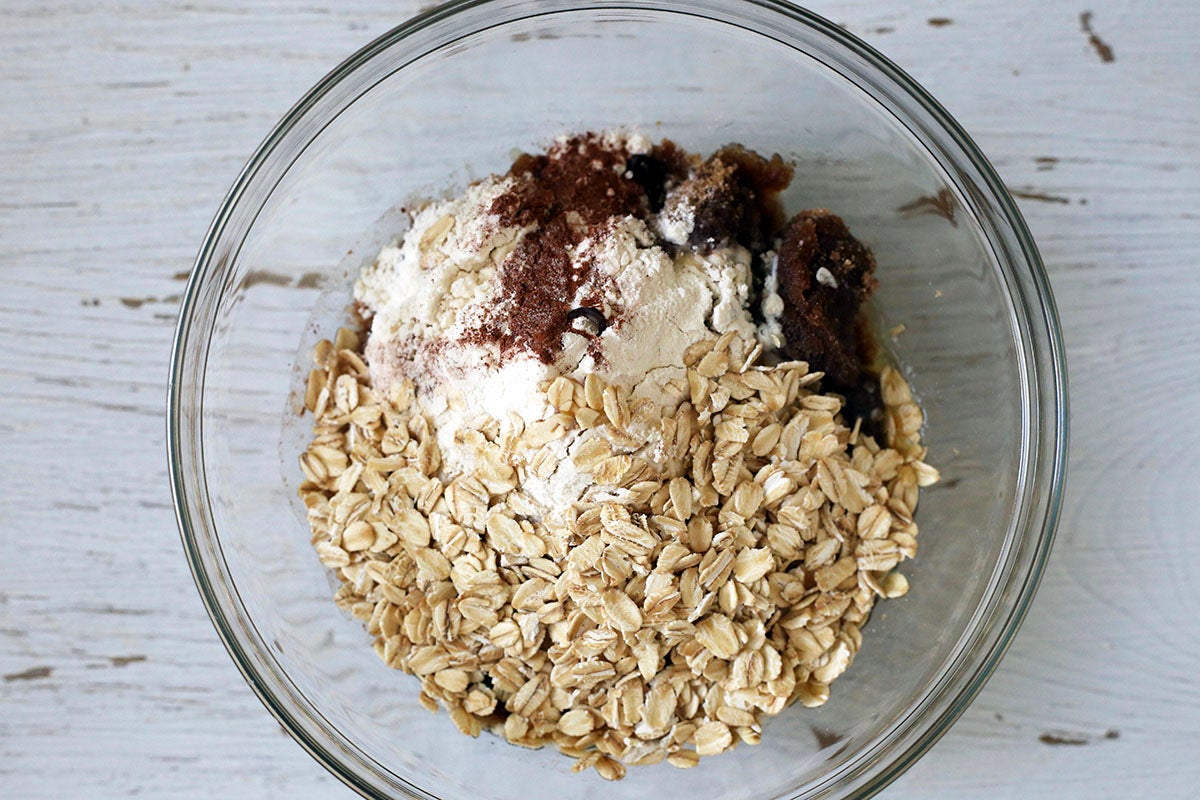 Softened butter and oats create a crumbly, chunky topping. This is a heartier topping with more texture. It's a good topping for people who want a more rustic, nuttier-tasting dessert.
I like pairing this dessert with whipped cream or ice cream, and the crunchier topping is a good foil to the soft fruit filling. Another characteristic: This topping will brown much more than the other, so it has a prettier and more traditionally golden brown appearance.
Next, the Blueberry Crisp.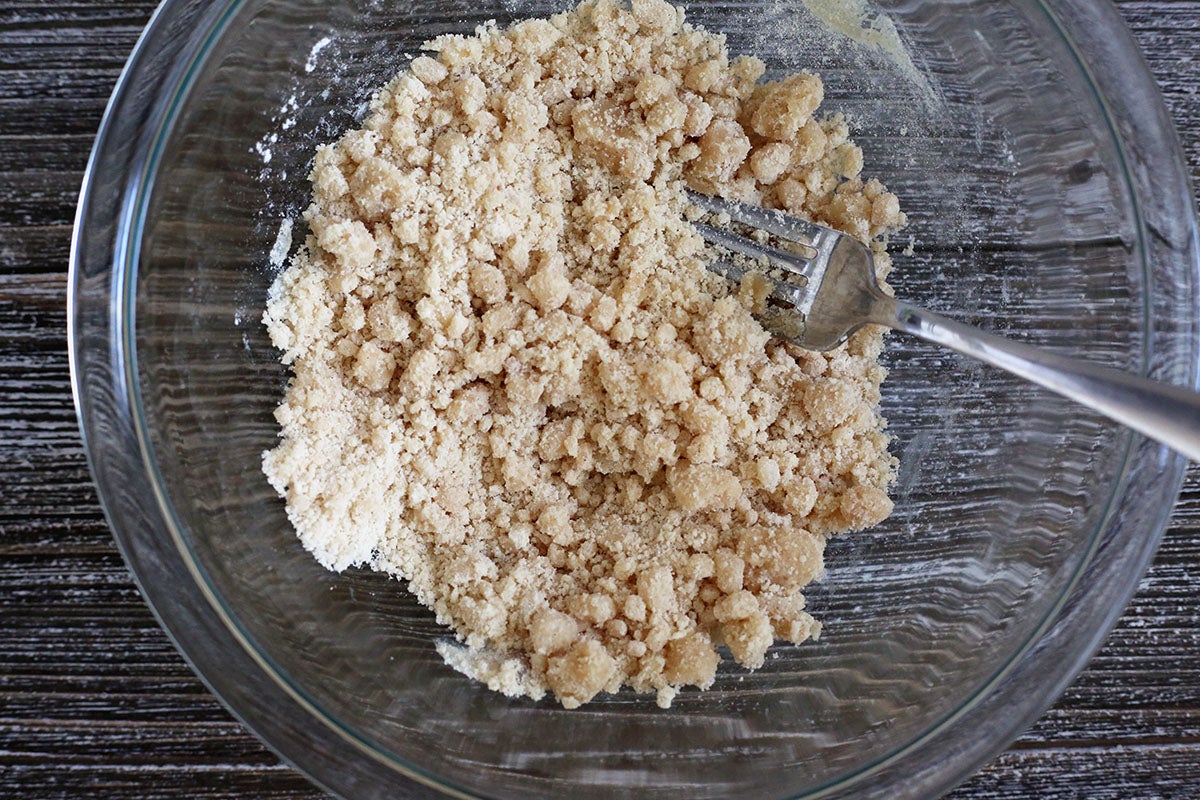 This topping is a simple combination of flour, sugar, and melted butter with some flavorings (cinnamon, salt, almond extract, and vanilla). You get big, soft chunks of streusel topping that resemble the topping of a really good coffeecake.
This topping is a bit sweeter and more delicate, almost cake-like in some ways. The almond extract might seem like an odd ingredient, but it adds a fantastically nutty flavor just like oats do in the other crisp recipe. This dessert is a bit more elegant, so it's ideal if you want something a little fancier.
The topping won't brown as much as the first one, so don't fret if it doesn't turn very golden during baking! Instead, watch the baking time and keep an eye on the fruit that bubbles up: It's ready when it's really bubbling, and thickening a bit on the edges.
Once you decide on your recipe, here are some tips to make the most of whichever you choose.
The filling: Choose the right thickener
As with fruit pies, the trick to achieving the proper texture in your filling is all about the thickener. The filling of a summer fruit crisp can easily become too liquid-y, especially when you're using very ripe fruit like blueberries and peaches. (This all applies for frozen fruit as well.)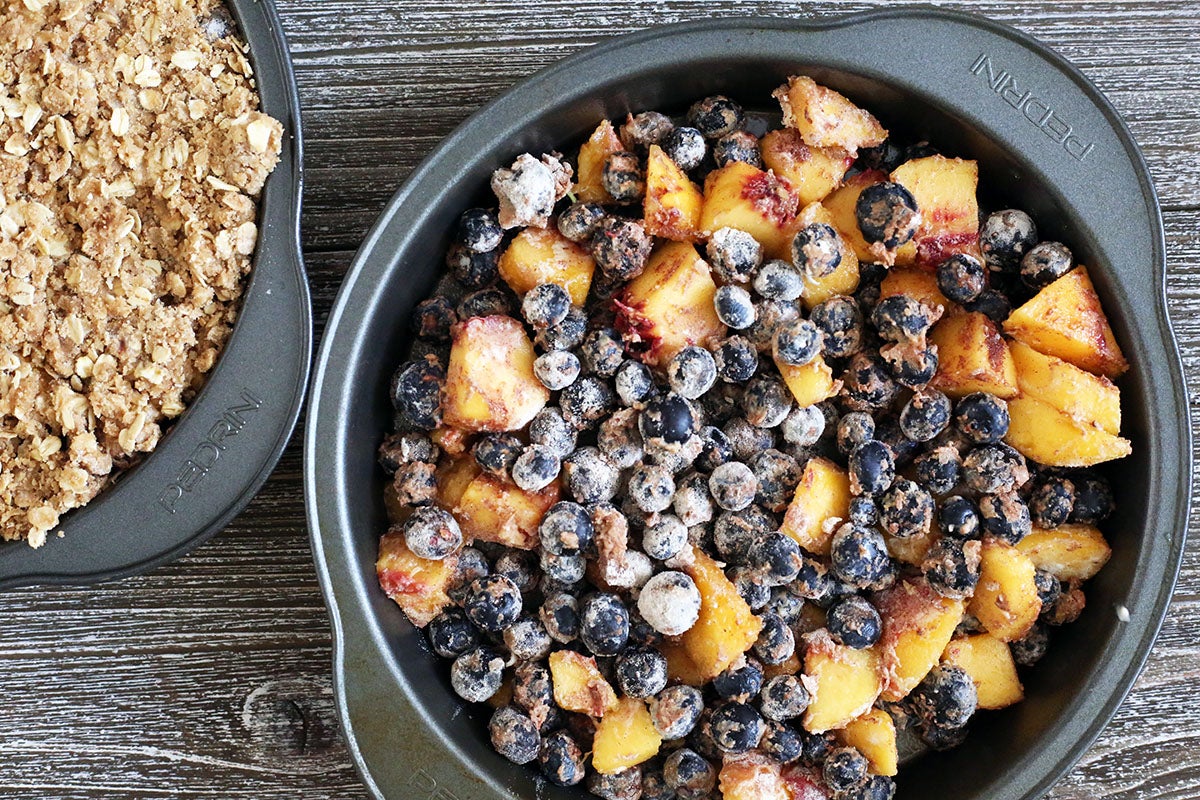 The best options for thickening your filling? In my opinion, all-purpose flour or Instant ClearJel. I've done plenty of testing over the years, and found that these two thickeners yield the best texture without compromising flavor or adding any unpleasant gumminess, as some thickeners like cornstarch can.
I like to use flour if my fruit isn't too juicy, but if I'm dealing with very ripe, very juicy fruit (like summer peaches), I stick with ClearJel.
The filling: Sweet talk
Both classic seasonal crisp recipes — Summer Fruit Crisp and Blueberry Crisp — call for added sugar in the filling. We often get feedback that bakers find the filling too sweet, so here's what you need to know. You can adjust the sugar as much as you want without causing major issues with the recipe. Feel free to leave out the sugar altogether!
Now, understand that sugar can also add a bit of thickening power, since it attracts and holds "free" liquid. So as you reduce or eliminate sugar in your filling, you'll want to err on the side of more thickener (ClearJel, flour, etc.) vs. less. For more on this see our post, How to reduce sugar in pie.
I always recommend that you taste your fruit first: If it's very sweet and ripe, dial back the sugar a bit. If it's more tart, keep the sugar quantity as is. Also, remember that this is your dessert, so consider your own taste preferences and adjust accordingly. Unlike the other ingredients (flour, butter, and so on), the amount of sugar doesn't affect the ultimate success of the recipe.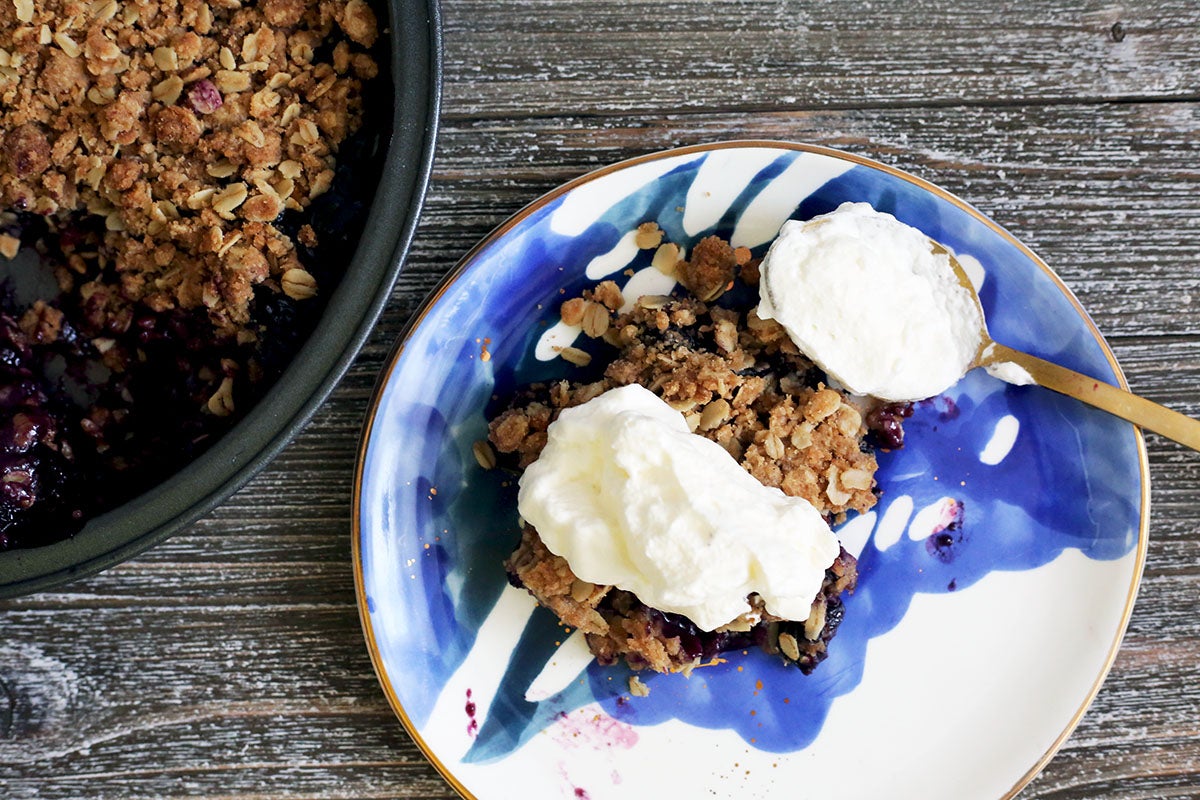 The pan: Go big or go home
Crisps are wonderfully flexible recipes. They're pretty tough to mess up; unlike a cake or cookies, you don't have to keep an eagle eye on them. It's totally fine if they're slightly underbaked or overbaked. You're aiming for a juicy, soft filling and a toasty topping and you'll get this no matter what!
In that spirit of flexibility, you'll see that our recipes aren't very specific about pan size. The Blueberry Crisp recipe suggests a 9" round or 8" square pan. The Summer Fruit Crisp recipe suggests a 9" square or "similar-sized dish." Feel free to use whatever pan you have on hand; just ensure that the fruit filling is at least 1 1/2" deep. If your filling is spread too thinly, it'll cook down too much and will get gummy and overly thick. You don't need to worry about the filling being too deep, as long as there's enough space in your pan to add your topping.
Want to serve these at a party or a dinner? You can divide up the recipe evenly among smaller pans: Try using our mini pie pan or our mini individual round pans.
Keep this in mind: A smaller, deeper pan will mean a juicier filling and a shallower, larger pan will yield a thicker, less liquid-y filling.
Regardless of your pan size, I always recommend that you place your pan on a baking sheet before baking. Fruit crisps can bubble over as they bake, so a baking sheet is a good way to ensure you'll catch any drips.
The topping: More is more
Our recipes are written to create a nice balance of topping to fruit. Each bite has a generous amount of sweet streusel.
That being said, if you're like me and you really love the crunchy topping, go ahead and double the topping recipe. Twice the amount of topping is a bit too much (it'll cover the fruit too thickly and can make it hard to fully bake), but I like to use 50% more than the amount called for in the recipe. I save the extra topping and freeze it in a zip-top bag: It's delicious if you bake it on a baking sheet and sprinkle it over yogurt with fruit for a quick dessert or breakfast.
We'd love to hear your favorite kind of crisp: Are you a fan of the crunchy oat topping? Do you like apples or stone fruit or berries? Tell us in the comments!
Jump to Comments