Our top apple treats
It's apple-picking time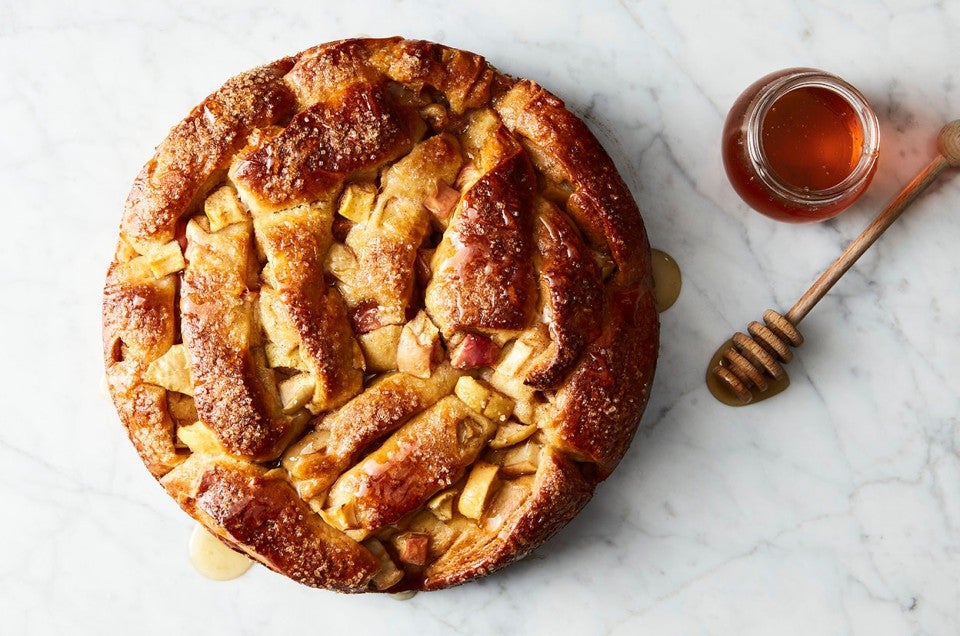 Is there any fruit quite so versatile as the humble apple?
Apples don't have the haunting aroma of a fresh peach. They're not as elegant as a bowl of fresh-picked raspberries. And heck, they don't slice nicely onto your cereal like their year-round companion, the banana.
But I can come up with 10 reasons right now why apples are the top fruit in my fruit bowl:
10. A family trip to the apple orchard, complete with hayride and fresh doughnuts, is the perfect autumn ritual.
9. Even bruised, old, or windfall apples find new life as sauce.
8. They're part of our national heritage. Think "American as apple pie." Johnny Appleseed. Apple-blossom time.
7. Apples are a colorful addition to your fruit bowl: whether bright yellow or green, deep red, purple-red, dark pink – even russet brown – apples are stylin'.
6. There's nothing like reaching into a tree, picking an apple, and taking a bite: that satisfying crunch, the tart juice, sun-dappled leaves overhead, the distant scent of burning leaves on the air.
5. Apples are an amazingly versatile cooking ingredient. What other fresh fruit is equally at home flavoring a roast chicken, in Waldorf salad, in bread stuffing, or studded throughout a sweet potato casserole?
4. Apples come in multiple flavors – a plum is a plum is a plum, but apples can be sweet as a fully ripe Fuji, tart as an early Cortland.
3. They make wonderful libations, from juice to cider (both fresh and hard) to applejack to Calvados.
2. Apples have the most marvelous names. Albemarle Pippin. Northern Spy. Hudson's Golden Gem. Oranges, eat your heart out!
And finally, the top reason I love apples:
1. Apples and baking are the perfect companions. Is there any major baking category – bread, cake, cookies, bars, sourdough, pancakes, muffins, pie, scones – where apples aren't totally at home?
Witness the following roundup of apple recipes. This sweet bakers' dozen represents the top-ranked apple recipes on our site, as selected by your, our readers, via your recipe reviews. Enjoy!
Reader rave: "The best apple pie I've ever made! The boiled cider really makes a difference! ...Kudos to the KAF family for this recipe. It's now my go to recipe for apple pie!!" delila80 – KAF Community
My 2¢: This pie uses my go-to crust: a simple five-ingredient formula using shortening for flakiness, and butter for flavor. If you've already got a favorite crust, use it; if not, give this one a try.
Top tip: To prevent a lava-flow of semi-liquid filling, let the pie cool completely – COMPLETELY, like for at least several hours if not longer – before cutting. If you like your pie warm, rewarm individual slices briefly in the microwave just before serving.
Reader rave: "This is by far my favorite muffin recipe of all time. I always struggle to make fluffy yummy muffins but not with this recipe!!!" Cat - Winslow, ME
My 2¢: These muffins won't win any beauty contest. But once you get your audience to try them, they'll be hooked: they're wonderfully moist, with great apple flavor.
Top tip: Don't omit the brown sugar topping. It adds subtle crunch to the crust, which perfectly complements the muffins' moist interior.
Reader rave: "Thank you, thank you. This challah did it again. It has become the eagerly awaited star of our Rosh HaShanah meals. I make it as written – sugar and all, using a Granny Smith and a Jonathan apple. I divide the recipe and make two – one before the meal and one during – otherwise everyone will fill up on it for before anything else is served." mjdien – KAF Community
My 2¢: There's a certain texture – a kind of "stringiness," as it were – that distinguishes good challah. While I was developing this recipe, there happened to be an Israeli film crew in the test kitchen; and they urged me to keep working on the recipe until the bread had that signature texture. Thanks, guys!
Top tip: The technique for adding the apples to the dough is kind of messy. Don't stress; it's supposed to be. It'll all work out in the end, like life usually does.
Reader rave: "I'm a rookie college kid baker, and these are amazing, every girlfriend I have is asking me for the recipe, it's great." Nick – BloNo
My 2¢: I agree with Nick (above). This is the scone I make when people say, "I don't like scones, they're so dry and boring," and I need to convince them otherwise.
Top tip: These make a great "fancy yet easy" breakfast. Make the scone dough, shape it into scones, and freeze shaped scones for up to 3 months. Bake however many you want right from the freezer, adding a couple of minutes to the baking time. Instant gratification!
Reader rave: "Oh, my goodness! I was just so impressed with myself!!! I made something far beyond just 'good'. I have been cooking and baking a long time. I am pretty darn good at it, too. Never have I made or baked anything better. I dare you to try this recipe!!! It is so amazing. Thank you KAF, for sharing." grannie S - KAF Community
My 2¢: Yes, this is every bit as good as the photo looks. The sweet/sticky caramelized sauce contrasts perfectly with the tart apples. This is an apple-season must-bake.
Top tip: Use a firm baking apple: Northern Spy, Ginger Gold, Granny Smith, or anything that'll hold its shape. I don't recommend Delicious, McIntosh, or Cortland, which become very soft when baked.
Reader rave: "This is fantastic! If there were six stars I would give it six! The boiled cider really made the glaze extra special, though. Perfect for a big family fall supper, fragrant and delicious. Thank you for this wonderful recipe... it is a keeper!" norahrice – KAF Community
My 2¢: This is an ideal "apple pie" for potlucks and other occasions when you want a larger number of smaller servings. You can easily cut this rectangular pie into 16 to 20 nice servings - try THAT with a typical 9" round pie!
Top tip: You may think glaze atop pie is a bit strange, but please don't skip it: it's a nice final touch, its cinnamon/apple flavor perfectly complementing the buttery crust and tasty filling.
Reader rave: "This is absolutely the best pie I have ever made! I too have struggled for years with pie crusts! This pie crust is a breeze to make! Thanks for the great recipe!" cafemocha4me8277 – KAF Community
My 2¢: More crust – less filling! If you're a crust lover, you'll love this buttery cream cheese crust. It's a dream to roll out, and totally delicious.
Top tip: An apple peeler/corer/slicer makes short work of the sliced apples needed for this pie – try using just a paring knife to peel, core, and slice an apple in perfect half-circles in under 12 seconds!
Reader rave: "I've made this cake several times, using different kinds of apples and it was delicious every single time! ...I only changed one thing and that was in the frosting. Instead of using all vanilla, I used a quarter teaspoon of the vanilla and a quarter teaspoon of KAF's Natural Maple Flavor. EXCELLENT!!! That small amount of maple flavor put the frosting WAY over the top! And YES, I licked the bowl. I just HAD to! YUMMY GOOD!!!" mebren1121 – KAF Community
My 2¢: I've been baking this cake for over 30 years, and it never ever ever EVER fails to get rave reviews. I just recently started making it with white whole wheat flour, and no one can tell the difference.
Top tip: Sprinkle the baked, cooled, cake with the merest dusting of salt (fine preferred) prior to frosting. That tiny bit of salt cuts the sweetness of the frosting just enough to point up its caramelized brown sugar notes.
Reader rave: "I made this pie one week ago and my family is already asking for another one! This recipe very easy to prepare, the pie delicious and by using the paper bag method, infused with intense flavor. I will be making this pie for Thanksgiving. Thank you for a great recipe." sydneystmichael – KAF Community
My 2¢: It seems weird and counter-intuitive to bake a pie inside a paper bag – won't the bag catch on fire? And how well will the pie brown? For whatever reason, the bag produces a perfectly browned pie with moist filling, tender/crunchy crust, and crisp topping. And, when you follow the directions, it seems safe enough; people have been baking pie this way for decades. If you're at all wary, though - don't stress. Just bake the pie without the bag, at the time/temperature you'd normally bake an apple pie.
Top tip: Make sure you get your bag at the supermarket; since paper supermarket bags are designed to hold food, they have to be food-safe. If you don't see paper bags at checkout, ask the cashier or packer for one; they're often stashed underneath the counter these days, with everyone either bringing their own cloth bag, or selecting plastic.
Reader rave: "Trip to the farmers market resulted in a new crop of apples lovingly carried home... Time to pull out that Apple Crisp recipe card that came with my last order from KAF. Super easy to make, but be prepared, that last 15 minutes of baking time was pure torture - but my oh my, that sweet apple cinnamon wonderfulness wafting through the house was pure fall heaven and the taste was divine!" Logan'sMiMi – KAF Community
My 2¢: When you want apple pie and you want it NOW; and you're OK with no bottom crust, apple crisp is just the ticket. The streusel on top stands in nicely for buttery/flaky pie crust.
Top tip: Whatever pan you bake your crisp in, make sure it's deep enough. And then, just in case, set the pan on a parchment-lined baking sheet, to catch any bubble-overs. Far better to discard a piece of parchment than to have to clean the floor of your oven.
Reader rave: "Outstanding recipe and my first experience with no-knead bread. I will be making this often... This is far better than most artisan bakery loaves and at a fraction of the cost." NCbooknurse – KAF Community
My 2¢: I love that the bread itself isn't sweet; the apples lend their natural sweetness and flavor, while nuts add toasty crunch. This bread is awesome for grilled cheese, BTW.
Top tip: Breads made from long-rise, no-knead dough, like this one, tend to have a longer shelf life than breads made with "straight" dough – bread that goes from dough to finished loaf without the long initial rise. How come? Because as yeast dough rises, the developing yeast gives off organic acids and alcohol, both of which act as natural preservatives.
Reader rave: "Yep, this is a keeper. Nice follow up to a heavy meal. The dough bakes up light, crispy and luscious for this 'hand-held' dessert." Diane - Los Gatos, CA
My 2¢: This is a tasty way to use up your "discard" sourdough starter. The crust is unsweetened, and thus is perfect for any kind of topping, from a drizzle of olive oil and sprinkle of rosemary to "the works" – a fully loaded pizza.
Top tip: Don't have any sourdough starter? Substitute 1/2 cup lukewarm water and 1 cup King Arthur Unbleached All-Purpose Flour for the cup of starter called for in the recipe.
Reader rave: "I made this bread last night, and it was superb. The texture is great... I love for my bread to be fruity and tasteful... I will make again and again. Thanks KAF." Huntley51 – KAF Community
My 2¢: According to my informal survey, the world is evenly divided between raisin lovers, and raisin haters. If you're in the latter camp, feel free to omit the raisins and substitute dried cranberries, dates, dried apple chunks, or your favorite dried fruit.
Top tip: For best flavor and texture, wrap the completely cooled bread in plastic wrap, and allow it to rest overnight before slicing.
What – you need MORE inspiration? Check out all of our recipes by searching "apple" on our recipe site. 
Jump to Comments