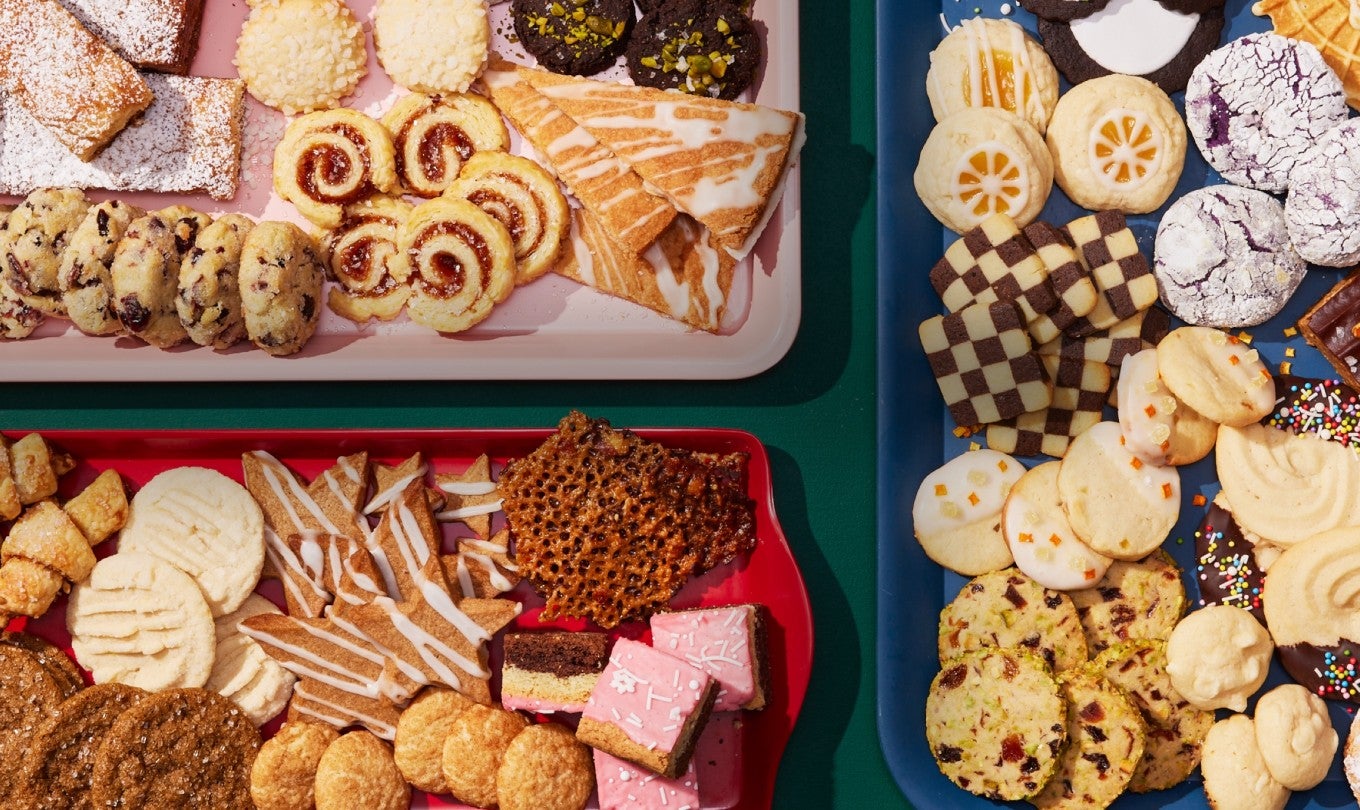 A great holiday cookie platter is a big mix — of flavors, textures, colors, and more. To put together the ultimate spread, choose one of the flavors below, then pick a few recipes from that category, making sure to select a variety of textures and styles. Repeat until you have a collection of recipes that every cookie eater — from the fudgy cookie fanatics to the snappy shortbread buffs — can dig in to.
Flavor
Chocolate
Chocolate Molasses Thumbprints
Here's what you get when you cross a ginger-molasses cookie with a brownie.
Get the recipe
Spiced Hot Cocoa Cookies with Marshmallow Middles
Inspired by Mexican chocolate, these deeply fudgy cookies have warm notes of cinnamon and a pinch (or two!)  of cayenne if you can handle the heat.
Keto-Friendly Double-Dark Chocolate Cookies
Tailor-made for anybody who's eating keto, these cookies are also great for people who are serious about their cocoa.
Get the recipe
Checkerboard Sablés
With a fashionable upgrade, the classic sablé gets a gorgeous look — with none of the piping.
Get the recipe
Flavor
Spice
Ginger-Molasses Biscoff Cookies
For fans of cookie butter spread (and soon-to-be fans of cookie butter spread).
Spiced Rye Ginger Cookies
Lightly crisp on the edges, but bendy and chewy in the middle, these one-bowl cookies get their holiday flavor from rye flour, molasses, and spices like black pepper and ginger.
Get the recipe
Candied Ginger Shortbread
No scooping or rolling required! This six-ingredient cookie is shaped into one big round, then cut into wedges while warm.
Get the recipe
Soft Snickerdoodles made with Baking Sugar Alternative
The buttery, soft, cinnamon-coated cookies you love, but remade for bakers avoiding sugar.
Get the recipe
Spiced Star Cookies (Speculaas)
Speculaas aren't speculaas without cardamom, cloves, mace, and cinnamon — in other words, everything in our Speculaas Spice Mix.
Get the recipe
Flavor
Fruity
Mochi-Stuffed Ube Crinkle Cookies
An ode to the flavor of ube: slightly fruity, slightly vanilla-y, yet completely distinct.
Get the recipe
Rugelach
These pastry-like cookies — filled with dried fruit, cinnamon, or chocolate — are so flaky, they're like little bites of pie crust.
Get the recipe
Neapolitan Sugar Cookie Bars
When you can't choose between chocolate, vanilla, and raspberry ... don't! These slightly cakey, slightly chewy glazed bars are the best of all worlds.
Pistachio-Crusted Icebox Cookies
Are these slice-and-bakes sweet or savory? They're both, which makes them impossible to stop eating.
Get the recipe
Guava Pinwheels
Jammy, tender, and crisp, with the classic flavor profile of cream cheese and guava.
Get the recipe
Flavor
Nuts
Organic Peanut Butter Chocolate Buttons
Good news: This nostalgic recipe works with that jar of natural peanut butter in your pantry.
Free-Form Hazelnut Florentines
For the caramelized crunch of a florentine with none of the fuss, skip the shaping.
Get the recipe
Wedding Cookies
If you don't have this sugar-dusted classic on your cookie plate, is it even the holidays?
Get the recipe
No-Bake Almond Butter Bars
Make these fudgy, nutty, graham cracker-packed bars when your oven is otherwise occupied.
Get the recipe
Almond Cloud Cookies
The undisputed champ of gluten-free cookies: sweet, ethereal, and a little chewy.
Get the recipe
Flavor
Vanilla
Vanilla White Chocolate Drop Cookies
Perfect for gifting, these two-biters get caramel notes from a long chill (so plan ahead).
Get the recipe
Piped Vanilla Sugar Cookies
By piping shapes rather than decorating with royal icing, you ensure that your cookies turn out looking elegant (and not like a kids' craft project gone wrong).
Gooey Butter Vanilla Cake Bars
Ooey, gooey, and perfectly buttery, these cookies are actually cake (and no one will mind).
Get the recipe
Pizzelle
We swapped the anise in these buttery Italian cookies for vanilla (sorry, nonna).
Get the recipe
Flavor
Citrus
Glazed Ginger-Citrus Shortbread
Like little bites of sunshine, these zingy rounds are studded with dried peel and candied ginger.
Double Lemon Thumbprints
When lemon cookies just aren't lemony enough, fill them with tart curd. Major bonus points if you decorate them to look like little lemons.
Get the recipe
Soft and Chewy Cranberry Orange Cookies
Actually, there's a third texture in these homey cookies: the light crunch of the sparkling sugar that coats them.
Get the recipe
Whipped Lemon Shortbread
Shortbread, but make it citrusy and soft. Creaming the butter with the sugar until super light and fluffy gives these cookies their texture; a little masa harina gives them a compelling undercurrent of corn.
Get the recipe