Can she bake a cherry pie, Billy Boy, Billy Boy, can she bake a cherry pie...
Sure.
But does she want to?
Not always.
I love pie as much as the next person. Possibly even more; pie might very well be my #1 dessert.
GOOD pie, that is. Pie with tender, buttery, flaky crust. One whose fruit filling is perfectly thickened – neither wet/watery, nor dry/stiff.
A pie whose flavor is the perfect marriage of sweet (though not too) and fruit, with perhaps a mere touch of spice.
Despite the number of years I've been baking, pie is still a challenge. Maybe my sights are set too high (see above). Or maybe I simply don't have the touch.
I find pie-baking is like golf: every now and then you hit that great shot and think, "Ah-HA! I've got it!" Till you shank the next shot, 2 minutes later
Can I bake a GREAT cherry pie? Sometimes. Especially using sour cherries and my favorite recipe, Mr. Washington's Cherry Pie.
But when Bing cherries are in season, and I want a fast, easy, non-challenging cherry dessert, I click right to Cherry Clafouti.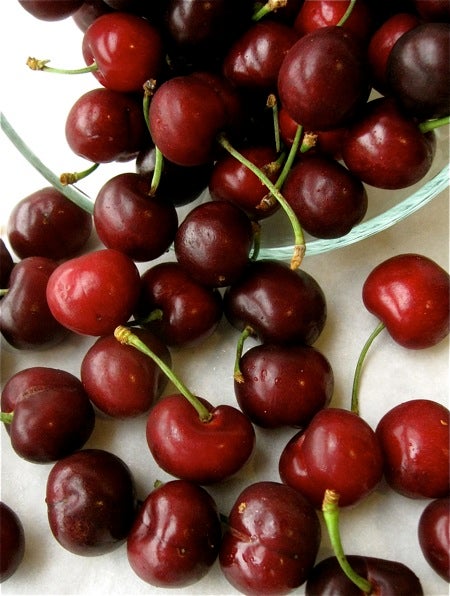 Oh, boy... nothing like a bowl of crisp, sweet of Bing cherries!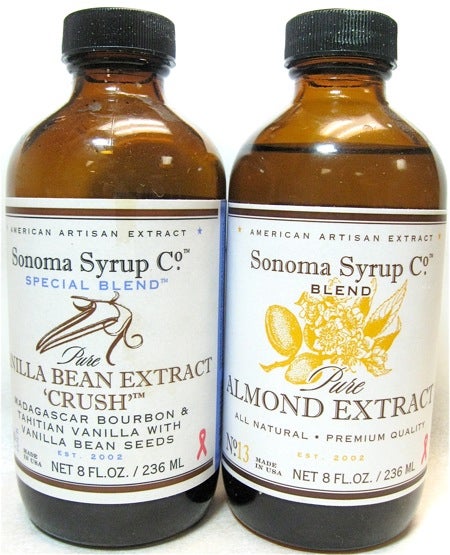 And here are two flavors that marry beautifully with cherry – vanilla, and almond.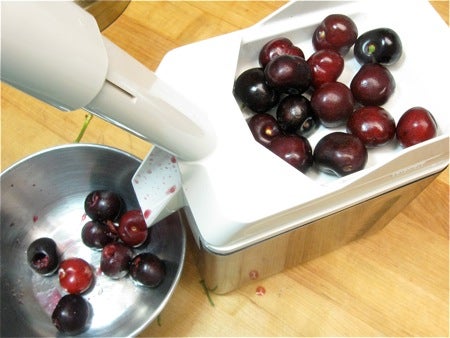 Start with a pound of cherries.
How to pit a pound of cherries in under 2 minutes? It's easy, when you have a cherry pitter.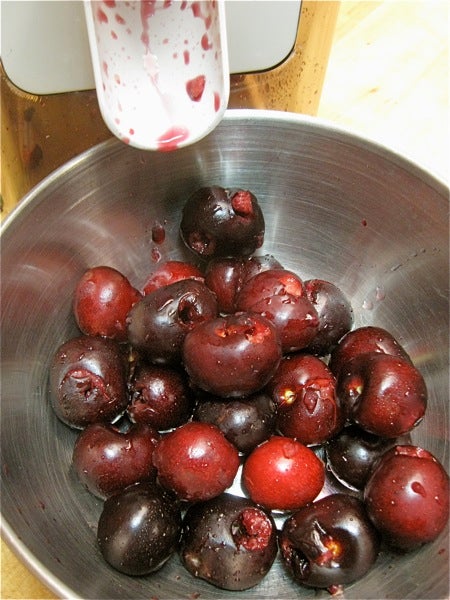 It took me 1 minute, 38 seconds to pit this pound of cherries. No joke! I timed it. Pits go into the hopper; and about 3 to 3 1/2 cups of pitted cherries go into the bowl.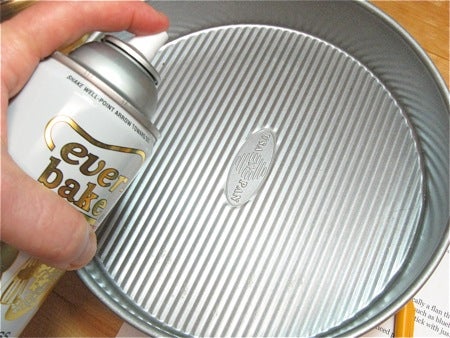 Preheat the oven to 450°F.
Lightly grease a 9" round cake pan, one that's at least 2" deep.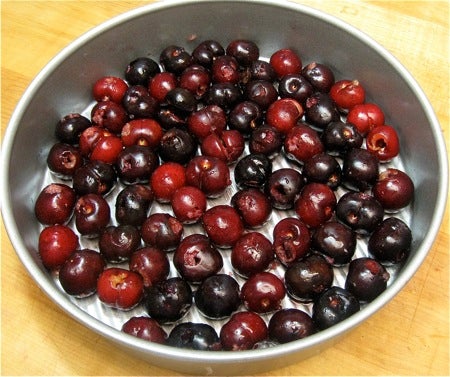 Put the cherries into the pan; they should form a single layer that pretty much covers the bottom.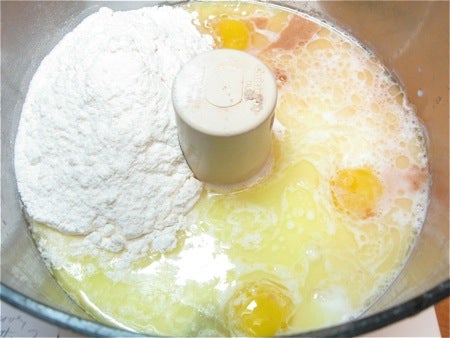 Put the following in a blender or food processor:
3 large eggs, at room temperature
1 cup (227g) lukewarm milk
2 tablespoons (28g) melted butter
1 teaspoon vanilla extract
1/4 teaspoon almond extract, optional
3/4 teaspoon salt
1/2 cup (99g) sugar
3/4 cup (85g) King Arthur Unbleached All-Purpose Flour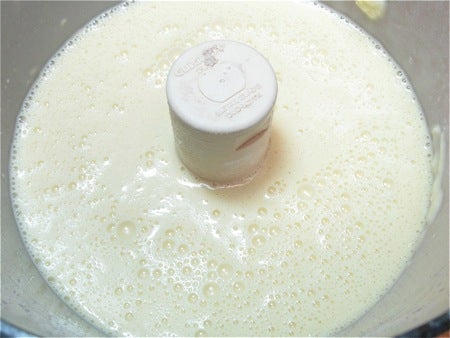 Blend till frothy.
If you're using a mixer, beat the liquid ingredients, then add the sugar and flour, quickly whisking to combine.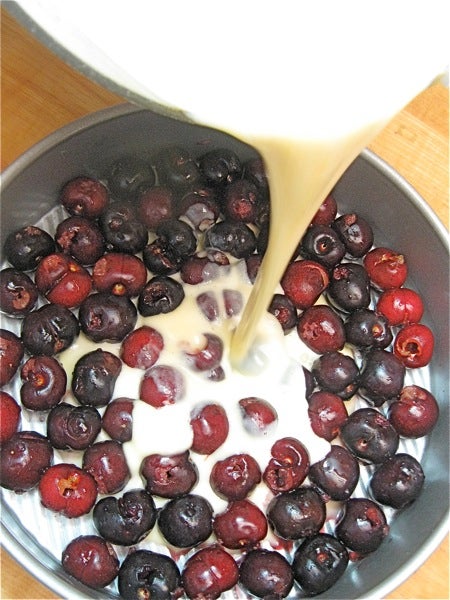 Pour the batter over the cherries in the pan.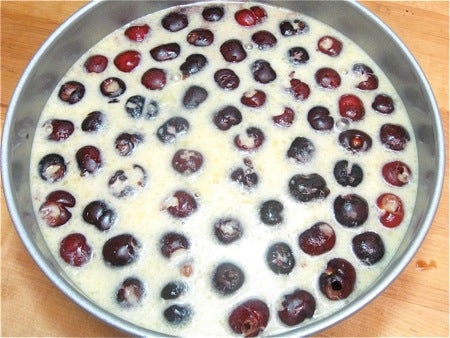 It won't cover them; that's OK.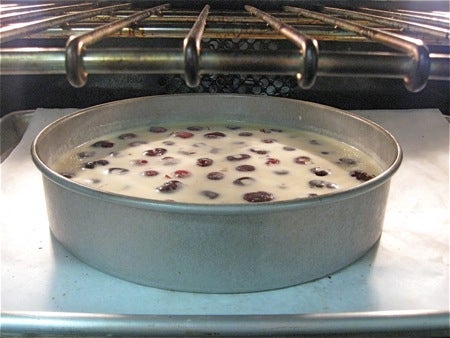 Bake the clafouti on a lower-middle rack of your oven for 20 minutes.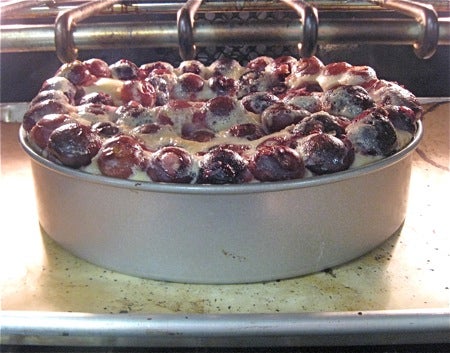 See why you need a pan that's at least 2" deep?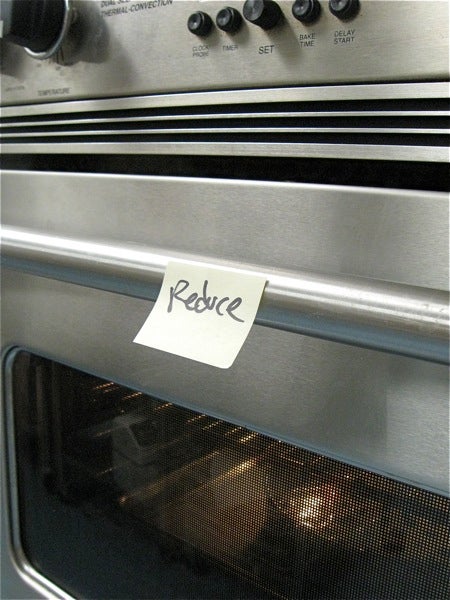 Reduce the oven heat to 350°F. I have a bad habit of forgetting to turn the oven down in situations like this...
Bake for an additional 20 minutes, or until the top is lightly browned and a cake tester inserted into the center comes out mostly clean. The edges should be pulling away from the sides of the pan.
Remove from the oven.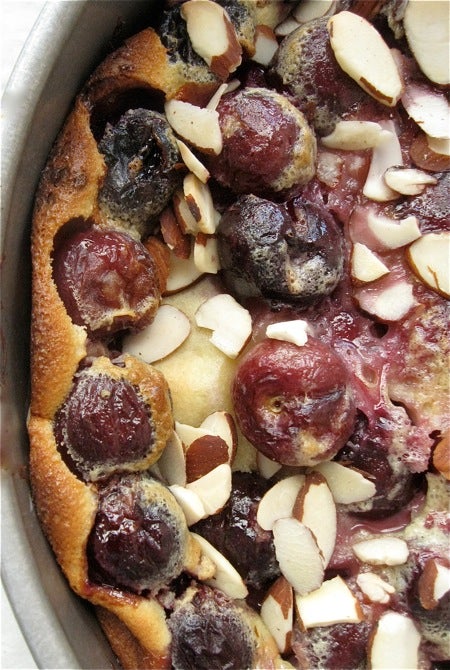 See how the clafouti is pulling away from the edges of the pan?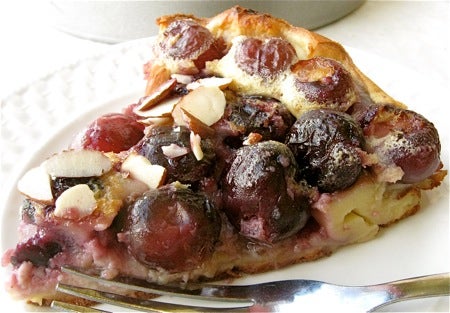 Notice the garnish of sliced almonds. I added 1/4 cup (28g) of sliced almonds for the final 10 minutes of baking, expecting them to brown nicely; they didn't. Next time, I'd toast the almonds first, then sprinkle them on just before serving.
Read, rate, and review (please) our recipe for Cherry Clafouti.
Jump to Comments