Just four simple players: caramel, chocolate, pecans, and sea salt.
Yet the the beautiful music these four friends make together – soft with crunchy, salty with sweet, nutty with chocolate with caramel – you'd think you were hearing a symphony, rather than a string quartet.
This sweet/salty whole is SO much more than the sum of its parts.
Call 'em Pecan & Salted Caramel Candies, as we do here. Or Turtles, their trademarked name in the outside world, where they've been a candy counter favorite (sans the added sea salt) for over 75 years.
A turtle by any other name would taste as sweet... and salty.
Now, let's look at those four key ingredients.
So long as they're fresh, it's hard to get "bad" pecans; mostly, you're just choosing your size.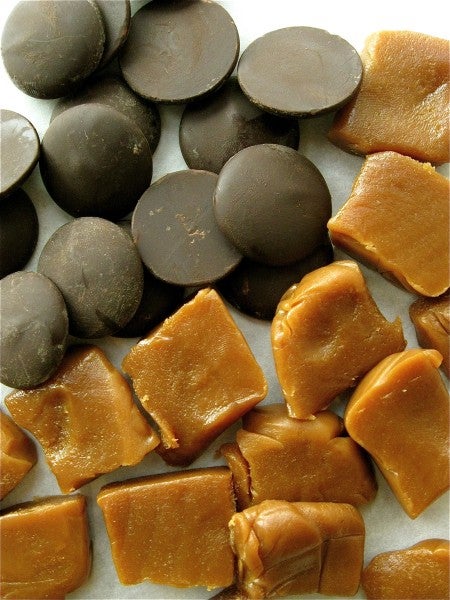 But chocolate and caramel – well, let's just say there's a wide range of quality.
You can go the inexpensive route, with a bag of individually wrapped caramels, and chocolate drops; CVS probably has both.
Or, for this special time of the year, you can up the ante (yes, quality does cost more), and get something really tasty: like our Belcolade bittersweet disks, imported Belgian chocolate with rich, deep flavor. You'll also want to choose a high-quality caramel for a brick of sumptuous, soft candy, perfect for cutting into chunks and molding into the shape of your choice.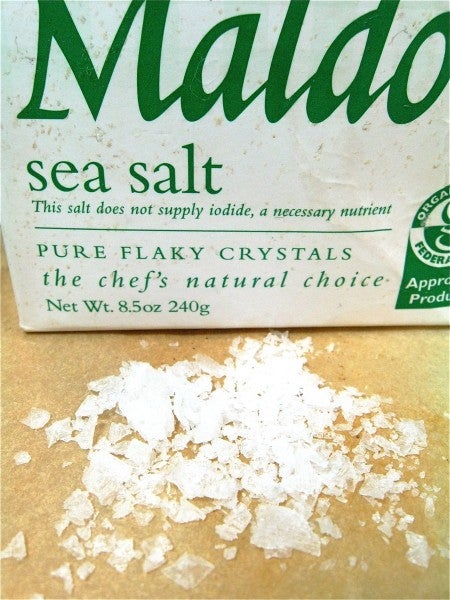 And how about salt? When we say "salted caramel," we don't mean plain old table salt. Coarse-yet-delicate Maldon sea salt is a good choice, as is most any flaky salt.
So, let's get started.
Preheat your oven to 325°F.
Place 2/3 cup (75g) diced pecans, or 32 medium pecan halves, in a single layer in a shallow pan. Toast in the 325°F oven until they're just starting to become golden; you'll probably also catch a nice whiff of toasted nuts. This should take 10 minutes or so.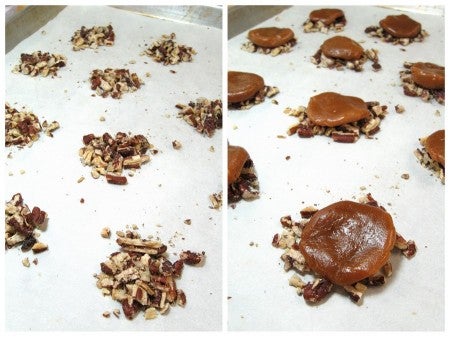 Line a baking sheet with parchment, or grease lightly. Place the diced pecans in 16 small piles; or for each of the 16 candies, place 2 pecan halves side by side.
Divide 4 ounces of caramel into 16 pieces, flattening each into a disk. Or unwrap 16 individual caramels, and flatten into disks. Place atop the pecans.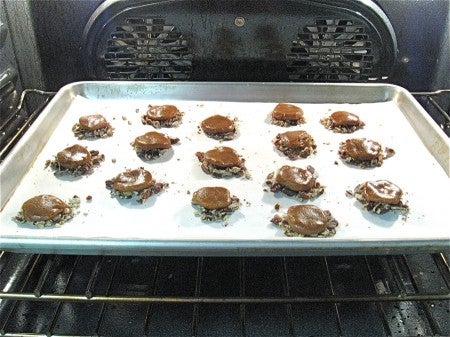 Heat in the oven for 2 to 3 minutes, or as long as it takes for the caramel to soften and begin to melt.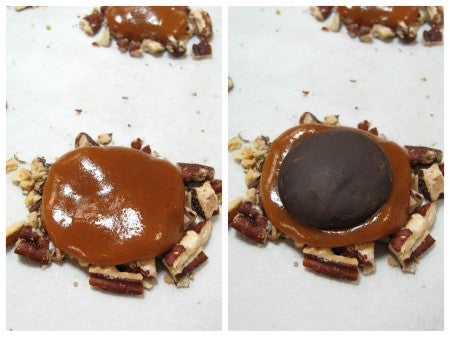 Remove from the oven; wait 1 minute, then top each cluster with one disk of chocolate, pressing it into the softened caramel gently.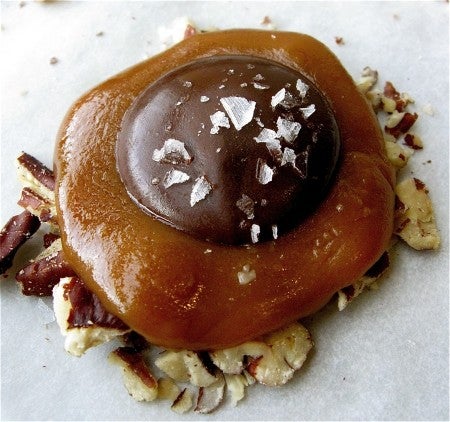 Top each candy with a few flakes of Maldon sea salt, Fleur de Sel, or other coarse sea salt.
That's it.
Allow the caramel and chocolate to cool and set before removing candies from the pan.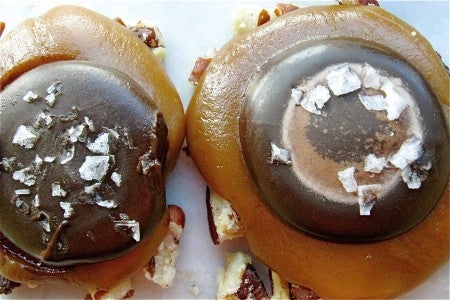 Now, here's one issue you might face: the chocolate may "bloom," developing opaque spots.
What can you do about this? Well, not much. The issue is the chocolate becoming just a tiny bit too warm before it cools.
The challenge is, you want the chocolate very slightly warm, so it holds onto the salt; but not so warm that it blooms.
Here's a solution, if you don't mind losing the look of the salt. Warm the caramel just the SLIGHTEST bit, just so it's a tiny bit sticky. Sprinkle with the salt. Wait until it's nearly cool (but still pliable), then add the chocolate.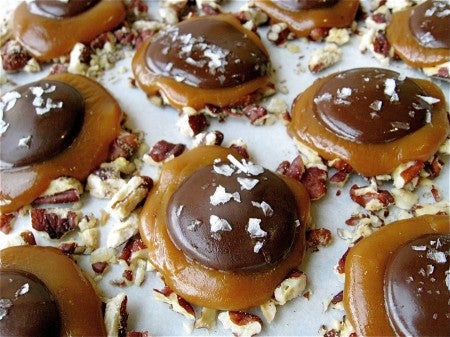 When I made these, most turned out fine; about 1/4 of them bloomed. I'd suggest you click to the recipe, and browse the reader comments at the end; your fellow bakers have provided some interesting ideas on slightly different ways to prepare these candies.
Read, make, and review (please) our recipe for Pecan & Salted Caramel Candies.
Jump to Comments