The 13 best recipes to bake in September
Baking season is back.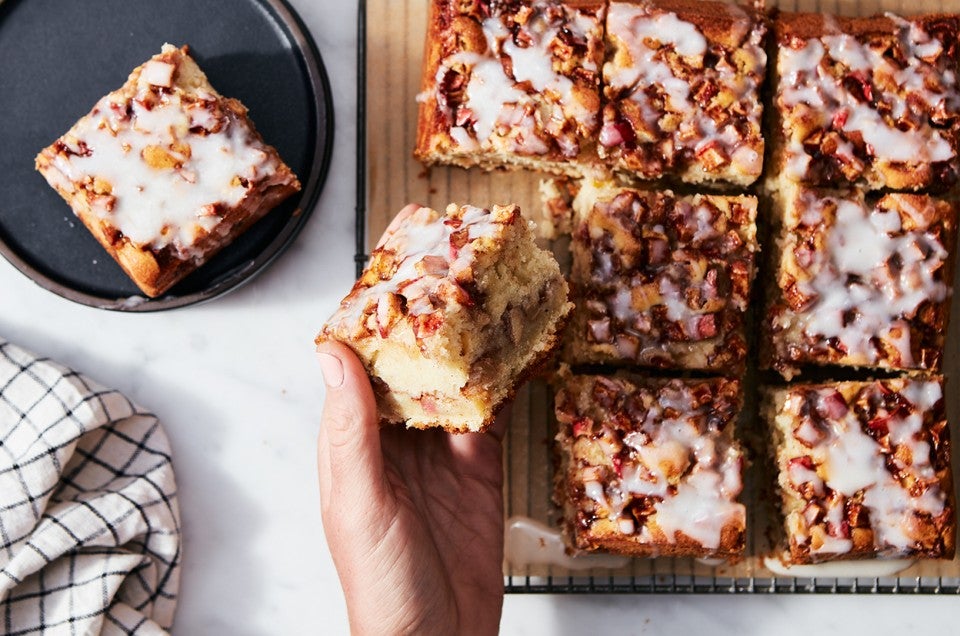 With September here, it's time to make a triumphant return to our ovens after a sweltering summer hiatus. To ease into the first days of autumn, we're sharing a baker's dozen's worth of recipes to make this month, from a doughnut-inspired apple cake that's perfect for a lunchbox to a seed-filled sourdough granola to make busy mornings a bit more bearable. 
It's nutty, it's seedy, it's an excellent candidate for all-day snacking: This pound cake, enriched with tahini, has it all. 
This pretzel-focaccia mashup gives you the malty flavor and mahogany crust without the rolling, twisting, and boiling. It's way easier to make, and a sprinkling of pretzel salt is the key finishing touch.  
The promise of warm, cheese-stuffed bread with a golden crown of frico (a ring of crispy, crusty cheese) is a compelling enough excuse to get reacquainted with your oven. Plus, you can work ahead and stock your freezer with a few of these irresistible loaves to bake anytime.  
This banana bread is so versatile it can adapt to practically any pantry or budget. Need to use up yogurt about to expire? Swap it in for the vegetable oil. Don't want to make a store run just to buy brown sugar? Use white sugar instead! No whole wheat flour on hand? All-purpose flour is more than fine. And, of course, get a second life out of any bananas that have become too brown for snacking. 
In this recipe, the beloved apple fritter is reimagined as a sliceable, snackable bake. The moist, sturdy cake, made using the reverse creaming method, supports a huge heap of diced cinnamon-scented apples. The vanilla glaze on top gives this homemade cake doughnut shop appeal. 
Here's a new way to bake with your discard, whether you're constantly churning out loaves or neglected your starter as of late. (No judgment!) A combination of sourdough discard and a bit of maple syrup helps the oats and seeds form crunchy, irresistible clusters. 
Rye flour and buckwheat honey — plus cinnamon, cloves, and nutmeg — imbue this dynamic cake with flavor. The recipe, from Zingerman's Bakery in Ann Arbor, is perfect for Rosh Hashanah this month. 
For more ideas for Rosh Hashanah bakes, see our recipes for Harvest Apple Challah and Apple Pie Babka. 
When Baking Ambassador Martin Philip first shared this recipe, he declared that this loaf makes the best grilled cheese. He's right — what's better than a melty cheese sandwich built on slices of spicy, cheesy bread?  
The chocolate chip cookie gets dressed for fall with a dose of cardamom and doubles down on the nuttiness, both from browned butter and buckwheat flour. And whether you're pro-crispy or pro-chewy, these oversized cookies give you the best of both worlds with a rippled edge and fudgy center.  
Equal parts pie and pudding, the rustic pan dowdy was built for communal eating. It's best served straight out of the baking pan, juicy filling — amped up with boiled cider — and all.  
Bits of crystallized ginger are worked into the dough, which is liberally spiced with coriander, cardamom, and black pepper. While the recipe mentions sparkling sugar as an optional topping for these scones, there are few bakes that won't be improved with a final flourish of this crunchy sugar.  
As Test Kitchen Director Sarah Jampel says in our post on baking on a budget, "A lot of budget baking is about being resourceful with what you already have." Bread pudding beautifully transforms your humble, stale bread into a cozy, spoon-able dessert. Here, the leftover-friendly dish is kissed with the aroma of maple, nutmeg, and toasted walnuts.  
Ribbons of cinnamon-sugar-spiked butter are the star of this twisted loaf. Make this babka your next weekend project, then enjoy it all week long.  
Get ready for autumn and check out our Fall Recipes & Harvest Favorites recipe collection.  
Cover photo (Apple Fritter Cake) by Rick Holbrook. 
Jump to Comments