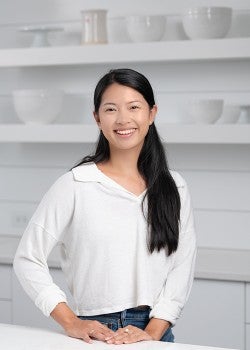 About Tatiana Bautista
Employee-owner since 2021
Tatiana Bautista is a writer, editor, and avid home baker and cook. She grew up on Long Island, New York, where her family helped instill a lifelong love of food through homestyle Toisanese dishes and weekly outings for dim sum. From a young age, she's had an interest in baking thanks to her aunt, who would take her to the annual Salon Du Chocolat in New York City and kids' baking classes at the Institute of Culinary Education.  
She attended NYU Shanghai on a full-tuition scholarship and was an inaugural member of the satellite university's first class. In addition to studying in China, she spent additional semesters in London and Sydney. After years of extensive travel (and of course, eating) throughout Asia-Pacific, she set her sights on pursuing a food-related career.  
After moving back to New York after graduation, she landed her first job in food media at TASTE, an online food magazine, where she started as an intern. She later became the Assistant Editor of TASTE and Punch, a media brand dedicated to drinking culture.  
In 2020, she and her close friends founded Bowl Cut Table, a culturally minded cooking collective with a nod to their shared Asian heritage. They created assorted dessert boxes inspired by the flavors of their childhood and donated over $8,000 in proceeds to various organizations fighting for social justice initiatives. In addition to baking and putting together upwards of 90 boxes at a time, she developed original recipes, ran the Instagram account, coordinated delivery routes across New York City, and brought Bowl Cut Table to ACE Popup, a market featuring local Asian businesses.  
In 2021, she joined the Editorial team at King Arthur, where she manages campaigns and writes blog posts and emails. Occasionally, you'll see her on King Arthur's Instagram stories sharing her latest bake.  
Tatiana bakes from her kitchen in Brooklyn, New York, where she's most likely making something with milk bread, mochi, black sesame, or pandan. 
Posts by Tatiana Bautista
Recipes by Tatiana Bautista