"It's perfect!"
"It's way too sweet."
"I love it!"
"I left off the frosting ..."
This much-loved recipe for Old-Fashioned Apple Cake with Brown Sugar Frosting has earned over 200 five-star reviews on our recipe site. At the same time, though, it's engendered some striking differences of opinion among you, our readers.
Everyone seems to agree on the merits of the cake itself: moist and apple-y, it's the essence of autumn. But the brown sugar frosting? Check out this sampling of reader reviews:
"I absolutely adore this recipe! The cake is wonderfully moist and flavorful, but the frosting absolutely steals the show. It's sweet and caramel-y and it pairs so well with the spicy cake. This cake embodies the flavors of fall, but it's so good you'll want to make it year-round. It might be my favorite cake EVER!" Lily — Fayetteville, AR
" … The frosting is different and is very good, but it is very sweet so I prefer the cake without it. The cake is moist, delicious, and full of flavor, and really doesn't need the frosting." Meg — Cary, NC
"This recipe is delicious with or without the icing." Lynn — Cincinnati, OH
"The recipe is sweet, but it's also gone. Delicious." TomMon — Bristol, CT
Unfrosted, the cake doesn't come across as sweet, but rather buttery and nutty and spicy and tangy, especially if you use tart fall apples. Add the frosting, and there's your sweet note: a perfect complement to the cake beneath.
Now certainly this apple cake can be enjoyed without the frosting, as many of you have pointed out. To me, though, the frosting is (both literally and metaphorically) the icing on the cake: it takes it to another level of deliciousness.
Still, don't take my word for it. Bake the cake and sneak a small bite right out of the oven. If you enjoy it as is, in all its naked glory, feel free to bypass the frosting.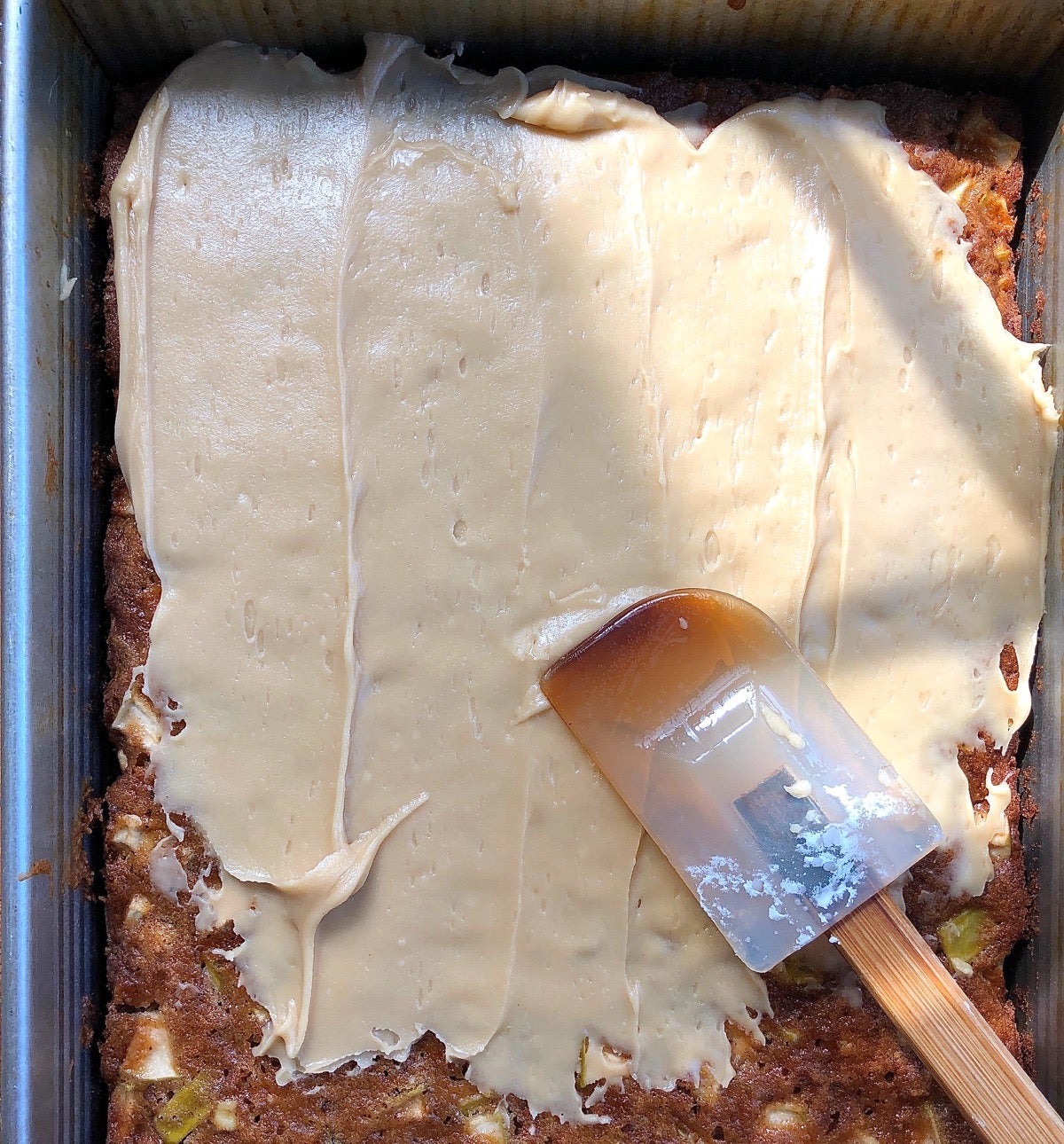 But if you love the dark sweetness of brown sugar, go ahead with the frosting. You'll be glad you did.
I've been making this venerable recipe for well over four decades, and along the way have adjusted the cake to my own taste. So first I'll show you how it's done by the book; and then follow up with my amended version. 
Preheat the oven to 325°F. Lightly grease a 9" x 13" pan.
Toast 1 cup (113g) of coarsely chopped walnuts or walnut halves. You can bake them in a preheated 350°F oven for about 8 minutes, until they start to brown and smell toasty.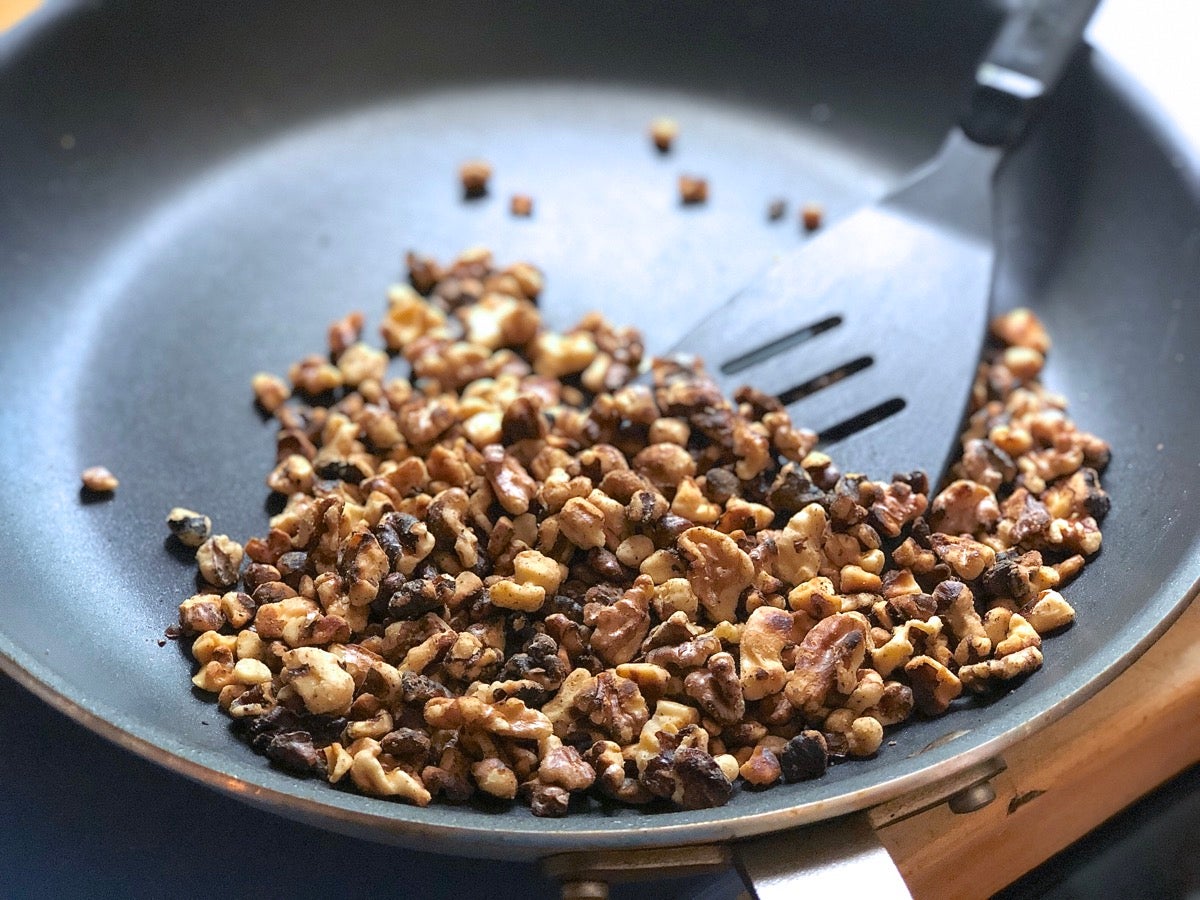 Or you can dry-fry them (no oil) in a skillet set over medium-low heat, as I've done here.
If you go the skillet route, pay attention: you stir and stir and nothing happens for about 5 minutes, then all of a sudden they can go from golden to burned in about 15 seconds.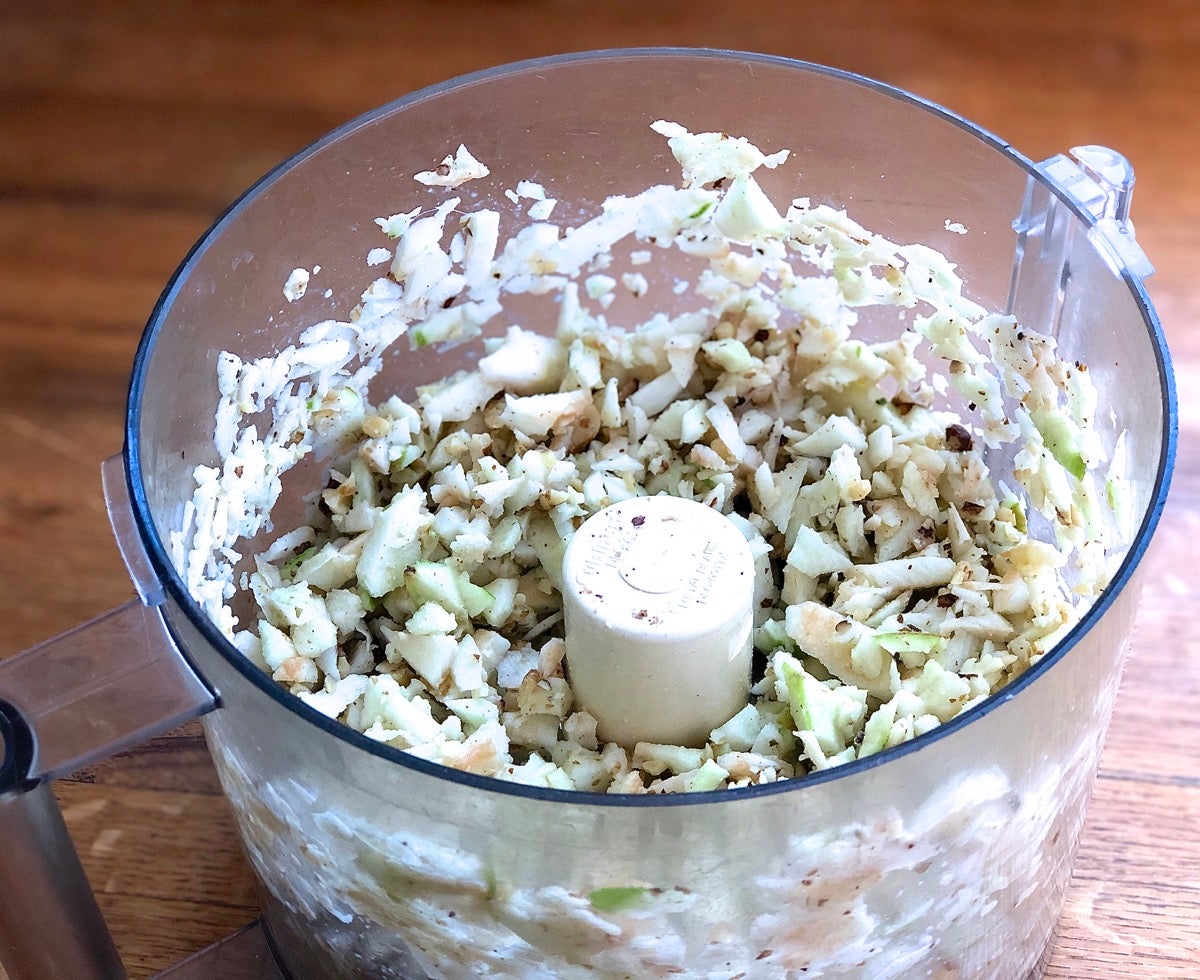 Next, prepare 4 cups (425g) of peeled, chopped apples. Start with about 1 1/3 pounds of fresh, tart apples; Granny Smith is a good choice if you don't have access to a local orchard. Core the apples, peel them, and chop them quite finely using the tool of your choice: I've used a food processor here, throwing the walnuts in at the same time.
Set the apples and walnuts aside; you'll be getting back to them momentarily.
Make the cake batter
Combine the following in a large mixing bowl: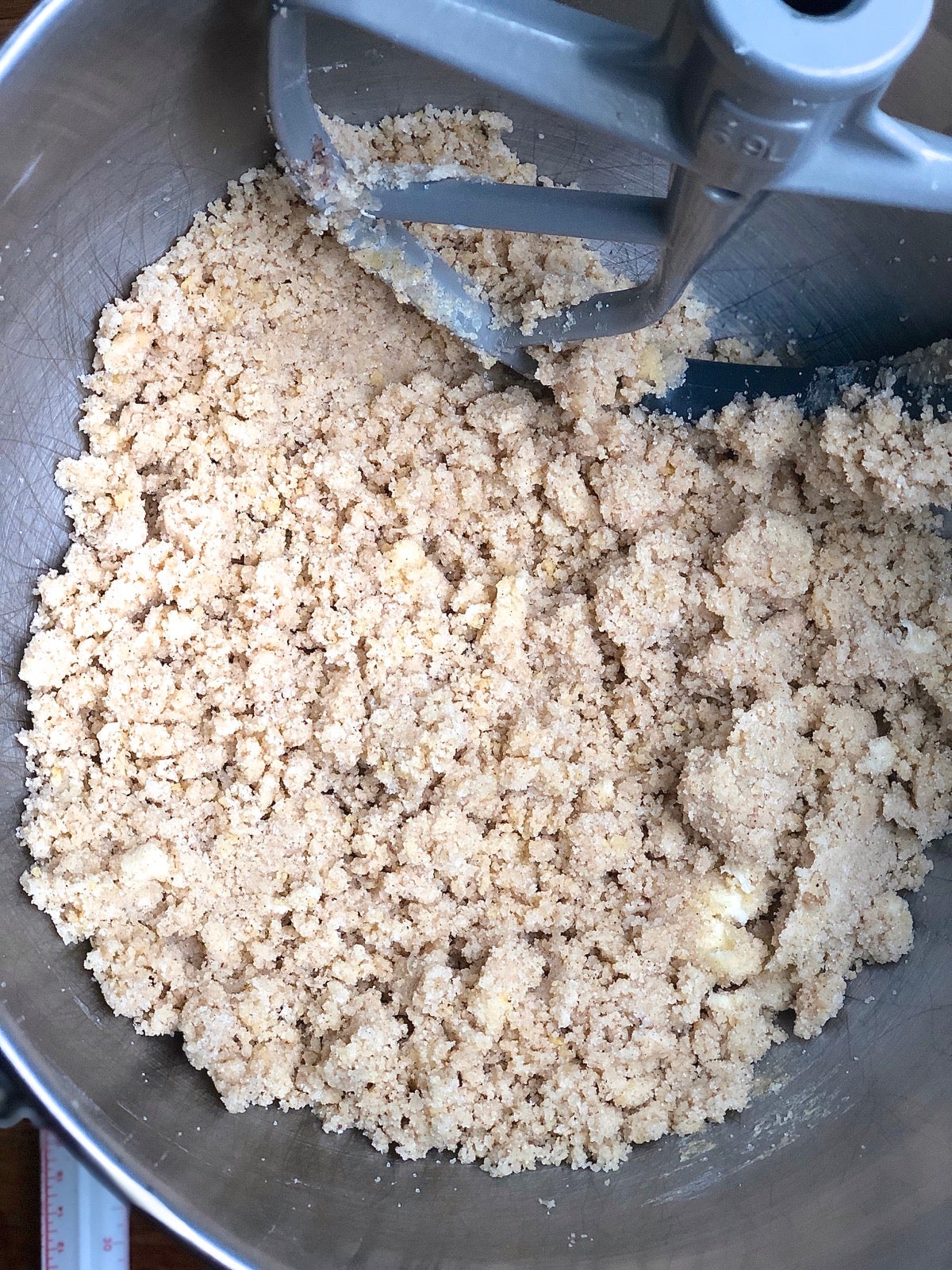 Mix with a spoon, or at low speed using an electric or stand mixer. As soon as the mixture starts to come together and become crumbly, stop mixing; you don't want it to turn into a cohesive mass.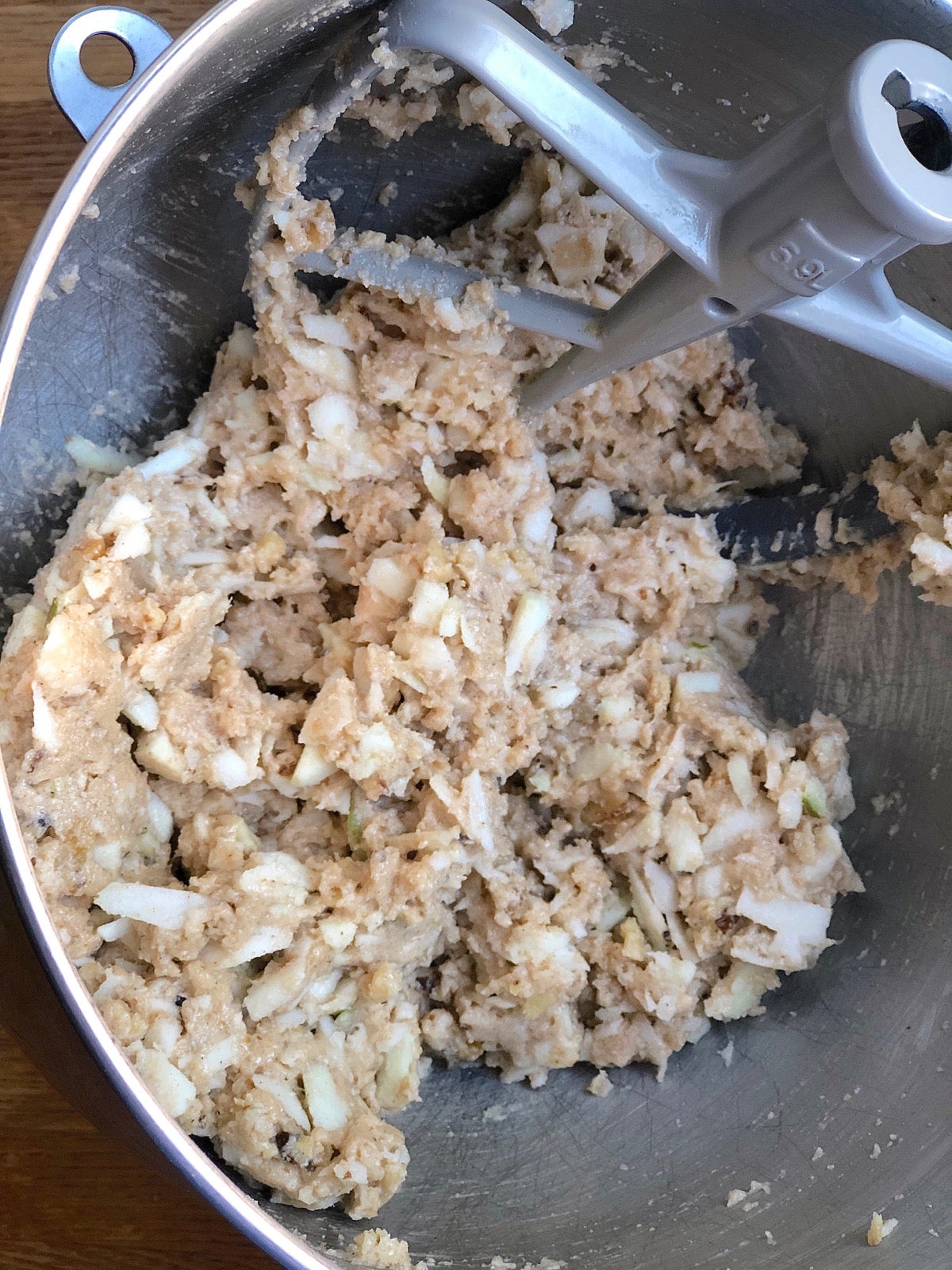 Add the apples and walnuts to the bowl. Mix until the apples release some of their juice and the stiff mixture becomes a thick, creamy batter, somewhere between cookie dough and brownie batter in consistency.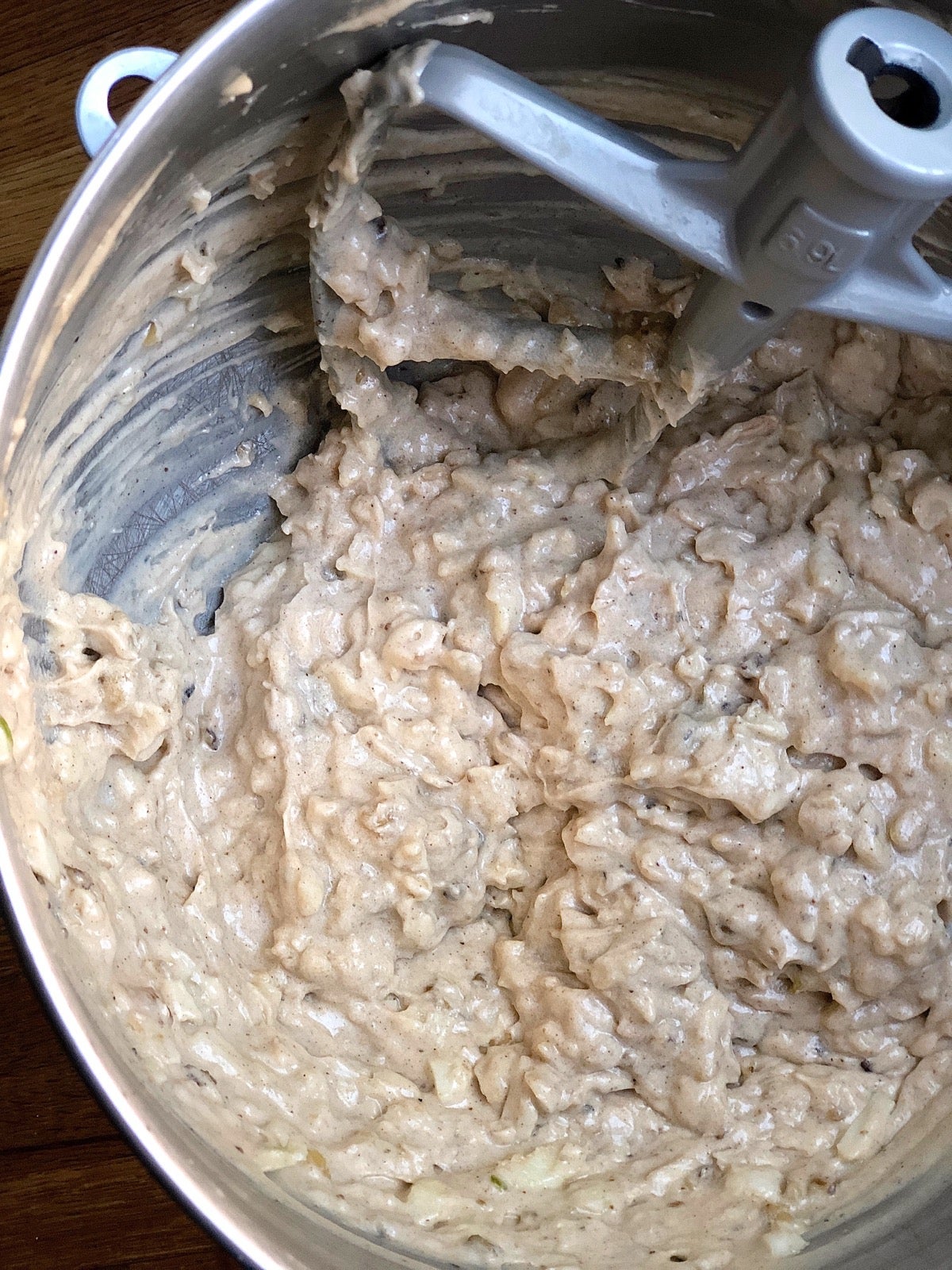 Don't worry if the batter doesn't immediately loosen up. It'll take about 3 to 5 minutes at low speed in a stand mixer to attain the creamy texture shown above.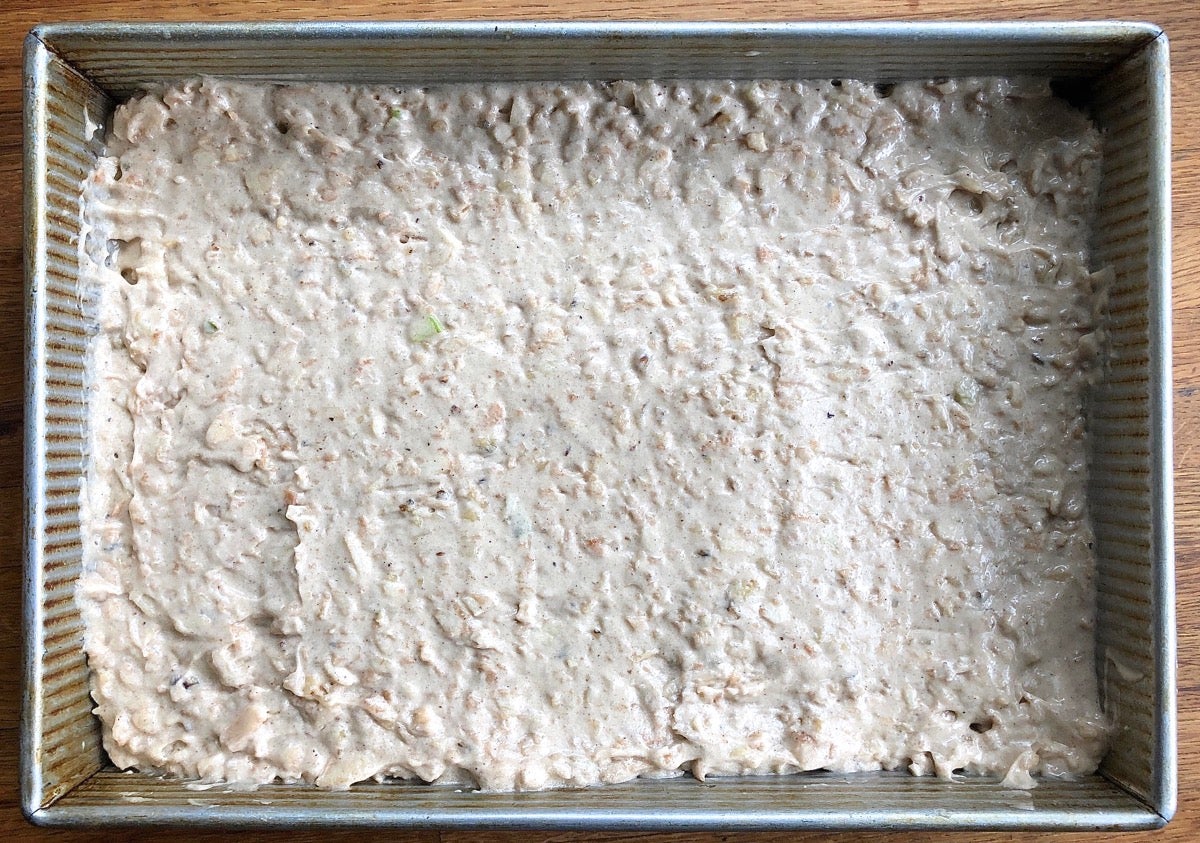 Spread the batter in the prepared pan, smoothing it with your wet fingers.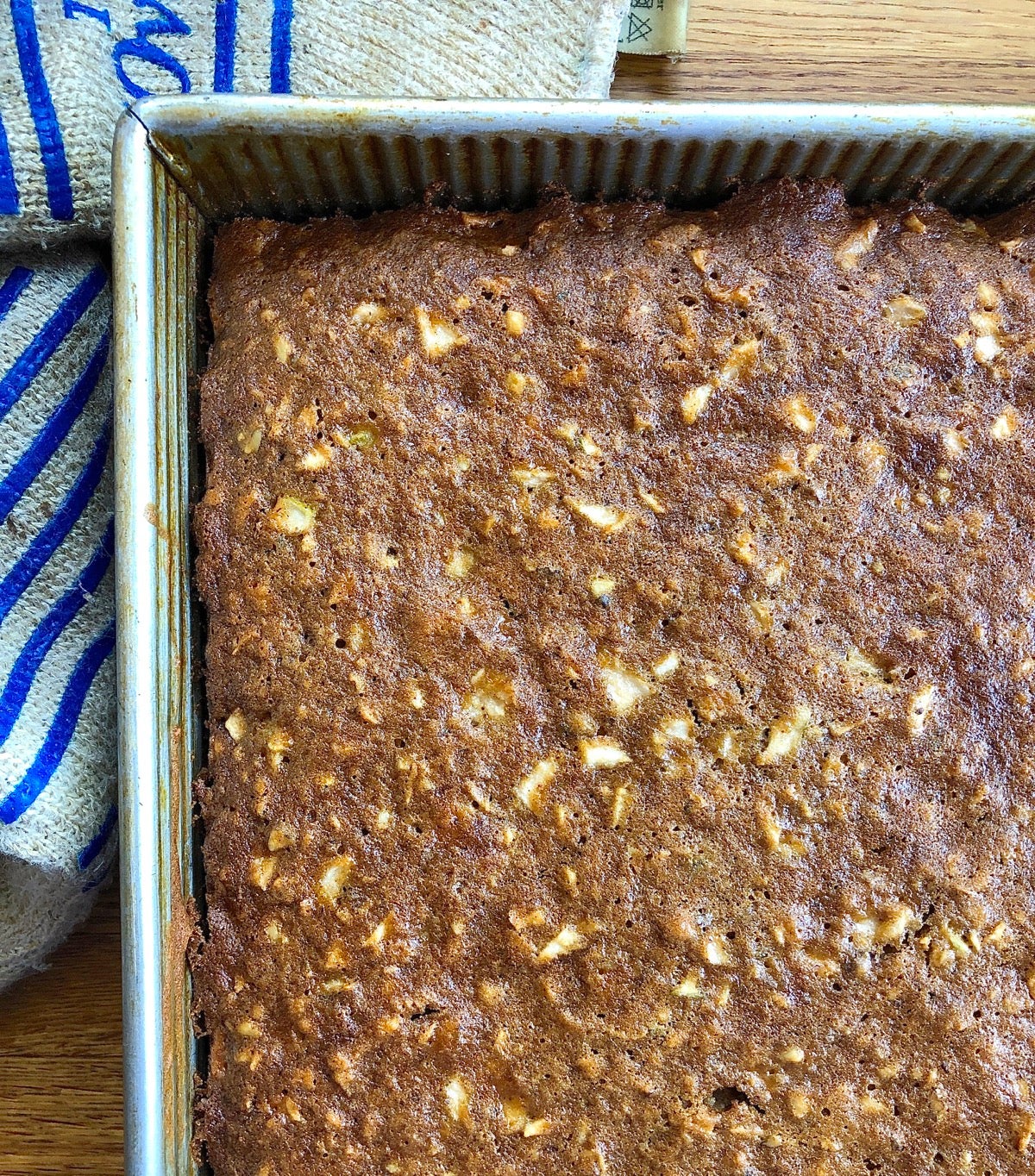 Bake the cake for 45 minutes, or until a cake tester or toothpick inserted into the center comes out clean, or with just a few moist crumbs clinging to it. The temperature at the center of the cake will be about 205°F. Note: If you've used Measure for Measure flour, increase the baking time to 50 to 55 minutes; this extra time helps set the cake's structure.
Remove the cake from the oven and place it on a rack to cool a bit while you make the frosting.
Make the brown sugar frosting
Here's what you need:
7 tablespoons (99g) butter
2/3 cup (142g) brown sugar
1/4 teaspoon salt
1/4 cup (57g) milk
2 1/4 cups (255g) confectioners' sugar
3/4 teaspoon vanilla extract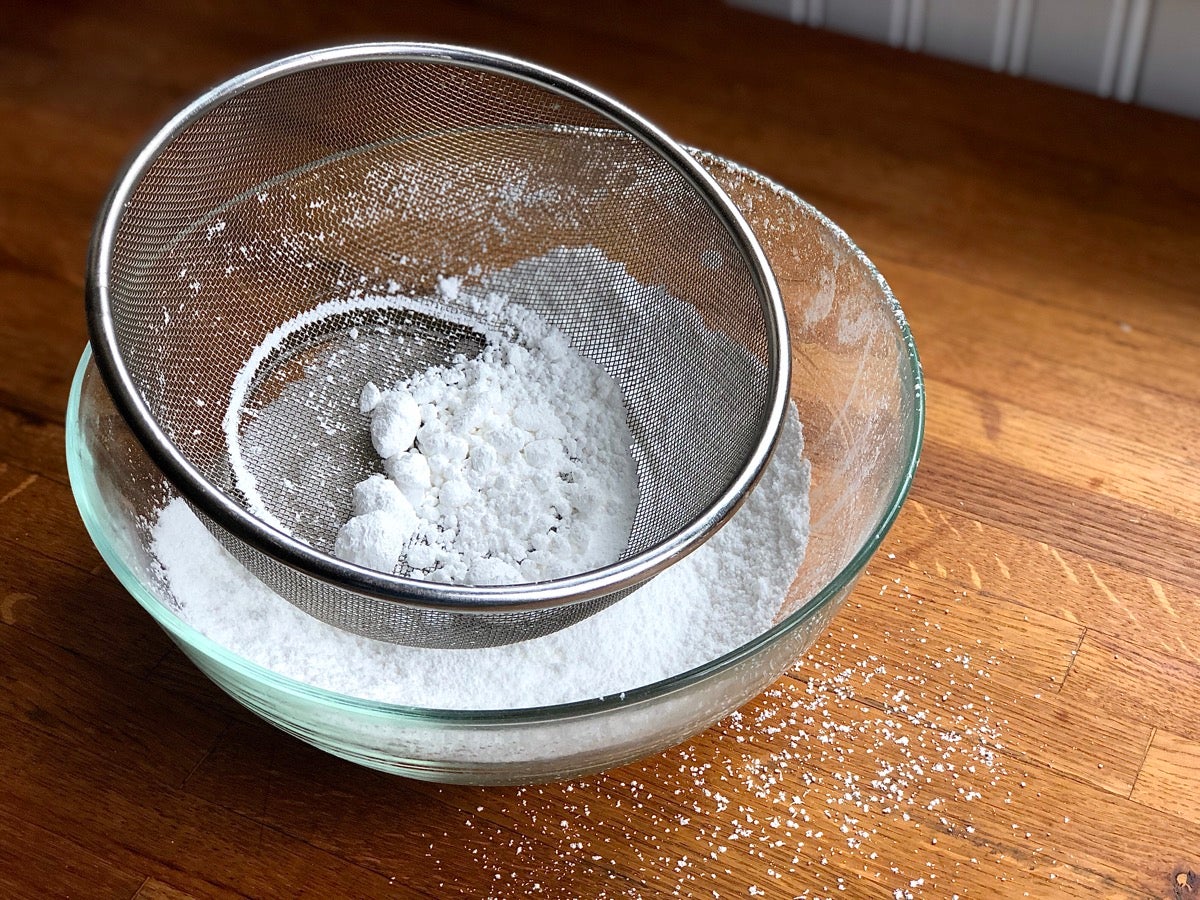 Sift the confectioners' sugar into a bowl or onto a piece of parchment or wax paper; set it aside.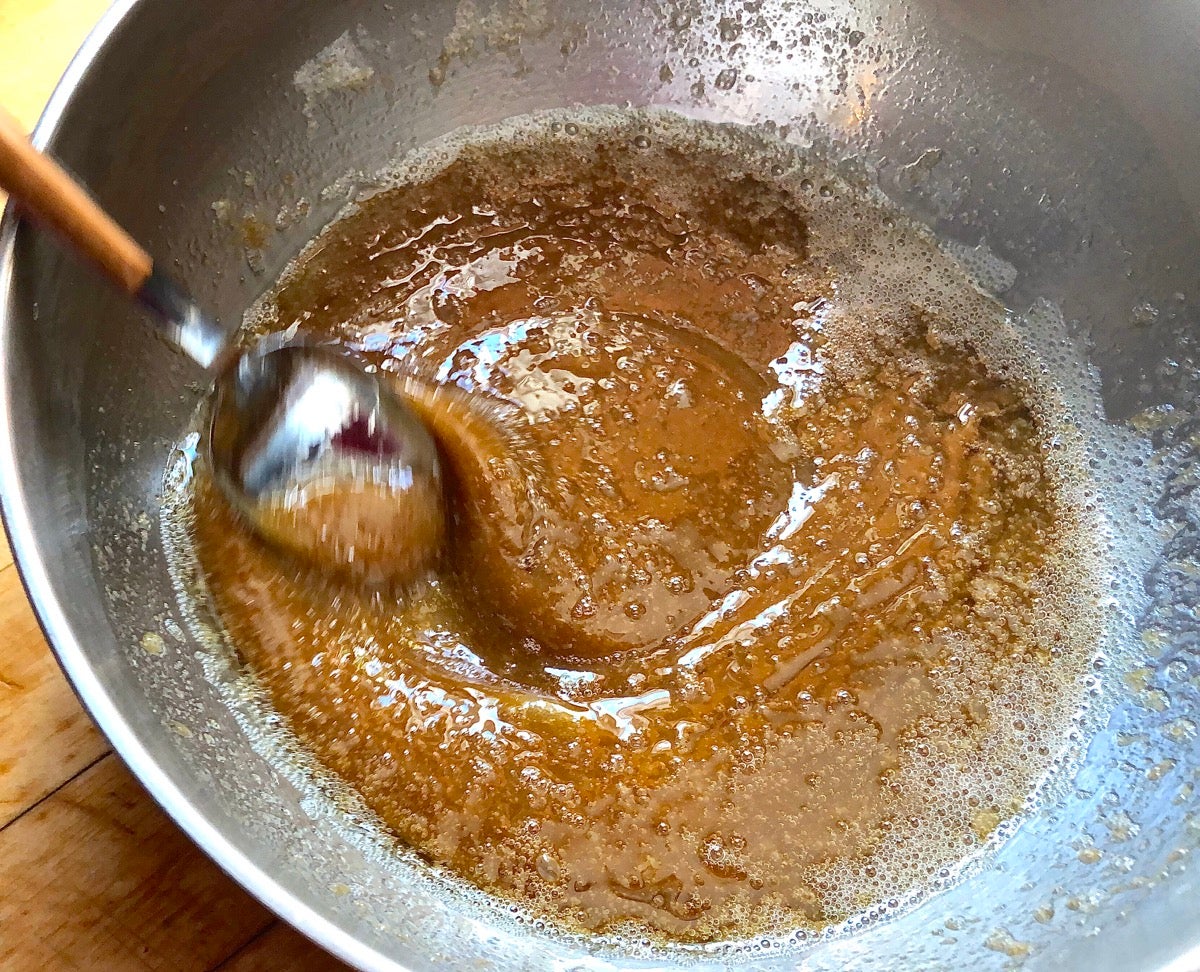 Melt the butter in a medium-sized saucepan over medium heat. Stir in the brown sugar and salt and cook, stirring, until the sugar starts to melt and the mixture becomes fairly smooth. While you may still notice a bit of grittiness from the sugar, you shouldn't see any melted butter pooled atop the sugar.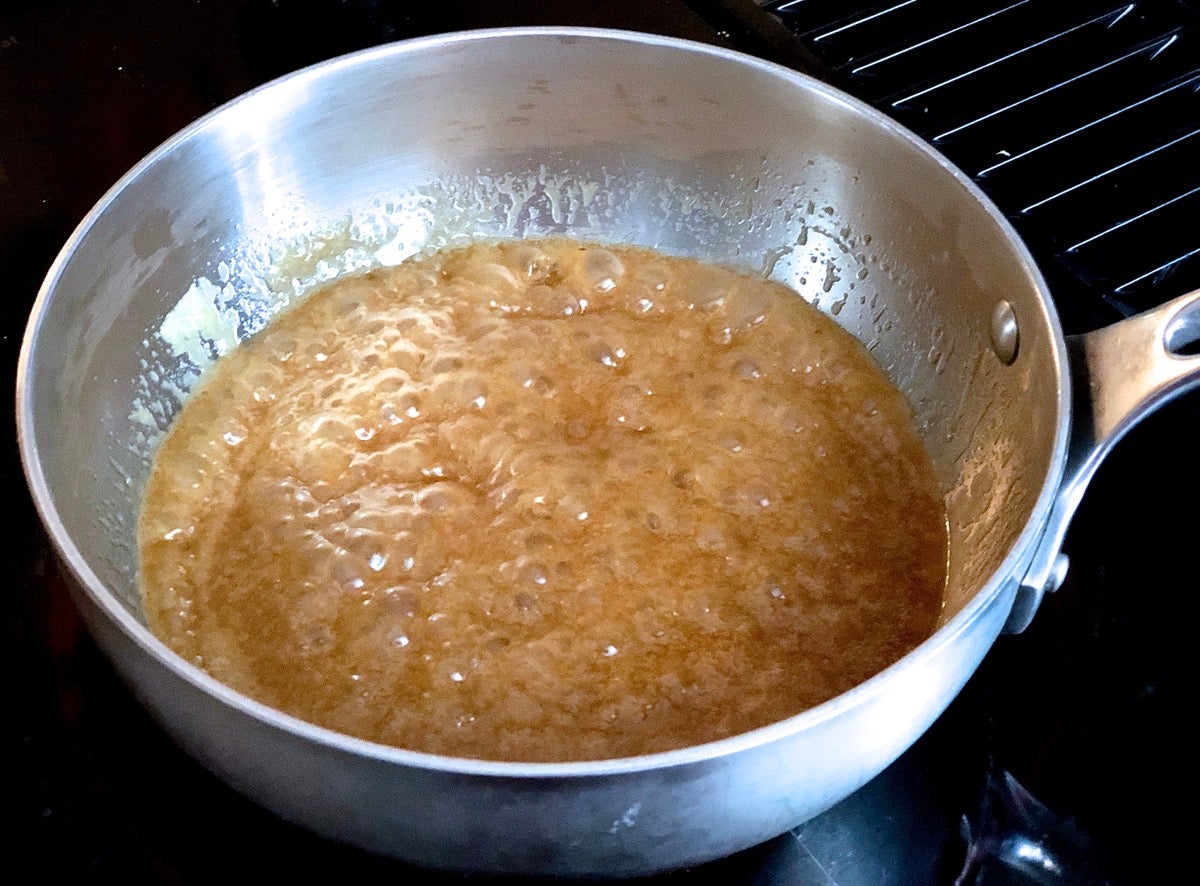 Add the milk, and bring to a boil.
Remove the syrup from the heat and pour it into a medium-sized mixing bowl (large enough to accommodate the confectioners' sugar). Let the syrup cool in the bowl for 10 minutes.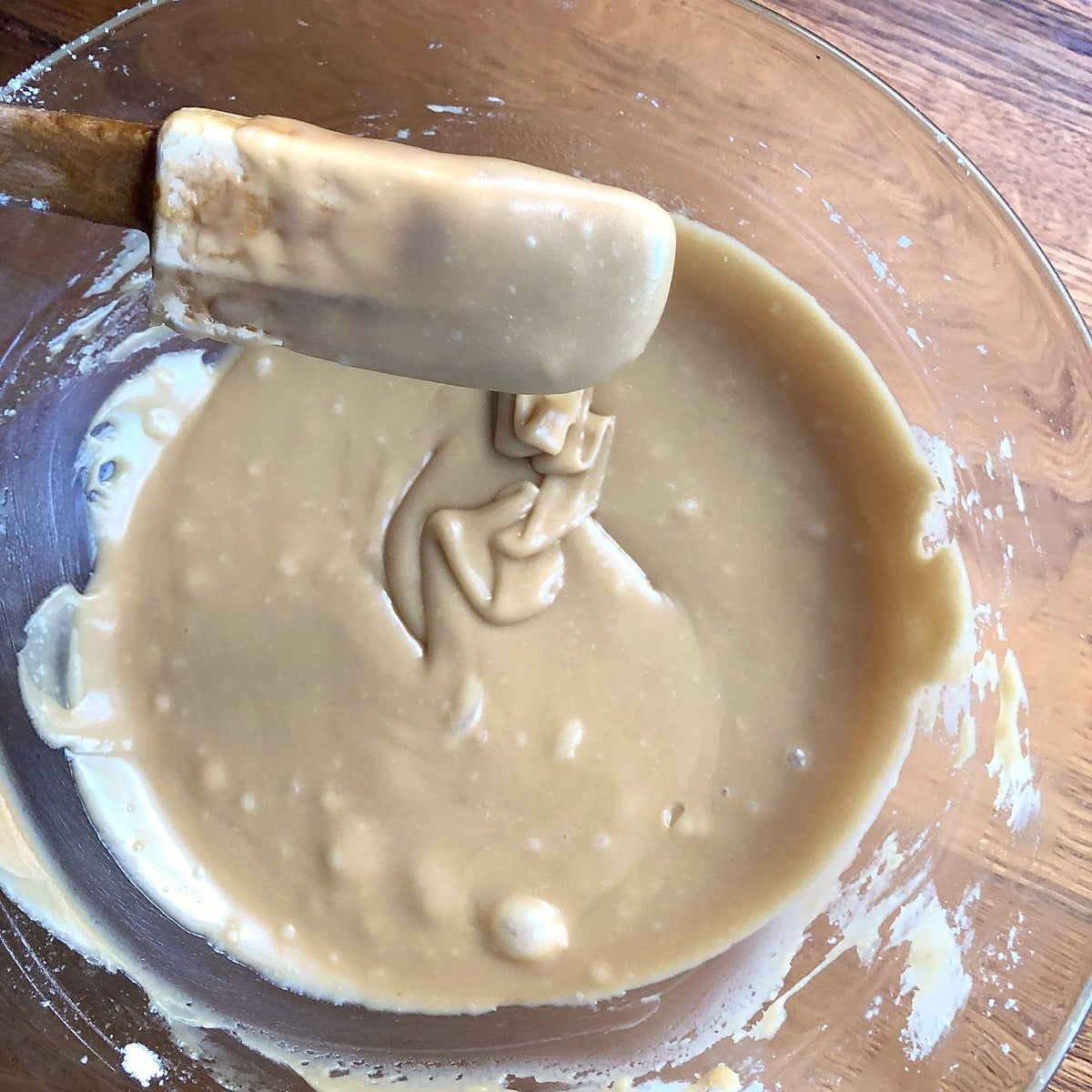 Pour the confectioners' sugar into the warm syrup in the bowl, then add the vanilla extract or flavor. Stir until everything is thoroughly combined. You need to act fast here as the frosting stiffens up quickly as it cools.
Frost the cake
Pour the warm frosting onto the cake, spreading it over the entire surface.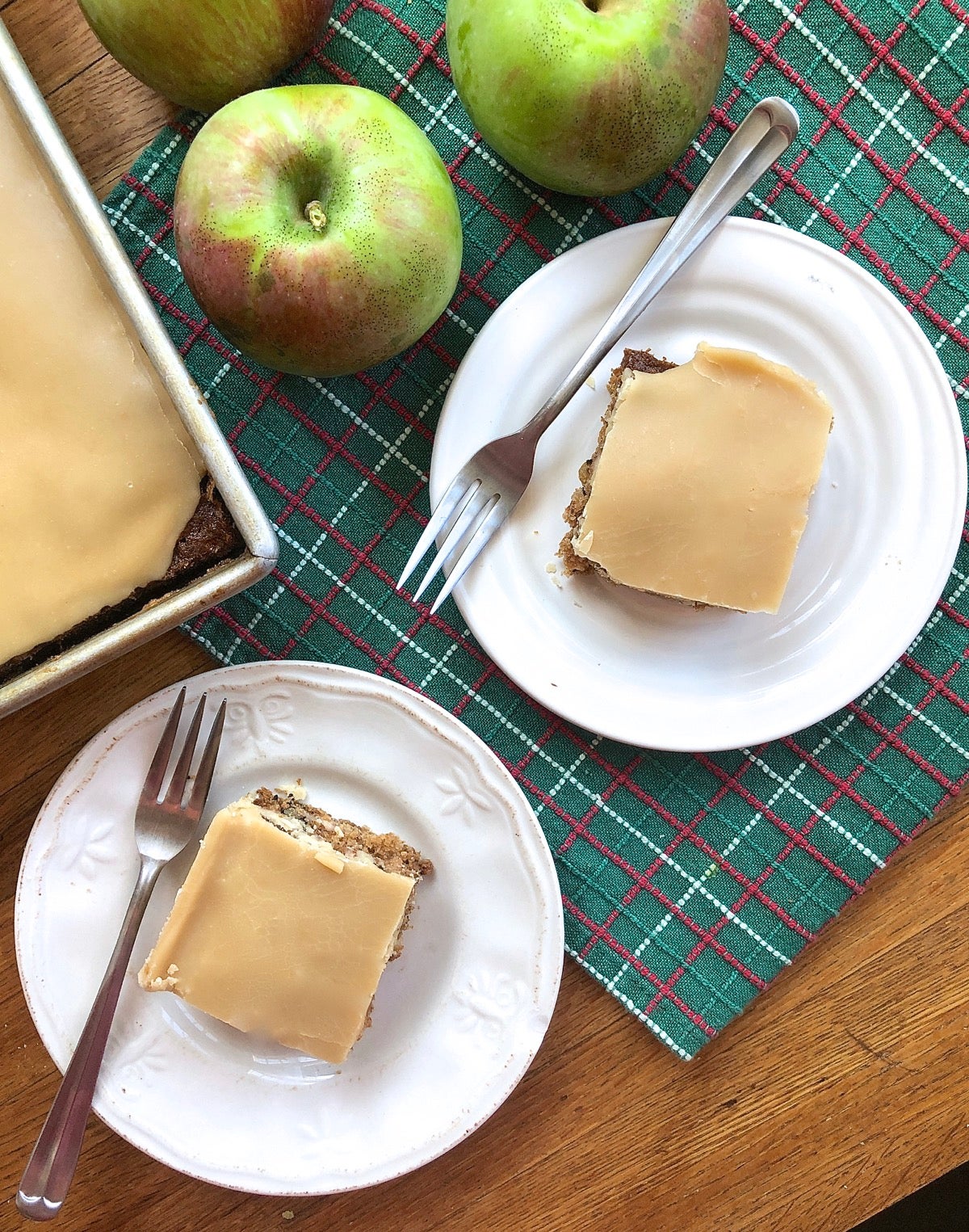 Cut the cake into squares and serve.
Store the cake, covered, at room temperature for several days; freeze for longer storage.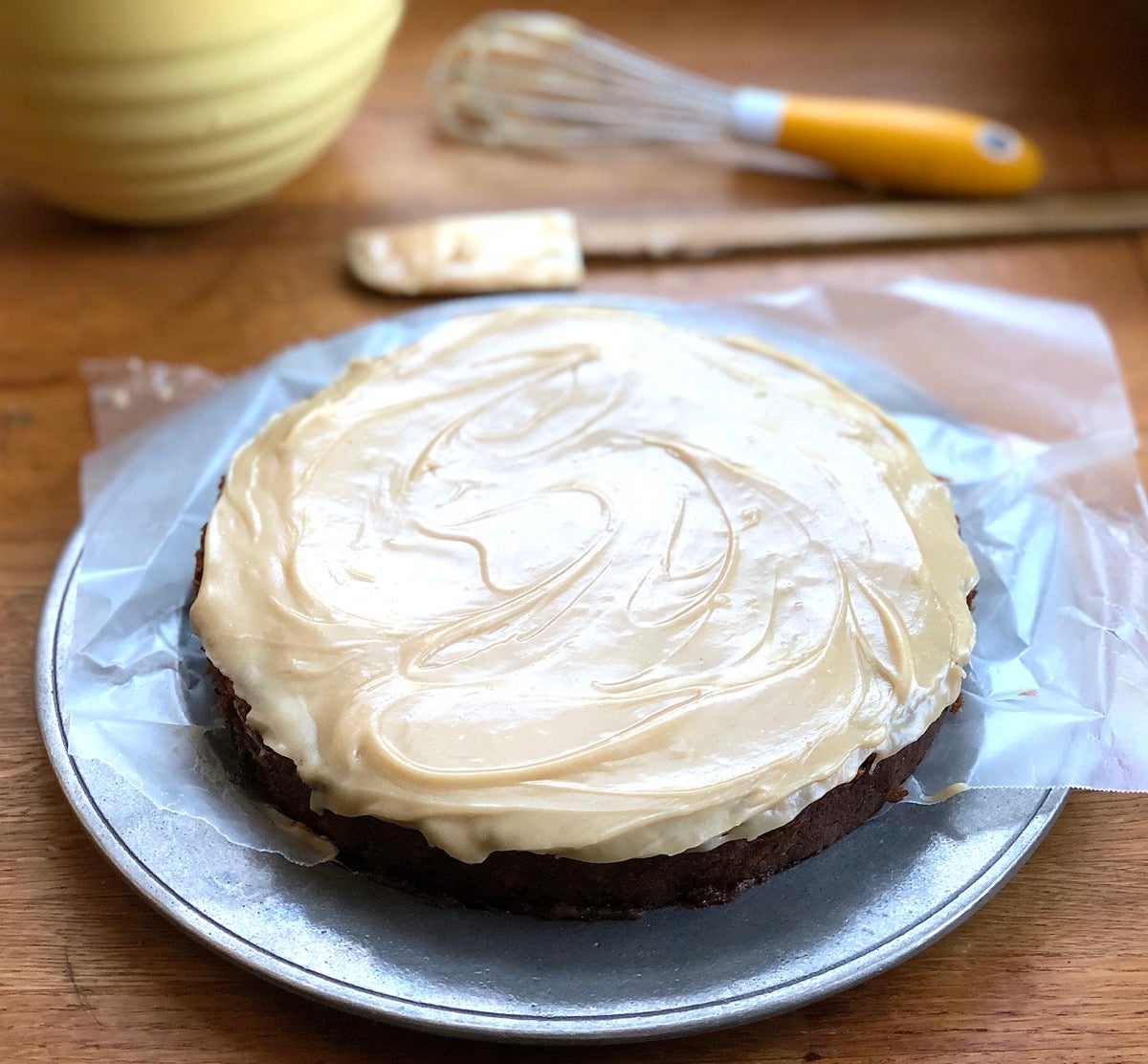 I mentioned that I've been making this cake for over 40 years, and that's no exaggeration: the original recipe came from a book I purchased back in 1976.
Nearly 50 years ago, two women — Marge Mitchell and Joan Sedgwick — opened Bakery Lane Soup Bowl, a small restaurant in Middlebury, Vermont. Locally famous for their down-to-earth soups, breads, salads, and desserts, the restaurant's patrons demanded that Marge and Joan write down their recipes — which they eventually did, publishing a cookbook.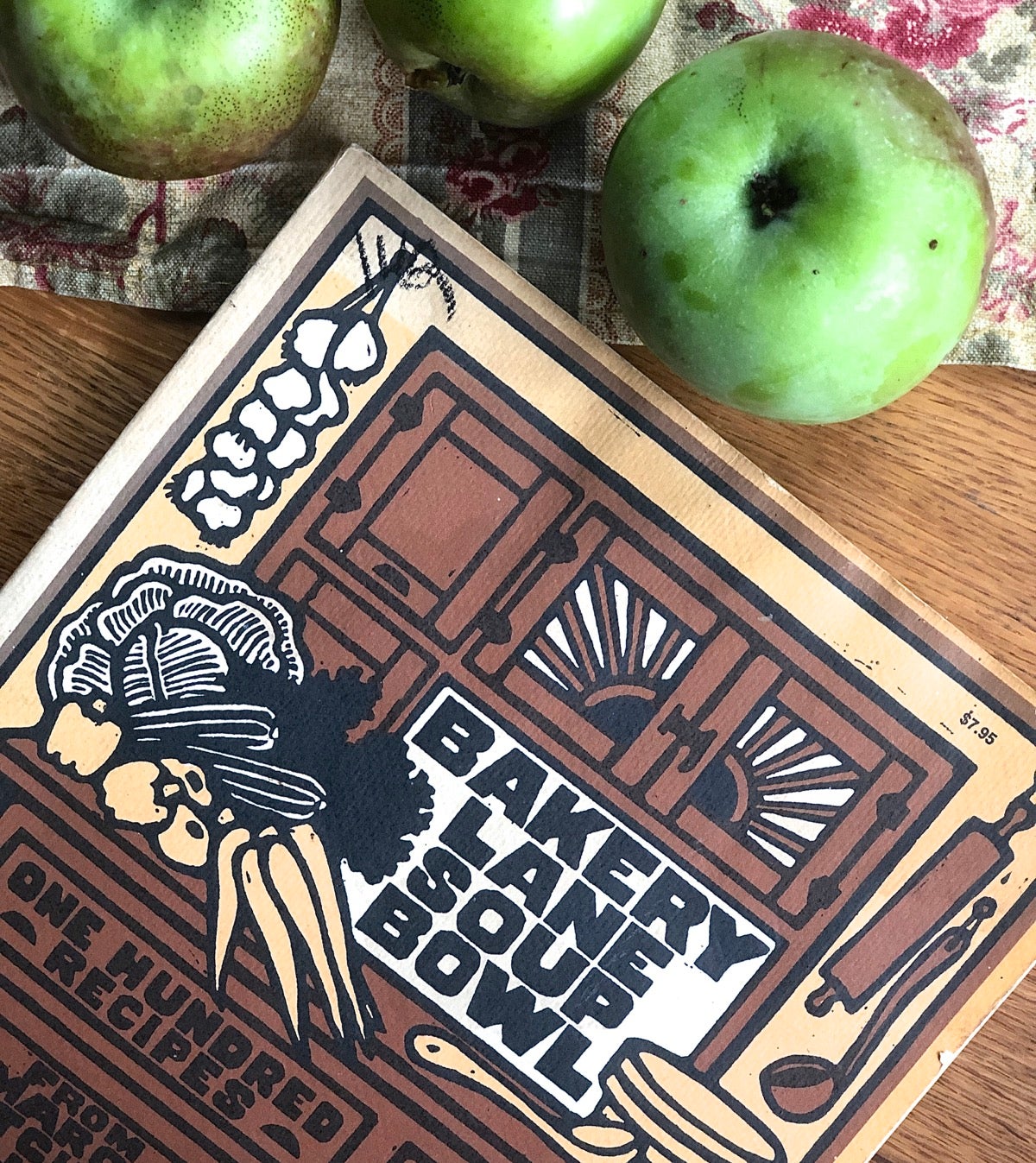 From its warm brown color scheme to simple (and very occasional) graphics, the book's aura is back to the land, a reflection of Vermont itself back then. The restaurant closed for good several years ago, but its food lives on in the pages of this cookbook.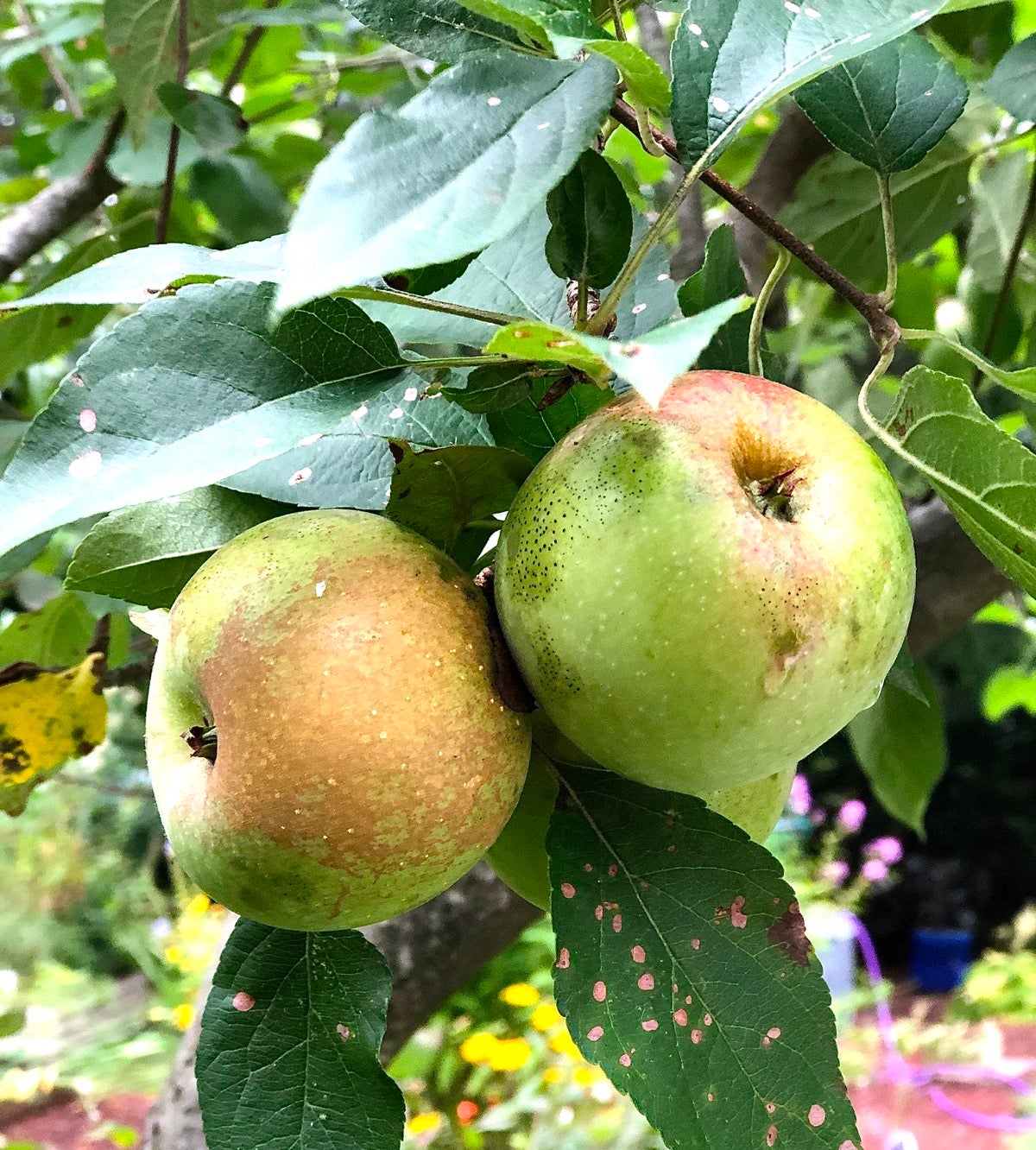 Start with the freshest of apples
In the spirit of Bakery Lane, I like to start with fresh apples picked right off the tree in my backyard. If you have access to a local orchard, go there. Pick your own or grab a bag from the farmer's stand, but do try to get very fresh apples: they're juicier and usually more flavorful than store-bought.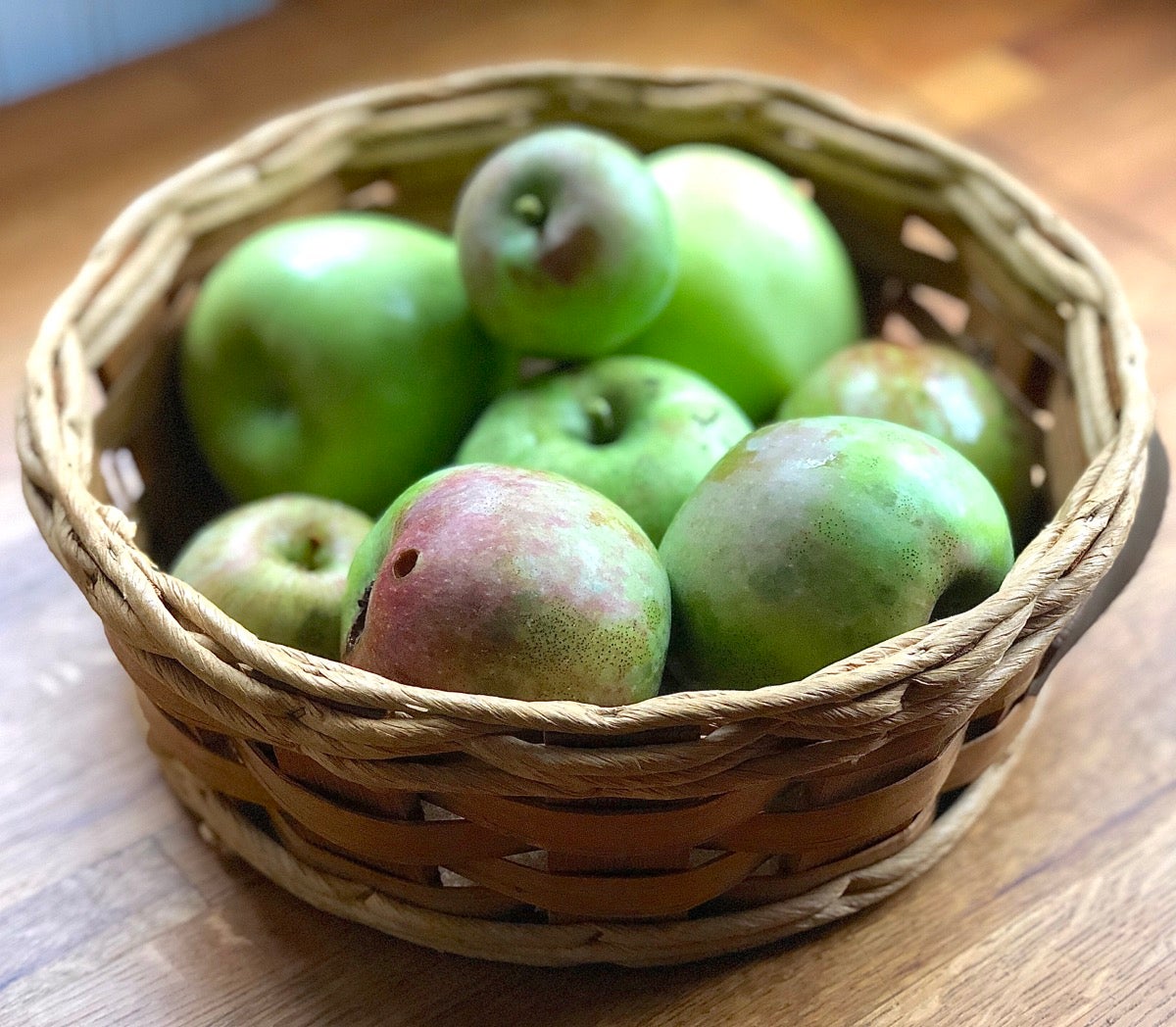 Though not the prettiest in the world, my home-grown apples are wonderfully juicy and tart: perfect for this cake.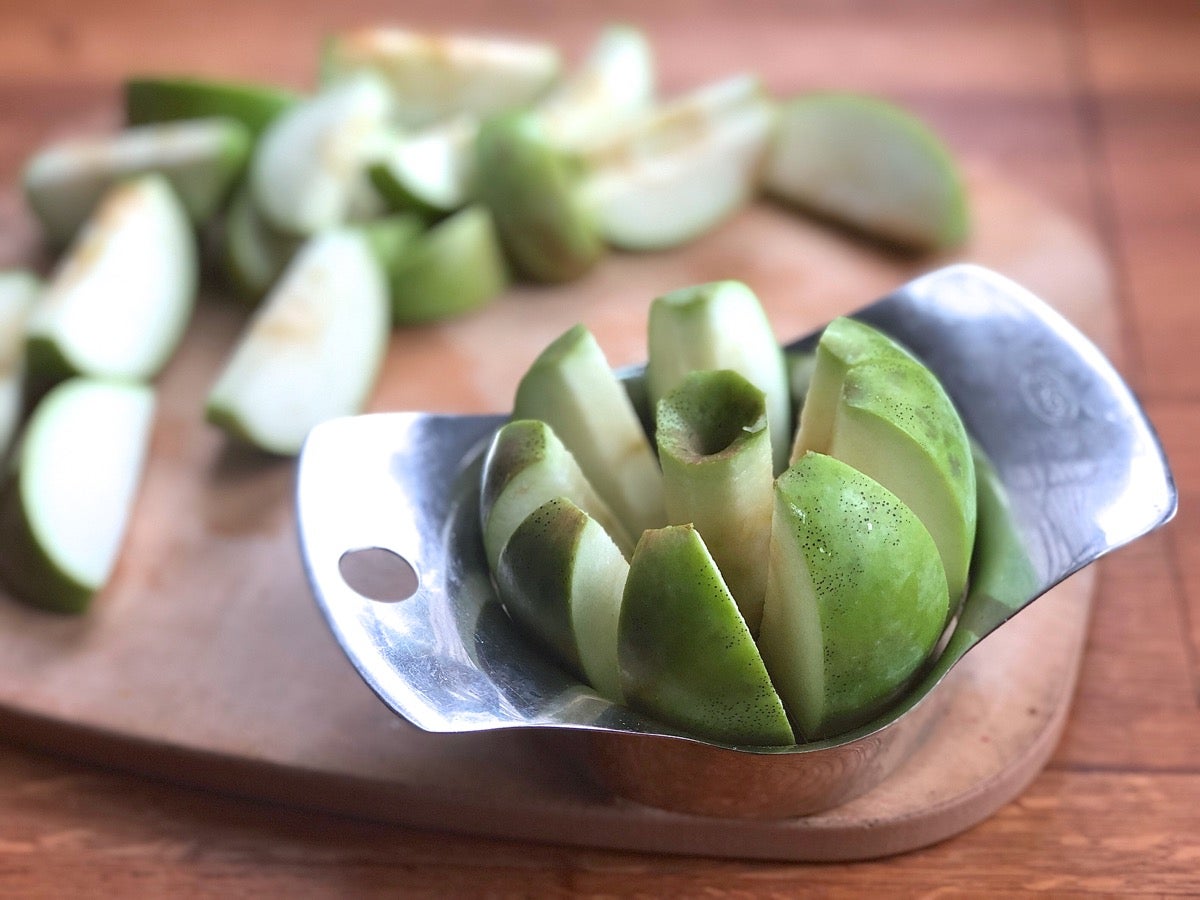 Keep the peel
The original recipe calls for peeled apples; but I love the extra flavor and color of apple peel, and don't mind the somewhat chewy texture of the occasional larger piece of peel. So I simply core my apples …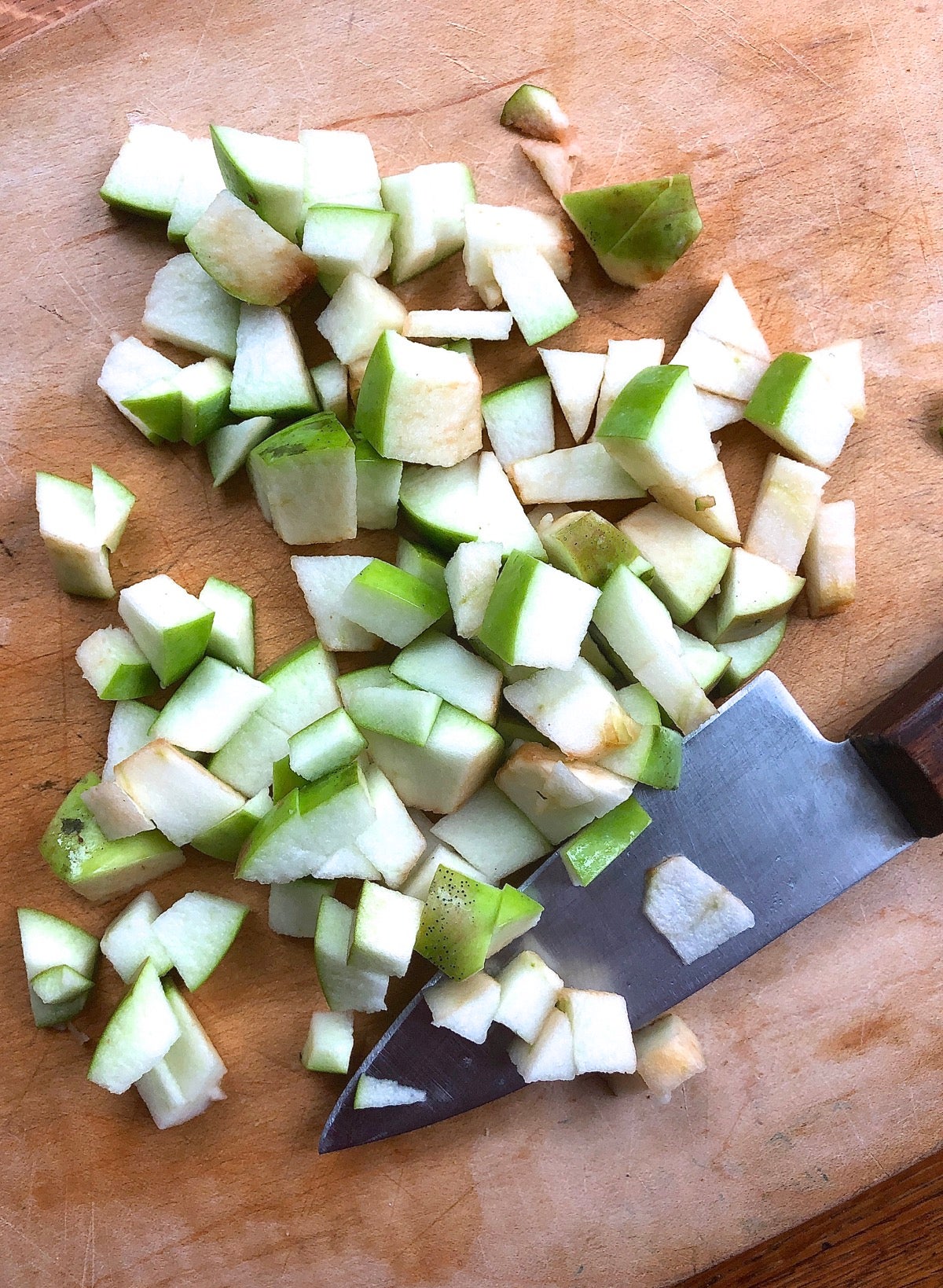 … and then chop them with a knife.
Ramp up the cake's flavor
From there I follow the original recipe — though not quite as written.
I'm a big proponent of salt as flavor enhancer, particularly in sweet desserts. So I increase the salt in the cake batter from 3/4 teaspoon to 1 teaspoon.
I also add 2 tablespoons of boiled cider to the cake batter along with the apples. The apple version of maple syrup, boiled cider adds rich flavor to all things apple.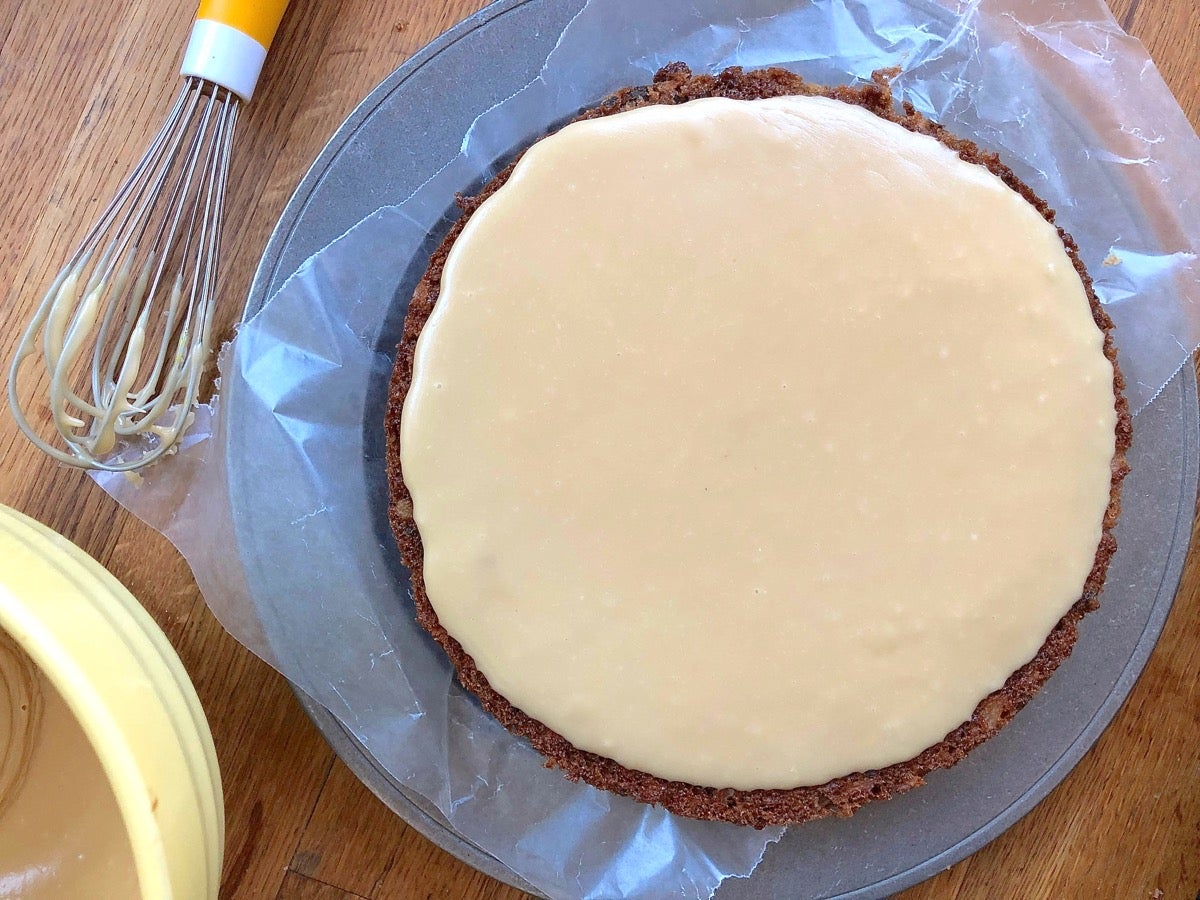 Make two smaller cakes: one to keep, one to share
Instead of pouring the batter into a 9" x 13" pan, I bake it in two 8" round cake pans. The cake bakes a bit faster in two pans, so I start checking it at about 38 minutes.
Baking in two smaller pans makes it easy to enjoy one cake while sharing the other with a friend or neighbor. (Aside from sharing being a good thing, you really don't need an entire sheet cake sitting on the counter calling your name, right?)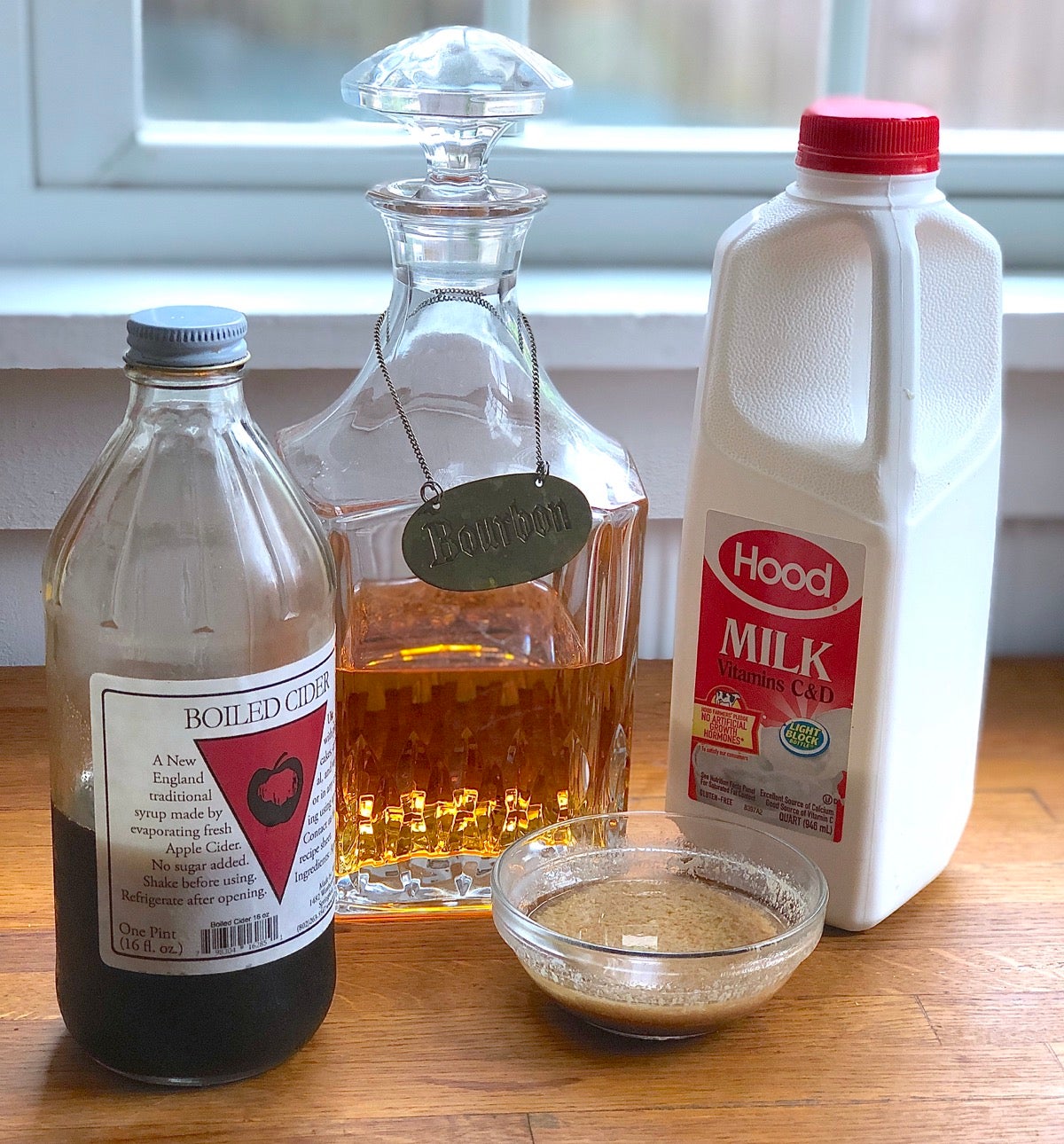 Expand the frosting's flavor
Now for the frosting. I add a couple of extra layers of flavor by substituting 1 tablespoon boiled cider and 1 tablespoon bourbon for an equal amount (2 tablespoons total) of the milk.
Next, I use more salt: 1/2 teaspoon instead of 1/4 teaspoon. This gives the frosting depth of flavor beyond its original single dimension; while not really salty-sweet, it's heading in that direction.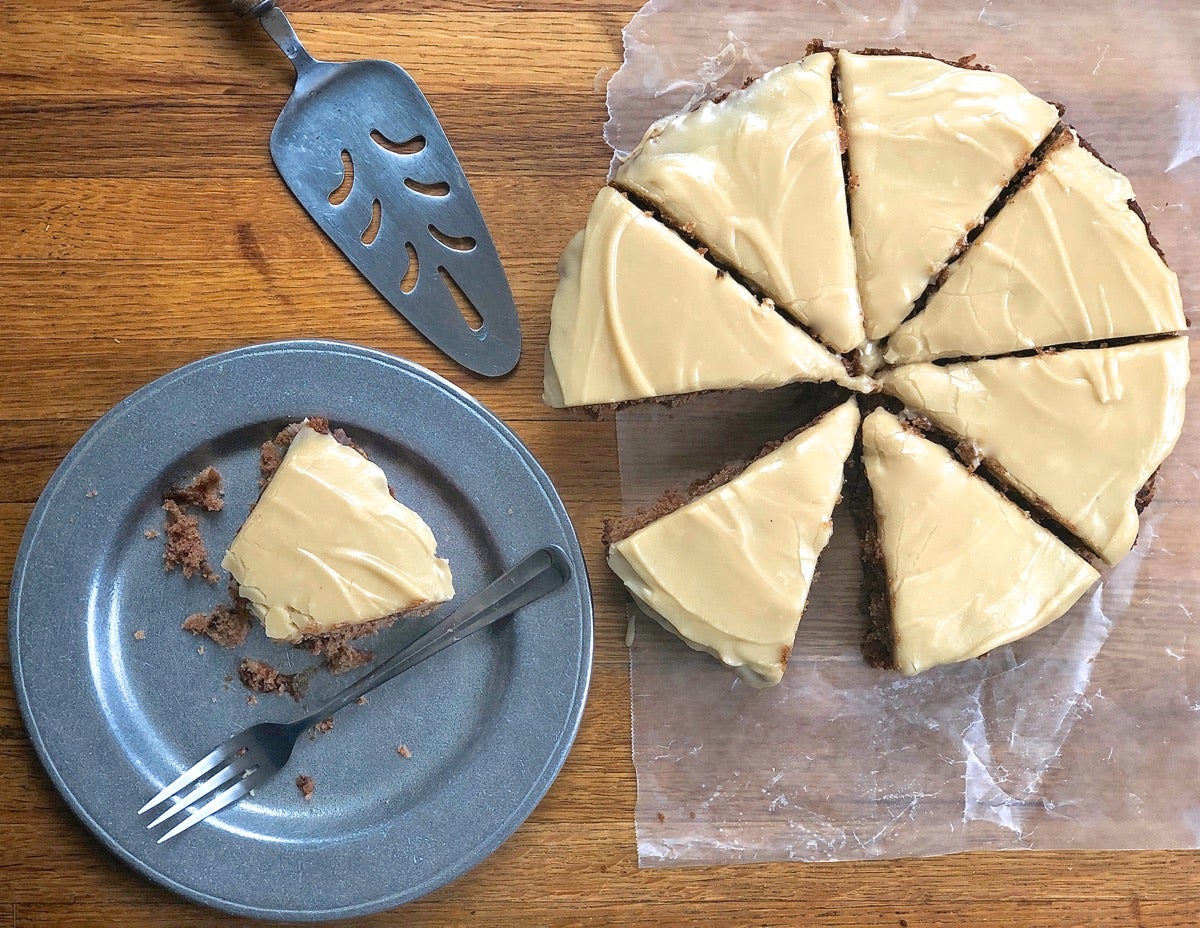 And there you have it: Old-Fashioned Apple Cake with Brown Sugar Frosting, my way.
I hope you create your own favorite riff on this recipe: frosted or not, it's one yummy cake.
Speaking of riffs (and because I know you'll ask), can you make this recipe into cupcakes? Absolutely. Remember the review from Lynn in Cincinnati, who said this cake was good either with or without its frosting? She continues as follows:
"I made it into cupcakes. It made 18. They baked for about 30 minutes. With all the apples, they don't rise that much, but were surprisingly tender. Be sure you use liners, as they will be difficult to remove otherwise. I ate one warm without icing, and almost didn't add the icing, but it was already in the works. I lightly iced them with a thin layer, and that made for a nice presentation. Either way, they are delicious!"
For more seasonal flavors and recipes, check out our Harvest Recipe Collection, chockfull of apple, pumpkin, and cinnamon for cooler weather cravings. 
Jump to Comments