Farmhouse Buttermilk Cake
A simple, essential, everyday recipe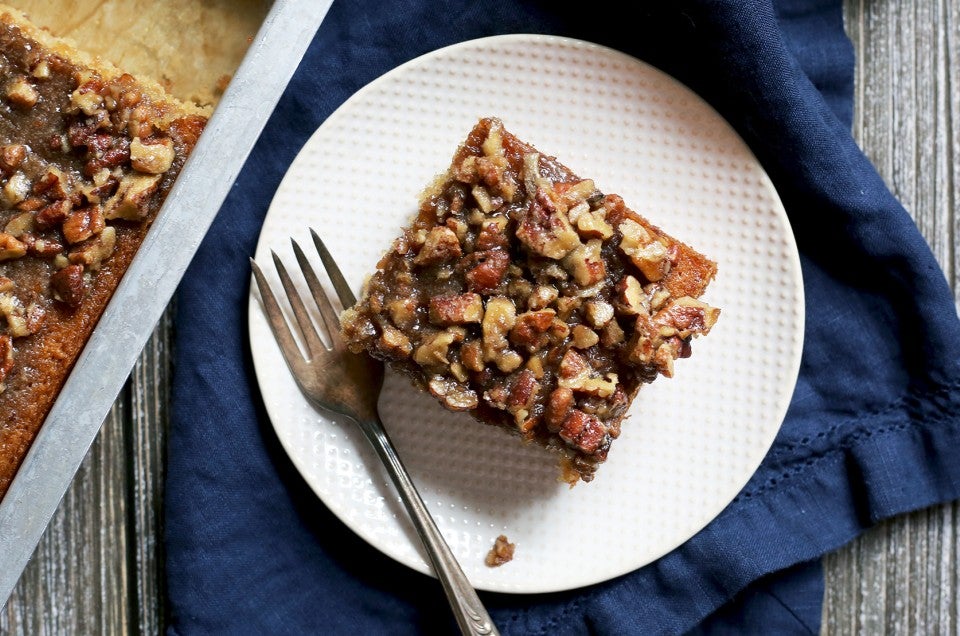 I don't select recipes based on name alone — but sometimes one sounds so compelling, I can't help but bookmark it.
Today's cake is one such recipe; the name Farmhouse Buttermilk Cake is so cozily rustic, so comforting and homey-sounding, that I immediately went to the fridge to do an inventory of ingredients.
Here's where things got even better: this cake is as simple and rustic as the name implies, needing nothing more than a few common pantry staples.
You'll need buttermilk (of course!), but you can always make that by adding vinegar to regular milk and letting it sit for a few minutes. You'll need pecans, too, and brown sugar. 
Once you gather the ingredients, you can set about making this Farmhouse Buttermilk Cake right away. I advise you to do so without delay! You'll bake it once, and you'll be wowed by it.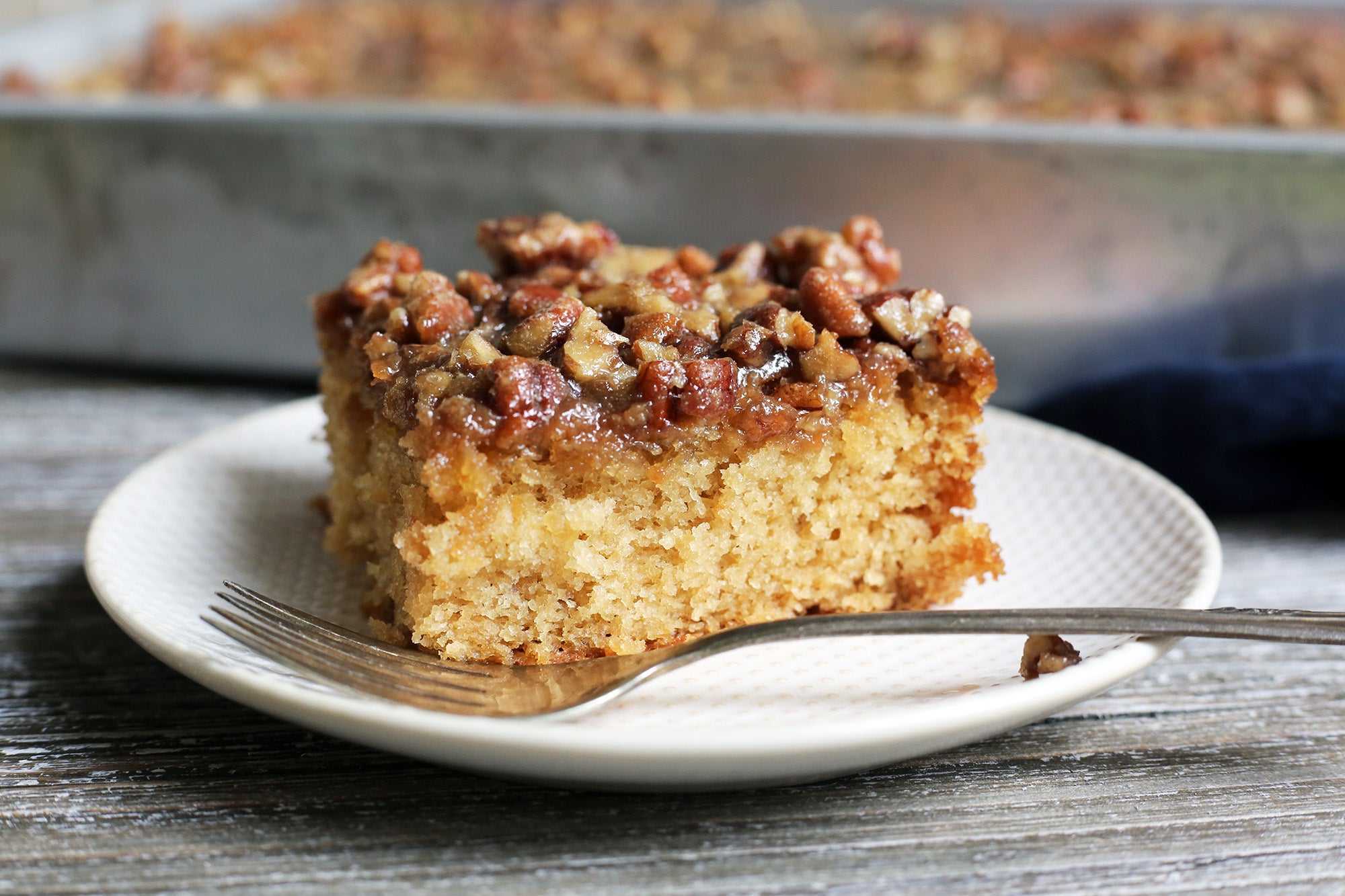 You'll love the texture (a plush yet sturdy crumb contrasting with a cap of crunchy pecans smothered in a smooth caramel-esque topping, with the distinctively pleasurable brown sugar grittiness of a Southern praline candy). 
You'll love the unusual one-pan topping method (first, you bake the cake, then you pour the pecan caramel over it and pop it back in the oven for a few minutes to set). 
You'll love how easy it is to make ahead (very!) and how good it is on the second or third day (if you can make it last that long). 
You'll like that it resembles a frosted cake, but without the fuss of making — and applying — a classic frosting layer. 
You'll like that it's just as nice for a picnic or potluck as it is for a Wednesday night dessert at home or a Saturday night dinner party. 
You'll like how much your friends like it (rave reviews all around!).
And most importantly, you'll love how it tastes.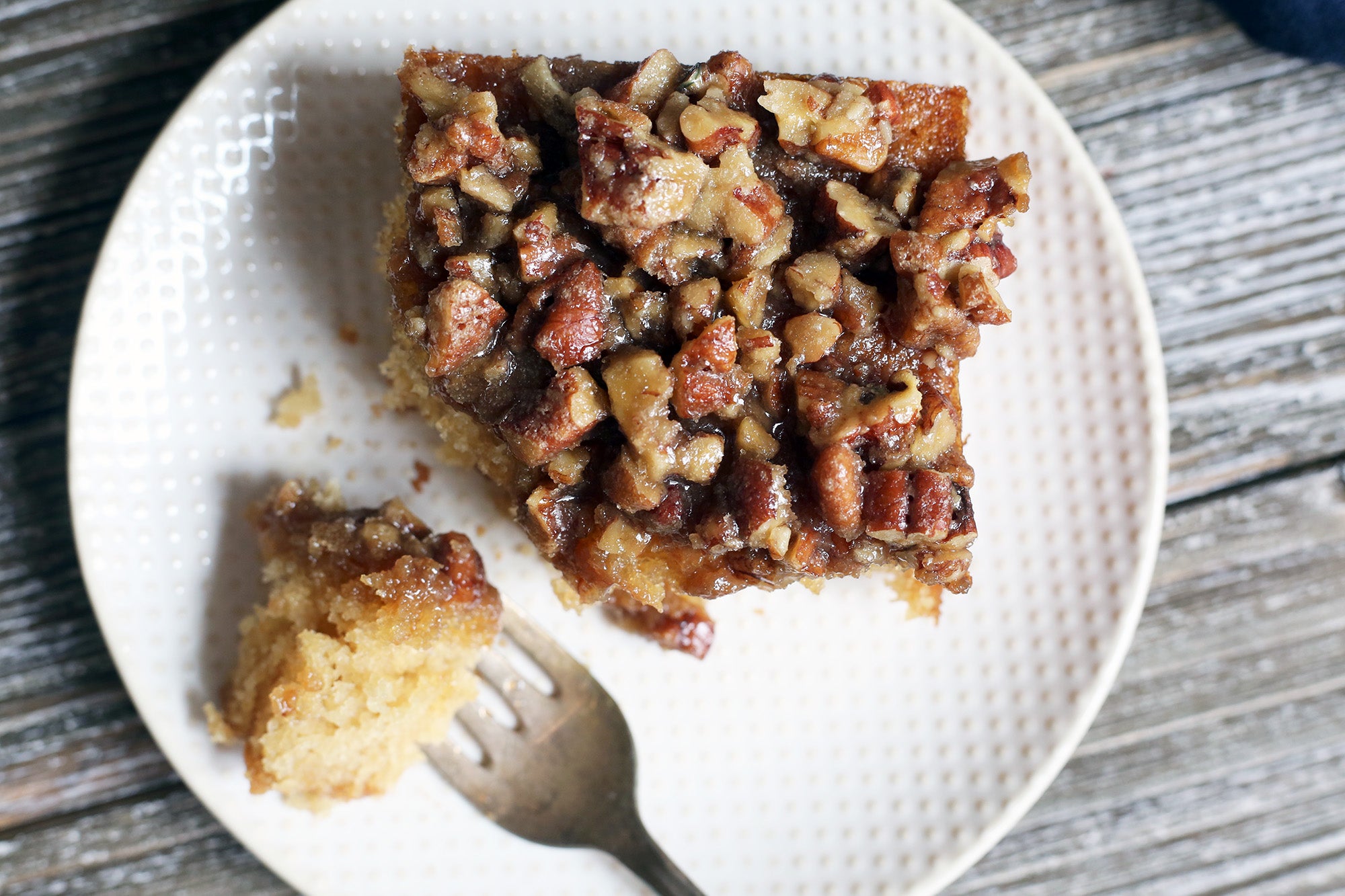 Farmhouse Buttermilk Cake isn't just a nice-sounding name, but a promise of flavor. With 2 cups (454g) of buttermilk called for, you get a nice complexity to the cake itself, thanks to buttermilk's subtle tang. It looks like a simple yellow cake, but those looks are deceptive: it's far more interesting in flavor. 
The nut topping is quite sweet, but the cake batter is not. This is important, and the sign of a well-created recipe. 
Rather than tipping into the cloyingly sugary realm, it's properly balanced and would even pair nicely with a scoop of vanilla ice cream or lemon gelato. Homemade cinnamon ice cream would be good too, or a lightly spiced whipped cream (think cardamom or nutmeg or allspice with a pinch of ginger).  
As one reviewer puts it, "it was sweet but in the way that made our household come back to it again and again." Some reviewers have tried cutting the sugar down to 1 1/2 cups, noting that they prefer even less sweet desserts, and you can easily do this without adversely affecting the texture of the cake.
A few important notes about this Farmhouse Buttermilk Cake recipe. It's quite straightforward, and simple enough for even a very beginner baker. But keep these tips in mind to achieve the best success when baking it. 
Dairy counts
With two cups (454g) of buttermilk in the batter — much more than most buttermilk-based cakes—you're going to notice a difference if you spring for the good stuff. Yes, you can use any buttermilk from the store. (Or, as we discussed above, you can make your own with these instructions: How to substitute for buttermilk.) But if you're able to find high-quality buttermilk, get it. Look for some from local dairies or small farms. Check in specialty food shops, like fancy cheese markets, or the farmers' market. 
Good buttermilk will be very thick with a noticeable sour tang. That thick, luscious texture will make the crumb of your cake even more moist and perfect. 
Don't fear the heat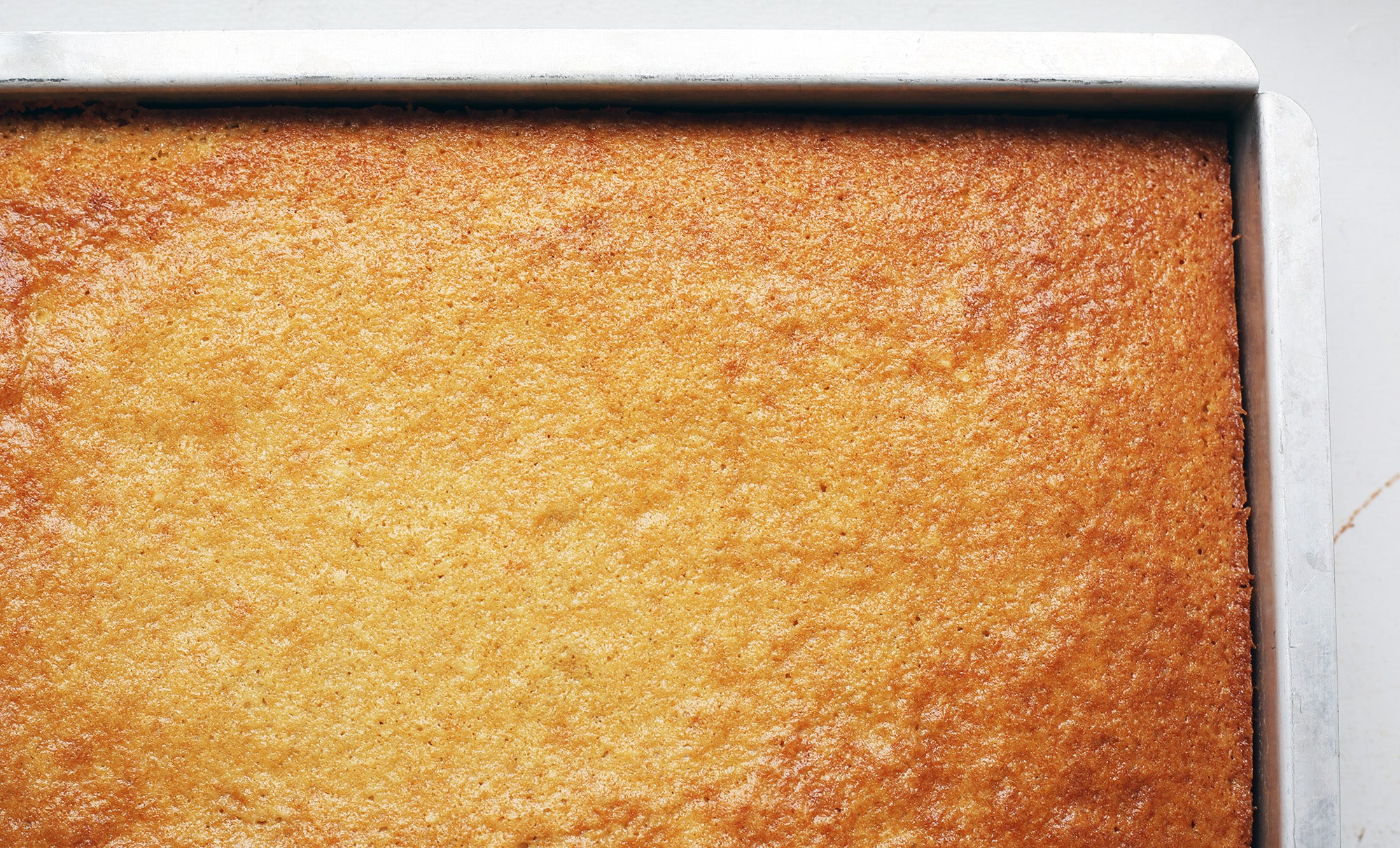 Once you've mixed your (very simple) cake batter, you'll pour it in a greased 9" x 13" pan and bake it for 30 to 35 minutes. You'll start prepping your topping during this time.
(For exact quantities of each ingredient, see the full recipe here.)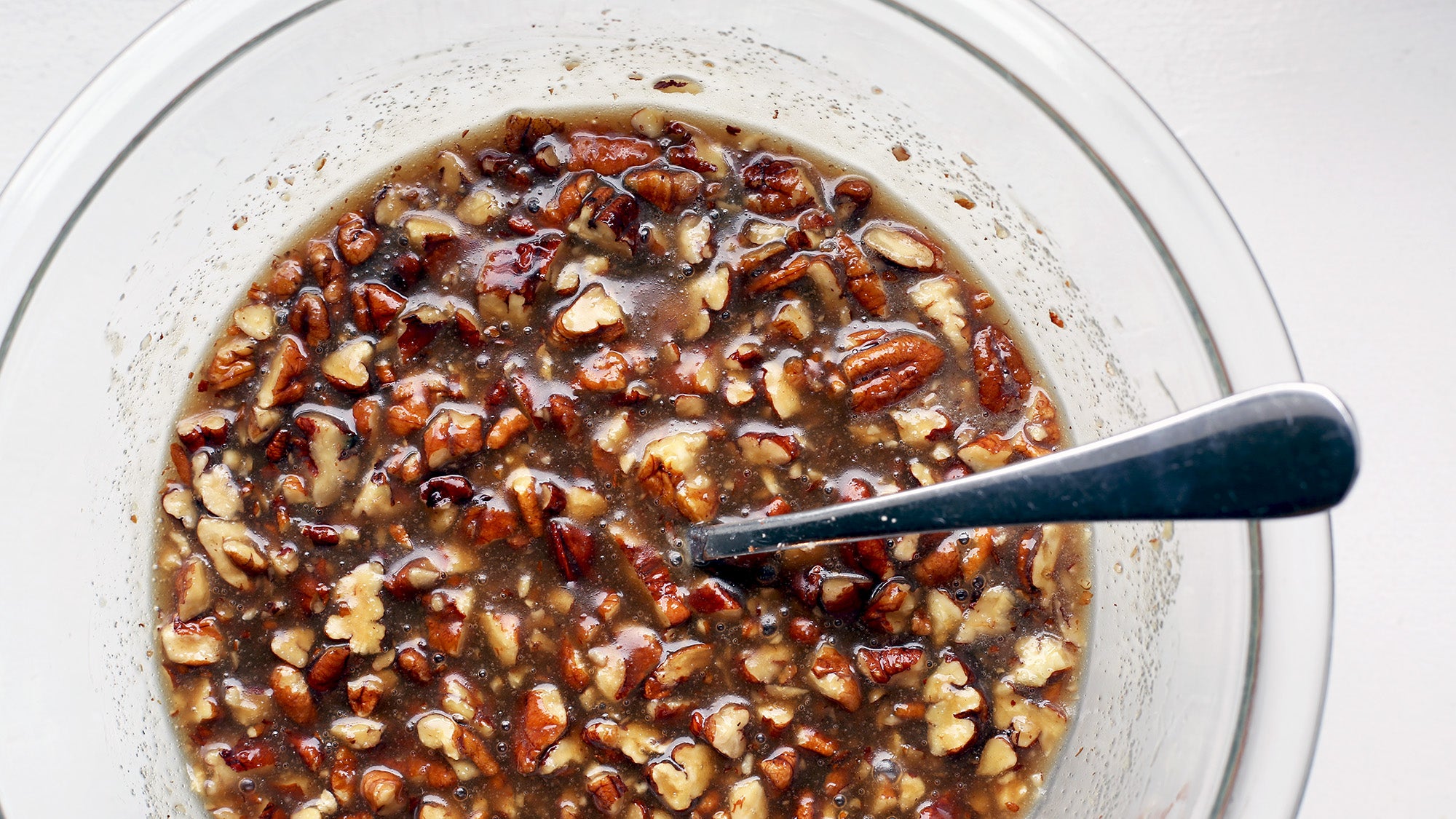 For the topping, you'll mix together melted butter, brown sugar, milk, salt, and diced pecans (in a pinch you could add in other nuts, like walnuts, but I adore the flavor of all pecans here!) in a bowl. It will be thick, but pourable.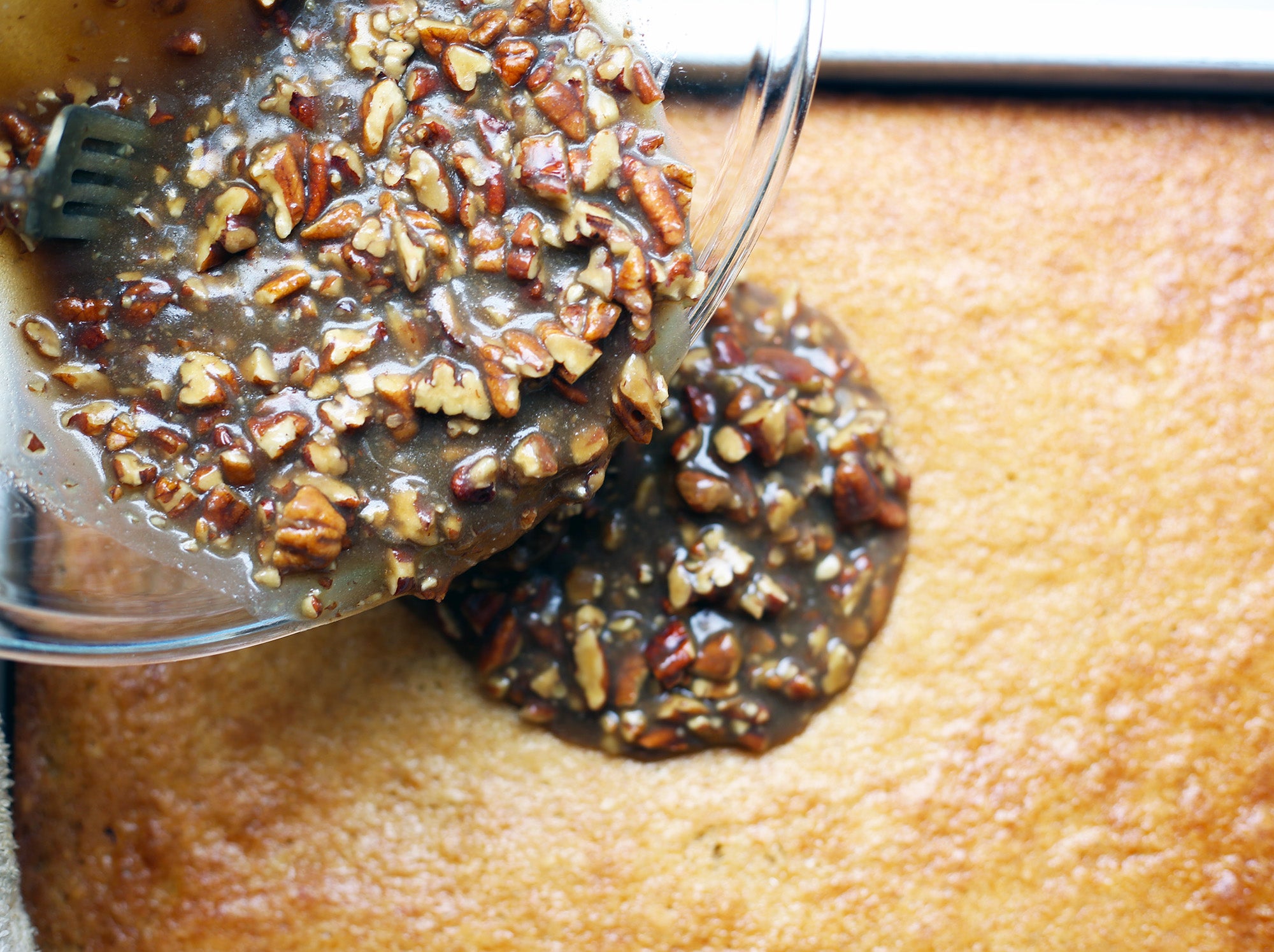 After 30 to 35 minutes, once the cake feels set and is golden brown, you'll remove the cake from the oven. Now, you'll very carefully pour the topping over the hot cake and spread it in an even layer using a spatula.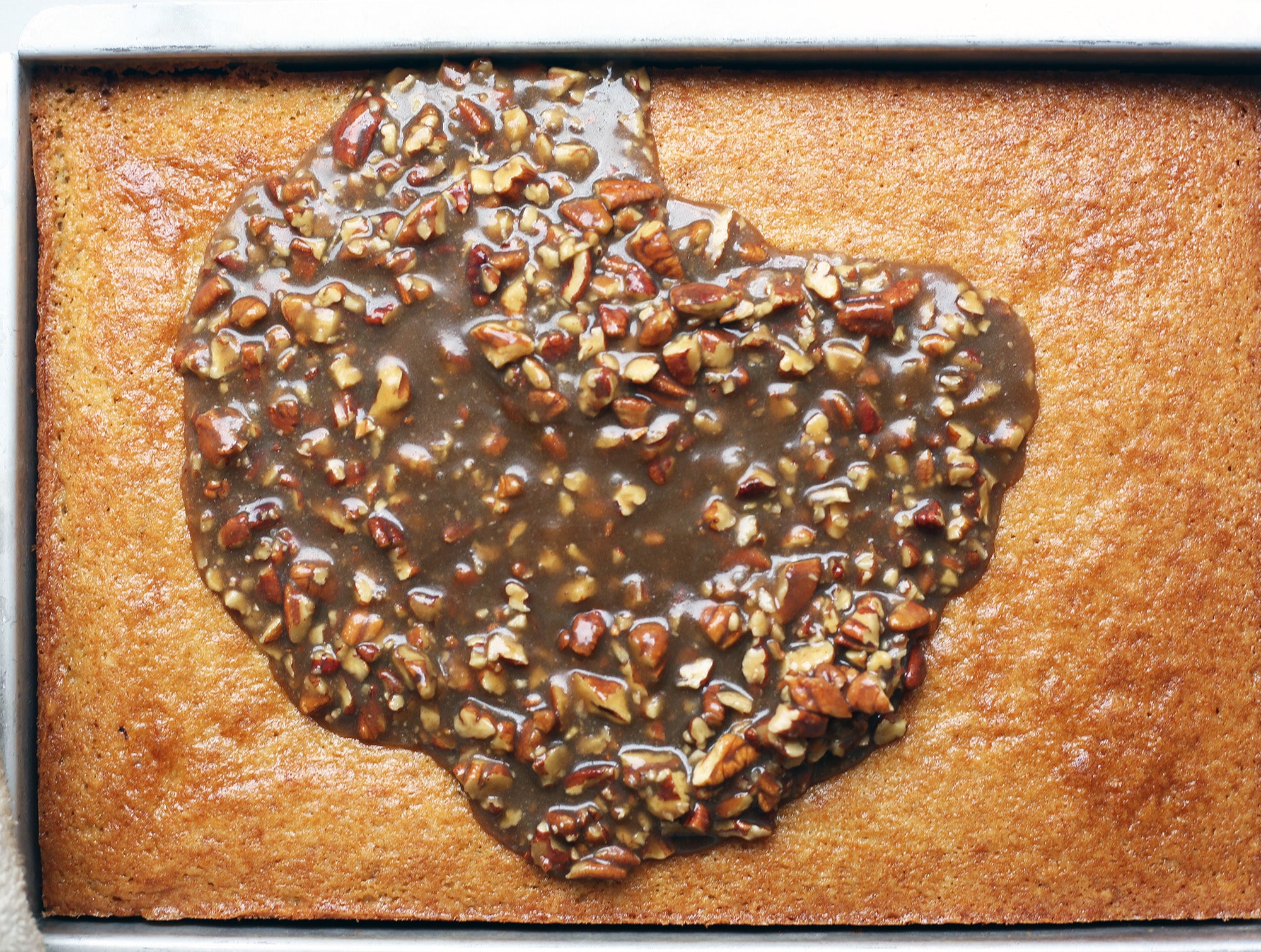 Then you'll put the cake back into the oven and bake it for another 10 minutes before removing from the oven and letting it cool.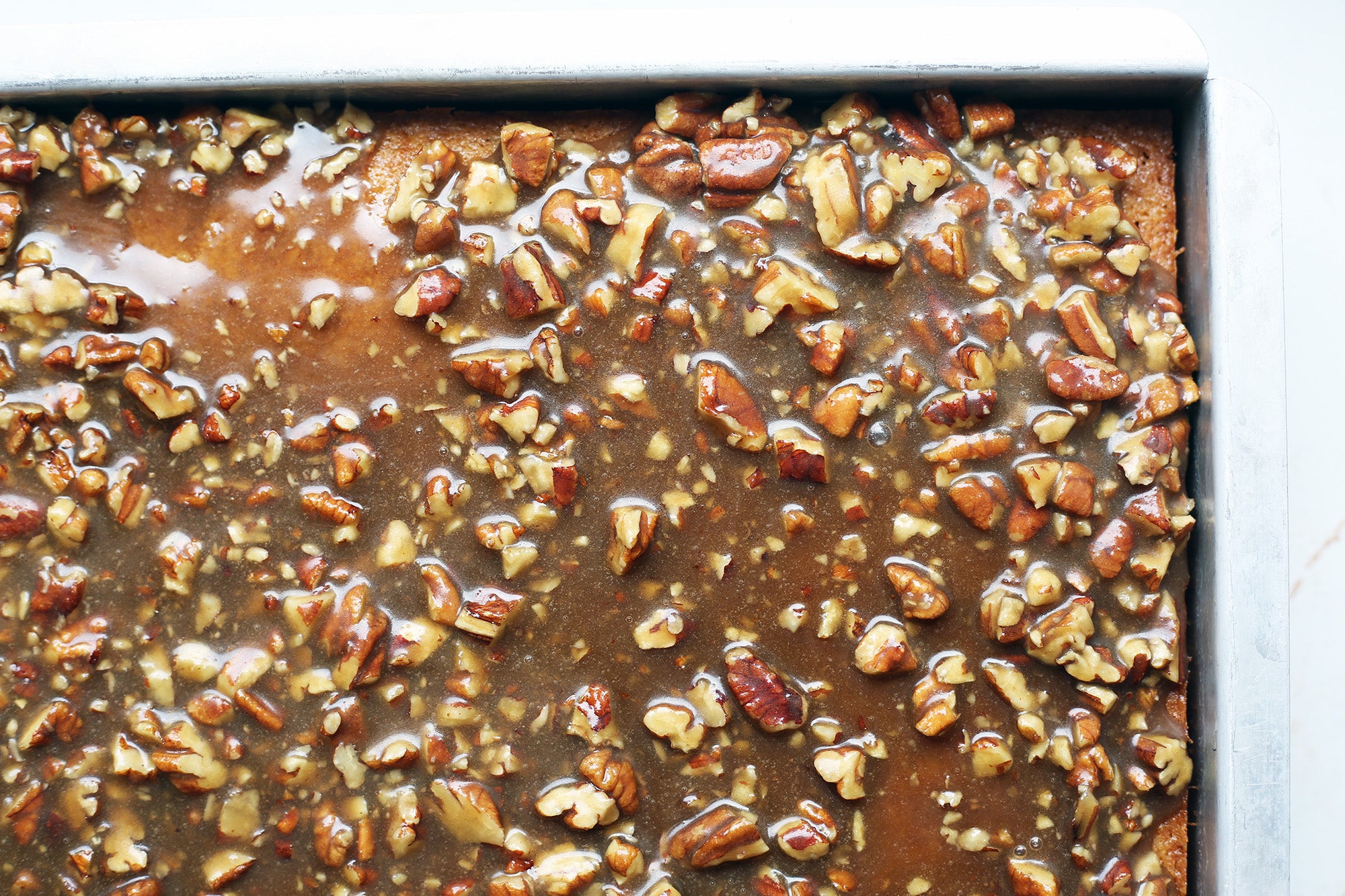 You might panic a little about pouring that thick glaze over a piping hot cake. You might worry it will melt, or thin out too much, or run underneath the cake itself. 
You might stress about it, thinking "this can't be right! I've never made a cake like this! I need Ina Garten here with me (or PJ Hamel), or a double-strength margarita!"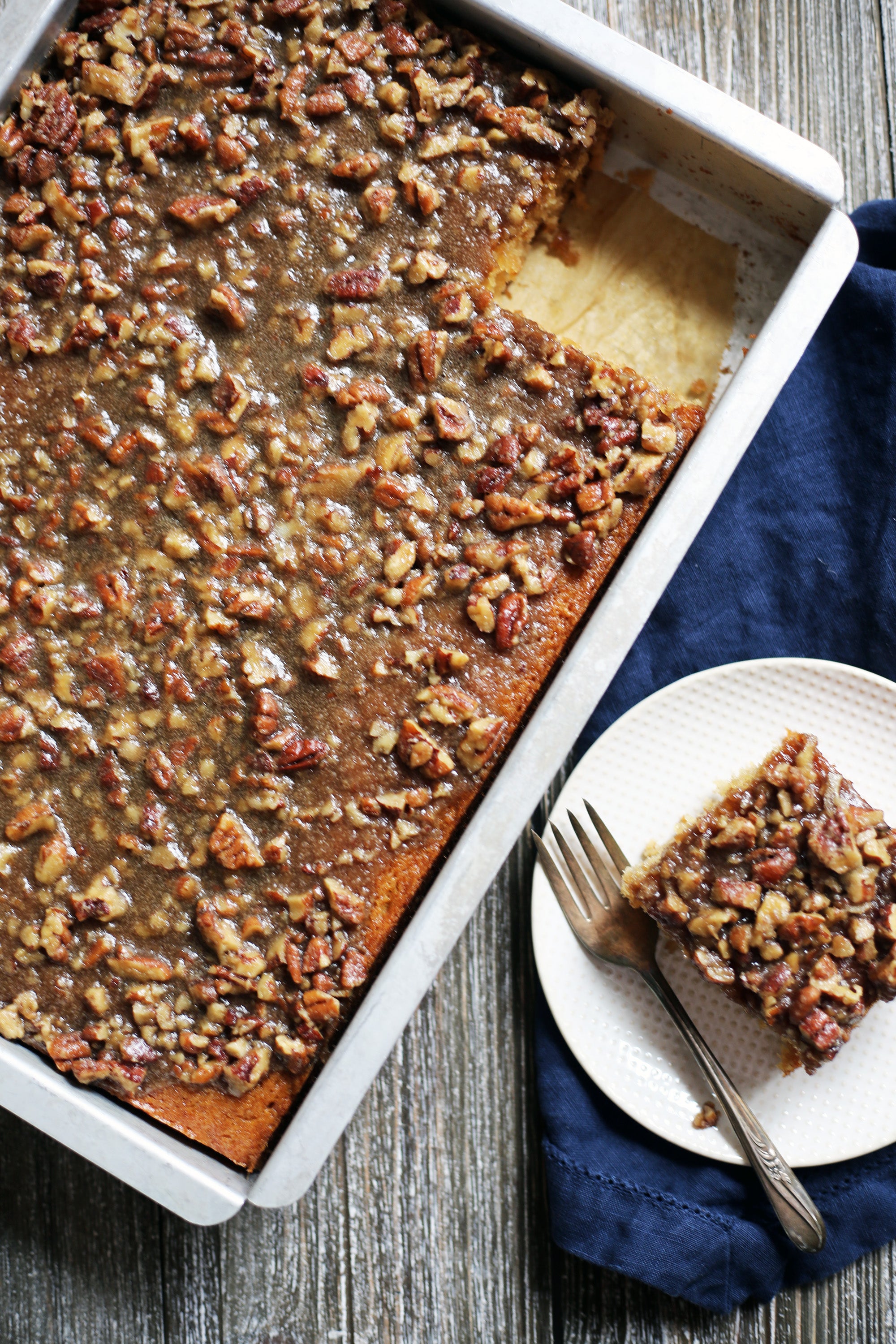 But take a deep breath, and go ahead and trust us. It'll work out, and it'll work out beautifully. The glaze will thicken as it bakes, and then set as the cake cools, creating a gorgeously crackly crust of sugary nuts that you will try not to eat, and then keep snacking on, and then have to chastise yourself firmly for sneaking too many tastes before your guests get any. (Oh, is that just me?)
Skip the toast
In most recipes calling for nuts, I always advocate toasting them first. Lightly toasting nuts brings out their flavor, elevating them from something ordinary to something bolder that will stand out against the flavors of sugar and butter and spice in your recipes.
But in the case of this Farmhouse Buttermilk Cake, don't bother with the extra step. The pecans end up in this gooey, sticky, caramel-like topping and any flavor you gain from toasting them won't shine through enough to be worth the effort (trust me, I've tried both ways several times and lived to tell the tale).
Going gluten-free?
This recipe will work beautifully with our Gluten-Free Measure for Measure Flour. Just swap it in for the 3 cups (361g) of flour called for in the recipe.
If you, like me, find the words "Farmhouse Buttermilk Cake" swoon-worthy, then go bake! Try it right away and let us know how it turns out in the comments below.
Jump to Comments