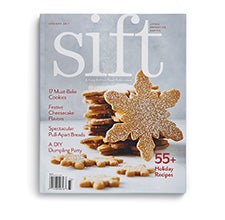 Sift magazine explores the world of baking all over the country. We're particularly fascinated when people turn their passion for baking into their profession. Leigh Kellis is one such person. Her quest to find a better-quality treat while making use of great local ingredients led to what is now a collection of shops around Portland, Maine, named The Holy Donut. Come with us for a taste of her amazing creations.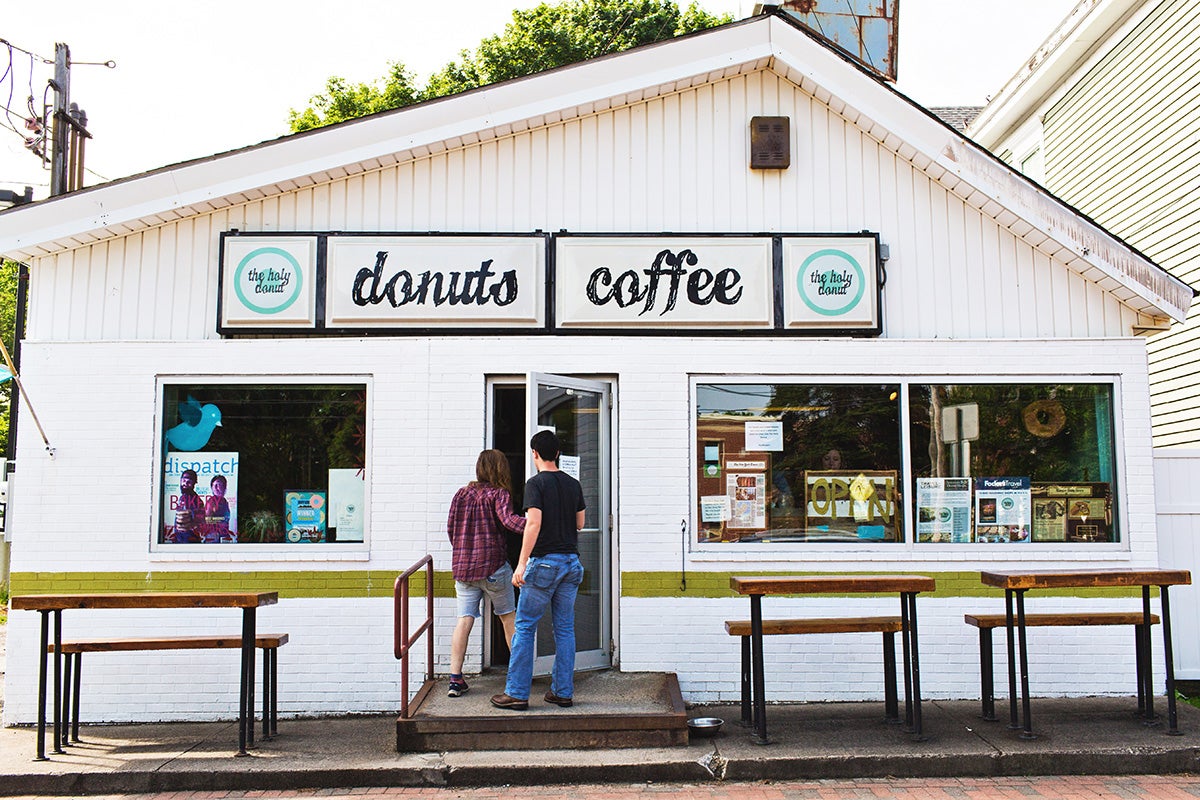 It's a bright spring morning, and the door hinges at 194 Park Avenue are getting a workout from a steady stream of customers. Between locals stopping for breakfast on their way to work and tourists ticking the destination off their must-taste lists, business at The Holy Donut in Portland, Maine, is brisk. Two bakers fry and glaze at the center of the shop.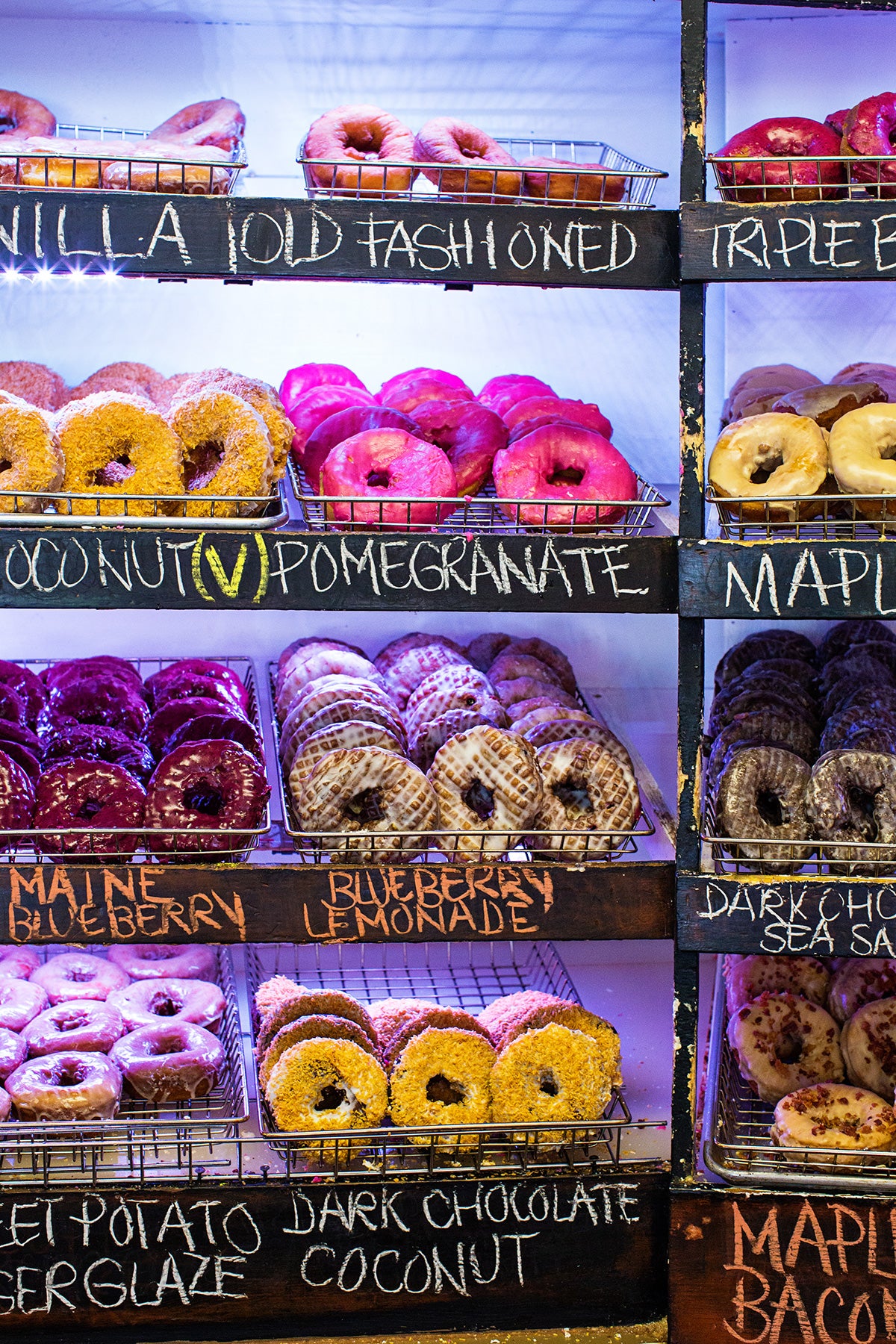 Racks of glistening doughnuts stand at the ready to replenish the colorful trays of cake-style potato doughnuts that are rapidly disappearing up front. Hungry customers choose from a menu featuring locally roasted coffee and warm doughnuts in a host of bold flavors like blueberry, chai, maple, chocolate, sweet potato ginger, pomegranate, and more.
From a hot case nearby you can grab a quick savory bite, like a bacon- and cheddar-filled donut or a savory frittata piled on top of a homemade English muffin. Gluten-free and vegan donuts are available too, and a collection of wildly popular seasonal flavors rotate in and out of the menu.
Portland has responded with great enthusiasm. "It makes me sad when we sell out," says Kellis, founder of The Holy Donut. Every one of her doughnuts is rolled and cut by hand, then fried and finished with care.
The attention to flavor and detail even shows up in the drinks: a cup of iced coffee is filled with frozen coffee cubes and topped off with a blend of chilled coffee, sugar syrup, and milk. Michelle, the store's manager, acknowledges that the coffee ice cubes are time-consuming and labor-intensive, but worth it for the incredible quality of the drinks they yield.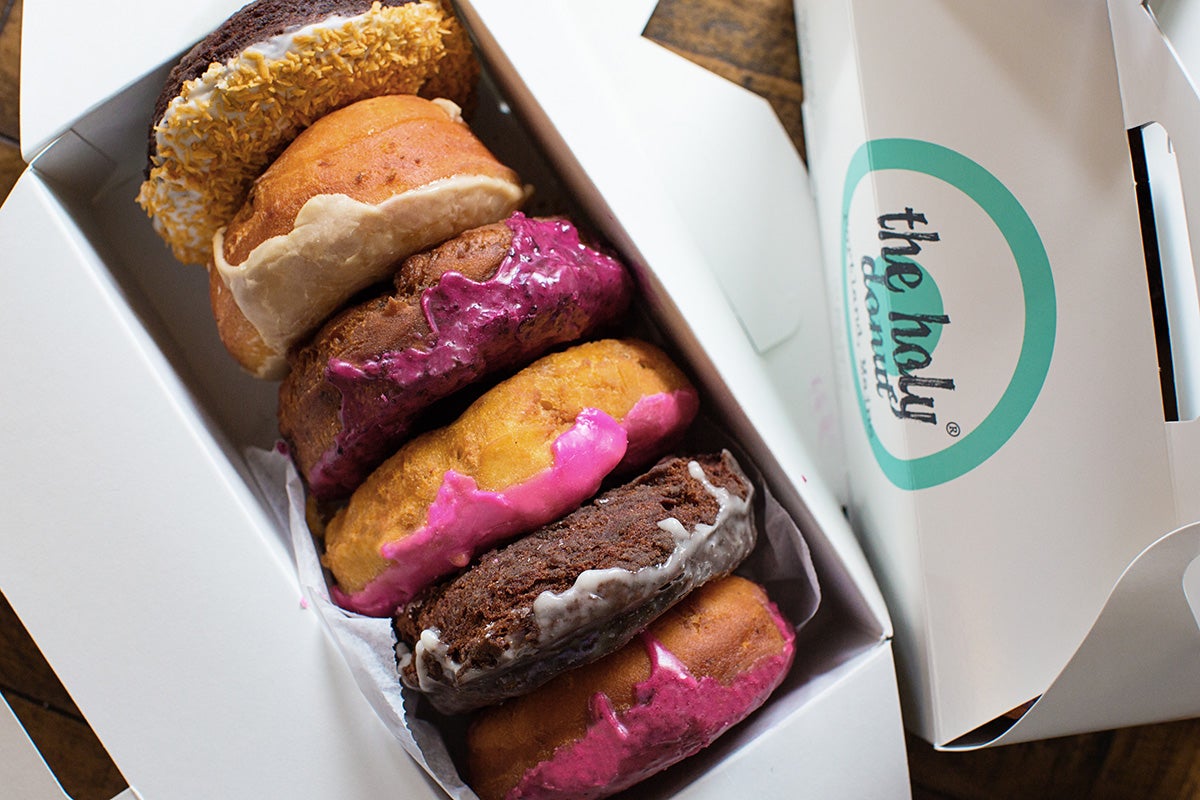 This is the heart of what The Holy Donut is all about. Kellis started the shop because she was looking for a treat that she could feel good about eating. Searching for a baked good to satisfy both sweet and savory cravings, she started adding local Maine potatoes to her doughnut recipe.
The results, after some tinkering, were stunning. Moist and incredibly light, tender, and deeply flavorful, the doughnuts were better than any she'd tried. Right away, she arranged to sell a dozen a day through a local coffee shop.
The quality sold itself. With the help of her father and several other family members, The Holy Donut now has three locations and makes 2 million doughnuts a year.
Through all that time and growth, opportunities to change the process for expediency's sake came along. Kellis says they were never an option. "I was never going to change the quality, and I was never going to cut corners."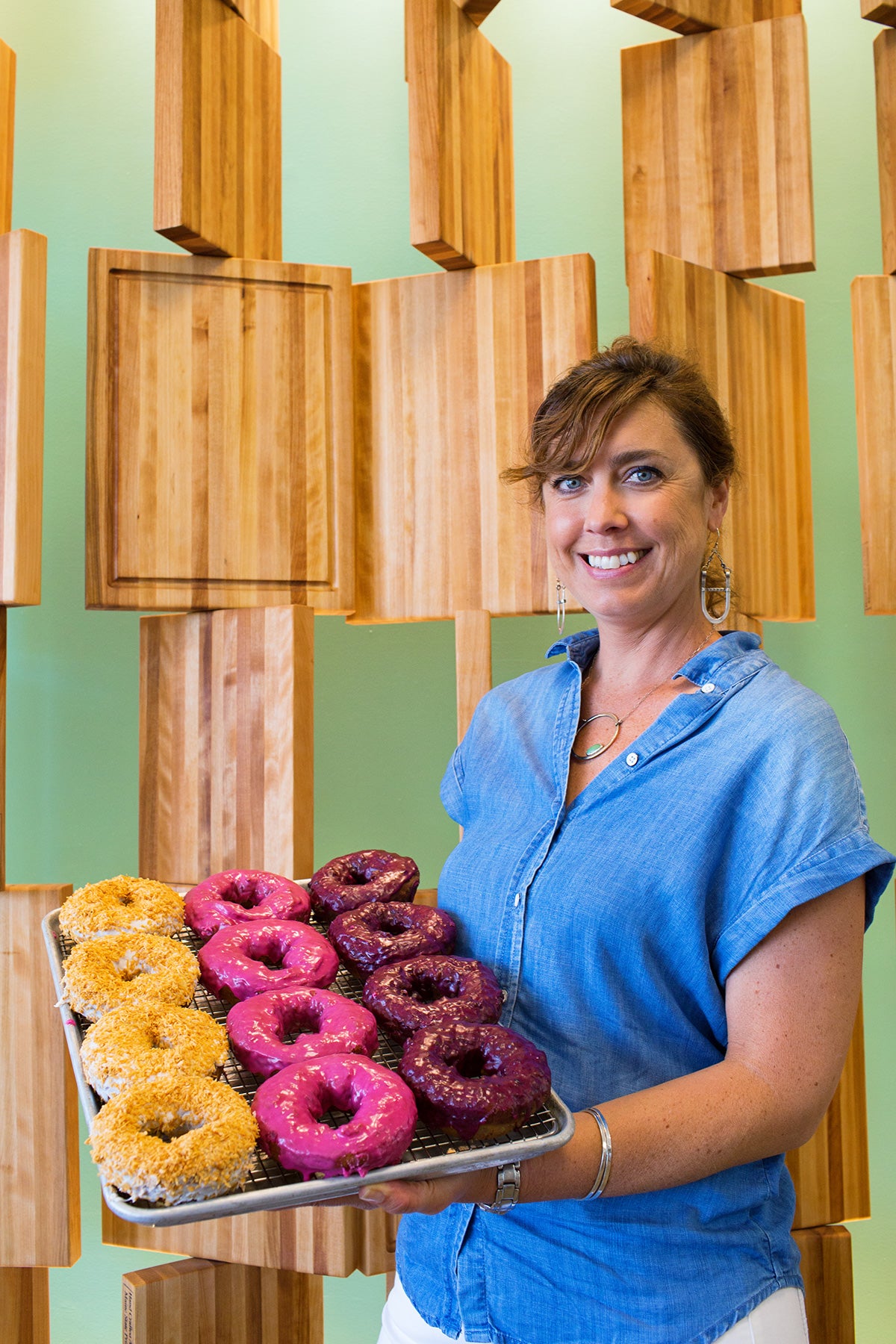 "I'm very lucky," she says. "Without my family on board, we couldn't have come this far. We have the synergy, trust, and mutual interest to make this work. We like each other, and we enjoy running the business. My brother-in-law Jeff Buckwalter has been critical to our growth. I'm the creative one, and he's logistics and execution." She laughs as she says, "He does everything I don't want to do."
The intimacy and caring of a family-run operation is part of the company's culture. As Kellis points out, "We have a really heartfelt calling to help other people in a personal way, as one human to another." For every hour an employee spends helping another person, they're given an hour's wages or an hour of vacation time. "That's what the world needs right now: more kindness. It's about putting our best foot forward in the world."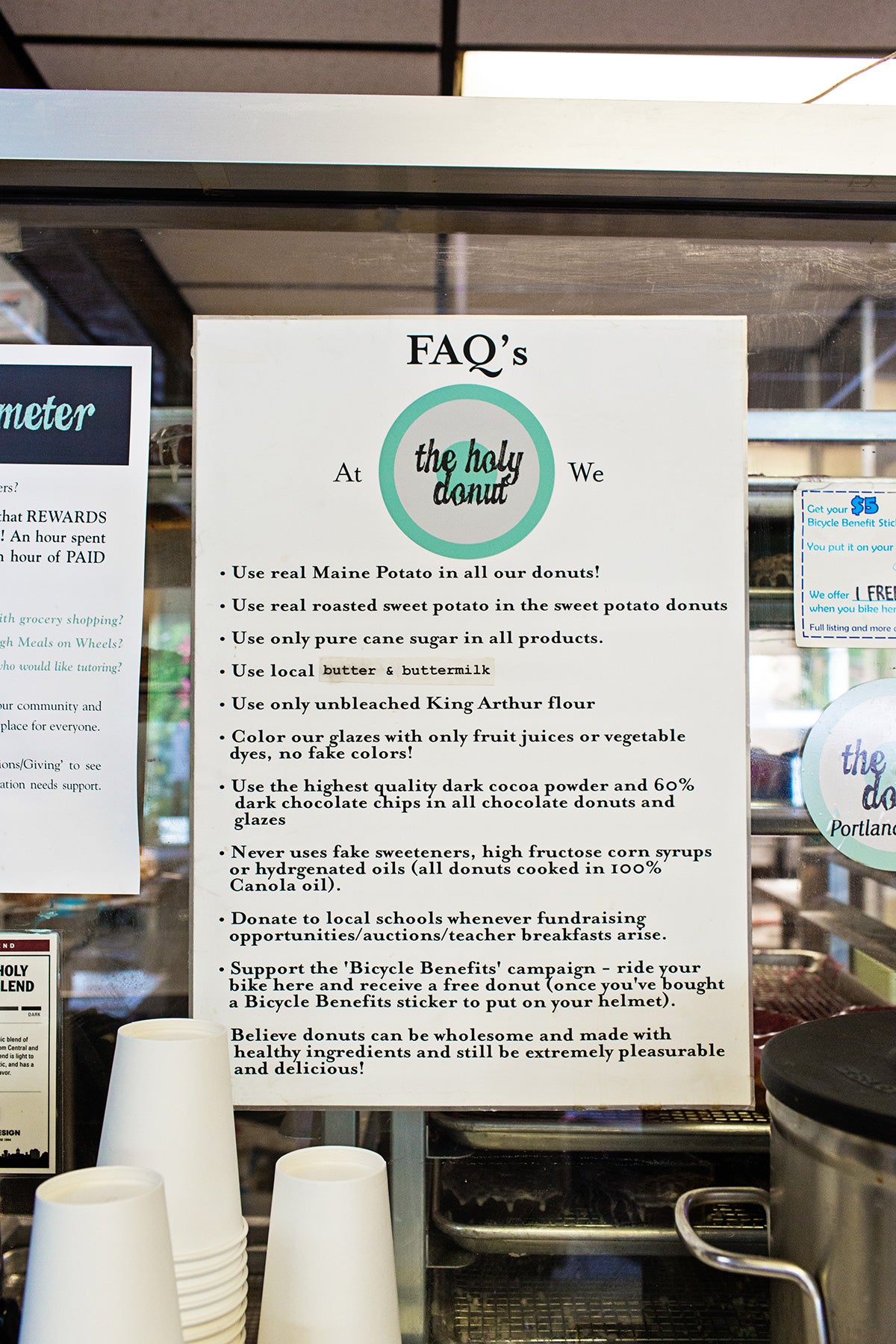 The Holy Donut is grounded in the community at every level. With its focus on local ingredients, personal touch in helping others, and nurturing neighborhood vibe, it's no wonder they've expanded so steadily. The tender, jewel-toned confections truly give one a taste of this place.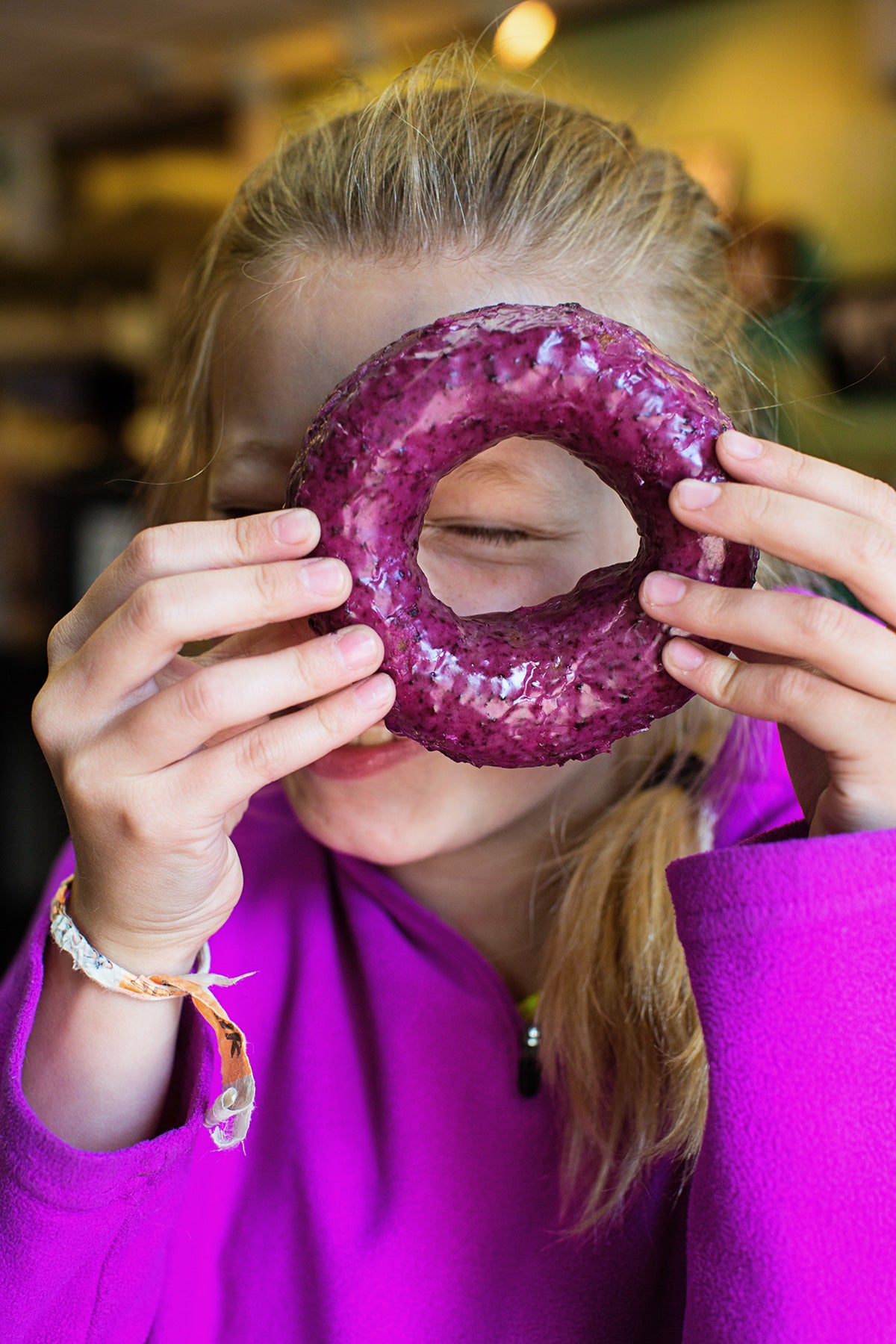 Kellis' doughnuts showcase many of Maine's best ingredients. The dough has its roots in the rolling potato fields in the northern part of the state. Other native flavor accents include doughnuts glazed with pure maple, filled with wild Maine blueberries, or sprinkled with sea salt (dark chocolate with sea salt is the most popular flavor).
When asked how The Holy Donut fits into the growing and vibrant Portland food landscape, Kellis observes that "The difference with us is that we're a little more old-school, which is okay with me. I don't want to narrow our demographic. We want to have kids and old people and everyone from the neighborhood in our shops. I want to be relevant for a long time."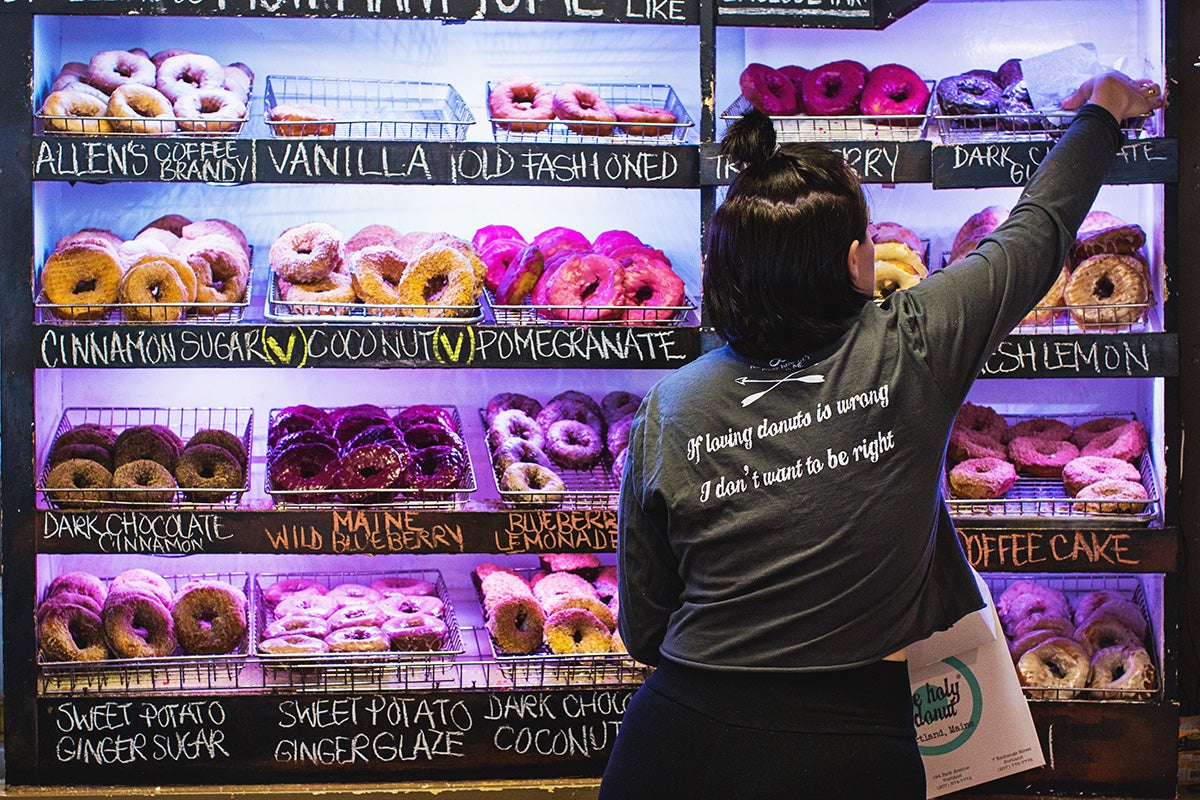 Given the warmth, ease, and pure pleasure to be found behind The Holy Donut's doors, it's clear that her hopes for the future will come true. This young but increasingly indispensable Portland institution is sure to be making mornings better for decades to come.
Thanks to Julia A. Reed for the photos in this article. 
Jump to Comments