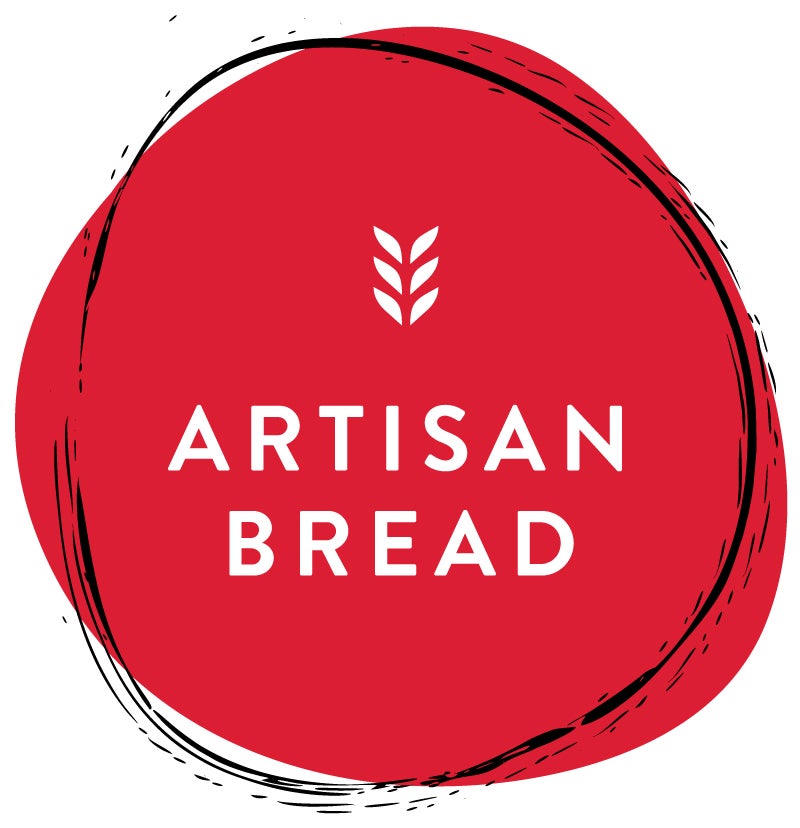 Our Artisan Bread series explores the world of professional-level bread baking and brings you more resources and guidance around how to hone your skills at true hand-crafted bread. You'll find tools, inspiration, and confidence to experiment and master what is perhaps the simplest, and the most complex, of baking genres: artisan bread. Today, Andrew Janjigian highlights the work of a talented Maine baker.
                                                                           * * *
For me, this story began with a single loaf of bread. Or more accurately a photograph of a single loaf of sourdough bread, one that I encountered on my Instagram feed a few years ago. It was a lovely loaf, its flour-dusted crust a deep, ruddy mahogany, with a giant, almond-shaped eye across its back whose glossy, textured iris revealed every shade of brown from hazel to buff. I was smitten, and not merely because it was a beauty to behold; as a sourdough bread baker myself, I knew immediately that this was a bread made with skill and exacting care. Moreover, I could tell, without even seeing it on the inside, that it would be delicious. It was exactly the sort of loaf that I aspire to produce every time I bake myself.
The loaf was the creation of Kerry Hanney, founder of Night Moves in Portland, Maine. Portland is just a couple of hours drive from my home in Boston, and I'm there often. (It's the best food town in New England by a nautical mile.) So I reached out to Kerry and mentioned that I planned to get myself up there ASAP to try one of her loaves, and that I wanted to meet up to learn more about her and her fledgling bakery operation. Not long afterwards, we did.
The bread — her country sourdough — was as good as it had appeared in the photo, and she and I became instant friends in the way that fellow bread bakers tend to do. I mentioned that when I had more time I wanted to come hang out and watch her bake, and maybe take some photographs if I did.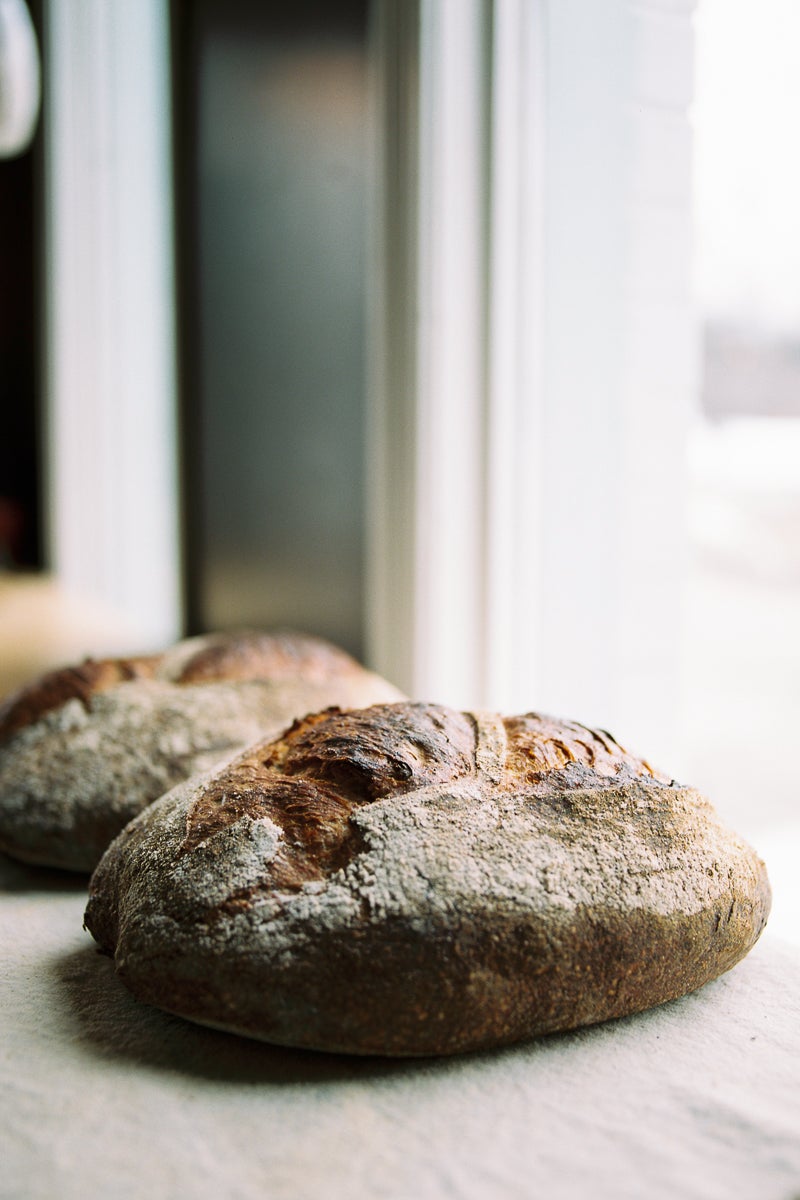 The story of Night Moves
Hanney first learned to make bread at the International Culinary Center in New York, and she later did stints at bakeries in Portland, Martha's Vineyard (developing the bread program at Morning Glory Farm), and St. John in the U.S. Virgin Islands. Just prior to starting Night Moves, she spent almost two years at Scratch Baking Company, one of New England's can't-miss bagel shops.
Night Moves has been open for a little more than five years. Hanney started out baking bread in her home oven, selling loaves to local beer maker Oxbow Blending and Bottling, for serving in their taproom. She soon started selling breads to other restaurants around Portland, and within three months, she needed to find a bigger space to keep up with demand. She moved to Maples, a bagel bakery just outside of Portland, using the space and ovens after hours and often late into the night. Today she sells her breads (along with pies and cookies) to many of Portland's best restaurants, as well as at grocery stores and farmers' markets.
For the first few years, Hanney did all the baking, with help from her mom on delivery days. Now she has four bakers, including herself and her boyfriend, along with Nancy (a retired nurse and sailor who helps with packing, delivery logistics, and some baking) and her younger brother who pitches in with deliveries. (Her mom still helps out in a pinch.) She outgrew the space at Maples too (and grew weary of working the night shift), and 2018, she made the move into her own production facility in nearby Biddeford.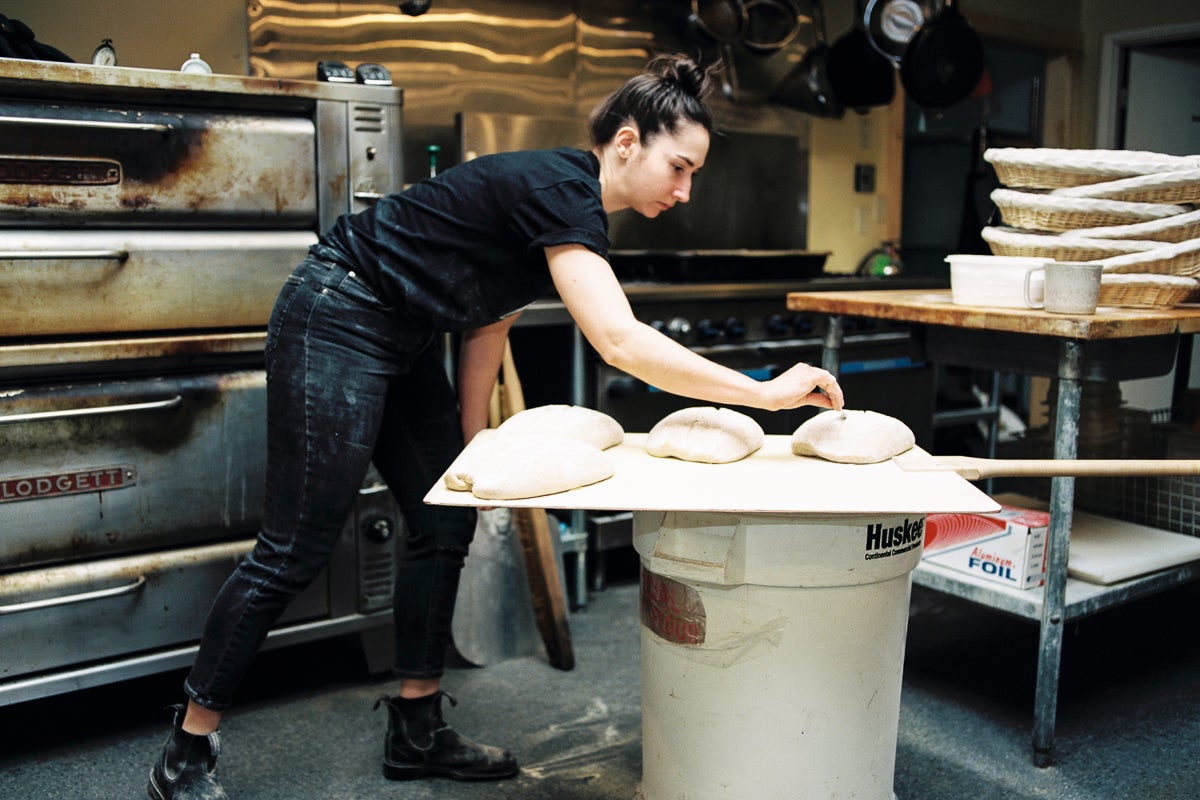 Not your ordinary bread
All of Night Moves' breads are naturally leavened — meaning they use a sourdough culture rather than commercial yeast — and use only Maine-grown flours, including wheat, rye, and corn. Committing to work with local flours has been a challenge at times for Hanney. While wheat has been grown in Maine for hundreds of years (New England was once known as the "breadbasket of America" until wheat farmers discovered the Great Plains), the development of a local flour industry is relatively recent, spurred on by increasing demand for locally-produced foods.
The country sourdough was Night Moves' first bread, and it remains Hanney's most popular loaf. (She bakes more 500 to 700 of them per week). It's made with 86% sifted wheat flour (sifting removes gluten-compromising bran to improve loaf structure and texture), 14% rye, and a high percentage of water. (Hanney sources her Maine-grown flours from Maine Grains, a partnership cementing her commitment to local food systems.) It's mixed and shaped on day one, and cold-proofed overnight before baking. The combination of flours, high water content, and a long fermentation give the bread a fruity flavor and excellent keeping properties.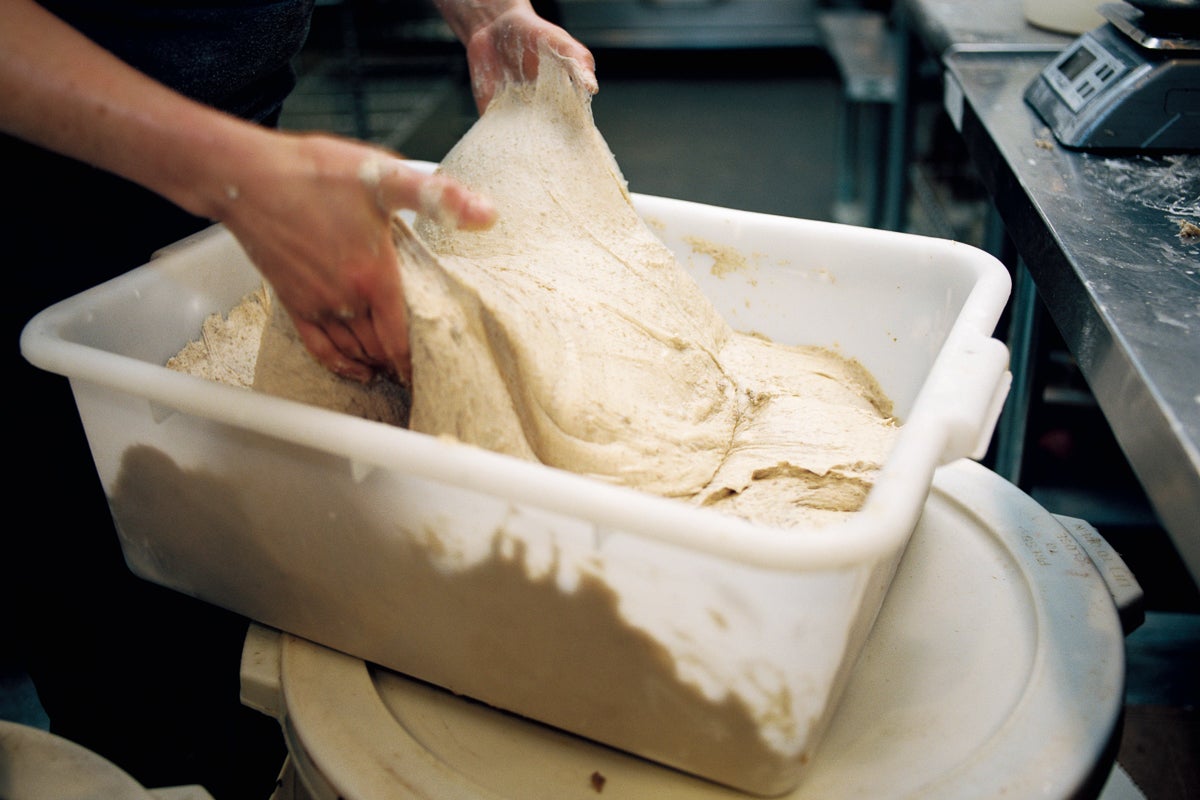 Rye not?
Hanney is somewhat unusual for American bakers in her passion for 100% rye flour breads. Her Nordic rye is a classic northern European rye bread that contains rye flour, sprouted rye berries, malted barley (produced locally by Hanney's former college classmates at Blue Ox Malthouse), along with sunflower, pumpkin, and flax seeds. It's a dense, sticky bread, packed with nutrition and an intense, fruity aroma and tartness thanks to both the rye and the barley malt. (As Hanney puts it, the the Nordic rye smells "like an apple orchard" when cut open.)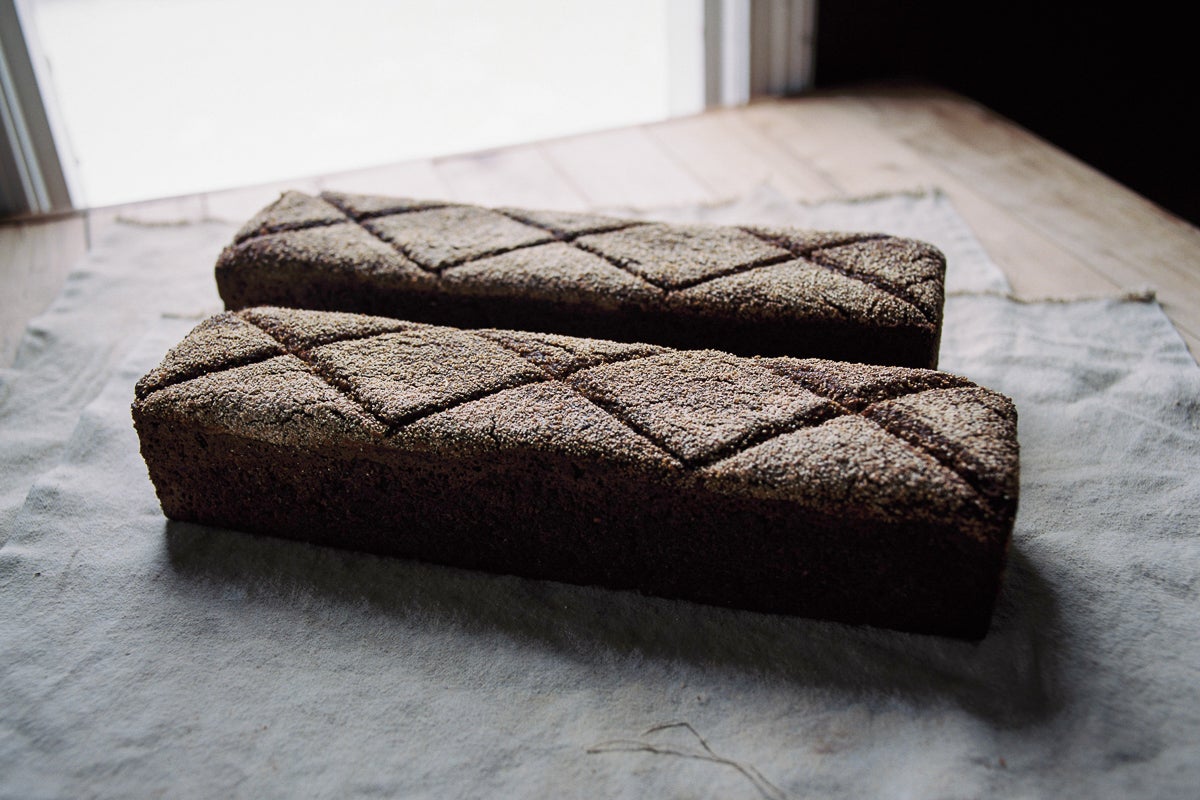 She also makes a Baltic rye, which contains rye flour and sprouted rye, along with malted barley, stout beer, coffee, and blackstrap molasses, all of which give it a dark chocolate color and a punchy, robust flavor. But it's also something of a "meta" rye bread, in that another of its key ingredients is a "soaker" made from a slow-baked pumpernickel bread. Bread soakers are often used to recycle old bread into new loaves, but here it's done using freshly-baked bread, in order to better capture their character. (Read more about how to use them in our blog post on switching up your bread baking.)
Making the soaker involves breaking the pumpernickel bread into pieces, boiling them in water, and pureeing everything to form a thick, chocolate pudding-like paste, that — once cooled — is mixed into the Baltic rye dough. It's an arduous, messy process, but worth every minute. 
As Hanney describes it, the Baltic rye (and its pumpernickel progenitor) has an "unbelievable flavor — dense, dark, sweet, sour, malty, intense."  Or to put it more simply: "Magic."
Loaves and beyond
Another of Night Moves' signature (and most popular) breads is a classic New England anadama bread, made with whole wheat flour, Abenaki flint cornmeal, and blackstrap molasses. The bread gets a ton of character from the flint corn, but lately Hanney — ever the experimenter — has started nixtamalizing whole flint corn to draw out flavor and nutrition (this is the same process used in Mexican cooking to transform dried corn into masa for use in tortillas and tamales) and milling the grain herself. (Stay tuned for a video on our YouTube channel next week of her recipe adapted for the home kitchen.)
In addition to these loaves, Hanney makes a variety of other styles of bread on a seasonal or upon-request basis, including roasted potato and herb, honey oatmeal and date, smoked potato and sweet onion, and a whole wheat sandwich bread flavored with Maine maple syrup. During my last visit, she was working on a cinnamon raisin bread flavored with maple syrup, orange, and vanilla.
Besides breads, she also makes delicious chocolate chip cookies sprinkled with sea salt, and a wide array of pies using local, seasonal ingredients like apple, strawberry, rhubarb, pumpkin, maple, and, of course, blueberry. (Maine is justly renowned for its tiny, intensely flavored wild blueberries.)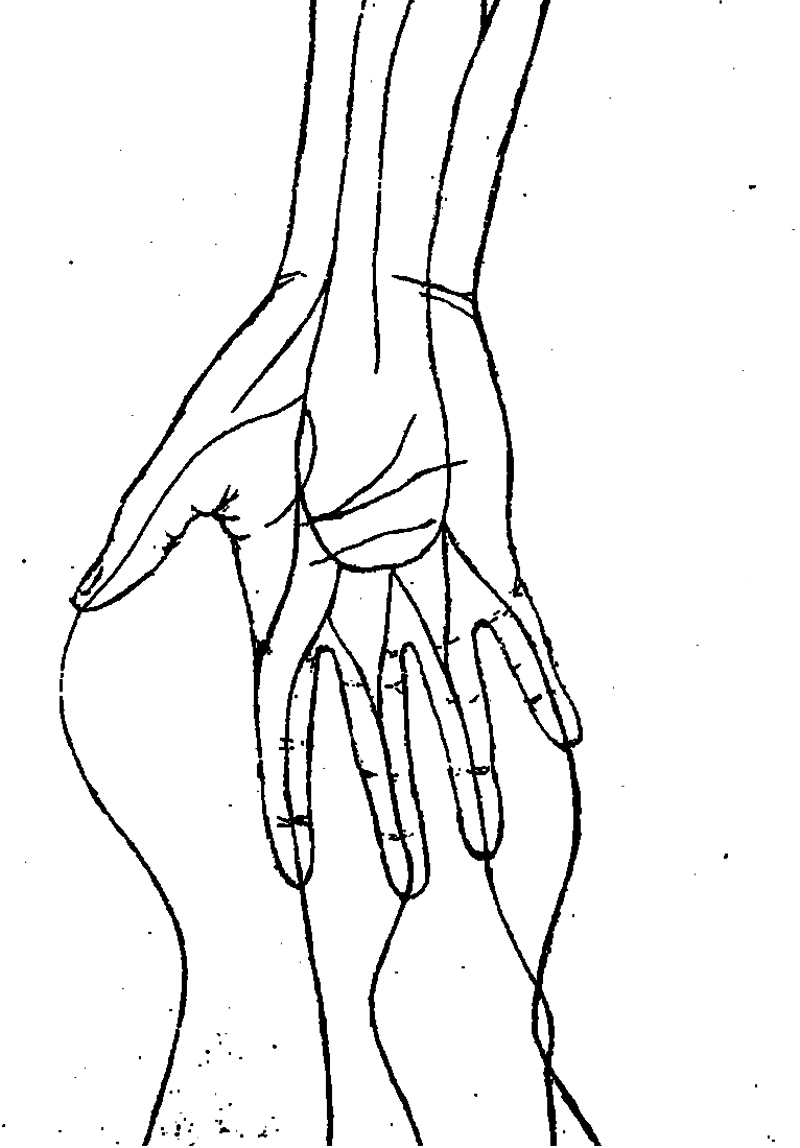 Big bread energy
Hanney told me the story behind Night Moves' striking logo, which depicts an x-ray-specs view of a hand with lines streaming out of each fingertip. "When I was a kid," she said, "I had this recurring daydream vision that red threads were constantly unspooling from my fingertips: standing, they would pile onto the floor; walking, they would float along, get caught in tree branches, loop around fences. I always had busy fingers, sensitive fingertips — the feeling of the threads shooting out seemed to calm some sort of itchy, nervous urge." It seemed fitting to incorporate her childhood vision into Night Moves' insignia. "At this point I think of the threads as energy — creative energy, spiritual energy, healing energy, connective energy, potential energy. Connecting with the bread calms the impulse, connects it with others."
Hanney studied printmaking and sculpture at college and took up drawing after graduation. Her artistic training and temperament is visible in the beauty of her breads (including the loaf I spotted on my Instagram feed) and the creativity of her recipes. (She's recently been playing around with scoring her loaves with snaking curves inspired by the patterns left behind as the tide recedes on one of her favorite local beaches.)
"I've always been attracted to linear shapes and natural materials," she says. "At this point my bread is my art practice: sculpture, engineering, biology, performance art, drawing, spirituality. All of those elements I explored individually in my 20s have found a way to fuse into my daily work now.  I enjoy the ways that lessons from art mentors continue inform my day-to-day work and understanding of the business as a creative practice: 'Practice makes practice makes practice'; 'Stay loose'; 'Don't create and analyze at the same time.'"
It's clear those were lessons well-learned.
Eager to dive into artisan bread yourself? Read more in our Artisan Bread Series.
Jump to Comments