Pane Bianco is our original Bakealong recipe, having debuted in August 2016. Now this savory swirled yeast bread is making an encore.
Over the past 24 months the questions you've asked about our Bakealong recipes — as well as ingredient additions you've suggested and proposed preparation shortcuts — haven't gone unheard; collaboration is at the heart of every great recipe.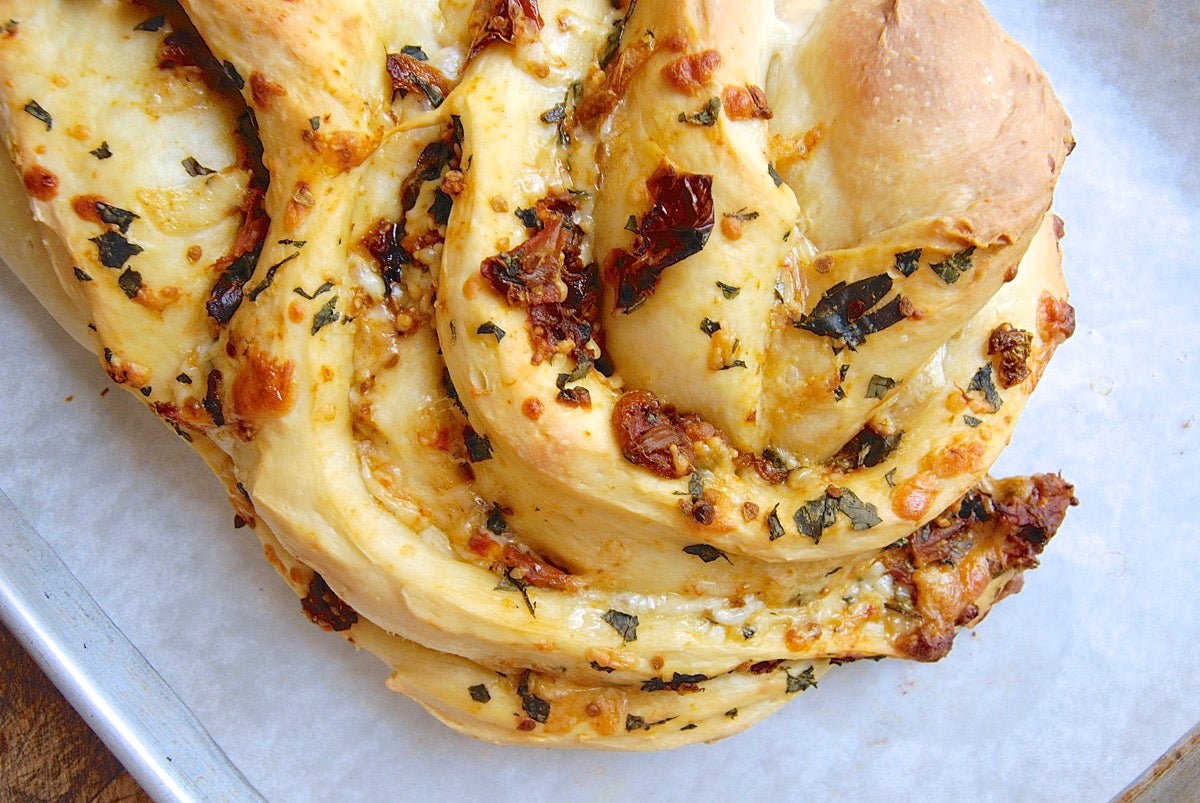 And this month's recipe is no exception: as we bring back Pane Bianco, we're showcasing some of the many suggestions you've offered (and questions you've posed) around it.
Let's start with the dough.
Looking for a softer Pane Bianco?
A few of you commented on the texture of both dough and bread—
"My dough was a bit tough – suggestions?" — Katy Rush
"The bread tasted stale (dry and not chewy) right out of the oven…" — Chloe
Bread made from low-hydration (less water) dough, like Pane Bianco, can sometimes tip over into tough and dry.
But we have a solution: tangzhong, a yeast dough technique we've posted about in the recent past. (For the basics, read our Introduction to tangzhong; and for some key followup information, How to convert a bread recipe to tangzhong.)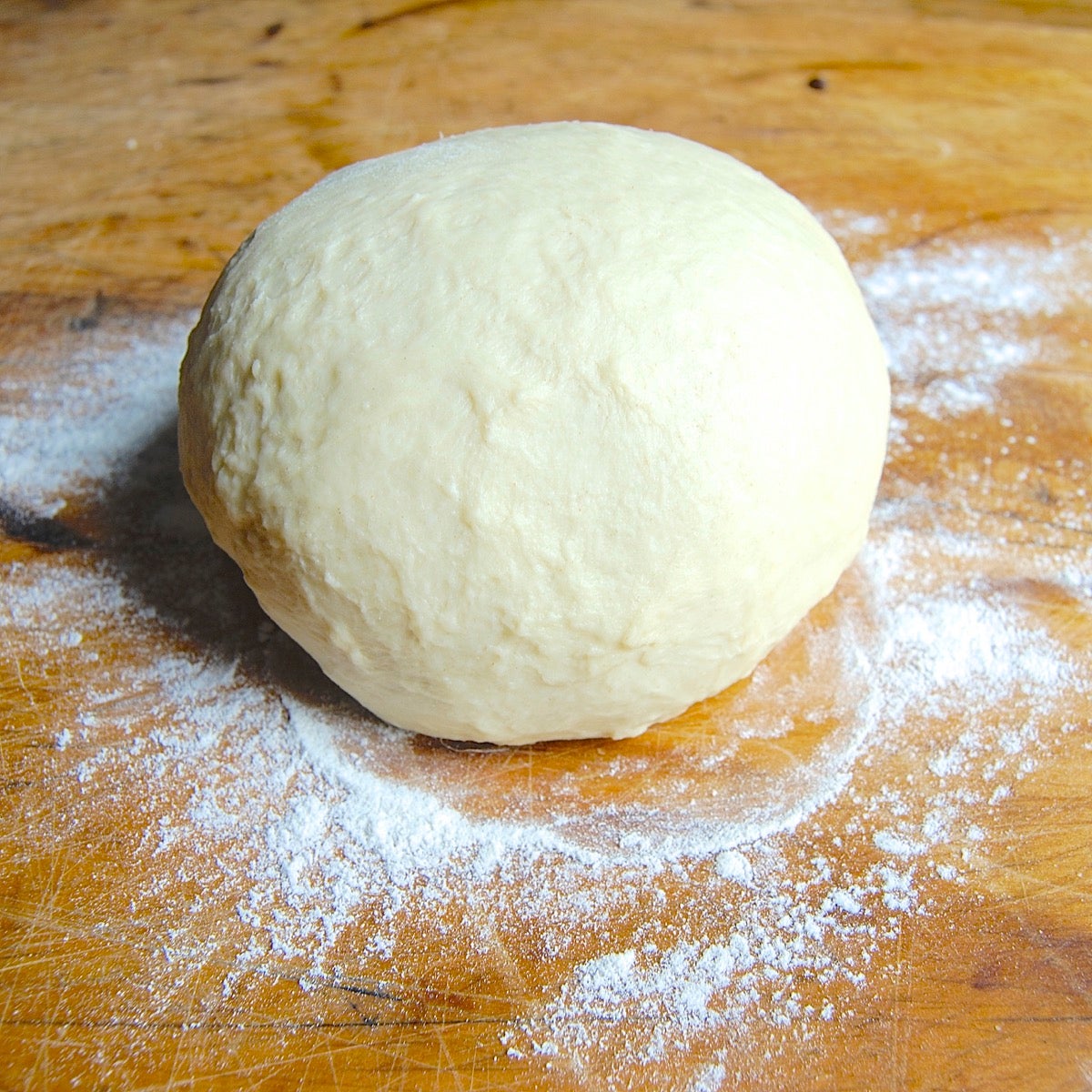 It's simple to turn stiff, low-hydration Pane Bianco dough into a higher-hydration dough (pictured above); one that yields a softer, moister loaf with better shelf life. All you need to do is cook 3 tablespoons of the flour and the milk in the recipe into a slurry, then add it to the remaining ingredients; you'll find all the details in the baker's tips at the bottom of the recipe.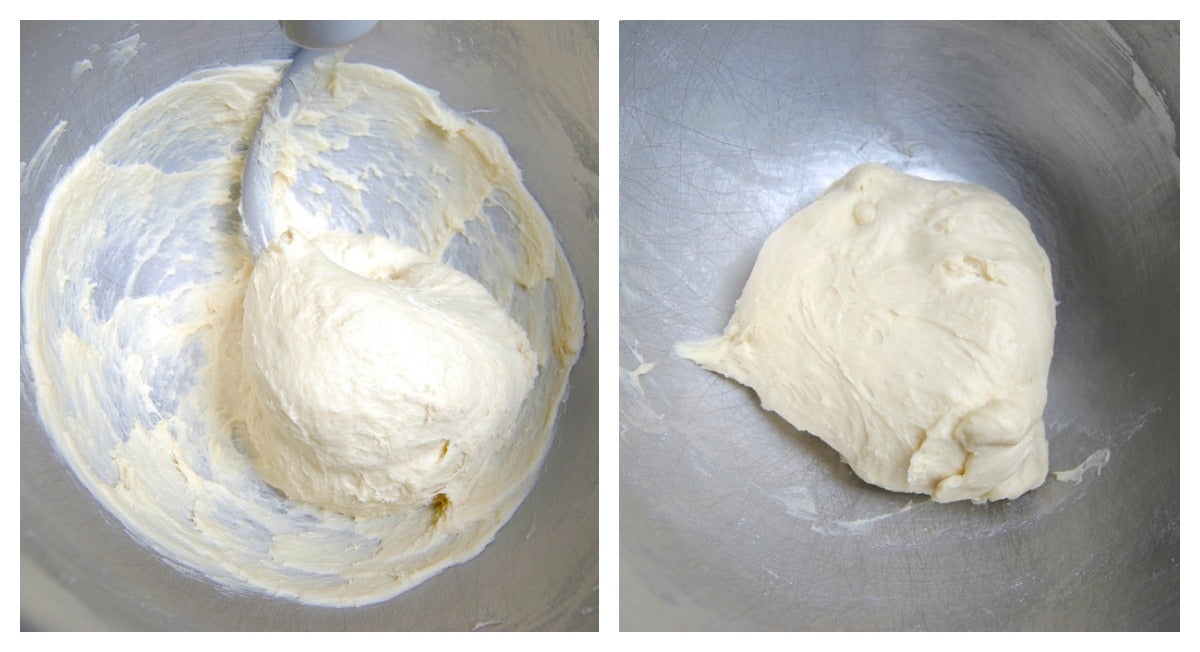 When you use the tangzhong technique your dough will be quite soft, probably sticking to the sides of the mixer bowl. Just scrape it together and proceed with the recipe.
You'll find your loaf is softer and more tender than the original lower-hydration version.
Prep one day, bake the next
Another hot topic out there is how to make yeast bread or rolls ahead of time, then bake them the next day:
"Hi, what do you think about making it the day before you need it, and putting it in the fridge for the 2nd rise? Then baking it the next day?" — Carole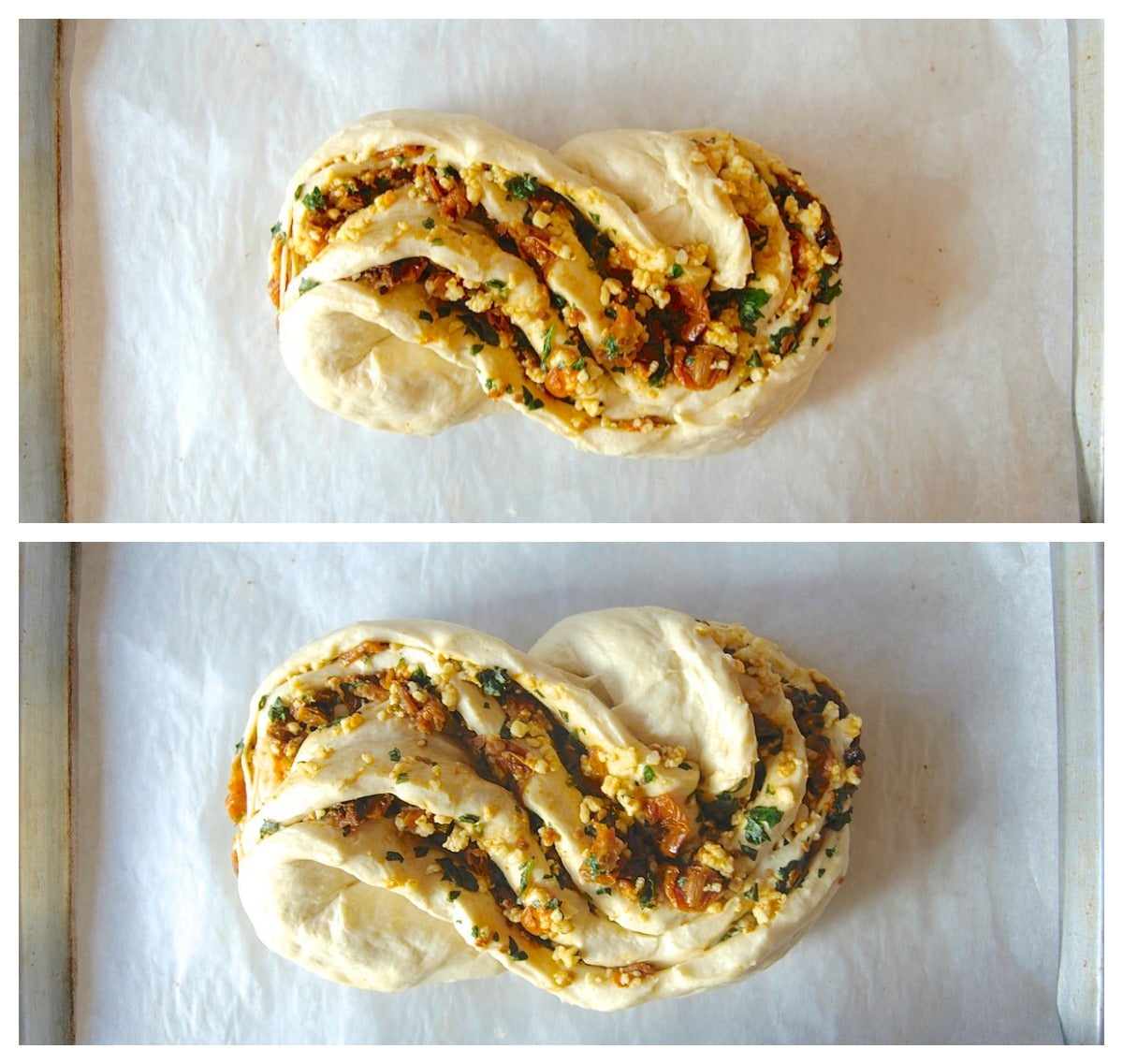 Carole, you can absolutely do that. Let the shaped dough rise at room temperature until it's about three-quarters of the way to doubled, as shown above.
Tent the loaf with greased plastic wrap and refrigerate overnight.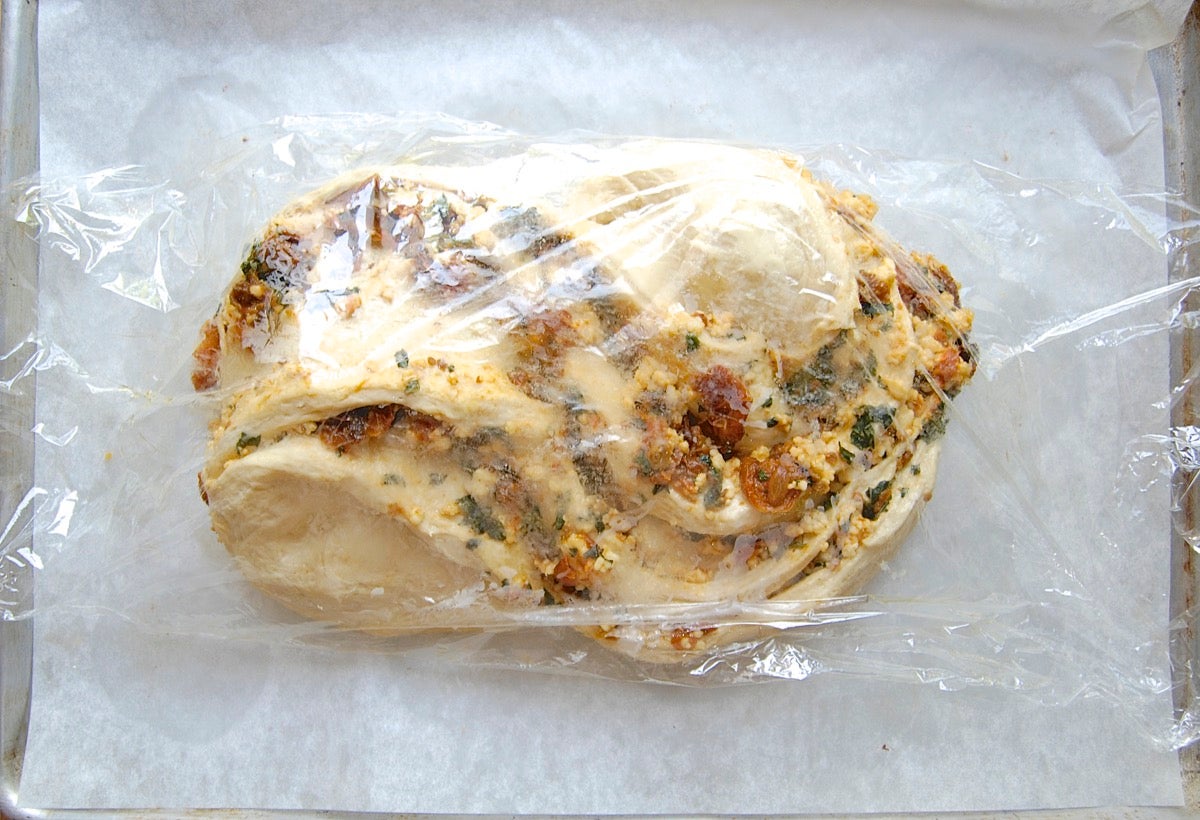 Next day, remove the loaf from the refrigerator and let it rest at room temperature while you preheat your oven, about 20 to 30 minutes.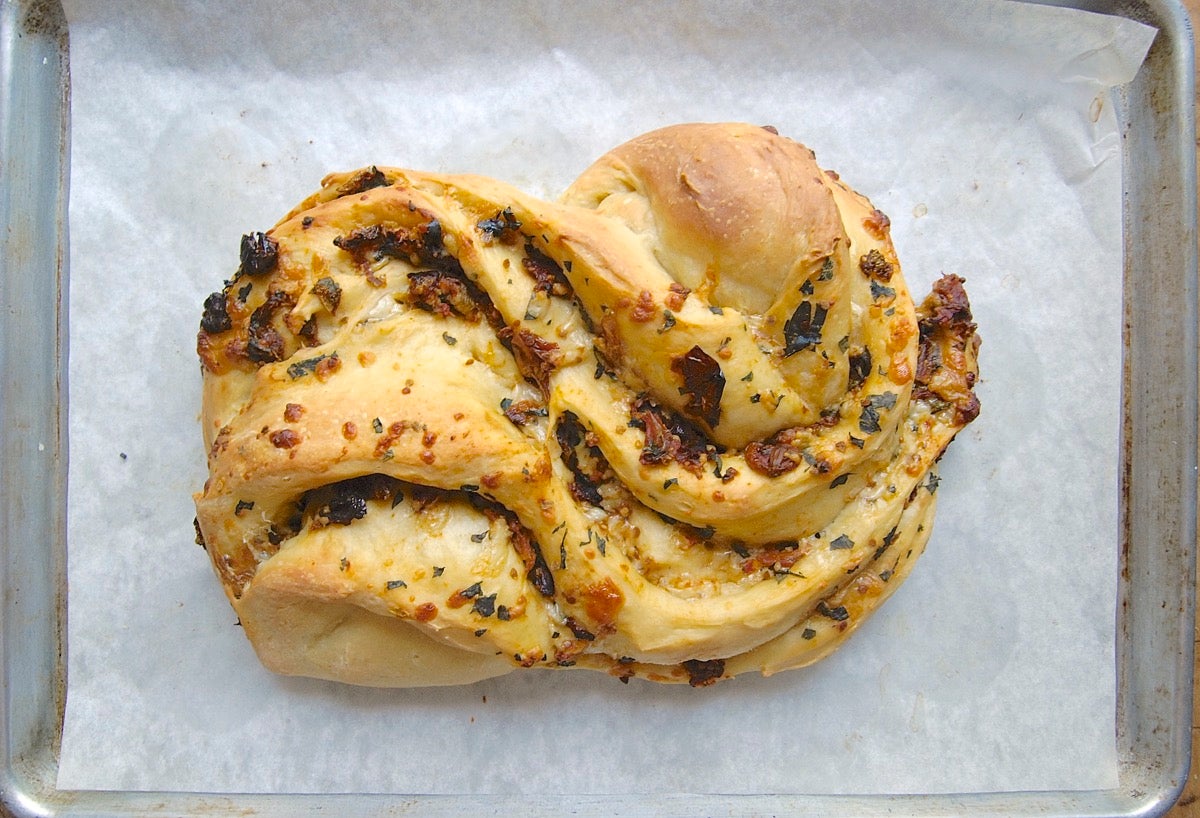 Bake as directed; you may need to add a couple of minutes to the baking time to account for the chilled dough.
Dividing to multiply: Mini Pane Bianco loaves
Aside from being delicious, Pane Bianco is simply a gorgeous bread, one you're eager to share. The original recipe makes one very large loaf; can it be divided into smaller loaves?
"Do you have any thoughts on how to make this into personal-sized rolls, even if they are larger than average rolls? I'm intrigued with the idea of making this, but when I first saw the picture they looked like they might be rolls, not a whole loaf of bread, and that seemed like a really neat idea." – Amy
"I finally got around to making this yesterday and it was a hit. Just beautiful. Very impressive. My family thought it was so clever to have done it. It was really big, however, and I think next time I will make two smaller ones. Has anyone tried that?" – Beth
Well, let's see what happens when we divide to conquer.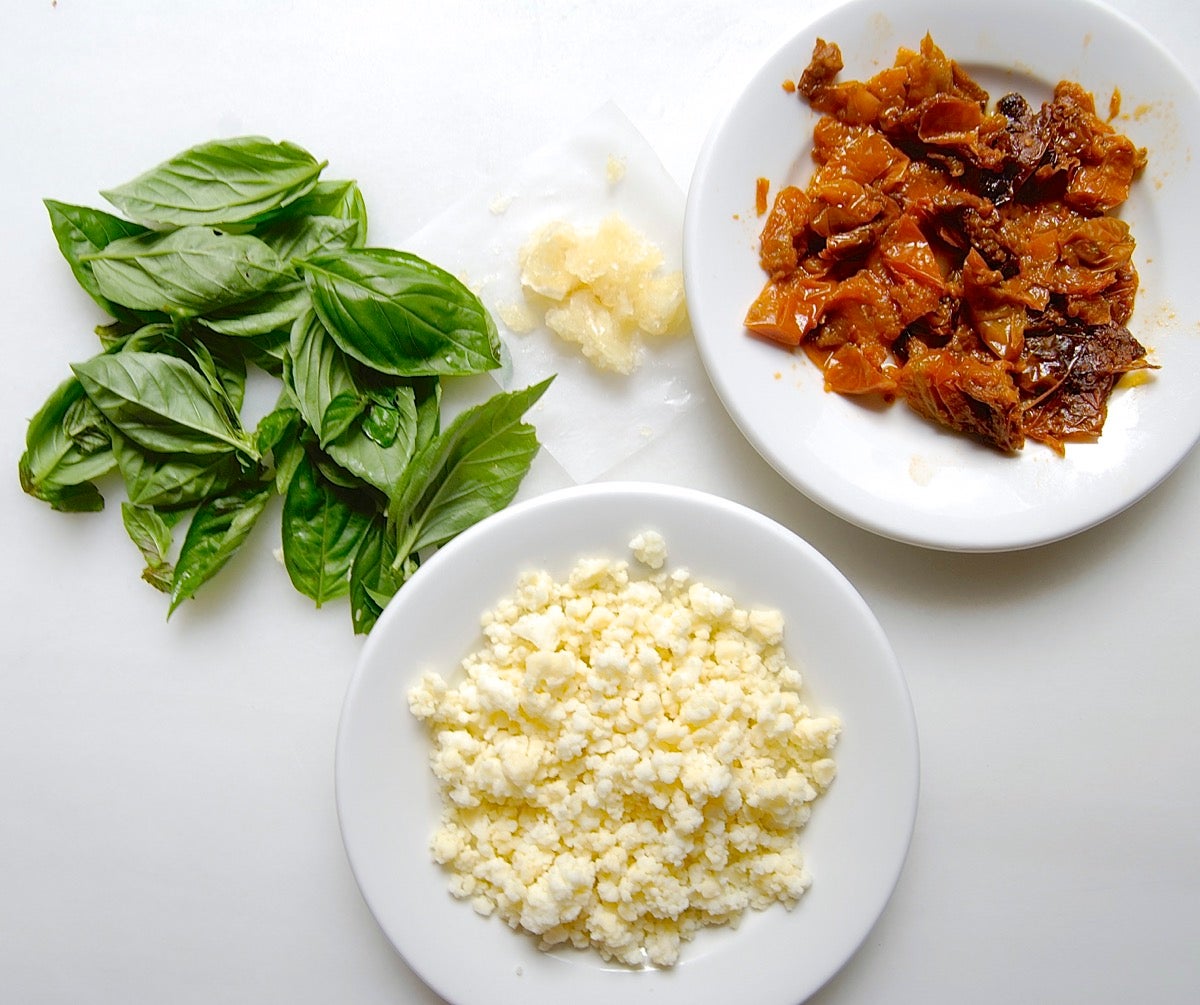 First, gather your filling ingredients: fresh basil, minced garlic, grated or shredded cheese (I'm using cheddar), and sun-dried or oven-roasted tomatoes.
I know from the get-go that the shaping technique for this bread will be more difficult when done in smaller proportions. One thing that will help is making sure the filling isn't too chunky.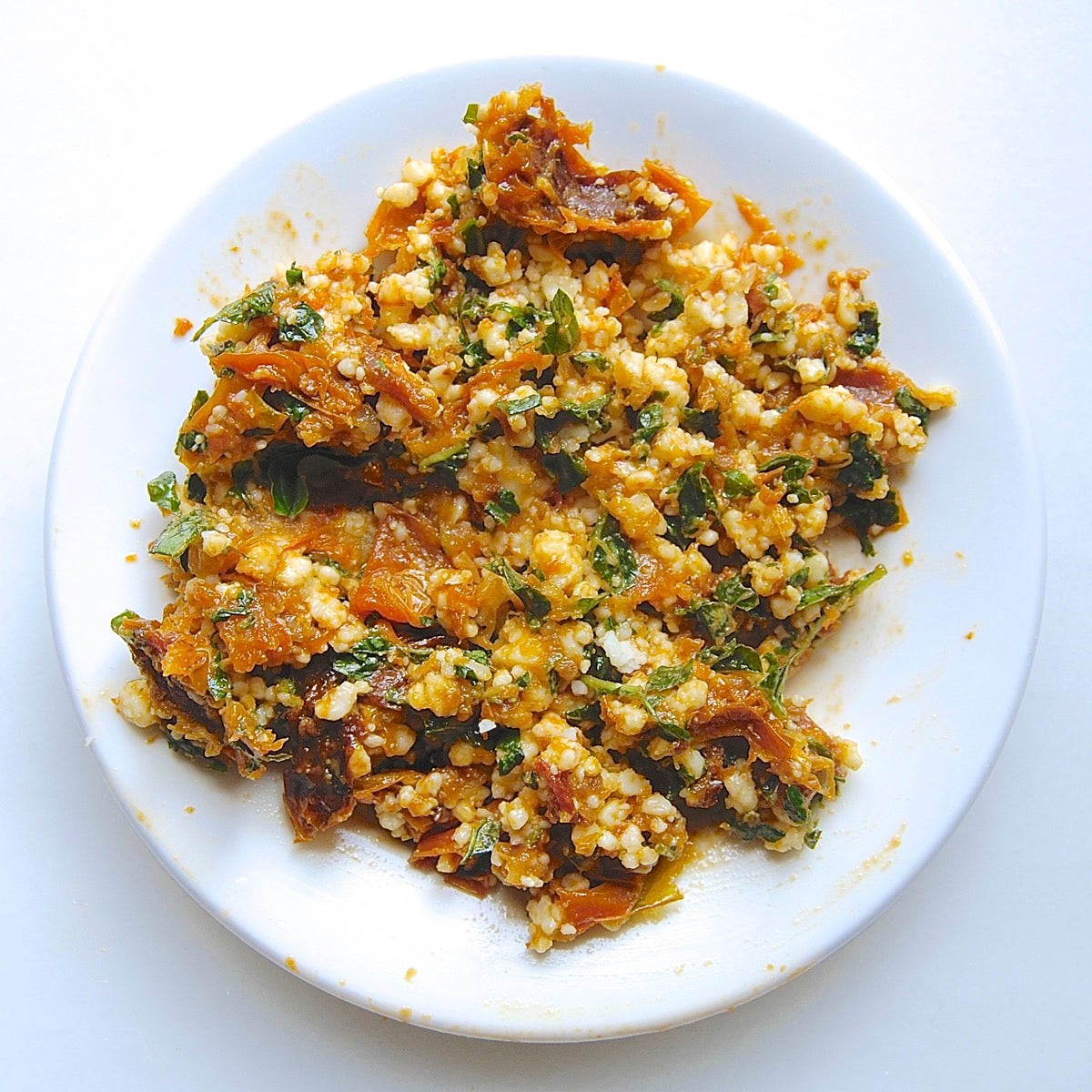 So I snip the basil into small pieces and gently mash the tomatoes, then stir everything together.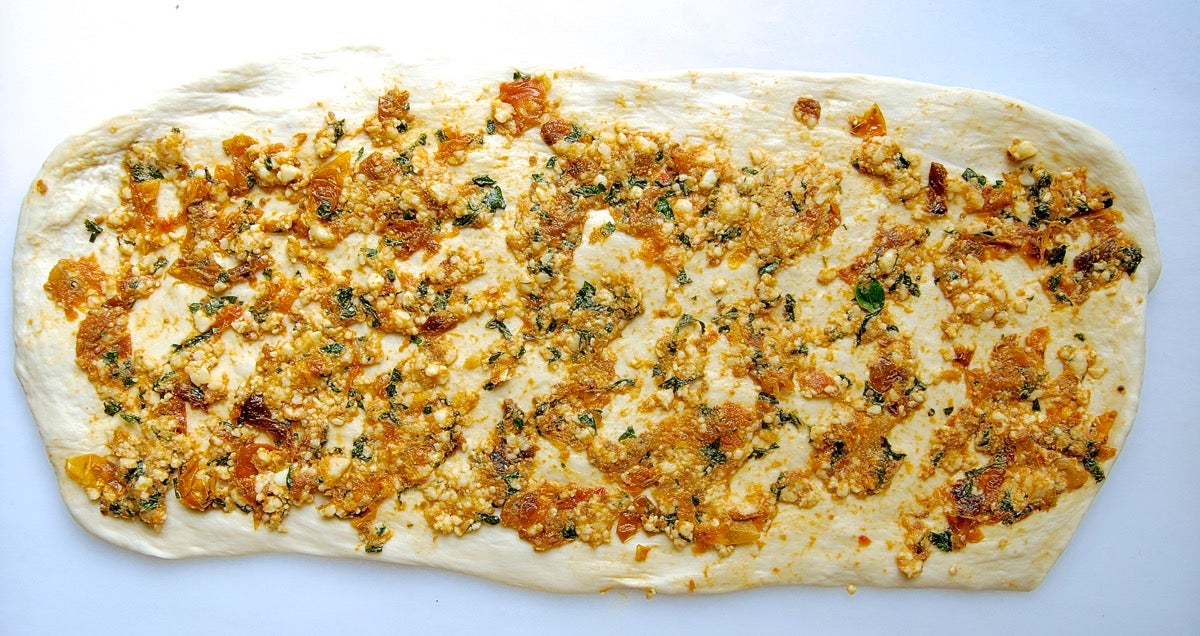 Following the original recipe, I roll the dough into a 22" x 8 1/2" rectangle, then top it with the filling.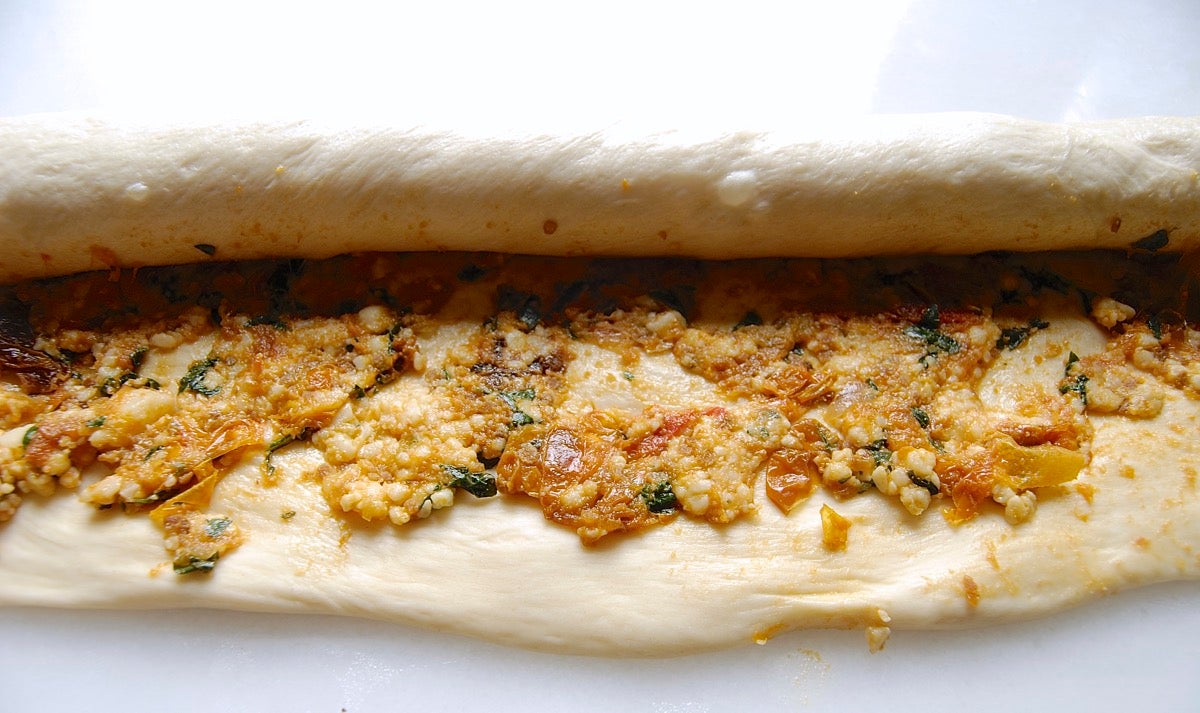 I roll the dough up the long way, being careful not to lose any of the filling.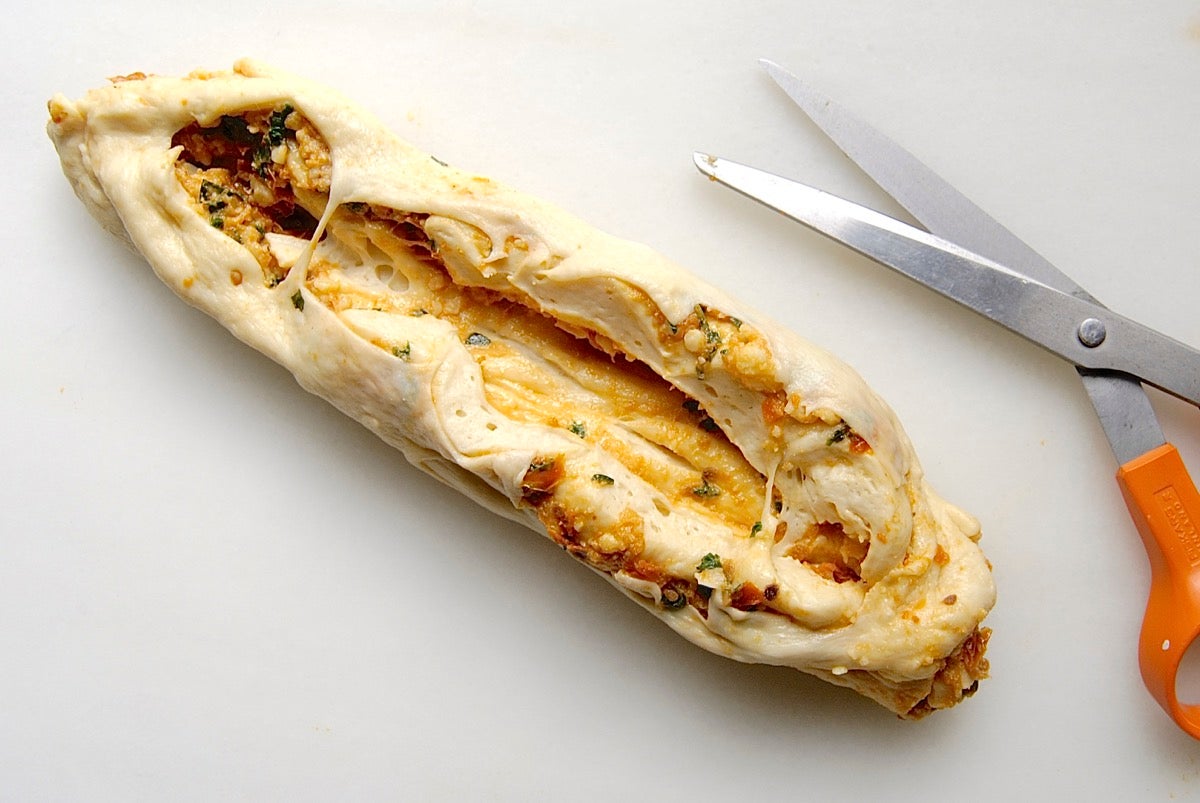 Four loaves or two?
First I'm going to try to make four loaves. So I cut the 22" log into four equal pieces, and gently roll each log to a length of 10": which is much easier said than done. The filling, despite my best efforts, keeps squirting out one end or the other.
Eventually, I get the logs lengthened. I use a pair of scissors to snip them open at the top, as directed in the recipe.
Next comes shaping each one into an "S" and tucking the ends underneath.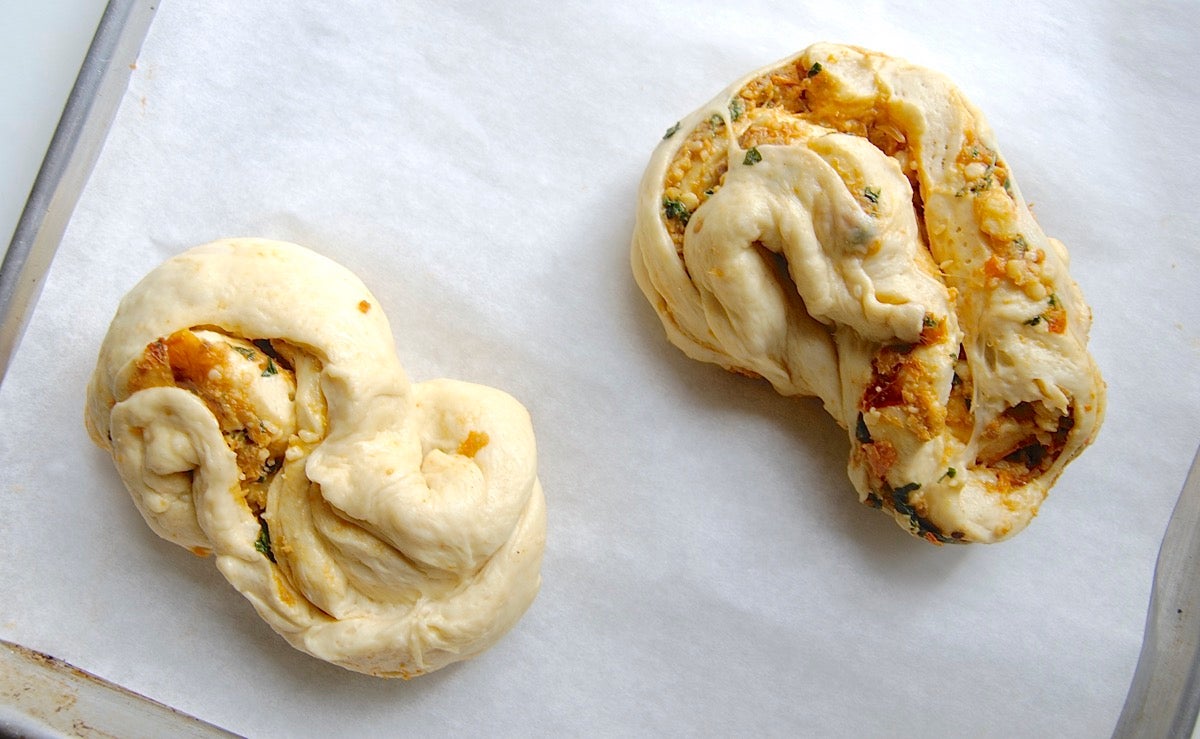 Not a pretty sight; the logs simply aren't long enough. And the more I try to gently stretch them, the more filling spills out.
I manage to finally plop the four loaves onto a pan in a semblance of their proper shape.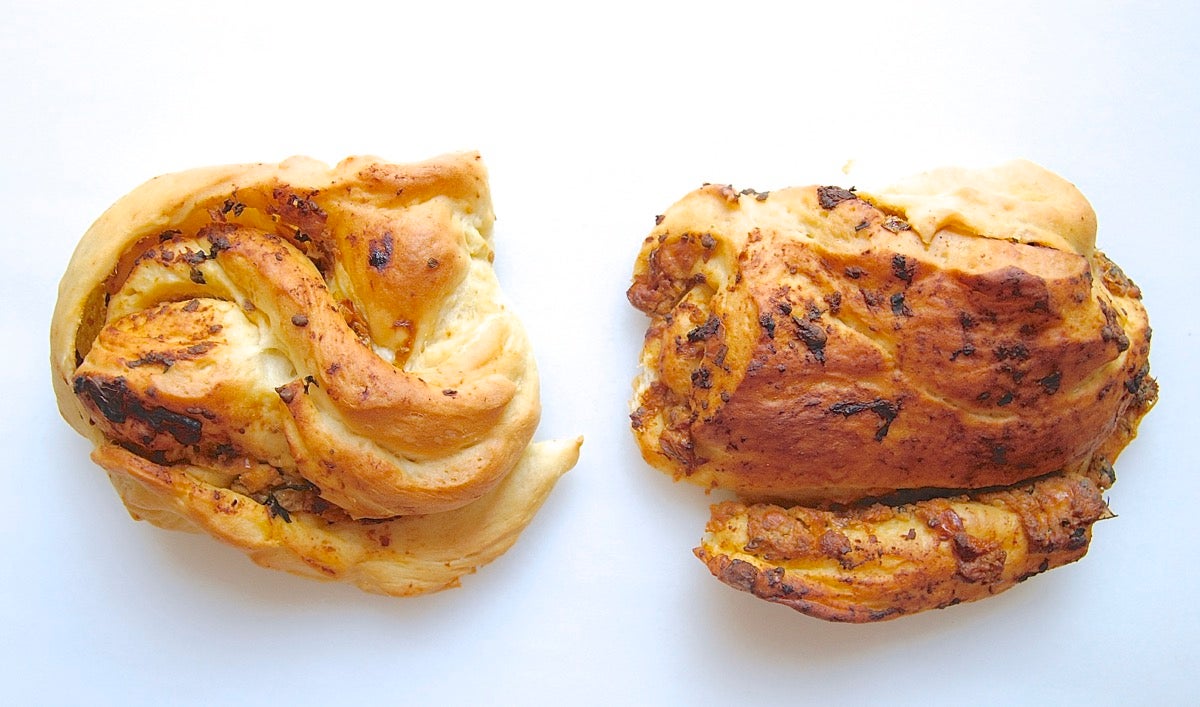 But after rising and baking, even that semblance pretty much disappears.
Unless you have more patience and skill than I do, I don't suggest making four loaves from one batch of Pane Bianco dough.
How about two loaves?
I start out the same way, but instead cut the 22" log in half instead of in quarters. I lengthen each half into an 18" log.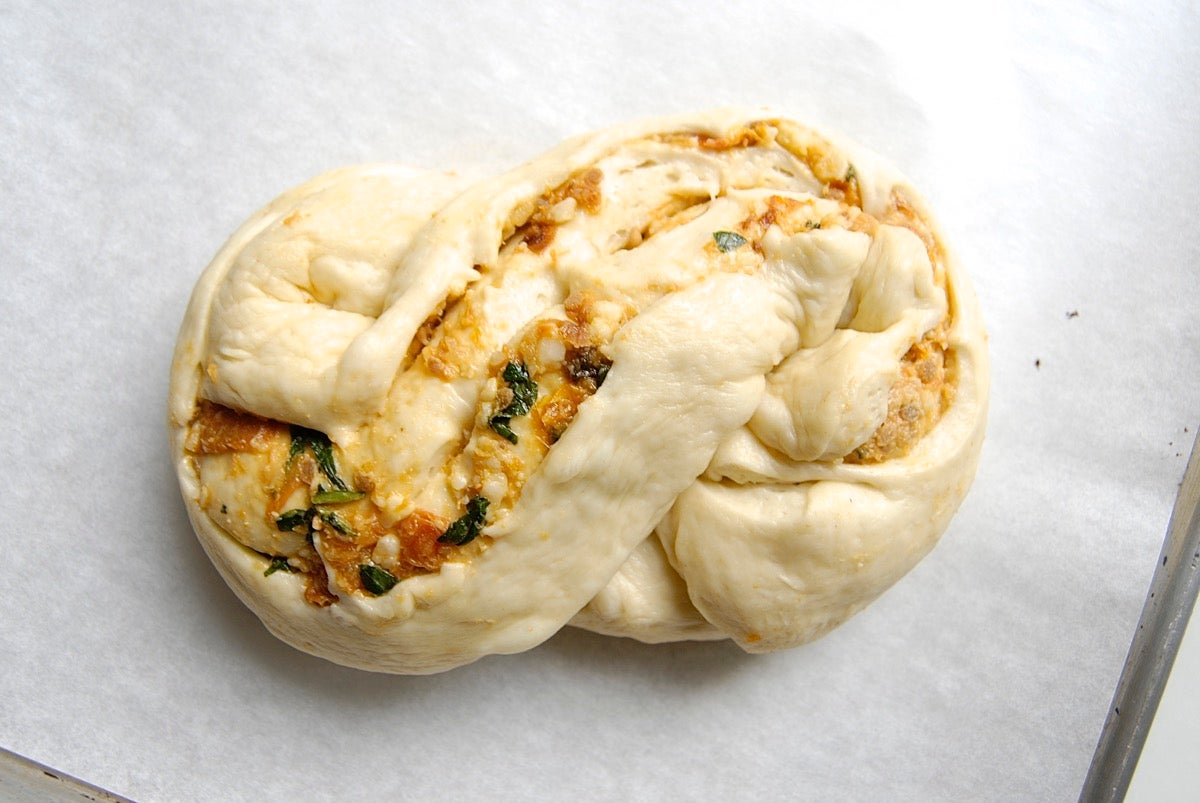 Much better. Here's one of the logs shaped and ready to rise...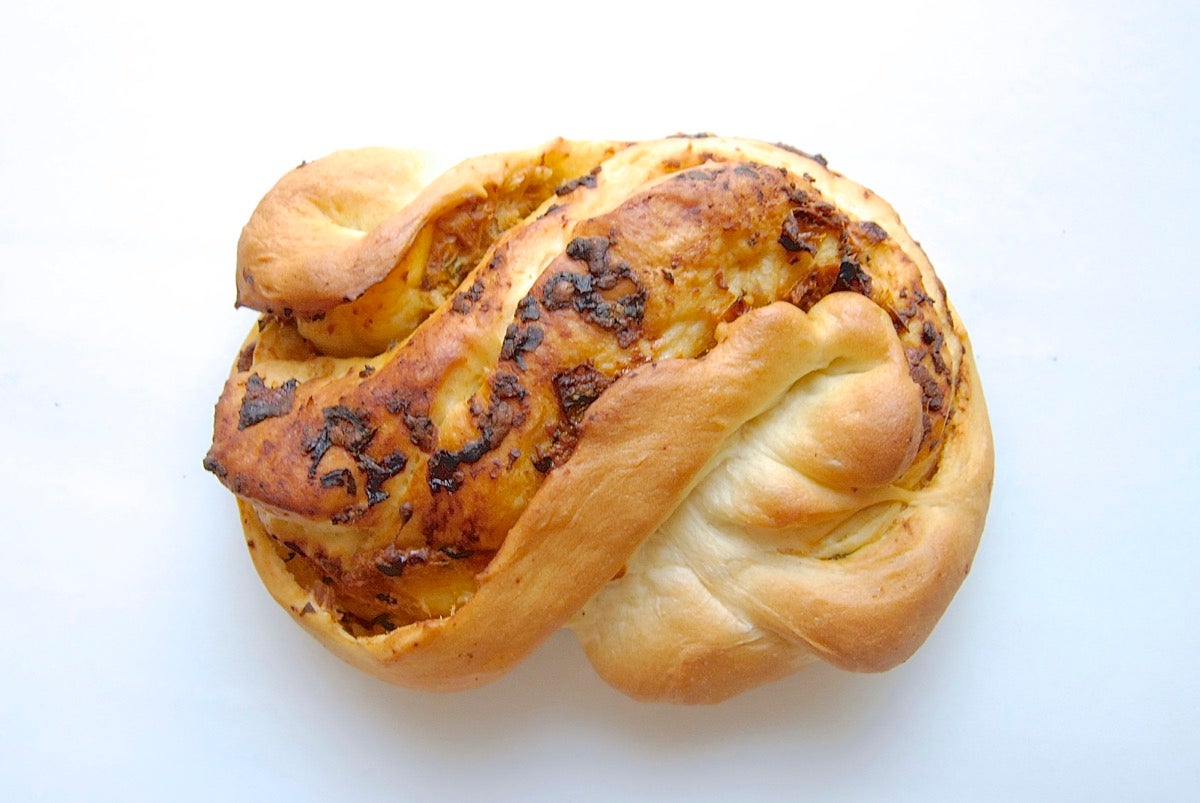 ...and here it is baked. Unlike with smaller loaves, the pretty swirl is still apparent.
So yes, you can make two 7 1/2" to 8" mini loaves from the Pane Bianco recipe.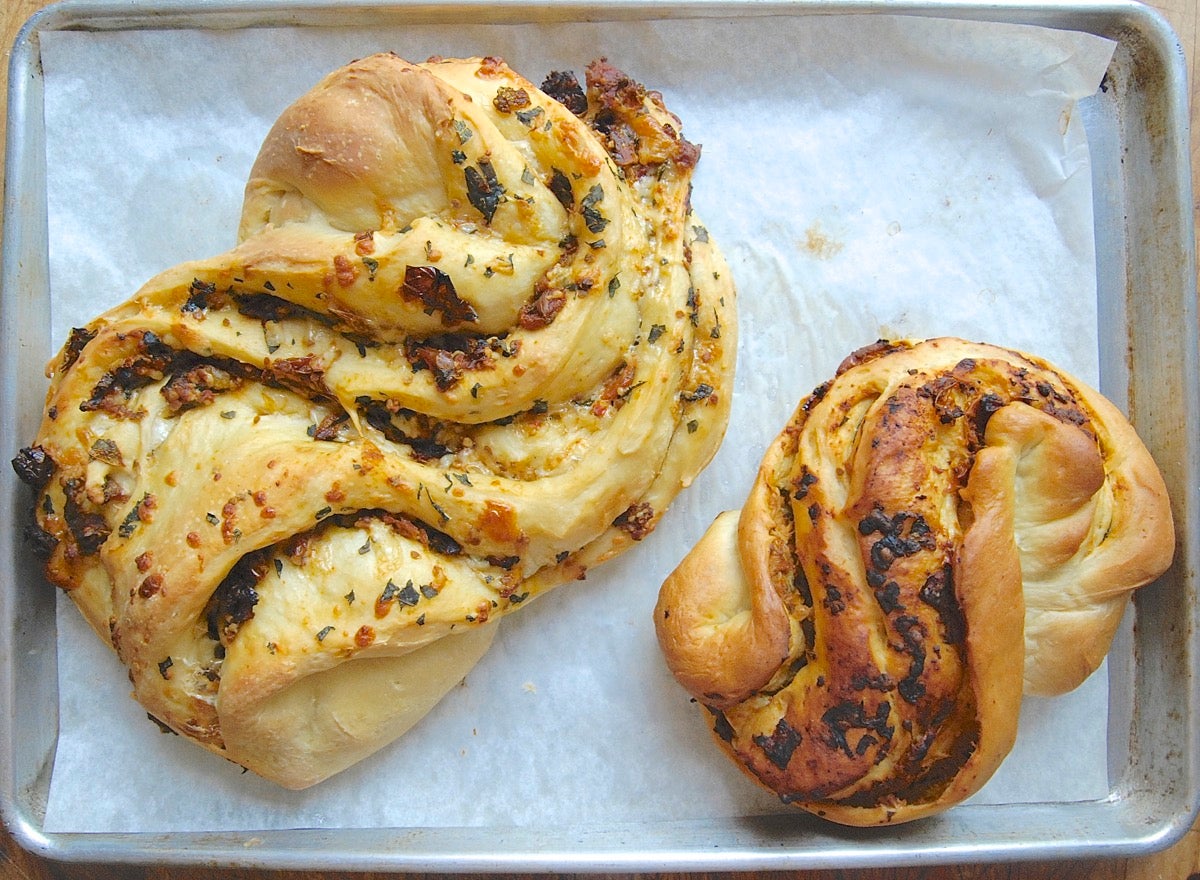 You'll bake the smaller loaves for 30 to 35 minutes, rather than the original 35 to 40 minutes. Other than that, simply follow the directions as written.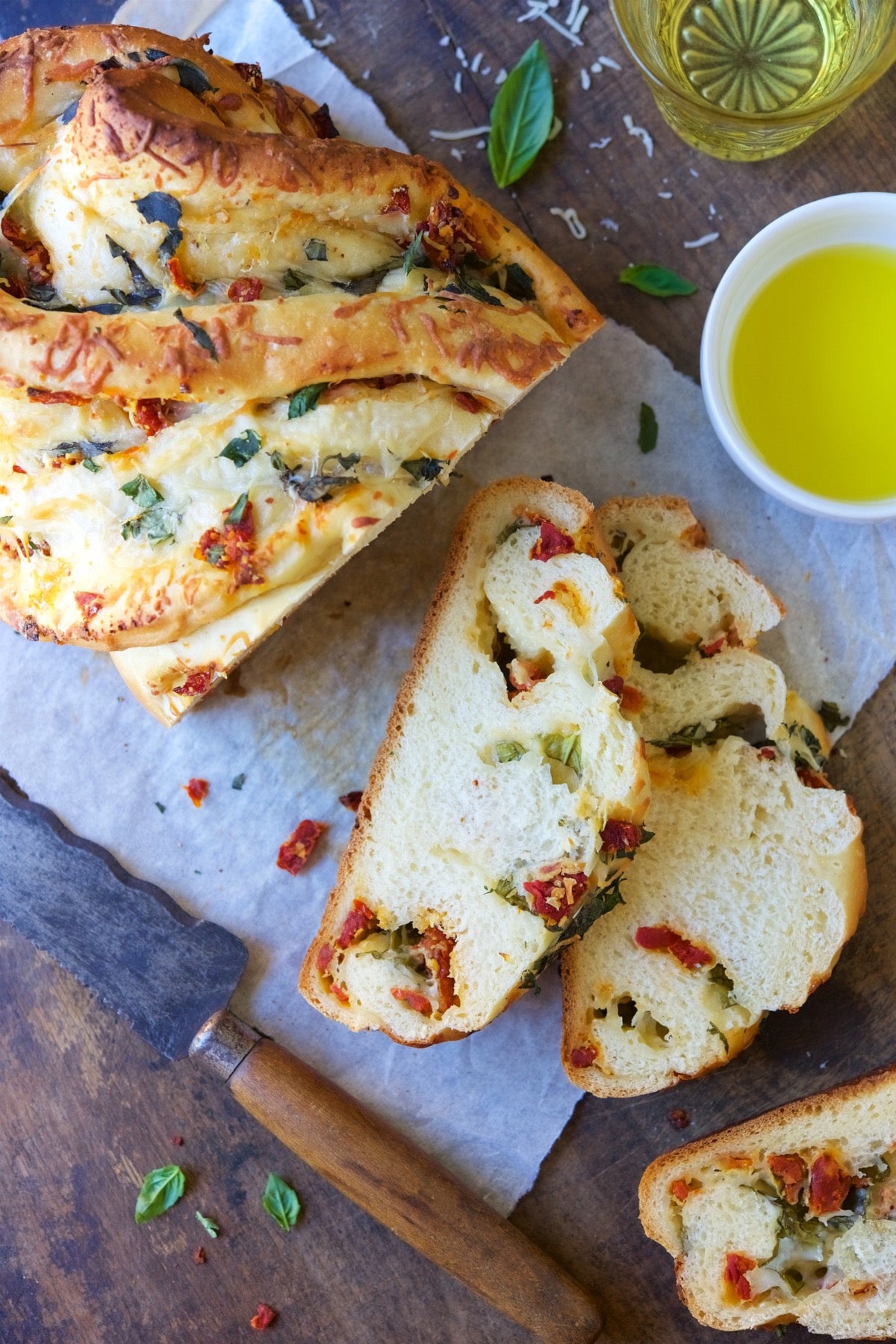 No matter how you slice it, Pane Bianco remains a Bakealong favorite. If you haven't yet made it — now's your chance. And if it's become a regular in your repertoire, use these tips and techniques to take it to the next level.
What's your favorite Bakealong recipe — any particular standouts? Please comment below.
Interested in more? See our complete collection of Bakealong recipes.
Jump to Comments