OK, let me start right out by saying, I don't bake many cakes. Cake pan cake? Nailed it years ago. Hot milk cake? Slam-dunk. But both of these are ultra-simple, stir-up-the-batter-and-pour-it-into-the-pan type cakes. Maybe melt some chocolate chips or caramel to spread on top in lieu of frosting, because I don't do buttercream. To me, fancy icing is two-ingredient ganache. (I do have a piping bag... somewhere.)
So when I read the recipe for this month's Chocolate Mousse Cake with Raspberries Bakealong challenge, my heart fluttered. FOUR layers? Not just cake and frosting, but filling, too — and garnishes? Wait; isn't there someone better suited to write this particular blog post — maybe Martha Stewart?
But after those first moments of panic, I calmed down enough to REALLY read the recipe. Yes, it's long and multifaceted. But honestly, each one of the steps is pretty simple. There's no tricky creaming of butter and sugar; no fancy frosting requiring either homemade sugar syrup or egg whites. The toughest technique you'll face here is using an electric mixer (stand, or hand) — so if you've mastered that tool, you're good to go.
And truth be told, I actually learned a few things as I made this cake. Like how to do a crumb coat. That it makes a difference whether you halve raspberries around their circumference or longitudinally. What a naked cake is. (It's a layer cake that's either not frosted, or frosted so thinly that the cake shows through the frosting. I'd call this particular cake semi-naked: fully clothed, but barely.)
And finally, where that elusive piping bag was hiding (in the back of my desk drawer with some stray dog treats).
If you're a veteran cake baker, you'll love this striking four-layer cake for its easy accessibility; you'll probably be able to put it together with one hand tied behind your back (until it comes time to fill the piping bag).
For you neophyte or marginally skilled cake bakers (like me), you'll find this a huge confidence-builder. "I made that gorgeous cake? ME?!" Go ahead, pat yourself on the back and preen in the glow of your family's or co-workers' admiration. Then dig in, and discover the biggest plus of all —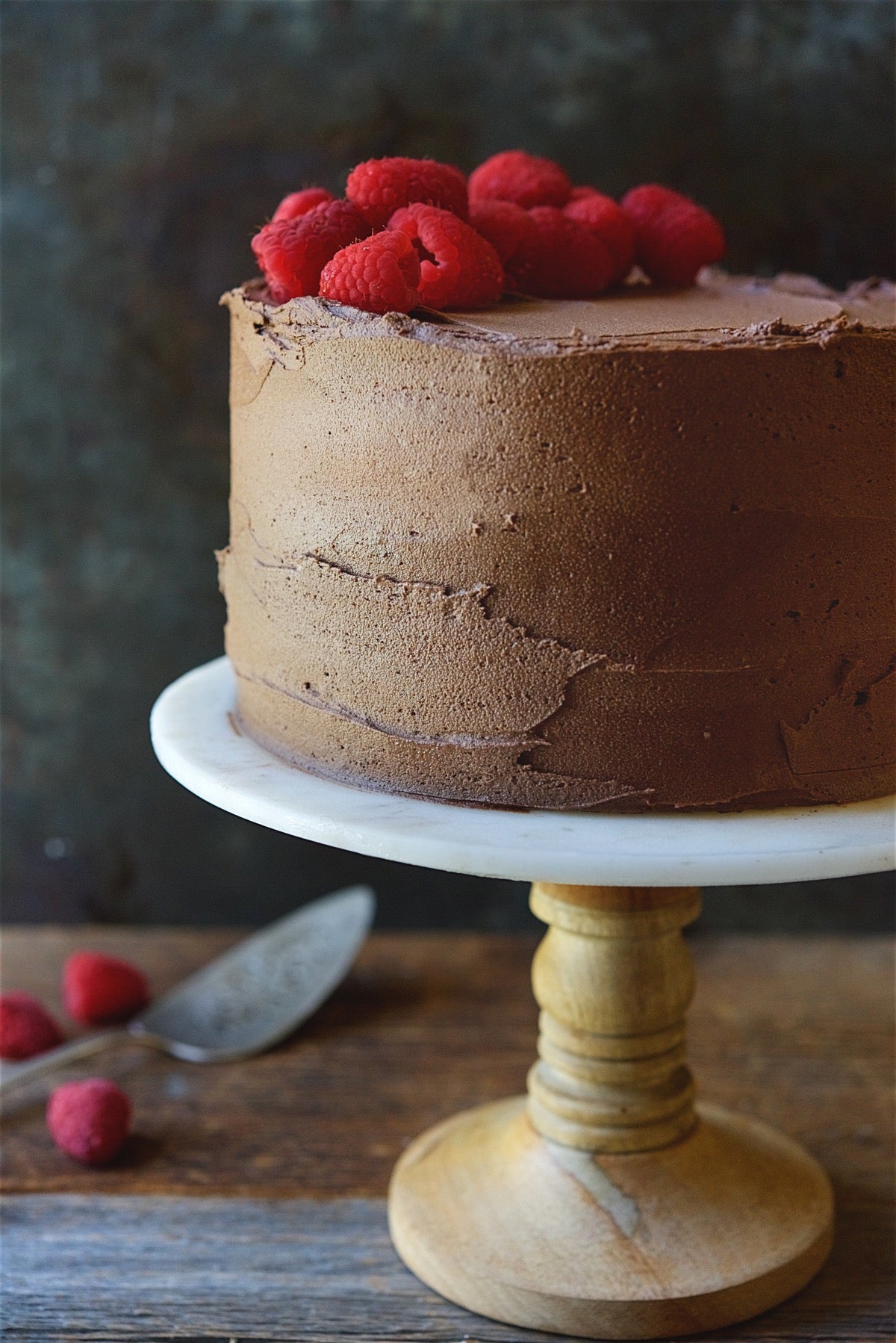 Chocolate Mousse Cake with Raspberries is utterly delicious. The cake itself is moist and deeply chocolate; the filling, dense and rich. And the frosting — well, it reminds me of bakery frosting in the nicest way: pleasing mouthfeel, excellent flavor, and just enough of it to complement without overwhelming.
But wait, there's more: fresh raspberries in every sumptuous bite. What's not to love?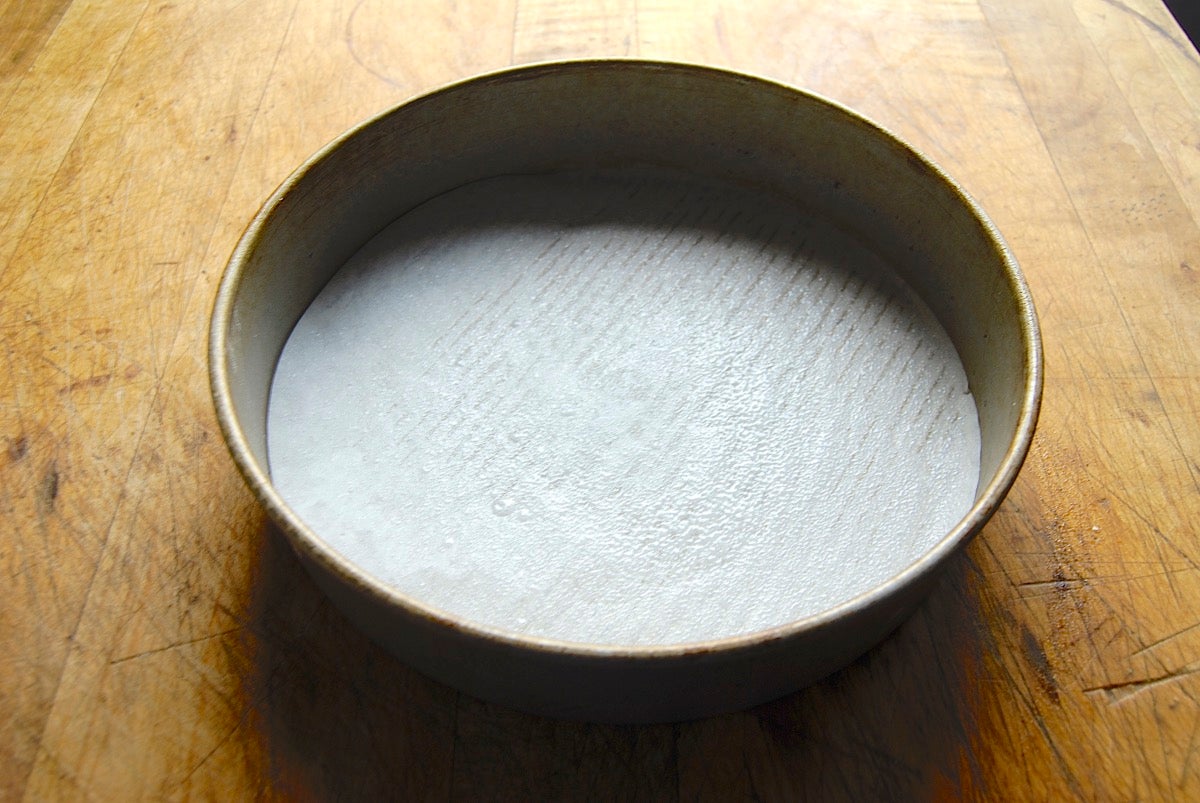 Preheat the oven to 325°F.
Grease two 8" round pans at least 2" deep (and preferably 3" deep); OR four 8" round pans at least 1 1/2" deep; OR three 9" round pans. If you have parchment rounds, line the pans with parchment, and grease the parchment.
Note: If your pan assortment doesn't include any of these particular combinations, you can bake the cake batter in batches; the unbaked batter won't suffer while awaiting its turn in the oven.
Prepare the cake batter
Place the following ingredients in a large mixing bowl, sifting if needed to remove clumps; or combine thoroughly using a stand mixer equipped with the whisk or beater attachment:
1 3/4 cups (210g) King Arthur Unbleached All-Purpose Flour or Gluten-Free Measure for Measure Flour*
2 teaspoons baking soda
1 teaspoon baking powder
1 teaspoon salt
2 cups (397g) granulated sugar
1 cup (85g) unsweetened cocoa powder, natural or Dutch-process cocoa
*This recipe becomes gluten-free simply by substituting our Measure for Measure flour for all-purpose flour.
Once you've added the dry ingredients, combine the following in a medium bowl or large measuring cup:
1 cup (227g) boiling water*
1/2 cup (99g) vegetable oil
1 cup (227g) buttermilk or yogurt (Greek or regular; nonfat, low fat, or full fat)
2 teaspoons vanilla extract
*Substitute 1 cup hot brewed coffee for the water, if desired; this will enhance the cake's chocolate flavor without adding any coffee flavor of its own. Alternatively, add 1 1/2 teaspoons espresso powder to the batter along with the other dry ingredients.
Once you've brought the water to a boil, combine it with the remaining ingredients. Add these liquid ingredients to the dry ingredients and beat at medium speed for 30 seconds to 1 minute, until the batter is smooth.
Scrape the sides and bottom of the mixing bowl, then beat in 3 large eggs one at a time.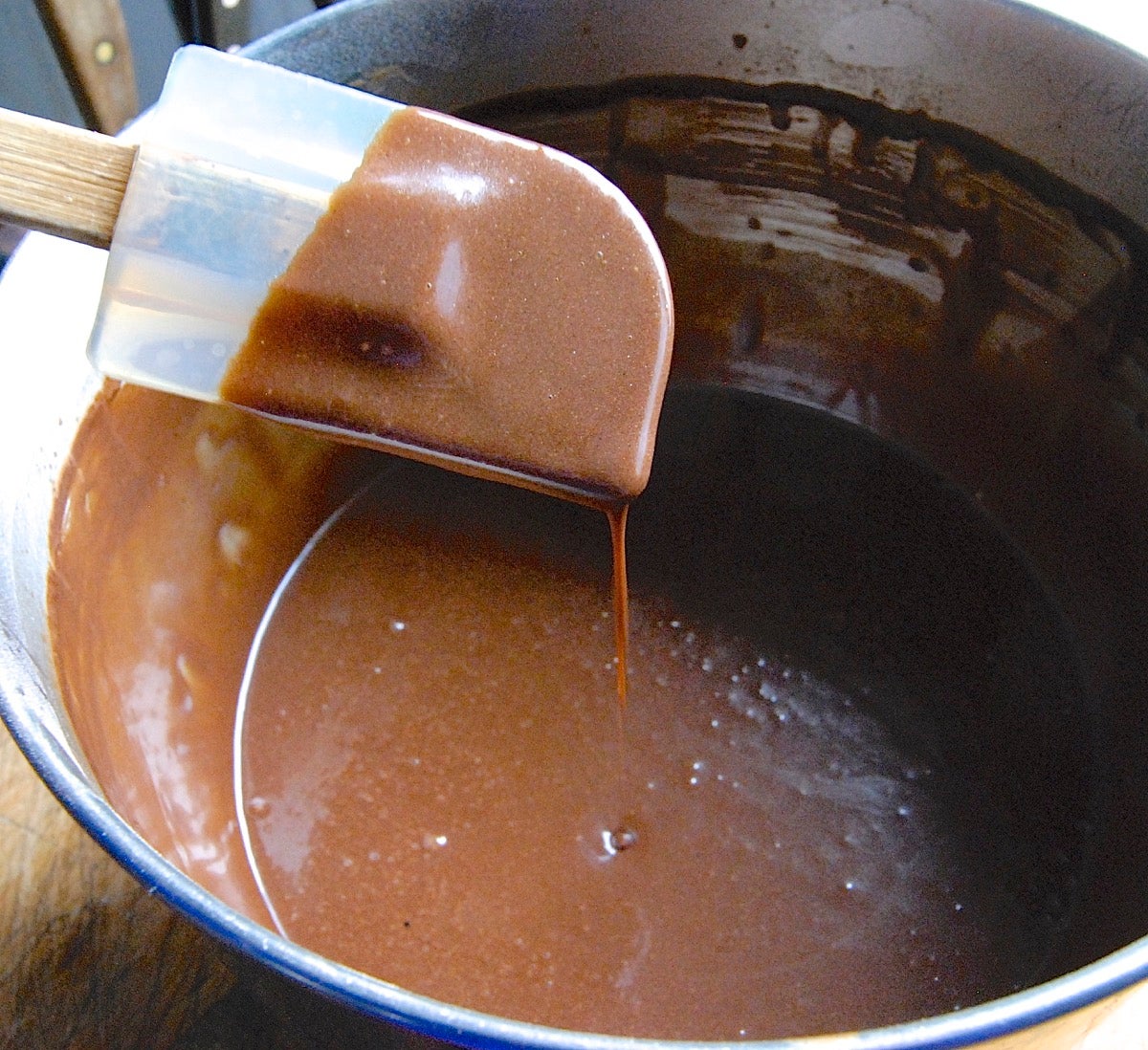 Mix on medium speed for another minute, or until smooth. The batter will be very thin; don't worry, that's how it's supposed to be.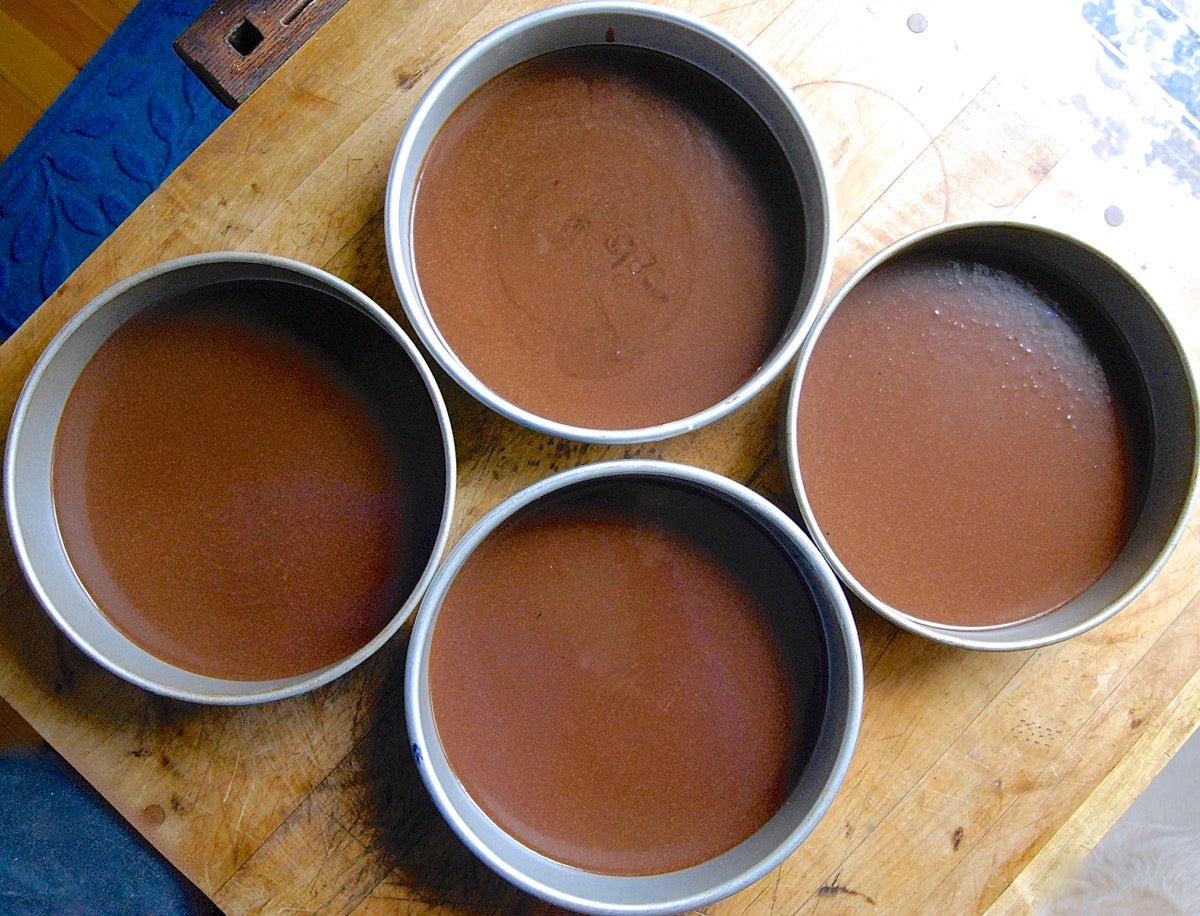 Divide the batter among the pans
The total weight of the cake batter is about 50 ounces (1417g). To ensure your layers are all the same size, divide the batter's weight by the number of layers you're baking, and weigh the amount into each pan.
For two deep 8" layers, use about 25 ounces (709g) batter in each. For three 9" layers, use about 16 1/2 ounces (468g) in each pan. For four shallow 8" layers, use about 12 1/2 ounces (354g) batter in each pan.
Unless you're Houdini-like in your ability to scrape the bowl, beater, and spatula completely clean of batter, these amounts will all be a bit less than stated.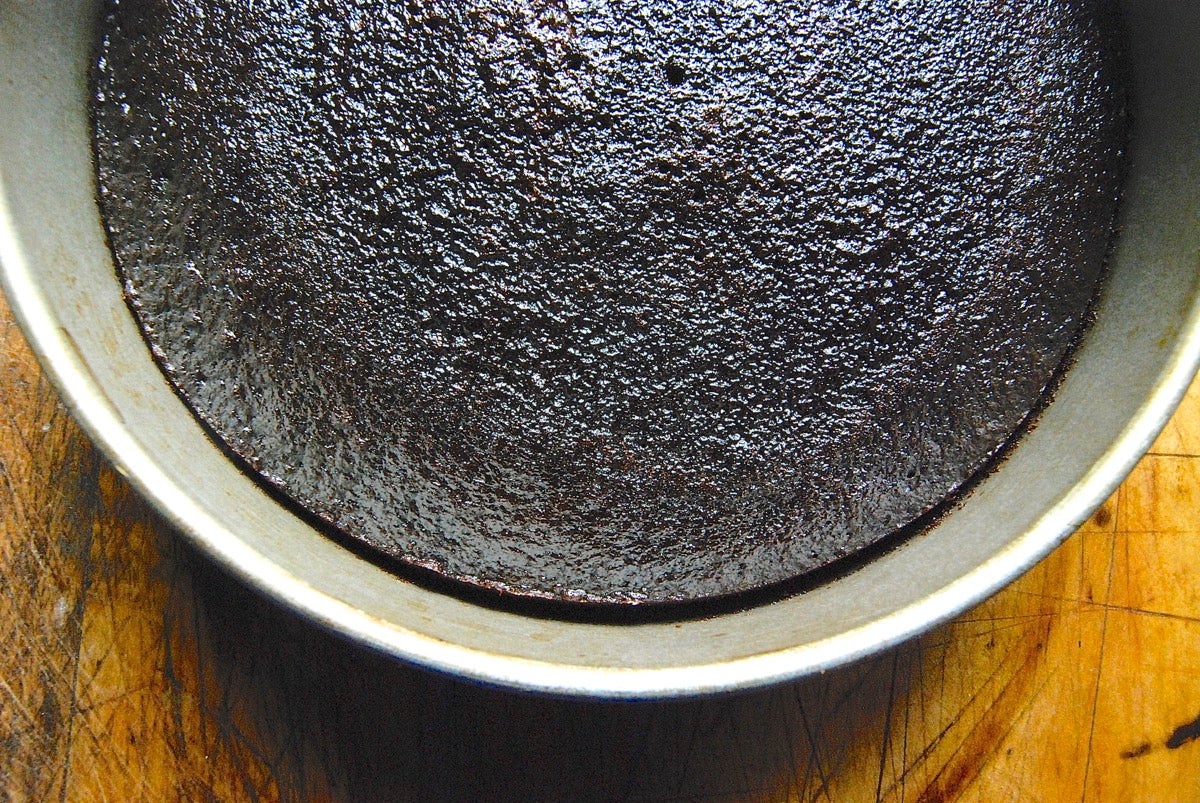 Bake the cakes
Bake the layers for 45 to 50 minutes for two 8" pans; or 25 to 30 minutes for four 8" pans or three 9" pans, until the cake just begins to pull away from the edge of the pan, and a tester inserted in the center comes out clean, or with just a few moist crumbs.
Remove from the oven and place on a rack to cool for 15 minutes.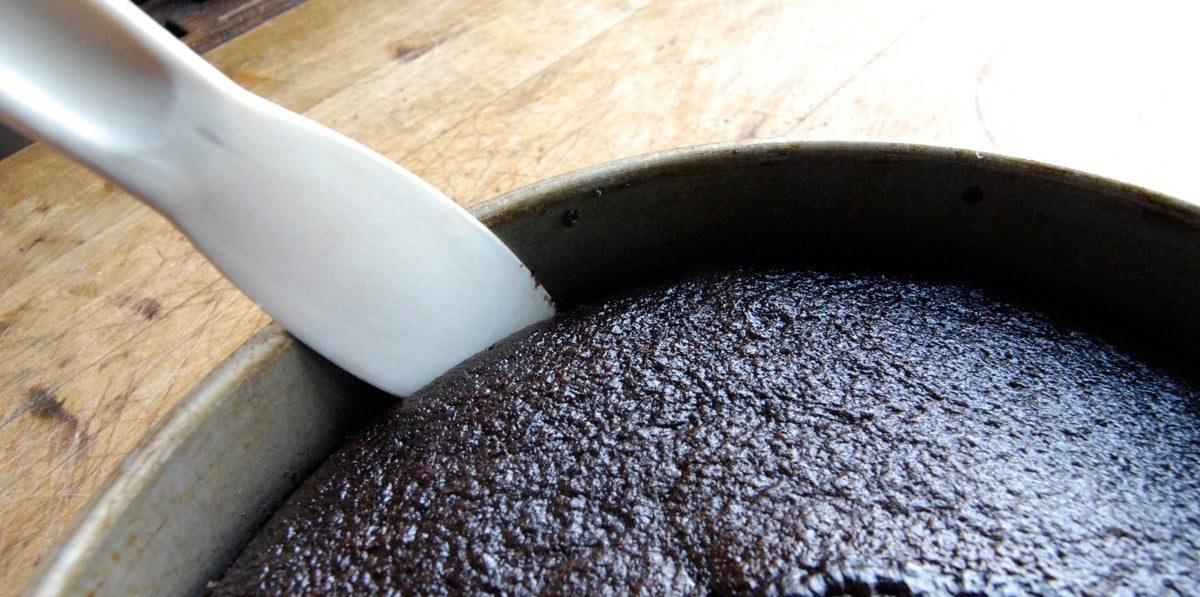 Run a table knife or thin heat-resistant spatula around the edge of each pan to free the crust, and turn the cakes onto the rack to cool completely.
Make the filling
While the cake layers are cooling, make the filling. Gather your ingredients:
2 tablespoons (28g) butter, softened
one 8-ounce package (227g) cream cheese, at room temperature
1 cup (113g) confectioners' sugar, divided
1/2 teaspoon vanilla extract
1/8 teaspoon salt
2/3 cup (113g) semisweet chocolate chips, melted
1 cup (227g) heavy cream
1 teaspoon Instant ClearJel, optional*
1/2 cup (85g) semisweet chocolate mini chips, optional
1 1/2 to 2 pints fresh raspberries, washed and dried
*ClearJel will help stabilize the filling if the cake is baked and served during particularly hot weather.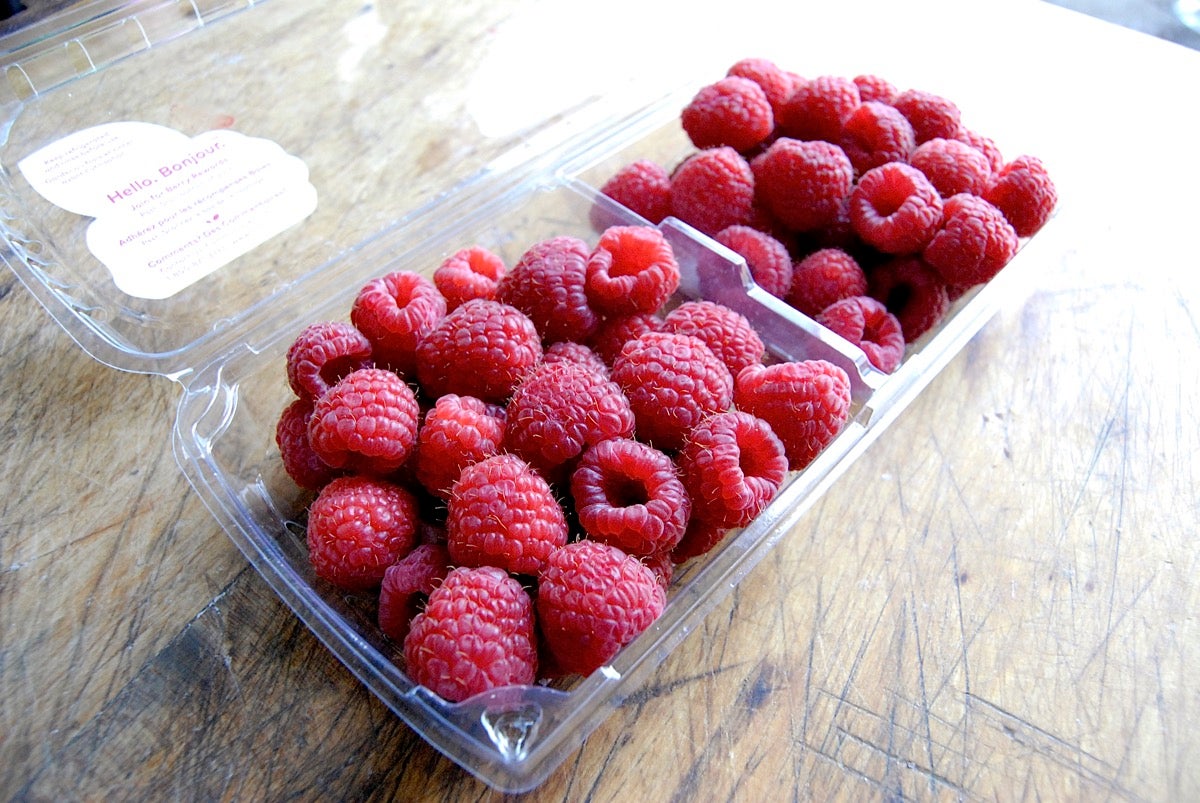 You'll need about three half-pints of fresh raspberries to fill the layers. Since berries can be pricey at this time of year, see if you can find 12-ounce packs of fresh raspberries (pictured above); they're generally less expensive. Two of these packs equal 2 pints, which means you'll have plenty of berries left over for garnishing the top of the cake plus individual servings.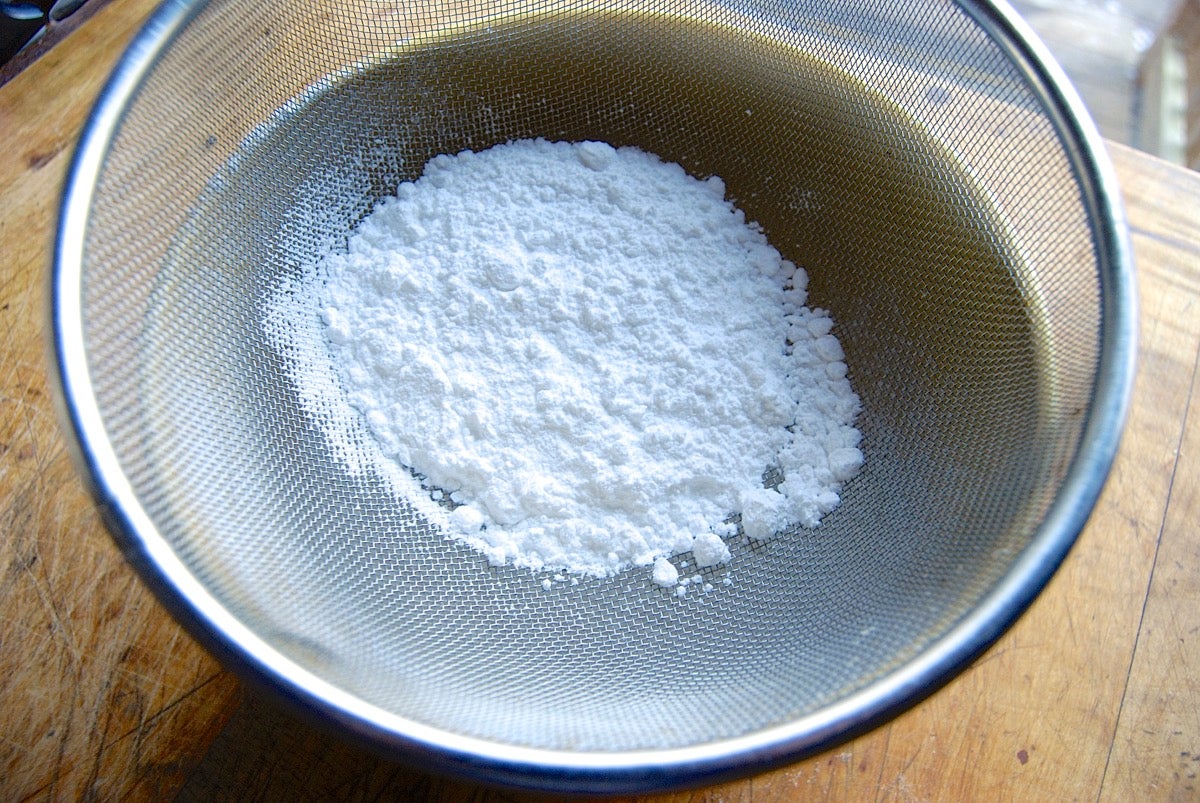 Start by sifting the confectioners' sugar, if necessary.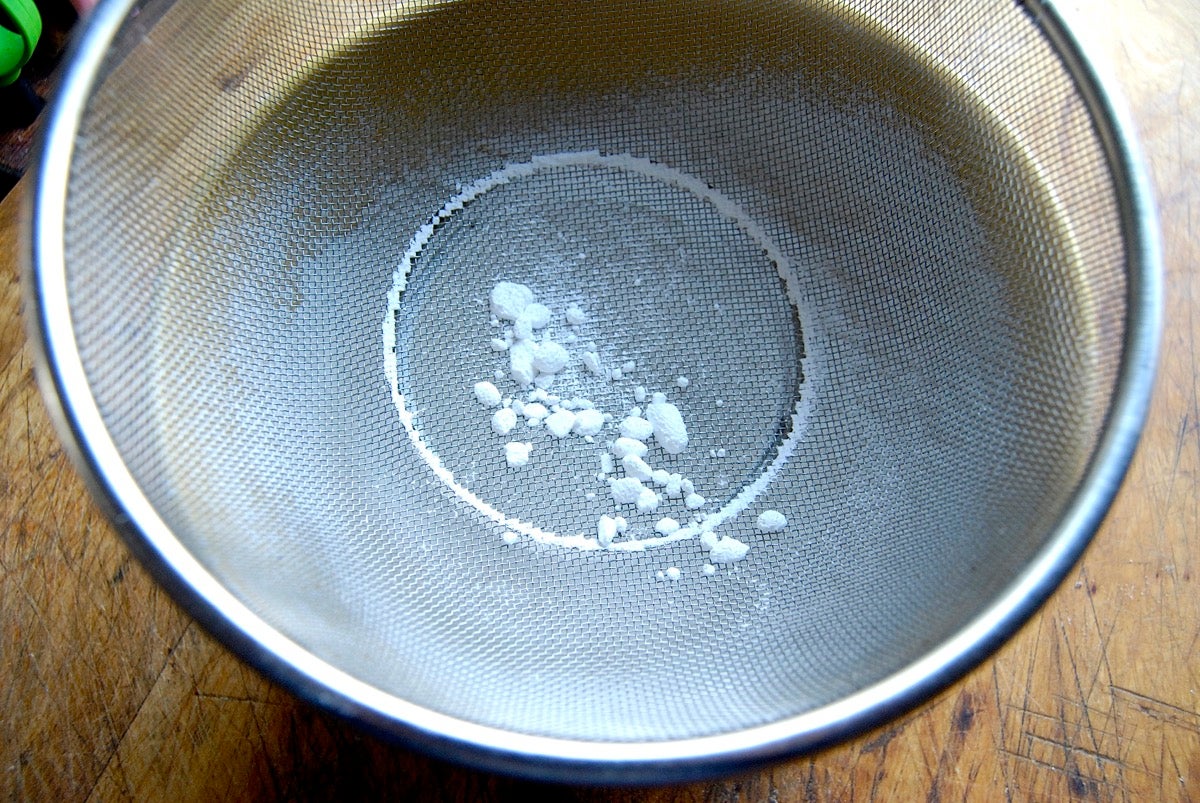 It's usually necessary. You don't want hard little lumps in your filling, right?
Combine the butter, cream cheese, 3/4 cup (85g) of the confectioners' sugar, vanilla, and salt, mixing at medium-low speed until smooth.
Melt the chocolate; a minute or less in the microwave should be sufficient to soften the chips enough that you can stir them until completely melted and smooth.
Add the melted chocolate to the bowl and mix on medium-high speed for 1 minute, or until a bit lightened and fluffy.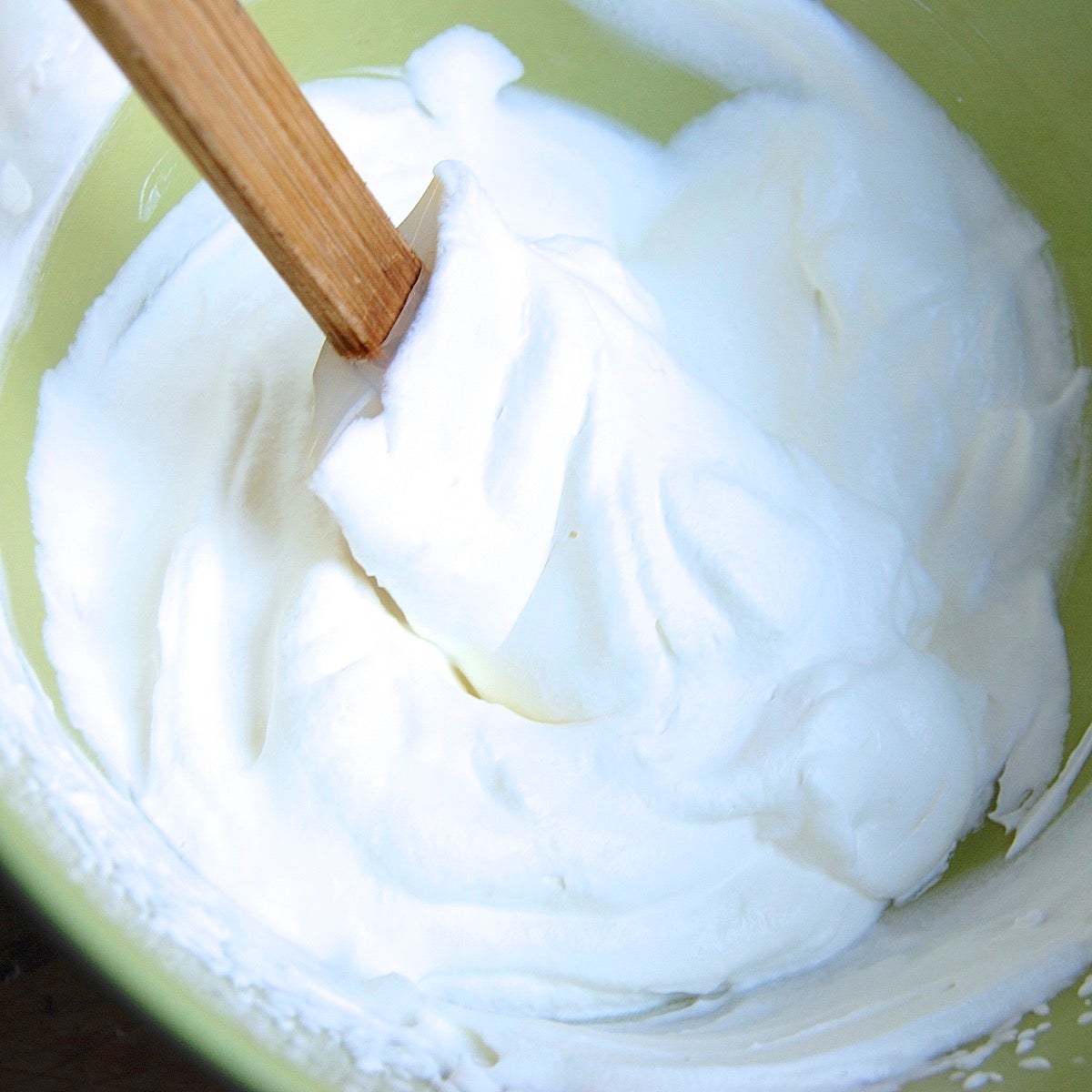 Whisk together the remaining 1/4 cup confectioners' sugar with the Instant ClearJel (if you're using it). Beat the heavy cream until soft peaks form, then add the confectioners' sugar mixture. Beat just until the cream is stiff; guard against over-beating, which will turn the cream grainy.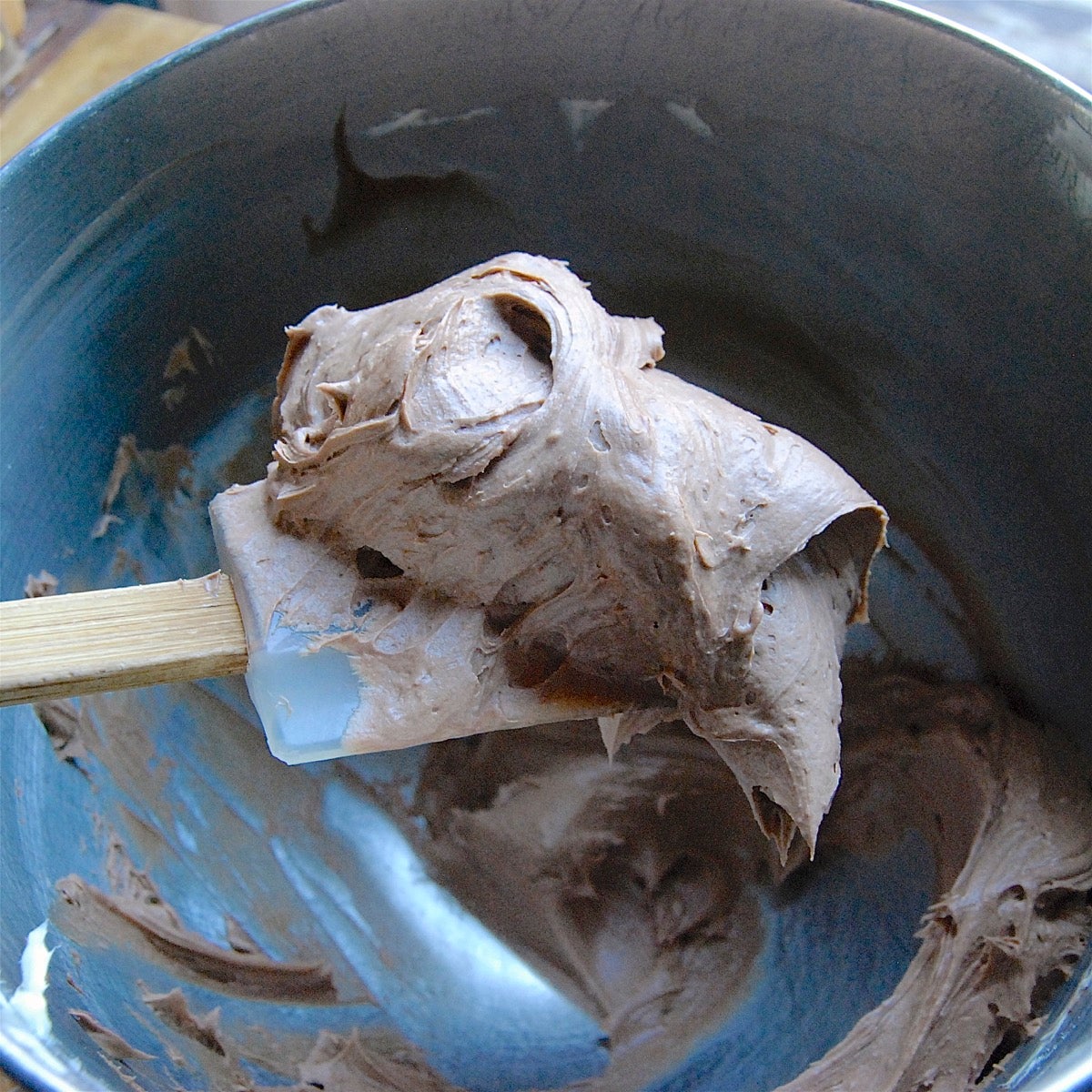 Fold the whipped cream into the cream cheese mixture; scrape the bowl, and stir to combine any sticky residue.
Finally, fold in the chocolate mini chips, if you're using them. (I didn't happen to have any on hand, so left them out; but they definitely add to the cake's richness and flavor.)
Assemble the cake
Split the cake layers horizontally if you've baked two deep 8" cakes; trim any domes off the tops if you've baked three or four individual layers.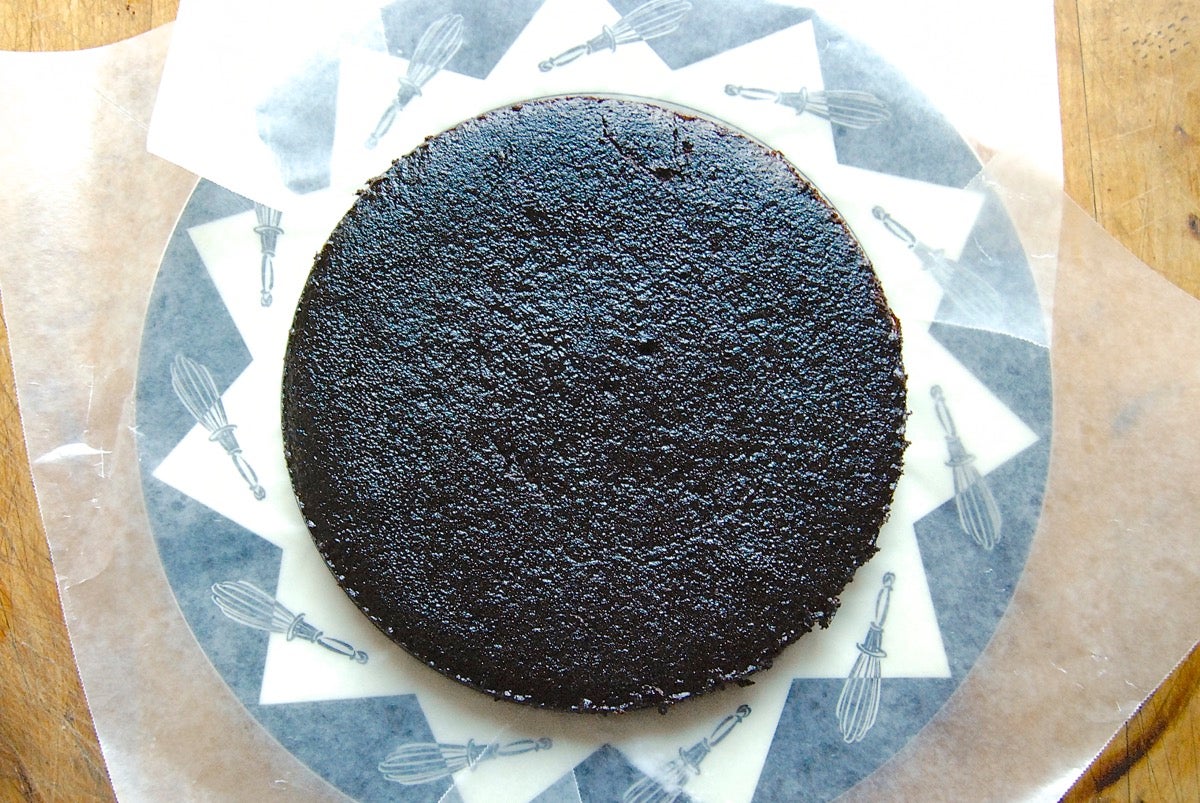 Place the first layer on a serving plate (line the edges with strips of waxed or parchment paper to keep the plate clean).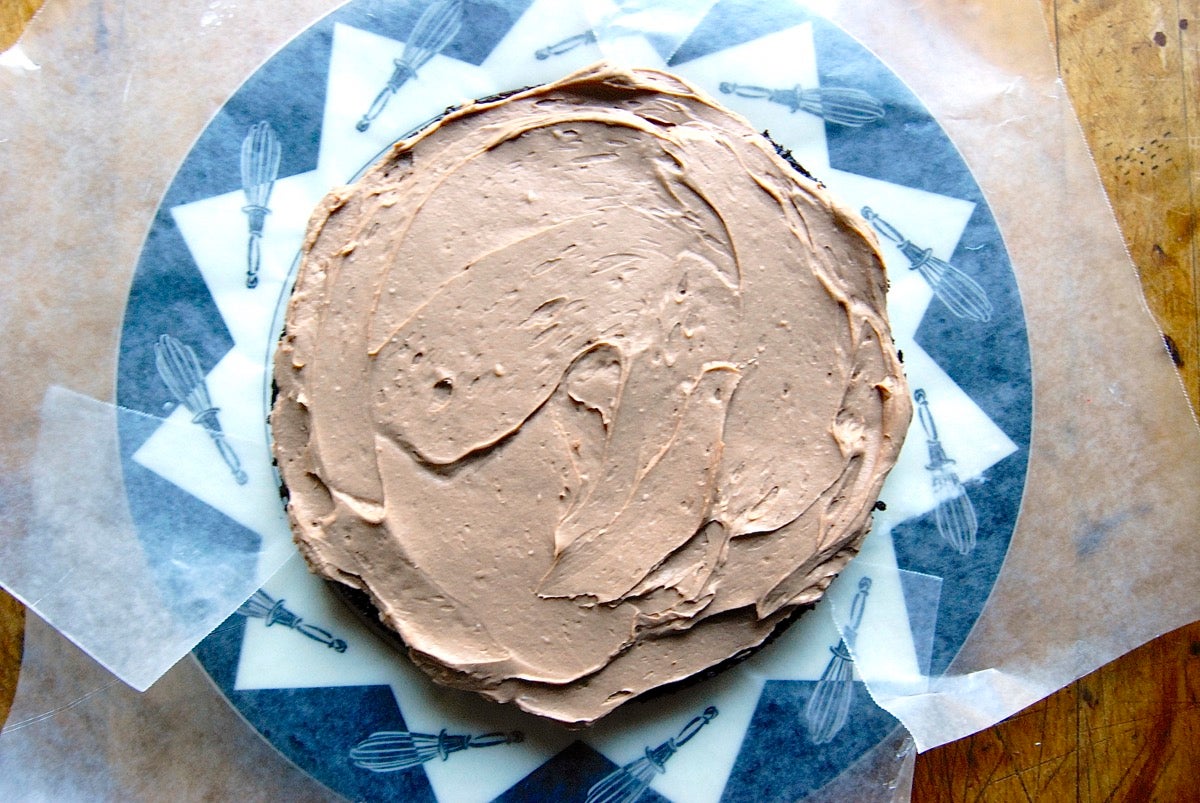 Spread the cake with one-third of the filling (1 cup; 7 5/8 ounces; 216g).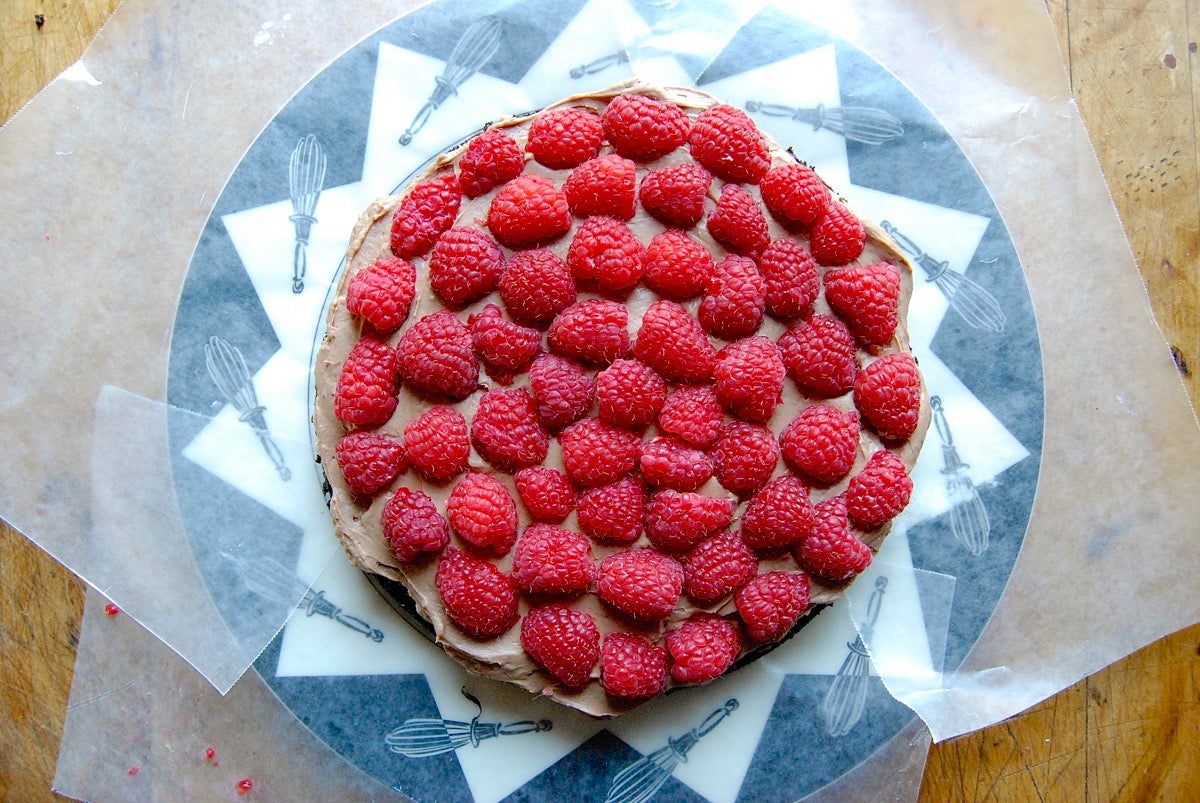 Cut 1/2 pint of raspberries in half lengthwise (rather than around the circumference), and place them over the filling, covering its entire surface.
Why lengthwise? Each berry will cover more surface area, meaning you'll need fewer berries (leaving more leftovers for the top of the cake — or your breakfast cereal).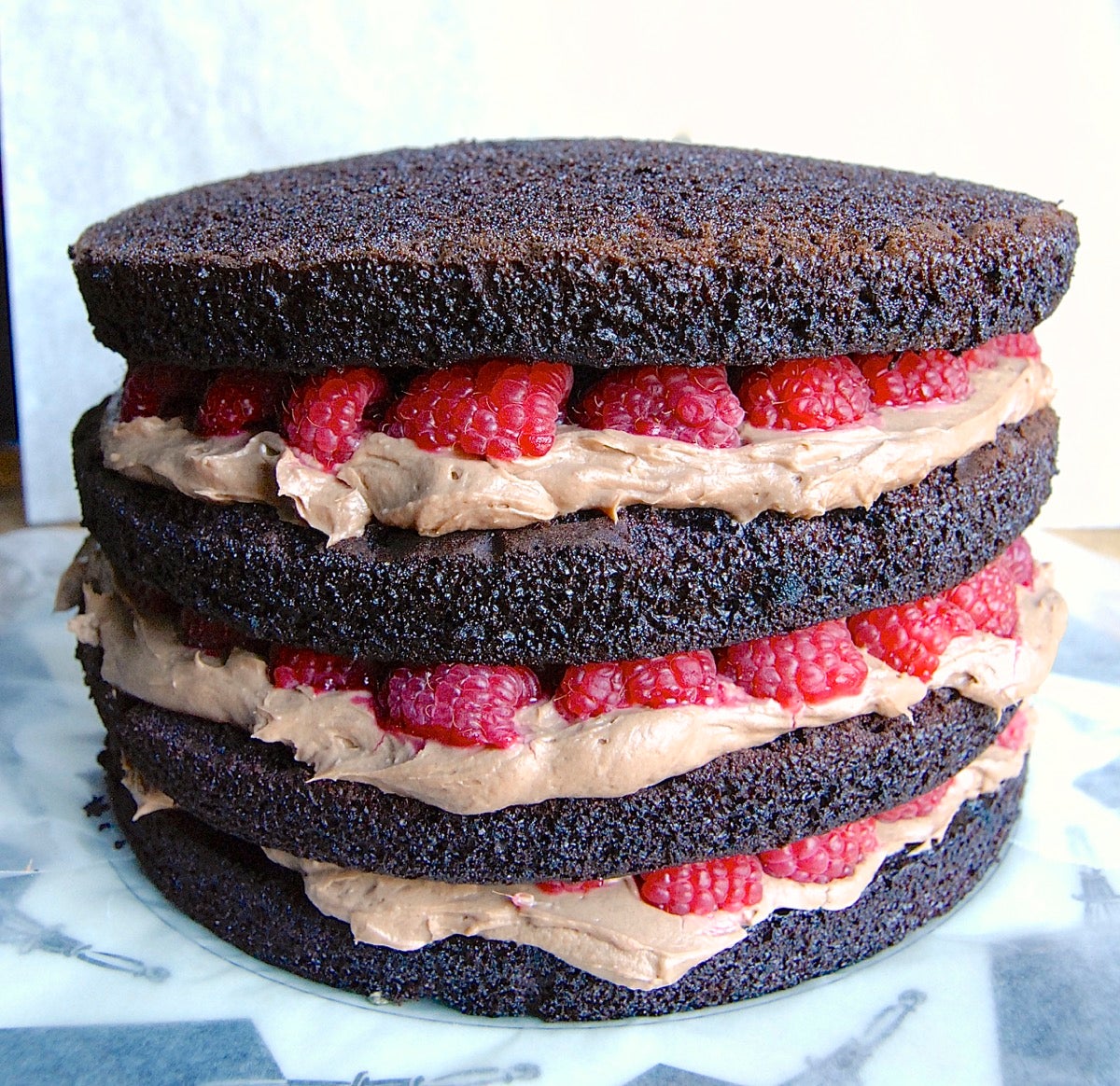 Repeat until all the layers are stacked; place the last layer bottom-side up for a flat surface on top.
Chill until set
Once the layers are assembled with filling and raspberries, place the cake in the refrigerator or freezer for at least 30 minutes to firm it up. This will make frosting the cake much easier, since the layers are less likely to slide around and chilling helps prevent the cake from shedding crumbs as you frost.
Prepare the frosting
While the cake is chilling, make the frosting. Here's what you'll need:
1/2 cup (92g) vegetable shortening, butter-flavored preferred*
8 tablespoons (113g) unsalted butter, at room temperature
1/4 teaspoon salt
4 cups (454g) confectioners' sugar, sifted
1/2 cup (43g) unsweetened cocoa, natural or Dutch-process*
1/4 cup (57g) milk
1 teaspoon vanilla extract
If you don't want to use shortening, substitute 1/2 cup unsalted butter for the shortening. However, if the weather is particularly hot, shortening will help keep the frosting from becoming too soft as the cake sits.
When making the frosting, use natural cocoa for mild, milk chocolate-type flavor and lighter color. For darker frosting with richer, more assertive chocolate flavor, use Dutch-process cocoa.
In a large bowl, beat together the shortening, butter, and salt.
Sift the confectioners' sugar and cocoa through a strainer to remove any lumps, and gently beat into the butter mixture alternately with the milk. Add the vanilla.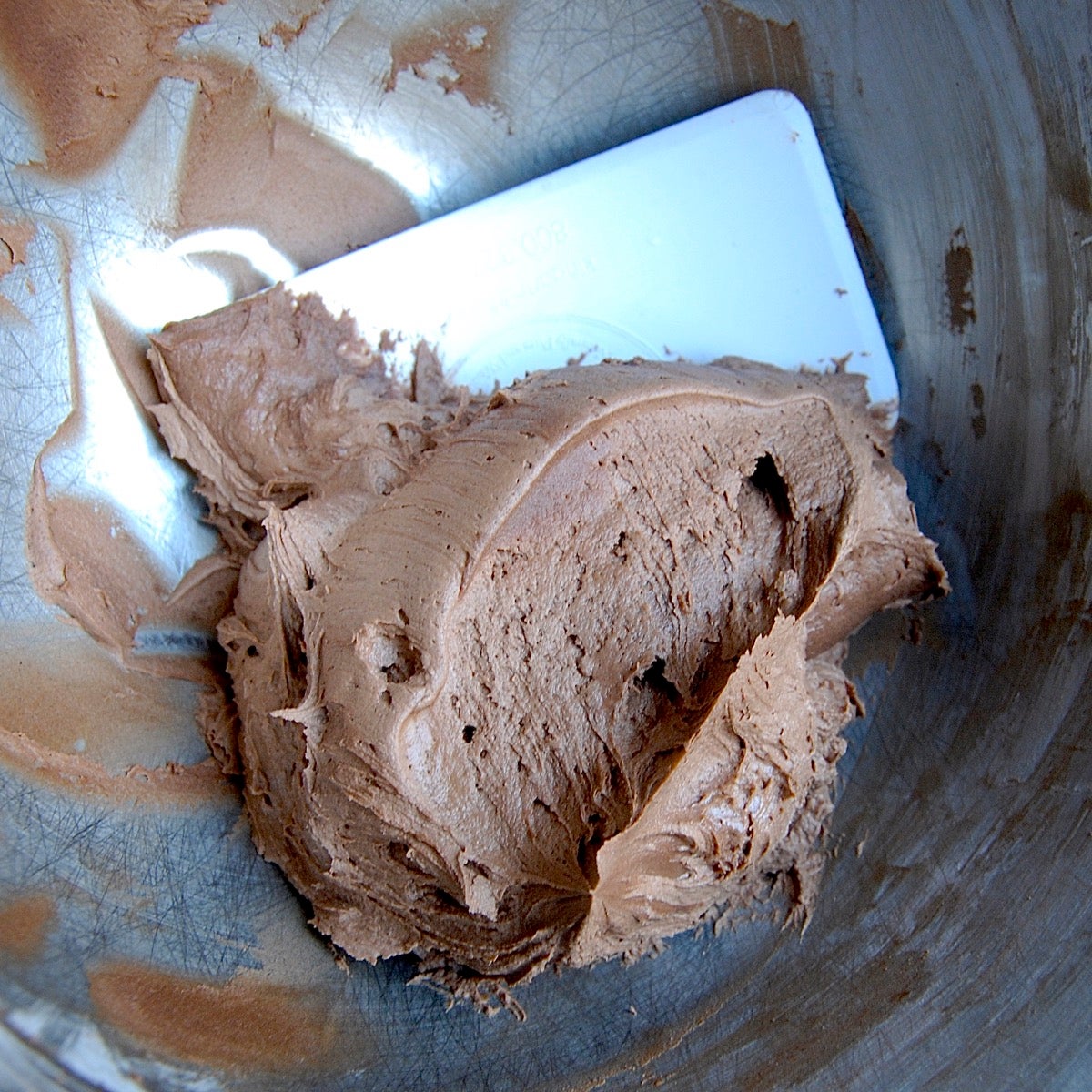 Beat on medium-high speed for 2 minutes, or until fluffy.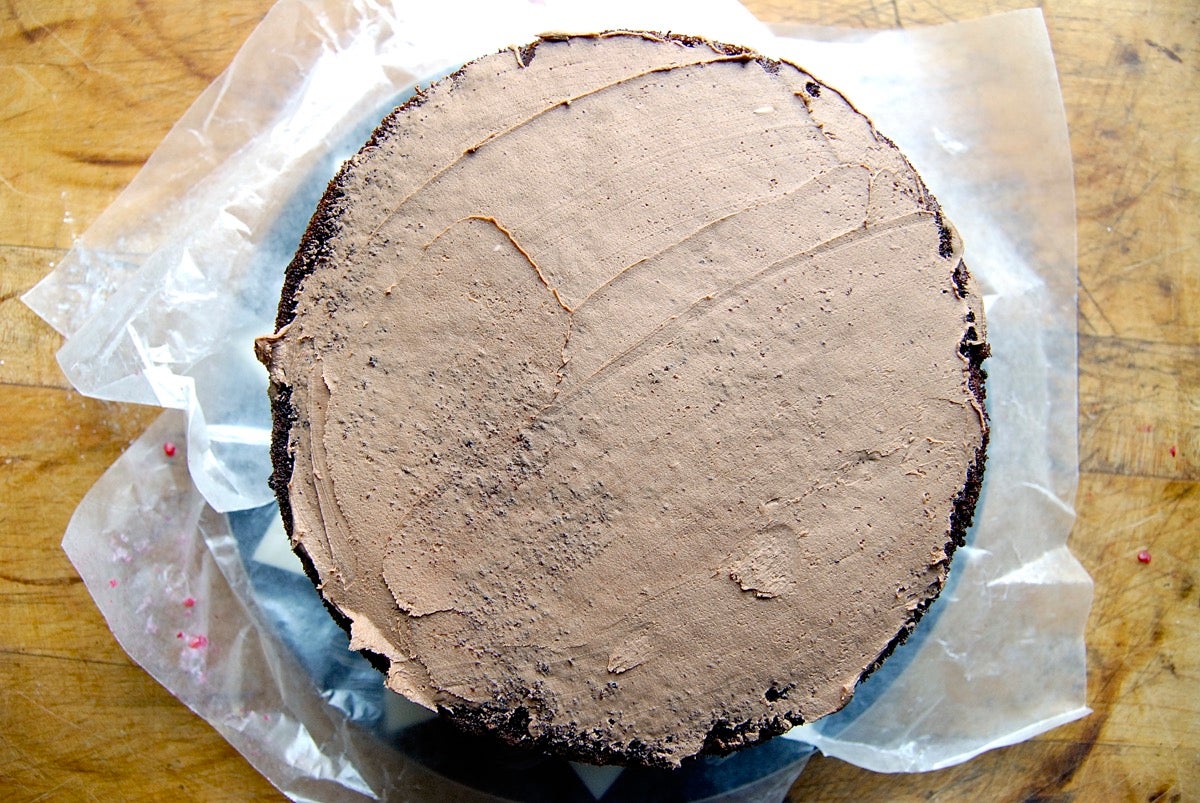 Frost the cake
For the best-looking cake, do the frosting in two steps. First, spread a very thin layer of frosting around the sides and across the top; this is called a crumb coat (a.k.a. "dirty icing" or "setting").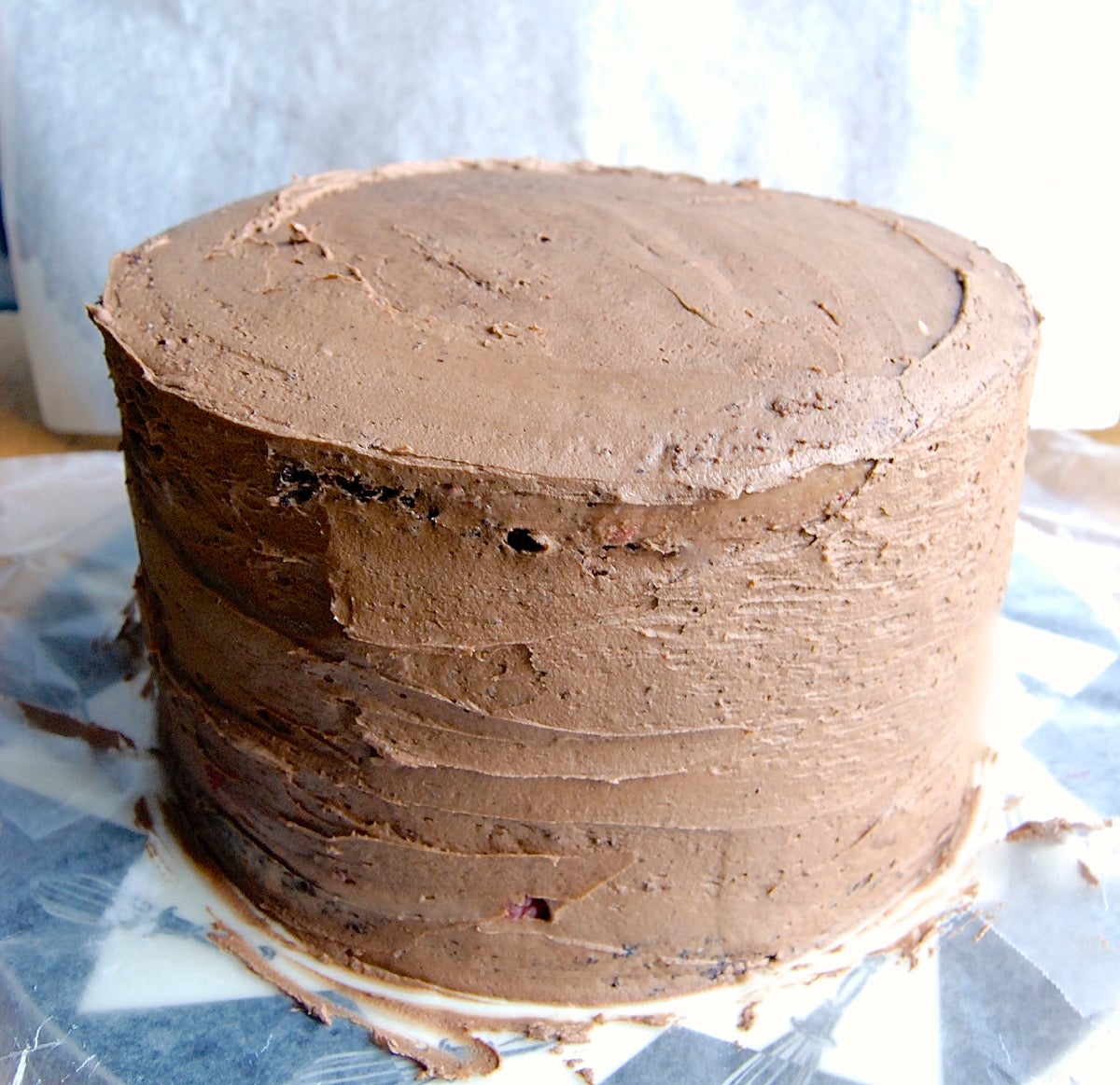 You should actually be able to see the cake through the frosting in spots, it's that thin. Refrigerate the cake for 20 minutes to let this layer set up.
Once the cake is chilled, use the remaining frosting to coat it thoroughly and evenly. The frosting will be thin (it's not quite a naked cake), but the cake should be completely coated, with no bare patches. For more helpful information see our video, how to frost a cake.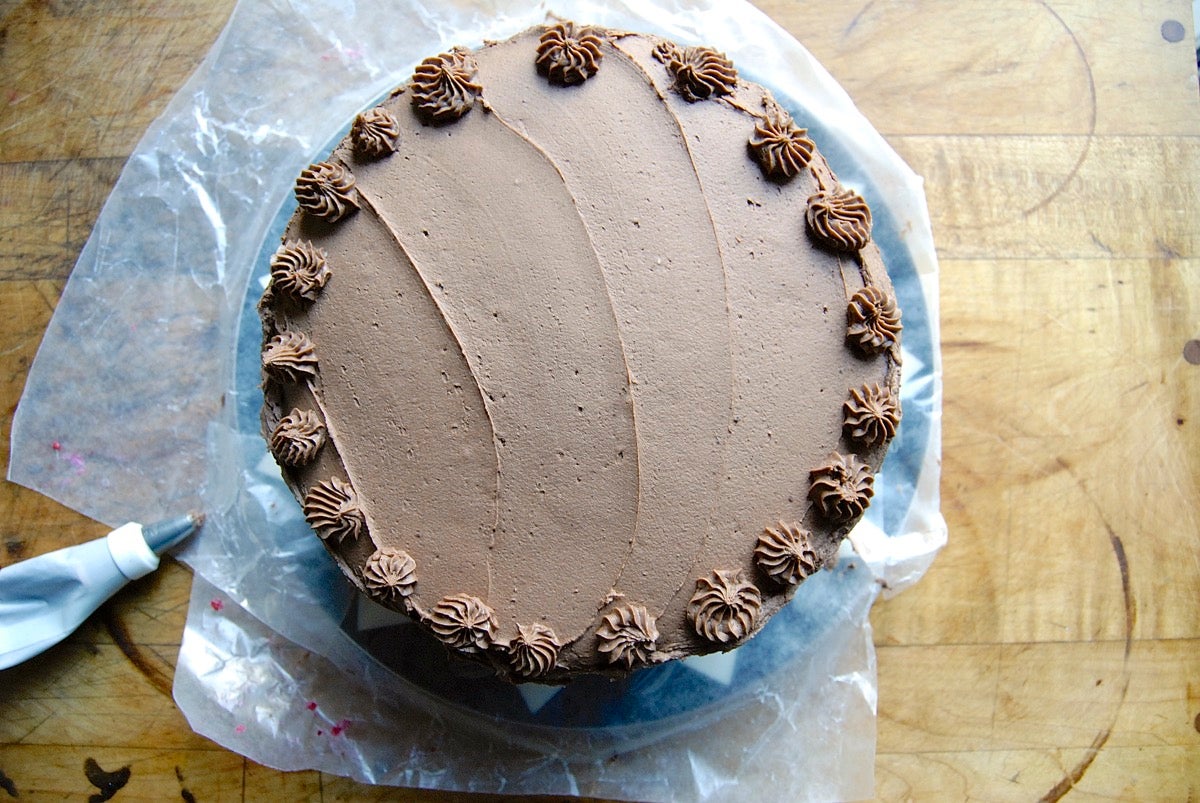 Pipe rosettes
If you have any leftover frosting, use it to pipe decorations on the top and/or around the base. Pretty good, eh?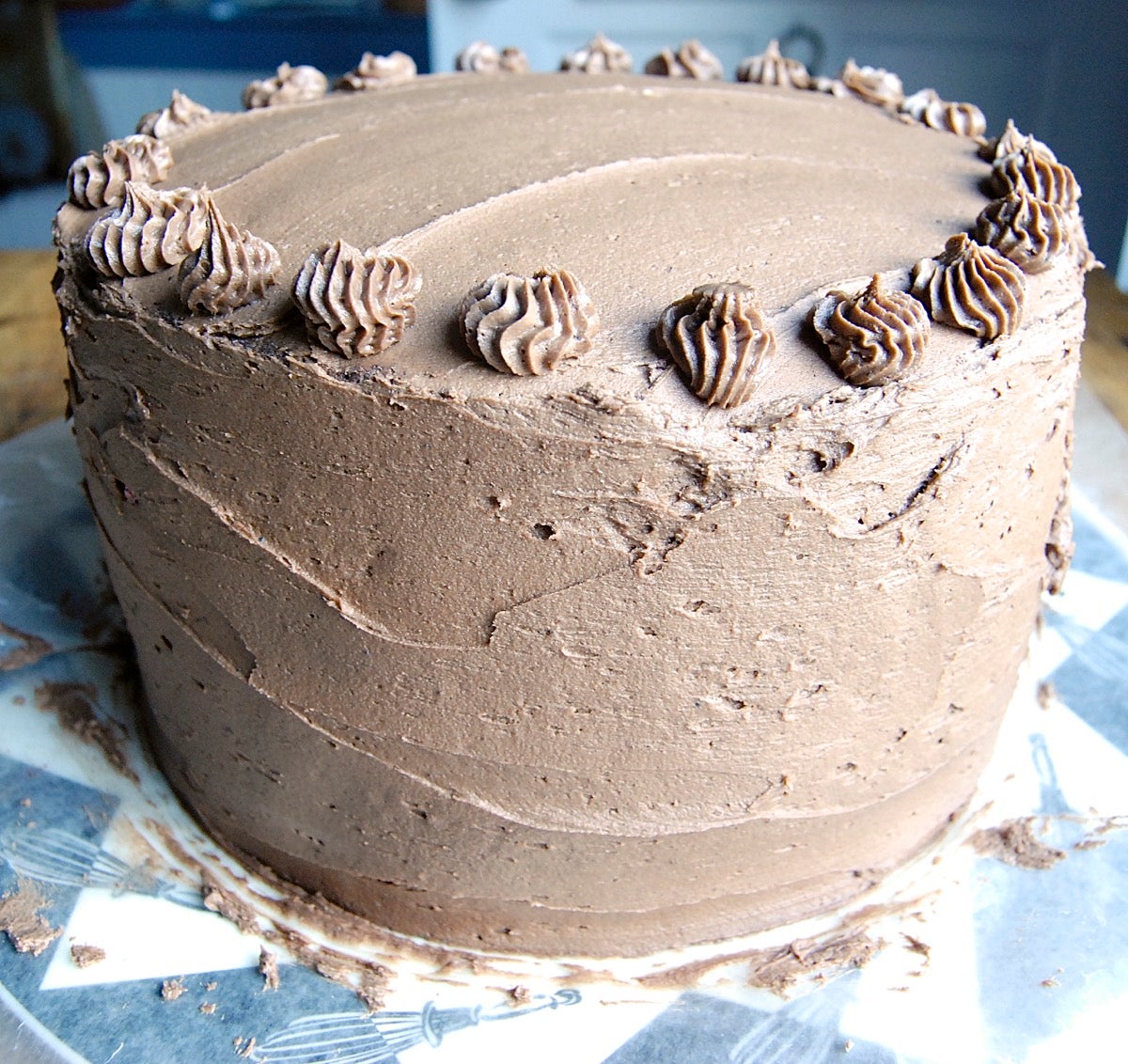 Refrigerate the cake until ready to serve.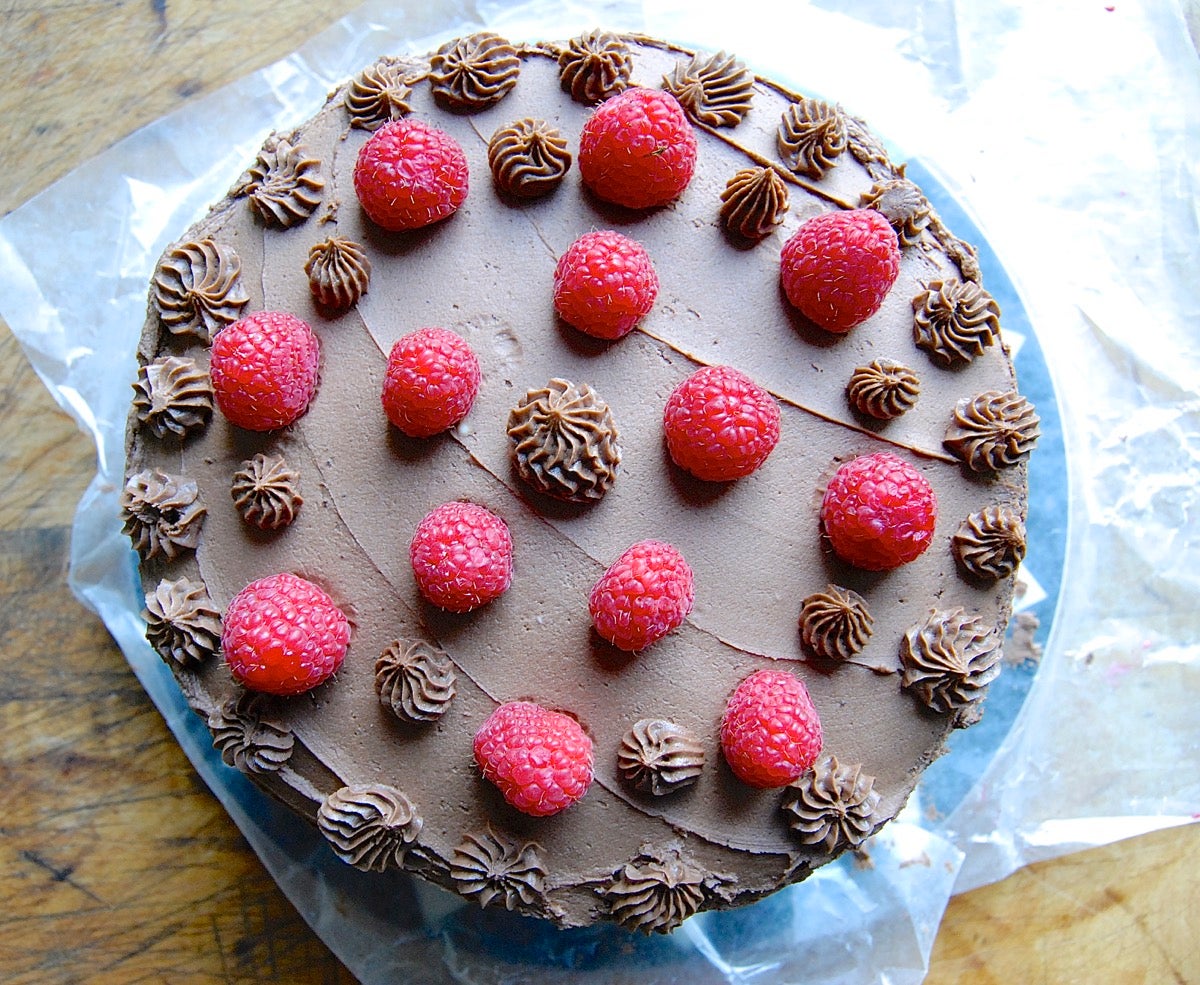 Garnish with fresh raspberries just before serving.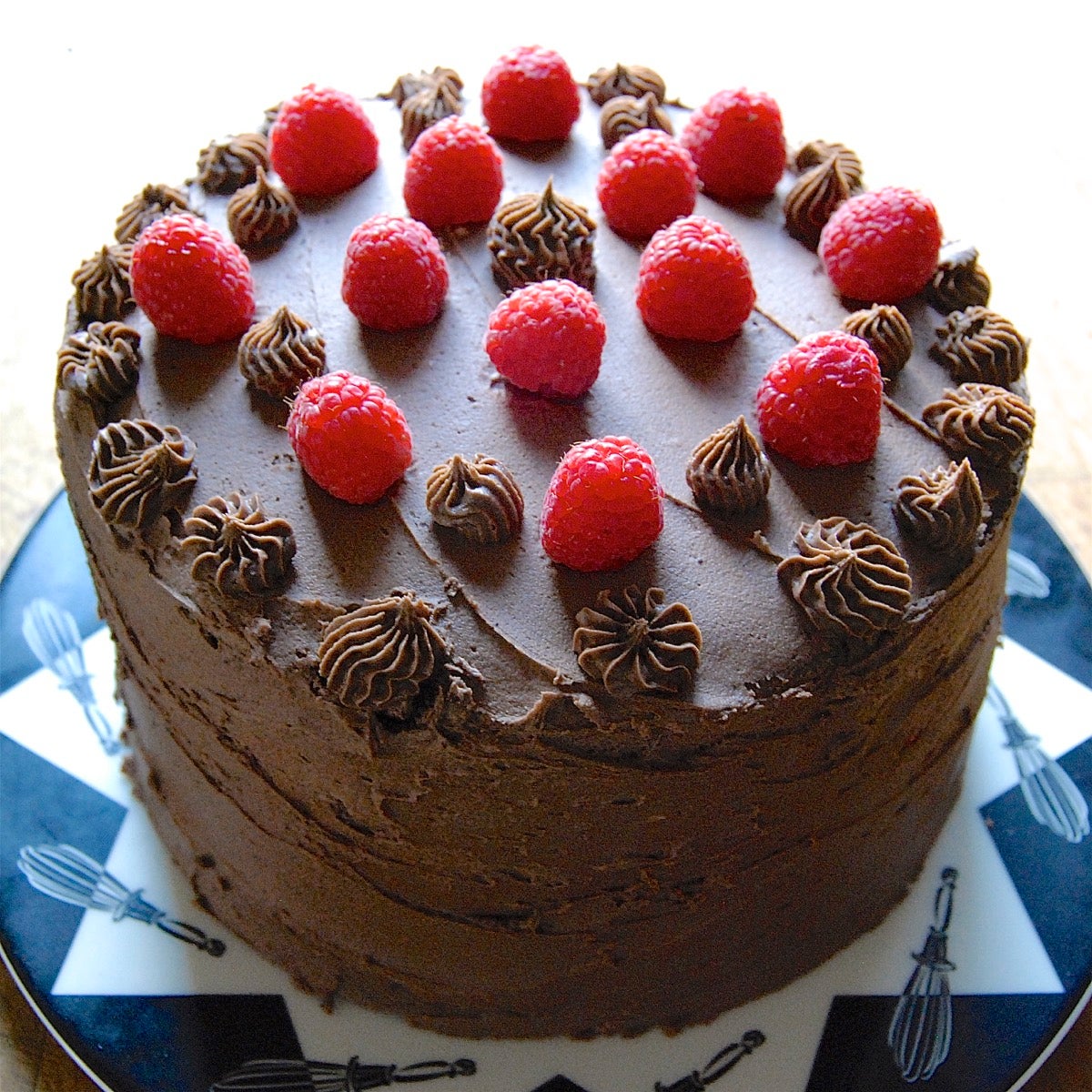 And after all that labor, here's your baby: 6 pounds, 14 ounces of sheer delectability!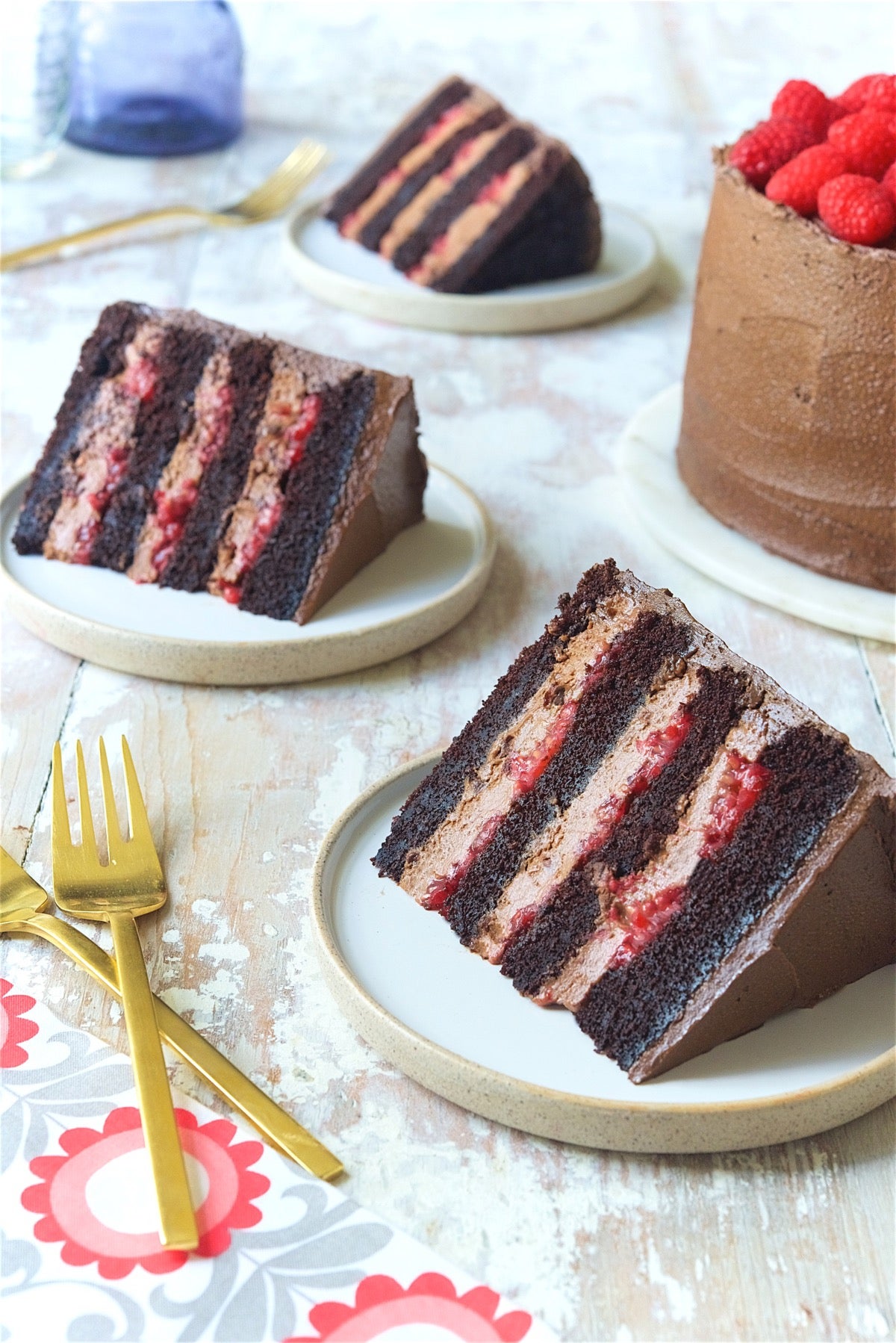 At last — serve and enjoy!
Chill until ready to serve. If it's been in the fridge very long, though, take it out an hour or so beforehand to let it warm up a bit, which will enhance both flavor and texture.
High-altitude adjustments
Do you bake at altitude? Check out our high-altitude baking tips.
Make it whole wheat
If you want to add some whole wheat, for best flavor and texture we recommend substituting white whole wheat flour for half the all-purpose flour in this recipe.
Make it ahead
Cake layers, frosting, and filling can all be made up to three days ahead, and the cake assembled just before serving. Store the layers, well wrapped, at room temperature; refrigerate the frosting and filling in airtight containers or tightly covered bowls. When you're ready to assemble the cake, remove the filling and frosting from the fridge and warm at room temperature until soft enough to spread easily.
The entire filled and frosted cake can be tightly wrapped in plastic and frozen for up to a week. If you're going this route, skip the raspberry garnish on top; the berries will become weepy. Thaw the cake overnight in the refrigerator before serving. Garnish with fresh raspberries, either on top or with individual servings.
Baking gluten-free?
As mentioned earlier, you can make this cake gluten-free simply by using our gluten-free Measure for Measure flour in place of the all-purpose flour. If you're very gluten-sensitive omit the Instant ClearJel, which is processed on equipment that also handles wheat.
Interested in more? See our complete collection of Bakealong recipes.
Jump to Comments