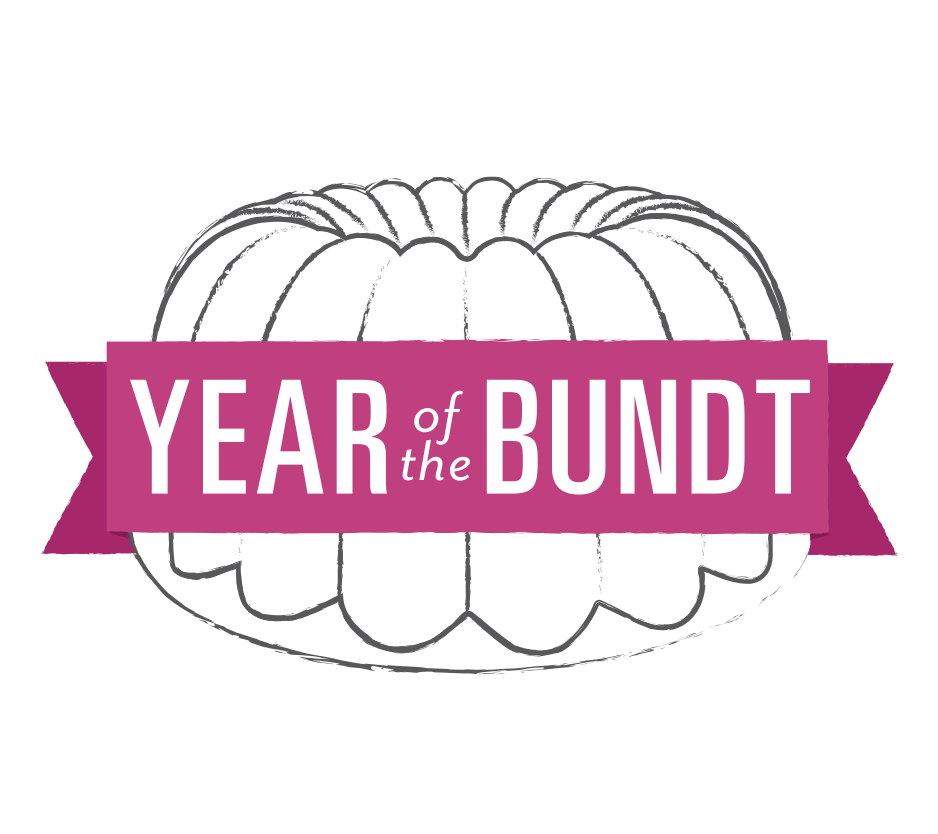 Welcome to King Arthur Flour's Year of the Bundt! We're celebrating this classic American dessert with a variety of recipes throughout the year. This month, we're kicking off fall with our globally-inspired version of a classic American spice cake: Chai-Spiced Pound Cake.
Have you ever enjoyed a cup of chai? Known as masala chai in India, its birthplace, this combination of black tea and spices has become a given for any barista worth his or her beans, right up there with mocha latte and jasmine green tea.
What makes chai special? Not its tea leaves; flavor-wise they're simply the delivery device for an array of "dark" South Asian spices: cloves or allspice, coriander or black pepper, cinnamon, ginger, nutmeg and, most notably, cardamom, the world's third priciest spice (after saffron and vanilla).
Though notably assertive on its own, cardamom teams seamlessly with its fellow chai spices — and our Chai-Spiced Pound Cake is delicious proof. Moist, dense without being heavy, and wonderfully flavorful, it's a perfect salute to cooler weather. Brew a pot of tea or cup of coffee, and cut yourself a slice of spice!
How to make Chai-Spiced Pound Cake
First, preheat your oven to 350°F with a rack in the center.
Next, gather your ingredients:
16 tablespoons (227g) unsalted butter, at room temperature, at least 65°F
1 cup (213g) light brown sugar, packed
1/4 cup (85g) honey
2 large eggs, at room temperature
1 teaspoon baking powder
1/4 teaspoon baking soda
1 teaspoon salt
3 tablespoons (21g) chai spice, or 1 tablespoon cinnamon, 2 teaspoons ginger, 2 teaspoons cardamom, 1 1/2 teaspoons allspice, and 1/2 teaspoon black pepper
2 cups (241g) King Arthur Unbleached All-Purpose Flour
1 cup (227g) sour cream or yogurt, full-fat preferred, at room temperature
2 teaspoons vanilla extract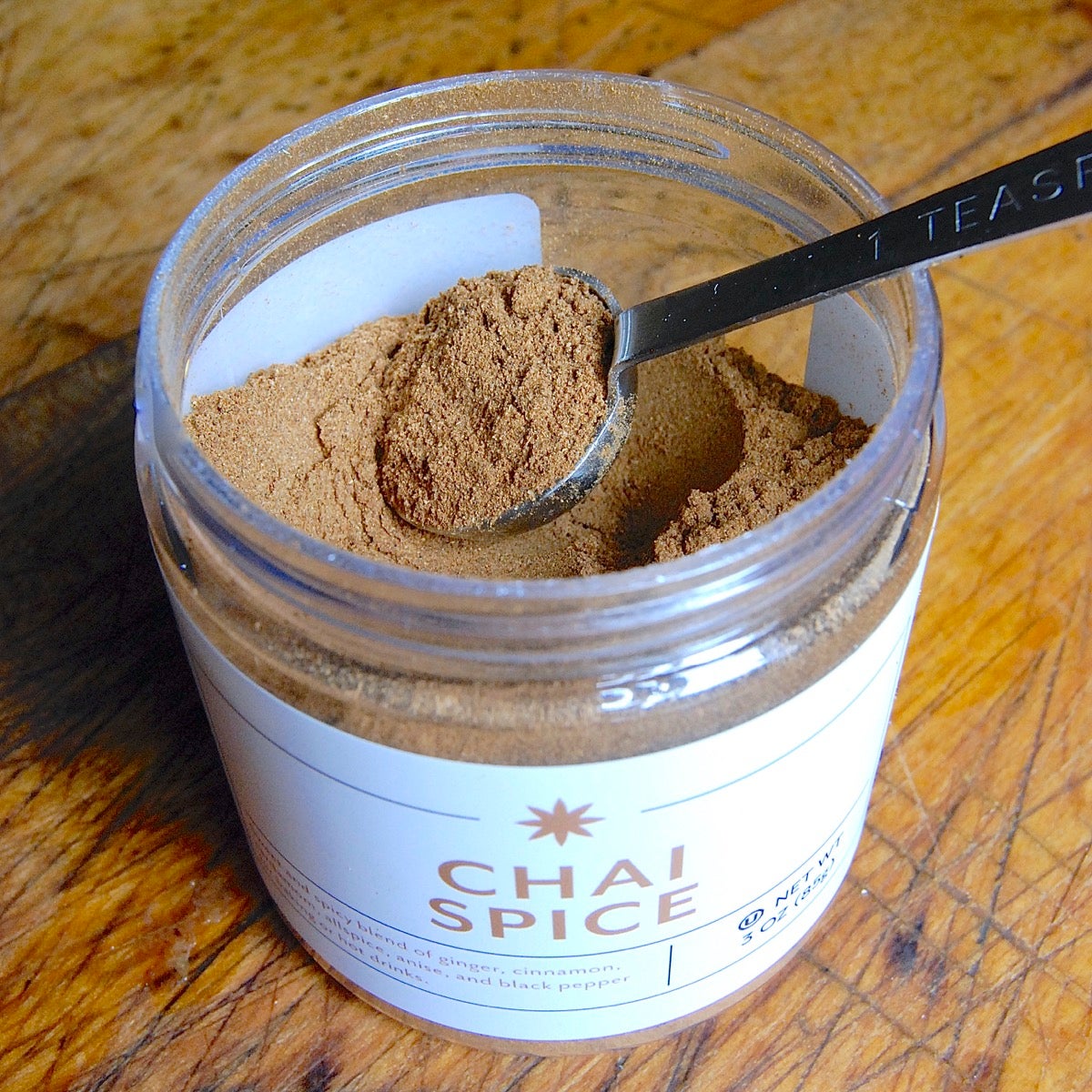 Our chai spice combines six typical chai spices in an ideally balanced blend. You can certainly make this cake without it, substituting an array of spices to create a chai-like experience. But if you like spice cake, oatmeal cookies, or any confection lending itself to multiple spices (apple pie, anyone?), I highly recommend keeping a jar of this blend on hand.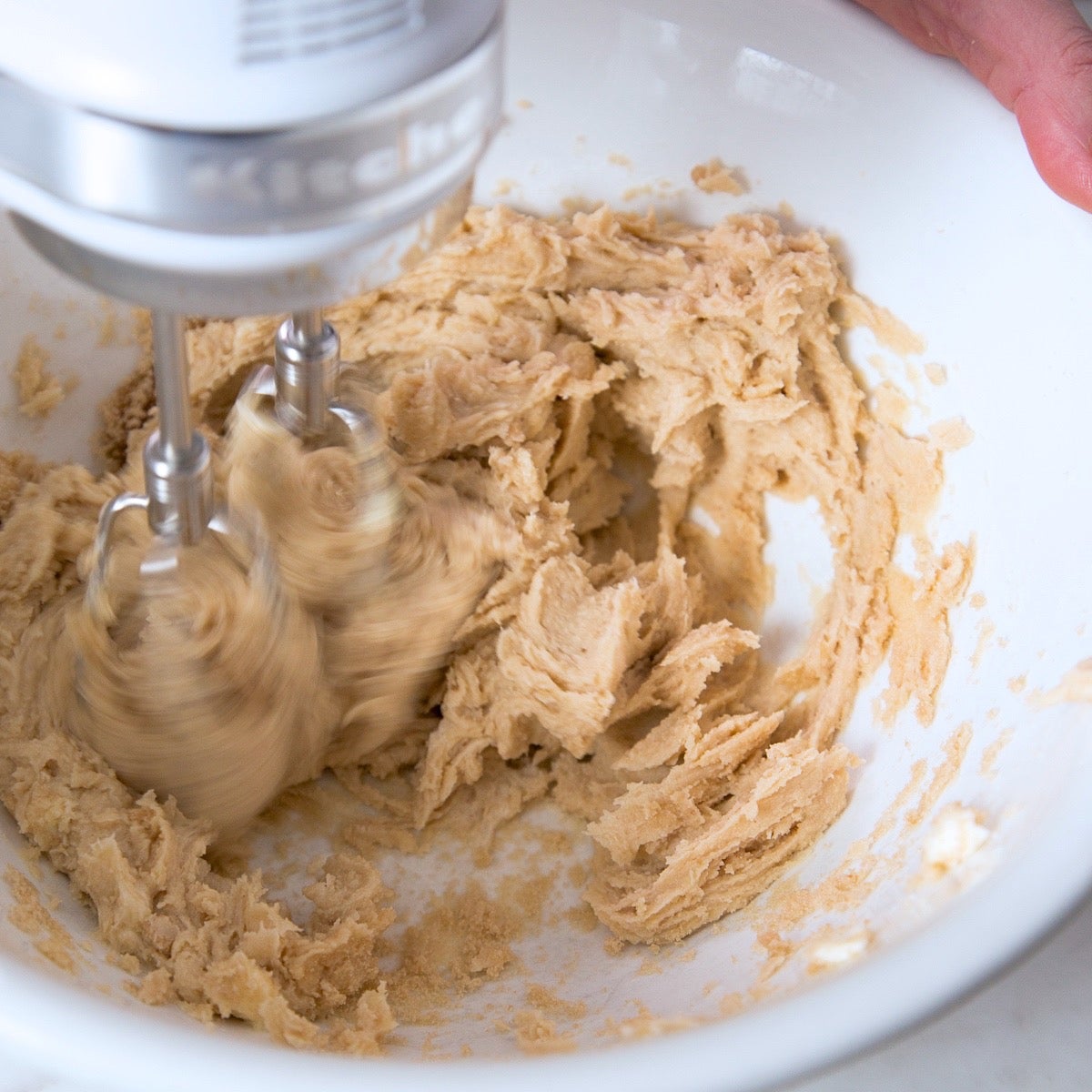 Make the batter
In a large bowl, beat together the butter, brown sugar, and honey until smooth and somewhat lightened in color; this will take about 2 minutes at medium speed of an electric hand or stand mixer.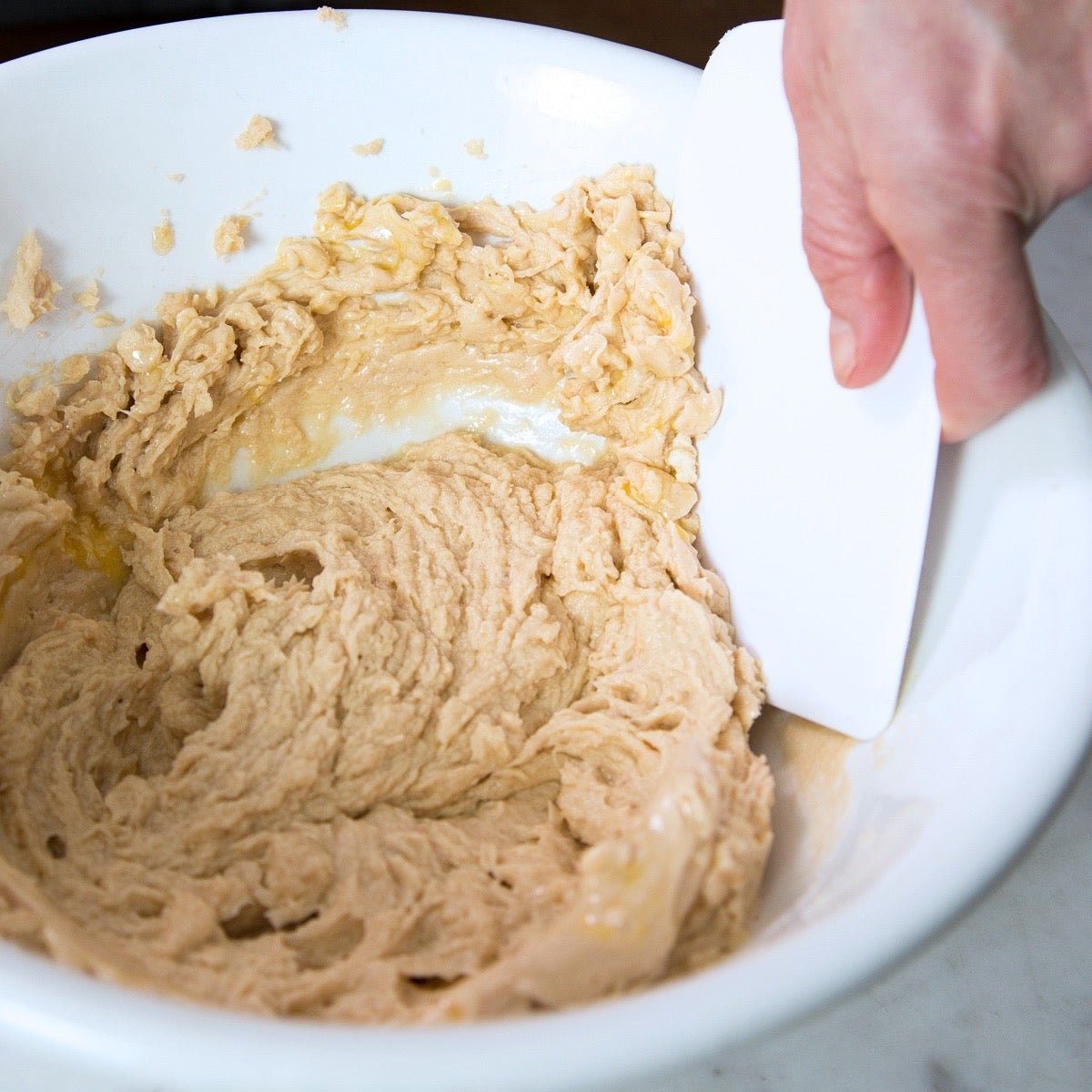 Add the eggs one at a time, beating thoroughly and scraping the sides and bottom of the bowl between additions. A bowl scraper is the ideal tool for this task.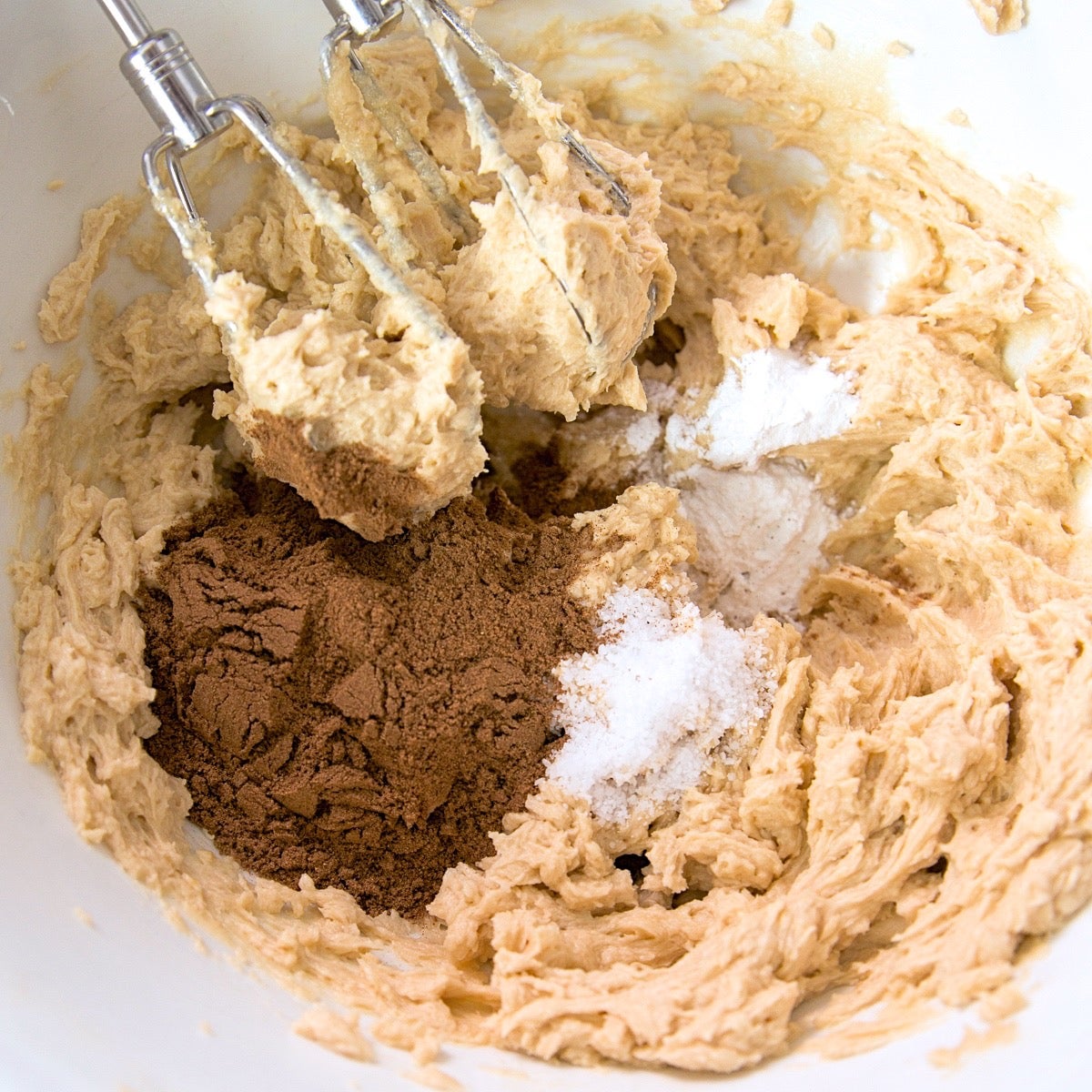 Stir in the baking powder, baking soda, salt, and chai spice (or spices).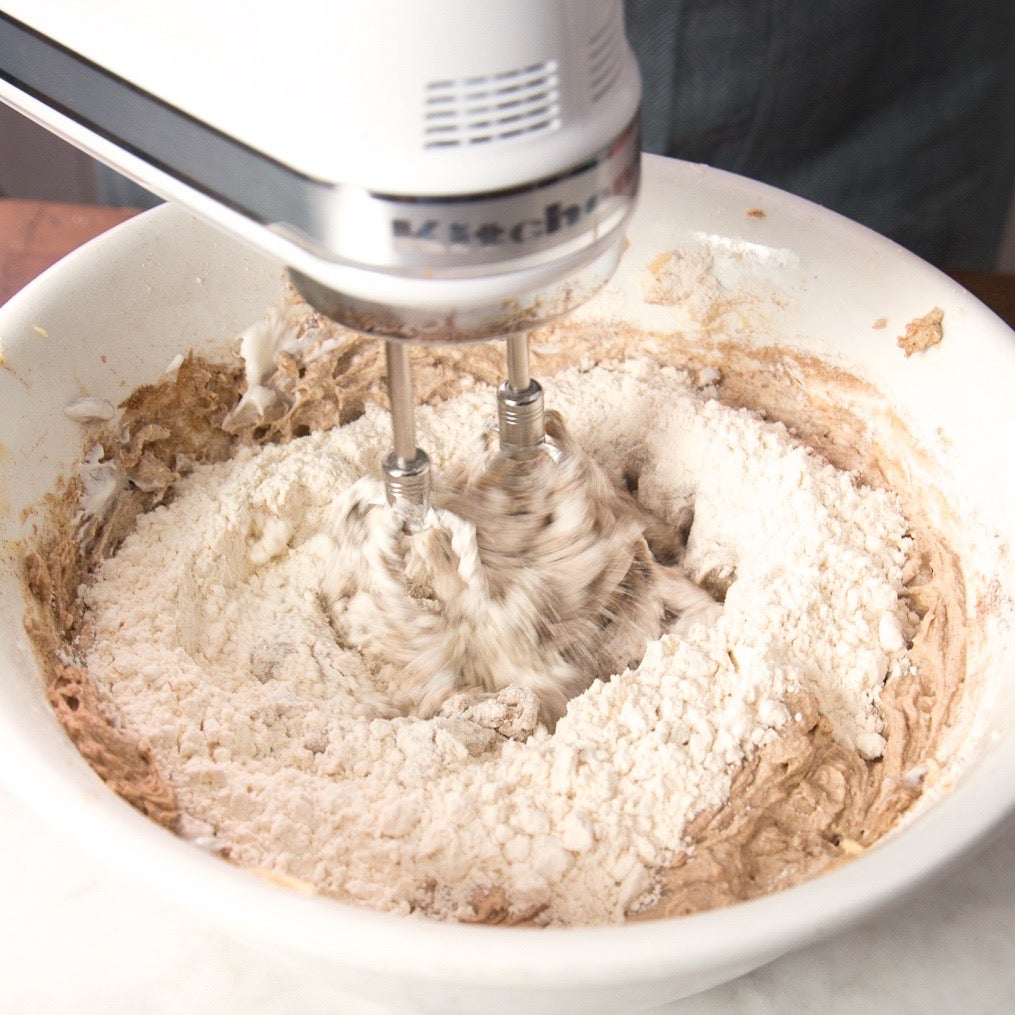 Measure the flour by weighing it; or gently spooning it into a cup, then sweeping off any excess. Gently but thoroughly beat or stir half the flour into the butter/egg mixture.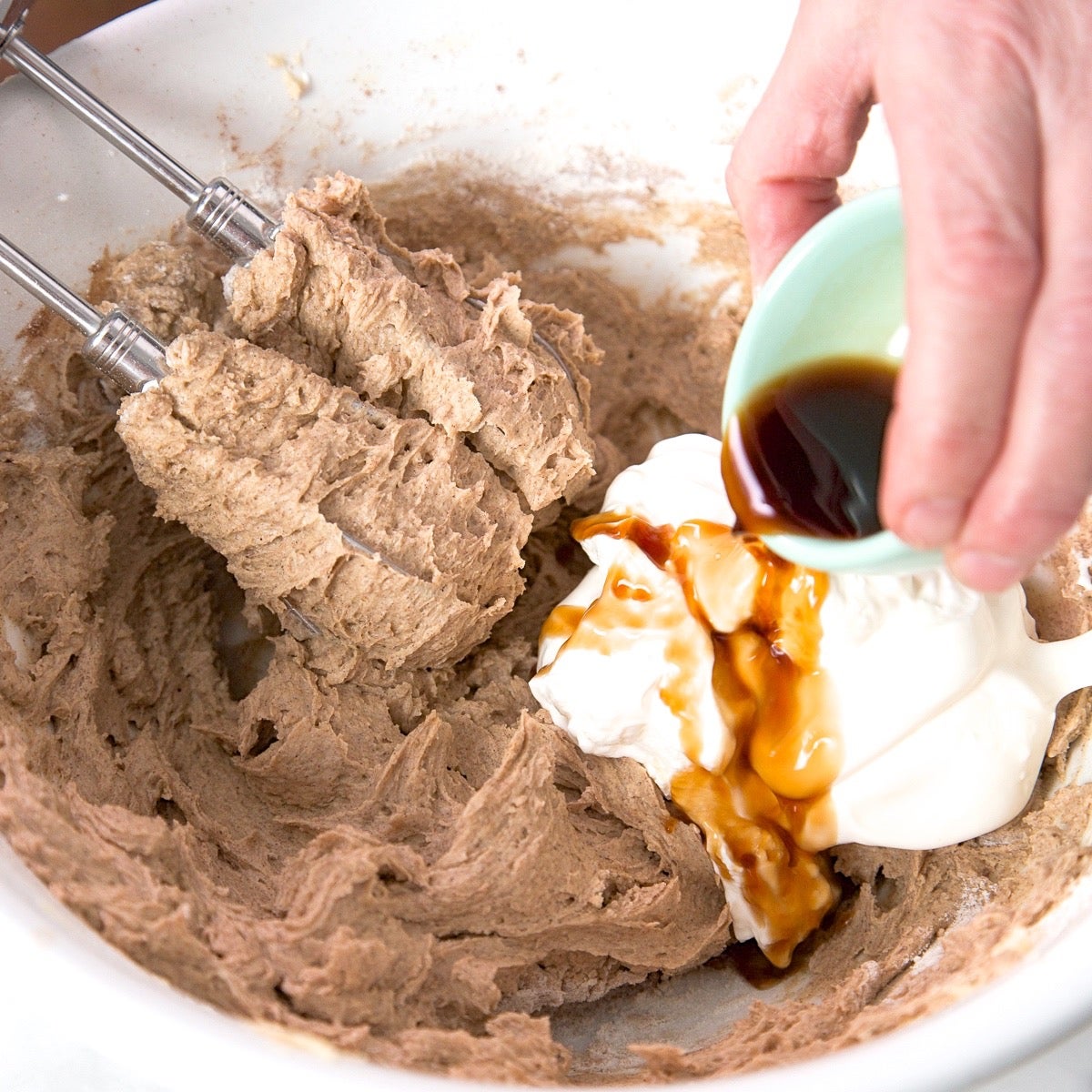 Add the sour cream (or yogurt) and vanilla, stirring to combine.
Finally, stir in the remaining flour. Scrape the sides and bottom of the bowl, and beat briefly to incorporate any sticky residue.
Scoop the batter into the pan
Thoroughly grease a 9- or 10-cup Bundt pan. Scoop the batter into the prepared pan.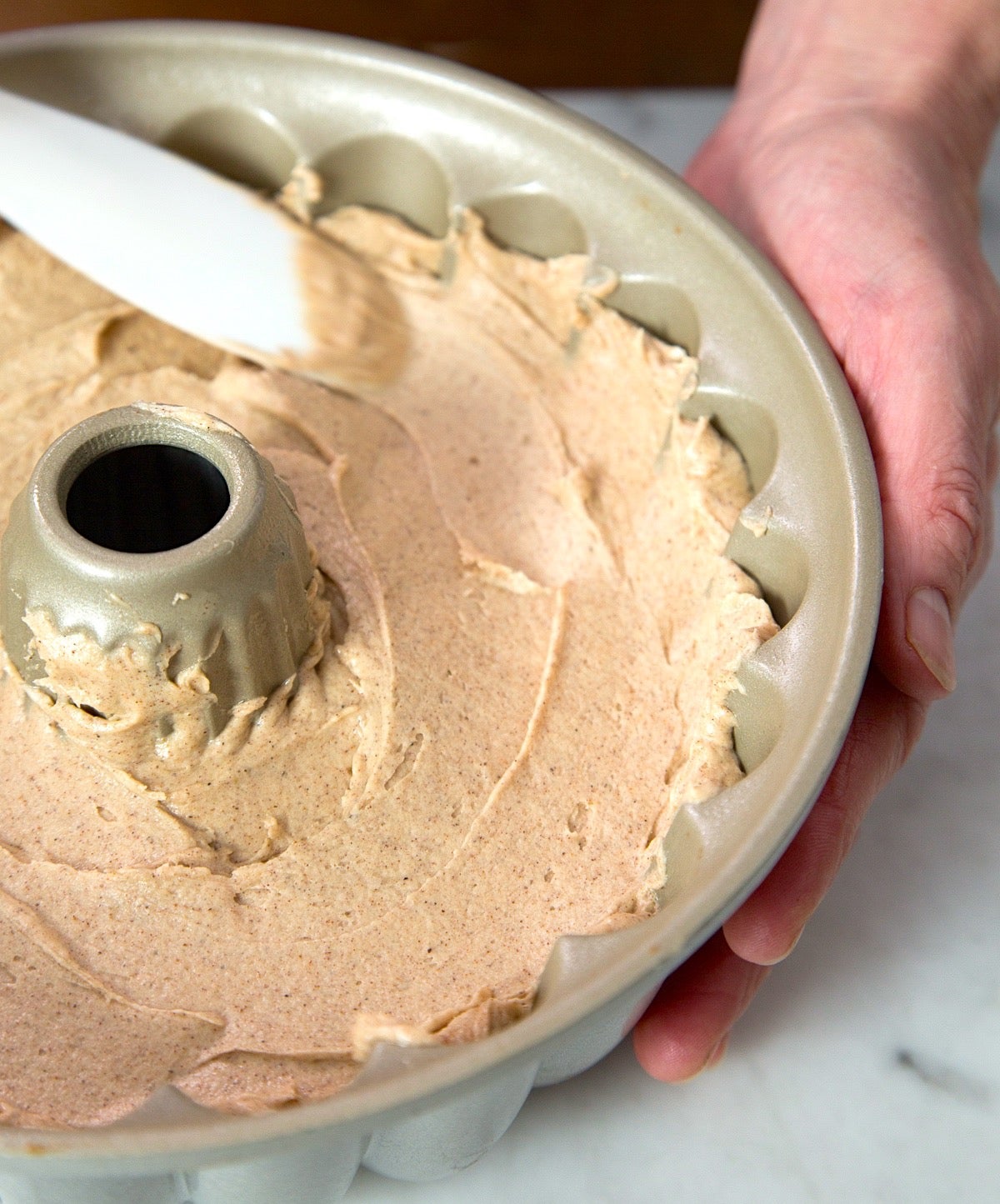 Smooth the batter with a spatula.
Bake the cake
Bake the cake for 50 to 55 minutes, until a cake tester, bamboo skewer, or long toothpick inserted in the center comes out clean. Remove the cake from the oven, and cool it in the pan for 15 minutes.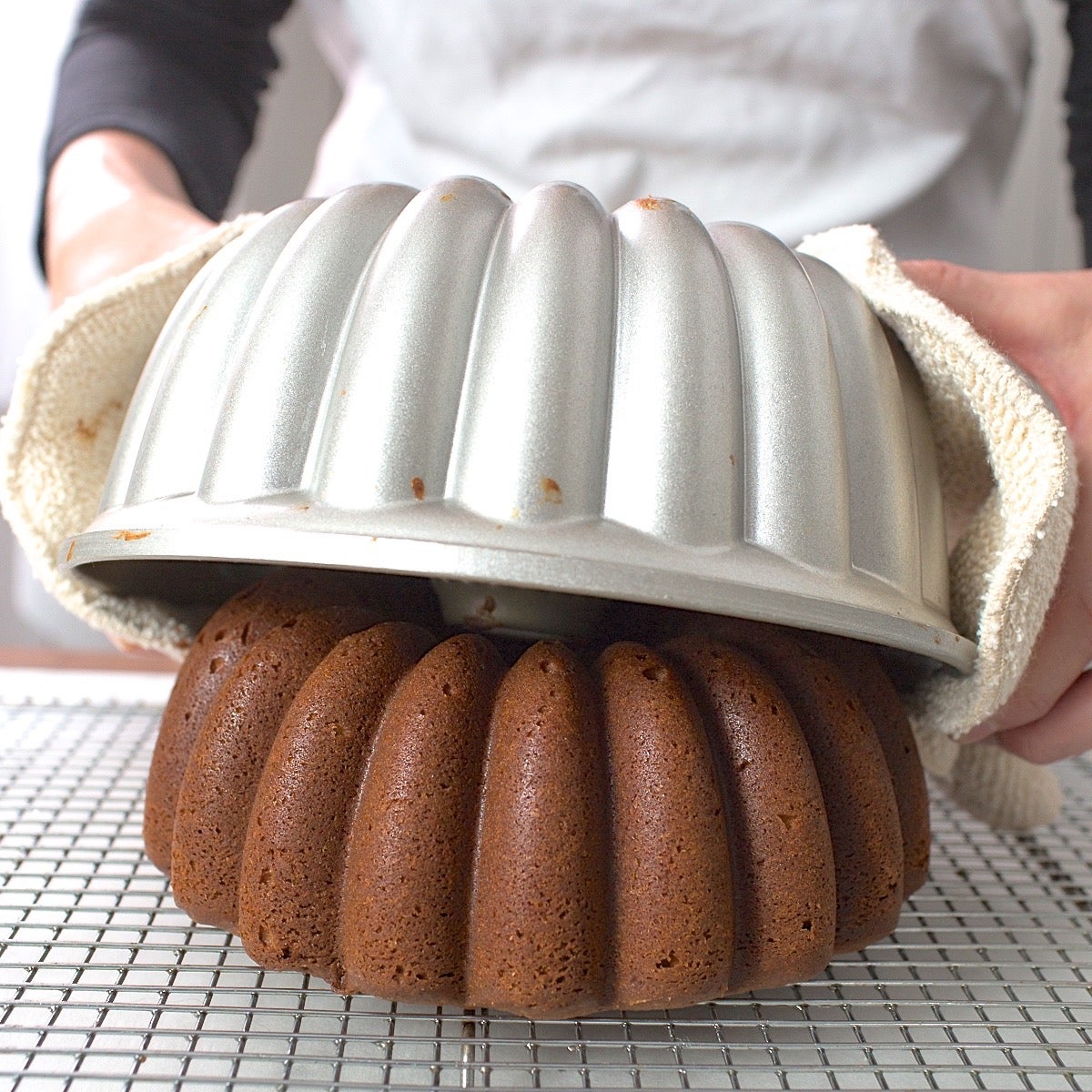 Turn the cake out of the pan
Loosen the edges of the cake, if necessary, and carefully turn the pan over onto a rack; the cake should slip out onto the rack.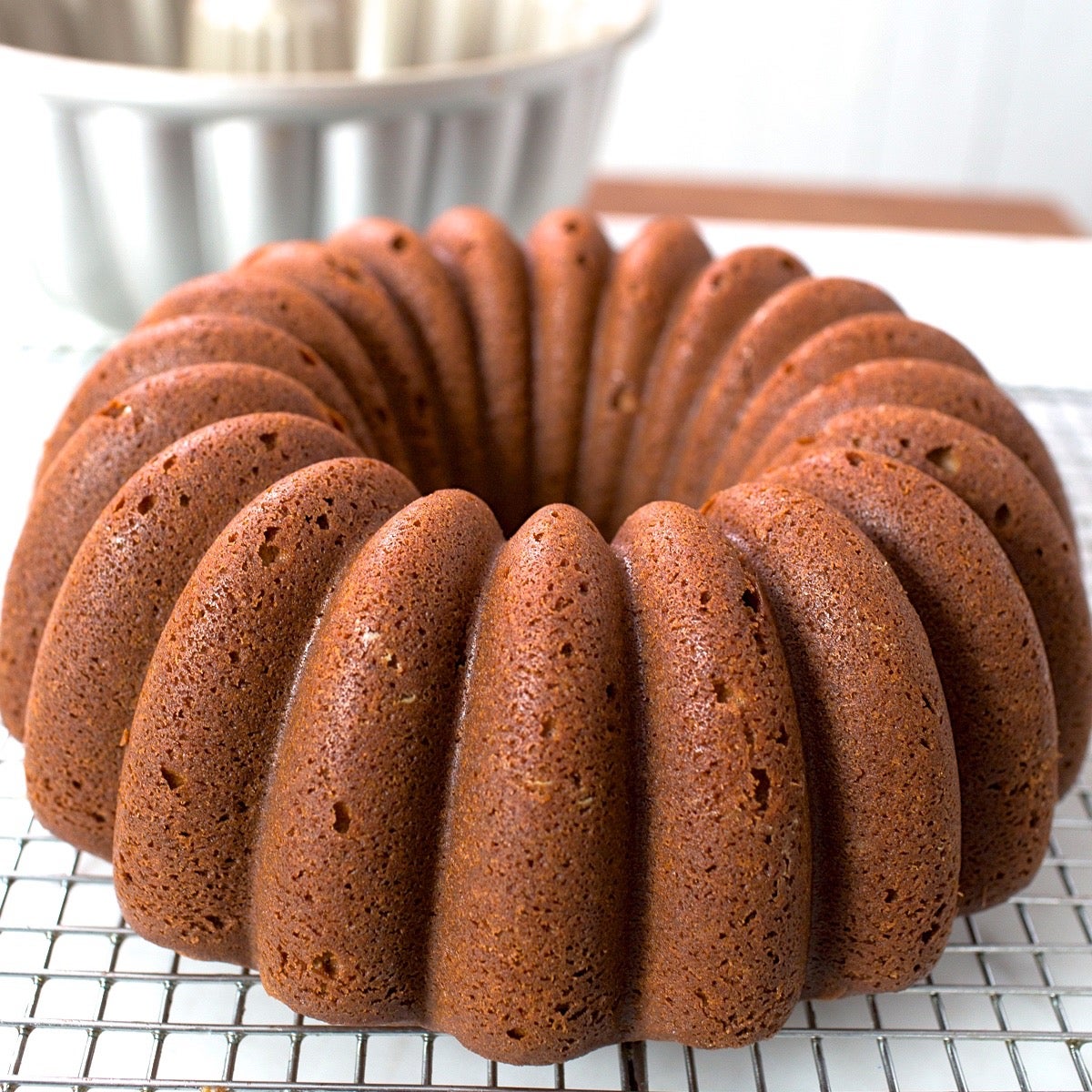 Cool the cake completely before slicing. Store any leftovers, tightly wrapped in plastic, at room temperature for several days; freeze for longer storage.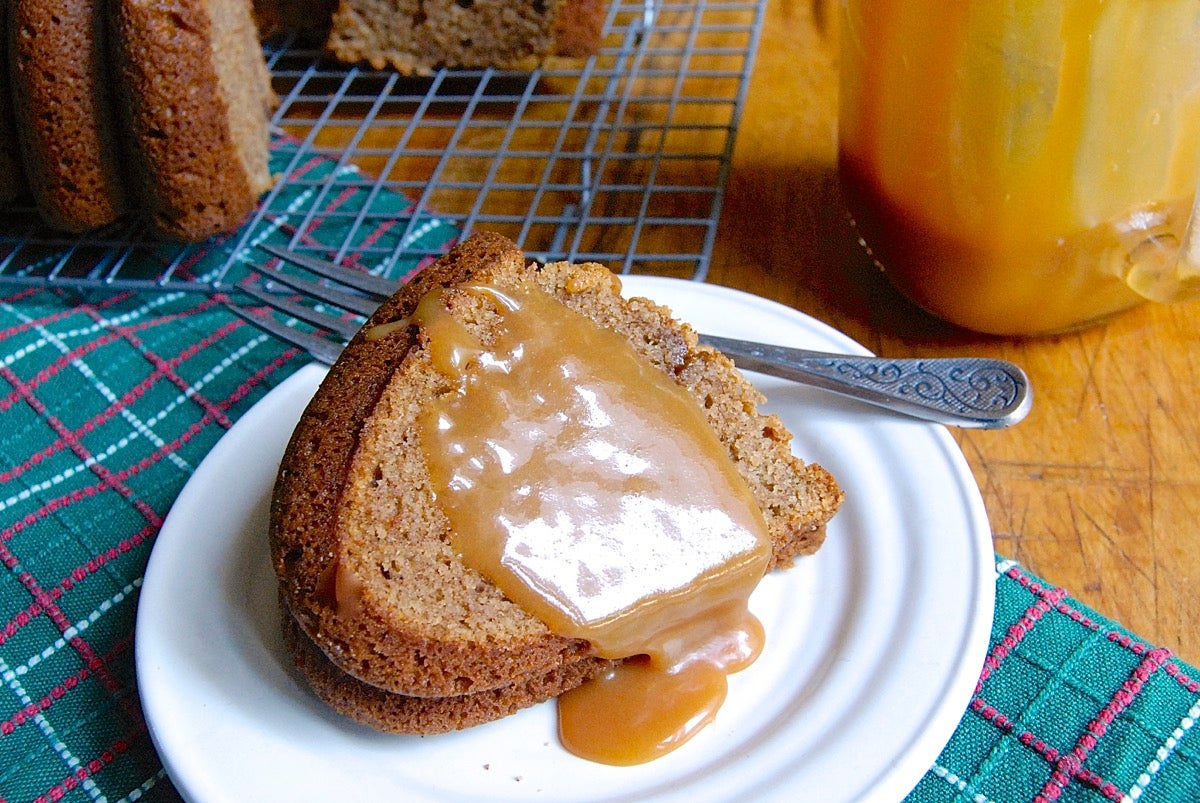 The perfect final touch: caramel
For a simple yet tasty final touch, try drizzling the cooled cake — either the whole cake, or individual slices — with caramel sauce.
Looking for additional Bundt cake tips, techniques, and recipes? See our Complete Guide: Bundt Cakes. And find links to additional specially selected Bundt recipes and blog posts on our Year of the Bundt page.
Thanks to fellow employee-owner Julia Reed for taking most of the photos for this post.
Jump to Comments