How to make a summer icebox cake
Simple assembly, stunning results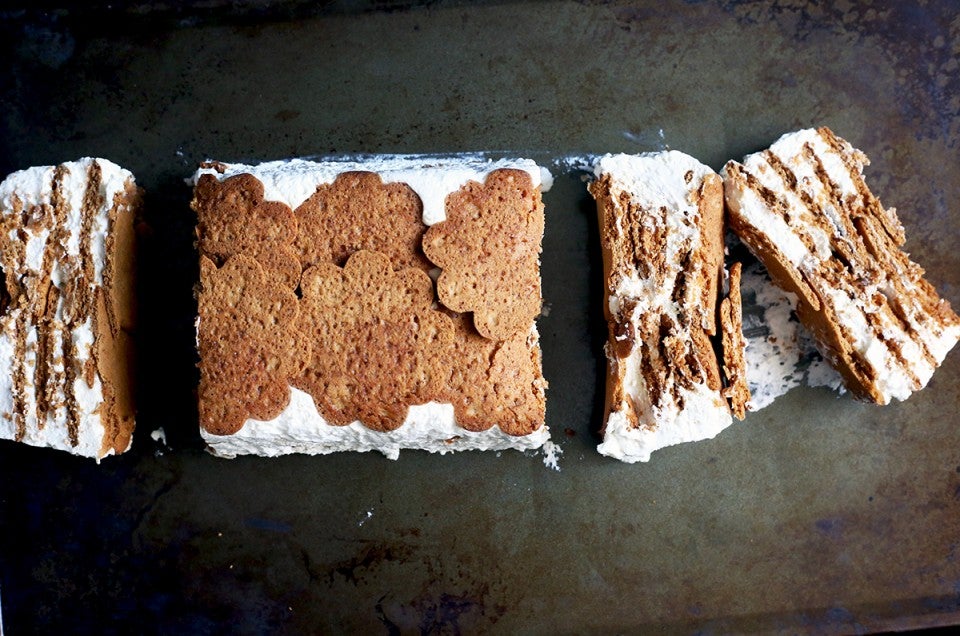 When it's hot out, instead of turning on the oven, consider assembling an icebox cake for dessert. I can hear you now, "A cake you make in the refrigerator instead of baking? Nonsense!"
But rest assured, icebox cakes are both a classic dessert and a modern summer essential. These delicious layered confections are traditionally made with extra-thin chocolate wafer cookies sandwiched between pillowy mounds of sweetened whipped cream. The entire pile is chilled, allowing the cookies to soften slightly to the point where you slice through the stack and enjoy a pie-like wedge of cold dessert bliss.
But who are we to stop at just a single dessert? Never! The icebox cake template is infinitely variable and ripe for your creativity. It's perfect for those sweltering days of summer.
Here's a guide for how to put together a perfect icebox cake. Follow the basic components, and choose any flavors you like. You can stick with the simple formula (alternating layers of whipped cream + baked goods), or get fancy and add texture and flavorings.
Ready? Let's begin!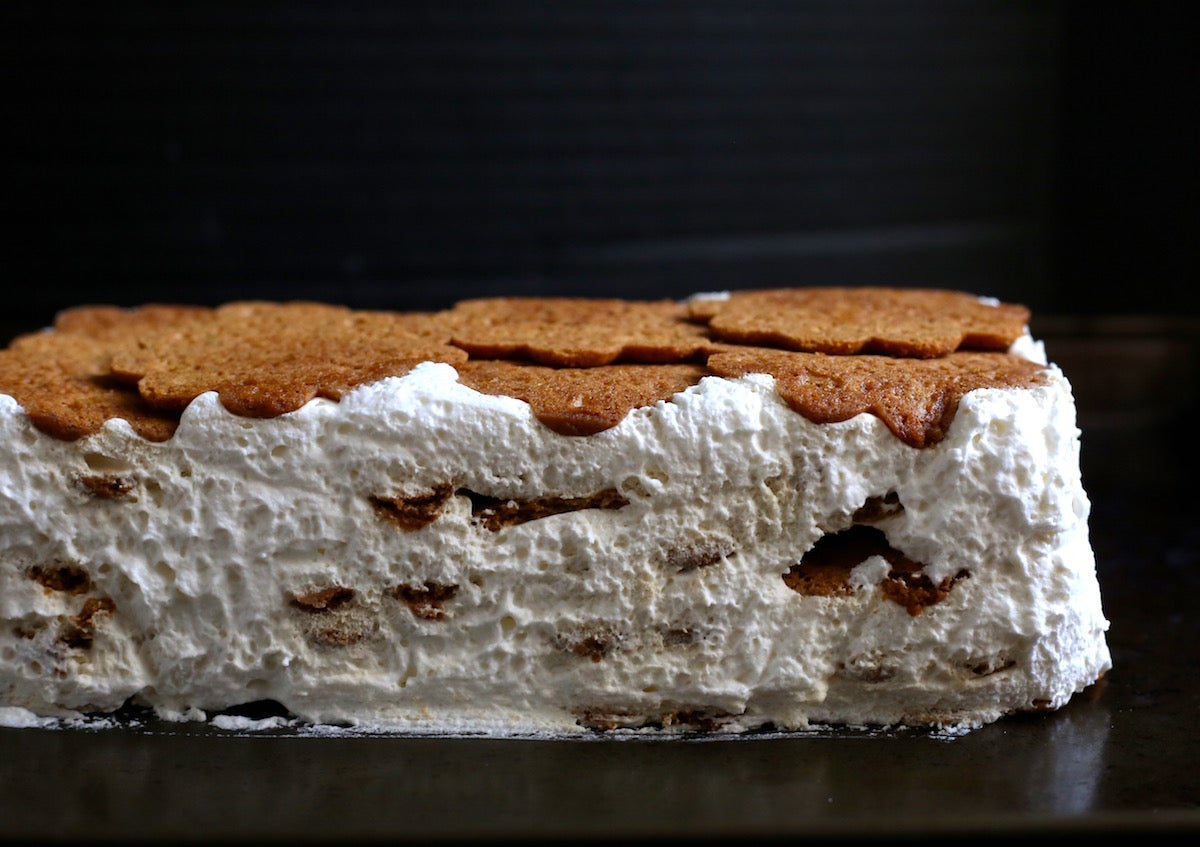 Choose a cookie
The key to a great icebox cake is choosing the right cookie. After you layer together your whipped cream and cookies, along with any extras, the cake will sit overnight and the whipped cream will soften the cookies, so they slice easily like cake layers. It's important to select a cookie that will stand up to the whipped cream, but will soften too.
The most iconic icebox cake recipe uses thin chocolate wafer cookies. Graham crackers are also an excellent choice. Try to stick to cookies that are thin and crisp, without too many add-ins (like nuts or chocolate chips), as those make the "cake" layers too thick and hard to slice. Important note: That doesn't mean you can't make an icebox cake using chocolate chip cookies or fudge cookies (when it comes to baking, we never say never!), it's just a little less elegant-looking.
Just keep in mind that you want your cookie of choice to soften over time and absorb the flavors of the whipped cream, so thinner is better.
Some of our favorite cookie bases are digestive biscuits, vanilla wafers, brown butter sugar cookies, ladyfingers, and chocolate cutout cookies.
Add whipped cream
To build your cake, you'll alternate each layer of cookies with a layer of whipped cream. Now, plain whipped cream is a perfectly wonderful option. (I would personally never turn down a spoonful of freshly whipped cream!) However, the whipped cream layers are a good place to add flavor. Here are some tips on whipping cream perfectly.
Note: I suggest sweetening your whipped cream. You don't need to go overboard here; a teaspoon of confectioners' sugar per 1/2 cup of cream will lightly sweeten it. Think about how sweet your cookies are, and adjust the sugar accordingly.
Let's think about flavorings
Delicate flavors and extracts should be added before whipping. For chocolate whipped cream, add some cocoa powder. A blend of cinnamon and cardamom will make a chai-inspired whipped cream. Add a splash of extract (like vanilla or almond) or an oil (like lemon or peppermint) for an easy way to change the flavor profile of your icebox cake.
Heavier ingredients should be added at the very end of the whipping time, or folded in with a spatula to the already-whipped cream.
Craving something nutty? Try adding a few spoonfuls of peanut butter, almond butter, or tahini during the final 30 seconds of whipping.
Don't forget about dairy! Another option is to fold in some Greek yogurt, ricotta, or mascarpone. This gives the whipped cream a thicker, more stabilized texture along with more flavor.
To sweeten and add a nutty note, fold warmed-up almond or pistachio paste into your fully-whipped cream. When adding heavier ingredients like nut pastes, fruit jams, tahini, or lemon curd, be careful not to overmix and deflate the whipped cream. Just fold it in until it's streaky-looking, then stop.
Finishing touches
A traditional icebox cake is made up of layers of cookies and whipped cream. But who are we to stick to tradition?! Icebox cakes are very soft affairs, texture-wise, so they benefit from added texture.
For some crunch, try:
A layer of chopped chocolate
A layer of toasted, chopped nuts
A layer of crushed candy (like toffee bits or peanut brittle or even nougat)
For more fun extra-ingredient ideas, think about the sort of ingredients you'd find at an ice cream sundae bar:
Rainbow sprinkles
Mini marshmallows
Cacao nibs
Toasted coconut
You can either add these as a separate layer or fold them into your whipped cream layers.
Other ways to add creative flavors:
Brush your cookies with a layer of flavored syrup or glaze
Spread a thin layer of caramel sauce, hot fudge sauce, or cake frosting over your cookie layers
Garnish the top of your cake with an ingredient that hints at the cake's flavor, like chocolate shavings for a chocolate icebox cake or lemon zest for a lemon icebox cake.
Assembly tips
The key to a good icebox cake is time. The cookies need to soften enough to be sliceable, so you should let the cake chill in the refrigerator for a minimum of 8 hours.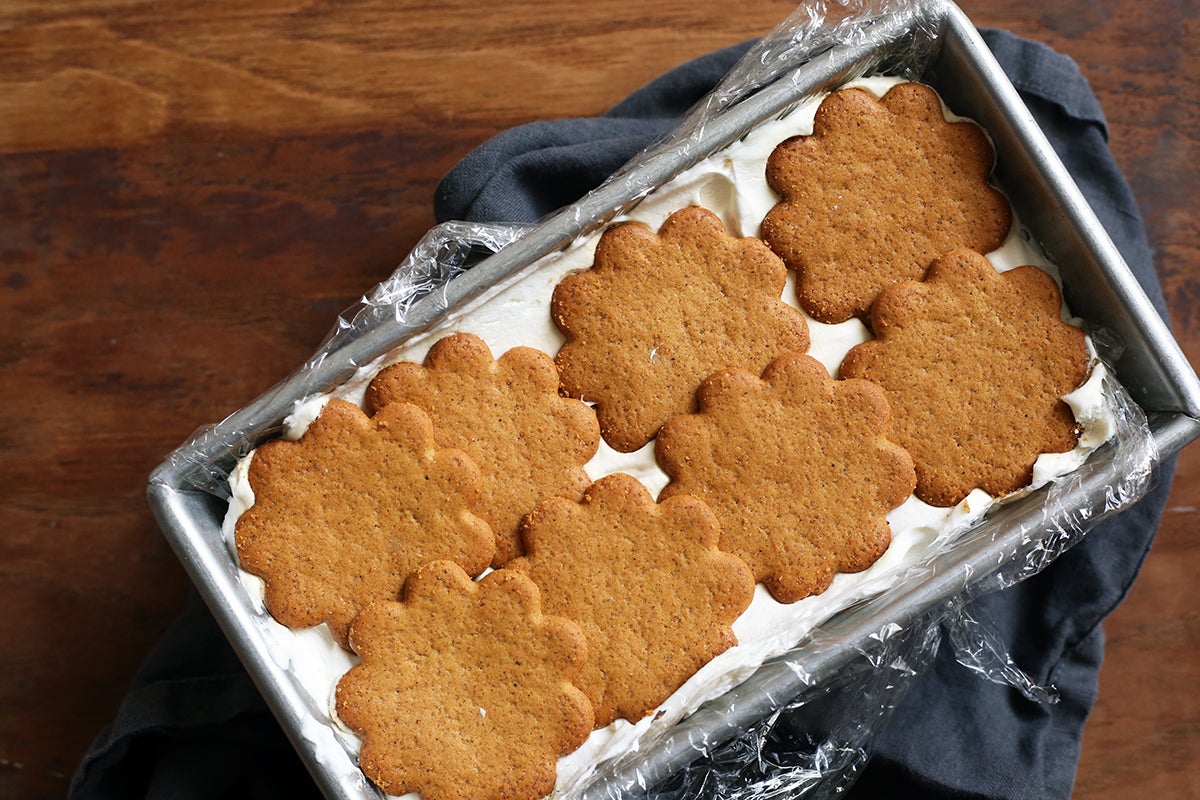 Icebox cakes can come in any size and shape. Just choose a pan or dish that's high enough to accommodate a few layers: standard-size loaf pans are good, as are round cake pans. If you're using a pan and you don't want to serve straight from the pan, line it first with plastic wrap so it's easy to flip over and unmold.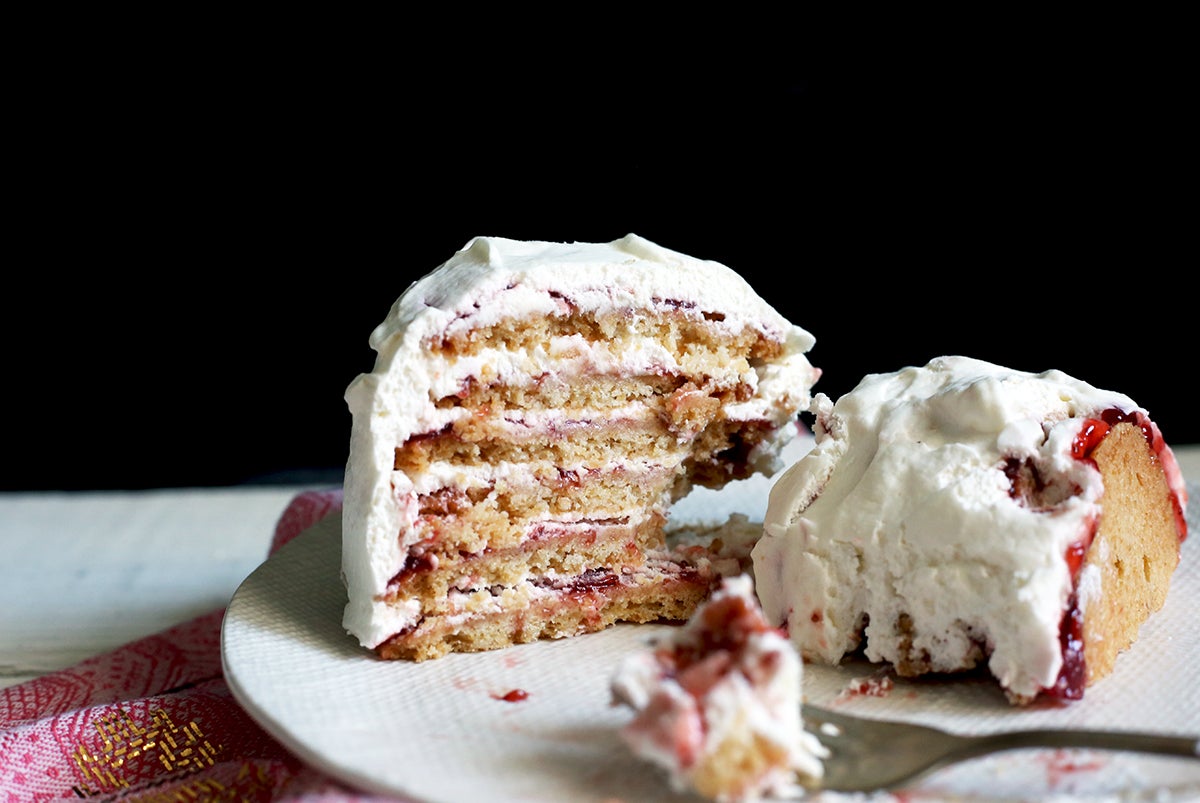 You can also make a freeform icebox cake on a plate, platter, or cake stand. Just start with a layer of cookies, add the whipped cream, and continue from there.
You can start with cookies or whipped cream. If you plan to flip and unmold the cake, bear in mind that your base layer will end up being the top layer of the cake.
Other tips:
Make sure to whip your cream to stiff peaks. The "sturdier" your whipped cream, the better it will hold up over time.
When making your cookie layers, try to have as few spaces as possible. If your cookies don't fit together perfectly (as round cookies don't), you can break some apart to fill in any big gaps.
Here are a few of our favorite riffs on the icebox cake concept. Get creative!
You can make any combination you dream up, just remember that the alternating layers should play off each other in flavor.
Classic Icebox Cake
Sandwich chocolate wafers with sweetened whipped cream to create the iconic, beloved original version of an icebox cake.
Bonus! Make it malted. Fold malted milk powder into the whipped cream for a soda shop twist.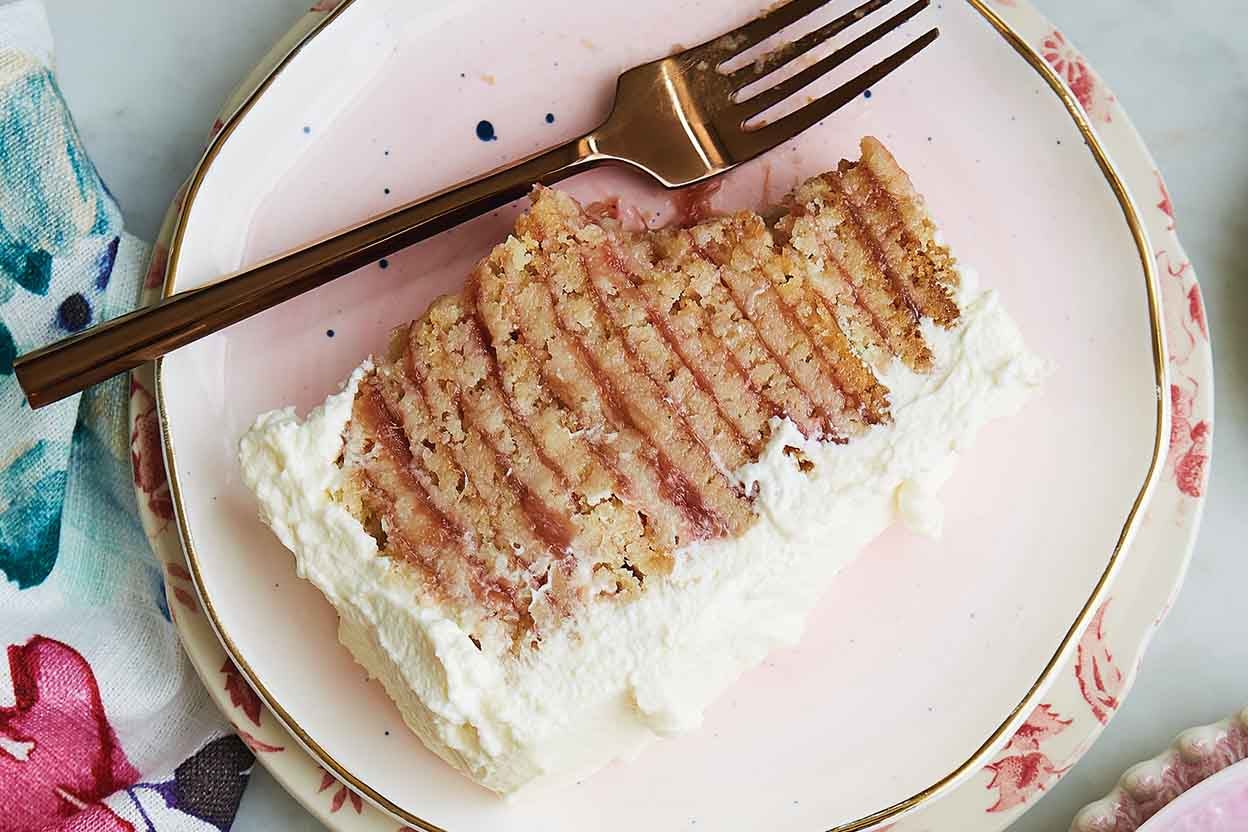 Pretty in Pink Icebox Cake
Rhubarb isn't just for pie. This gorgeous recipe layers vanilla sugar cookies with homemade stewed rhubarb and whipped cream.
Bonus! Try a strawberry-rhubarb version by adding 1 cup of chopped strawberries to the rhubarb mixture.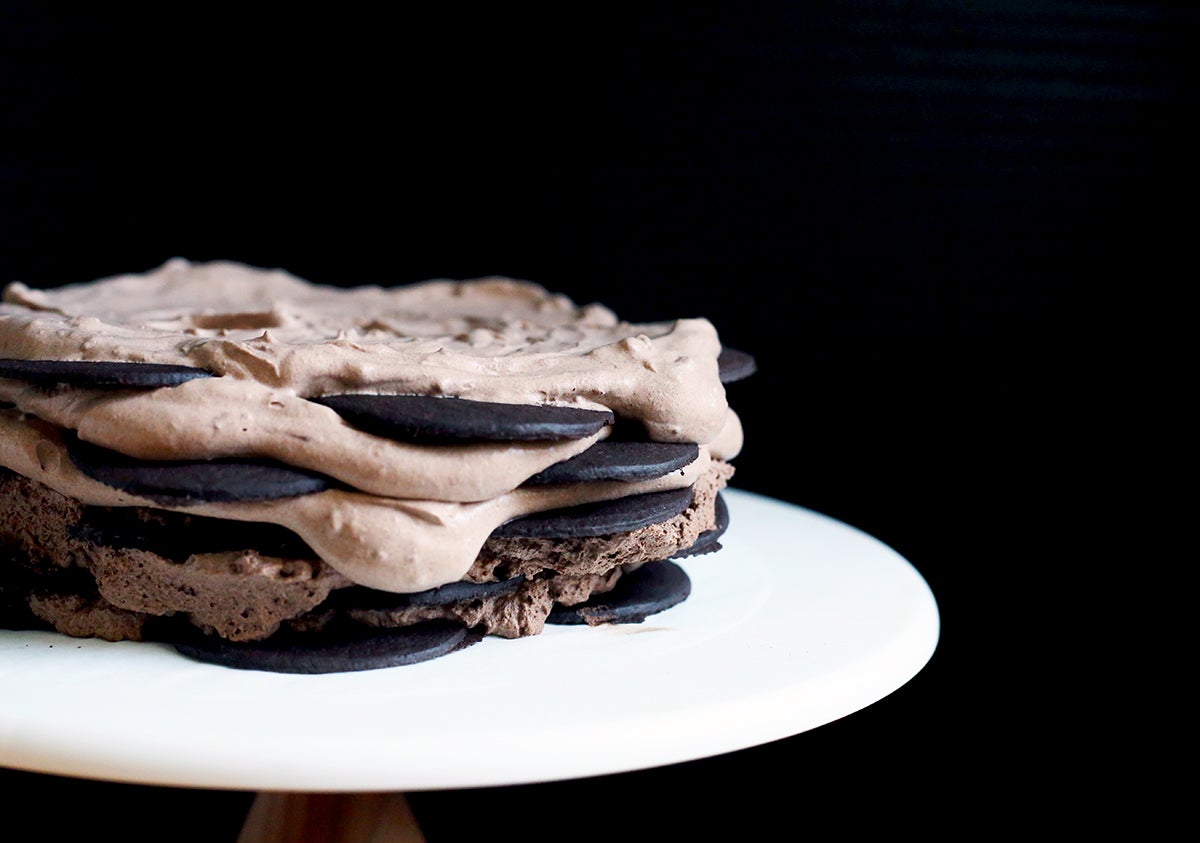 Chocolate Lover's Icebox Cake
Chocolate whipped cream (cream whipped with dark cocoa and confectioners' sugar) and chocolate wafers make a decadent, rich chocolate dessert.
Bonus! To up the chocolate flavor, add a layer of chocolate chips and some chocolate shavings on top to garnish.
Milk and Cookies Icebox Cake
Layer circles of thin chocolate chip cookies with whipped cream on a plate for a freeform icebox cake with all the best flavors of a cookie dipped in milk.
Bonus! Use brown butter chocolate chip cookies or oatmeal chocolate chip cookies for a little twist.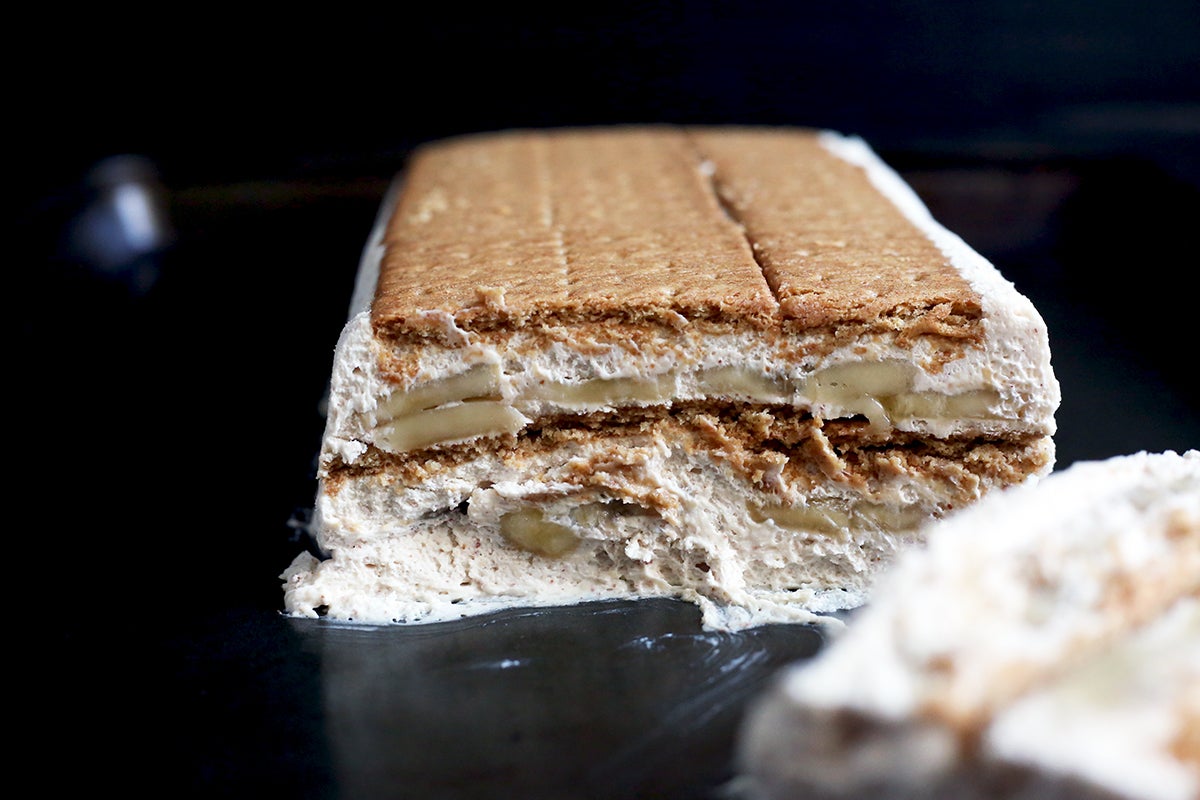 The Elvis Icebox Cake
Fold a few spoonfuls of peanut butter into your whipped cream. In a plastic wrap-lined loaf pan, alternate layers of the whipped cream with layers of graham crackers and layers of sliced bananas.
Bonus! Add a layer of chopped candied bacon.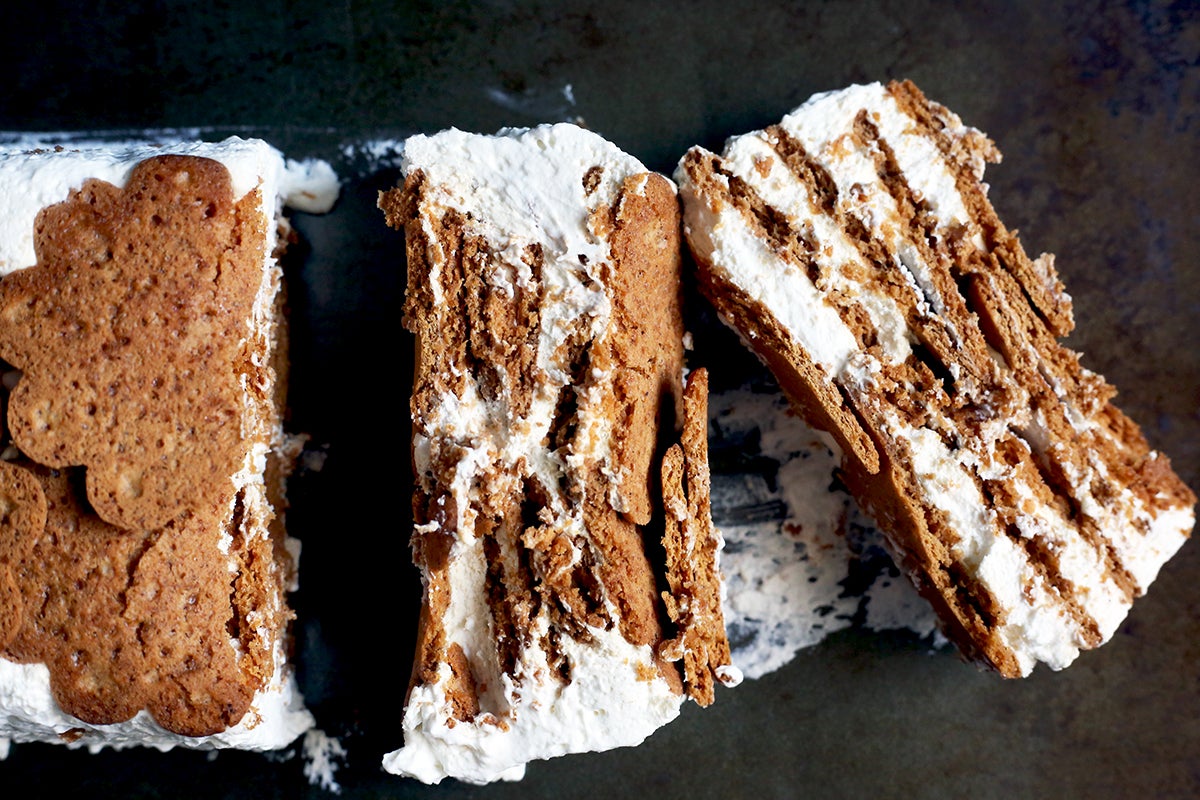 Lemon-Ginger Icebox Cake
Fold lemon zest into your whipped cream for a citrusy twist. Layer that with gingersnaps or other crisp ginger cookies.
Bonus! Top the cake with diced crystallized ginger.
Birthday Cake Icebox Cake
Fold rainbow sprinkles into your whipped cream and layer with ladyfingers and thin layers of buttercream frosting.
Bonus! Instead of ladyfingers, bake a regular vanilla cake. Tear the cake into chunks and toast them slightly, then use that as the "cookie" layer.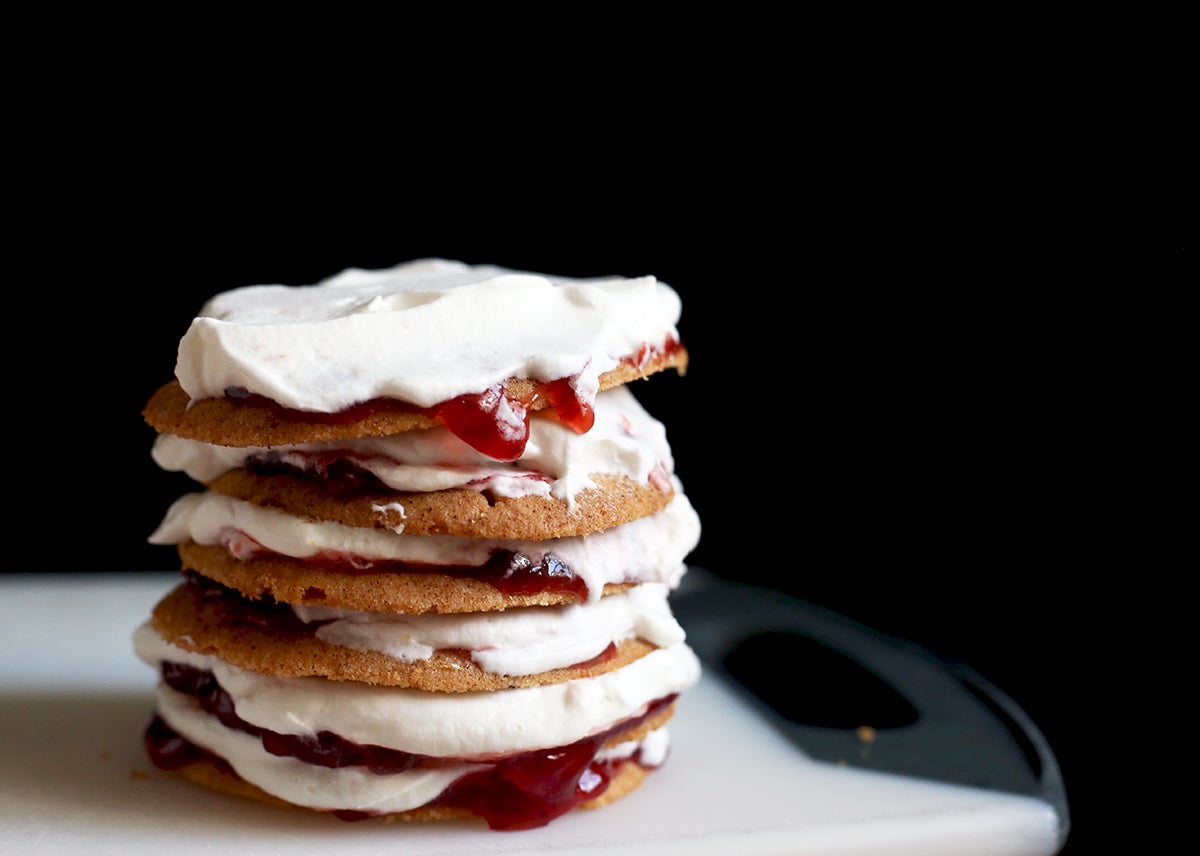 Berry Delicious Icebox Cake
Spread a thin layer of strawberry jam over five sugar cookies. Stack the sugar cookies on top of each other with a layer of whipped cream between each. Cover the stack with whipped cream and chill.
Bonus! Fold jam into your whipped cream and serve the icebox cake with fresh berries.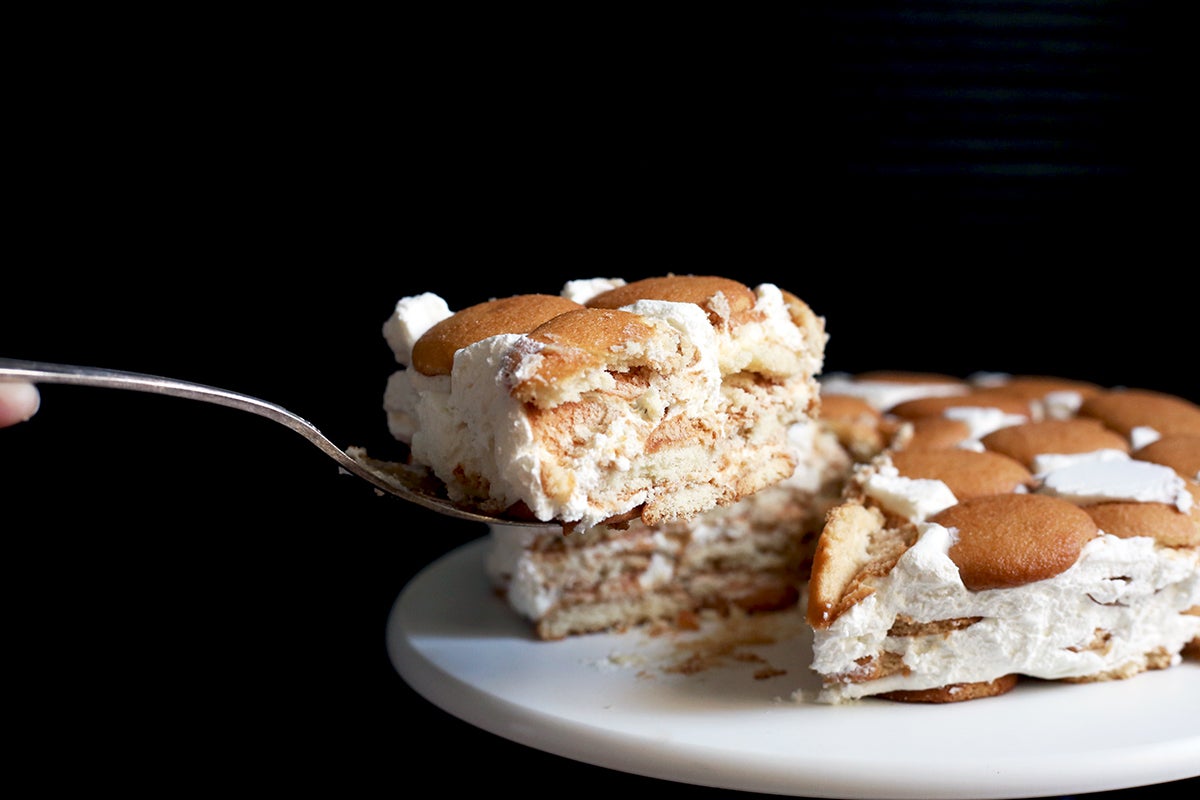 Nilla Vanilla Icebox Cake
This cake packs a wallop of vanilla flavor. Layer Nilla Wafers (here's a similar make-at-home recipe) with vanilla extract-infused sweetened whipped cream (1 cup of heavy cream whipped with 2 teaspoons of vanilla extract and 2 teaspoons of confectioners' sugar).
Bonus! For those distinctive vanilla bean flecks, use vanilla bean paste instead of vanilla extract in your whipped cream.
Feeling inspired? Tell us what icebox cake combinations you'll be trying out this summer!
Jump to Comments