I'll admit it: I'm not a great cake decorator. Crumb coats frequently vex me, fondant confounds me, and my hand coordination — while strong — is not accomplished enough to pipe artfully looping letters onto a blank cake (yet!). 
In addition to not fully mastering the finer points of cake decorating, I also happen to adore summer berries. And holiday-themed baked goods. Which means this flag cake is the perfect addition to my upcoming Fourth of July baking schedule. Maybe it suits yours as well?
Getting started
There are three components that make up this cake. Our trusty Classic Birthday Cake (the 2019 Recipe of the Year!), modified here to be baked as a single layer in a 9" x 13" pan because who, after all, has time to construct a multi-layered cake when there's grilling to be done and summer games to be played? 
Next is our Easy Vanilla Buttercream Frosting. For this flag cake, it's especially important to use a sturdy, stable frosting, both to stand up to the summer heat and to anchor the berries we'll use to decorate. The vegetable shortening in this frosting does the trick to help make it more durable in high heat. You can use all butter if you'd like, but just note the frosting won't be quite as firm in warmer weather. Meanwhile, something delicate and airy, like sweetened whipped cream, wouldn't do here. 
Finally, the decoration itself — fresh, juicy summer berries! While I've chosen raspberries and blueberries as my red and blue representatives, you can use any color-coordinated fruit you'd like. Think sliced strawberries, cherries, or anything else that looks good at the market. This cake is the perfect opportunity to showcase the bounty of summer produce. 
Step one: cake
We'll begin where all good things do: with cake.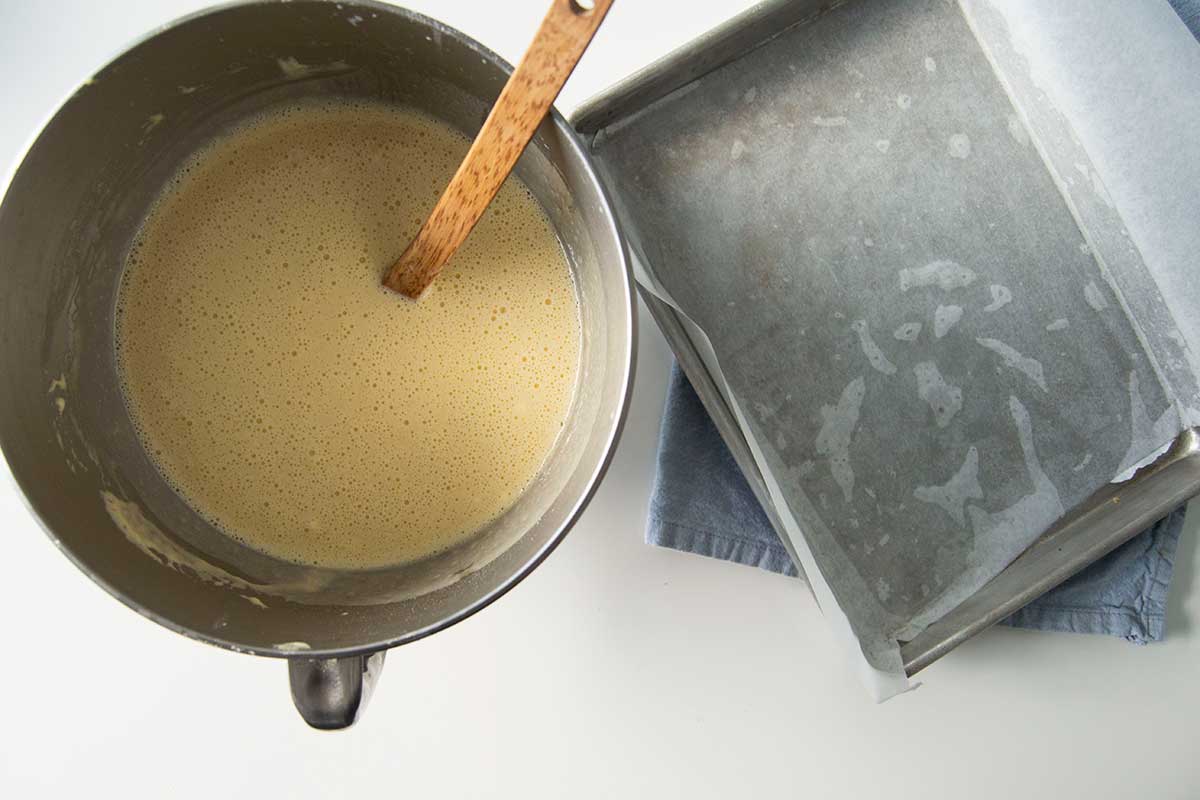 This tried-and-true recipe is a classic yellow cake, the kind you might remember baking from a box growing up. Made with both butter and oil, it yields a moist, rich cake, one you don't have to worry about becoming dry or crumbly (the horror!). Though the original recipe is made in round cake pans for a layered cake, it's simple enough for us to convert things to a single layer cake instead. Just prepare the batter as directed in the recipe, pour into a 9" x 13" pan, and bake in a preheated 325°F oven for about 45 to 48 minutes, until the cake tests done.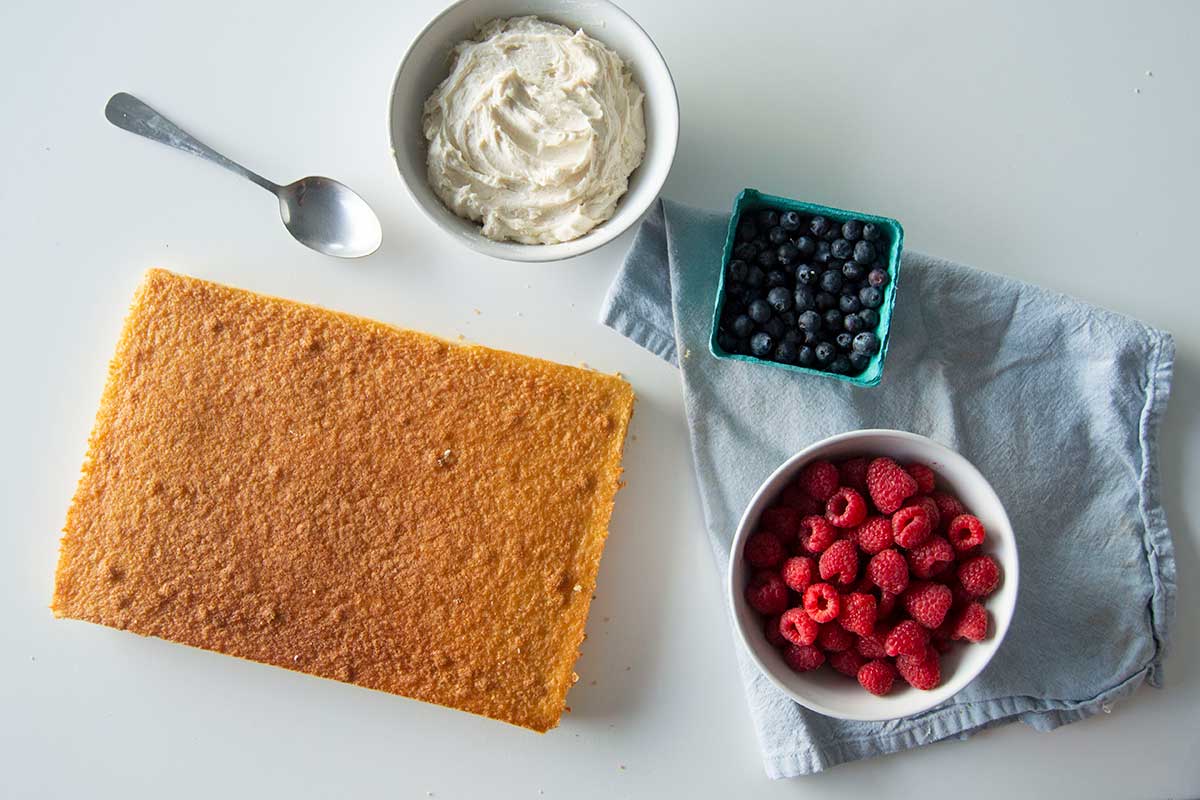 You can decorate the cake directly in the pan if you'd like. This option works particularly well if you're planning to transport your finished product anywhere. As you can see, I went ahead and removed my cake from the pan using a parchment paper sling before frosting, but it's totally up to you. 
Step two: frosting
Next up is the frosting. 
Our Easy Vanilla Buttercream is an "American-style" buttercream, yielding a simple, basic frosting that spreads easily to create a smooth surface for our berry decorations. While it's important that the frosting we use is white to emulate the stars and stripes, there's also another benefit to decorating with this basic frosting — because it's neutrally flavored, it really allows the brightness and flavor of fresh, seasonal fruit to shine. It's summer, after all. Let's make sure we celebrate it.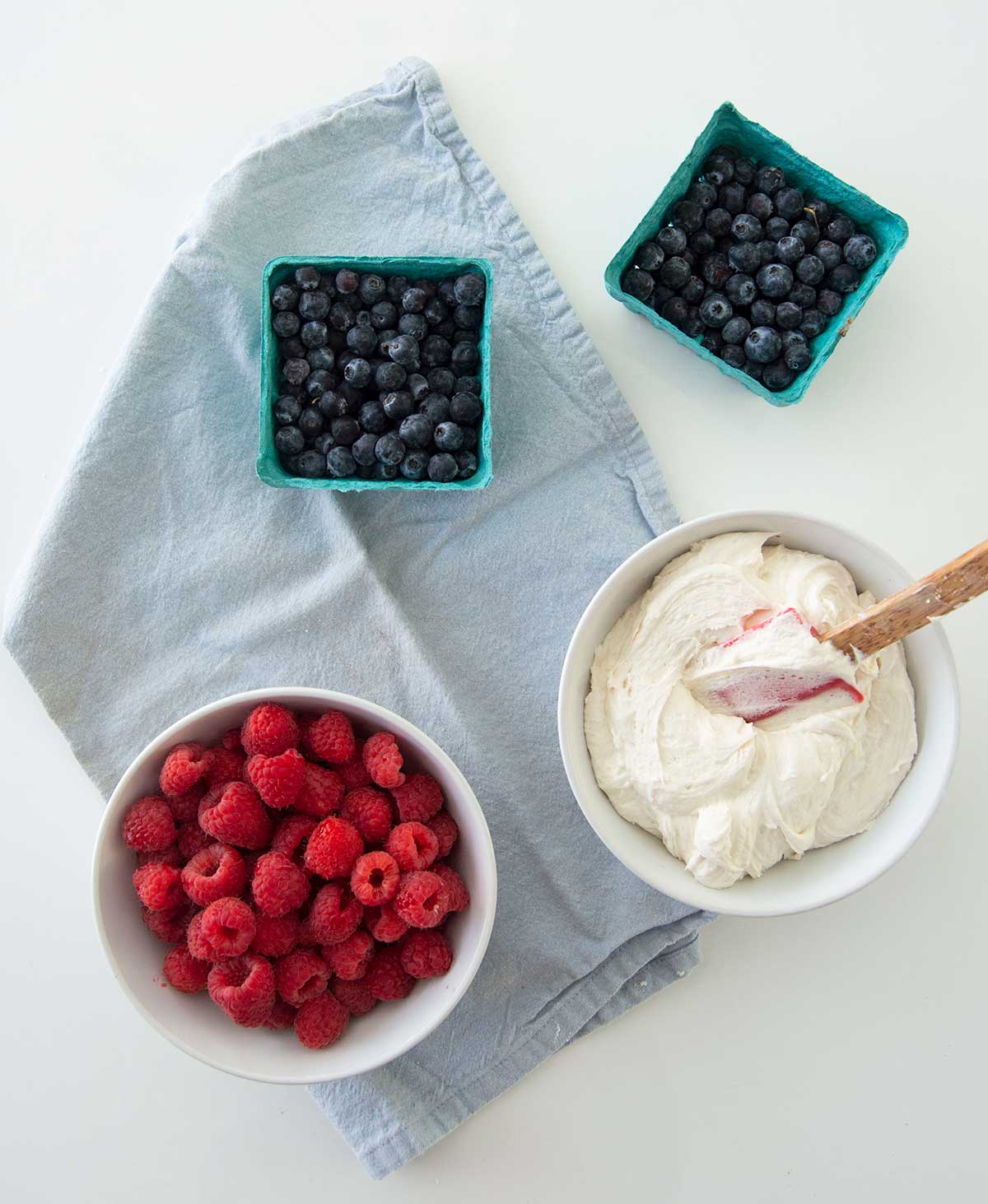 The frosting itself comes together quite simply. Just beat together butter, vegetable shortening (for a more heat stable result), salt, confectioners' sugar, vanilla extract, and milk or cream until the frosting is light and fluffy. In no time at all, it's ready to crown our cake. 
For those of you who, like me, quail at the prospect of frosting cakes, never fear. Because we're just slathering it over the top of a single layer cake, and because this frosting is so smooth, sturdy, and spreadable, it all goes on like a dream. You could use an offset spatula to spread your frosting in order to ensure a completely smooth surface. Or, like me, you can opt to just use the back of a spoon. It'll be covered with berries, after all, so I find that it doesn't matter if the frosting isn't completely smooth. Either way, we'll eventually have a beautiful blank canvas to make our flag.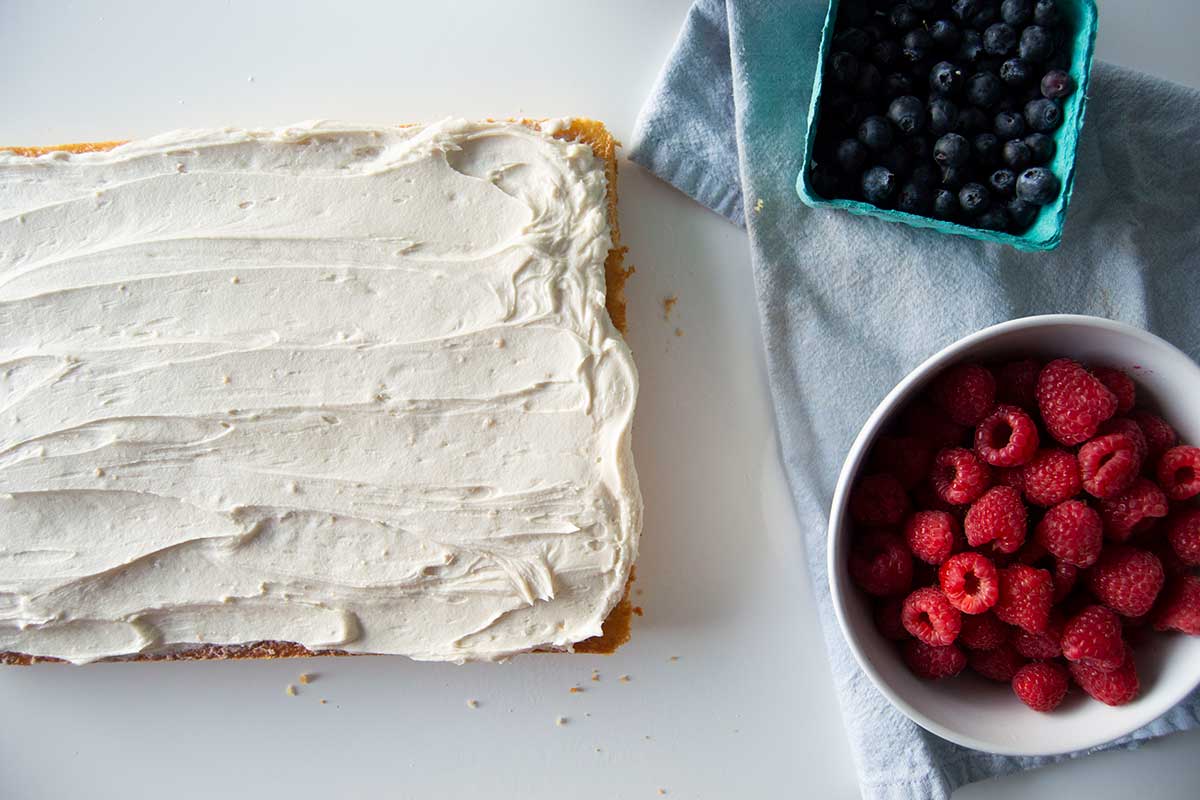 Step three: decorate
This next part is quite fun, and also a great way to get young bakers involved in the kitchen. To decorate the cake, you'll gently press the berries into the icing, emulating the pattern of an American flag. 
If you want to be super precise, you can use a knife to mark straight, exact lines into your frosting to guide your pattern. First, begin by marking a square in the upper left portion of the cake — the "stars." This section is then filled in with blueberries. I find that placing the blueberries in somewhat even lines helps keep things looking neat and tidy.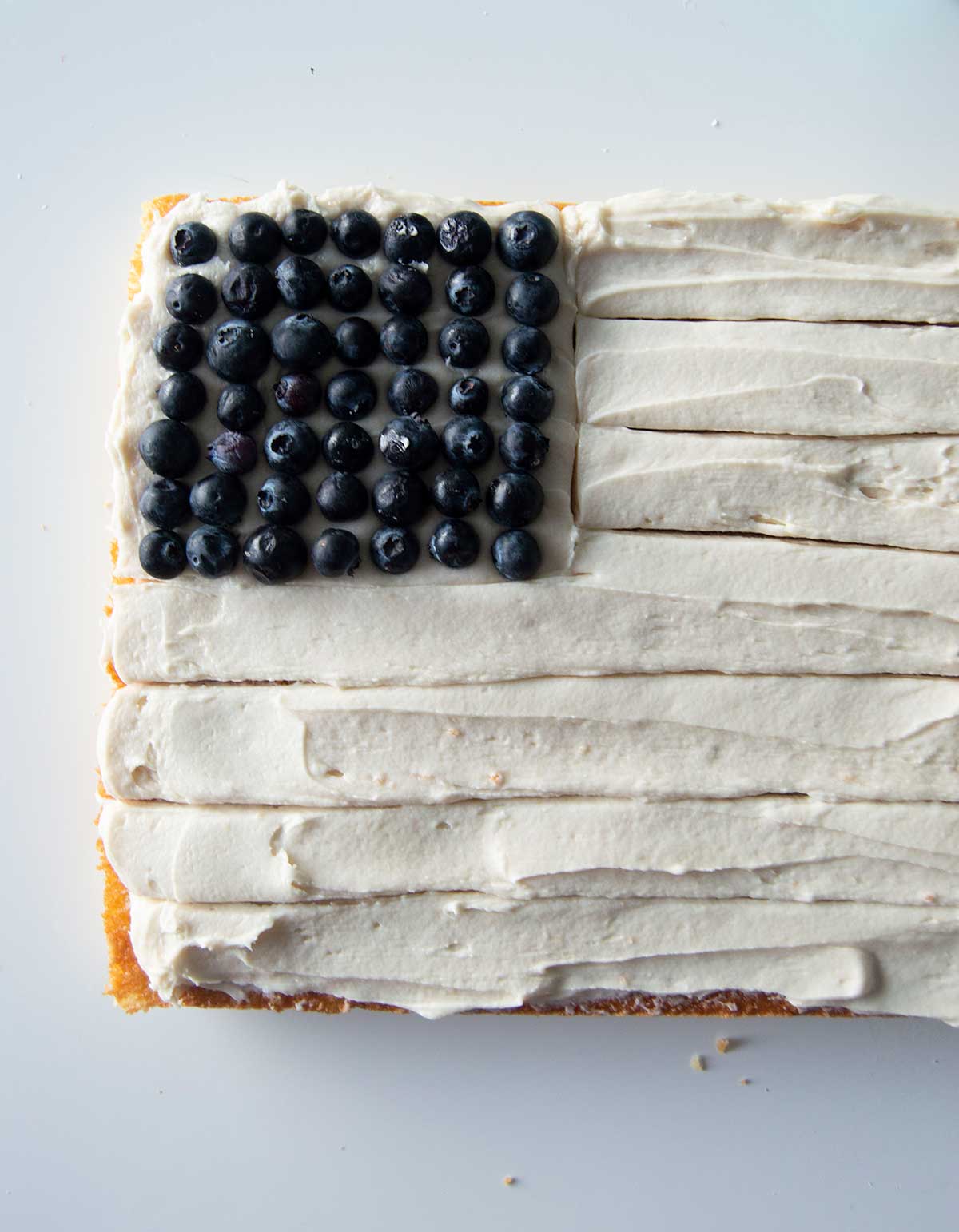 Next, mark out horizontal lines across the rest of the cake, which will serve as a pattern for laying out your raspberries. I placed my raspberries along each of the lines that I marked, leaving the frosting as white space in between. 
If you want to take your decoration a step further, you can use any leftover icing for some additional simple piping. Using the star tip on a pastry bag, pipe small little "stars" onto the blueberry square. (Unsurprisingly, you probably won't be able to fit all 50 of them on there.)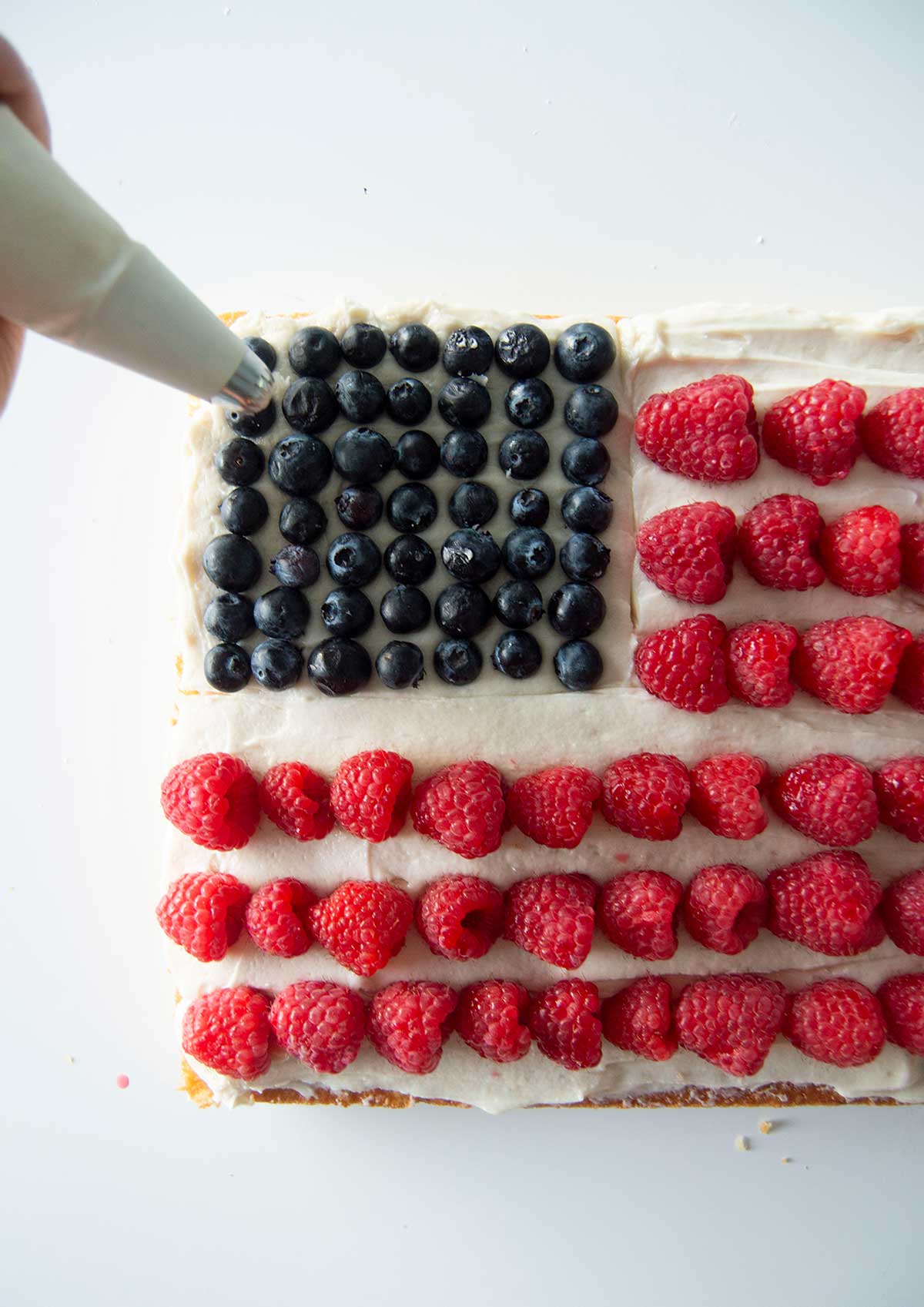 And if you don't want to bother with this step, then no worries. With bright, seasonal fruit, fluffy frosting, and a classic yellow cake, your creation will still embody all that is fun and festive about the Stars and Stripes.
What will you be baking for the long holiday weekend? Let us know in the comments below! 
Jump to Comments