There are some days when turning on the oven sounds like the least appealing prospect in the world. On a hot, sweltering afternoon, the last thing I want to do is use an appliance that's just going to add more heat to the kitchen. But that doesn't mean making dessert is out of the question. I mean ... bakers gotta bake, right? 
When faced with such a dilemma, this unbelievably simple pie method is here to save the day. Instead of dealing with a hot oven, just turn to the freezer instead. Easy Ice Cream Pie is the answer, and that name is no joke — it really is effortless.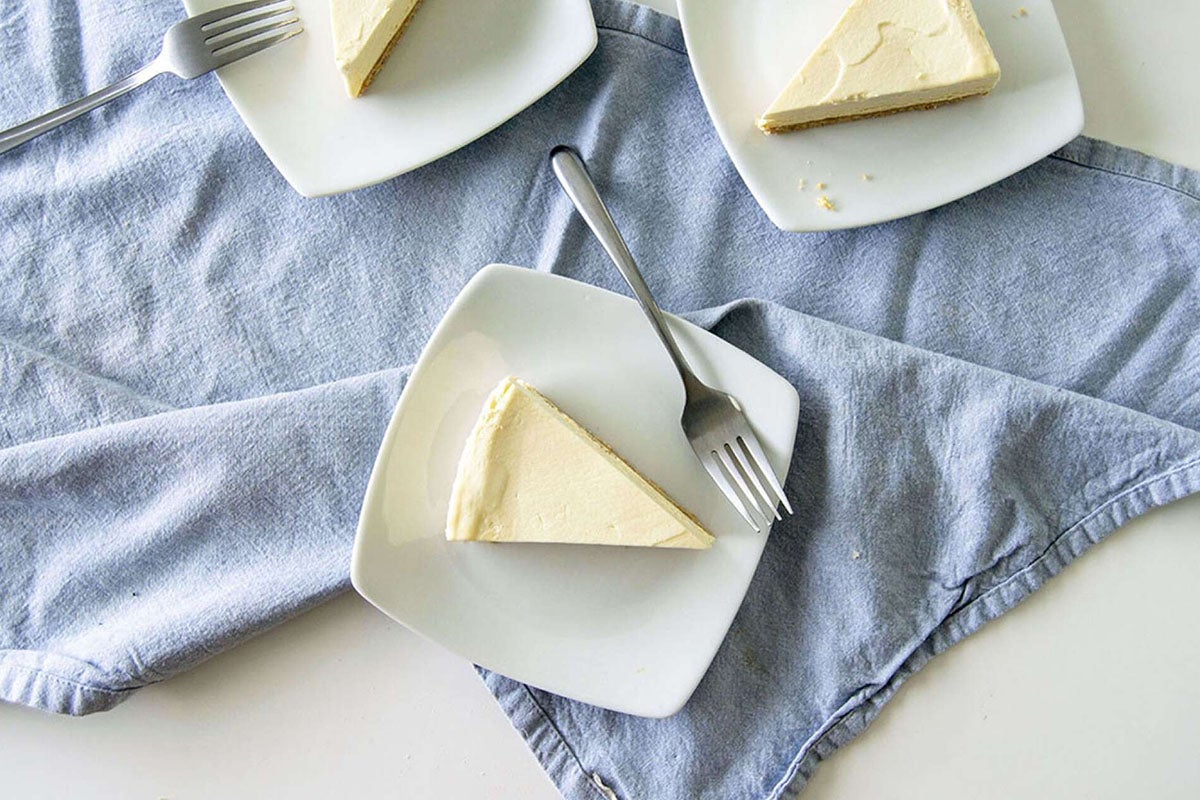 Rather than using pints of pre-made ice cream purchased at the store for the filling — as many similar ice cream pie or cake recipes might suggest — you can easily make your own ice cream base in about 2 minutes and with only a few ingredients. And if you think you need an ice cream machine to churn up a cold, creamy dessert at home? Think again — you won't need one here. 
Based on a foolproof method for making no-churn ice cream, the only key ingredients for this pie filling are heavy cream and sweetened condensed milk. And instead of whipping the cream and then folding in the sweetened condensed milk, as no-churn ice cream usually requires, we make it even simpler by just beating the two together at once: even less time and effort! 
Let's take a closer look at how Easy Ice Cream Pie comes together: 
First, prepare the crust 
We'll start off by making an uncomplicated no-bake graham cracker crust to hold that dreamy ice cream filling. All you need to do is toss together 1 cup (99g) graham cracker crumbs, 2 tablespoons (25g) sugar, and 4 tablespoons (57g) melted unsalted butter until evenly mixed.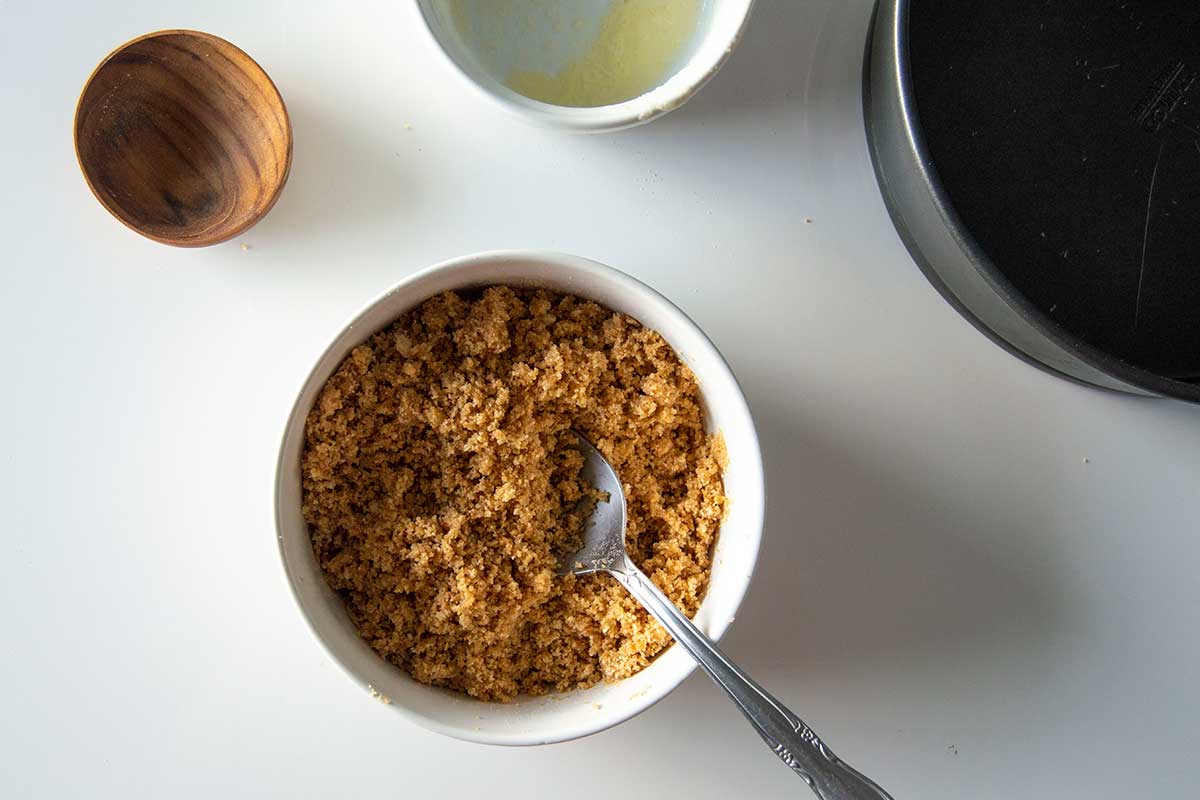 Use your fingers to press the mixture into the bottom of a 9" springform pan or a 9" pie plate. To accommodate all the filling, make sure your pie plate is at least 1 1/2" deep.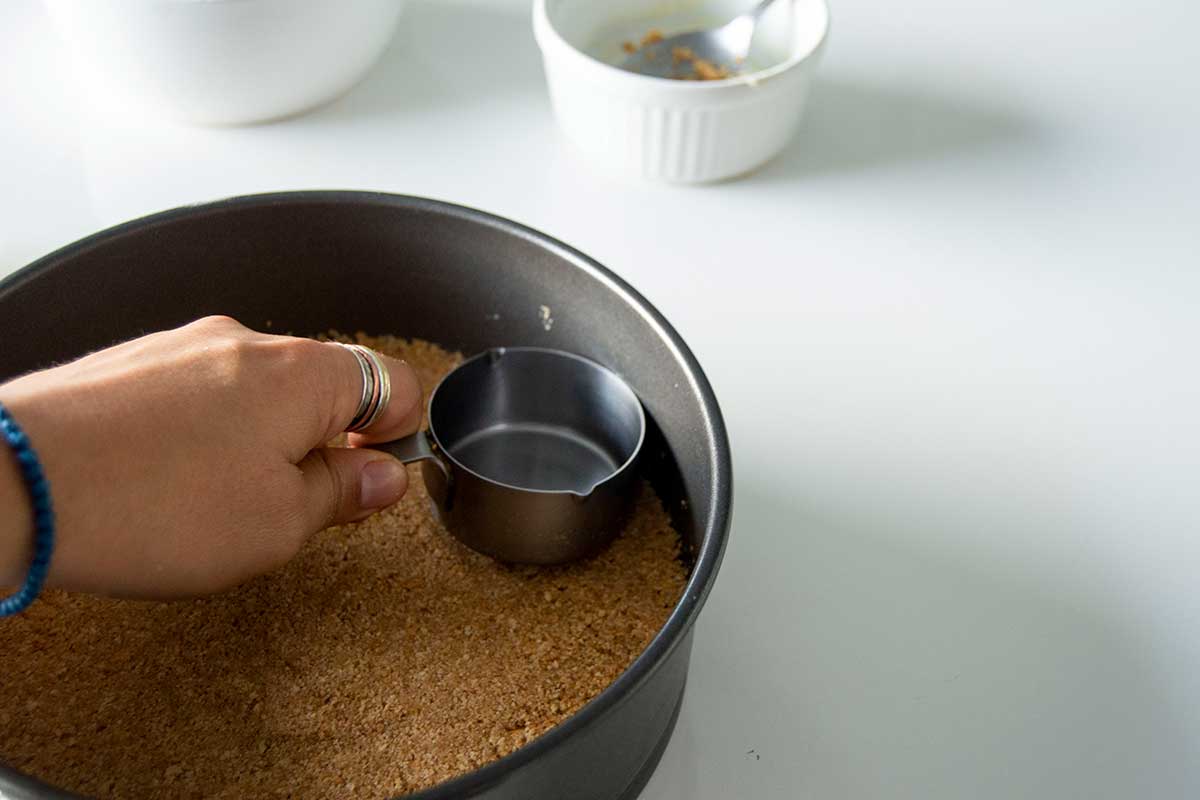 Chill that crust in the refrigerator until you need it. If you'd like to prep in advance, you can cover it with plastic wrap and store in the fridge for several days before filling. 
Next, make the filling
The real beauty of this pie is the simplicity of the filling. In fact, it's so straightforward that you don't even need to use measuring utensils if you don't want to. Rather than churning ice cream from scratch or dealing with any tricky egg tempering, you can make your own ice cream with just two main ingredients and 5 minutes of active time in the kitchen. 
The stars of the show? One pint of heavy cream and one 14-ounce can (397g) of sweetened condensed milk. (If you're not buying your heavy cream in a pint, measure out 2 cups, or 454g.) Simply pour them both into the bowl of a stand mixer, add vanilla extract (2 teaspoons to be exact, but you can just eyeball a heavy splash if you'd like), and a pinch of salt.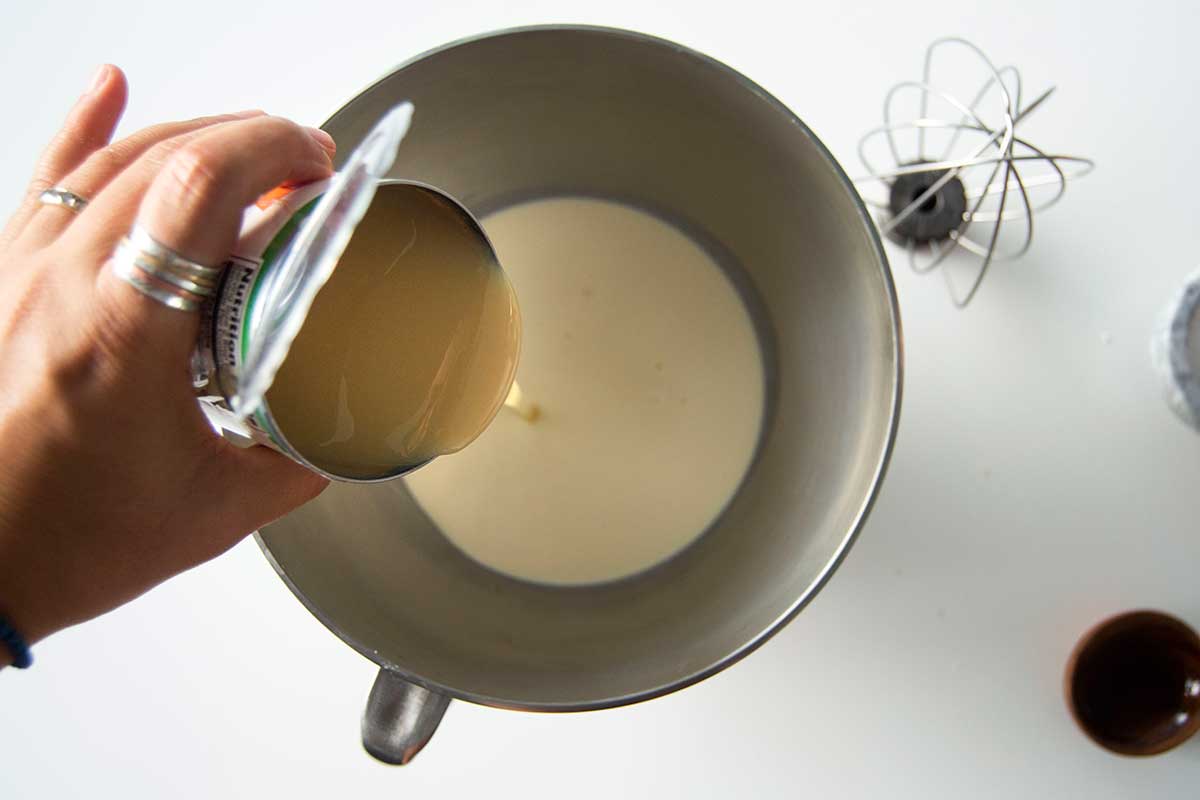 Using a whisk attachment, whip the mixture on medium speed until stiff peaks form, which should take approximately 5 minutes. You can also do this with a hand mixer if that's what you've got in your kitchen. 
And ... that's it!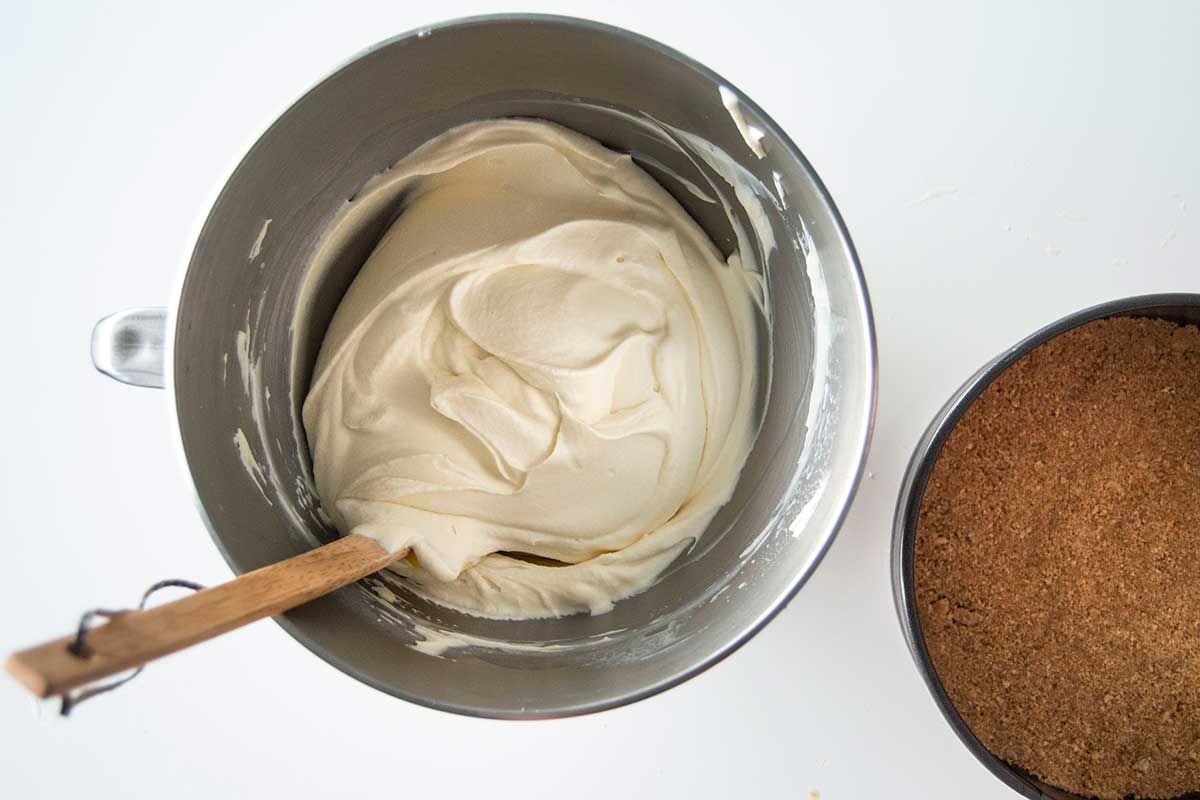 Finally, assemble the pie
Once your filling is ready, scrape it into the prepared graham cracker crust. If you're making the pie in a springform pan, you can use an offset spatula to evenly smooth the top of the filling. For a pie plate, you'll want to mound the filling higher in the middle for a dome-like shape.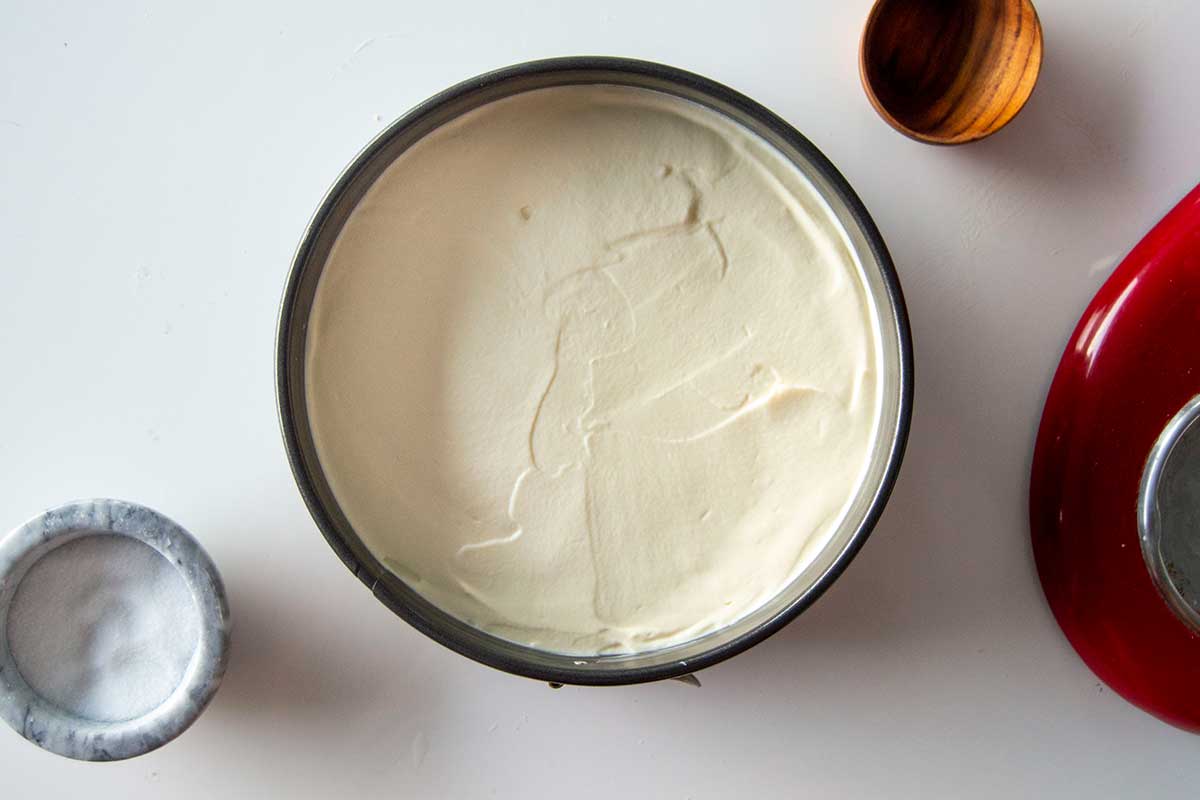 Pop that pie in the freezer, and then settle in for the hardest part of this whole process — waiting! Make sure to give your oven a little wave so it doesn't start to feel too neglected. 
About 6 hours later, the pie should be frozen solid and ready to serve. Remove it from the freezer and let it thaw at room temperature for about 5 to 10 minutes (I know, more waiting — you're so close!) before slicing.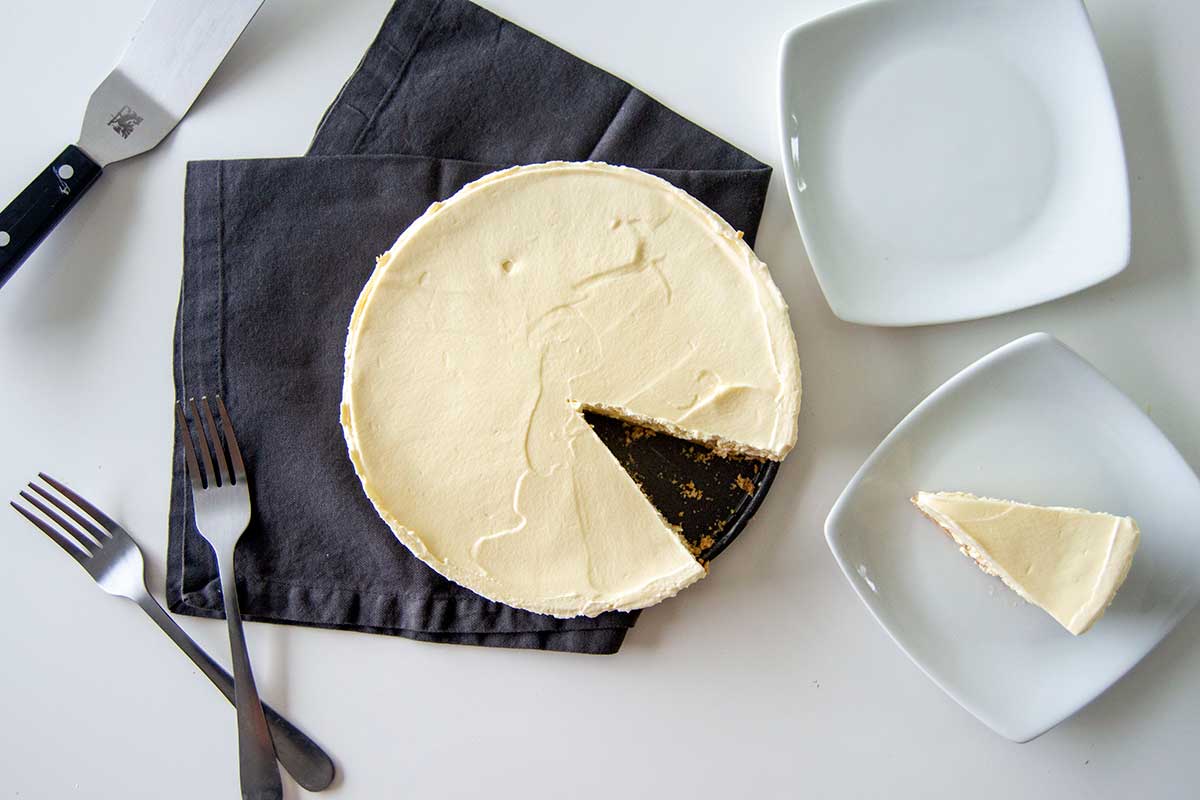 With its rich, creamy texture and sweet vanilla flavor, this pie really is like ice cream in a crust. 
Make it your own 
As you can see, this recipe is so simple that it's really more of a method. Once you have your foundation down — heavy cream and sweetened condensed milk beaten together to stiff peaks — you can riff endlessly.
Try stirring in sprinkles for a funfetti affair, or adding in layers of cooled chocolate sauce when pouring the filling into the crust. If you'd like more fruity flavors, swirl in jam to add a pop of color and brightness. For a cookies 'n cream spin, gently fold crushed chocolate sandwich cookies into the mixture. Or you could incorporate additional flavors like lemon oil or natural maple.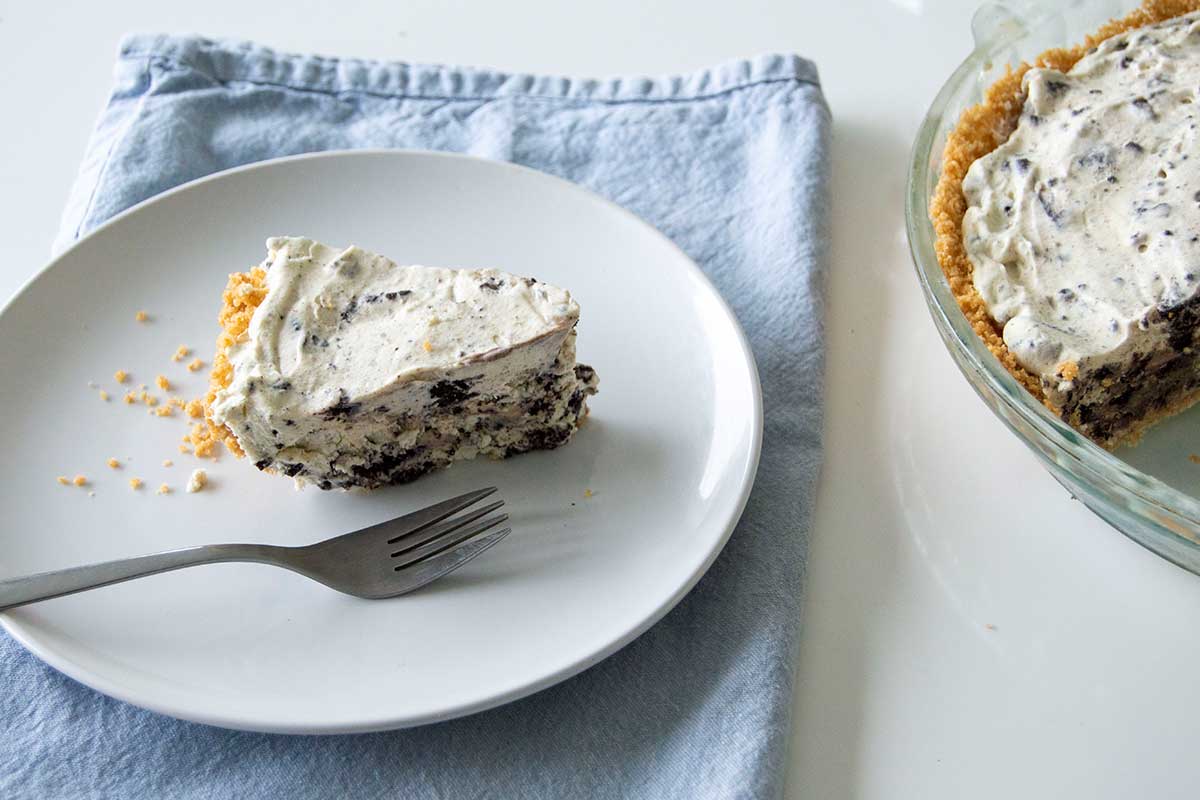 And of course, you can also play around with the crust — instead of crushed graham crackers, substitute other cookie flavors like chocolate or gingersnap. You're in charge — go wild!
If you're looking to avoid your oven a little longer, check out these other no-bake treats: No-Bake Fresh Strawberry Pie, Irish Whiskey Cheesecake, and No-Bake Peanut Butter-Chocolate Squares. 
Jump to Comments