French Apple Tart
An easy, impressive fall dessert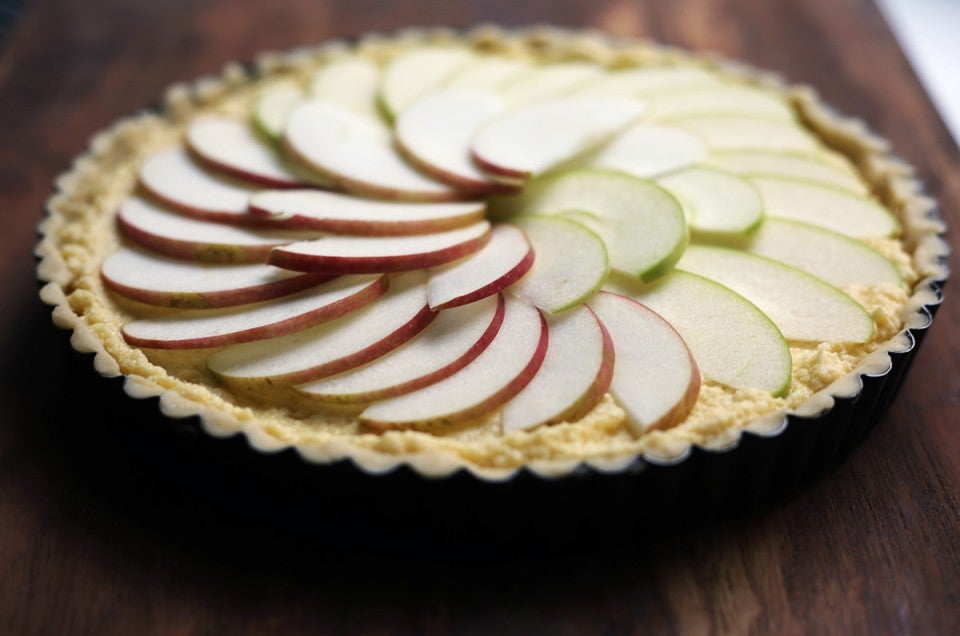 When you think of fall baking, French apple tart might not come to mind. Fall is the season for pie, and apple pie specifically. Fall desserts tend toward the homey and rustic, like classic fruit pies topped with a rumpled, burnished double crust. Or perhaps you're pulling out the baking pan to make an apple crisp, sweet with cinnamon and topped with a crunchy layer of sugared oat streusel.
This year, I'd encourage you to think beyond pumpkin pie and cranberry orange scones. Those simple recipes are wonderful, but it's nice to master something new. This particular recipe for French Apple Tart is strikingly sophisticated-looking, but actually easier to put together than a basic apple pie.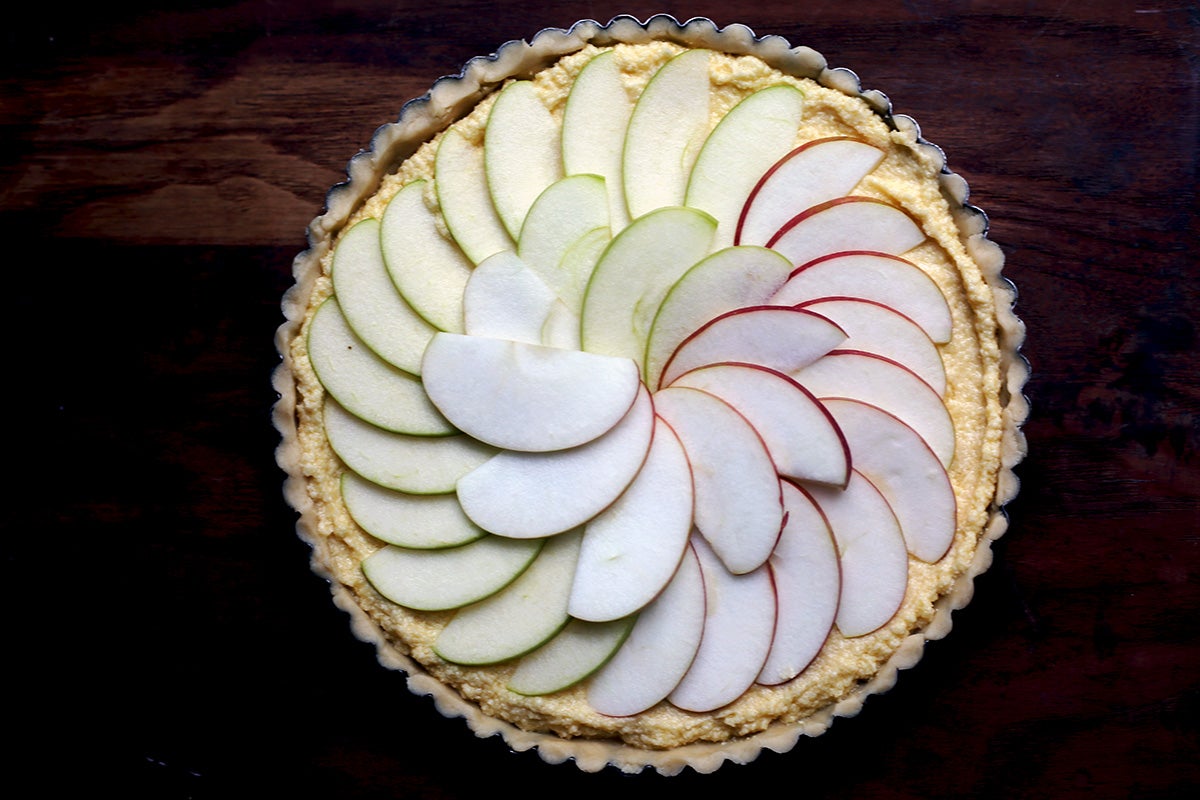 The secret behind its simplicity: a press-in crust. Instead of a classic pie crust, you'll mix together a sweet pastry dough (a food processor or a stand mixer makes this even easier), which you press into your tart pan with your fingertips. There's no cutting in of butter, no rolling out of the dough, no careful crimping of the edges.
The crisp, sweet crust is filled with a nutty, creamy frangipane. Made from eggs, almond flour, and sugar, the frangipane bakes into a dense, moist layer with a strong almond flavor. Thin slices of apple top the pie. The circles of apple give the pie a fancy, decorative touch without any complicated crust techniques!
Here's how to make a French apple tart:
Step 1: The crust
To make the crust you'll need:
11 tablespoons (156g) unsalted butter, softened
2 cups (241g) King Arthur Unbleached All-Purpose Flour
1/2 cup (57g) confectioners' sugar
1/4 teaspoon salt
Mix together all the ingredients. It's helpful to do this in a food processor or stand mixer, but you can do it by hand, as well. The dough will come together in a ball. Once it's smooth, drop spoonfuls of the dough into a greased 9" tart pan.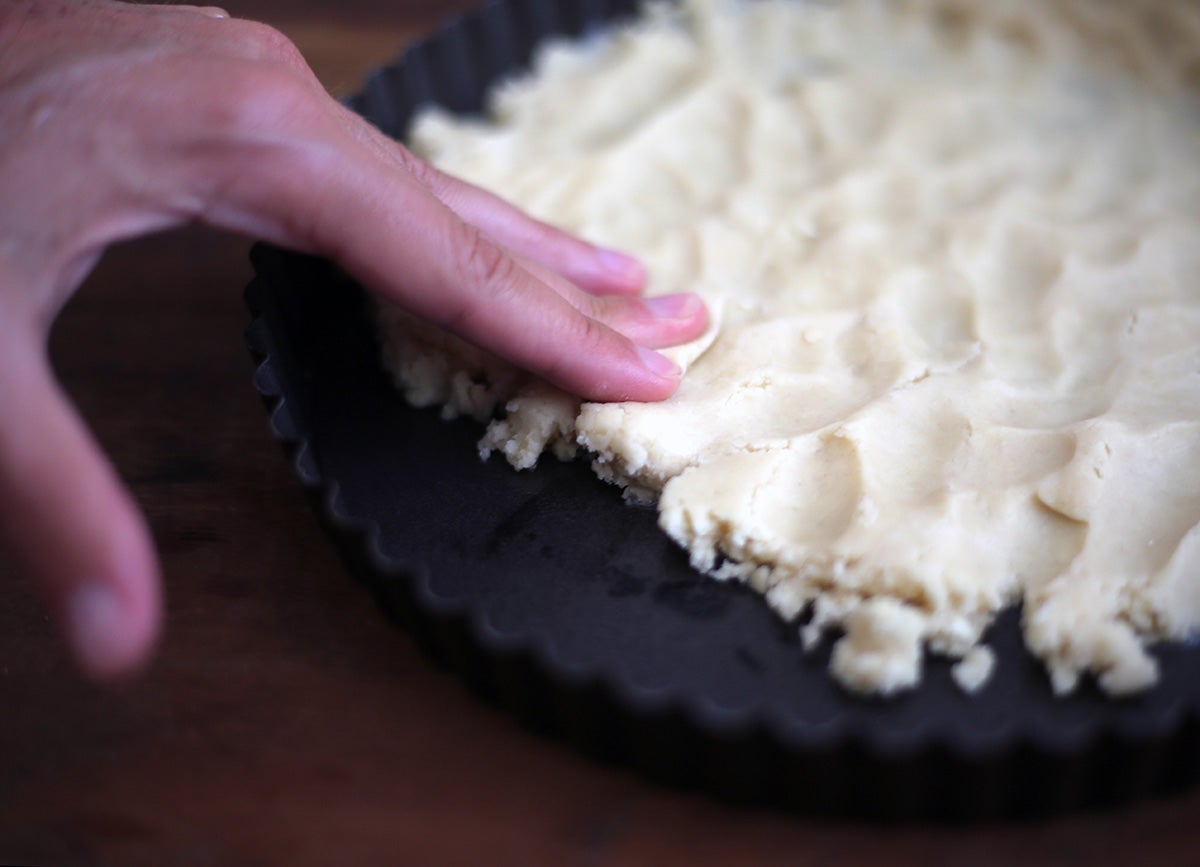 Using your fingertips, press the dough into the base of the pan and up the sides in an even layer. Place the crust in the refrigerator to chill while you prepare the filling.
Step 2: The filling
While the crust chills, make the frangipane filling. Traditionally made of blanched ground almonds, eggs, and sugar, frangipane is an excellent and easy way to elevate a fruit pie. It adds a layer of flavor and texture, but is so much simpler to make than a custard filling.
Here, you'll use almond flour (a nice shortcut to grinding your own almonds). A touch of all-purpose flour helps to keep the filling light yet firm. You'll need:
8 tablespoons (113g) unsalted butter, softened
1 cup (198g) granulated sugar
1/2 teaspoon almond extract
2 large eggs, at room temperature
3/4 cup (72g) almond flour
1/4 cup (28g) King Arthur Unbleached All-Purpose Flour
1 to 2 medium apples, peeled or unpeeled, very thinly sliced*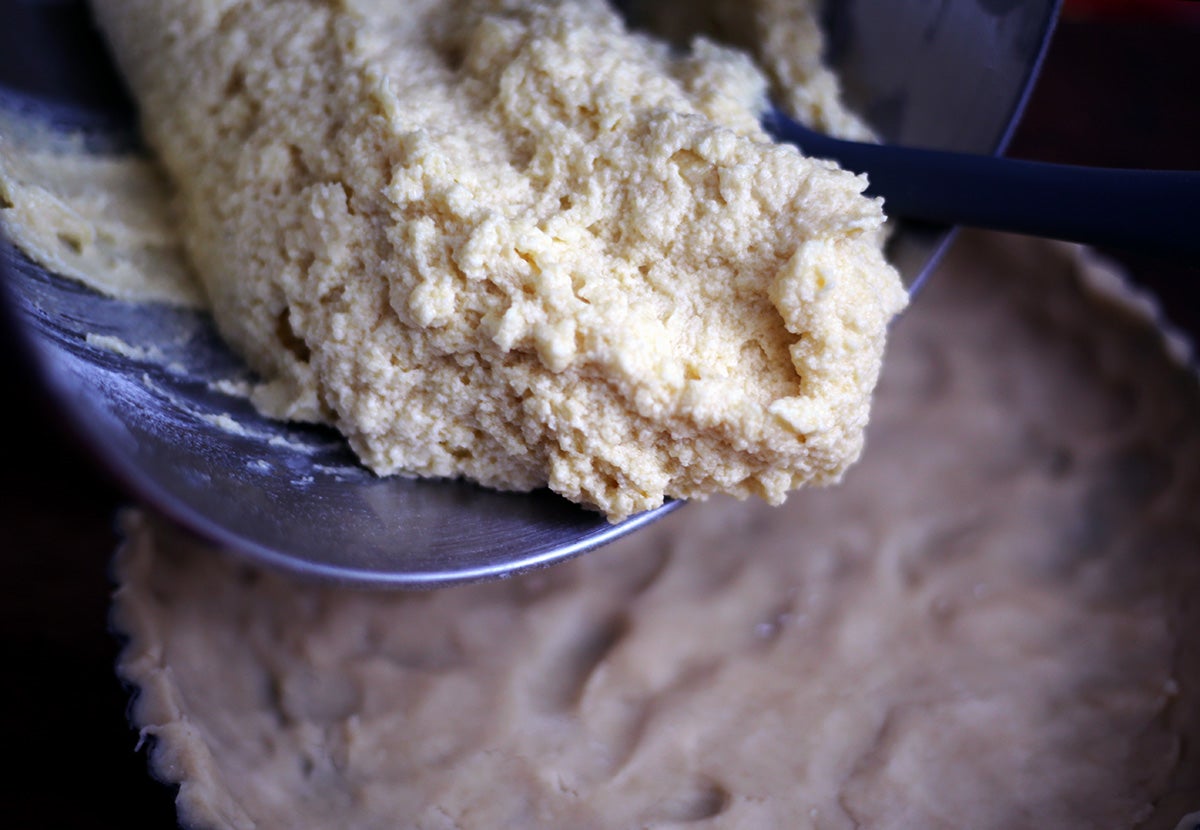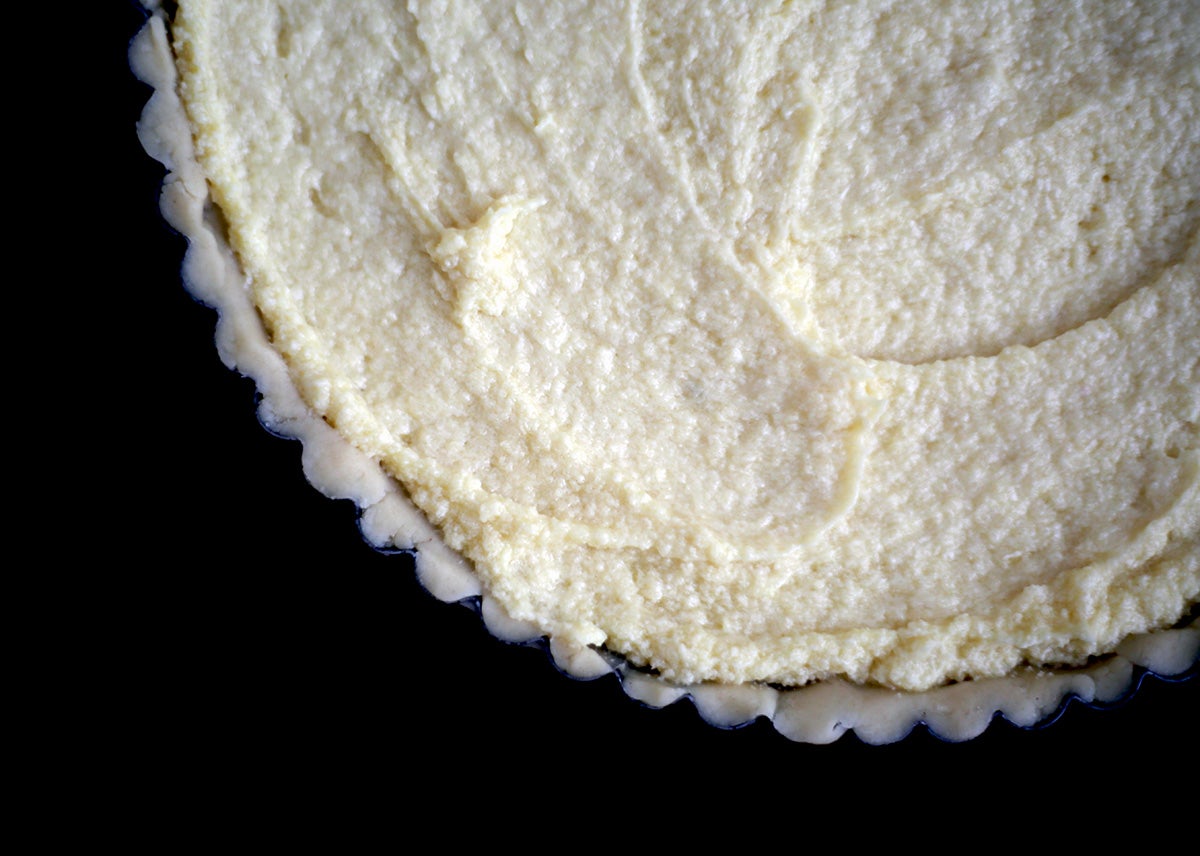 Spread the filling in the chilled crust. Arrange the apple slices neatly in circles, pressing them gently into the frangipane. You can peel the apples or leave them unpeeled. I like leaving the peel on to show a small slice of color.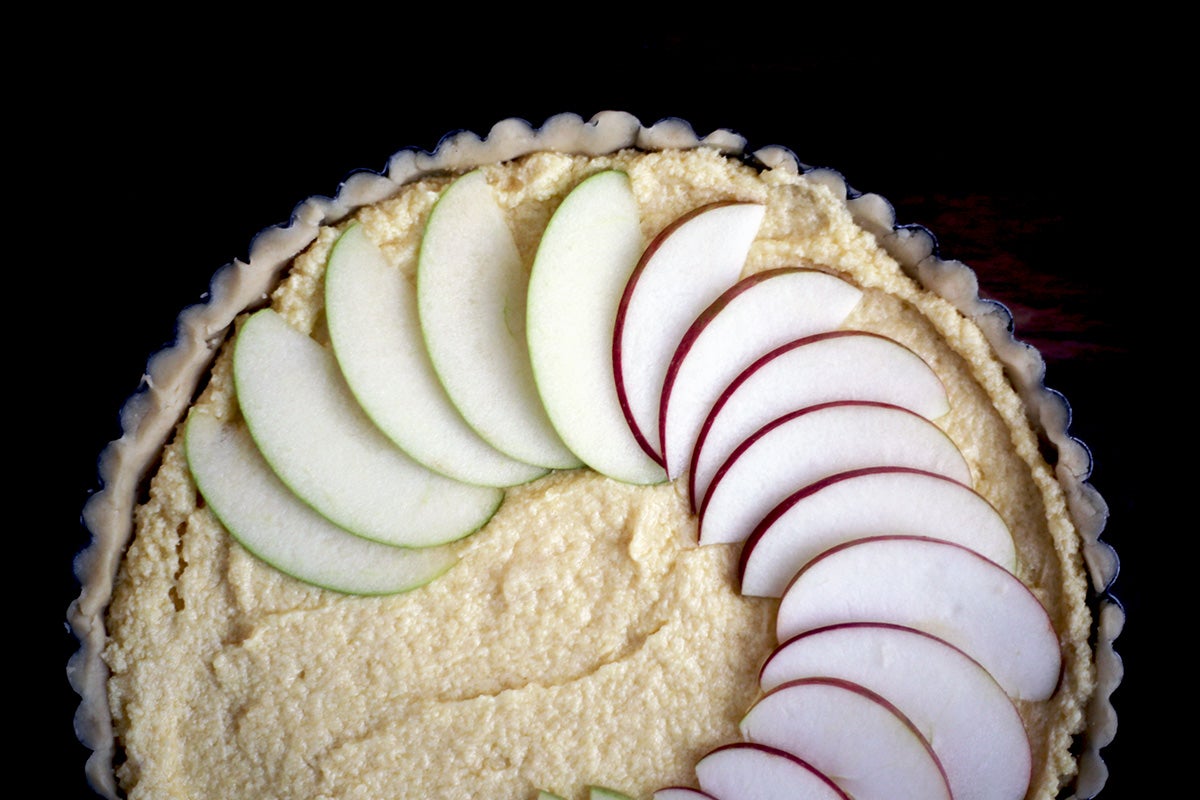 Step 3: Bake your French Apple Tart
Bake the tart for 40 to 50 minutes. The tart is ready when the edges of the crust begin to brown and the frangipane puffs up slightly.
Once baked, the frangipane firms but stays wonderfully moist. The apple slices soften slightly in the oven, just like in a classic apple pie.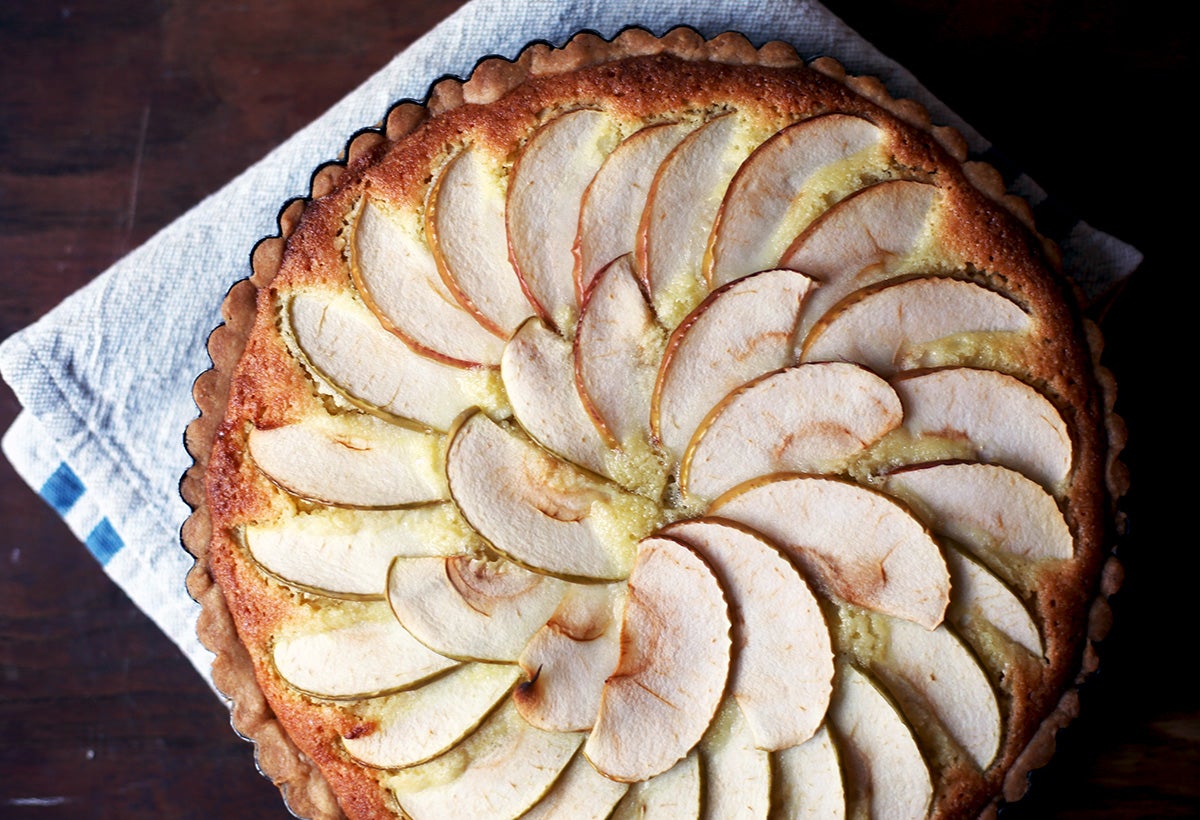 Serve this tart warm or chilled. It's delicious with a dollop of whipped cream (add a dash of cinnamon!) or a scoop of vanilla ice cream. Consider it a new addition to your fall baking repertoire, and a perfect way to impress at a dinner party.
You can find the full recipe here, as well as an entire collection of Harvest Favorite recipes. 
Jump to Comments