Back in the day, one of my favorite expressions used to be "I feel like onion dip." You may think this meant I felt like eating some French's Onion Dip with chips, but you'd be off the mark there.
"I feel like onion dip" really meant that I was feeling gray and mushy, the color and consistency of onion dip. Lazy, sluggish, lethargic, beige. Call it what you will, we've all had days where we felt like onion dip.
Such days often include eating pre-packaged foods from cans, boxes, and tubes, and copious amounts of bad television. At least they used to. These days I don't have commercial TV and I prefer to stock my freezer myself instead of relying on Mama Celeste and Poppin' Fresh to do it for me.
Case in point, these Pizza Biscuits. I've kept plain biscuits and scones in my freezer before for quick breakfasts, but not until now have I started keeping these savory stuffed biscuits on hand for days when I want a hearty snack with no effort.
For details on making biscuit dough and details about freezing, check out PJ's blog, Make & Freeze Biscuits.
You don't need a special recipe for the biscuits; but I can suggest my favorite, our Easy Self-Rising Biscuits. No need to measure out salt or baking powder, it's already included. Sometimes I even skip the butter and just use half & half or cream to make up for the missing fat.
Once you've mixed up your biscuit dough, roll or pat your dough out to about half the thickness of a regular biscuit and cut your biscuit circles. This way when the two halves are stacked, you'll have one regular-sized biscuit.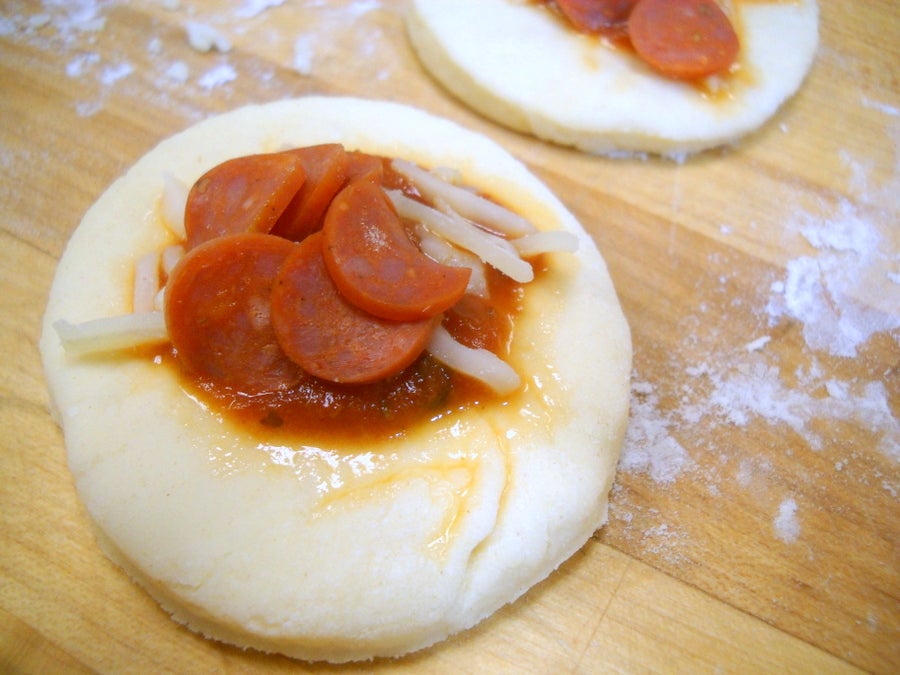 Take half your dough circles and set them aside as toppers. On each of the bottom pieces, place about 2 teaspoons pizza sauce, a tablespoon of shredded cheese, and your chosen topping. I adore these little pepperoni rounds, and they're turkey to boot.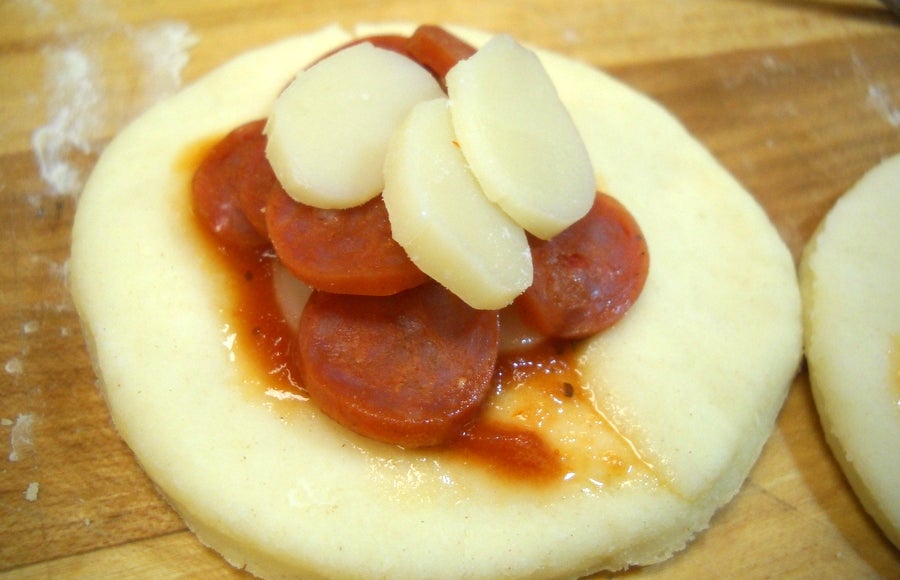 If you have cheese sticks in the house, they're excellent for slicing and adding. The little rounds don't skitter about as much as shredded cheese, and they melt quite well.
One tip I can suggest if you're using homemade sauce is to drain it a bit to remove extra liquid. Thicker sauce tends to stay in the center better, and you don't have trouble sealing up the biscuits.
Place the biscuit dough tops on, and use a fork to seal top and bottom together. I didn't have any trouble getting them sealed, but if you need to you can brush the rim of the bottom biscuit with a little water or egg white to help them meld.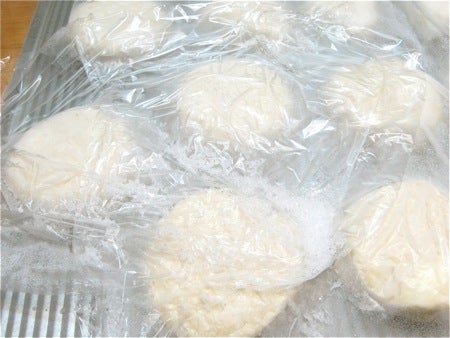 At this point you can freeze the biscuits, or continue to prepare them for baking.
To freeze, place the sealed biscuits on a baking sheet and place in the freezer until they feel solid. Stack the frozen biscuits in a zip-top bag, and stash in the freezer for up to a month.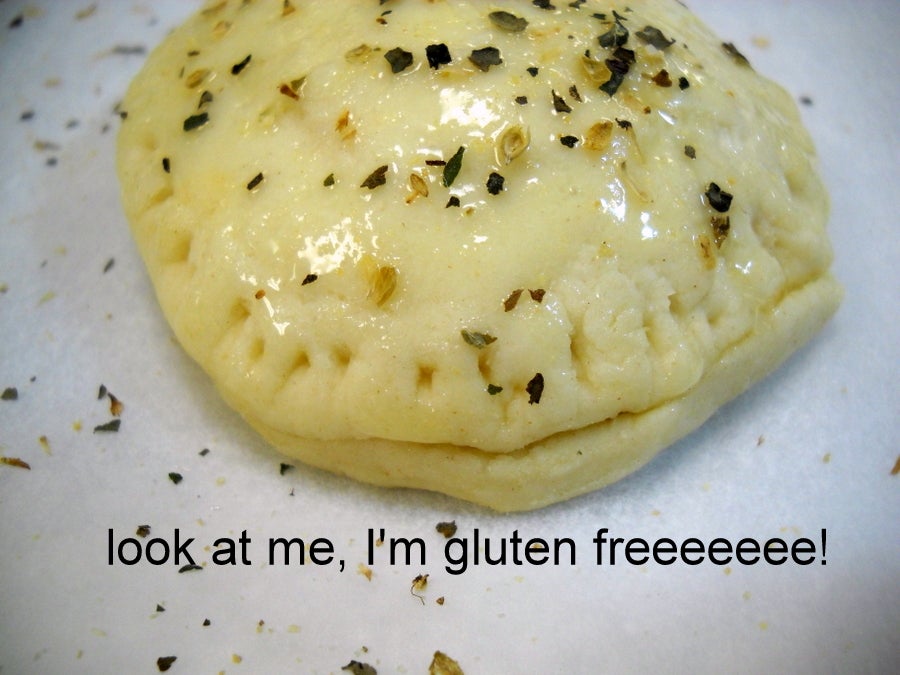 Bonus points if you sang that in your head to the tune of "Look at Me, I'm Sandra Dee." Yes, this recipe works just beautifully with gluten-free biscuits as well.
When you're ready to bake, preheat the oven to 400°F. Place your fresh or frozen biscuits on a baking sheet, and brush them lightly with olive oil or melted butter. Sprinkle with Pizza Seasoning, Italian herbs, or grated Parmesan cheese.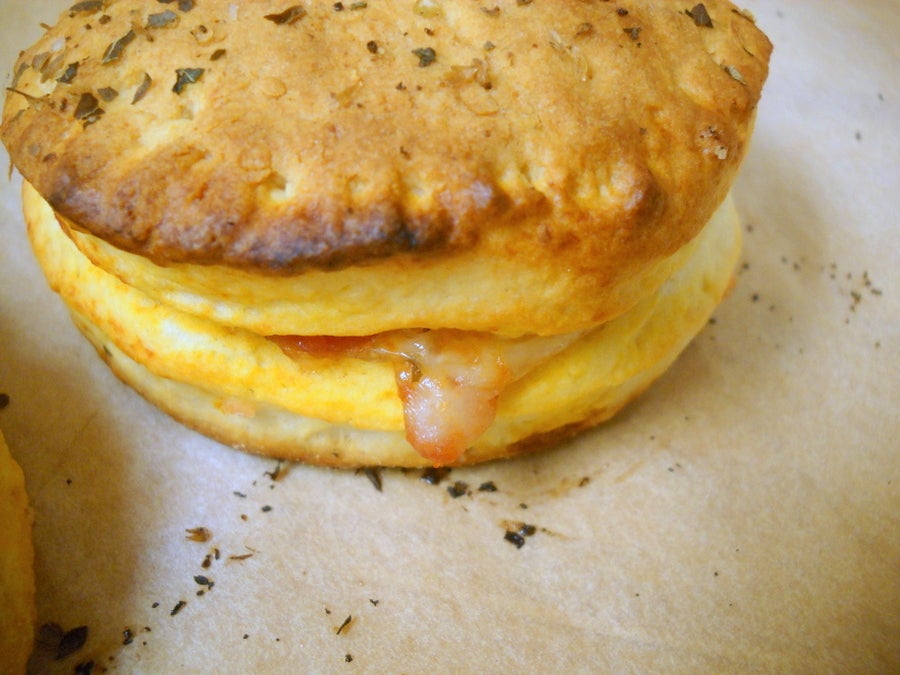 Bake the biscuits for 18 to 20 minutes (a touch longer for frozen biscuits), until they're golden brown. You'll notice that the biscuits will naturally split where the two halves meet. Nothing beats that little bubble of melty, cheesy goodness peeping out to say "Game on, come and get it!"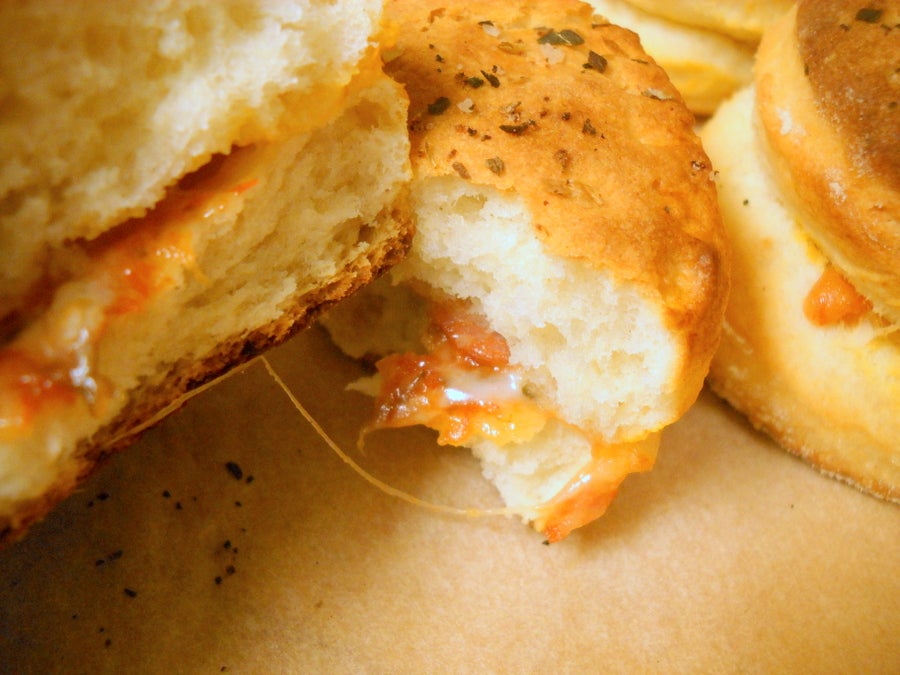 There's no printable recipe for these pizza biscuits; this is more of a handy-dandy tip for your biscuit baking days.
What else have you been filling your biscuits with these days? How about room, board and three squares – er, rounds – a day?  I know I'd love to have biscuits for breakfast, lunch, and dinner myself!
Jump to Comments