Make homemade vanilla sea salt
Wake up your sweet and savory side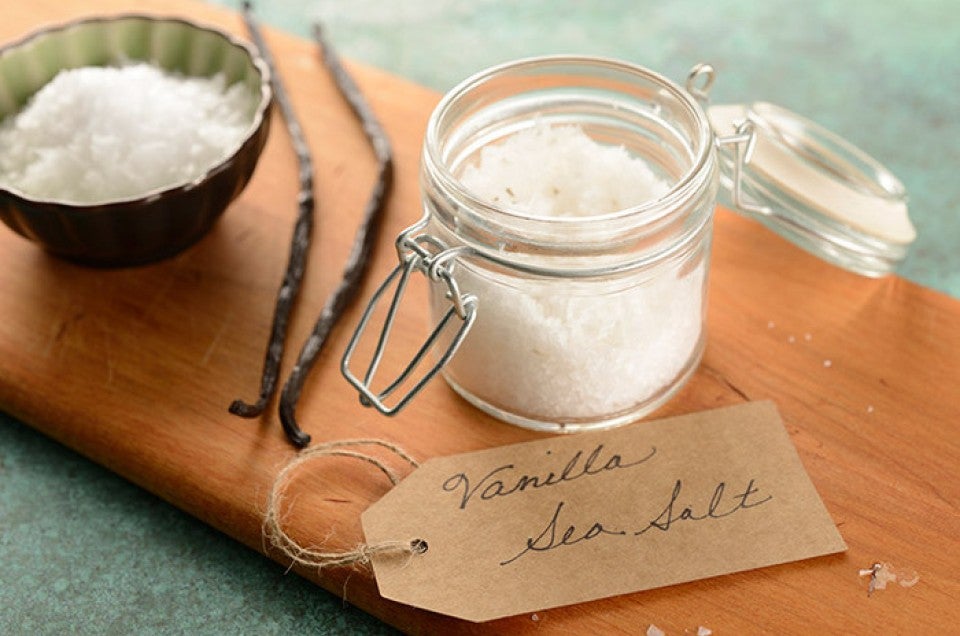 It isn't very often that two simple ingredients come together in a new way that changes the essence of both, while still allowing each to shine. But such IS the case with simply amazing Vanilla Sea Salt.
Sure, we've all been sprinkling our sweets with sea salt for a few years now, and infusing sugar with vanilla bean for decades. Since neither go bad, they have become true pantry staples that can change an ordinary dish into something special. Imagine my delight and surprise when I came across two references in the same week to vanilla salt.
My first thought was "Whaaaaa?" My second thought was, "Did I leave the cat out today?" And my third thought, the one that really stuck was, "I have to try this!"
I distinctly remember dashing into the test kitchen on my break, grabbing a box of Maldon Crystal Sea Salt from the pantry, and then raiding fellow test baker Susan Reid's supply of vanilla beans. (Er, hi, Susan. Surprise!?)
Snip, snip, snip for the vanilla beans, stuff, stuff, stuff down into the salt. The hardest part was waiting two weeks for the flavor to mellow and infuse. A couple of snitches as time went by kept me informed about how the blend was coming along. Shaking the jar every few days helped distribute the vanilla seeds as they came out of the cut pods, too.
And now, the results...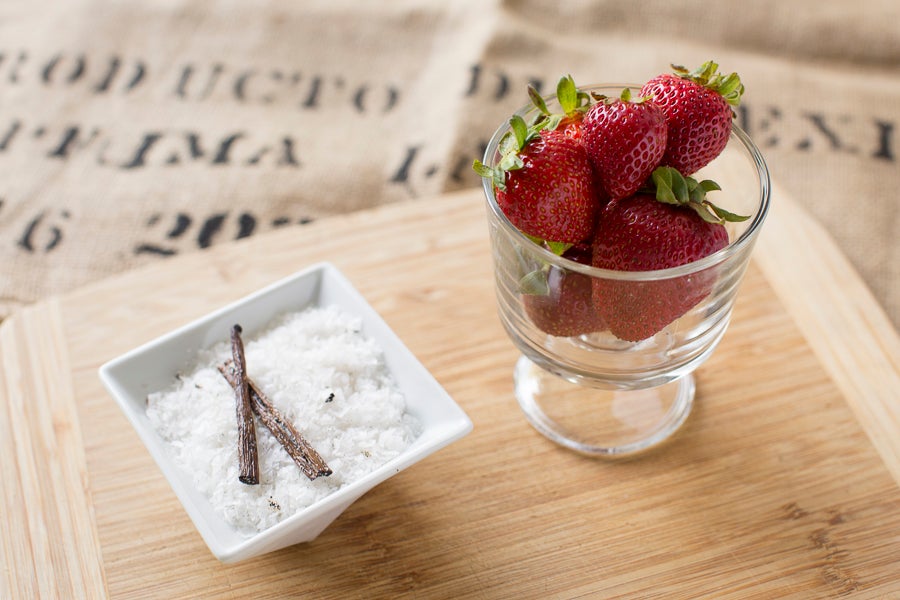 Try a different sweet/savory combination than berries and balsamic...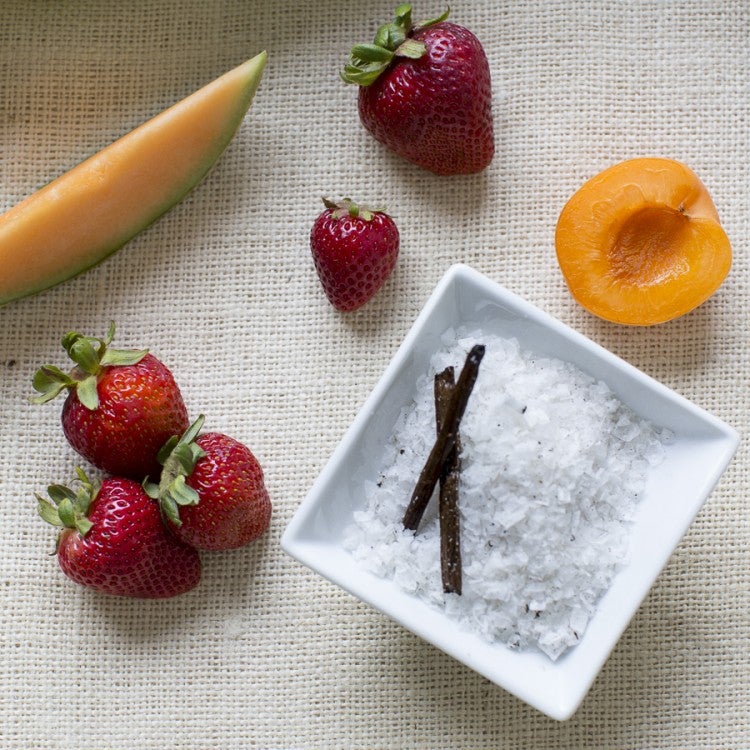 I'm not even a huge fan of apricots, but the salt really worked for me as a pairing...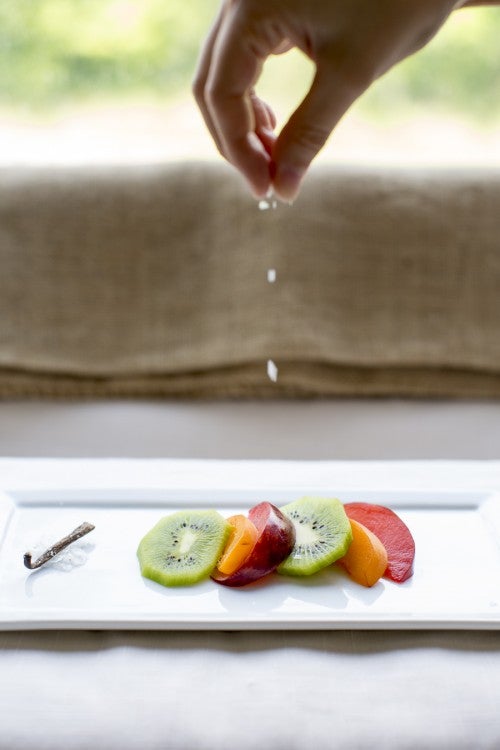 Have a special summer dinner for two planned? Tart fruit and mild vanilla salt can work for either an appetizer or dessert.
Try using it to sprinkle over recipes like Pecan & Salted Caramel Candies, Mom's Caramels, Gourmet Soda Crackers, and more.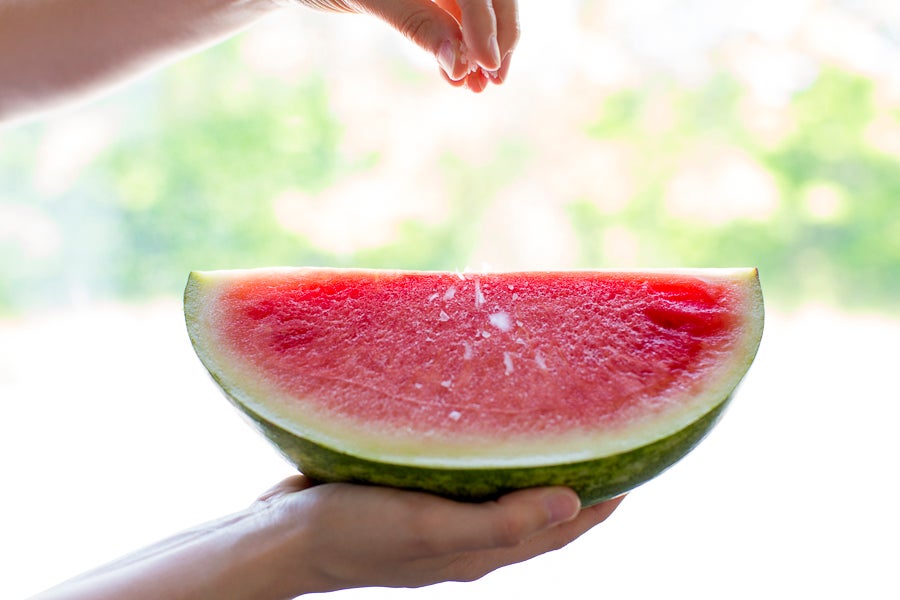 And last but not least, a summer classic: salted watermelon at a picnic can't be beat.
Why not surprise the crowd this year with a new take on their old favorite? Stash some vanilla bean + salt away today, and you'll have them eating out of your hand by the 4th of July.
Have you ever made vanilla sea salt, or infused salt with other flavors? Let us know in the comments, below! 
Special thanks to King Arthur Flour's PR maven and talented in-house photographer, Julia Reed, for the lovely photos.
Jump to Comments