Black Friday Bread
All the right stuff.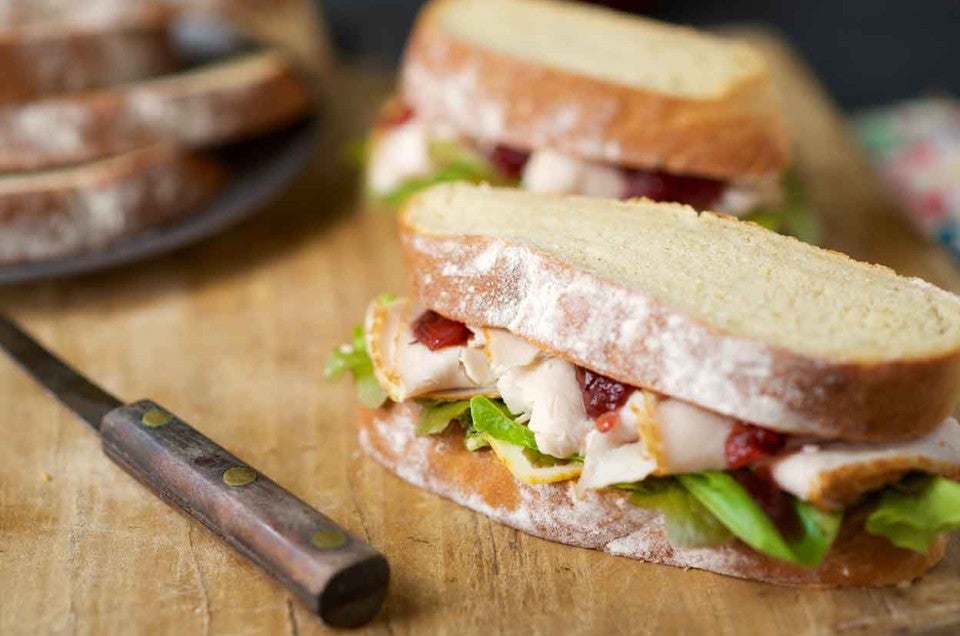 This bread uses Thanksgiving leftovers.
Just possibly not in the way you think. 
Matt, the fellow who heads up our King Arthur customer service team, sidled up to me a few weeks ago and asked, "Hey, how about a recipe for stuffing bread?"
Frankly, I was puzzled. Hadn't Matt checked online? As I explained to him, our recipe site has several stuffing bread recipes – yeast breads scented with Thanksgiving's signature herbs and flavors, perfect for cutting into cubes and using for stuffing.
"No, not bread FOR stuffing. Bread made FROM stuffing. You know, a way to use up your leftover stuffing from Thanksgiving."
Ah. Definitely a different take. Still, it shouldn't be too hard to mix leftover stuffing with flour, liquid, and yeast to make a loaf of bread, right?
Right.
(HA – you thought I was going to say WRONG, didn't you?)
This recipe was actually surprisingly easy to perfect. I made it twice: once with stuffing and dried cranberries; once with stuffing and mashed potatoes. Both loaves behaved beautifully, rising right on cue and baking up golden and agreeably moist.
And it got me thinking – wouldn't sweet potatoes or carrots be good in this bread? Or mashed parsnips? What about rutabaga? (Well, maybe not rutabaga... unless you're one of those traditionalists who actually enjoys this rather humble vegetable.)
Peas, or green beans, or... broccoli with cheese sauce?
It's up to you, and your willingness to experiment; myself, I think mashed green stuff might make a bread whose color is a bit off-putting.
Still, if you believe beauty is only crust deep, go ahead and use that broccoli/cheese casserole... like Sam-I-Am with his green eggs and ham, you may surprise yourself!
Let's start with the basic ingredient in all good bread: King Arthur Flour. I've chosen a combination of our white whole wheat flour (for added fiber), and bread flour (for a good, strong rise – helpful when you're adding a lot of non-flour ingredients, as we'll be doing here).
Place the following in a mixing bowl, or the bowl of your stand mixer:
1 cup (113g) King Arthur White Whole Wheat Flour
2 1/2 cups (298g) King Arthur Unbleached Bread Flour
2 tablespoons (28g) soft butter
1 to 1 1/4 teaspoons salt, to taste
1 tablespoon (14g) sugar
2 1/2 teaspoons instant yeast
2/3 cup (152g) lukewarm milk
1 cup (128g) prepared stuffing*
1 cup (213g) mashed potatoes, white or sweet
*For safety's sake, use stuffing that neither baked in the turkey, nor used meat broth as its moistener.
Can you substitute unbleached all-purpose flour for the bread flour, and/or the whole wheat flour? Sure; reduce the amount of milk to 1/2 cup, adding additional milk or water if the dough seems dry and stiff. Your loaf may not rise as high.
As mentioned above, feel free to substitute the mashed ingredients of your choice for the stuffing and potatoes. Mashed root vegetables (turnip, sweet potatoes, squash, parsnips) are good; as is applesauce.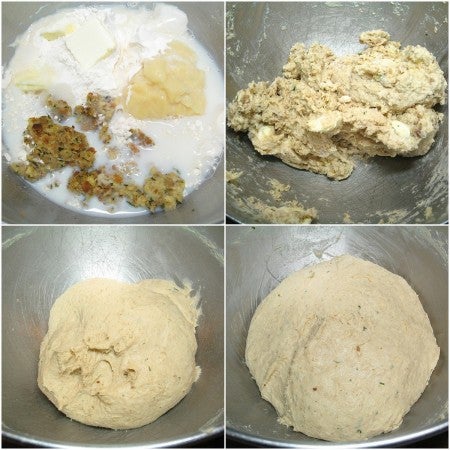 Mix and knead everything together to make a smooth, elastic, and somewhat sticky dough. The dough will feel tacky, but should hold its shape nicely; you should be able to handle it easily with greased hands.
You'll have to play the amount of flour/liquid somewhat by ear (or eye); depending on how moist your add-ins, you may need to add either additional bread flour, or additional milk or water. Your goal is a soft (but not challengingly sticky) dough.
Place the dough in a lightly greased bowl or 8-cup measure (for easiest tracking of the dough as it rises). Allow it to rise until it's quite puffy, 1 1/2 to 2 hours.
Note: If you have a bread machine, use it: put all the ingredients in the machine's bucket, choose the dough setting, and when the dough is risen, take it out and go from there.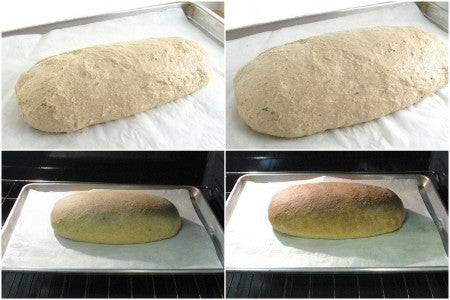 Gently deflate the dough. Shape it into an 11" to 12" log, and place it on a parchment-lined or lightly greased baking sheet.
Cover the loaf with lightly greased plastic wrap or a dough cover (the plastic cover of a disposable supermarket deli tray or cake platter may work well for you here), and let the loaf rise until it's noticeably puffy, 1 1/2 to 2 hours.
Towards the end of the rising time, preheat the oven to 350°F.
Bake the bread for 35 to 45 minutes, until it's golden brown on top, and an instant-read thermometer inserted into the center registers at least 190°F.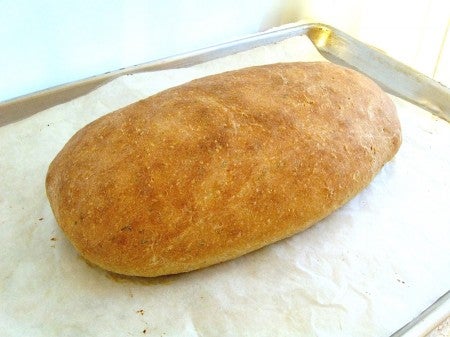 Remove the bread from the oven; when it's cool enough to handle, place it on a rack to cool completely.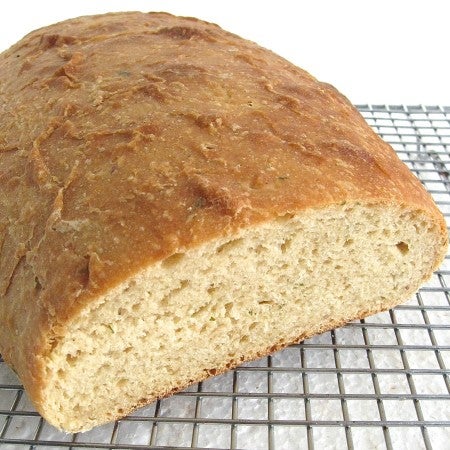 I know it's tempting – but no sampling until the bread is completely cool! Cutting into a loaf of bread that's this moist will leave gummy edges.
Now, how about that cranberry-stuffing loaf?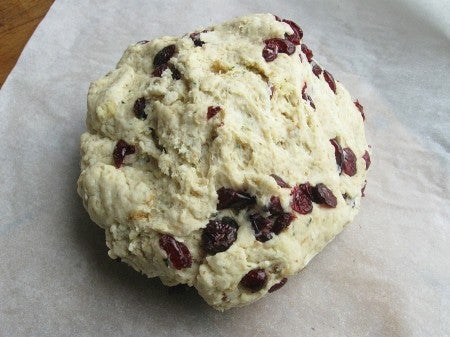 Substitute 3/4 cup dried cranberries for the mashed potatoes. Reduce the total amount of flour to 3 cups, cutting back on either the bread flour, or the white wheat flour (or both). For instance, you might want to use 2 1/2 cups of bread flour, and 1/2 cup of white wheat.
Knead and let rise as directed above.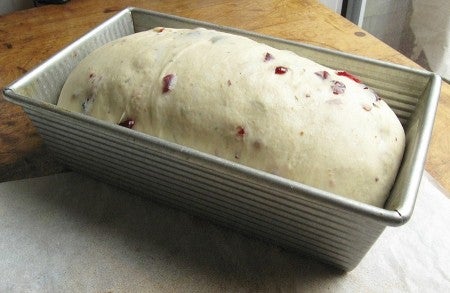 Place the loaf in a 9" x 5" bread pan, let it rise, and bake in a preheated 350°F oven for 35 to 40 minutes, until an instant-read thermometer inserted into the center registers at least 190°F.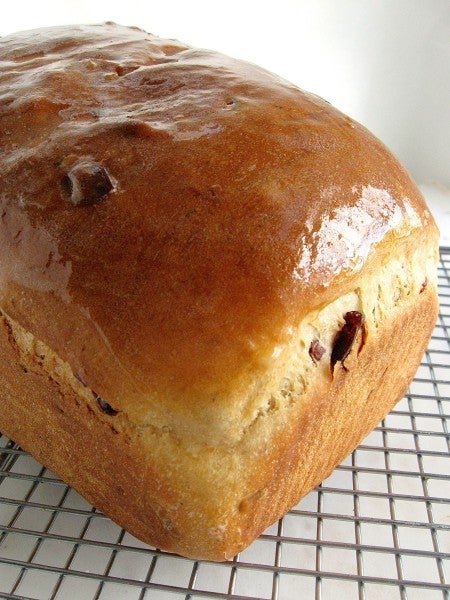 When the bread is done, take it out of the oven, wait a minute or two, then turn it out onto a rack. Brush with melted butter, if desired, for a satiny, buttery crust.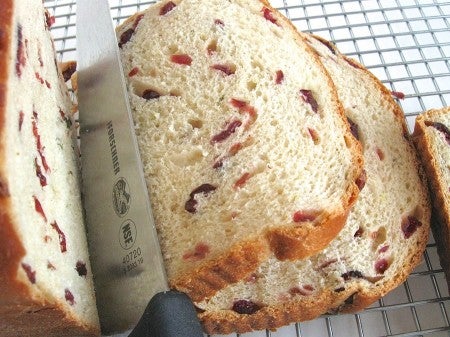 And again - no slicing until it's completely cool!
Read, bake, and review (please) our recipe for Black Friday Bread.
Jump to Comments