What do alfabeto, funghini, lumaconi and strozzapreti have in common?
New European fast cars? New European fashion models? New characters in a telenovela? Nope, keep guessing...
OK, I just realized that if you read the title of the blog first, the guessing game is probably a moot point and you know that alfabeto, funghini, lumaconi and strozzapreti are all different shapes of pastas. So much for playing my dream role as Alex Trebek on Jeopardy. Note to self: don't give away the answer before asking the question.
I well and truly adore pasta in ALL of its shapes and incarnations, and I've raised a pastaholic teen as well. I think it's kind of neat that some of the first things my daughter learned to make for herself were chicken noodle soup (not from a can, thank you), Asian noodle bowl with garlic and ginger, and one mean bowl of saffron risotto. All comfort foods, all the time, that's my girl.
I used to make handmade pasta more often, but I've fallen off in the last couple of years. Luckily a couple of King Arthur recipes have really spurred my interest lately, and I've been back in the pasta groove.
Based on a pasta recipe in Richard Olney's lovely coffee-table cookbook, "Provence The Beautiful Cookbook," you don't just sprinkle the fresh herbs and greens over the finished pasta, or mix them into a sauce. You don't sandwich them between two paper-thin pasta sheets either (a lovely but impractical method, to my thinking). Instead, you create a paste of fresh herbs/salad greens that mixes right into the dough and flavors every.single.bite with exquisite taste.
Let's make wonderfully Fresh Herb Pasta.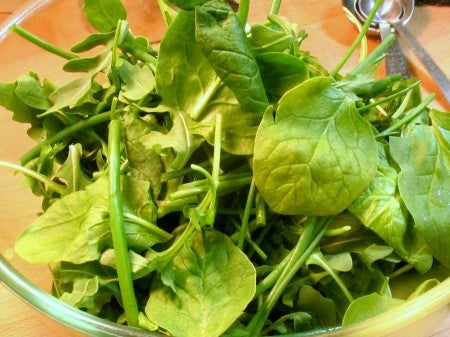 Wash and dry your herbs and greens, in whichever combination you choose. You'll need about 4 to 5 ounces total, about 4 cups by volume (113g to 142g). The mix I used was fresh spinach, fresh arugula, and fresh chives.
Aren't they GORGEOUS! I did take time to pull off the tougher stems of some of the spinach leaves. Using baby spinach will help if you want to skip this step.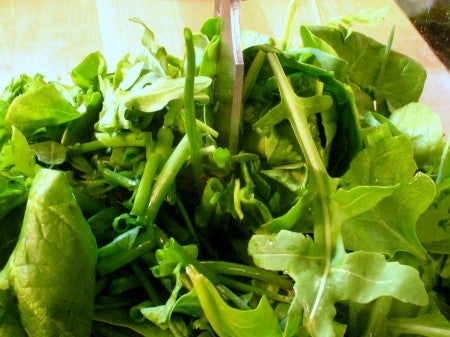 Use a pair of kitchen shears or herb scissors to chop the greens into smaller pieces.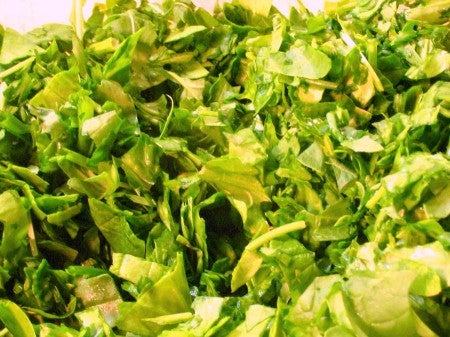 Like this. You can certainly do this with a chef's knife and then transfer to the bowl, I just liked the scissors approach. By now, the kitchen was already smelling heavenly and full of heady, green vigor.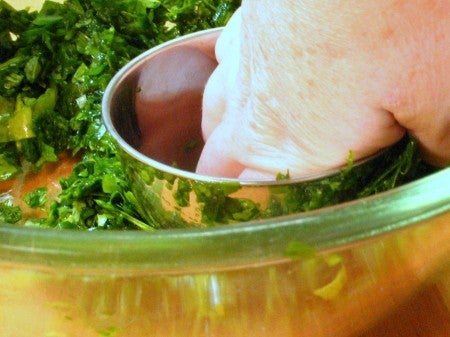 Sprinkle on a healthy pinch of coarse salt and find a nice implement to help you smush the leaves to a wet paste. You can use a pestle, the handle of a sturdy whisk or, as I did, a small, flat-bottomed bowl.
Press and grind the herbs against the bottom and sides of the bowl. The salt will help draw out the moisture as you work.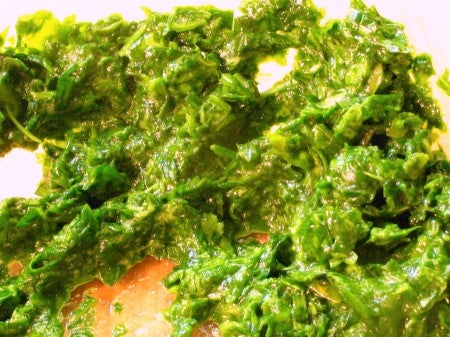 Perfect. It was all I could do to stop myself from wrestling a fresh piece of bread away from our baker, Frank, and slathering it with these fragrant herbs. Of course, Frank is literally a foot and a half taller than I am, so  I think he would have won in the long run.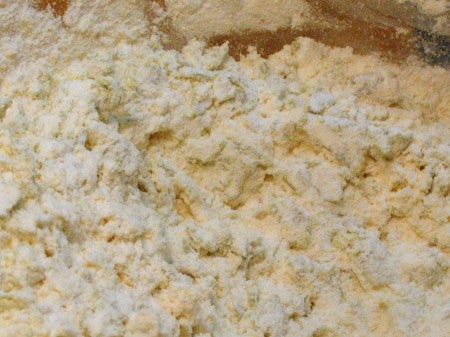 In the bowl of your mixer or bread machine, place 2 1/2 cups (312g) King Arthur Perfect Pasta Blend Flour and 2 large eggs, at room temperature.
Mix in the eggs. The mixture will be quite lumpy, bumpy, and dry at this point.
(No KAF Pasta Blend on hand? You can use KAF All-Purpose instead.)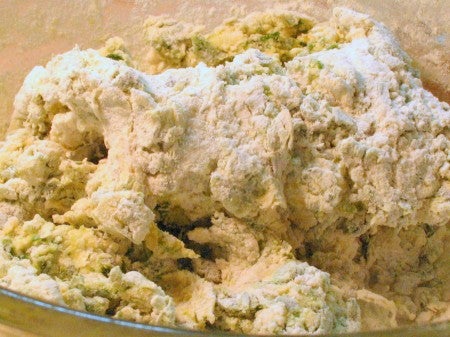 Pour in the herb paste and 3 to 4 tablespoons (28g to 57g) of cool water. Mix on low speed in the mixer (3 to 4 minutes), or set on the dough cycle of your bread machine (stop after 10 minutes). Mix until the dough is smooth and elastic. It will still seem somewhat drier and denser than regular bread dough, but that's how it should be.
Can you knead this by hand? Absolutely. It will probably take you about 10 minutes. Try not to add extra water until the dough is very dry. If you must add extra water, sprinkle it directly on the dry bits, then work them into the main mass of dough.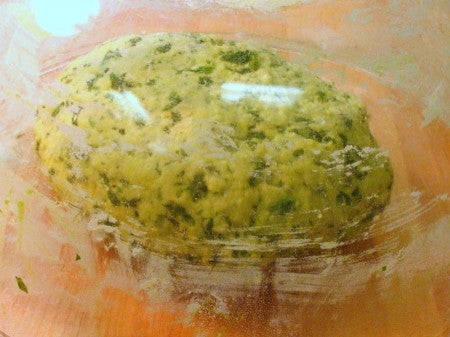 Cover the dough well with the bowl you used, or wrapped well in plastic wrap and let it rest at room temperature for 30 to 60 minutes. You can leave this in the fridge all day if you make it in the morning, but the beauty of fresh pasta is in the freshness.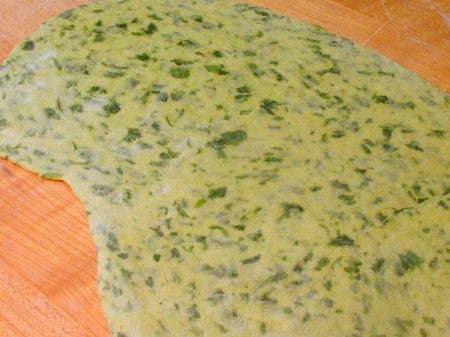 After the dough has rested, it will roll out beautifully by hand. More on pasta machines in a moment.
P.S. – Now's time to get your water boiling! Use a large stock pot and plenty of water. Add a good handful of salt to the boiling water, too. According to my pasta teacher, Rosemary, the boiling water should taste like sea water.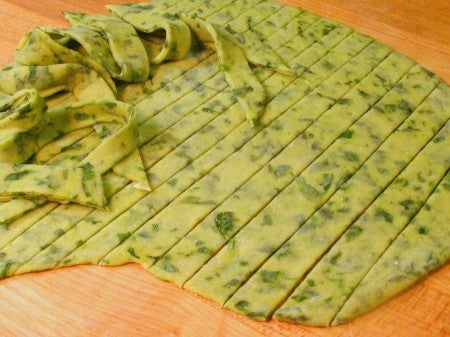 I like the rustic feel of hand cut-noodles for herb pasta. A pizza wheel is perfect for rolling through the dough. You can also use a sharp knife to slice through the dough.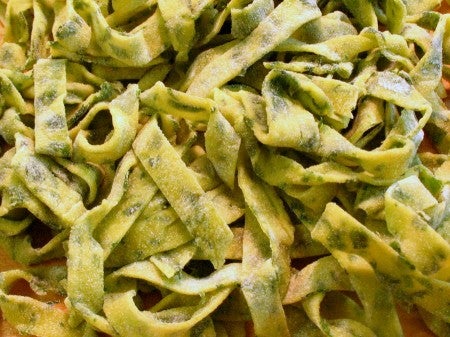 Toss the cut strips with just a touch of flour.
If you're going to cook them right away you can leave them as is. If you need to wait, separate the strands into small "nests" of noodles and set out to dry. Humidity is a killer for fresh pasta, so try to keep the kitchen cool and dry.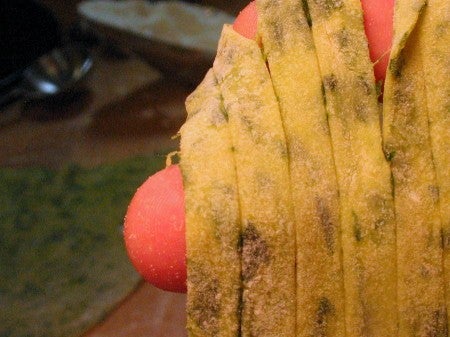 So, what about a pasta machine? While the flat rollers will work just fine for making sheets of pasta, cutting with the machine is much trickier with this particular pasta. The oils in the herbs keep the pasta moist and the cutting wheels just can't cut through cleanly. Trying to pull apart each separate strand would have me tossing the spaghetti against the wall BEFORE cooking it, so I still prefer hand cutting for this particular recipe. If you want to use a machine, by all means, go for it.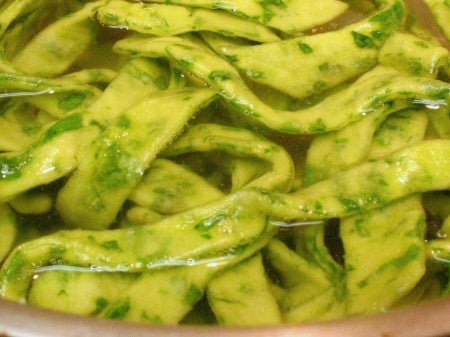 When the water is boiling, reduce the heat ever so slightly and add your fresh pasta. You want it cooking, but not roiling around furiously in the pot. Fresh pasta will cook in about 3 minutes, so get the plates, cheese, forks, and relatives ready before putting the pasta in to cook.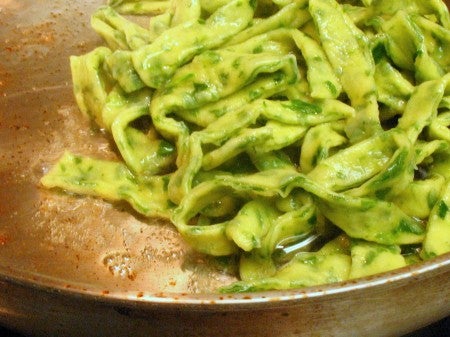 For extra yummy goodness, melt some butter in a skillet over medium heat. As your pasta comes out of the water, briefly drain it and shake it dry, then toss it with the hot butter for about 2 minutes.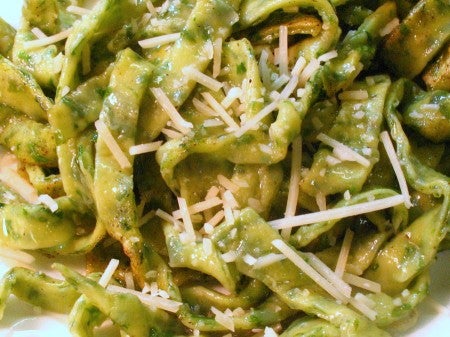 Put the pasta on your serving plate, pour over the extra butter, and sprinkle on some freshly grated Parmesan cheese.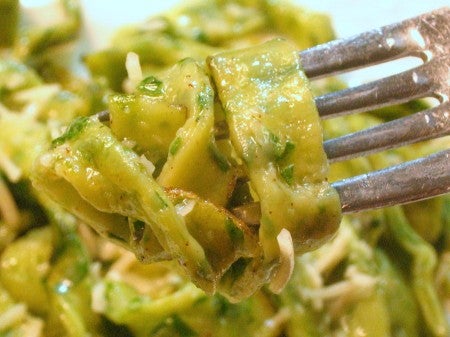 What a stunning dish! The vibrant green color and the scent of fresh herbs is a sensory wonderland, and the taste is beyond amazing.
Bill Tine, our marketing manager and the one who brought the recipe to my attention, says he's made this with every green possible, including beet greens. I just can't wait to try every version I can think of for this recipe.
How about you?  What herbs and greens will YOU use?
Please make, rate, and review our recipe for Fresh Herb Pasta.
Jump to Comments