Sometimes, not often but sometimes, my fellow employee-owners here at King Arthur Flour would like to murder me. Well, maybe not murder, but definitely toss me out the window in displeasure. Like the other day...
I was spending the day in the test kitchen, and I need to cook some bacon. Well, quite a bit of bacon. Like pounds of bacon. At 8 o'clock in the morning.
Can you imagine that? Arriving to work and the whole building smells like frying bacon? So, you check the tasting kitchen, ready to snag a few pieces of porky goodness to bring to your desk and... no bacon.  You'd be thinking dastardly thoughts about my well being too.
After the fifth or sixth person came to the kitchen to give me a sarcastic "thanks a lot" or glare daggers at my back, I sent this email, titled "Whasup with the bacon!?":
"A batch of bacon jam in the making, and perhaps some maple bacon cupcakes.  I know it's a killer, but the rewards will be great later today!"  Finally the hordes calmed down, knowing that eventually I would be feeding them their beloved bacon. Of course, from then on I was fielding questions instead of dodging bullets. "Bacon JAM? "  "BACON Jam? " "What the heck is BACON JAM?!".
Bacon jam is the salsa of the decade so far. It seems to have started with a particular food truck out west, then it was featured on an episode of "Top Chef" and it's been going like wildfire ever since. Bacon jam is a bacon and onion relish, cooked down to a syrupy goodness with brown sugar, maple syrup and a host of other sweet and savory flavors. The smoky bacon marries so well with the sweet onions and syrups and each chef has their own take on ingredients to add to give it their own twist.
My twist here? I couldn't resist using our entrancing boiled cider as part of the liquid, and chef Susan Reid suggested some bay for complexity. It is a masterful combination and completely delicious. 
Let's get started on our Bacon Jam.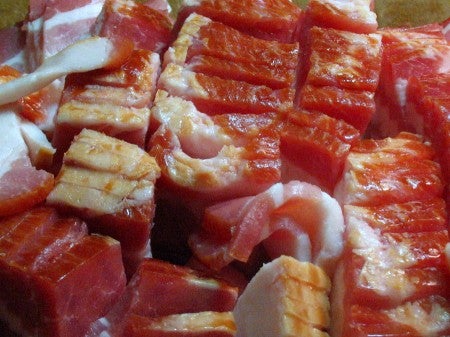 Ah, bacon. How do I love thee bacon, let me count the ways...
Cut 1 1/2 pounds of  nice thick bacon into 1 inch pieces and cook until crisp. I like to use a skillet for cooking my bacon, but some folks like to use the oven. Any way you like is fine, you just want the bacon on the crisper side.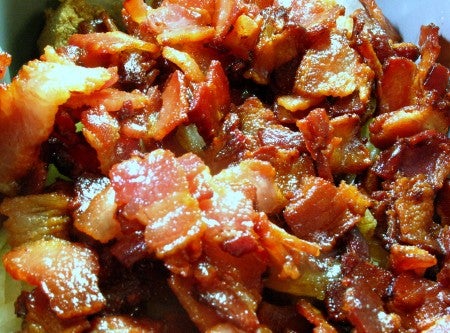 Like this. Nice dark edges, fat rendered out. If you think it smells good now, just wait.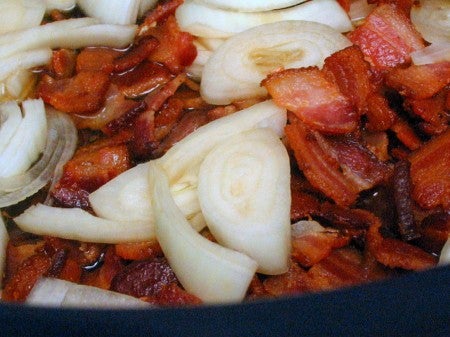 In the bowl of a 2 quart or larger crock pot, place:

the cooked bacon
2 medium onions (283g), peeled and thinly sliced
3 cloves garlic
1/4 cup (57g) cider vinegar
1/2 cup (106g) dark brown sugar
1/4 cup (85g) maple syrup
1/4 cup (85g) boiled cider
3/4 cup (170g) strong brewed coffee
2 dried bay leaves
The onions will brown up and cook down, the bacon will soften slightly and the liquid will have cooked down.
If you are not a coffee fan, don't worry. NO ONE could tell I had put coffee in this. It just gives a deeper, richer flavor.
Cover and cook on high for 3 to 4 hours. (thanks everyone for reminding me to add this important info!!!)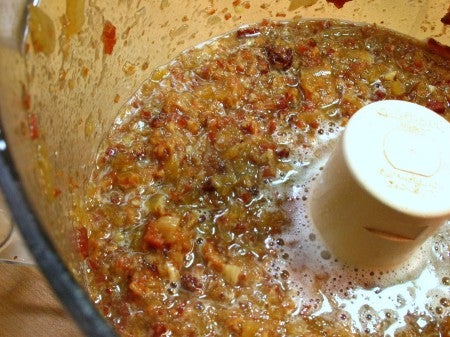 Pour the jam into a food processor or blender, removing the bay leaves, and pulse to a relish consistency. You may find that there is still a bit too much liquid for your liking at this point. Easily fixed...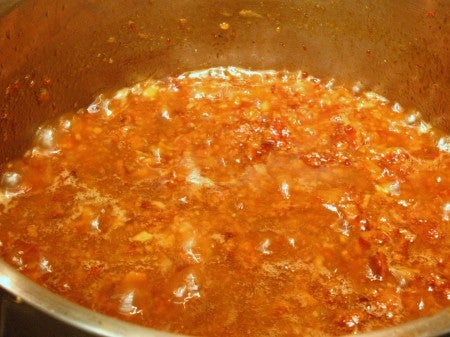 By simmering the jam in a small saucepan over medium heat until the liquid reduces and the jam is thick and syrupy. By now the scent has practically driven you mad, so it's time to start tasting.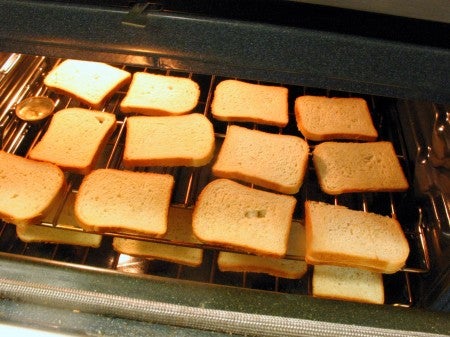 When you make a vat of bacon jam in a building full of people and it is time to serve, you'd better have a lot of toast. Turn your oven on to 350°F and use your oven racks as giant toast racks. Monitor well, there will be a little smoking of crumbs and crumbles from the pieces of bread.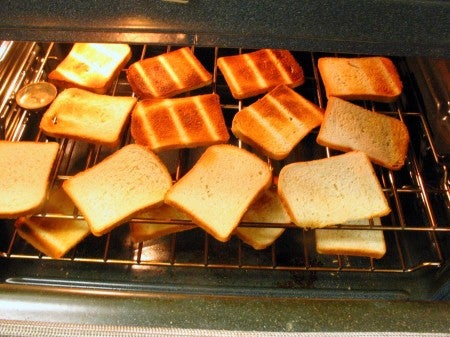 Turn the toast and move pieces about the oven as they brown up. Remove the finished pieces as they are done and continue to bake until all of the pieces are golden brown and ready to go.
I'm happy to say, after serving my co-workers piles of toast and bacon jam, they forgave me...for now. I hope your family and friends will do the same for you.
Please make, rate and review our recipe for Bacon Jam.
Show me the bacon! Maple-Bacon Biscuit Bake ; Bacon Bites