Cream scones vs. butter scones
How to convert your favorite recipe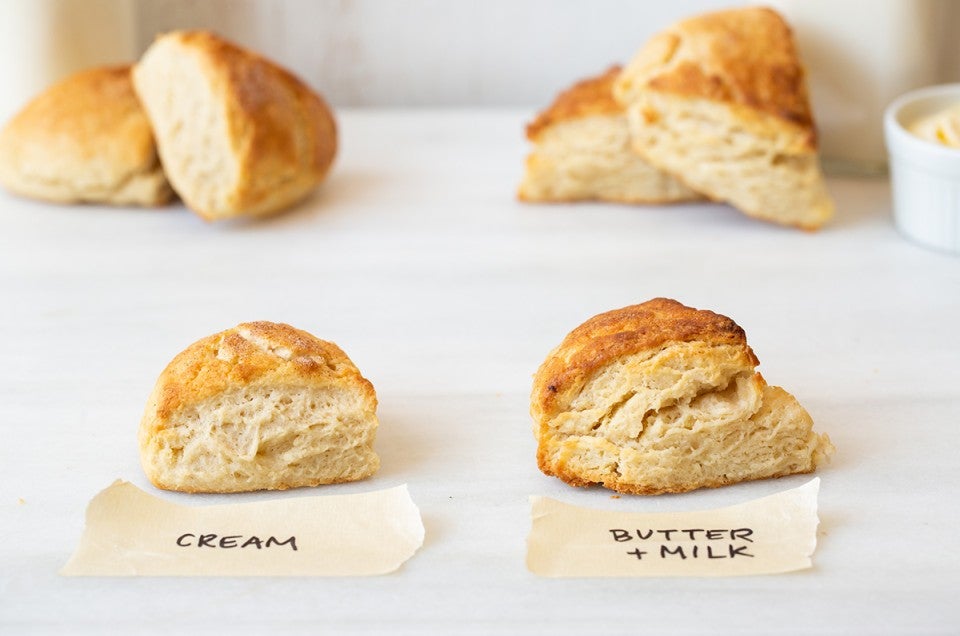 Imagine wandering into the kitchen on a chilly weekend morning, craving your favorite cream scones. You're ready to bake and excited for something warm and sweet. You pull out your go-to recipe, gather your flour and sugar, then open the fridge only to gasp audibly. There's no heavy cream!
Breathe. Your scone dreams aren't crushed; you don't need to abandon your beloved recipe. There's a simple substitution that will allow you to make delightful, ultra-tender scones without cream.
Swap butter and milk for heavy cream in any basic scone recipe, so you can always bake these classic treats — no matter what kind of dairy is in your fridge.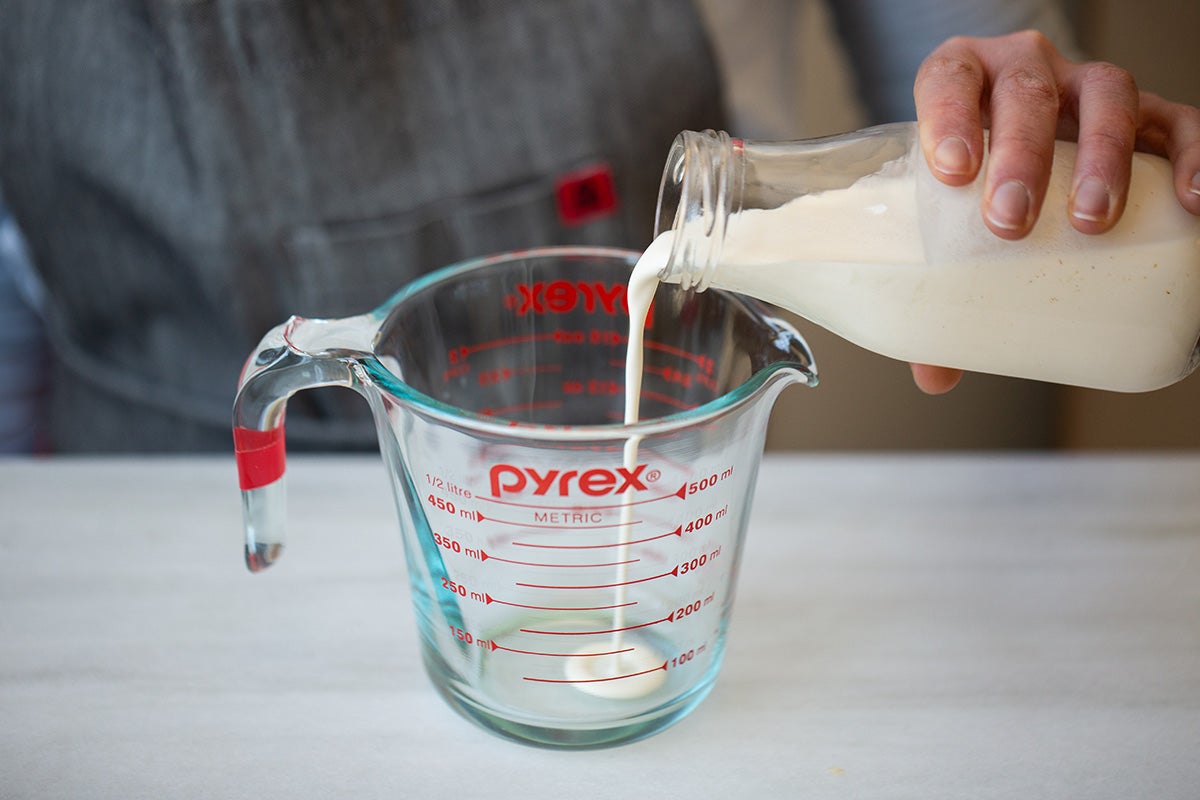 Cream vs. butter and milk
If you're a person who faithfully plans baking ahead and always has the necessary ingredients on hand, this substitution is still worth learning.
Why? Because there are some key differences between cream scones and butter scones. The ability to convert from one to the other allows you to make a batch with the perfect texture and appearance.
We'll help you decide which kind of scone is just right for your occasion.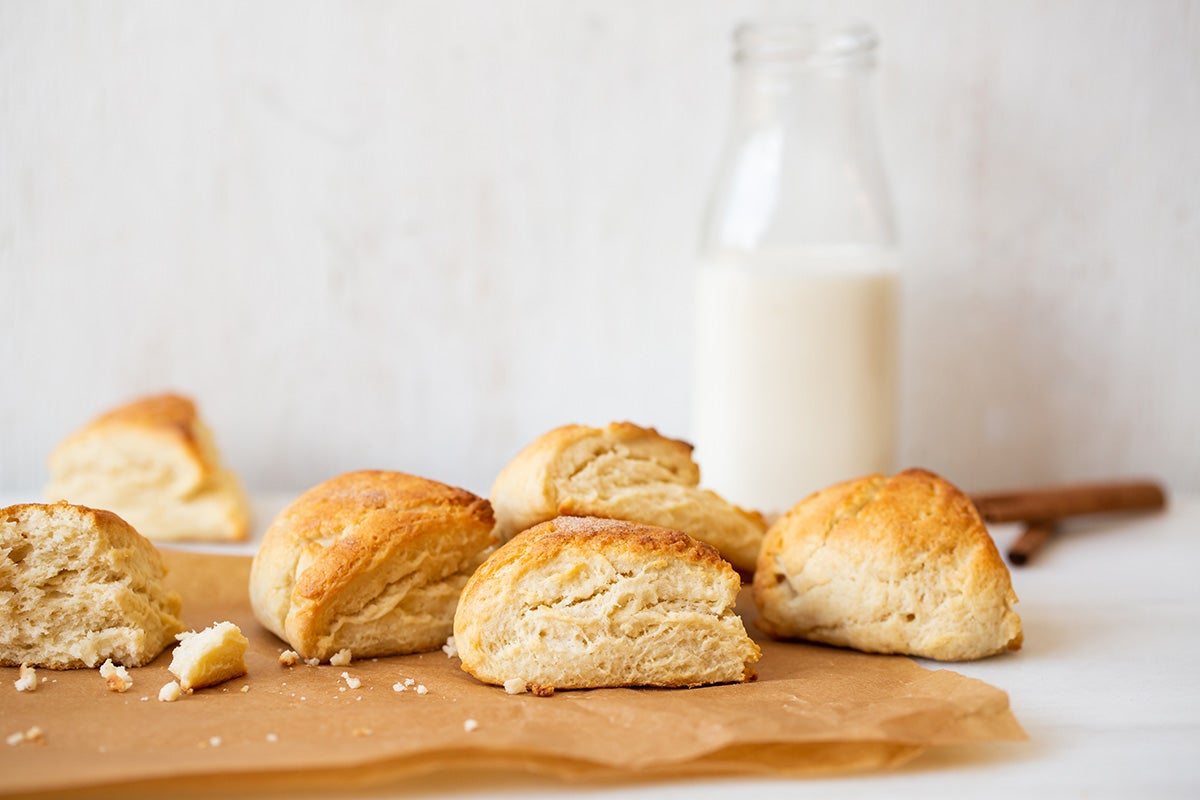 Cream scones 101
Using heavy cream as a base, cream scones can feel like a morning indulgence.
Texture: Ultra-tender and cake-like, they're softer than butter-based scones.
Best for: Enjoying as is or with a cup of coffee or tea; can also be dressed up as shortcake and served alongside fruit. Cream scones' delicate texture is also just right for highlighting flavors like cardamom, cinnamon, espresso powder, and more.
Reason to love them: They're quick and easy to make and don't require working the fat into the dry ingredients.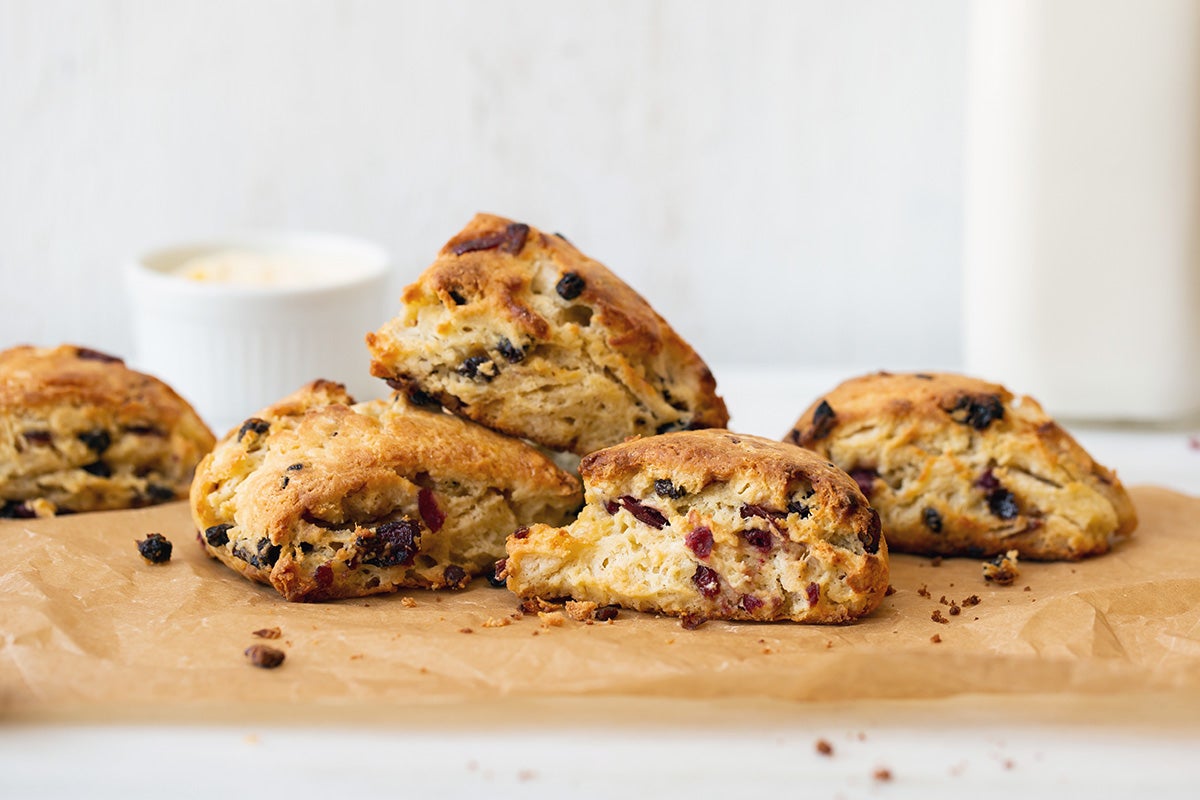 Butter scones 101
Classic and timeless, butter-based scones can be hearty and delightful.
Texture: Layered, usually with craggy, crisp edges and sometimes slightly dry (while still pleasant). Overall, butter scones are sturdier than cream scones.
Best for: Splitting and topping with jam, butter, or cream. They can hold up to heavy or large mix-ins like chocolate chunks, roughly chopped nuts, or large dried fruit.
Reason to love them: They only require ingredients you're likely to have on hand so you can make them at a moment's notice.
Bottom line
Cream scones or butter scones? With our easy substitution, you'll be able to convert back and forth based on what you're looking for (or what's in your fridge at the moment).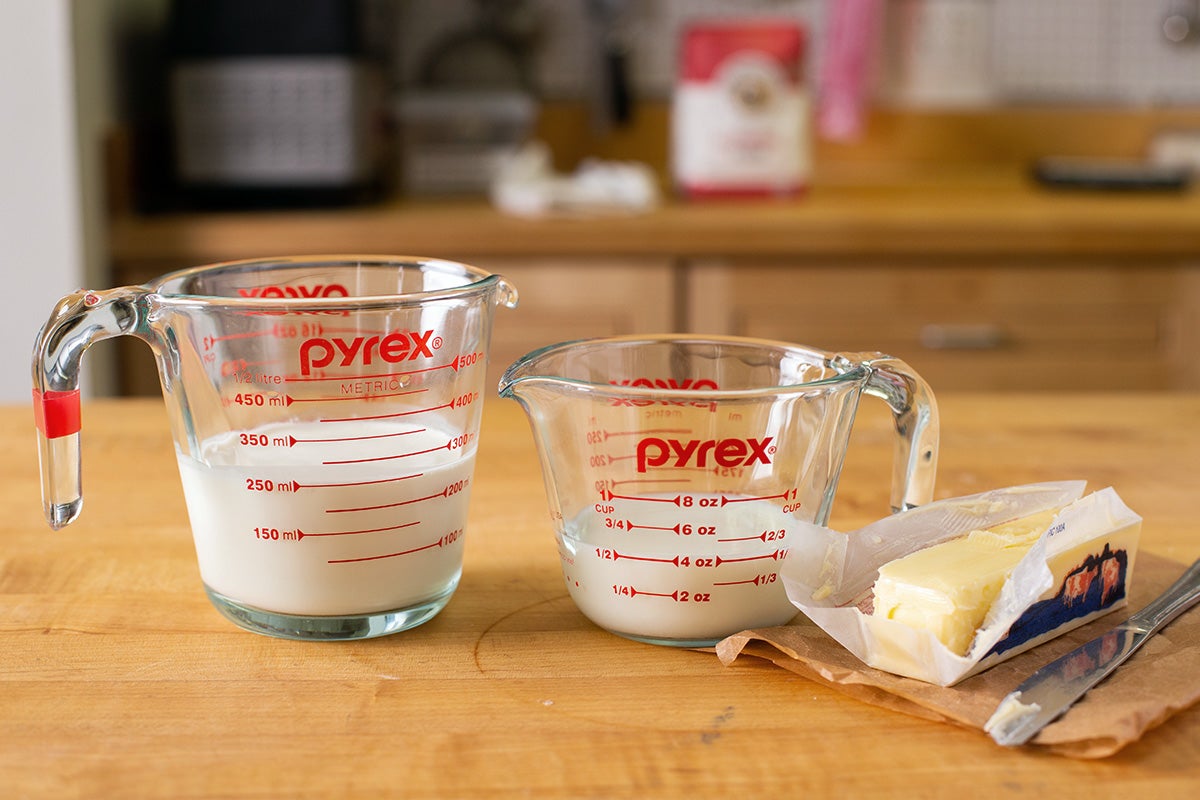 The substitution ratio
Are you ready for the ultimate conversion?
Replace 1 cup (227g) of heavy cream or whipping cream with 1/2 cup (113g) of butter and 1/2 cup (113g) of milk. If your recipe doesn't call for a full cup of heavy cream, scale down the amount of butter and milk that's used accordingly.
This ratio also works if you'd like to go in the other direction: You can replace the butter and milk in your recipe with heavy cream, basically using the same approach.
There are just a few key points about converting in each direction that you'll want to note before diving in.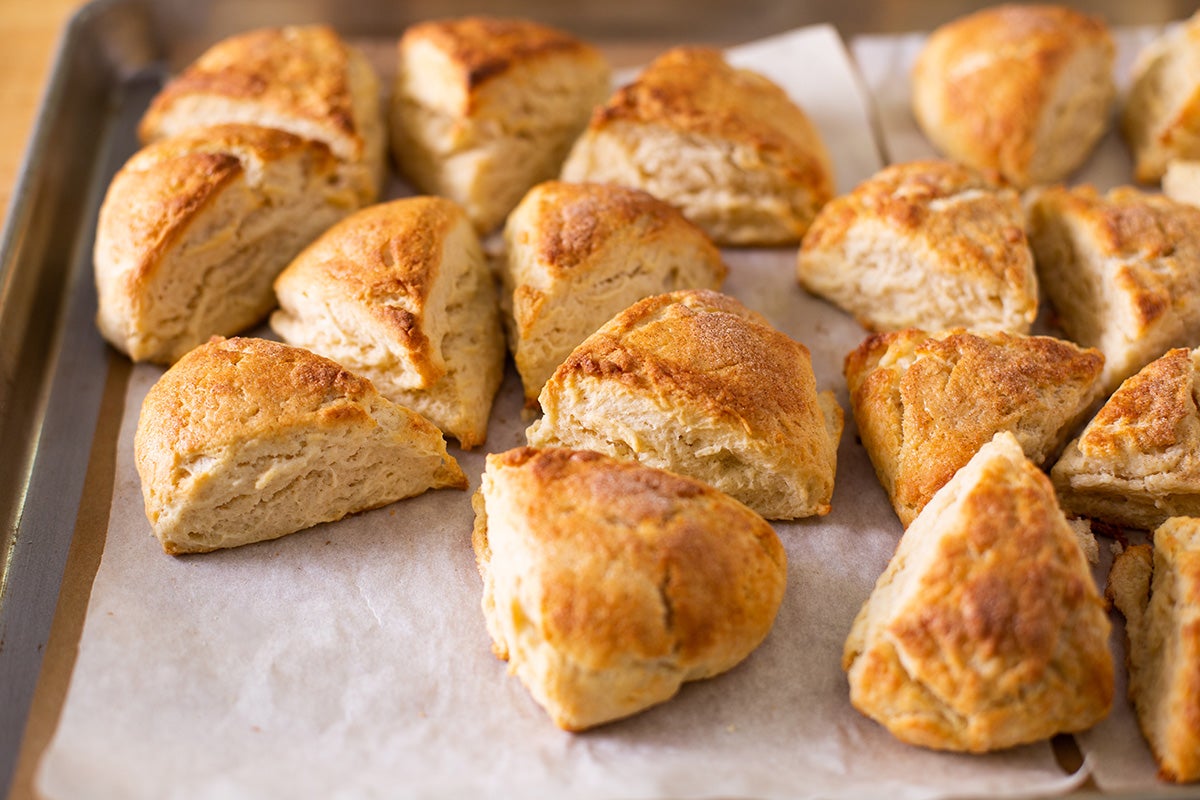 From cream to butter and milk
If you're starting with a cream scone recipe and want to use butter and milk instead, start by mixing together the dry ingredients. Then cut cold butter into 1/2" chunks and add it to the dry ingredients.
Using your hands or a pastry blender, work the butter into the dry ingredients until the largest pieces of butter are slightly smaller than dime-sized. Add the milk to any of the other liquid ingredients called for in the recipe (like eggs or vanilla).
Finish the dough by gently folding the wet and dry ingredients together. (A dough scraper is a perfect tool for the job here.) If the dough looks powdery and dry, add additional milk by the tablespoon until it holds together.
Working in the cold butter in this fashion will give you a layered, slightly flaky scone.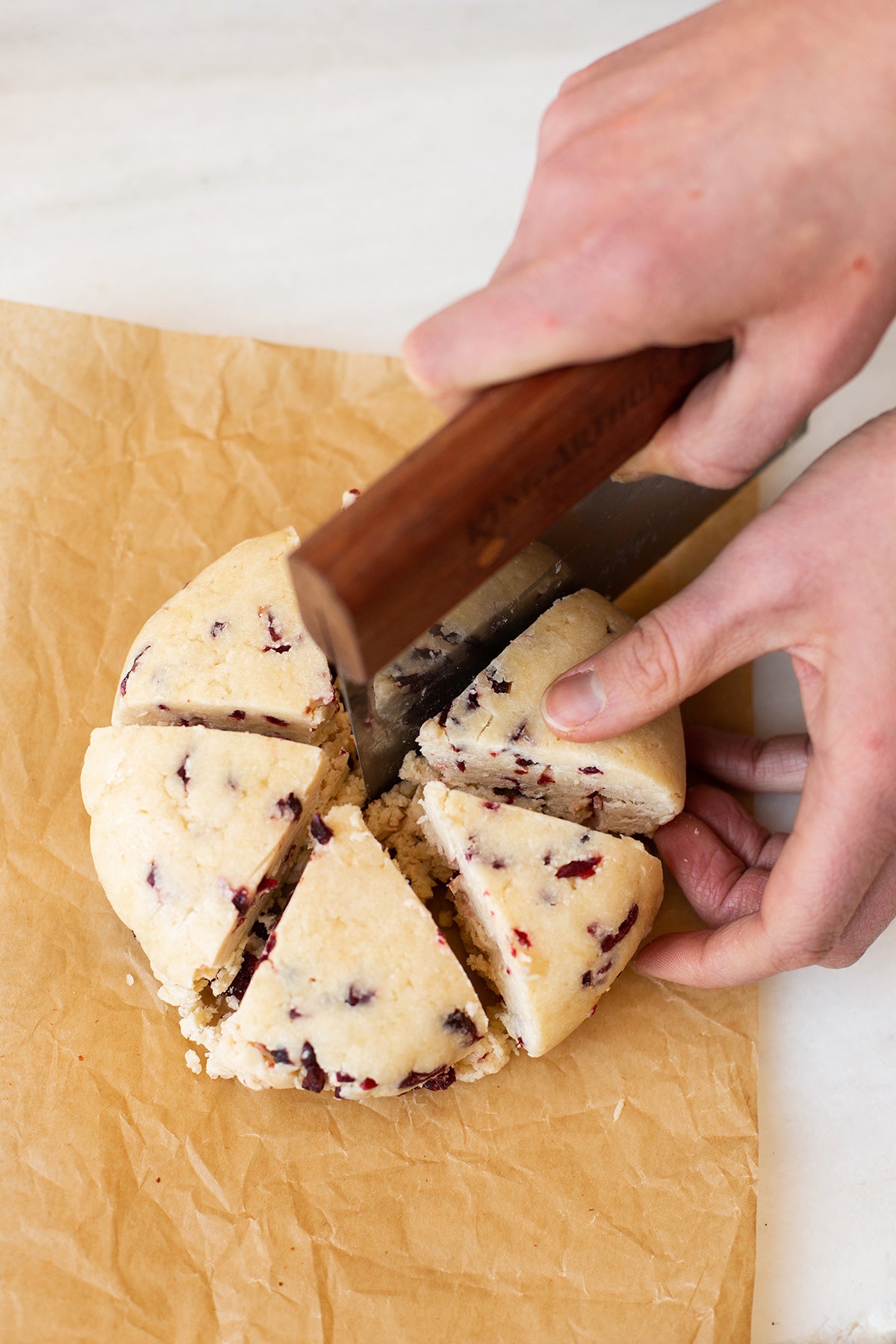 Or melt the butter
What if you want to recreate something close to those super-tender cream scones you had your heart set on? Simply heat the butter and the milk together until the butter melts, and add them both when your recipe calls for the cream.
(Note: Let the butter and milk cool slightly if your recipe calls for adding eggs to the liquid. This will prevent the eggs from being cooked inadvertently.)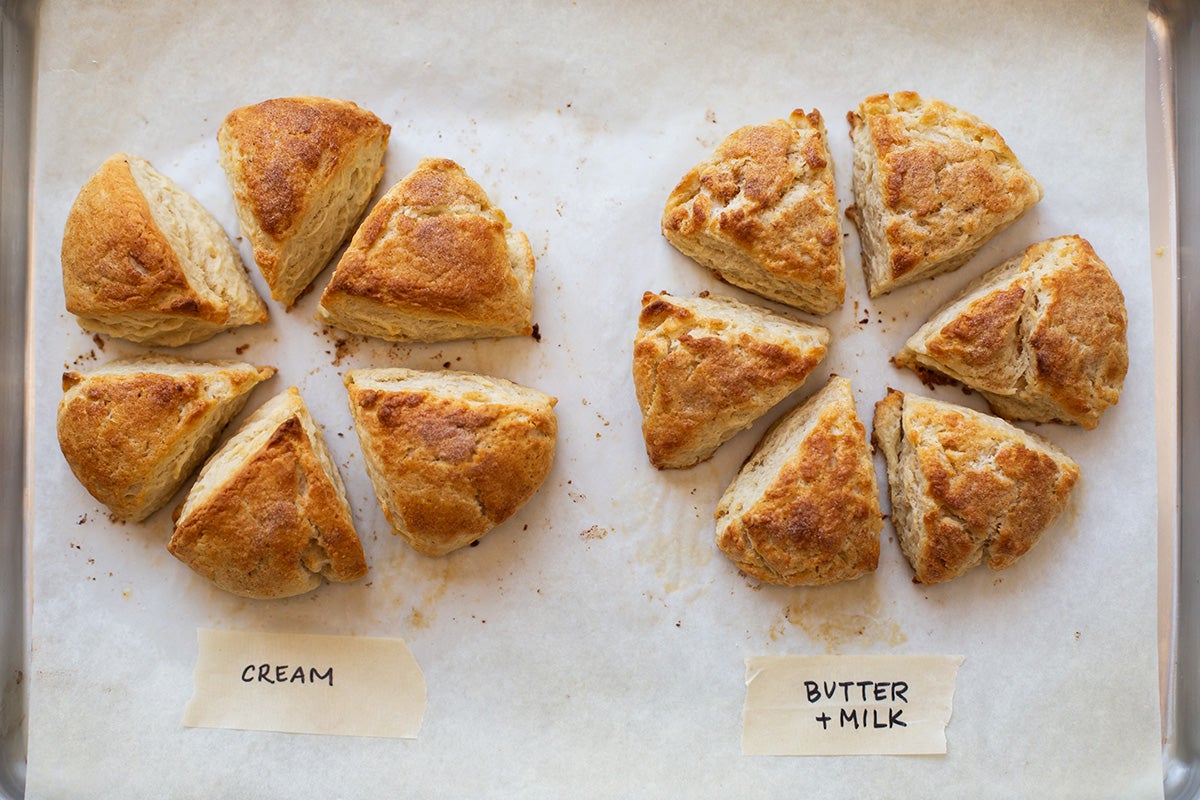 We put the substitution ratio to the test by comparing our classic Cream Tea Scones (left) with a batch converted to butter and milk (right).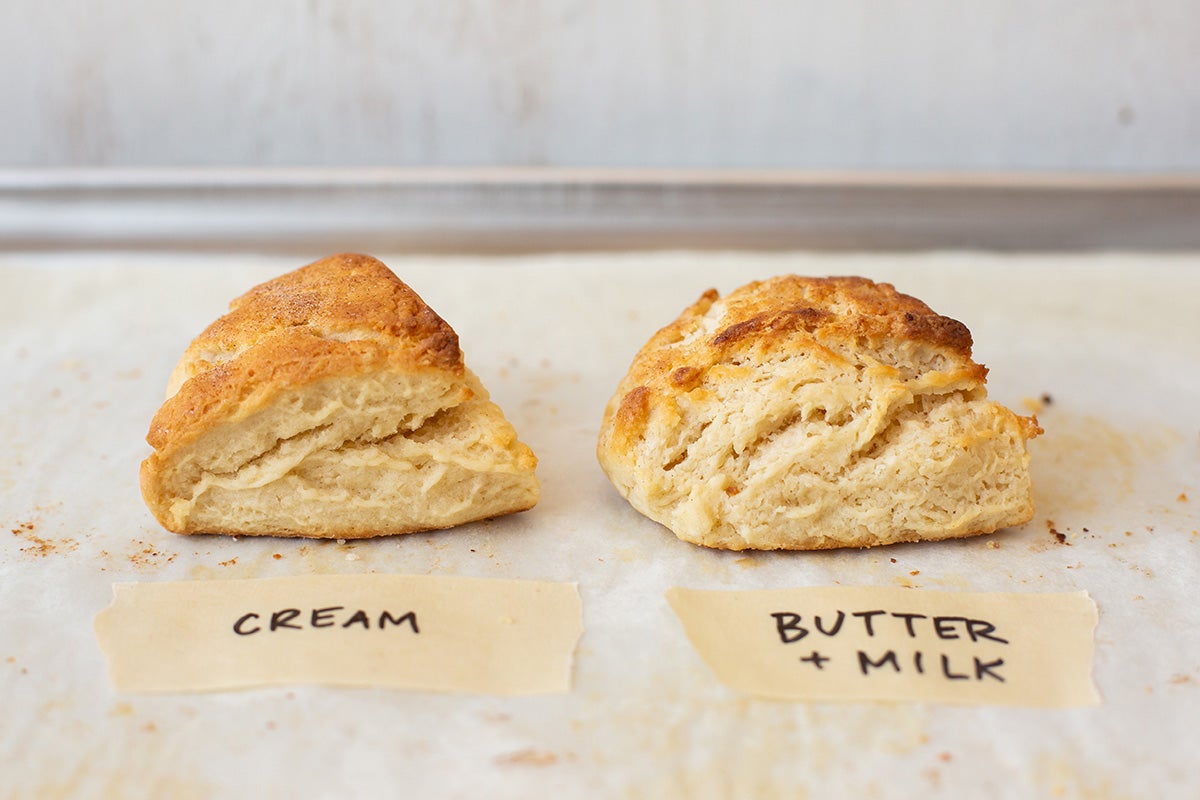 Side by side, you can see that the cream scones are more cakey and delicate. The butter scones look almost layered and rise just a bit higher, despite the unbaked scones being the same height when they went into the oven.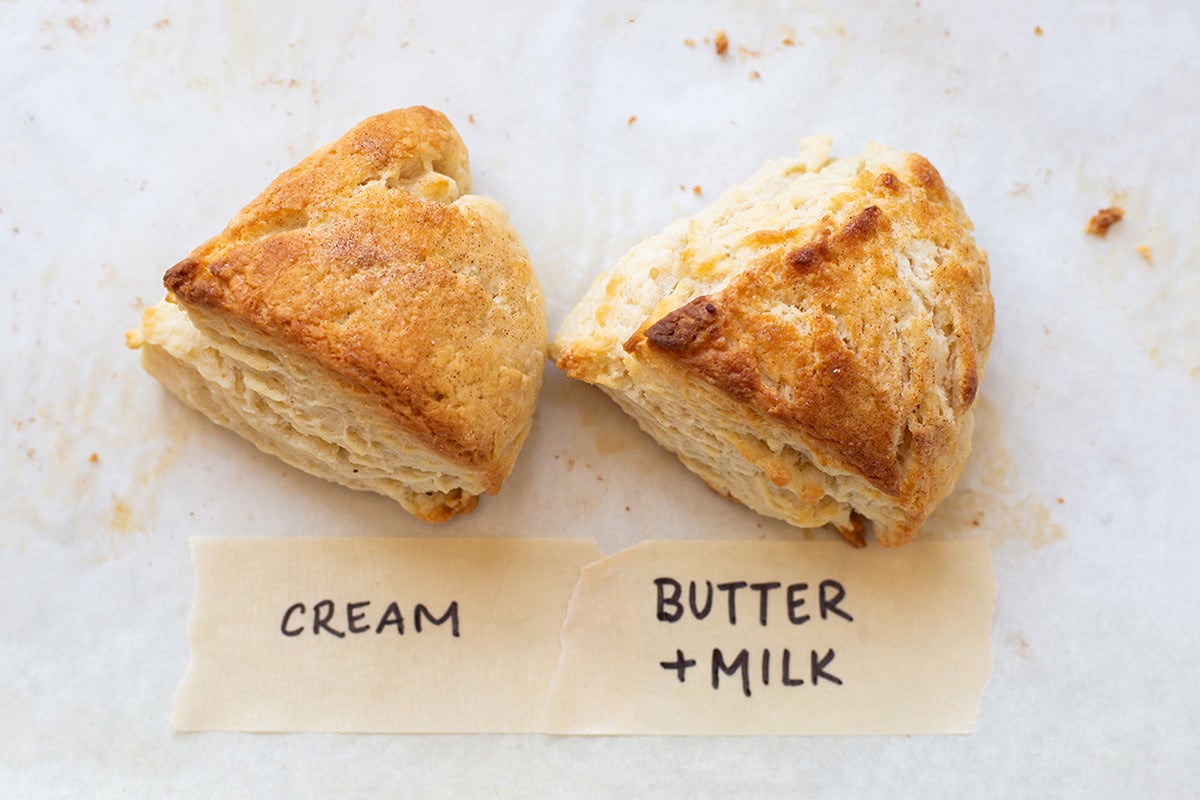 The flavor of the cream scones is just a bit richer than the butter scones. They don't need any additional butter or garnishes before serving. The butter-based version, on the other hand, welcomes a pat of warm salted butter.
From butter and milk to cream
How about if you're going the other direction? If you're converting butter scones to cream scones, hold back a few tablespoons of cream when adding the liquid. The dough tends to be stickier when making the conversion this way, so you might not need to add all the cream.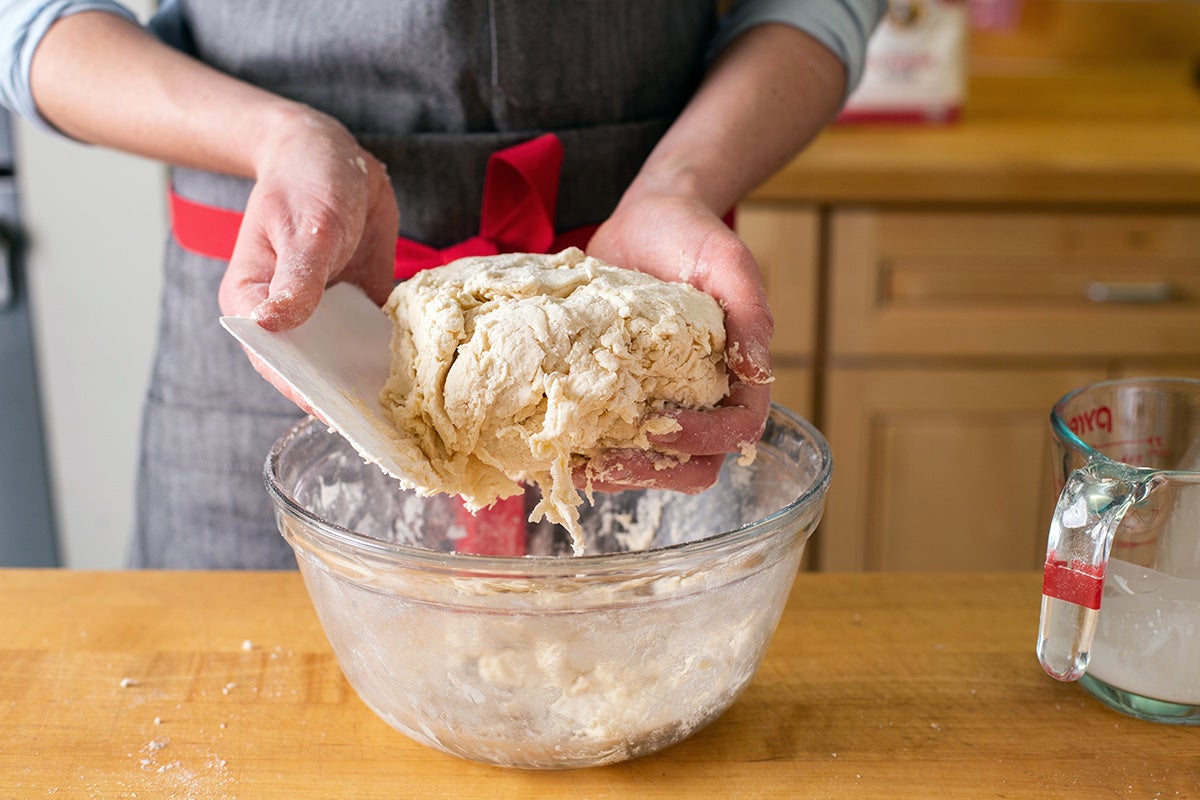 We held back about 3 tablespoons of cream here, and it gave the dough just the right texture. It's slightly shaggy but still holds together when squeezed. If you add a full cup of cream, your dough will be quite sticky, especially if the recipe also calls for eggs.
If you end up with a difficult-to-handle dough, wrap the dough in plastic and let it chill in the fridge for 30 minutes. It'll be much easier to work with once it's cool.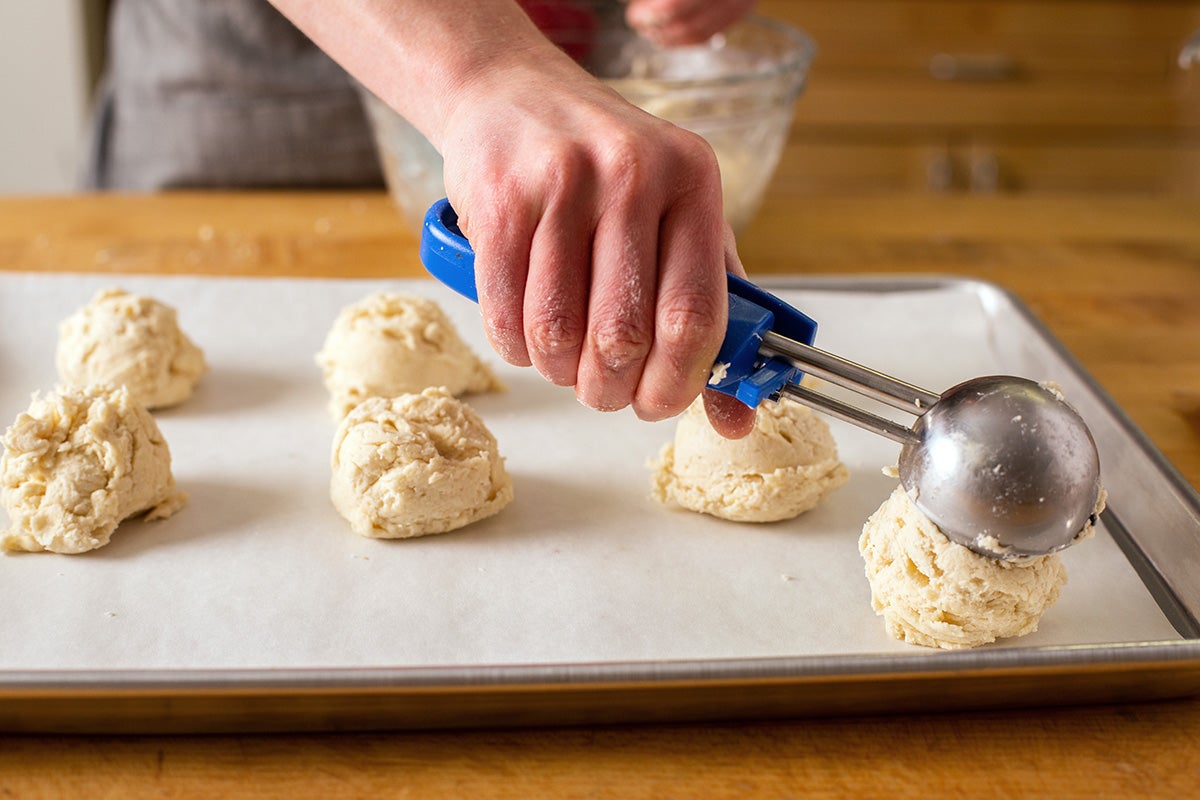 Alternately, scoop sticky dough using a Scone and Muffin Scoop so you don't have to make a mess with your hands. You'll end up with beautiful (and delicious) "drop" scones.
Any leftover cream can be brushed on top of the dough to help your scones turn beautifully golden brown as they bake.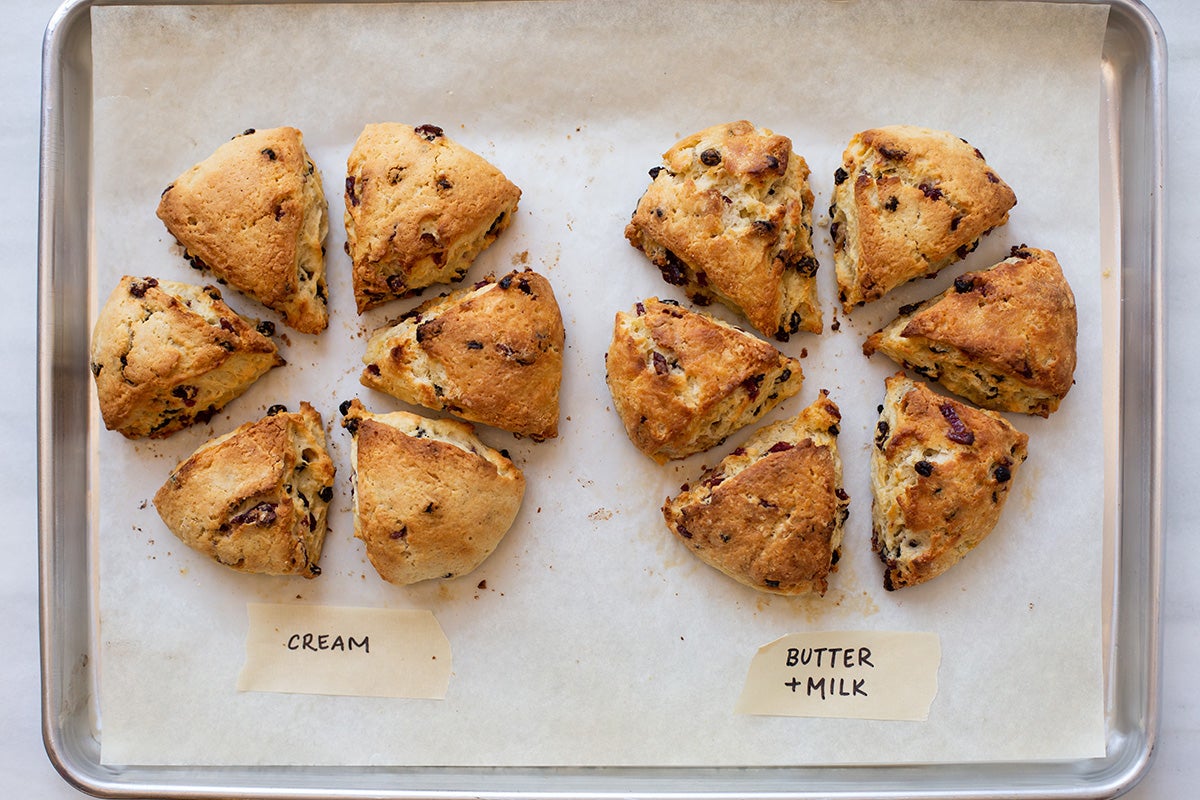 Testing our (butter-based) Scones
As a final test, we make our most popular scone recipe. The original version is made with butter and milk (right), and we converted a test batch made with cream (left).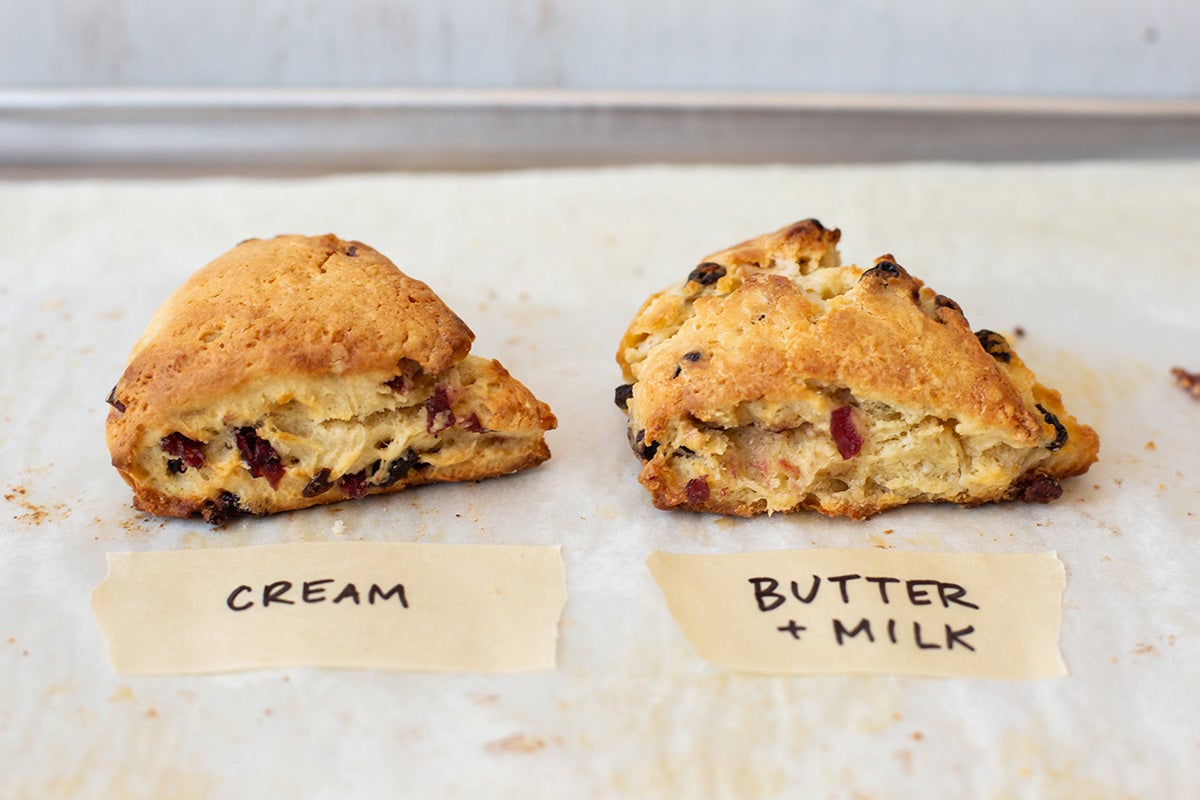 As with our first test, the cream version seems slightly more indulgent. They're delicate and have a velvety mouthfeel, especially when dunked in hot tea. They remind me of a tender shortcake, fresh from the oven. I dream about splitting one in half and filling it with freshly whipped cream. Yum!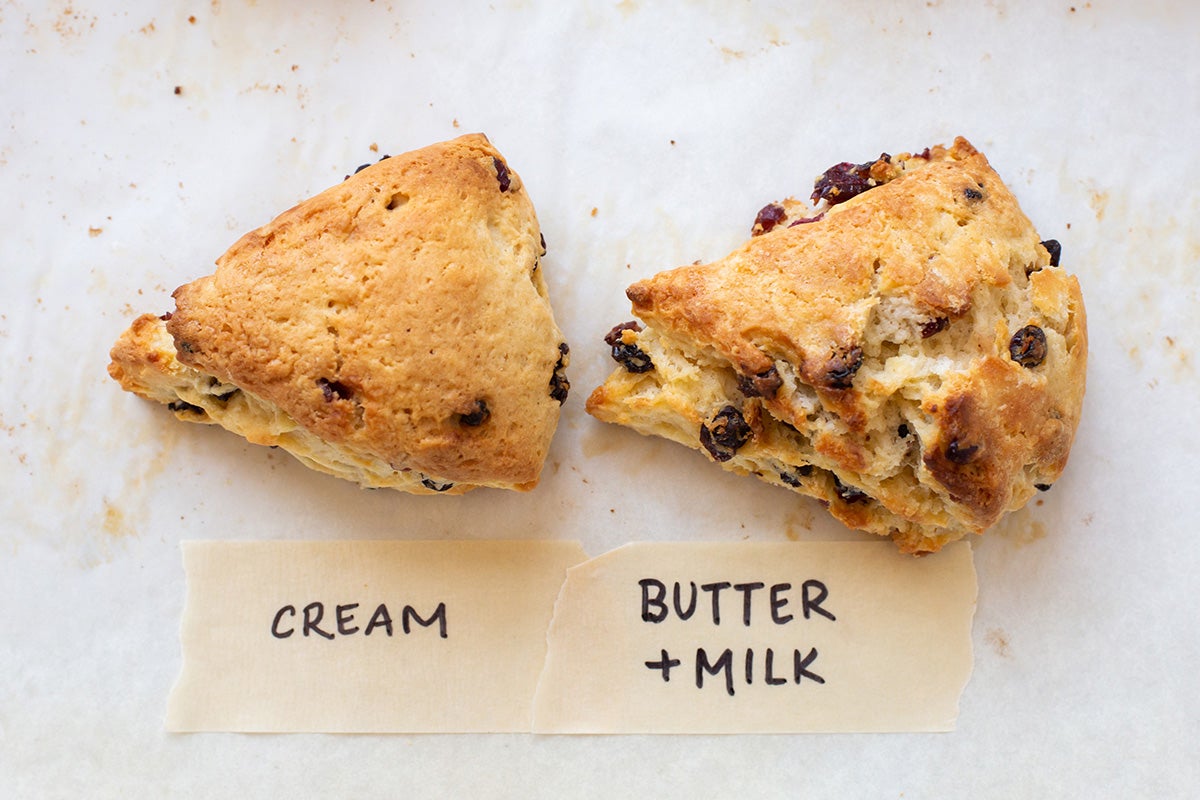 The butter-turned-cream scones have a softer texture and cake-like interior. The butter scones have that classic, craggy scone look and feel.
Both are delicious; it just depends on what kind of scone you're looking for.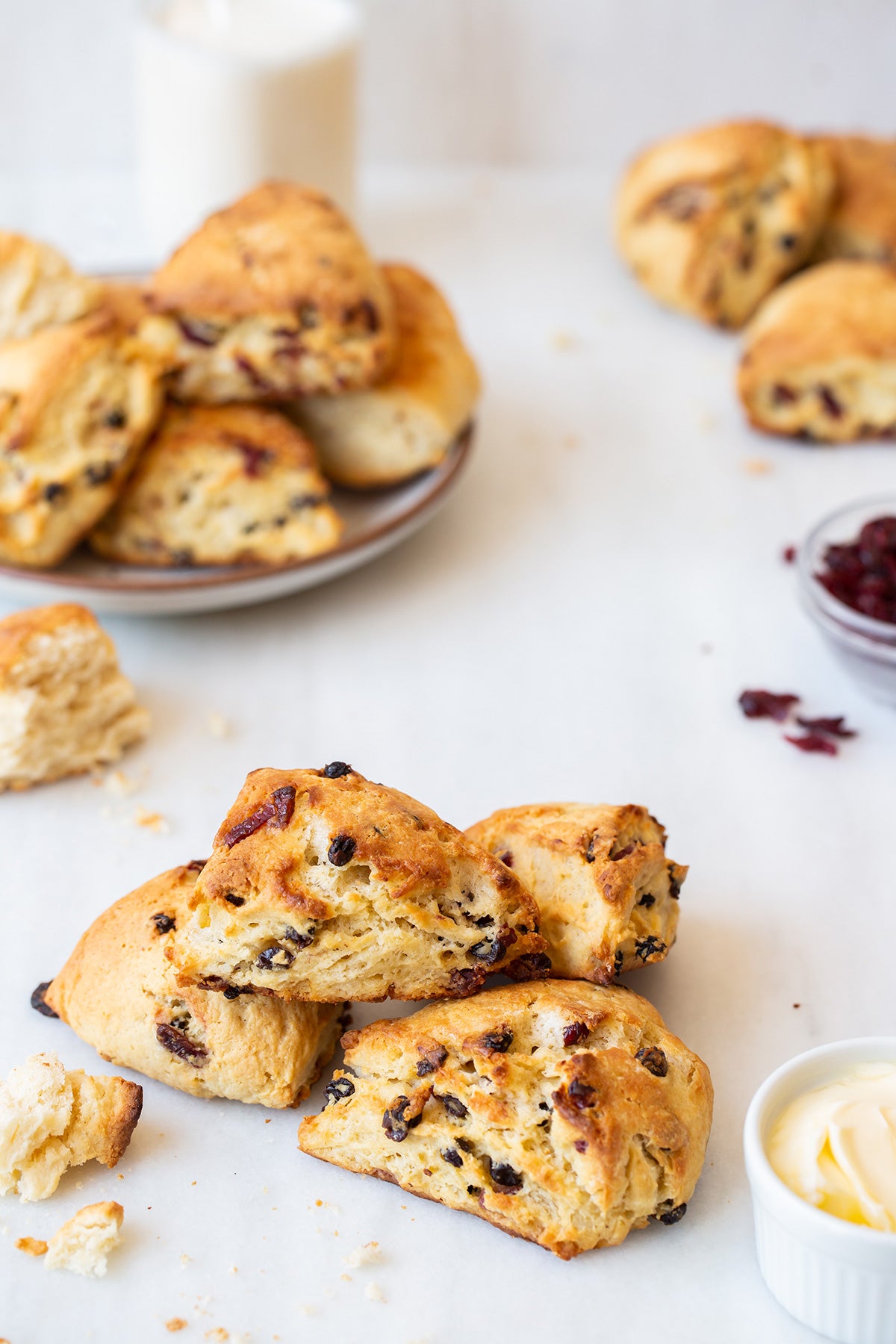 Convert your scone style
Whether you've forgotten to pick up a container of heavy cream, or you're looking to make hearty scones that can be split and covered with jam, you'll always be ready to bake a batch of perfect scones.
Just remember the magic ratio: 1 cup (227g) of heavy cream can be replaced by 1/2 cup (113g) each of butter and milk.
If you keep in mind the tips and tricks we've taught you here, you'll be able to transform any scone recipe to get exactly the results you're looking for.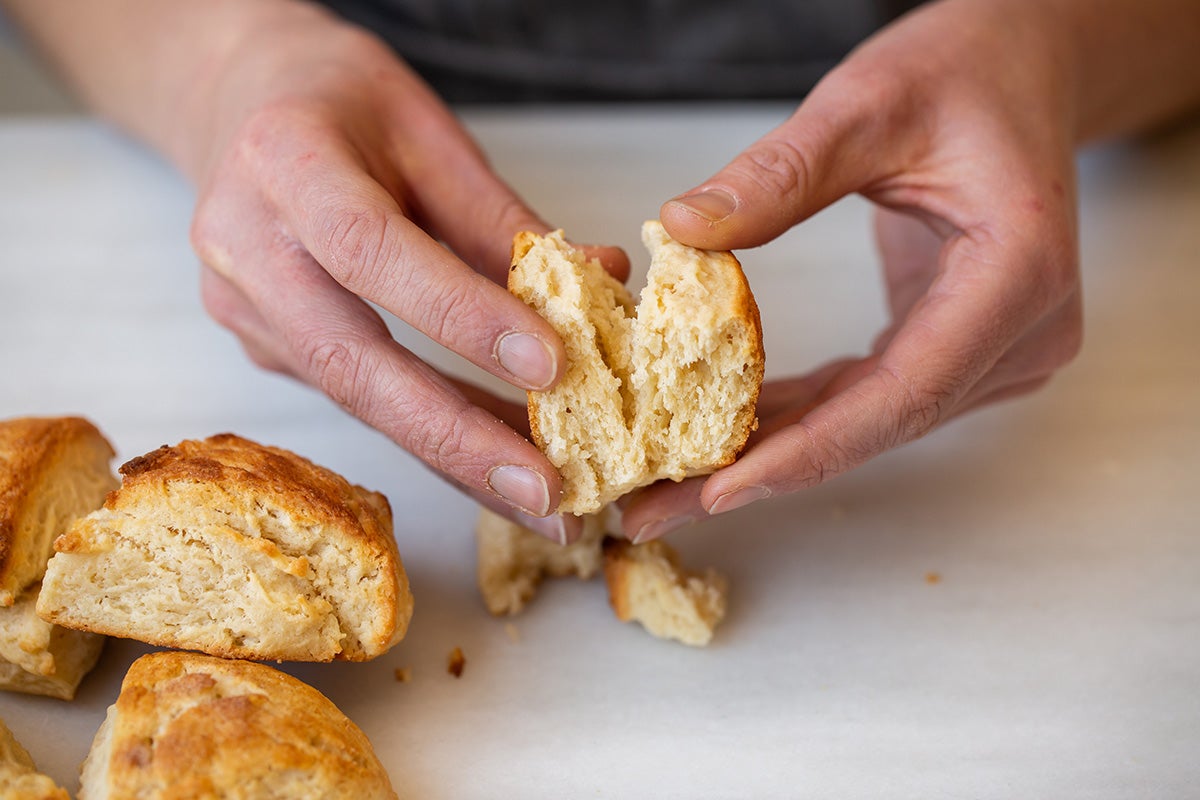 Find more ways to personalize and perfect your scones in our Scone Baking Guide. We hope you'll whip up a batch and try a new flavor combination, or perhaps convert your favorite cream scones recipe to butter and milk to see which version you like best.
You might just make your best batch of scones ever!
Tell us what kind you prefer, butter or cream scones, in the comments, below.
Thanks to Jenn Bakos for taking the photographs for this post.
Jump to Comments