Big Batch Quick Dinner Rolls
Baking buns for a crowd and singin' away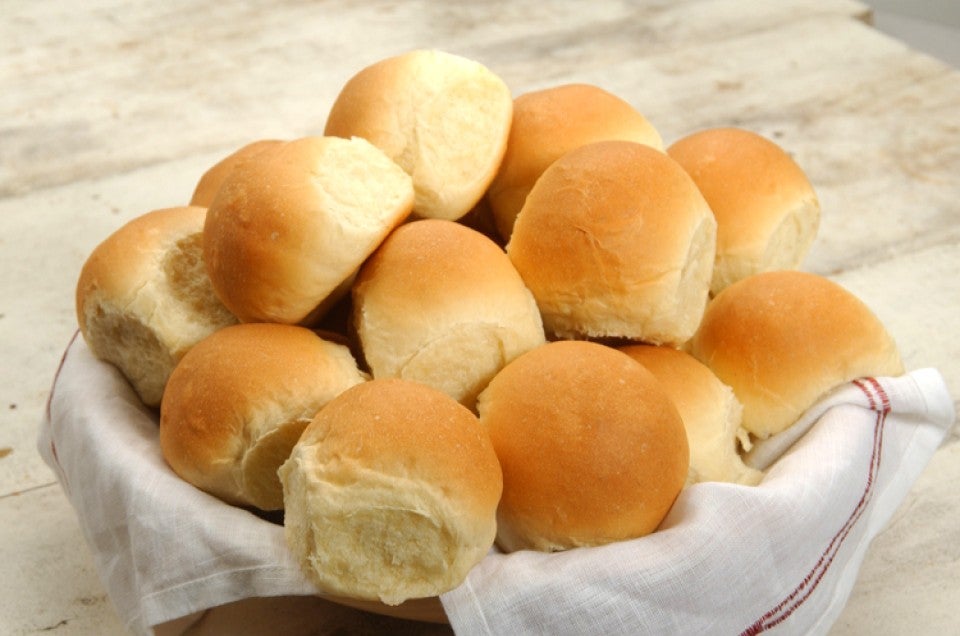 **hum**
Timer rings, are you listenin'?
On the tray, turkey's glistenin'
A beautiful sight, we're happy tonight,
Thinkin' 'bout a big batch of buns…
Seriously, I think I need to clear space on a shelf for a Grammy for that ditty, don't you? Wait 'til you hear my rendition of "Baby Got Butter" a.k.a. "I Like Big Buns."
Other hits include the reggae classic "No Gravy, No Cry;" and let's not leave out the kiddies with " The Stuffing and the Buns Go Round and Round."
Hey, my feeling is when you're happy enough, you should sing it out; and if it's food that is making you so happy, sing about the food.
Thanksgiving is a wonderful time of year to be happy as we surround ourselves with friends and family. It's a busy and hectic time of year here at King Arthur Flour, but we definitely try to take time to let our co-workers and customers know how much they mean to us.
One way that I try to give back is to plan out a recipe or two that I know customers have been requesting via the Baker's Hotline, emails, Facebook, etc. This year in the kitchen I worked on bringing a few vegetarian options to the table for main dishes, and this recipe for a really big batch of buns.
I've been making different versions of this recipe for years now; it's definitely a holiday staple at our house. It makes a whopping 24 buxom buns, enough to fill a half sheet pan, or four 8" round pans. My husband always loves to know that after dinner there will be plenty of rolls left to make turkey sandwiches for lunch on Black Friday. And my daughter would rather have a second roll than a second piece of pie. That is definitely worth singing about, in my book.
Another reason to belt out your best Broadway version of "It's Raining Rolls?"  These beauties are on the table in just about an hour, start to finish. "Hallelujah, it's rainin' rolls!"
Let's make a Big Batch of Quick Dinner Rolls.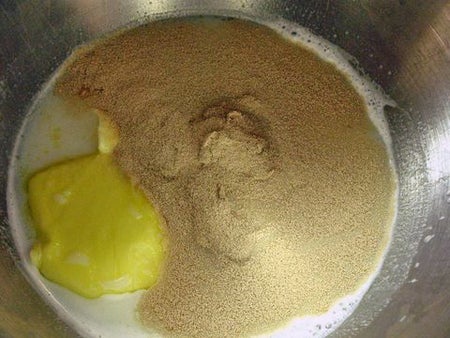 You can mix up this dough by hand, or in your stand mixer. In your work bowl, place:
1/2 cup (113g) water, lukewarm
2 cups (454g) milk, warm (100°F to 110°F)
3 tablespoons (43g) butter, room temperature
2 tablespoons (21g) sugar
1 tablespoon salt
2 1/2 tablespoons (28g) yeast, instant preferred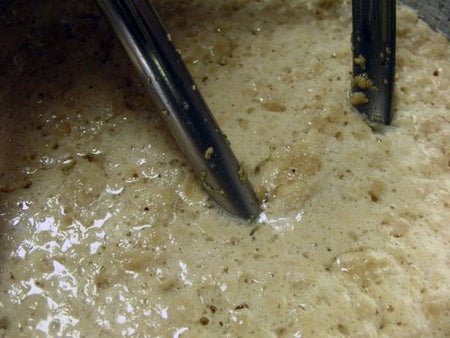 Mix well and let set for about 5 minutes, until nice and foamy.
Using the paddle attachment on your mixer, blend in 5 cups (600g) King Arthur Unbleached All-Purpose Flour. You'll have a loose, wet dough at this point but it should be quite smooth.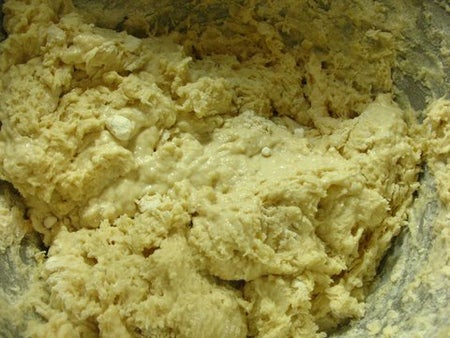 Add an additional 1 to 2 cups flour 1/2 cup (60g) at a time until you have a soft, slightly sticky dough. Once the dough starts to come together in a mass, switch over to your dough hook to start to develop the structure of the dough.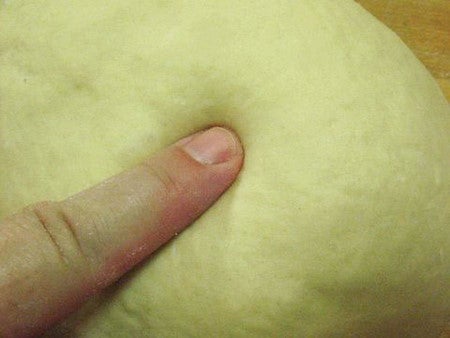 After about 5 minutes of kneading, give your dough the "doorbell" test. Lightly flour your finger and press into the dough just like you would to ring a doorbell. Just a quick "ding," not a prolonged "bzzzzzzzzz". The dough should spring back and fill in the indentation of your finger quickly. If not, knead a little longer and try again.
** If you're baking the buns today, preheat the oven to 350°F. **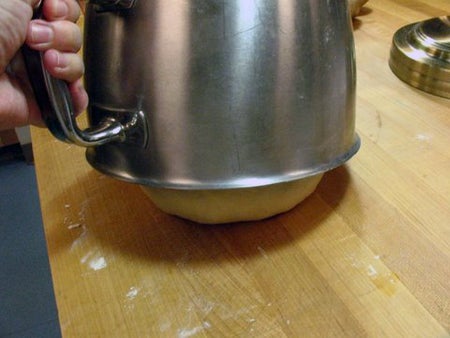 Once the dough is well kneaded, round it into a ball and set it on the counter with your bowl inverted over the top. This makes a handy-dandy little proofing place. You can go the traditional plastic wrap route, but your dough will only be rising about 15 minutes so I try not to waste the wrap on such a short rise.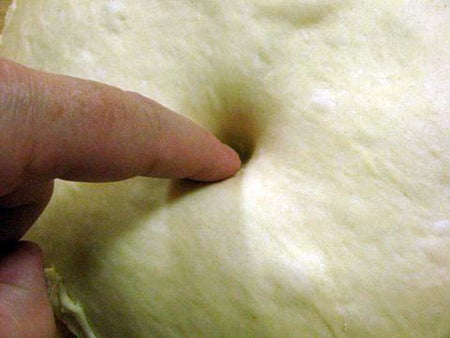 To test to see if your dough is sufficiently risen, you'll be using your finger again but this time you'll be doing a "poke" test. Flour your finger, and press into the dough up to your first knuckle. This time, you're looking for the indentation to stay in the dough when you pull your finger out.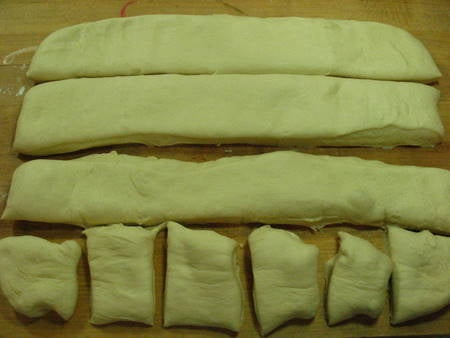 Pat the dough out to a rough rectangle, about 1/2" thick. Cut into 4 long strips, then cut each strip into 6 small squares. Voilà, 24 buns in the making.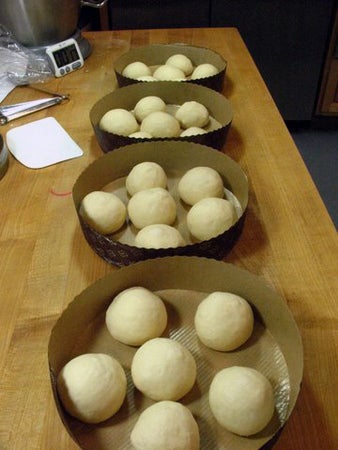 Roll your dough into 24 buns and pan up the way that works best for you. Here I've used 4 bake and give pans, with 6 buns each.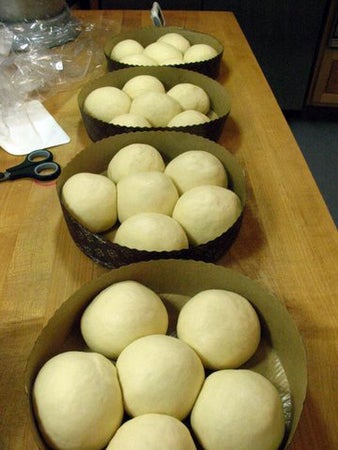 If you're baking now, let the buns rise for about 15  minutes until they're full and round. Remember, they still need a little room to grow in the oven, so don't let them go overboard.
Bake the rolls for 20 to 25 minutes, or until golden browned and fragrant. Serve warm with plenty of fresh butter and gallons of gravy.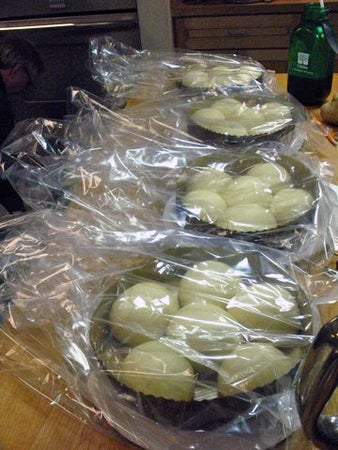 If you're planning to freeze the buns, only let them rise for about 10 minutes on the counter. Then, wrap well in freezer-safe bags, or a double layer of bread bags. Seal well and place in the freezer for up to 4 weeks.
To bake after freezing, remove the wrapped buns from the freezer the night before you want to bake them and let them thaw in the fridge overnight. Bake at 350°F, adding about 5 to 10 extra minutes to the baking time to account for the chilled dough.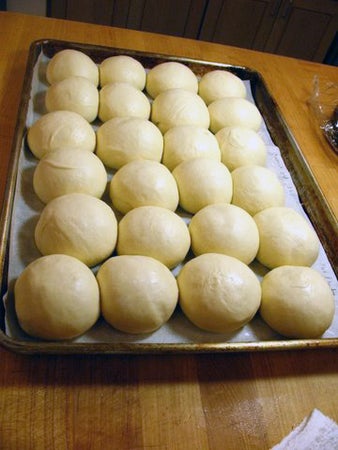 Here's how I do these rolls at home. A half sheet pan lined with parchment paper holds one batch of rolls perfectly.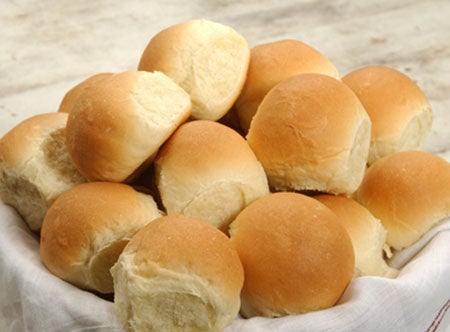 I know, at this point you're expecting me to burst into song one more time, but I'm sorry, I just can't do it.
Why? I'm too busy eating rolls! So, now it's your turn to sing about food. Share your best food song, real or made up, in our comments section.
Please bake, rate, and review our recipe for Big Batch Quick Dinner Rolls.
Looking for other great roll recipes? Check out these favorites: Dark & Soft Restaurant Dinner Rolls , Ham and Cheese Buns, Honey Whole Wheat Rolls.