I know, I know, this looks like – gulp – fruitcake.
Not only that, it has – double-gulp – DATES in it.
Are you still with me?
Thank you! You wouldn't believe the moaning and groaning and eye-rolling that goes on around here whenever I make something with dates or raisins or currants or any of those other similar dried fruits. 
Like prunes – which this bread includes as well.
Are you STILL with me?
Then you're in for a treat. Irish Tea Brack — a.k.a. Irish Freckle Bread — is reminiscent of banana bread in its moist, dense texture. But its taste (and deep mahogany color) relies heavily on its fruits: the aforementioned raisins, currants, dates, and prunes.
Based on Ireland's classic yeasted barm brack, this quicker version is just as popular in that country, where its only sweetness comes from the raisins and sultanas it's packed with. Our Americanized version adds brown sugar plus that additional fruit.  
And of course, there's whiskey, if you're so inclined. Hey, you have to soften the fruits in SOMETHING, right? The original recipe calls for a thorough soak in hot brewed tea; but a few tablespoons of harder stuff is never amiss.
Wednesday is St. Patrick's Day; it's time to throw off winter's cold shackles and celebrate warmer weather ahead. But while we're waiting for spring to arrive, there's still time to cozy up in an overstuffed armchair with a cup of tea, a good book, and a slice of brack.
And where does the "brack" in this recipe name come from? It's an Anglicized version of Breac, the Gaelic word for "speckled" – which perfectly describes the look of this fruit-filled bread.
Traditional Irish-style wholemeal flour (left) is coarsely milled from red whole wheat. White whole wheat flour (right) is more finely ground, though it still retains a gently speckled appearance from the bran. I decided to try both types of flour in this recipe, to see the difference in the final product.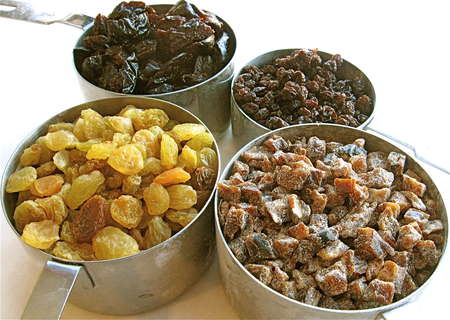 Between the whole wheat flour and the various fruits, the color theme here is definitely BROWN. Measure out the following:
1 cup (142g) raisins, packed
1/2 cup (71g) currants, packed
1 cup (163g) pitted prunes, snipped into small pieces
1 cup (142g) chopped dates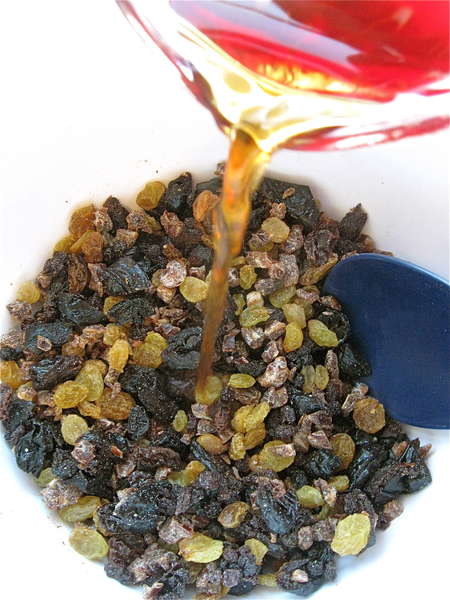 Place the fruit in a heatproof bowl.
Brew 1 cup (227g) of strong, hot tea. Irish breakfast tea is a good choice; but of course, use whatever type of tea you like. You absolutely have my permission to use green tea, white tea, jasmine, Celestial Seasonings Sleepy Time... whatever's your favorite. Mind you, anything beyond black tea is untraditional for this bread, but as I always say - the Baking Police have left the building.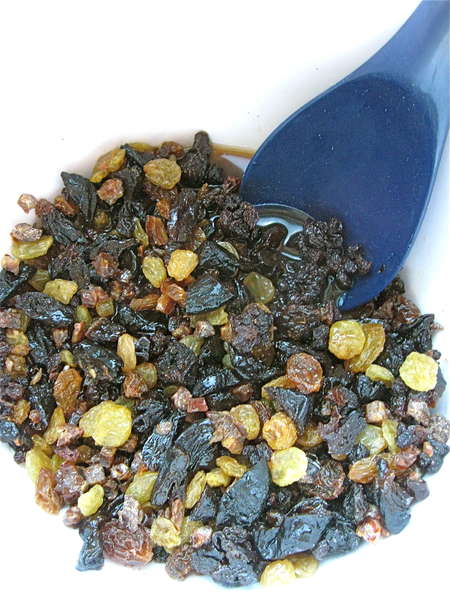 Pour the tea over the fruit, stirring to combine. Set the mixture aside to cool to lukewarm, uncovered; it'll take about 1 hour to cool.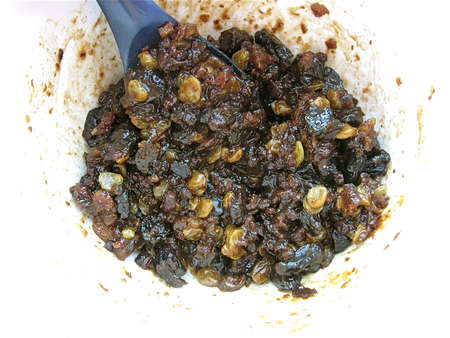 Here it is, an hour later; notice how the fruit has softened, and the mixture has thickened.
Preheat the oven to 325°F. Lightly grease an 8" round cake pan. The pan must be at least 2" deep; measure to be sure.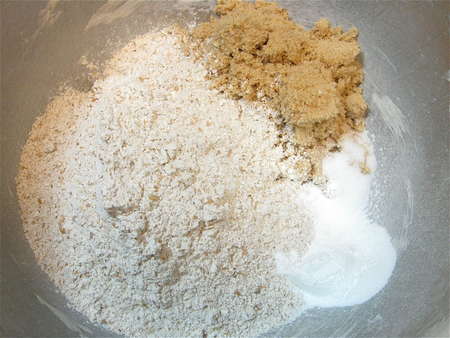 Stir together the following:
1 cup (227g) brown sugar, firmly packed
2 cups (227g) Irish-Style Wholemeal Flour or King Arthur White Whole Wheat Flour
1 tablespoon baking powder
1/2 teaspoon salt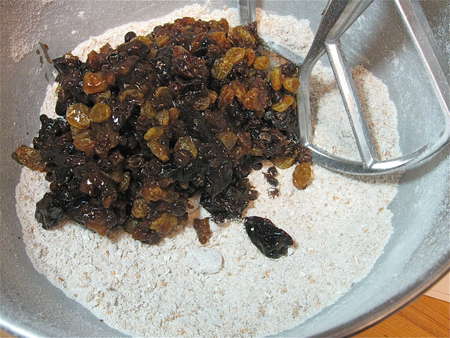 Add the dried fruit, and any remaining liquid.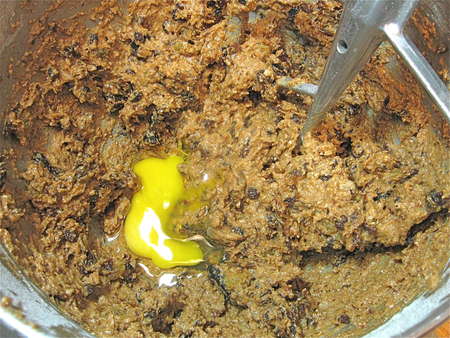 Stir till thoroughly combined; the batter will be thick and stiff.
Add 1 large egg.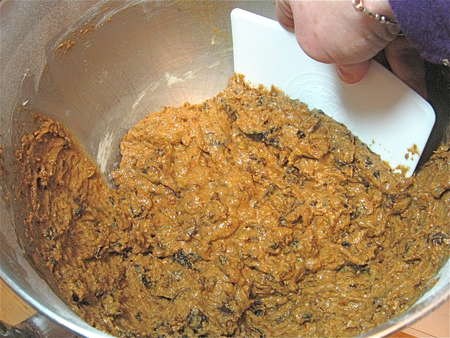 Mix till thoroughly combined. Scrape down the sides and bottom of the bowl, and mix again.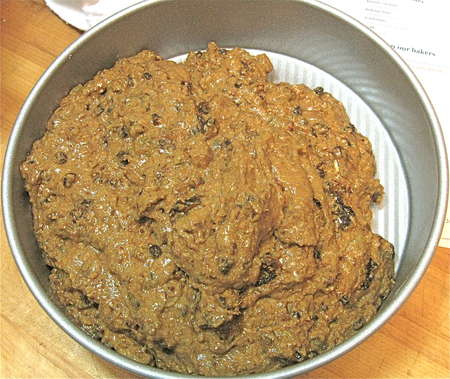 Spread the mixture into the prepared pan, patting it right to the edges. Do as I say, not as I do!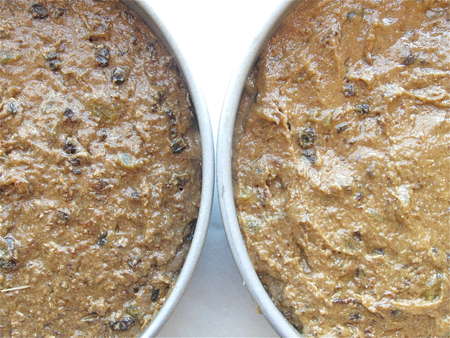 So I thought I'd make two of these breads side by side: Irish-style flour on the left, white whole wheat on the right. You can see that the white wheat is just slightly lighter in color.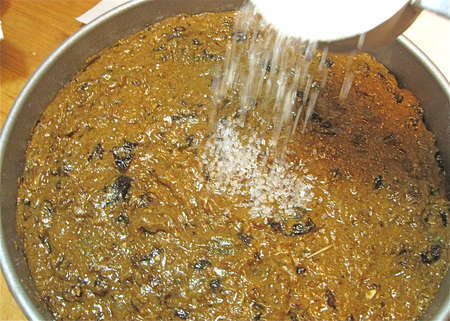 Sprinkle the top of the loaf heavily with coarse white sparkling sugar. For those of you uncomfortable with throwing all caution to the winds, I actually measured how much I used: 2 1/2 tablespoons (39g).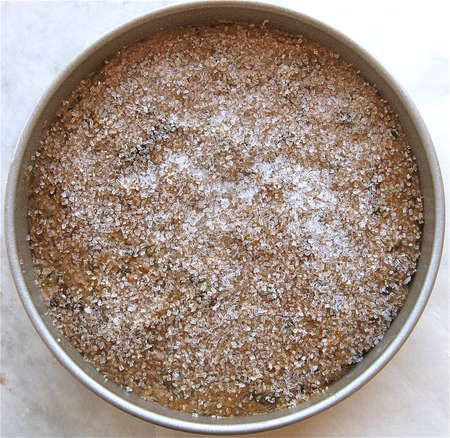 See? Be generous. This coarse sparkling sugar is both tasty, and pretty.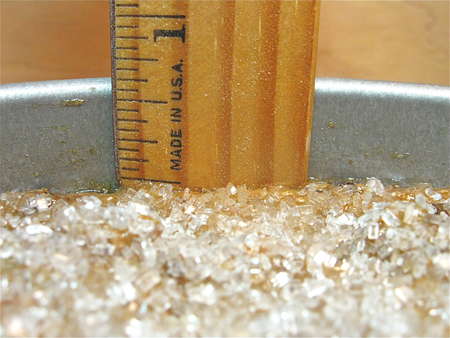 We've got about 1/2" clearance here; that should be sufficient to accommodate the rising loaf.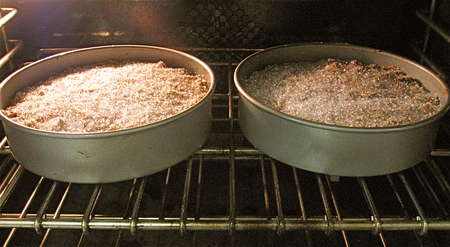 Bake the bread for 60 to 70 minutes, till a cake tester inserted in the center comes out moist, but without clinging crumbs.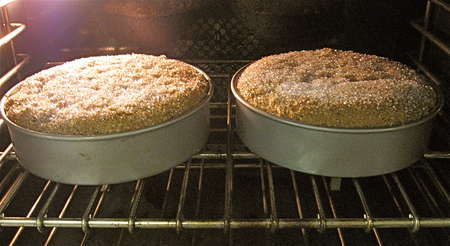 This is why you need a pan that's at least 2" deep!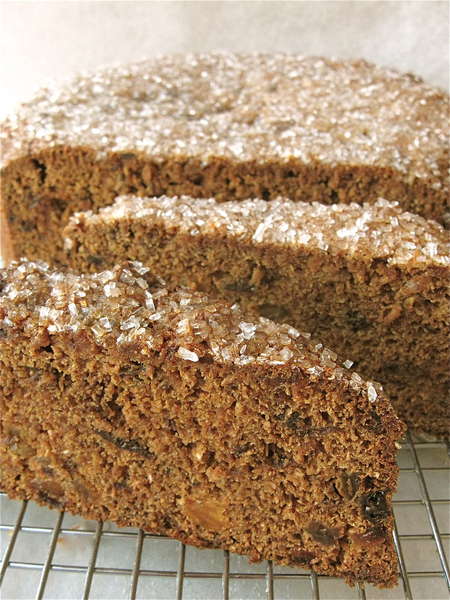 Remove the bread from the oven, and turn it out of the pan onto a rack to cool. Don't slice till it's lukewarm, at least; and it's actually better to wait till it's cool, to prevent gumminess.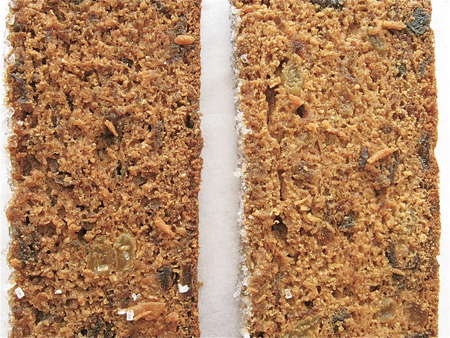 Irish wholemeal flour on the left; white whole wheat on the right. The white wheat loaf is slightly lighter in color, and rose slightly higher.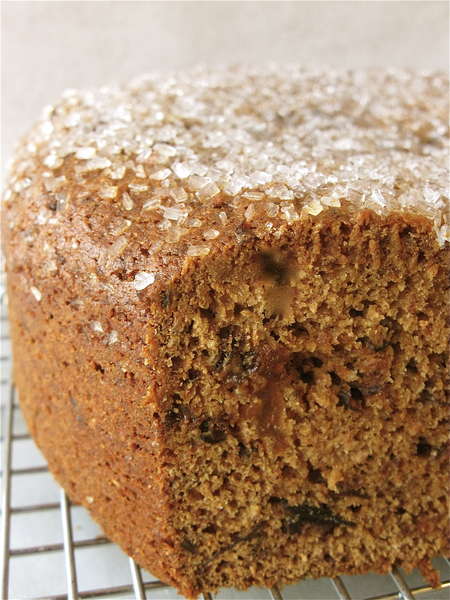 But it's all good, eh?
Brew a pot of tea; pick James Joyce's "Ulysses" off the shelf; snuggle into your comfiest chair, and settle in for a virtual trip to Ireland, ca. 1904. Smackwarm, indeed!
Read, rate, and review (please) our recipe for Tea Brack.
Jump to Comments