Coffee and doughnuts might be a standard pairing, but what about chai and doughnuts? 
A logical combination of two yummy, satisfying treats, wouldn't you agree?
That's what we thought too. Which means ... on to chai doughnuts!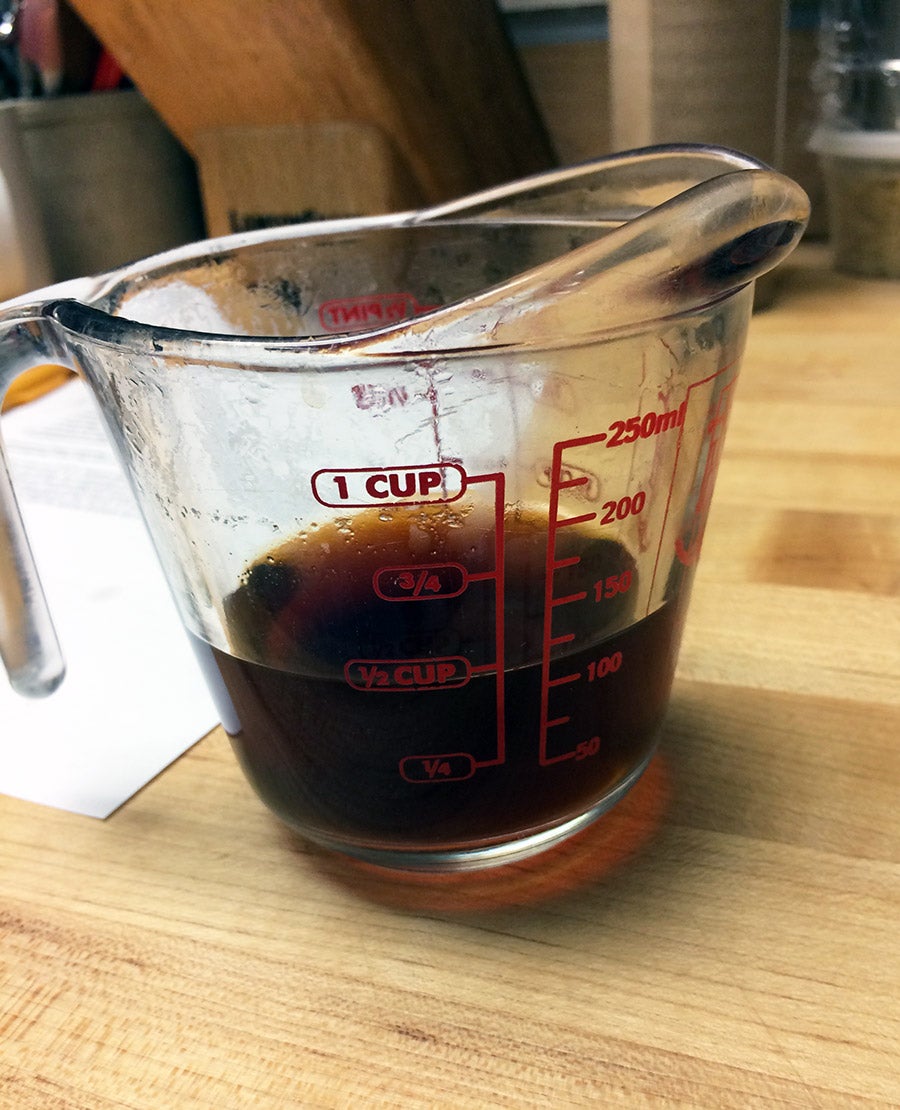 First things first, brew a strong cup of chai in hot water. Brew it strong; you're going to need around 1/3 cup cooled for the recipe, so feel free to sip the rest while you're gathering ingredients. No milk! Just tea and water for now.
"Chai" translates to "tea" in many parts of the world (most notably India), but what most Americans think of when discussing chai is actually masala chai. "Masala" means spices, and this drink typically involves black tea and warming spices like cardamom, ginger, and nutmeg. (For more on chai, read this article.)
There's no set recipe for the spices contained in this heady drink, but coriander sometimes seems to take a lead role. A perfect opportunity to taste some tea and "go with my gut."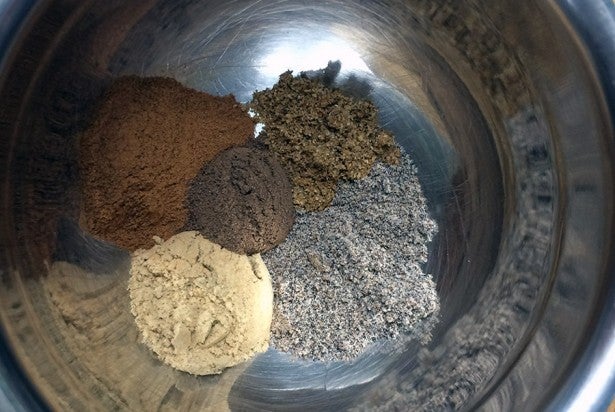 The spice combination to make my version isn't too too fussy: cinnamon, ginger, cardamom, cloves, and coriander. There are some that call for white pepper and nutmeg, but I didn't find them necessary. No need to pull EVERY jar out of the pantry.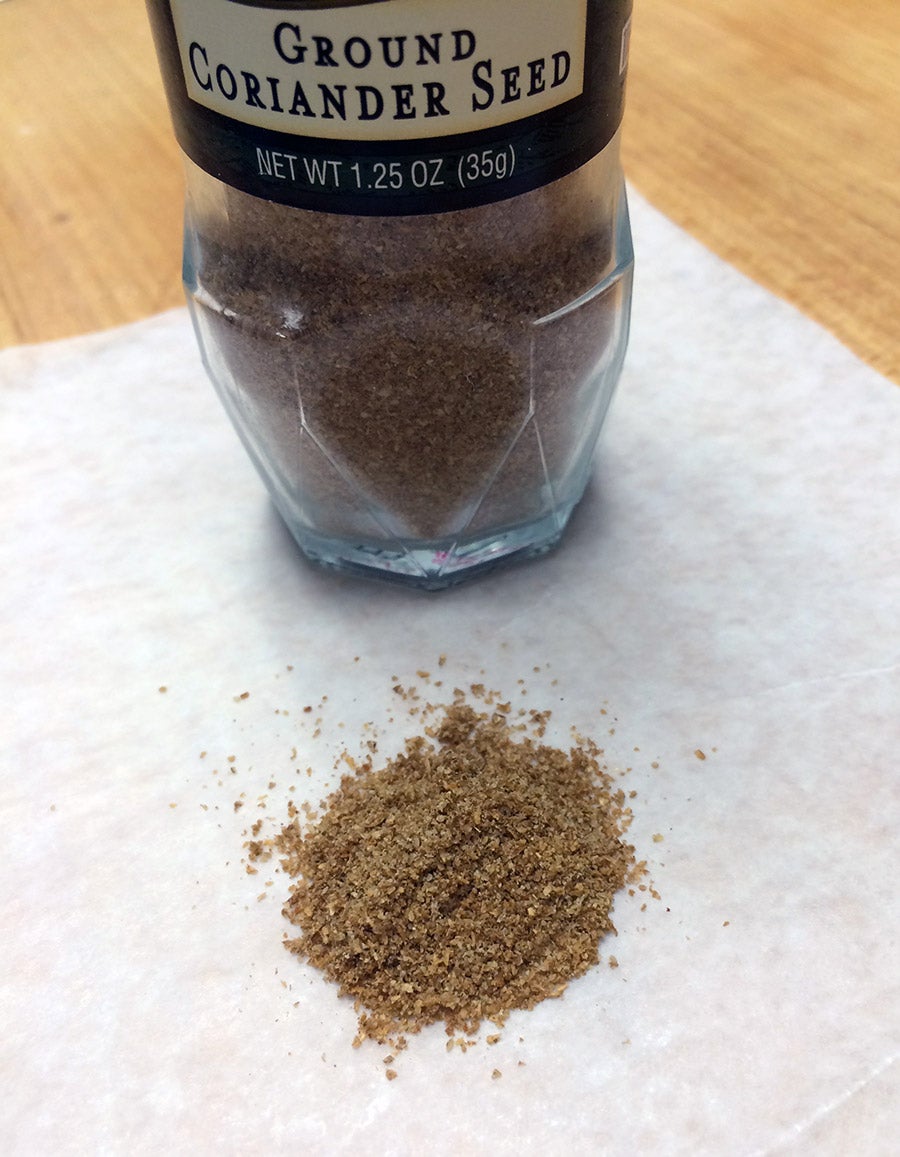 What's coriander? Also known as cilantro, we generally refer to the seed as coriander and the leaves as cilantro. In the UK, they just call the whole thing coriander. As long as we can all keep it straight, we're good. It has a fragrant flavor that's a cross between a citrusy lemon and spicy nutmeg, and it really adds a pleasant extra something to the end note of the spice combo.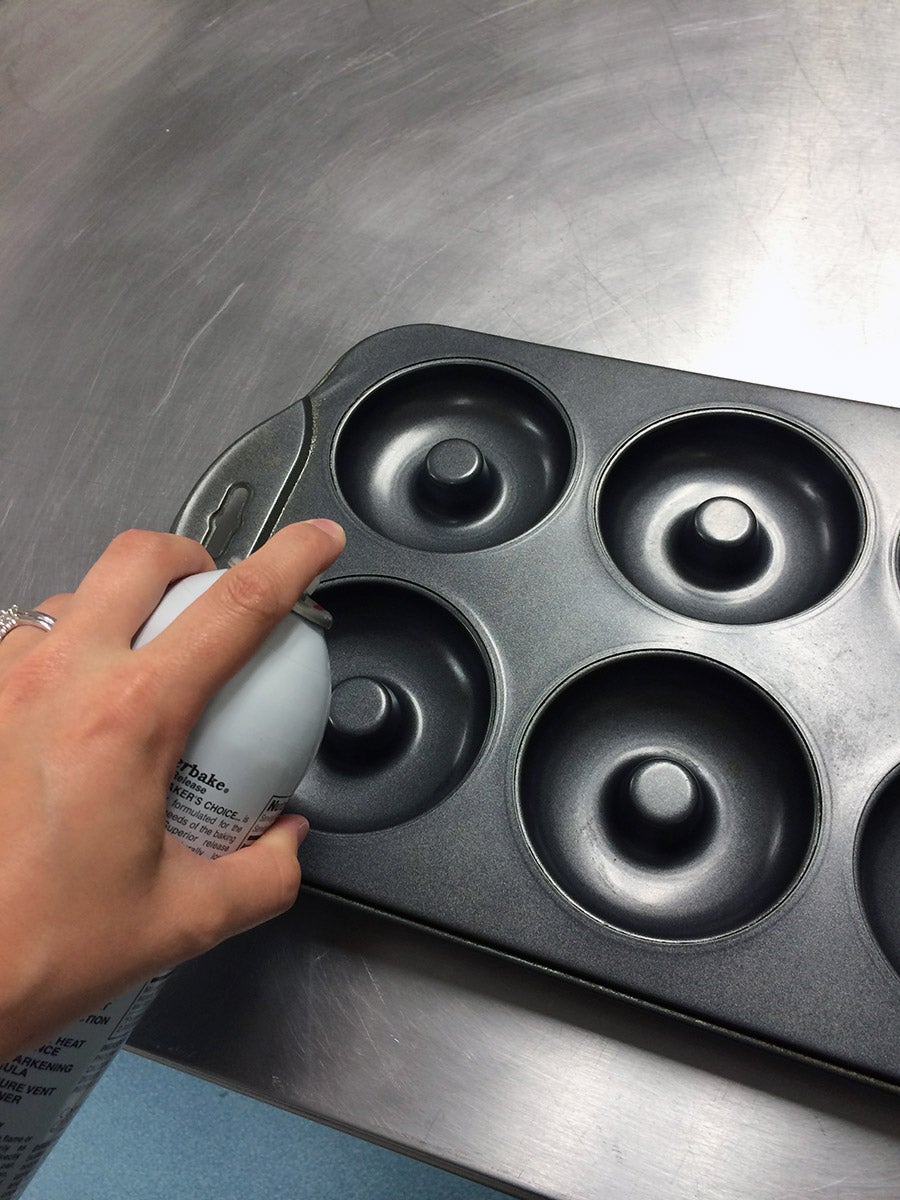 Preheat the oven to 375°F. Get out your large doughnut pan and give the wells a spritz with cooking spray or swipe with butter, whichever you choose.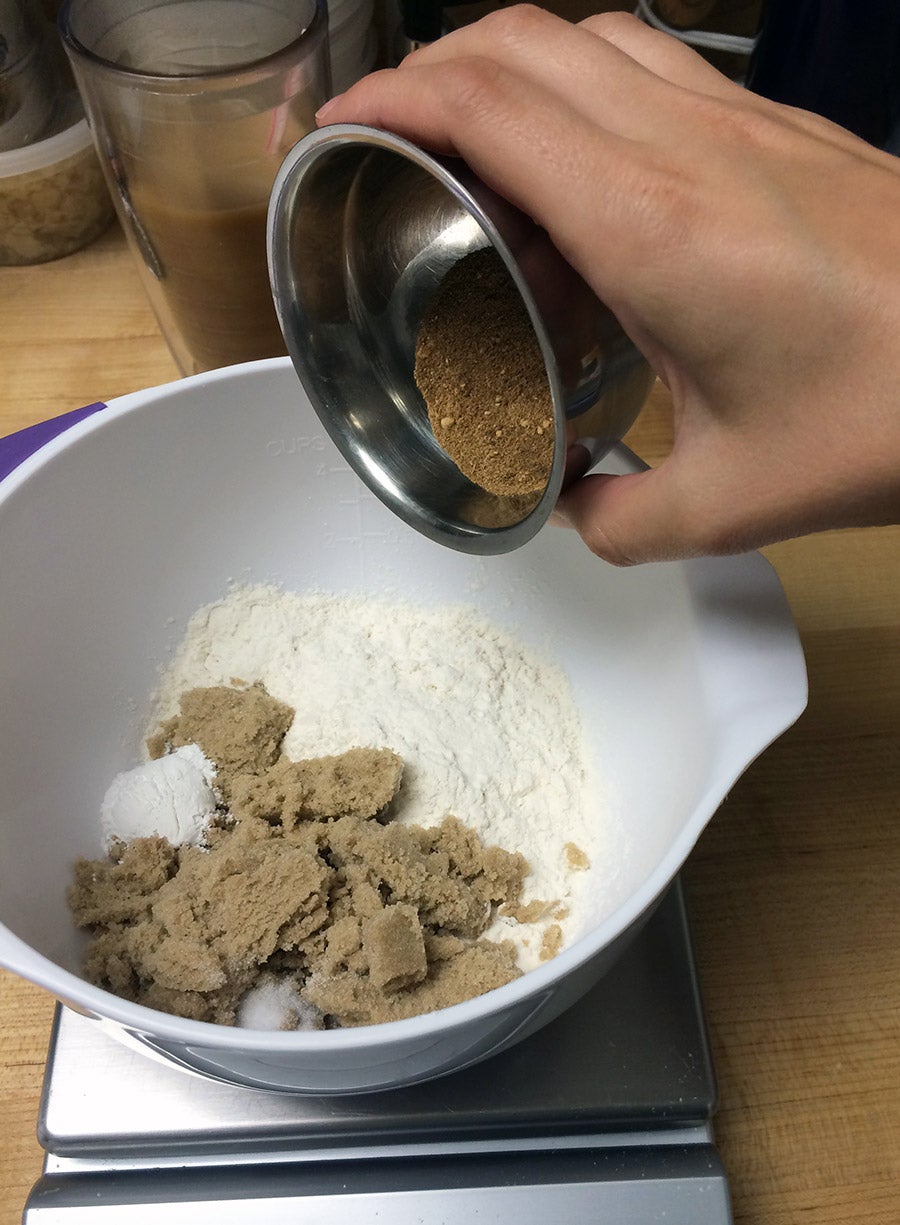 In a medium bowl, add 1 cup (120g) flour, 1/2 cup (106g) brown sugar, 1 teaspoon baking powder, 1/2 teaspoon cinnamon, 1/2 teaspoon ginger, 1/2 teaspoon cardamom, 1/4 teaspoon cloves, 1/4 teaspoon coriander, and 1/4 teaspoon salt in little piles so you don't lose track. It's kind of a laundry list of ingredients, so it's good to take precautions.
I had already measured out my spices in the cup for the above shot, so I just dumped them in this time around. It's not necessary to dirty the extra dish.
Don't have coriander and don't plan on ever purchasing it? No sweat. Just up the cardamom to 3/4 teaspoon.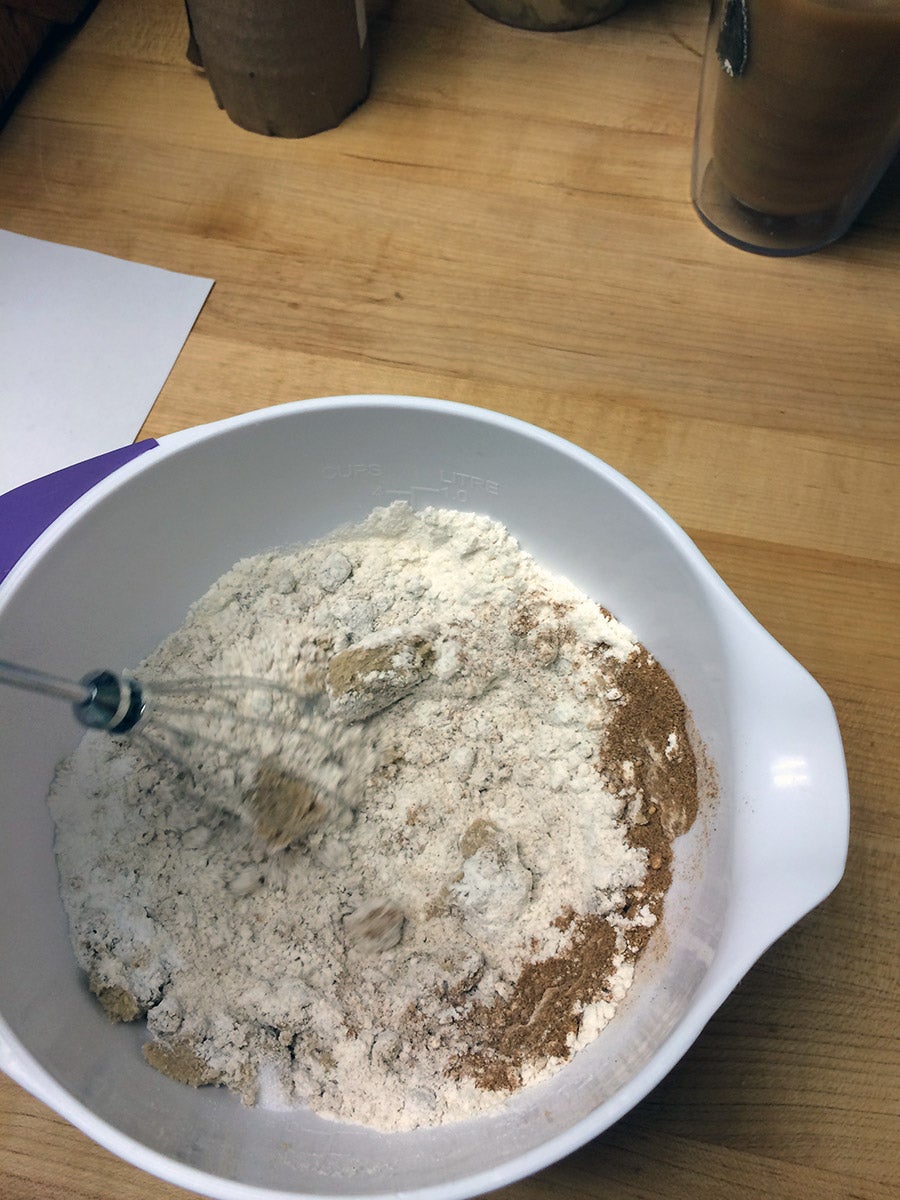 Whisk it all together so it's fully combined. No one wants a sneeze-inducing mouthful of clove or to accidentally do the cinnamon challenge. It's a step well worth doing. Set the dry ingredients aside for now.
In your mixing bowl, add 1/4 cup (57g) of the cooled chai, 2 tablespoons (25g) vegetable oil, 2 tablespoons (28g) vanilla bean paste, and 1 egg.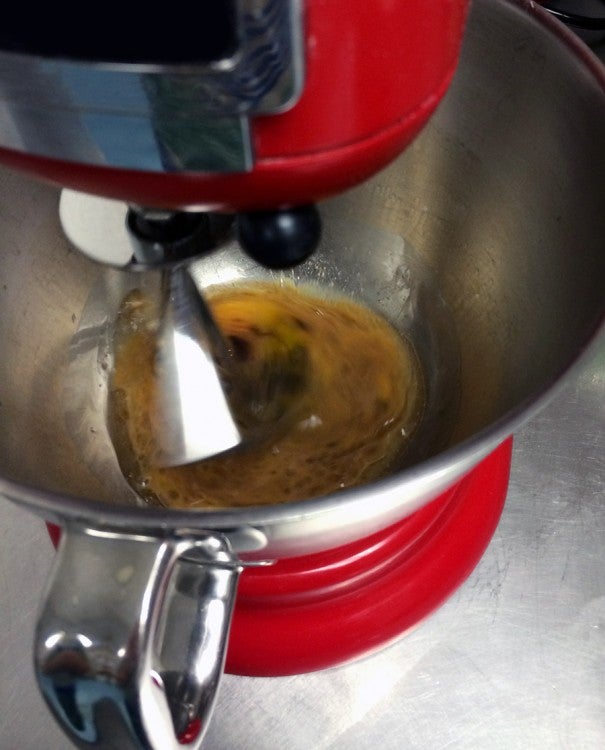 Mix together until combined. It'll separate a bit once you stop; that's ok.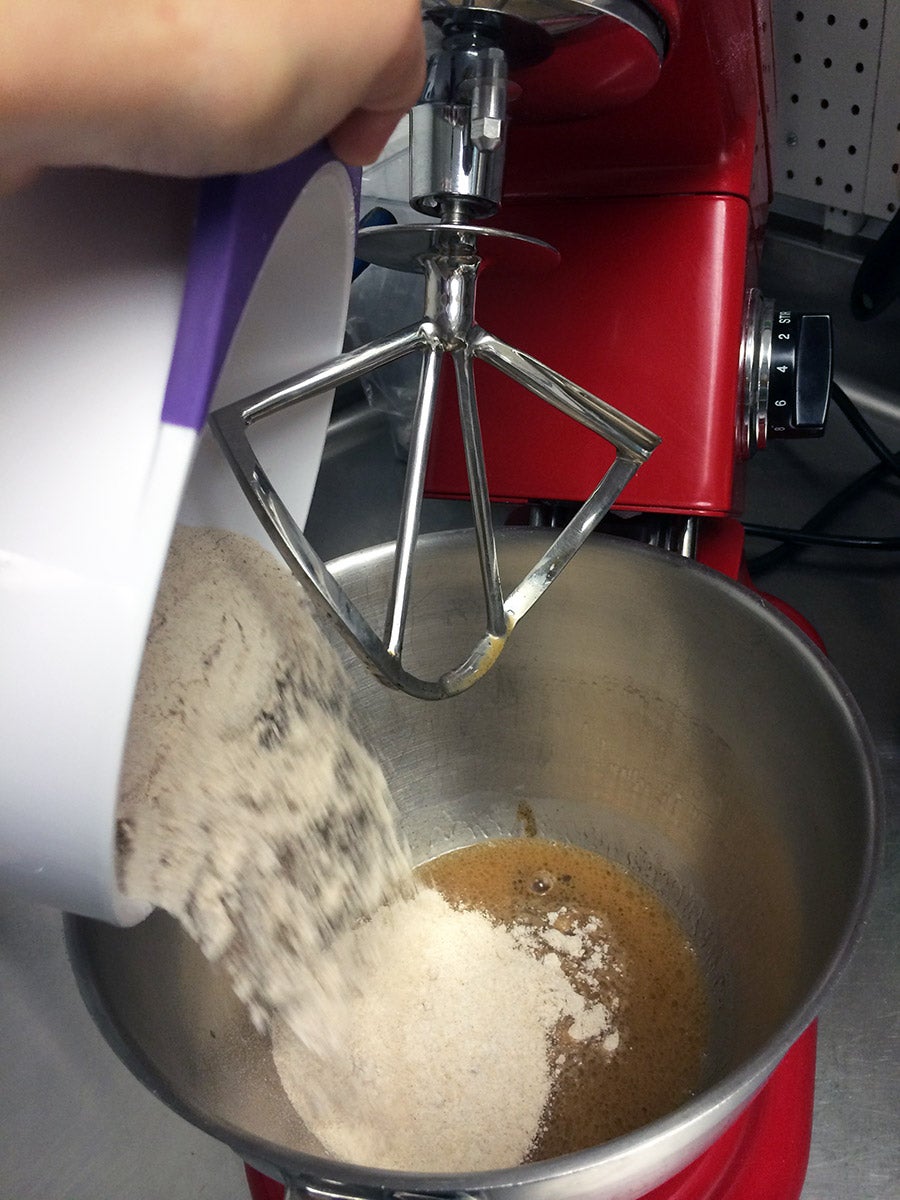 Turn the mixer on low and slow, and gradually add in the dry ingredients. Once it's all combined, stop and scrape the bowl before briefly mixing again, just to make sure it's all fully combined.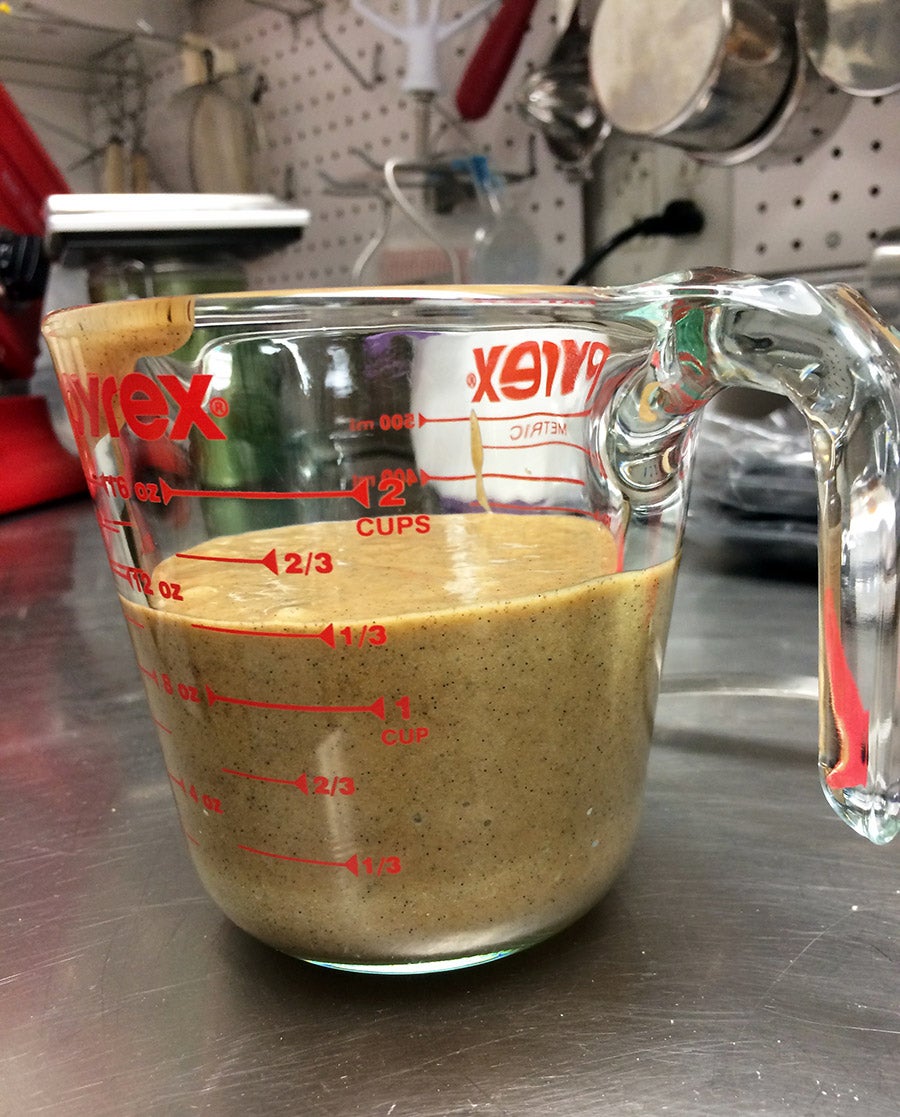 Using a pastry bag, spoon, or my favorite, the liquid measuring cup, fill each doughnut well 2/3 full.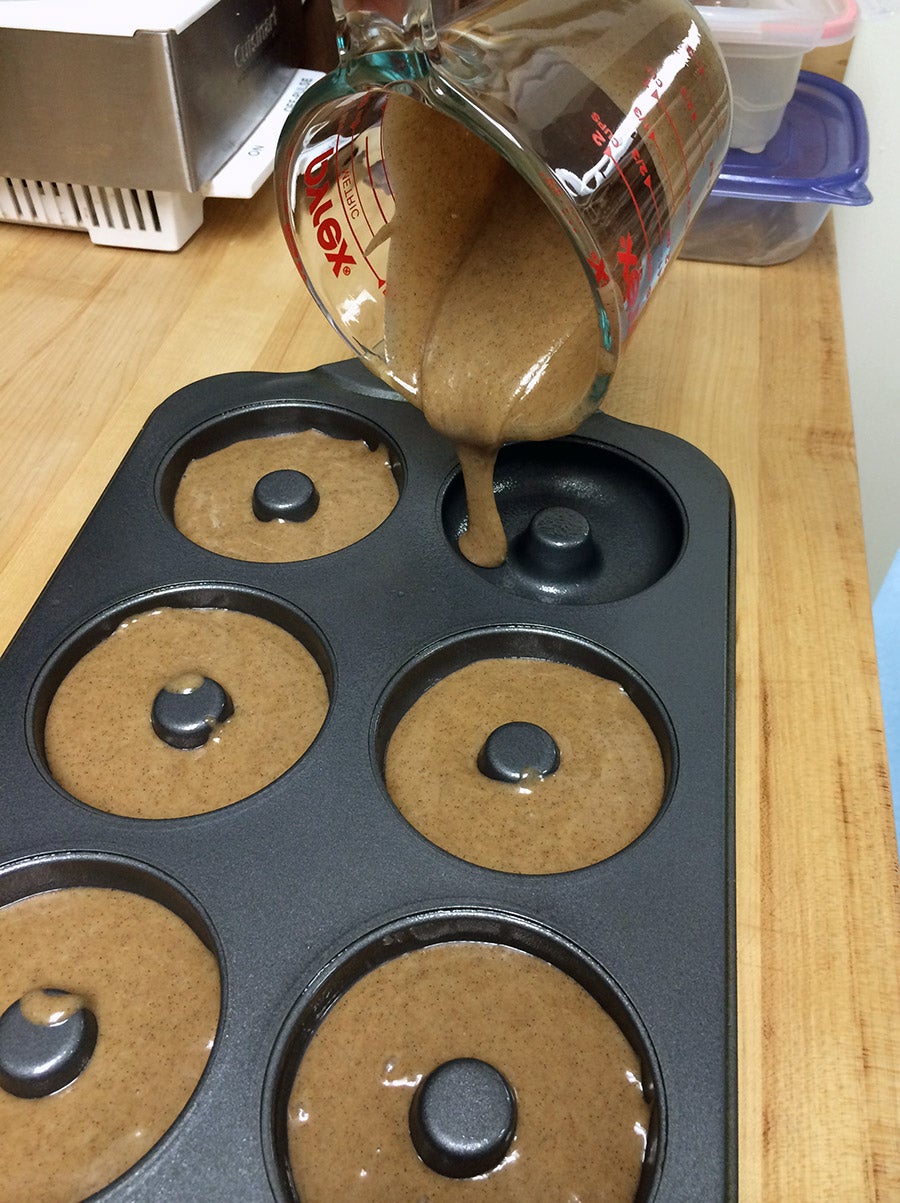 Pop the doughnuts in the preheated oven and bake for 10 to 12 minutes. When they're done, they'll spring back when touched lightly.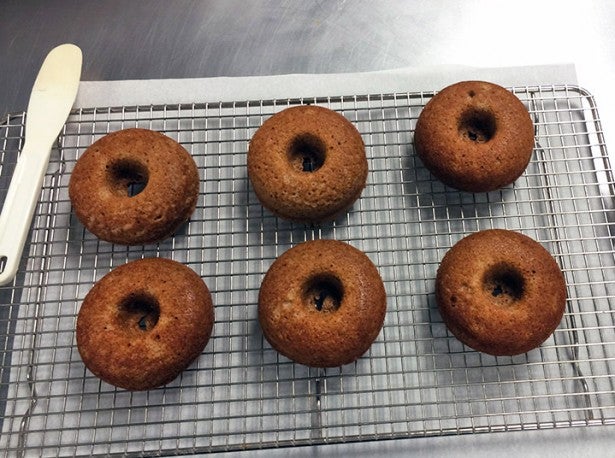 Remove them from the oven. Allow them to rest in the pan for a few minutes before you remove them from the pan and onto a cooling rack. I find that a light smack on the rack when the pan is inverted usually does the trick to get them to come out smoothly.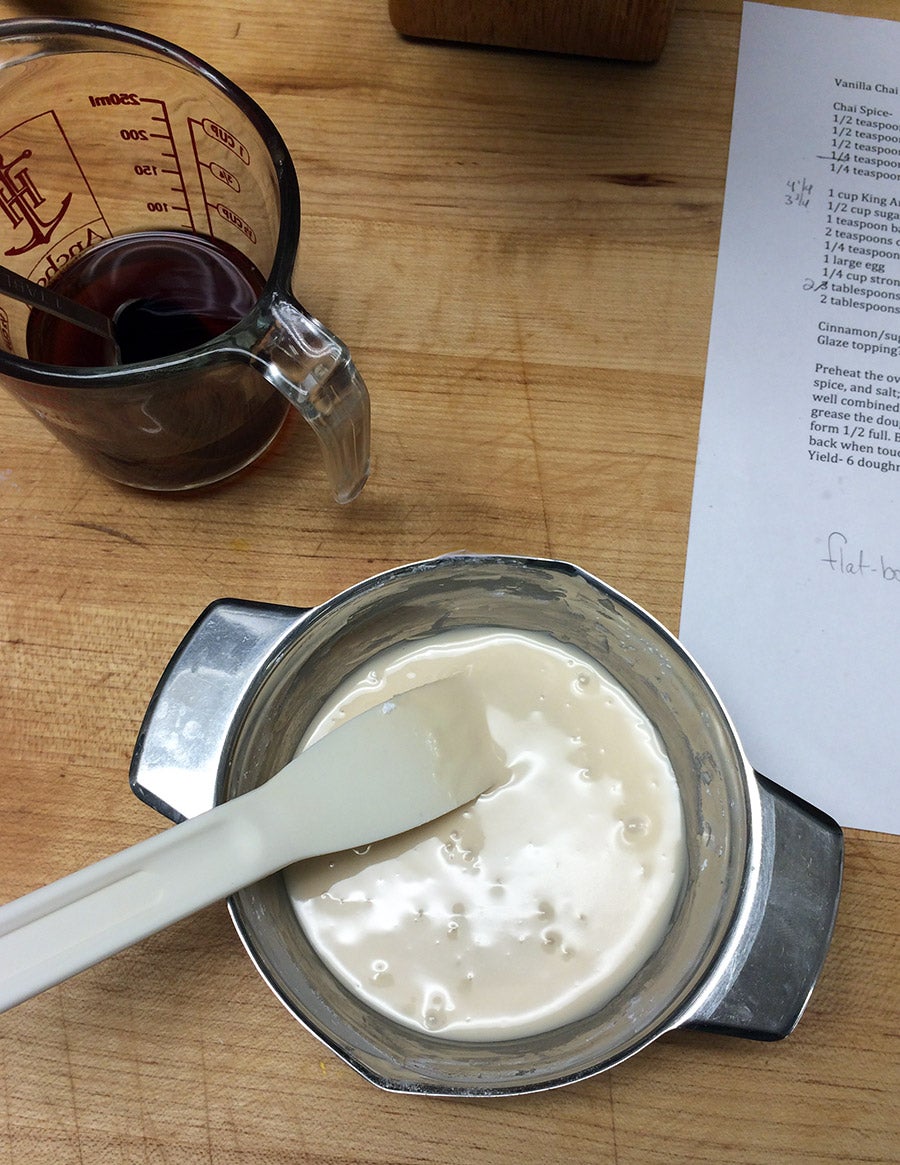 While the doughnuts cool, make the chai glaze. Mix together 1 cup (113g) of confectioners' sugar and 1 to 2 tablespoons of the remaining cooled chai. You want to add enough that it makes a thick, but fluid glaze.
Pour the glaze into a shallow, flat-bottomed dish. Something that will fit a whole doughnut, but you can pull it back out easily.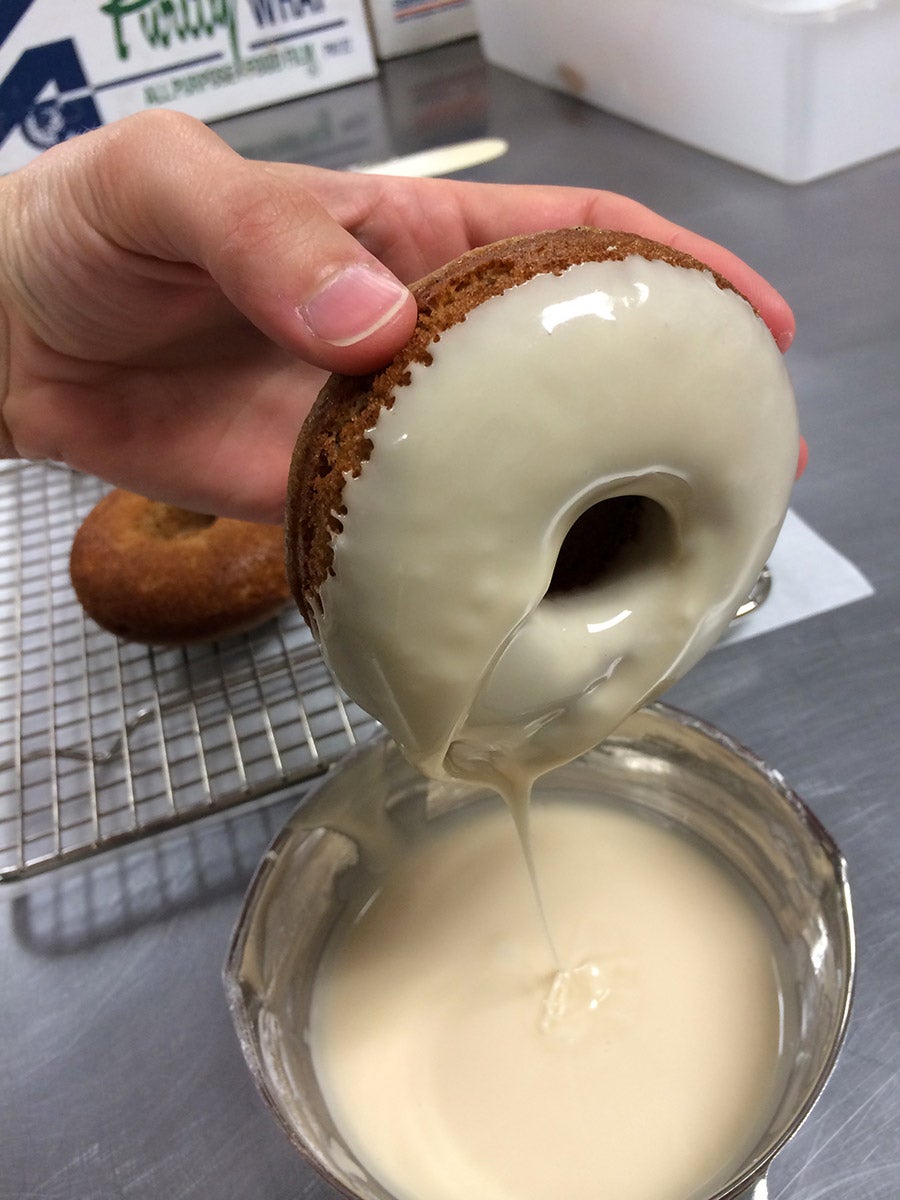 Dip the top of the doughnuts into the glaze and then place them back onto the rack to dry. The glaze is going to spread and drizzle down a bit; artsy AND delicious.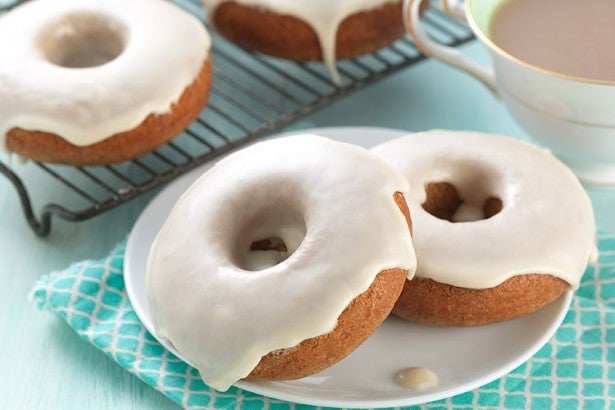 You certainly can (and should!) enjoy these Vanilla Chai Doughnuts while the glaze is ooey gooey.  Just let them dry if you plan on packing them up and sharing. 
Jump to Comments