The Great Carrot Cake Debate rages on... and on... an on...
At least it does here in the King Arthur Flour test kitchen, where a bunch of very well-educated college grads spend time each day discussing the relative merits of dark gray vs. light gray aluminum cookie sheets; the best way to pat out a thin-crust pizza; and which are better: cinnamon Flav-R-Bites or cinnamon chips (Flav-R-Bites, hands-down).
Sue Gray, our test kitchen director, started the carrot cake debate sometime last year. In the process of developing a new mix, she asked us kitchen denizens, "Hey, what goes in carrot cake besides carrots?"
Baker A: "NOTHING. Forget all that other junk people like to add."
Baker B: "Golden raisins. Maybe nuts."
Baker C: "Pineapple, coconut, nuts, raisins... YUM, what else?"
Bakers A, B, and C, in chorus: "But it has to have cream cheese icing!"
Indeed, cream cheese icing seems to be the carrot cake constant, the one ingredient – besides carrots – all carrot cakes must have. We can agree on that.
As for the rest, we can choose to disagree agreeably.
I have to confess, I'm Baker C – a total carrot cake maverick. While a relatively fine-grained, "pure" carrot cake is OK, I much prefer one with the tangy-sweet bite of pineapple, the savory crunch of nuts, and the tropical touch of coconut.
Though I neglected to add golden raisins to the cake below, I actually think I'd do so next time; I love how raisins morph into soft, moist little pillows of sweetness when they bake.
Oh, and how about diced ginger? Carrots and ginger go together like... well, like carrots and pineapple. And pecans. And cream cheese icing...
Ready? Get out your favorite carrot cake "add-ins," and let's begin.
Preheat the oven to 350°F. Lightly grease a 9" x 13" pan.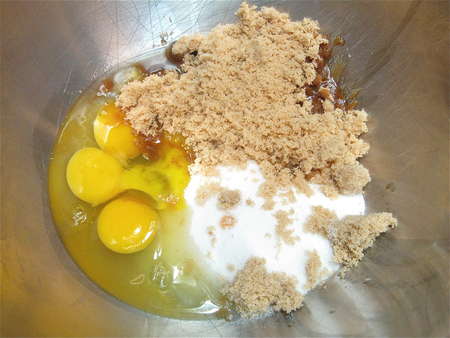 Put the following in a bowl:
4 large eggs
1 cup granulated sugar
3/4 cup brown sugar
2 teaspoons vanilla extract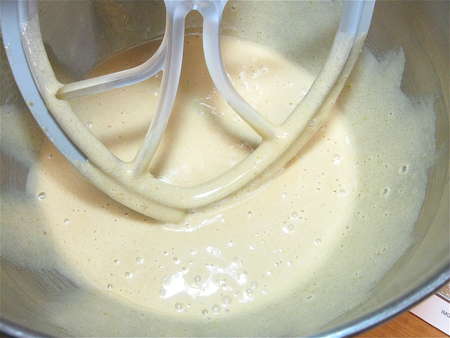 Beat till smooth, about 2 minutes at medium-high speed.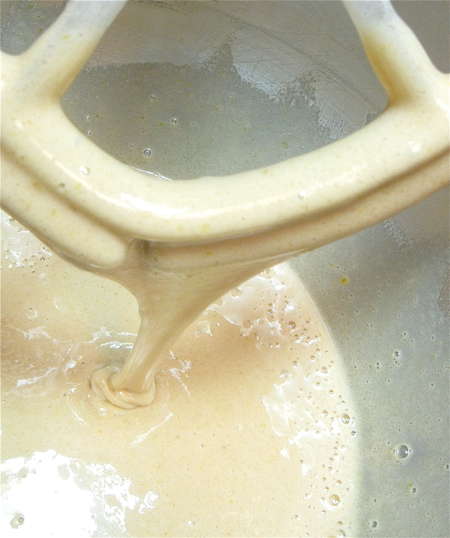 See how the batter sheets off the beater blade and "ribbons" in the bowl?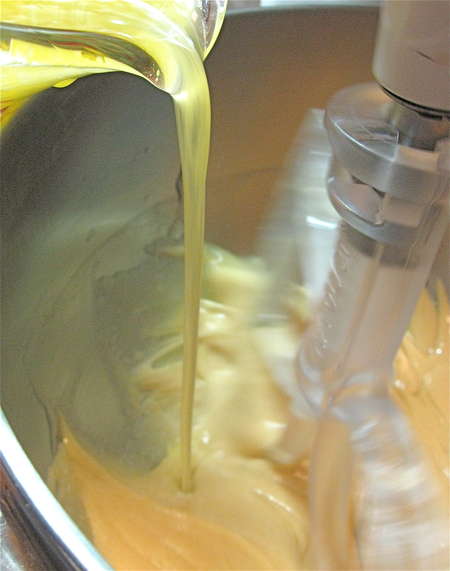 Whisk together 3/4 cup melted butter and 3/4 cup vegetable oil. With the beater running, add the oil mixture in a stream, beating till smooth.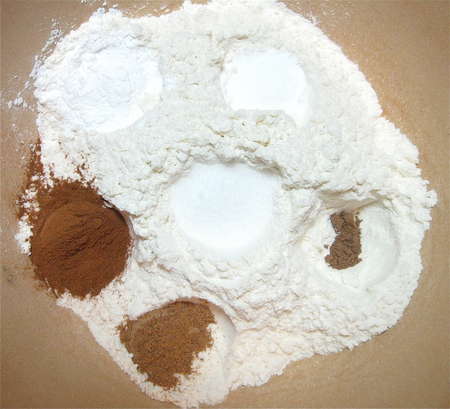 Put the following in a bowl:
2 cups (8 1/2 ounces) King Arthur Unbleached All-Purpose Flour
1 1/2 teaspoons baking powder
1 teaspoon baking soda
1 1/2 teaspoons salt
2 teaspoons cinnamon
1/2 teaspoon nutmeg
1/8 teaspoon allspice
So, what's with all the little indentations? That's so I don't forget any of the dry ingredients.
When I'm following a recipe with lots of spices, I put the flour in a bowl, and use a spoon to make a little well for each of the ingredients that'll be whisked into the flour. If I haven't filled all the wells when I'm ready to whisk, I know I've forgotten something.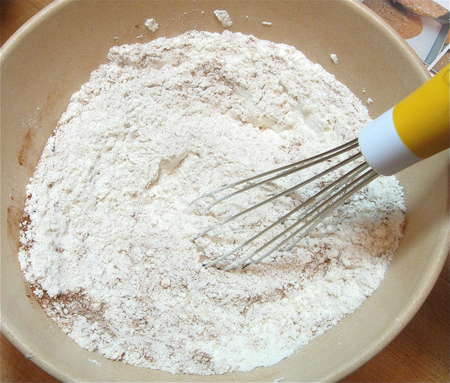 Whisk to combine.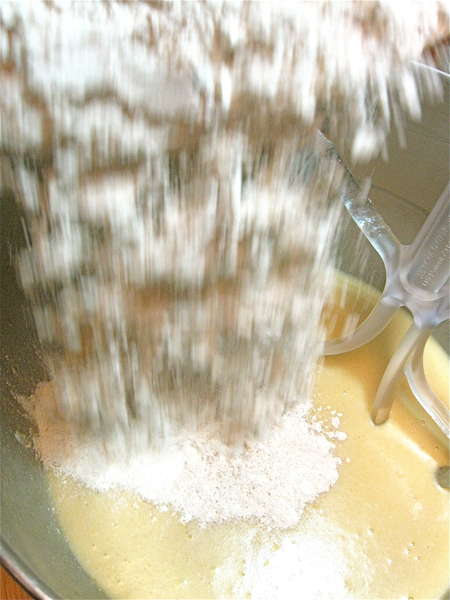 Add these dry ingredients to the wet ingredients...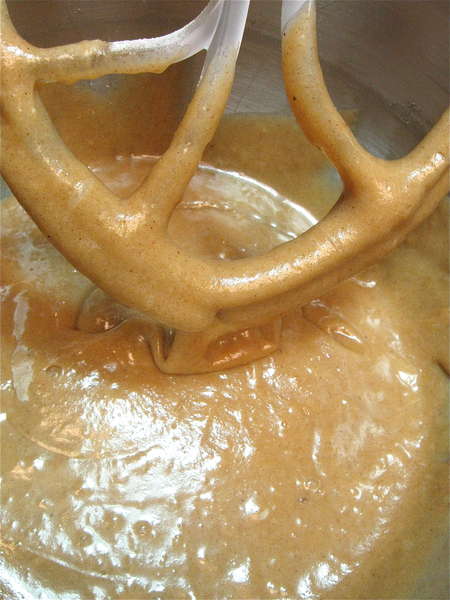 ...stirring to make a smooth batter.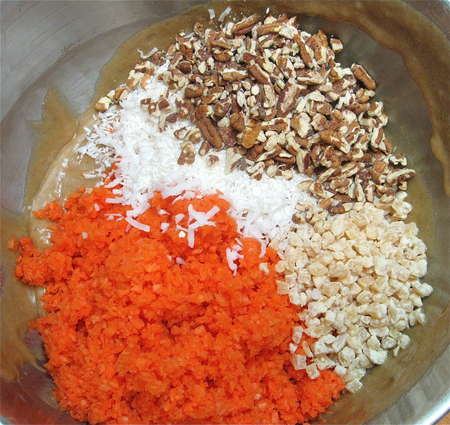 Add the following:
3 1/2 cups (about 1 pound) finely grated carrots
1 cup diced pecans or walnuts, toasted if desired
1 cup shredded unsweetened coconut (preferred), or sweetened coconut
1/2 cup diced dried pineapple*
*Substitute one 8-ounce can crushed pineapple, drained and squeezed dry, if preferred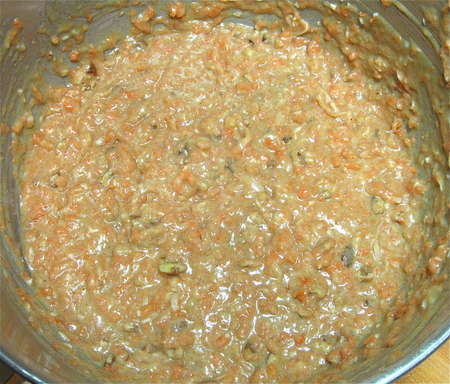 Stir just to combine.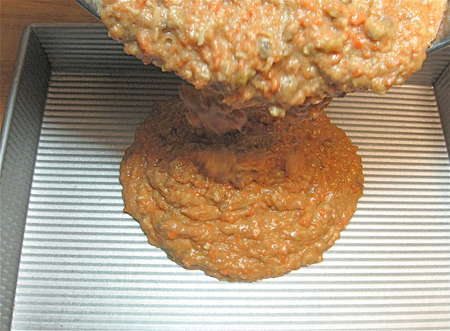 Spoon the batter into the pan...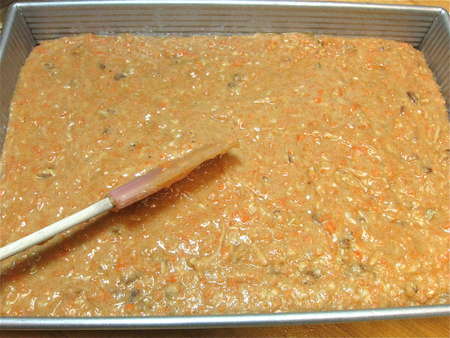 ...spreading it to the edges.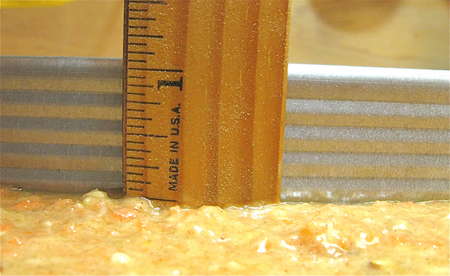 Be sure to use a pan that's deep enough; the cake will rise fairly high. This 2"-deep pan has a full 1" of headroom to accommodate the baking cake.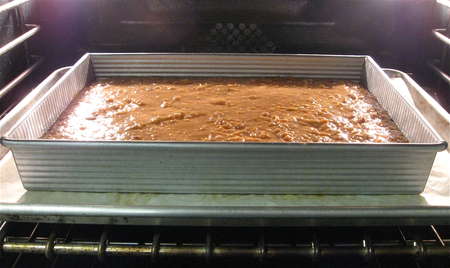 Bake the cake for 40 to 50 minutes...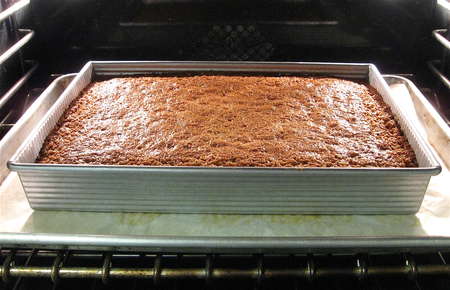 ...until the cake is golden brown, and a cake tester inserted into the center comes out clean.
Remove the cake from the oven, and quickly loosen its edges with a spatula. This will help prevent it from sinking in the center.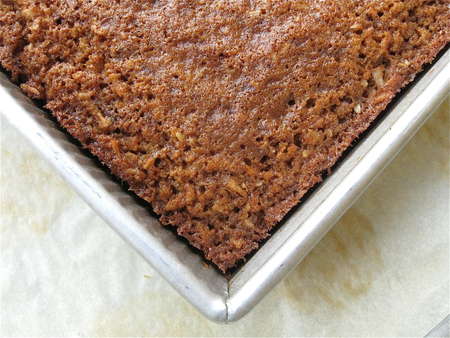 Cool it right in the pan.
When the cake is cool, make the cream cheese frosting.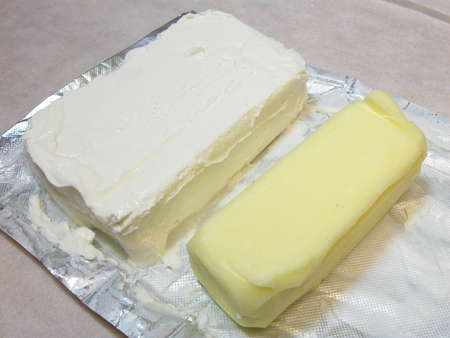 For lump-free frosting, take the cream cheese and butter out of the fridge an hour or more ahead of time, to make sure both are at room temperature.
Get out your vanilla; my favorite is this Sonoma Vanilla Bean Crush.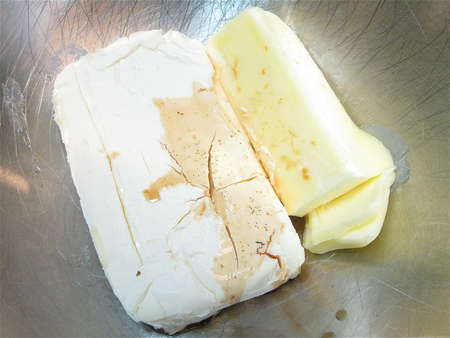 Combine the following in a bowl:
6 tablespoons butter, at room temperature
1 (8 ounce) package cream cheese, softened
1 teaspoon vanilla extract
1/8 teaspoon salt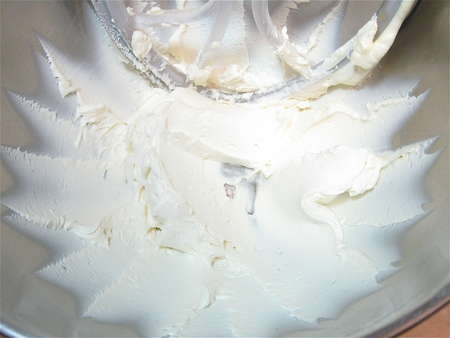 Beat together until smooth.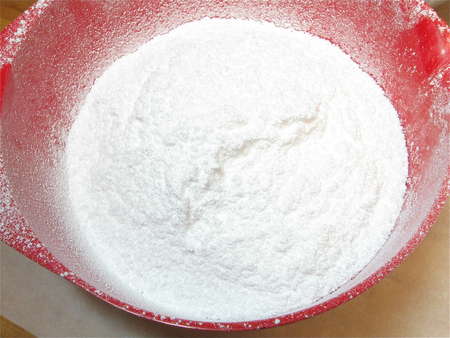 Sift 3 1/2 cups confectioners' sugar. Is sifting necessary? Yes, if you want perfectly smooth, lump-free frosting.
Just to make sure you're not confused, when a recipe says "3 1/2 cup confectioners' sugar, sifted" - it means to measure out 3 1/2 cups (14 ounces) sugar, then sift it.
If a recipe says "3 1/2 cups sifted confectioners' sugar," you'd sift the sugar first, then measure it.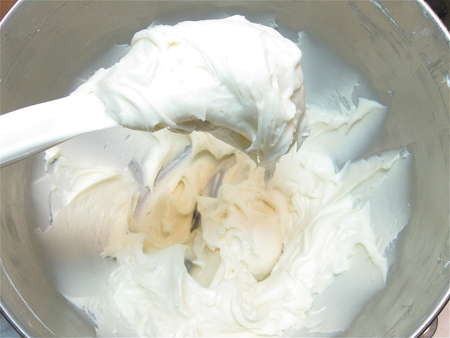 Gradually beat the sugar into the cream cheese mixture.
Add 1 tablespoon of milk, beating all the while. Continue to add milk till the frosting is nicely spreadable. I'd added 1 1/2 tablespoons at this point; it's not quite spreadable enough for my taste...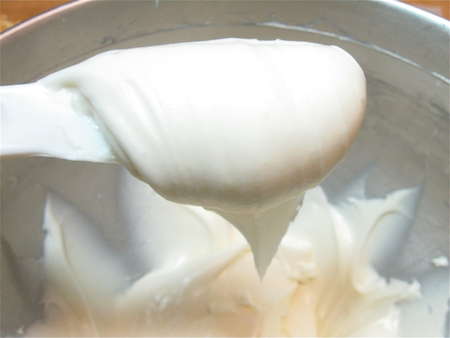 ...so I added another 1/2 tablespoon of milk. Perfect!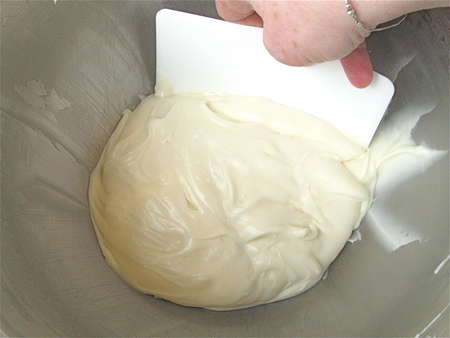 Scrape down the sides and bottom of the bowl, and beat again to make sure the frosting is perfectly smooth.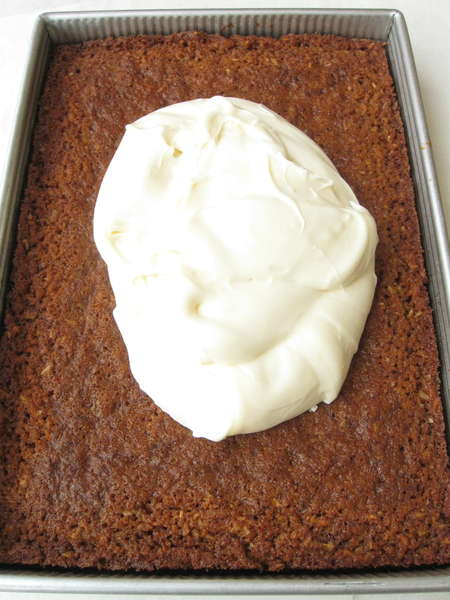 Dollop the frosting onto the cake.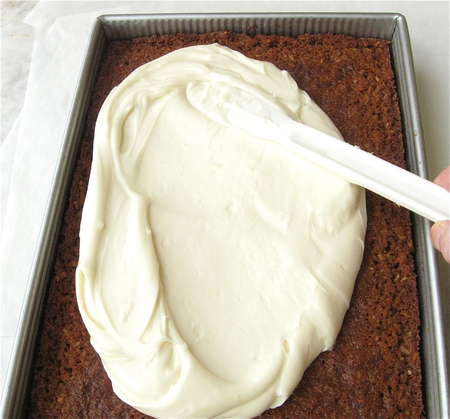 Spread it to the edges.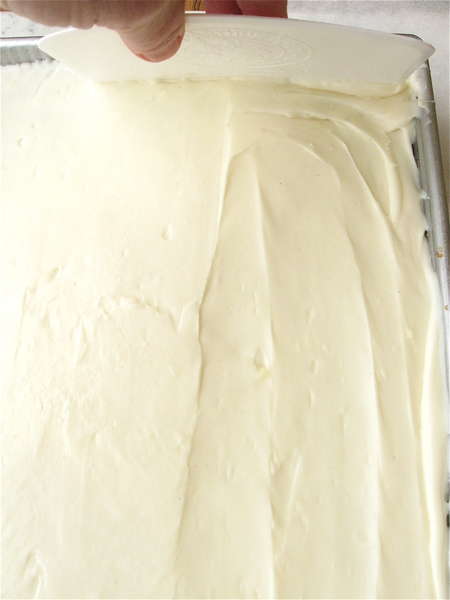 I thought I'd get fancy, and use my bowl scraper to make perfectly smooth frosting. But I never could get it PERFECTLY smooth; the scraper always left a few lines.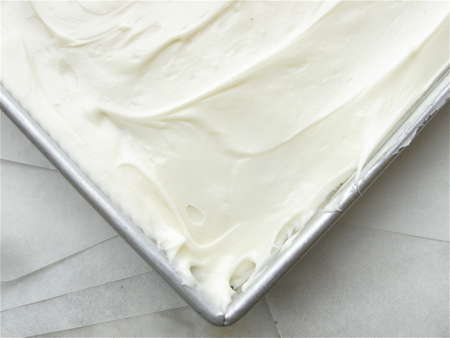 Never mind, this is good enough!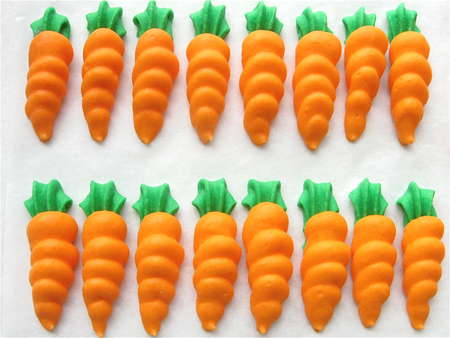 I did feel the urge to do something to that pristine white top, however. It was an empty canvas, waiting for some color.
Ah-HA! Piped-sugar carrots.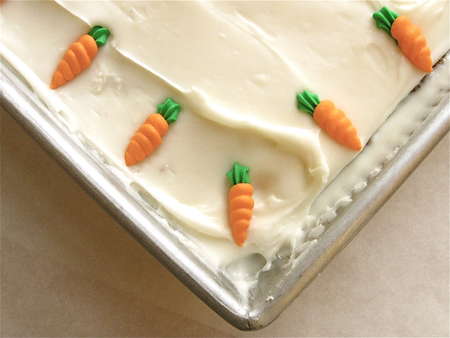 Artfully placed.
Now, for the taste test. Nice and moist...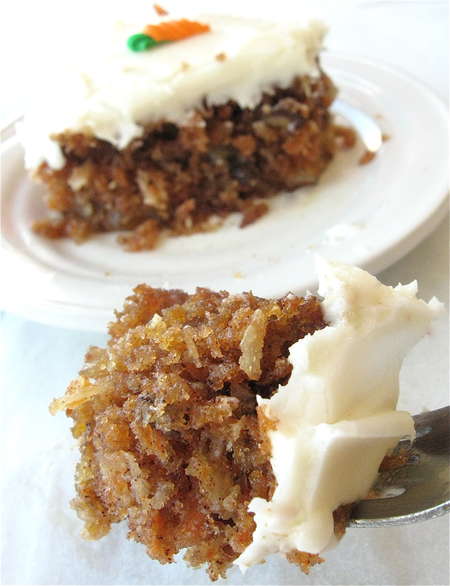 ...tasty frosting...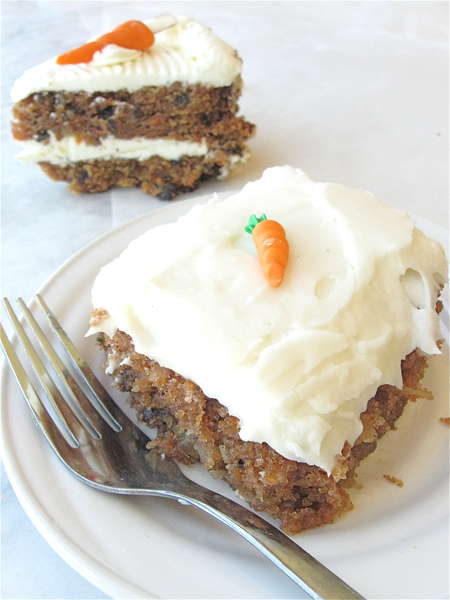 Excellent!
See that cake in the back? That's a slice of carrot cake from our King Arthur Bakery.  I think our homemade version here compares very favorably.
Read, rate, and review (please) our recipe for "Kitchen Sink" Carrot Cake.
Jump to Comments