The old saying is true: we eat with our eyes. And though we pay a lot of attention to the actual eating part of baking here at King Arthur Baking Company, we don't ignore the visual element either. 
Across channels like our recipe site, blog, and social media — or in the good old-fashioned pages of our print catalog — photographs are one of the key ways we communicate about baking. We're constantly striving to share the best images we can to inspire and empower our community to bake. 
When it comes to our photography, the secret ingredient is our photo studio. This is where the magic happens — in a newly renovated space we designed to capture the most mouth-watering and inspiring images possible. What you see are close-up, composed shots of favorite recipes or brand-new products. What's behind the scenes is so much more. Time for a (virtual) tour!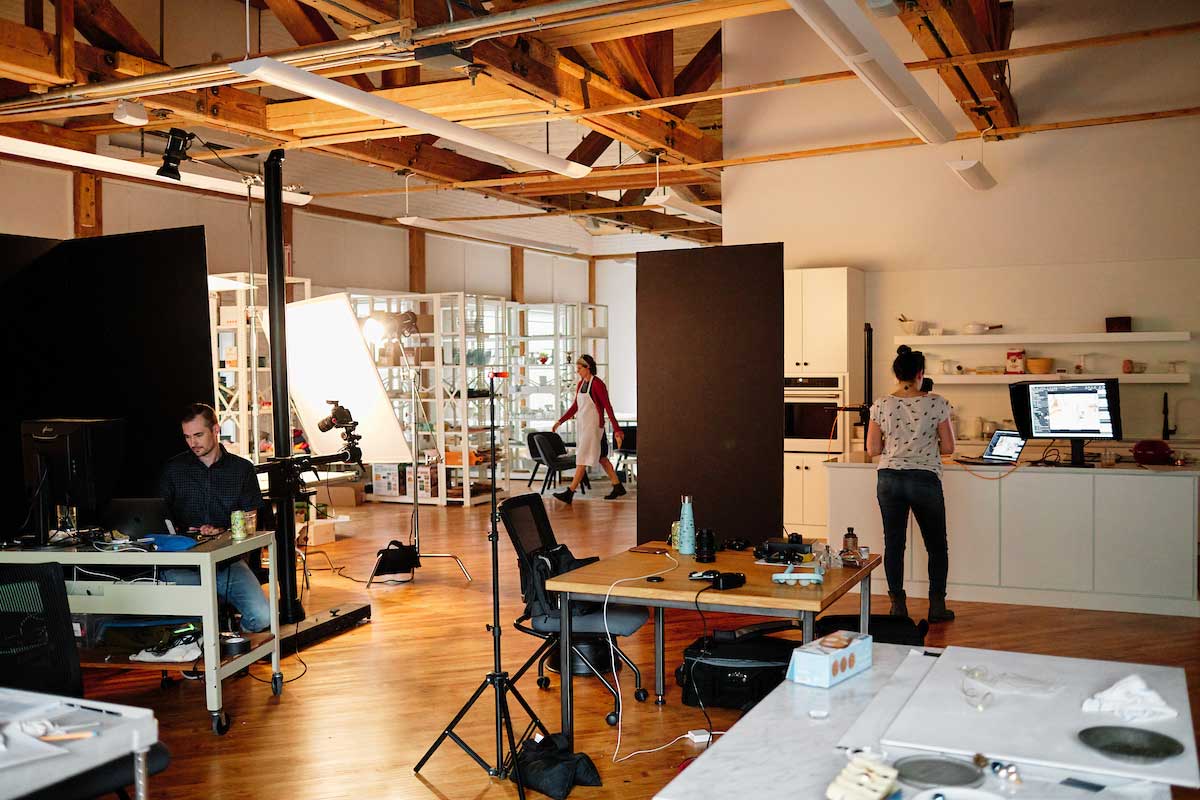 Planning our dream studio
When we first set out to renovate our new photo studio, we knew we wanted a space that captured our baking ethos at King Arthur — one that celebrated the joy of baking and made baking feel accessible for everyone. So with a completely blank canvas from which to build our new studio, we consulted with bakers, photographers, and other employee-owners to weigh in on the design. Using their input, we've created a space that enables us to meet both our practical and aesthetic photography needs.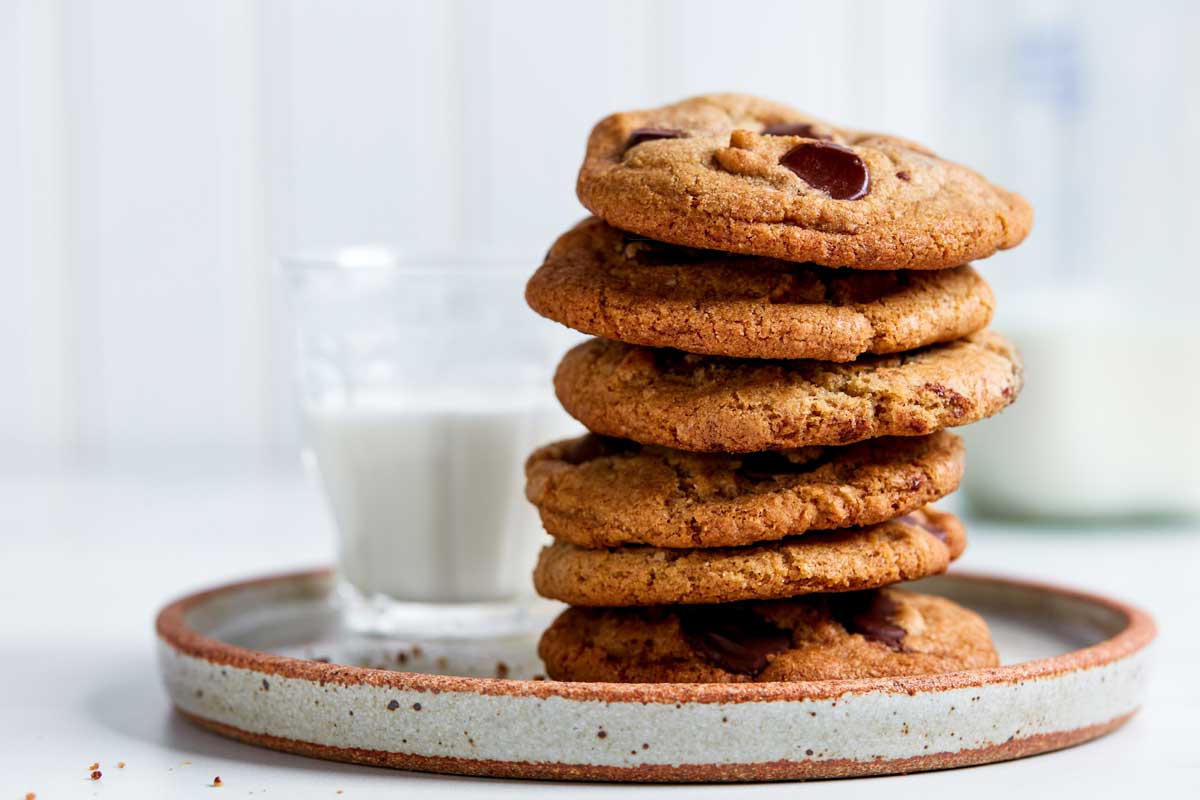 Kitchen #1: A place to prep
First, the practical. To shoot any type of recipe, we have to be able to bake any type of recipe. So we built a functional, efficient kitchen where we can prep pretty much anything: Soft Sandwich Bread, Gluten-Free Shortbread, you name it. Our bakers are some of the best at what they do, so we focused on providing a kitchen where they could do their (very delicious) work. This means multiple ovens, a sheet pan rack with plenty of room to hold all their creations, a fully stocked pantry, and so many pans. 
This kitchen isn't just for prep, either. You can also see it in action in our Bread School video series with King Arthur baker Martin Philip and his son Arlo.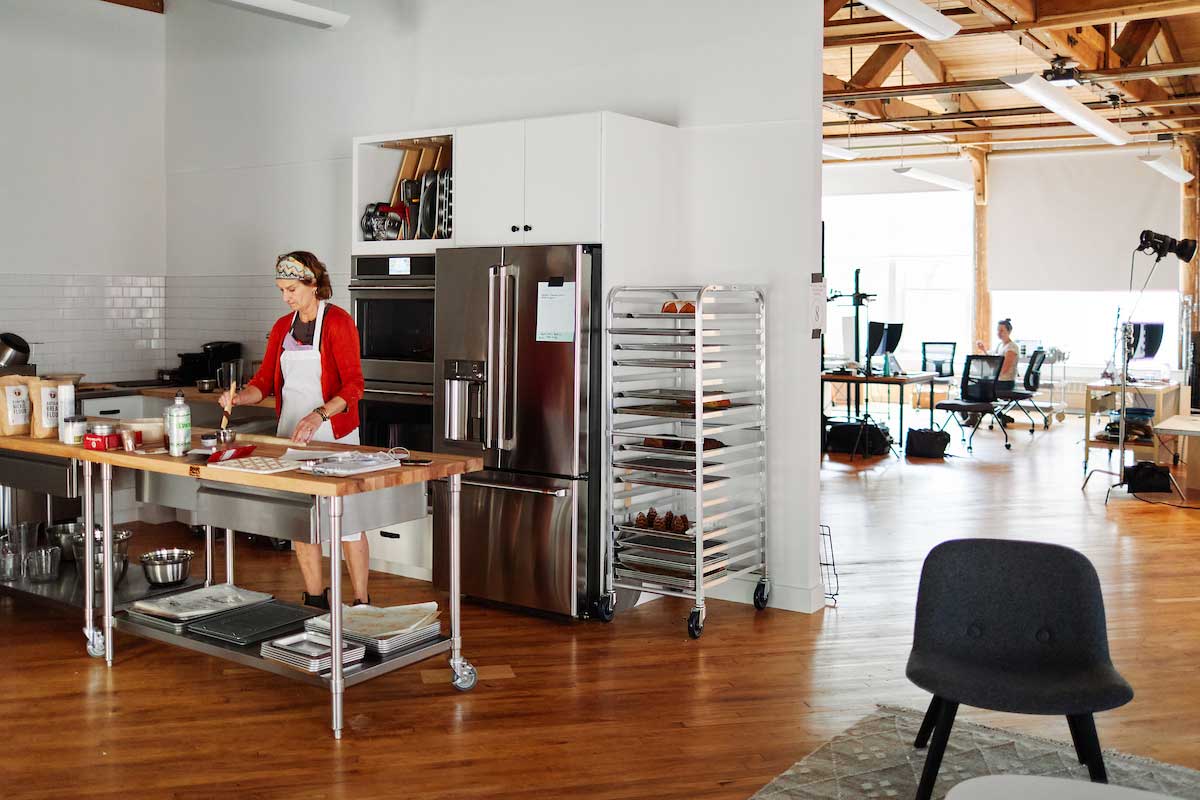 Kitchen #2: Getting the beauty shot 
But we didn't stop at just one kitchen. For photoshoots, we have an entirely separate second kitchen — a stunning, light-filled space where our baked goods can shine. There's exposed shelving with some artfully placed cake stands, as well as expansive white countertops where dishes can really pop. Keeping with the light, bright feel, the space is also outfitted with Showplace Cabinetry, a fellow employee-owned company whose products are all American-made.
As an extra bonus, a surround sound system means employee-owners can blast music wherever they're working to keep the creative vibes flowing.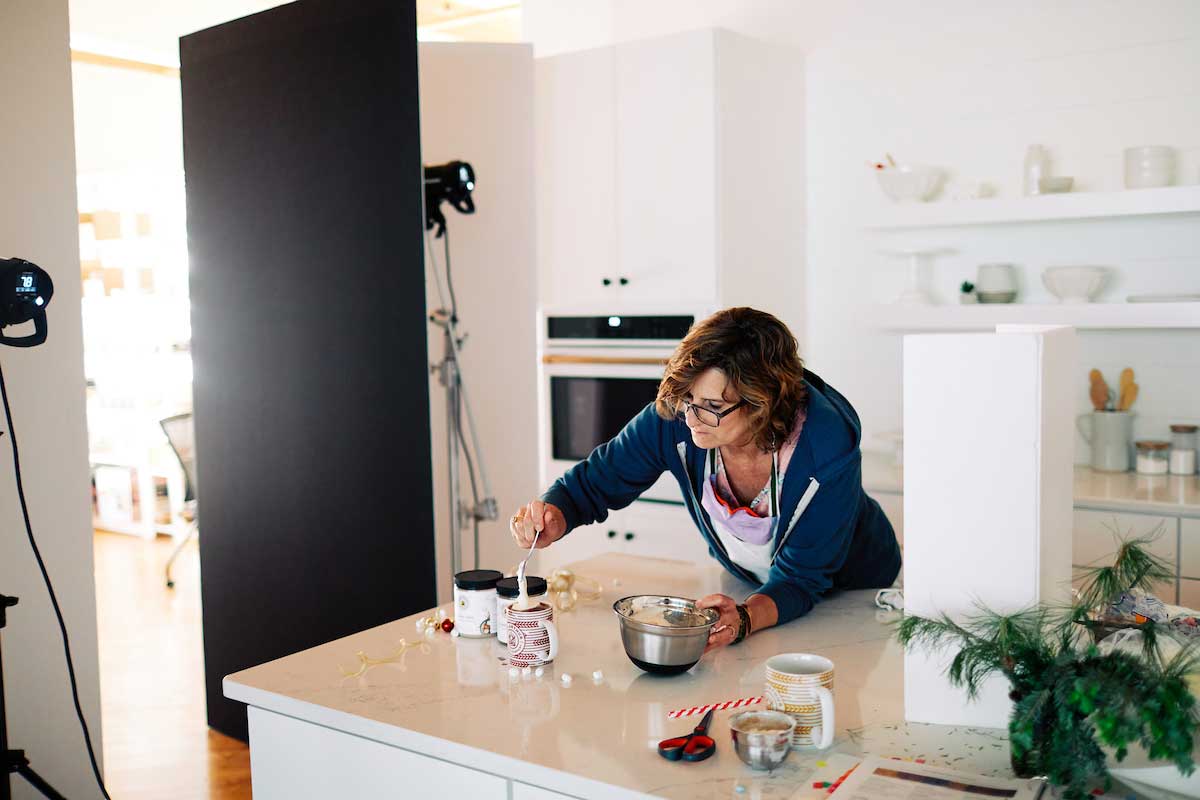 But wait, there's more!
Of course, what are photoshoots without the props? To jazz up our images and complement various treats, we have quite the collection of glasses, dishes, bowls, cake stands, ramekins, and so much more (seriously!). They're ready to use whenever one of our food stylists needs just the right prop to make an image sing.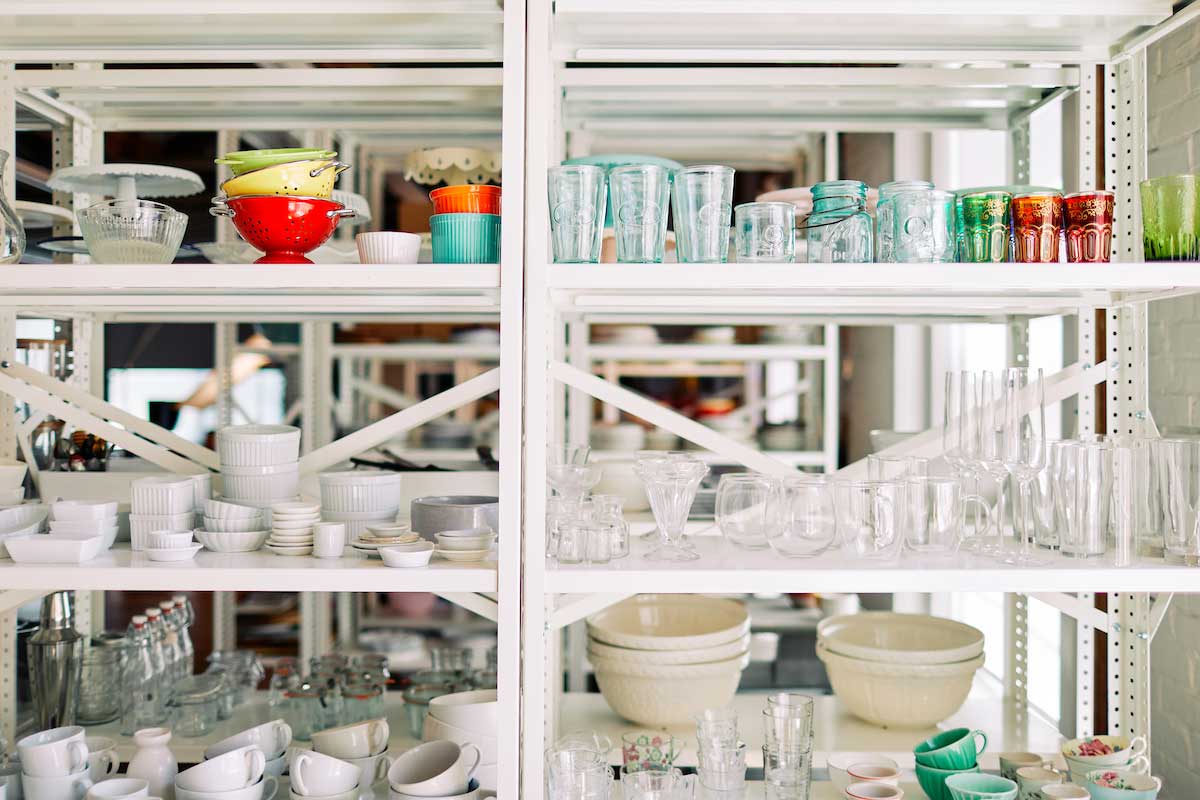 And this is, after all, a photo studio. Which means lighting is everything, so we built in diffusing shades, blackout shades, and controls for lighting in all the studio zones. The open space also leaves lots of room for cameras, tripods, lighting equipment, monitors, and everything else our talented photographers need to snap the perfect final shot.
All that space isn't just for photo equipment, either. Employee-owners have been known to break out their yoga equipment for some quick stretching after being on their feet all day. (Nabbing the perfect shot of Rye Banana Bread is hard work!)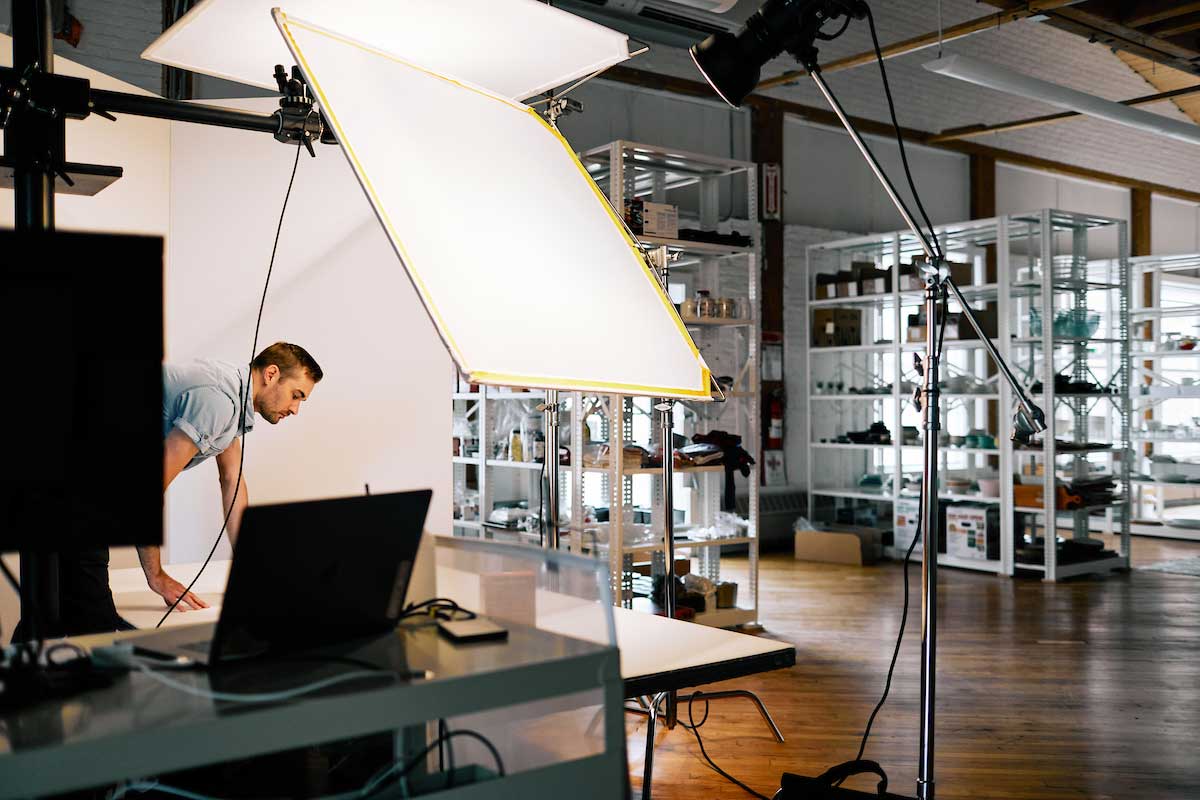 Senior Graphic Designer Alana, who's constantly on photoshoots in the space, says one of her favorite things about the new studio is that "It's enjoyable to hang out and be creative in. It's much more of an inspiring space than our previous studio." She also shares that when it snows, working in the light-filled space is like being in a snow globe (!)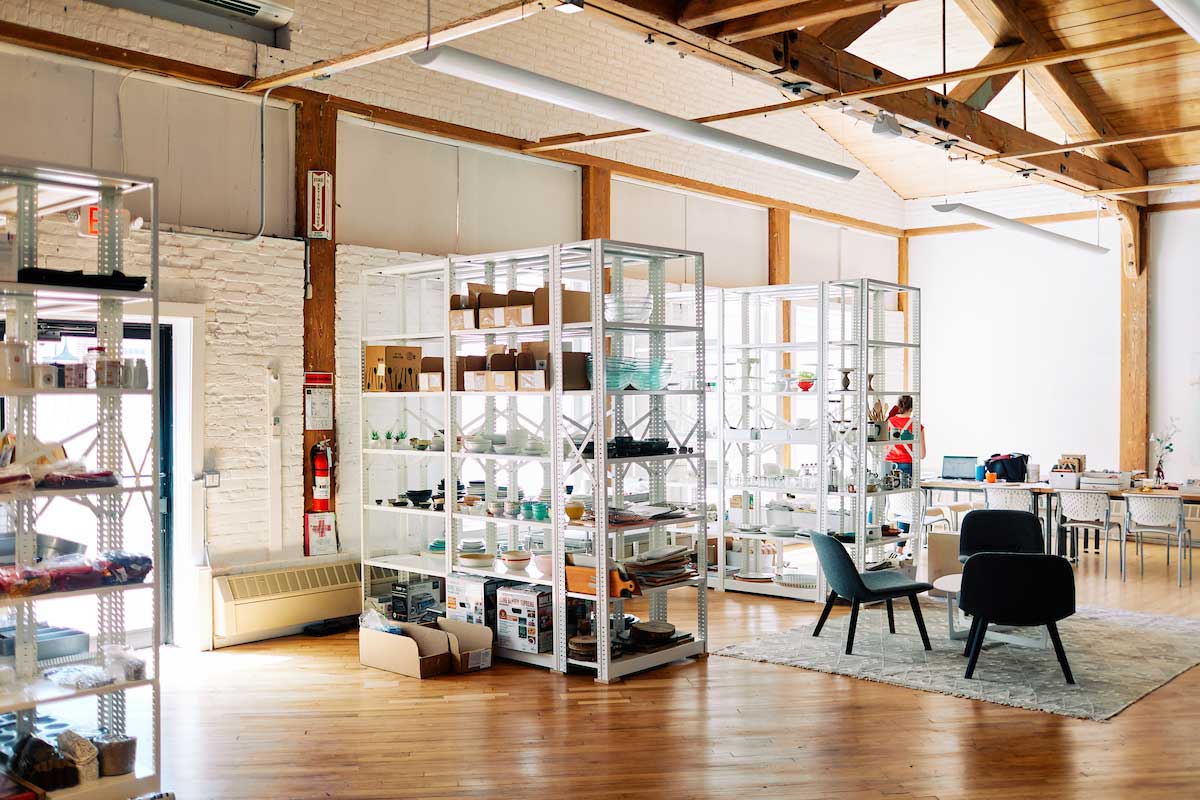 While photography is a huge part of what we do at King Arthur, we never could have anticipated just how useful the studio would become. When we began offering virtual Baking School classes as a result of the ongoing pandemic, for instance, the studio was the ideal spot to shoot.
According to Amber, who manages the Baking School, the space is "both beautiful and functional. It's really approachable, with normal home equipment that's familiar to students baking from their home kitchens across the country. It makes the classes feel welcoming, and helps us achieve our goal with classes: to empower people to bake at home."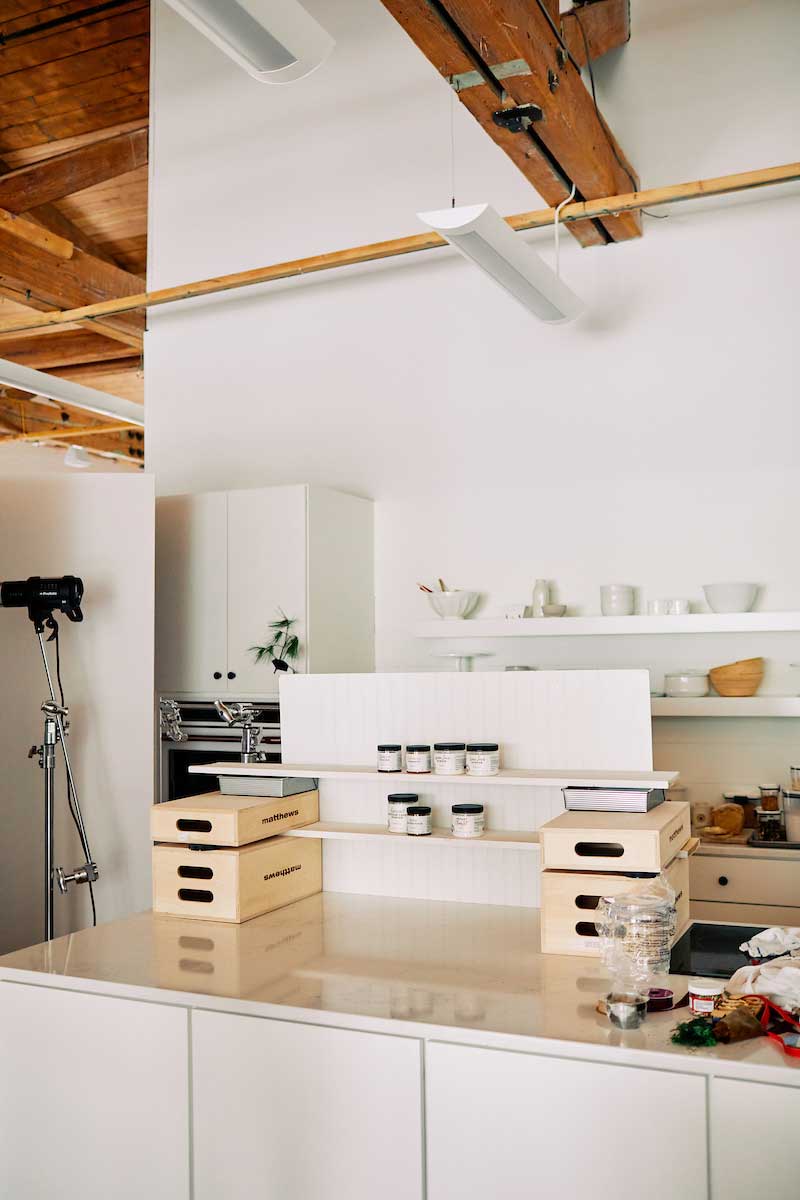 Step on in (virtually) 
Our studio is used pretty much every day, and because it provides us with more space, resources, and inspiration, we can produce more photography and videos than ever before. If you want to see it in action, be sure to check out our calendar of virtual Baking School classes and sign up to bake right along with us! 
Thanks to Kristin Teig for these images of our photography studio. 
Jump to Comments