Why did I ever think making pancakes was difficult?
Before I worked here at King Arthur Flour, I couldn't even make box-mix pancakes, where all you do is add water to the bleached flour/dextrose/partially hydrogenated cottonseed oil mix.
Come to think of it, maybe that's why I couldn't make good pancakes—because I was using a box mix full of bleached flour, dextrose, and partially hydrogenated cottonseed oil.
Now that I've worked here 19 years, I've learned a thing or two about pancakes. Like how to make moist, eggy pancakes out of flour, eggs, milk, butter, salt, and baking powder. And how to take those same ingredients, and make high-rising, fluffy, light pancakes—just by tweaking how you mix them.
I've learned how to add a touch of vanilla or a spoonful of malt to change the flavor. How to fancy things up with blueberries or cinnamon chips or ginger. And even how to make truly great whole-grain pancakes.
Most of all, I've learned that if you start with a good recipe and use good ingredients, you're going to make good—no, make that great—pancakes. Guaranteed.
There are 68 pancake and waffle recipes at kingarthurflour.com. If you think you can't make good pancakes, start with our Guaranteed Simply Perfect Pancakes. Advance to Blueberry Pancakes, then to Oat and Yogurt Pancakes. And please try our Homemade Whole-Grain Pancake Mix—you may never go back to "regular" pancakes again.
In honor of the first day of spring and warm days to come, meet the latest addition to our pancake lineup: sunny Lemon Pancakes with honey-butter topping. Think you can't make good pancakes? Start here.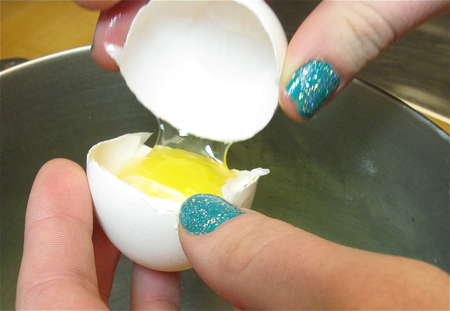 First, we're going to separate some eggs. I know there are many ways to separate eggs—because you've all told me about your own personal favorites in the past. So use whatever method you like best.
What's with the fingernail polish, you ask? Michelle, a lovely young lady from a local high school, job-shadowed me the day I made these pancakes. The first thing I asked her to do was separate eggs. She proved to be an old (and colorful!) hand at it.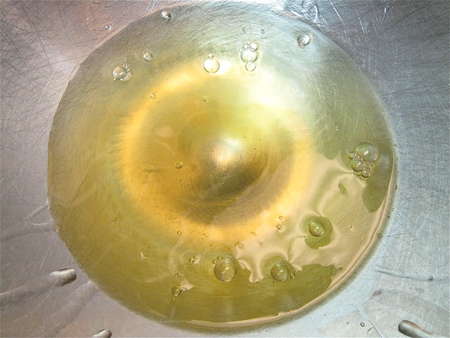 Here are the whites. Notice: NO sign of egg yolk. Good job, Michelle!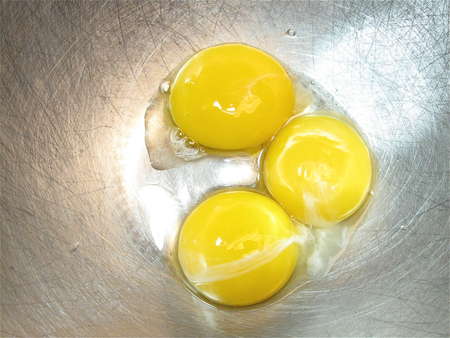 And here are the yolks. Notice: very little sign of white.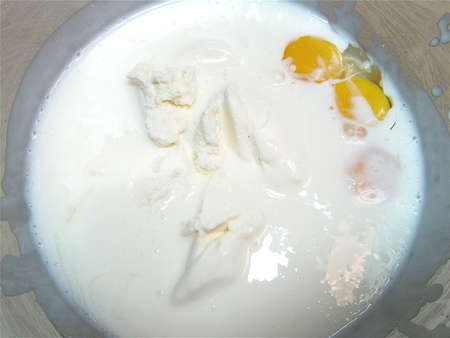 We'll begin by mixing egg yolks, buttermilk, sugar, and ricotta cheese.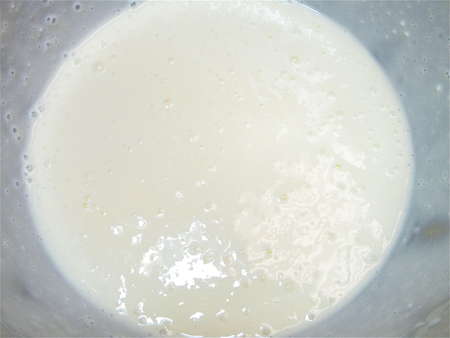 Stir till smooth.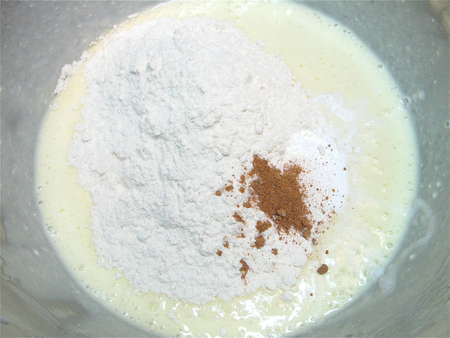 Add flour, baking soda, baking powder, nutmeg, salt, and lemon—grated rind, or lemon oil.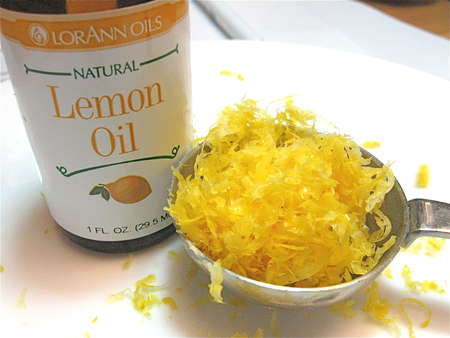 Hmmm, which one to use? Lemon oil, or grated rind?  Michelle and I divided the batter in half and tested the two, side by side. We couldn't tell the difference in taste. If you have a lemon on hand and feel like grating it, we can offer you an efficient, effective Microplane zester. And the flecks of peel do add a certain visual element to the pancakes. But if you simply care about taste, and want to save yourself some time, keeping a bottle of lemon oil in the fridge is very handy.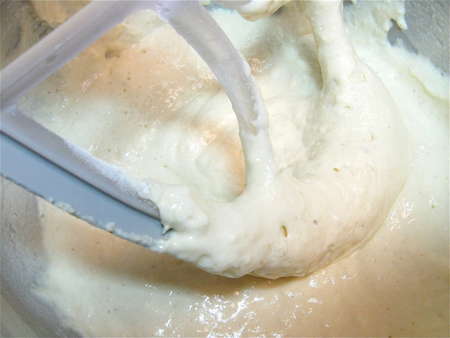 Mix to make a smooth, thick batter. Set it aside.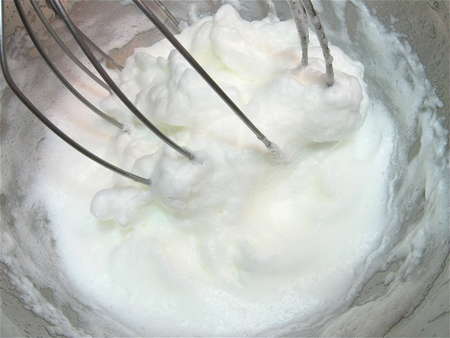 Whip the reserved egg whites till they're very frothy.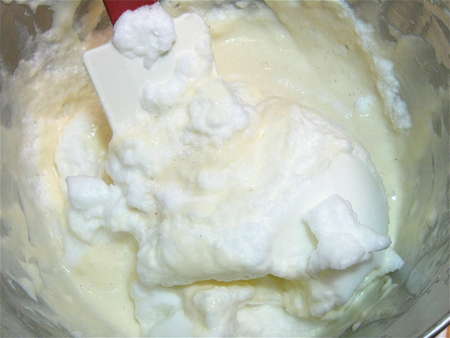 Fold them gently into the batter.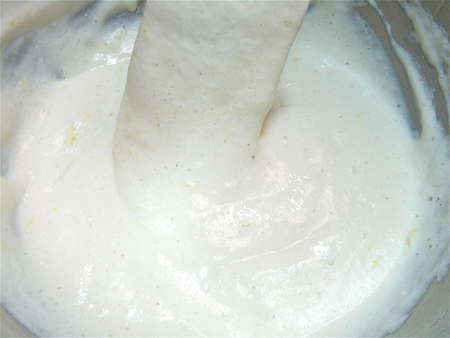 Once again, smooth and fairly thick.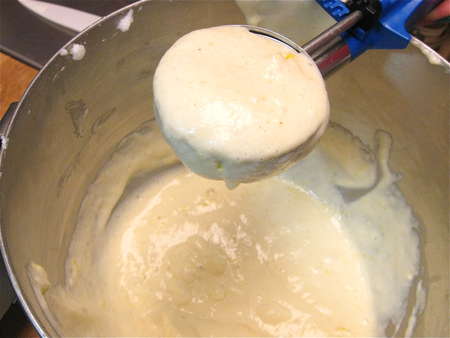 Preheat your griddle or frying pan, and grease it lightly, if necessary. About 350°F is a good temperature, if you have an electric griddle with temperature settings. Scoop the batter onto the griddle by the 1/4-cupful. A muffin scoop is just the right size, and makes it easy to dollop the batter onto the griddle.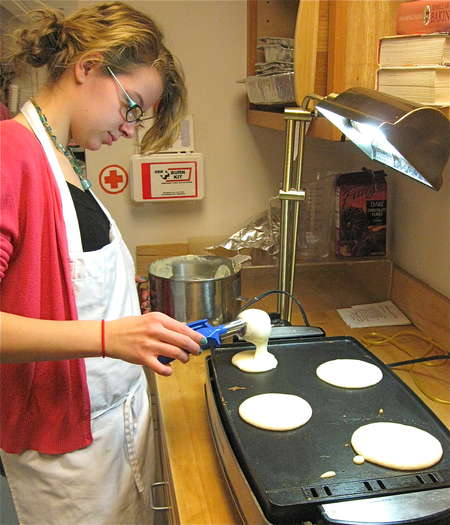 Michelle shows us how it's done.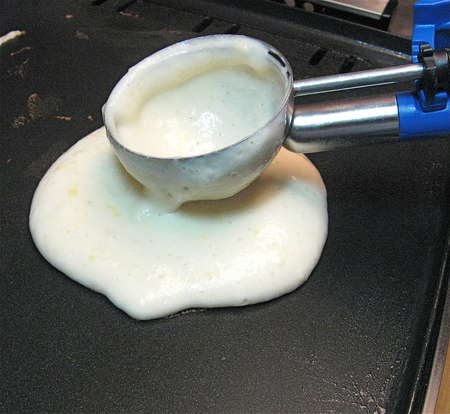 Use the back of the scoop or cup to spread the batter into a circle.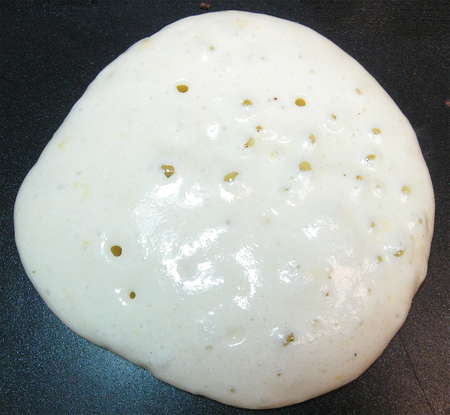 Cook for 1 1/2 to 2 minutes, until bubbles start to form and pop on the top surface.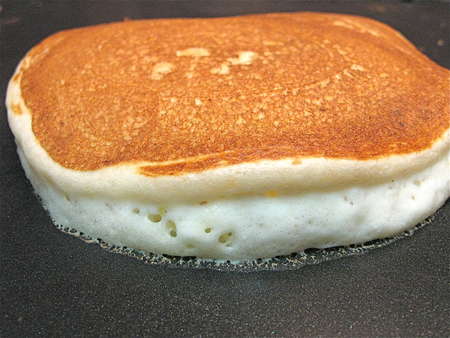 Flip the cakes over to reveal—hopefully!—perfectly browned undersides. Note the thickness of this pancake. Because of the beaten egg white, these cakes bake up thick, then deflate slightly when you take them off the griddle.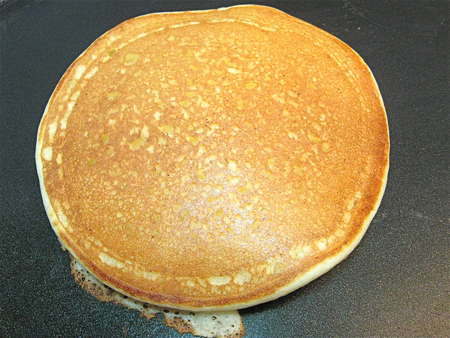 Is that a perfect-looking pancake, or what?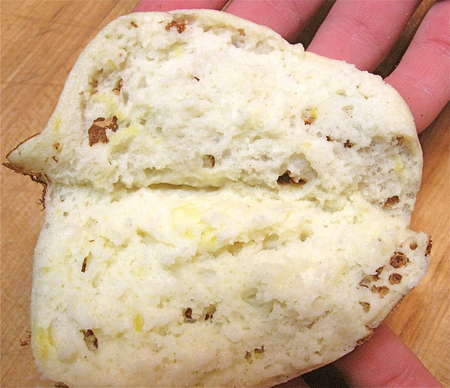 Michelle and I were a bit worried that the thickness of the cakes would prevent them from cooking all the way through. So I asked her to peel one open. No wet batter; nice flecks of lemon. Success!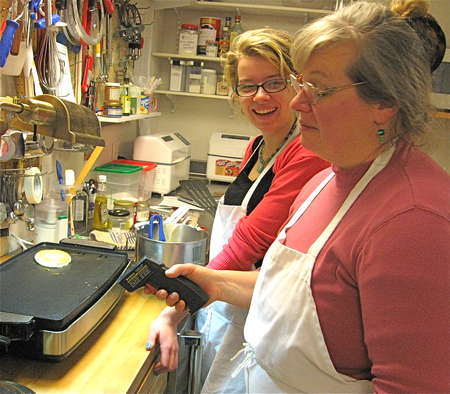 We wanted to check the actual surface temperature of the griddle, so Susan grabbed a laser surface-temperature thermometer our merchandise team wanted appraised. We could tell it was quite far off... out it goes! We don't believe in kitchen tools that don't do what they're supposed to.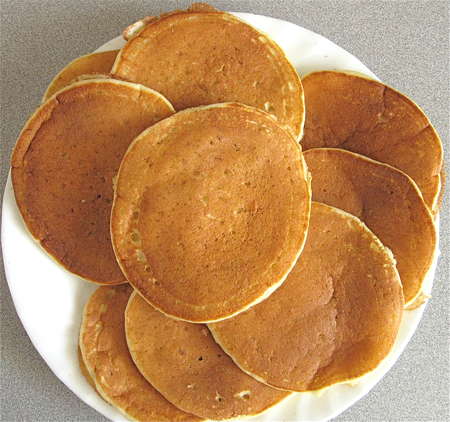 While Michelle piled the pancakes on a plate, I made the honey-butter topping.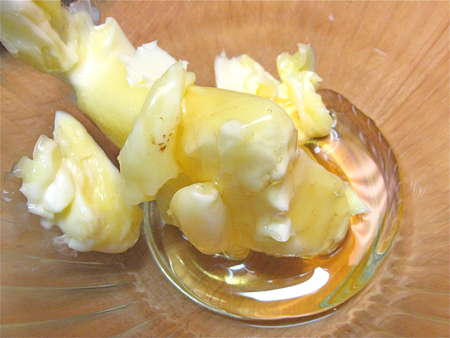 Two parts soft (NOT melted) butter, one part honey, by weight.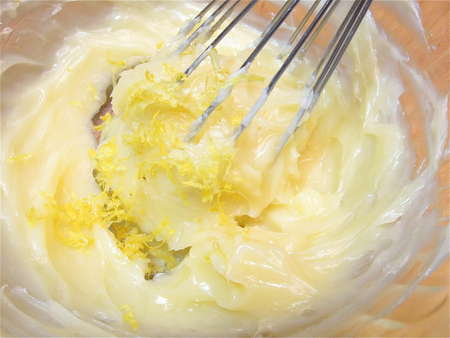 Stir together till smooth. Add some leftover grated lemon rind, if you have any. Or not.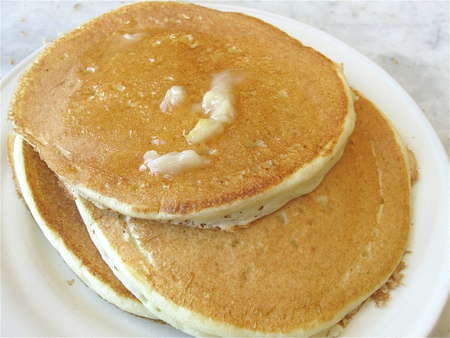 Make a short stack. Spread with honey butter.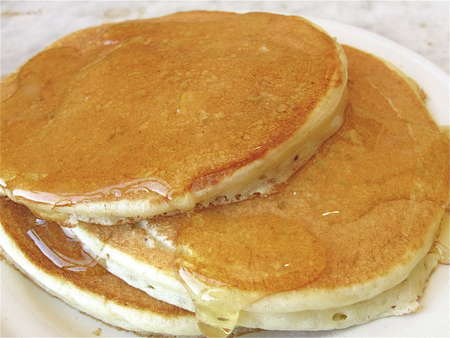 Add more honey (or syrup), if you like.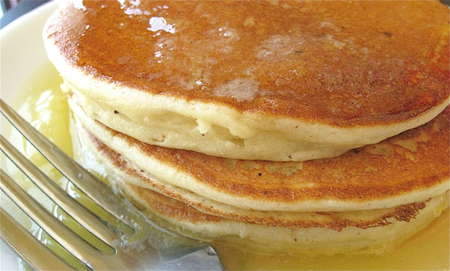 As they say in Maine—SOME good!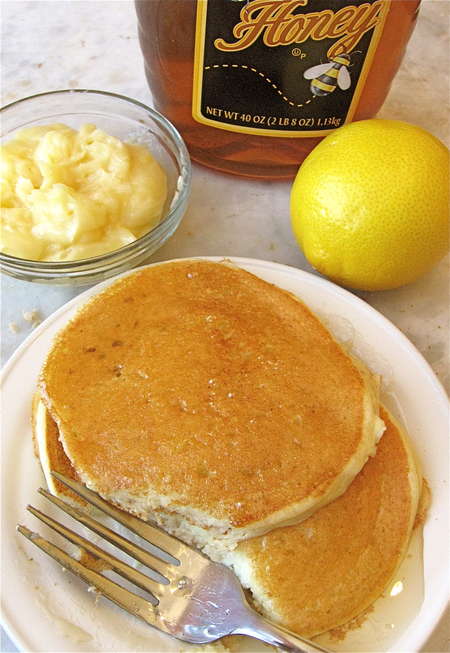 Well, of COURSE I have to enjoy a few bites of everything I photograph... The extra step of beating the egg whites, plus the ricotta cheese, makes these cakes super-light and ultra-moist. This recipe's a keeper for sure.
Read, rate, and review (please!) our recipe for Ricotta Pancakes.
Jump to Comments