Whether or not you're a big football fan, Superbowl Sunday is a chance to gather with friends and make all the snack foods and appetizers you've been craving all winter, not to mention a few liquid libations.
Both my husband, David, and I grew up in New England and have been Pats fans for years, but our tastes in snacks run more to the South. We're quite partial at our house to nachos; pulled pork with David's famous BBQ sauce (coleslaw ON the sandwich, not on the side, thank-you-very-much!), and Cowboy Caviar (kind of like salsa).
There's usually a platter of hot wings; a crock pot of mac and cheese for the kids, and Reverse Whoopie Pies for dessert. When it comes to wetting whistles, David and our buddies Don and Daniel are margarita guys. I like non-alcoholic beer, and Derri drinks warm Guinness. The kids usually beg for sips of the good stuff, and settle for sodas with bendy straws and those little umbrellas.
The guys may watch a little football but mostly they talk about cars, jobs, and computers, and fuss that the halftime show isn't what it used to be. None of us really stay up until the end. It is, after all, a workday the next morning, and we ain't as young as we used to be; but we all agree the food can't be beat. We insist that spring is on the way, and promise to get together when it warms up some.
I love my local diner, but they don't serve one of my all-time favorites, Hot Poppers. A hot popper, if you're wondering, is a jalapeño pepper stuffed with cheese, usually rolled in batter, and deep fried. Spicy, creamy, and fried... you think you've died and gone to heaven!
Our local pizza/Greek restaurant does serve them, but I wanted to make them on my own, so I seeded and chopped and stuffed and coated and baked. What a lot of work! And then... (cue the heavenly music) I found a recipe for making hot popper dip! NO stuffing, no frying, and the results were pretty darn good; though I couldn't resist a little tweaking.
The original recipe called for just canned chilies and jarred jalapeños, mayo, and some pre-grated Parmesan cheese. I decided to add roasted fresh jalapeños for the deepest flavor, along with a little fresh grated Parmesan to replace some of the pre-grated cheese. And to serve them with baguettes or  PJ's homemade cheese crackers instead of store-bought chips. Voilà! Perfect Hot Popper Dip.
First, check out the timing. You'll need about 30 to 40 minutes to roast, 10 to 15 minutes to cool, plus peeling, seeding, chopping, etc.  The dip is served hot, so plan on warm-up time (you can use the microwave  for 3 to 5 minutes, or bake for 20 to 30 minutes). I find it easiest to prepare the peppers a day ahead of time, and mix  and heat the dip just before serving. Hot Popper Dip Recipe, coming right up.
Let's start with the roasted peppers.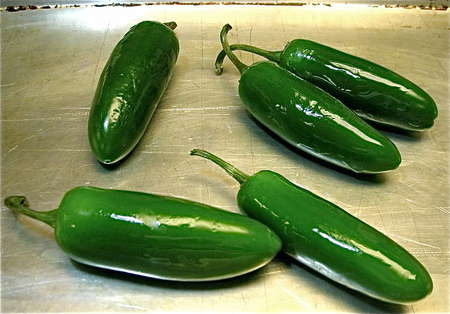 Lightly oil 2 to 5 fresh jalapeño peppers and place on a sturdy baking sheet. Set your oven to broil, and place the rack 6" below the broiler.  Place the tray under the broiler. Keep the oven door open a crack to monitor the peppers.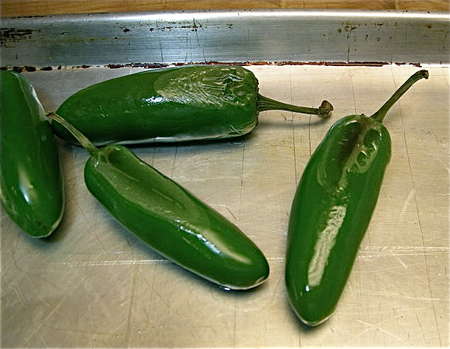 In just a few minutes, you'll see the beginnings of blackening on the peppers. Turn the peppers and return to the broiler.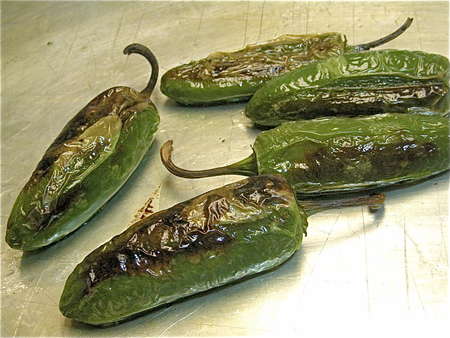 After several turnings, your peppers will be nicely charred all over, and people will be wandering into the kitchen wondering what smells so good.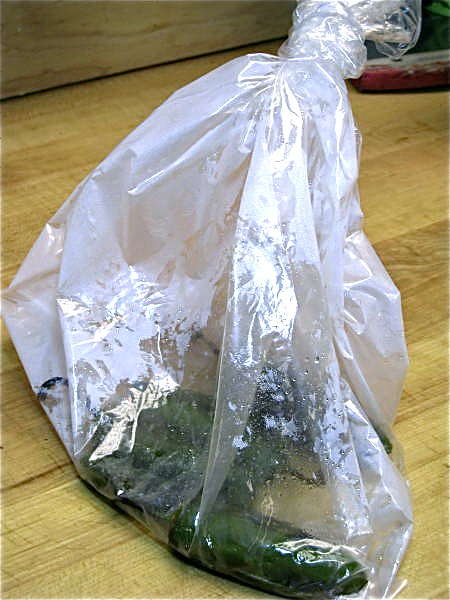 Turn off the oven and place the peppers in a plastic bag (or zip-top container), and seal it shut. You're using the heat and steam of the peppers to loosen the charred skin, making it easy to slip right off. Leave the peppers for 10 to 15 minutes, or until they're cool enough to handle.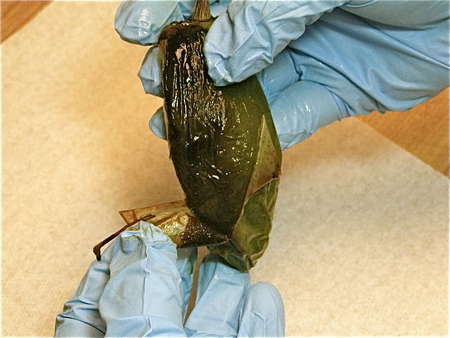 If you have sensitive skin, grab a pair of medical gloves for this next part. Grasp the pepper and gently peel the charred skin off. It will come off in strips, depending on how much the pepper split during roasting. You don't have to get every last smidgen, but most of the large pieces.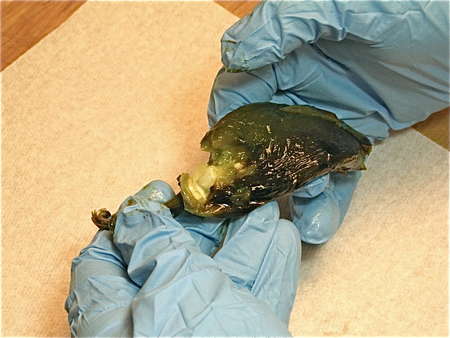 Next, pull out the stem end and upper core.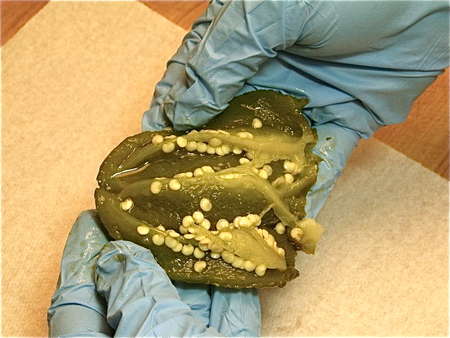 Use your thumb to split the pepper open. This allows you to seed the pepper easily. You can do this by hand as shown, or with a paring knife.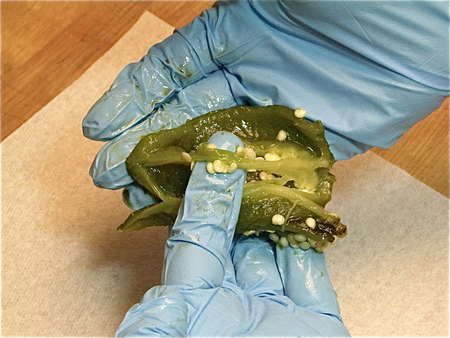 Most of the heat of any pepper comes from the seeds and the ribs. Depending on your tastes, remove as much seed and rib as you like. Because I was serving this dip to a wide audience, I removed all the ribs and as many seeds as I could.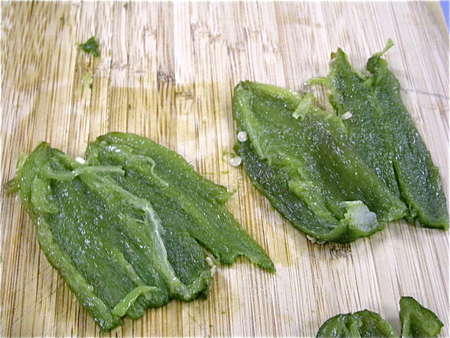 Once the pepper is seeded, place it on a cutting board and flatten out. Repeat with all peppers.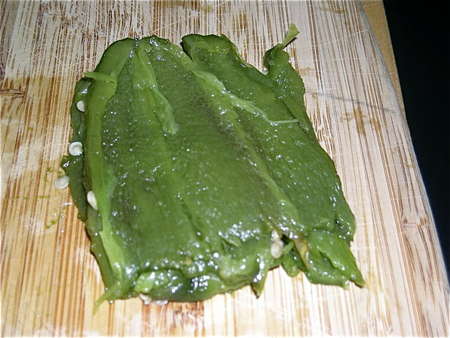 To make cutting easier, stack the flattened peppers together.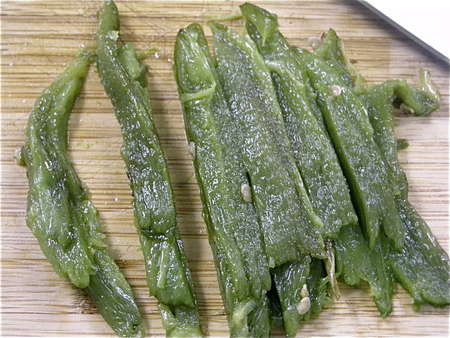 Slice the peppers into long strips, turn the board, and  dice. If you're making your dip the next day, refrigerate the peppers in a covered dish, or put them back in the plastic steaming bag and seal it back up.  GO WASH YOUR HANDS before you touch anything else!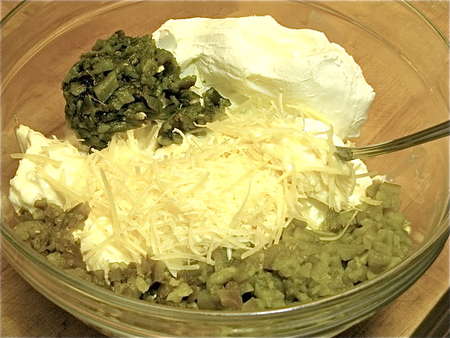 Ah, a classic case of "Do as I say, not as I do." You'll see in the recipe that you should mix the mayo, cream cheese, and half of the grated Parmesan together BEFORE adding the peppers. What can I say? I forgot, plain and simple. The dip will still mix up just fine, but it's a little harder to be sure you've worked out any lumps of cream cheese. So, do try to remember to mix the cheeses and mayo first.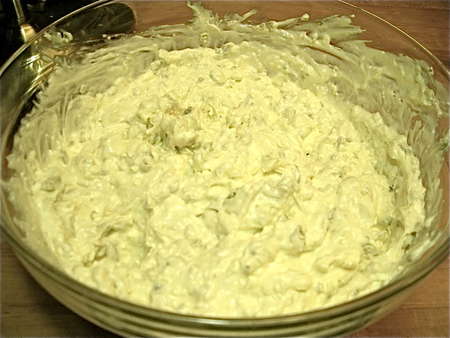 See, it really does mix up just fine. It looks a lot like egg salad but trust me, it packs a bigger punch!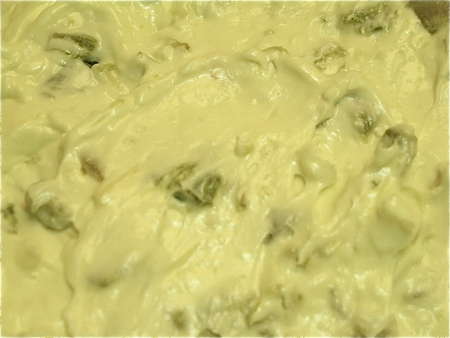 You can see this dip is packed with peppers. Remember you can use fewer peppers if you like things on the milder side.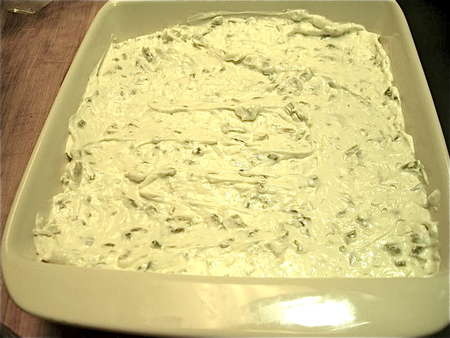 Spread the dip into a 9" x 9" inch cake pan, or 9" pie pan. Be sure the sides are fairly high; handles help with removing from the oven.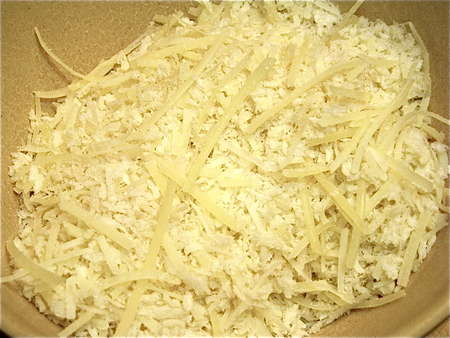 Mix together the panko (coarse Japanese-style bread crumbs) and remaining Parmesan cheese. Sprinkle evenly over the top of the dip. You can use regular bread crumbs, but the panko gives a bigger crunch, more like the fried coating on a traditional popper.  Slide the dish into your preheated oven and prepare your dippers of choice.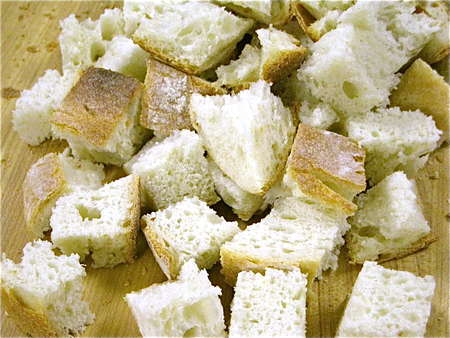 If you choose to use bread, large cubes are great for grabbing and dunking. Baked tortillas and pita are great choices as well.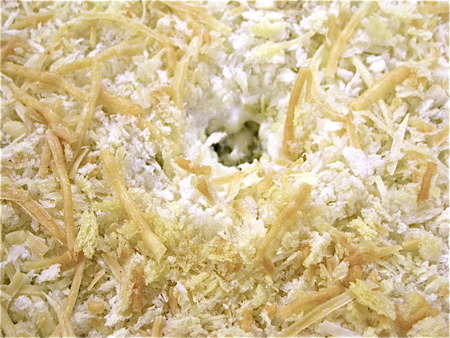 When the dip begins to bubble, you can check to see if the center is heated through. Make a small hole in the center and test. You can use a spoon or the original "digital thermometer" (your finger!). If it isn't quite hot enough, just spread the topping over the hole and return to the oven. No one will ever know!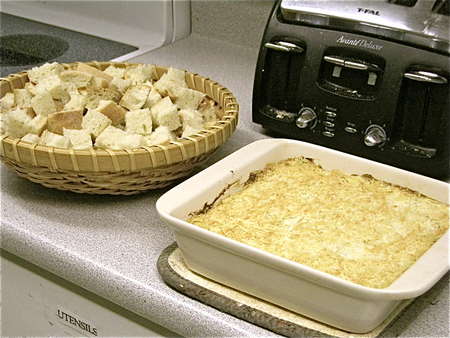 Our employee kitchen was empty when I set out the dip and bread basket, but word spread pretty quickly that the hot popper dip was finally ready.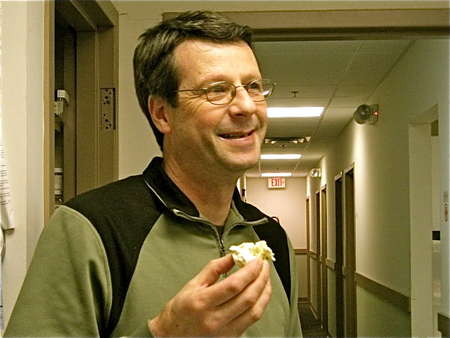 Phil, one of our customer service reps, got the first heads-up, and the dip got a big thumbs up. Thanks, Phil!
So, whether or not you plan on watching the big game, or have another winter occasion to celebrate, this dip will certainly warm your heart AND your taste buds. And if you're looking for even more dips, try our Hot Spinach Dip. Happy baking!
Jump to Comments