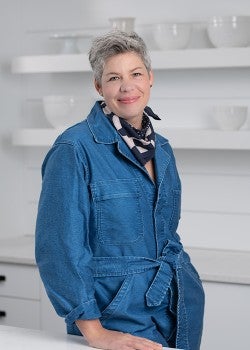 About Jessica Battilana
Employee-owner since 2022
Jessica Battilana is the Staff Editor at King Arthur Baking Company and an award-winning writer, recipe developer, and ardent supporter of eating dessert every day. She is the author of Repertoire: All The Recipes You Need and coauthor of eight other cookbooks, including Tartine Book 3 with Chad Robertson, and Baking at 20th Century Café with Michelle Polzine. Her work has been featured in The New York Times, Sunset magazine, Martha Stewart Living, Rachael Ray Every Day, and various other publications; her work was also included in the Best Food Writing Anthology (twice!).   
The first thing Jessica recalls baking herself is brownies, using a recipe from the pages of her babysitter's copy of Seventeen magazine. Other recipes followed, and in time she learned the importance of both following instructions and not omitting key ingredients. 
A graduate of Mount Holyoke College, Jessica also earned a Grand Dîplome from La Varenne cooking school in Burgundy, France. Prior to becoming a full-time writer, Jessica worked as a cheesemonger, private chef, elementary school lunch lady, and reservationist at Chez Panisse restaurant, which may have been the hardest job of them all. Jessica lives in Maine with her wife and two young sons. Potatoes are her desert island food, she makes King Arthur's Crispy Cheesy Pan Pizza every Friday night, and she always has chocolate chip cookie dough in her freezer. 
Posts by Jessica Battilana
Recipes by Jessica Battilana