The ingredients we reach for in the kitchen are changing. Plant-based eating is on the rise, with an ever-increasing emphasis on making thoughtful choices around the consumption of dairy and meat in particular. Perhaps you're considering your own impact on the environment, or thinking about how these ingredients affect your own health and well-being. Or maybe you're just an adventurous baker looking to tackle new challenges! Whatever the reason, dairy-free baking is a topic on which we're happy to inspire and advise. 
Baking is one of the trickier areas to experiment with swapping out ingredients, as items like milk and butter play important roles in the structure, texture, and flavor of the final result. 
But thanks to the rise of high-quality, excellent-tasting nut and grain-based milks, cheeses, and yogurts, there are more options than ever before — including readily available plant fats like coconut oil.
As a result, baking is a place where dietary preferences and creativity can dovetail. No longer is baking without dairy a compromise!
We've been busy testing these ingredients to find recipes where they really shine. Whether from dietary concerns or simply as a matter of convenience, having a roster of wonderful, delicious dairy-free recipes is a boon for modern bakers. Let's say you run out of butter, or forgot to buy milk. You can still whip up a fantastic lemon chiffon cake or tender banana bread. 
And if you're looking to bake without eggs as well, you can find a wonderful collection of vegan recipes here.
There are two approaches to dairy-free baking. First, find recipes that are naturally dairy-free. Second, make the right swaps to existing favorite recipes. We'll talk about lots of recipes that showcase those swaps today, but you can also brush up on five more tips here, or learn the intricacies of dairy-free pie crust with Kye's sage advice here.
When we began investigating the world of dairy-free baking, we tapped into our history. Over the decades, we've helped bakers through times of both scarcity and abundance. So we combed through our recipe archives to find some of the cleverest ideas bakers have come up with to get through times when traditional dairy ingredients weren't as easily available.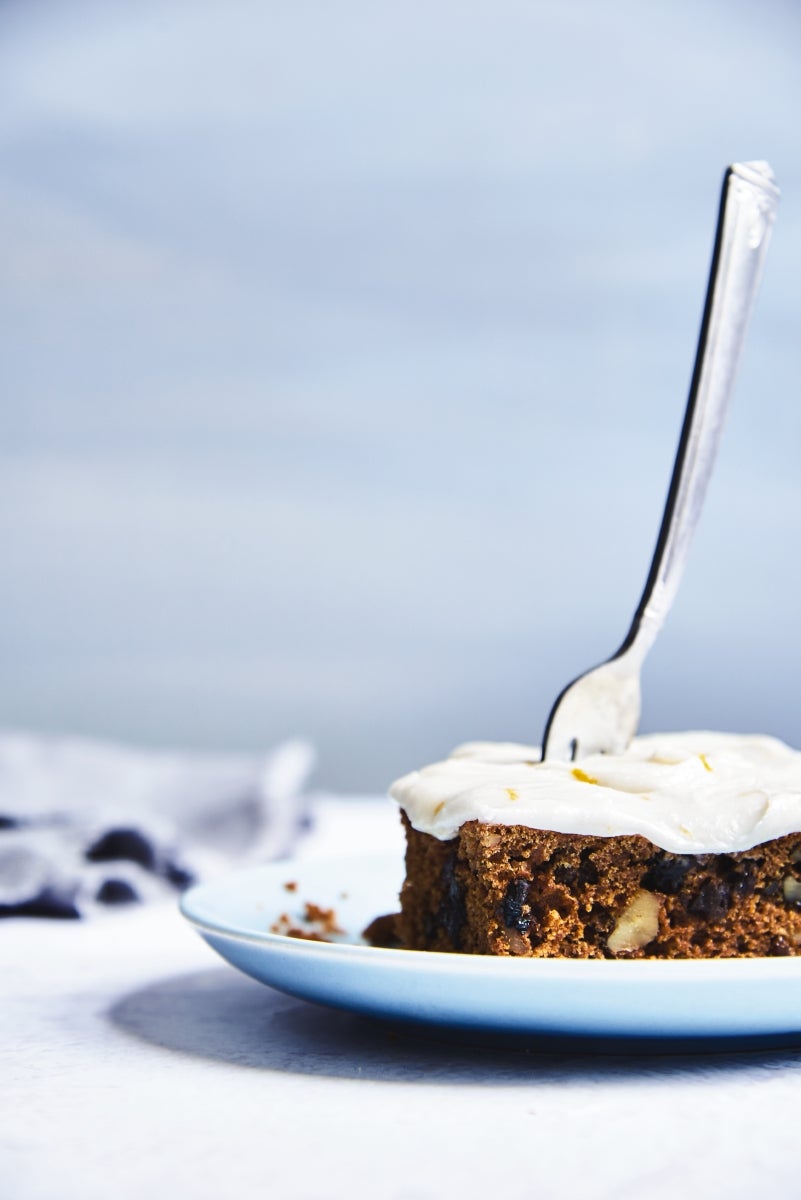 A prime example is the Tomato Soup Spice Cake: first popularized in the 1940s, when dairy was scarce, it uses canned soup to create a cake with moist, tender crumb. Studded with raisins and nuts and perfumed with cinnamon and cloves, it's an all-around winner: flavorful, comforting, snack-worthy, and reliant simply on common pantry staples. For a dairy-free version of the classic cream cheese frosting, make a quick 1:1 substitution of vegan cream cheese for a luscious finishing touch.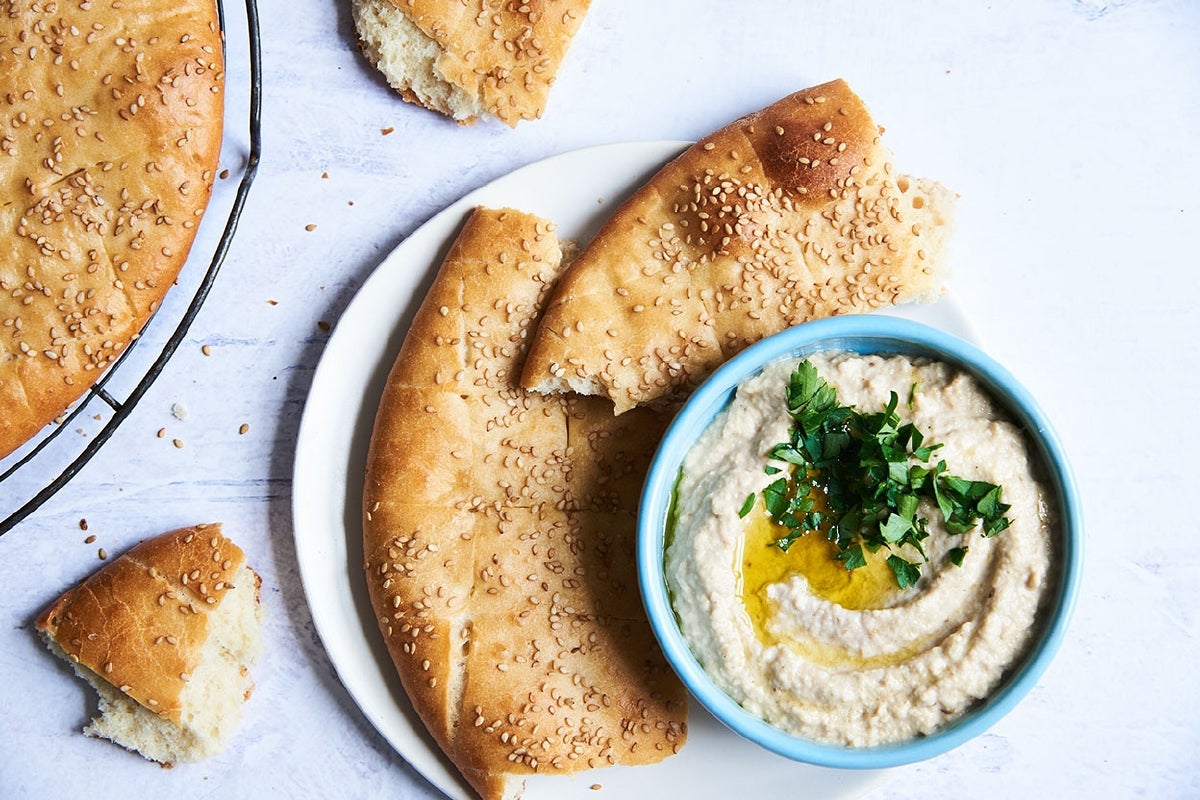 We also looked to culinary traditions in cultures where dairy isn't often used as a matter of course. Some of the best dairy-free baking comes from places where oil is the go-to ingredient instead of butter. Ekmek, a traditional Turkish flatbread, is a perfect example. Olive oil and a touch of honey make these tender, sesame-topped breads fragrant and just slightly sweet. (We like to pair them with poached eggs or hummus for a satisfying lunch.)
So let's talk about a few of our favorite go-to recipes to keep up your sleeve! Some of these are naturally dairy-free; with others, we made some simple tweaks (coconut oil instead of butter, for example) to create new, dairy-free versions.
Dairy-free cookies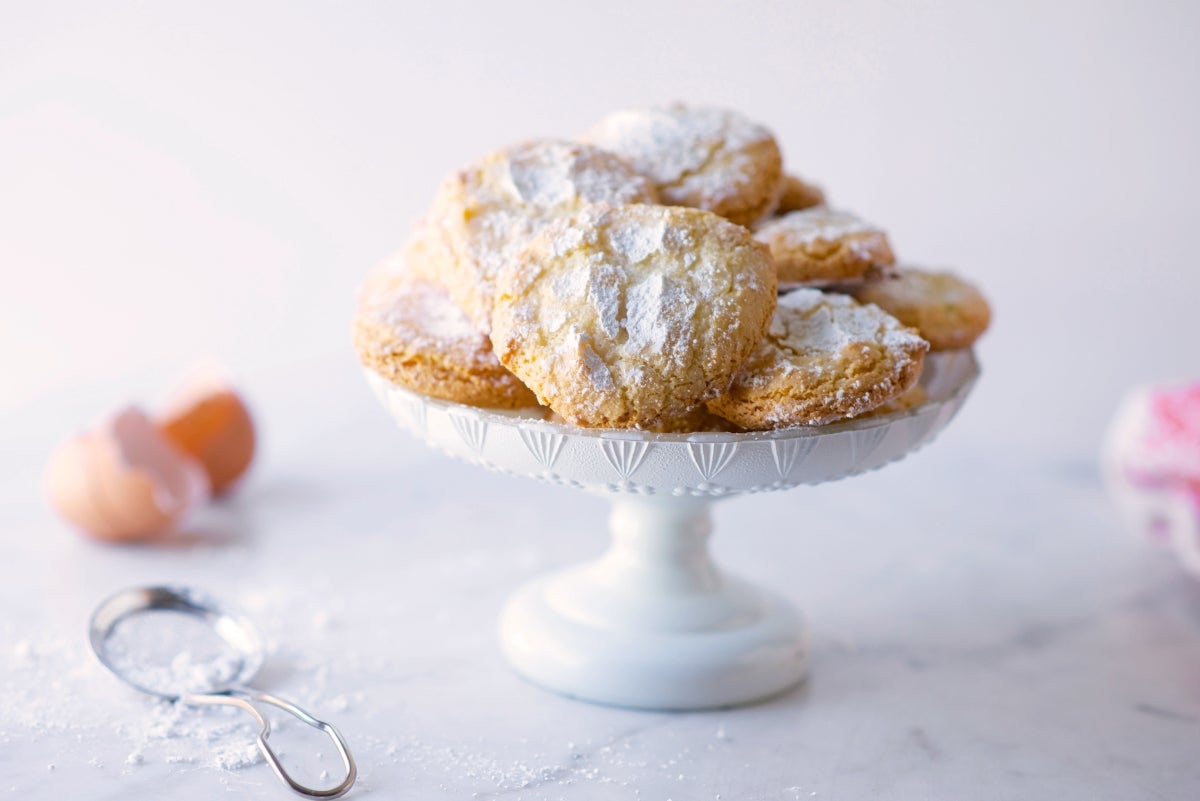 Almond Cloud Cookies are moist and chewy inside with a thin, crackly exterior. One of our most popular cookie recipes, these nutty sweets also happen to be gluten-free. And there's no need for any substitutions or swaps! Almond paste and egg whites give the cookies fat and structure, so no butter or milk is needed.
Our Crisp Molasses Cookies combine the old-fashioned flavors of molasses, ginger, and cinnamon with a chewy texture —thanks to coconut oil — to make an updated version of the traditional gingersnap.
Dairy-free breads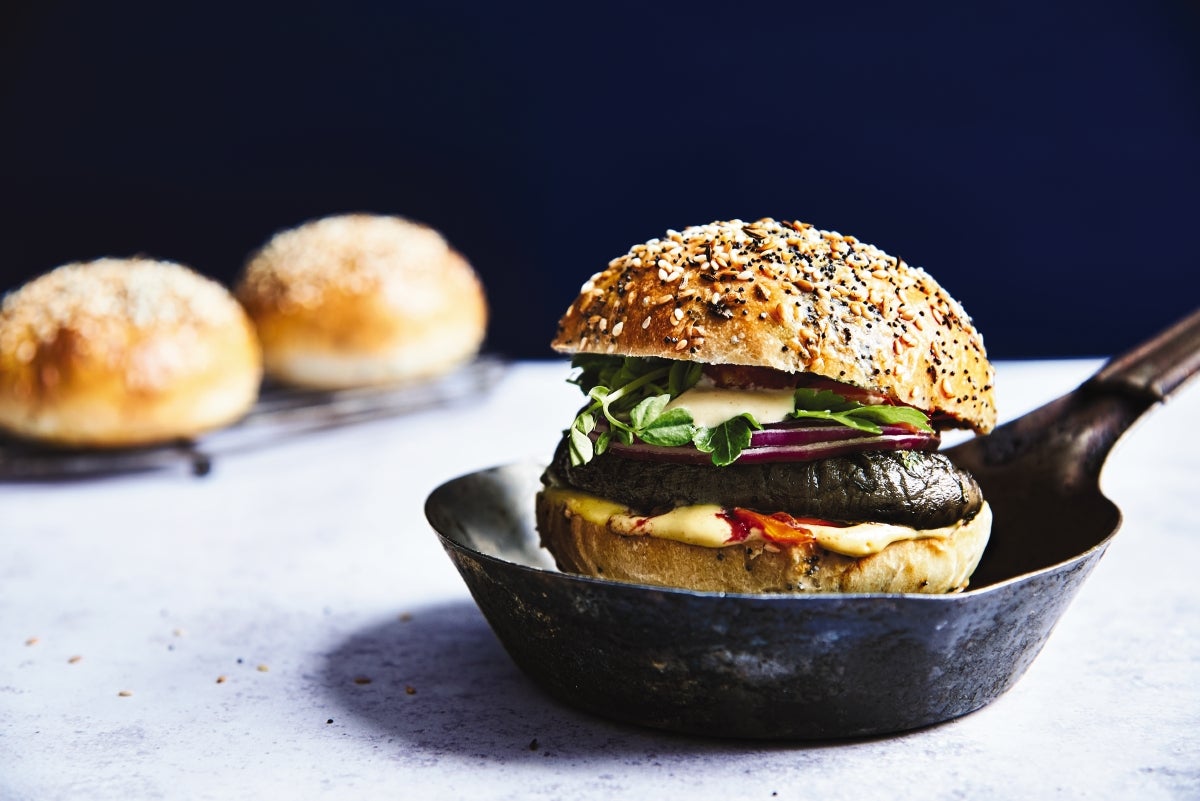 Many bread recipes are naturally dairy-free, as the simplest loaves require nothing more than water, flour, yeast, and salt. But if you want to get more creative while still avoiding dairy, try these jumbo seedy rolls: ideal for sandwiches but also a good vehicle for a veggie burger or to serve alongside a steaming bowl of tomato soup. The sprinkling of caraway, poppy, flax, and sesame seeds gives them crunch and flavor (not to mention striking good looks)!
Of course, you could stick with any manner of basic baguette or artisan bread, most of which don't call for dairy to begin with. Look to No-Knead Crusty White Bread, Extra-Tangy Sourdough, Classic Baguettes, French-Style Country Bread, or Simple Tortillas (using the vegetable oil option) as inspiration for naturally dairy-free ways to get your bread-baking on.
Dairy-free cakes
Cake might pose the greatest initial challenge for dairy-free baking. Many cake recipes rely on the fat from butter, or the protein and sugar in milk, to create the right crumb with a nice rise and delicate structure. But we've got plenty of options for cake recipes that don't require you to do your own calculus about swapping in nut milks or vegan butters. 
Angel Food Cake is naturally dairy-free, relying on whipped egg whites to do the bulk of the work in structure and texture.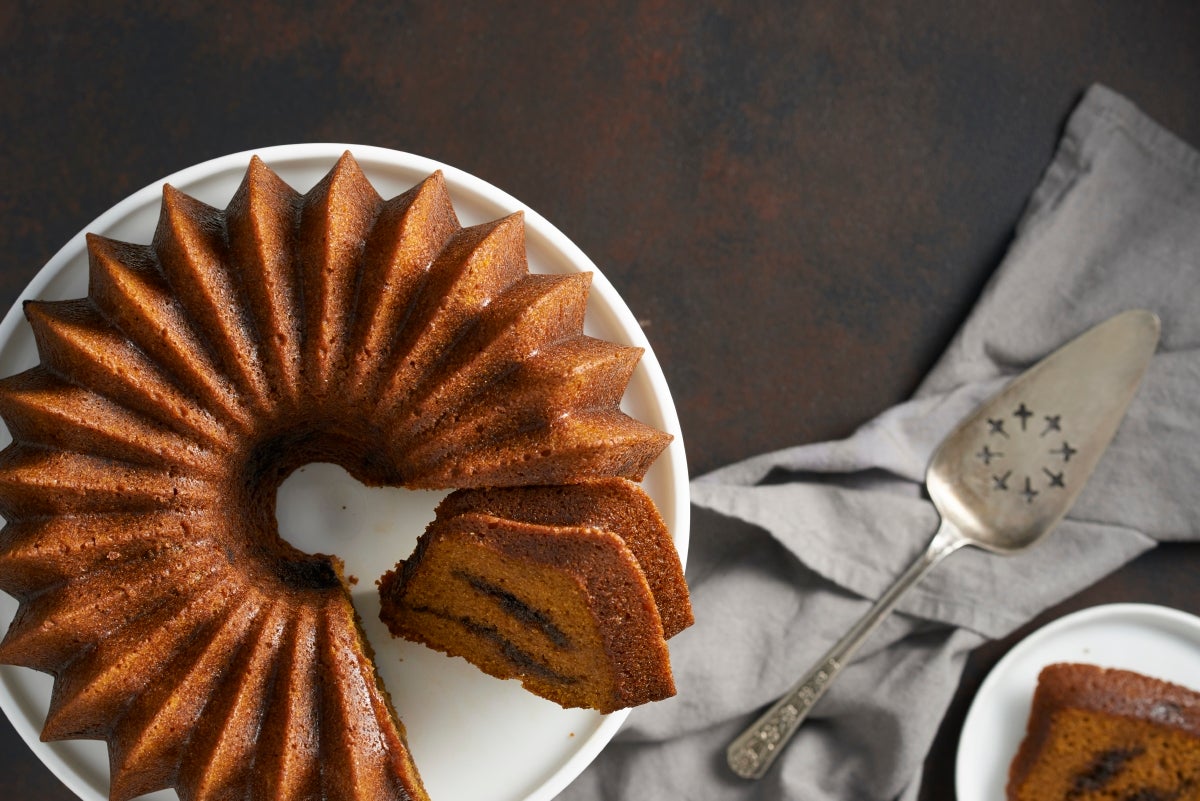 This gorgeous Pumpkin Espresso Bundt Cake gets its moist crumb from vegetable oil and real pumpkin rather than butter and milk.
And yes, you can have chocolate cake if you're dairy-free! Our Simple and Rich Chocolate Cake calls for cocoa powder and vegetable oil, rather than chopped chocolate and butter.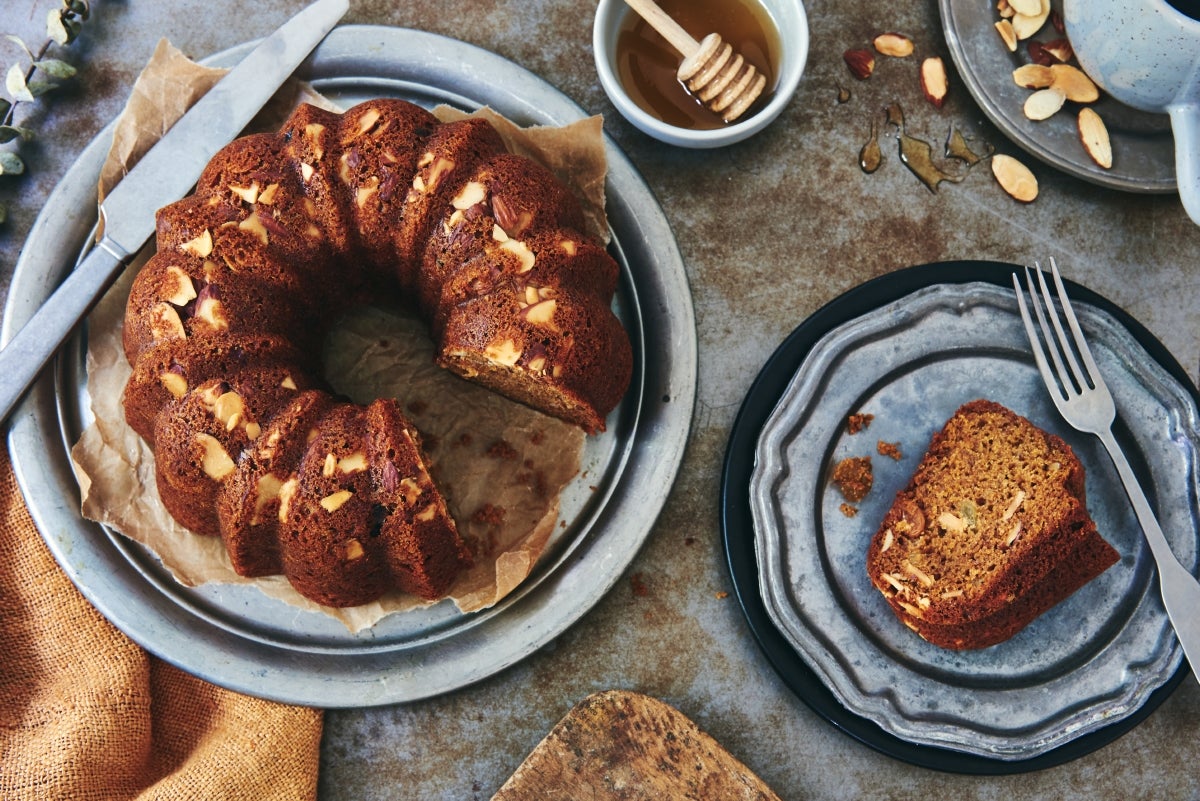 Craving spice? Try our Whole Grain Gingerbread or the fantastic Zingerman's Honey Spice Cake (above), which features a uniquely flavorful blend of rye flour, buckwheat honey, black tea, and citrus.
Dairy-free muffins and quick breads
Many muffin and quick bread recipes already use vegetable oil instead of butter for the fat, as oil yields a pleasingly moist texture and crumb. Happily, this is a win for dairy-free bakers!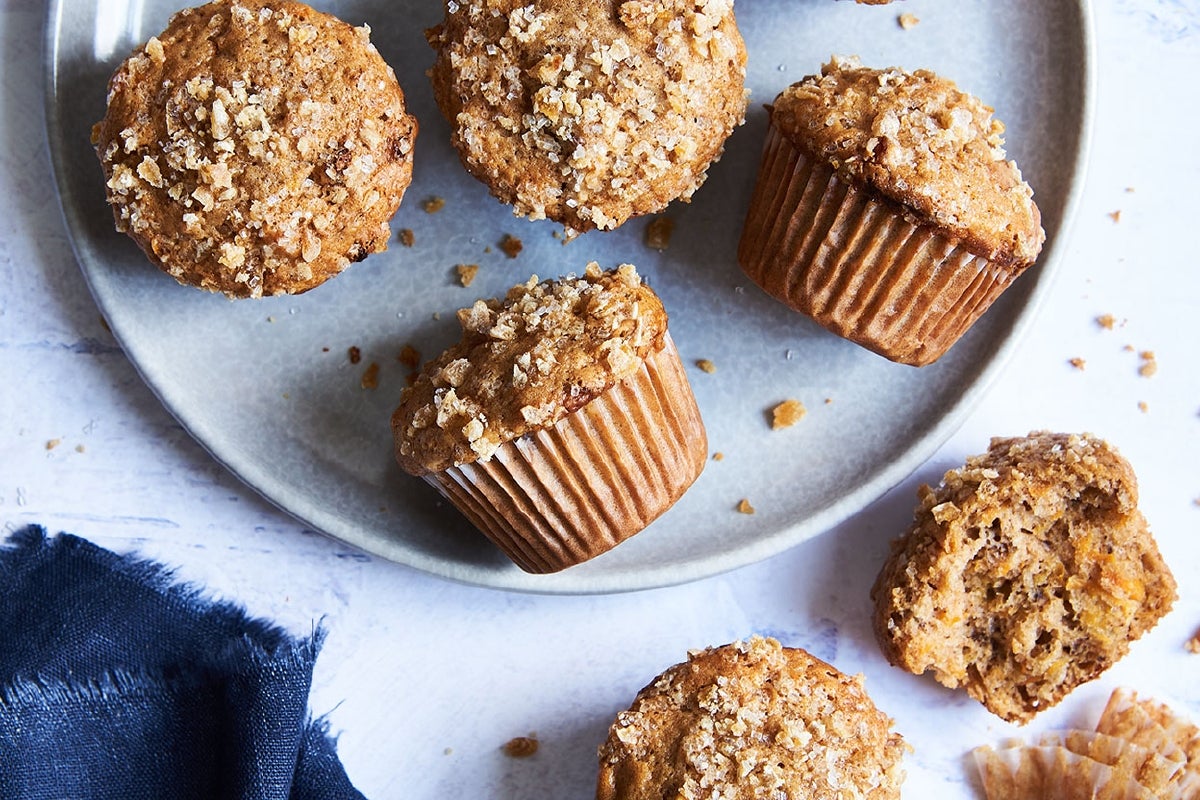 Vegetables get their chance to shine in this modern version of carrot muffins, where a healthy pile of grated fresh carrots provides color, flavor, and a pleasingly moist texture, yielding one of our very favorite breakfast recipes.
Want more vegetables? The Shipyard Galley's Zucchini Muffins are the paragon of a zucchini muffin, and entirely dairy-free.
Or go the quick bread route: if you use dairy-free chocolate chips, this Easy Pumpkin Bread and this Double Chocolate Zucchini Bread are both perfect choices.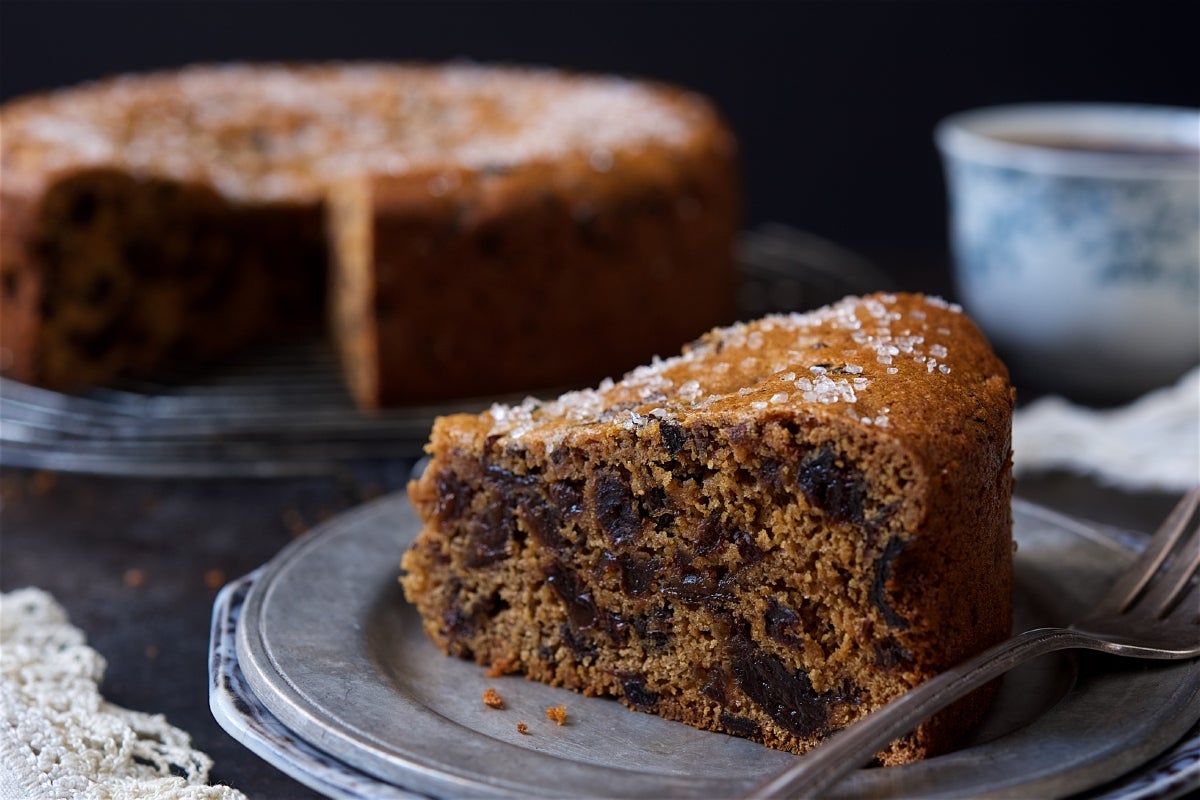 Comforting, moist, and flavorful, our dairy-free Applesauce Oatmeal Bread is just as nice for breakfast as it is for dessert (toasted with a little whipped coconut cream!). Dense, fruity Irish Tea Brack uses no dairy in its traditional form, nor does this pretty Rhubarb-Walnut Quick Bread.
Instead of seeing dairy-free baking as a challenge, think of it as an opportunity to branch out and take a new look at the ingredients in your recipes. Without whey, there's still a way! 
Jump to Comments