Dairy-free cookies and brownies
9 tips you need to know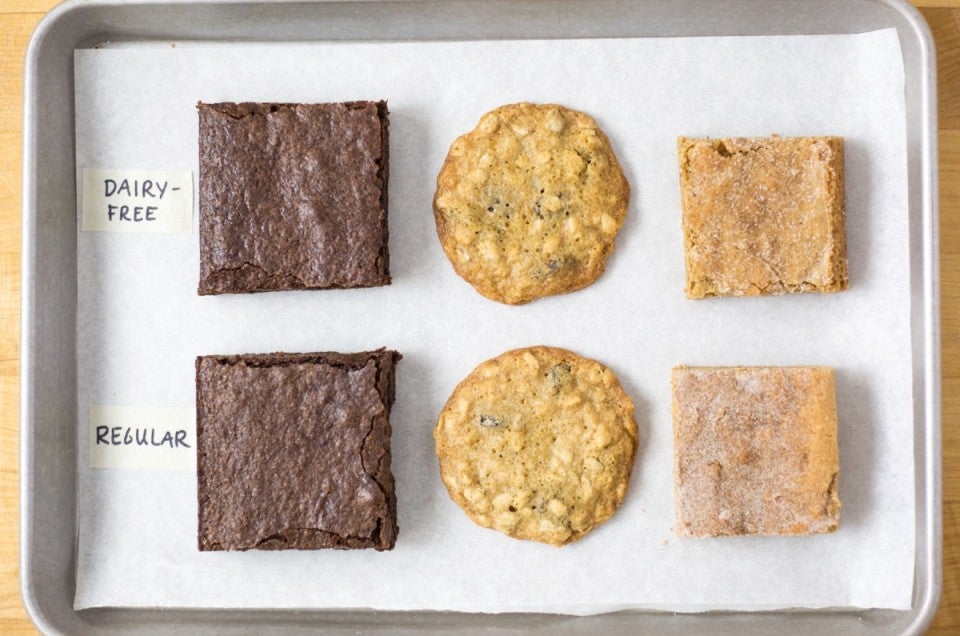 Have you ever wondered how to make your favorite recipes dairy-free? Let us show you the way by making some of our most well-loved recipes without dairy. In this post we explore how to make dairy-free cookies and brownies, as well as a few other sweet treats. Note: For the sake of this post, eggs are not considered dairy ingredients. If you're looking to also bake without eggs, check out these vegan recipes.
Cookies, brownies, and bars are some of the most well-loved treats in the world of baked goods. Whether you need a sweet pick-me-up or you're celebrating a special occasion, these treats fit the bill. But what about those who can't bake with dairy products? What are they supposed to reach for when a cookie craving hits?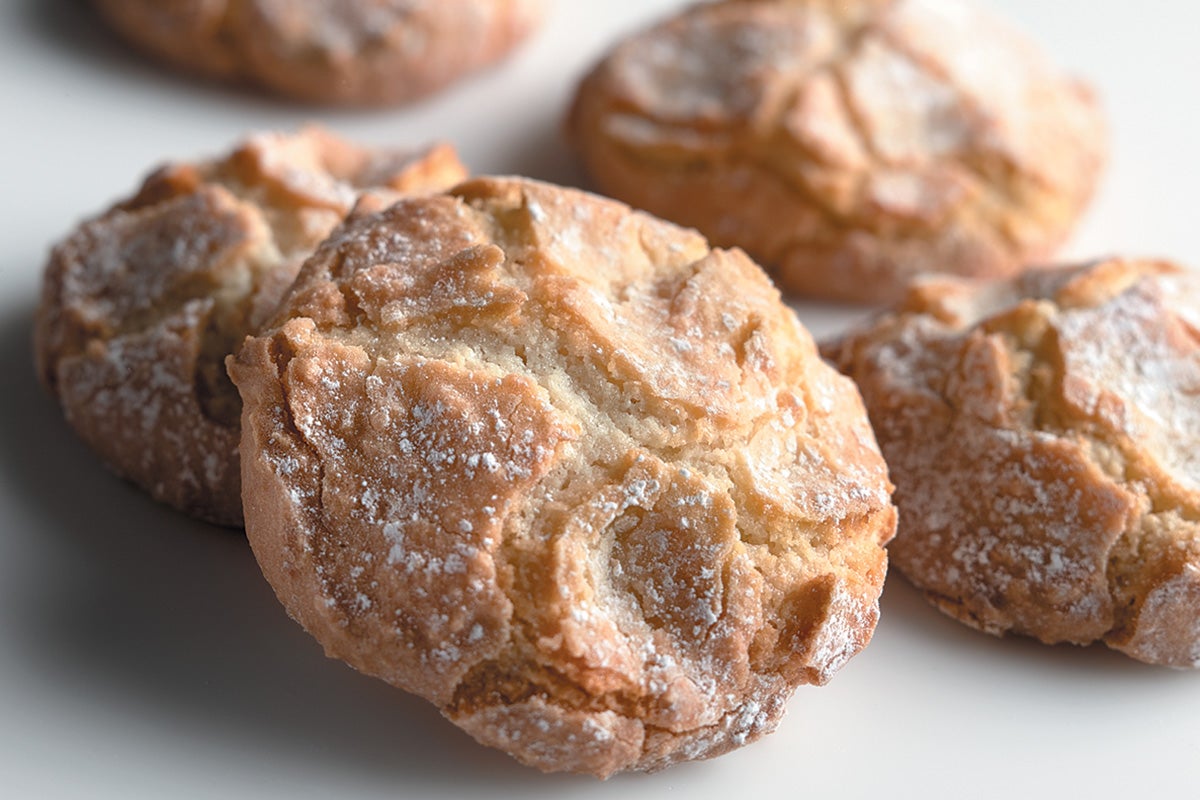 1. Look for recipes that are already dairy-free.
Surprise: Dairy-free desserts are all around you! Some of our favorite cookie and bar recipes are naturally dairy-free. Almond Cloud Cookies, Deep-Dark Fudgy Brownies, Meringues, Macarons, and even some biscotti can all be made without butter or other dairy products.
The key? These recipes use other ingredients to make them chewy and yummy sans dairy — usually eggs and something like sugar, honey, or even almond paste.
2. Bake crunchy/snappy cookies with shortening.
Butter isn't the only fat that makes perfect cookies, especially if you like crispy treats. Vegetable shortening (like Crisco) can be used to replace butter in most cookies — they'll spread a bit less and have a sandier mouthfeel (like shortbread; it's pleasant).
A handful of our crunchy cookie recipes already call for shortening. Gingersnaps, Ranger Cookies, Self-Rising Crunchy Sugar Cookies, Classic Peanut Butter Cookies, and Snickerdoodles are just a few of the cookies that fall into this (delicious) category.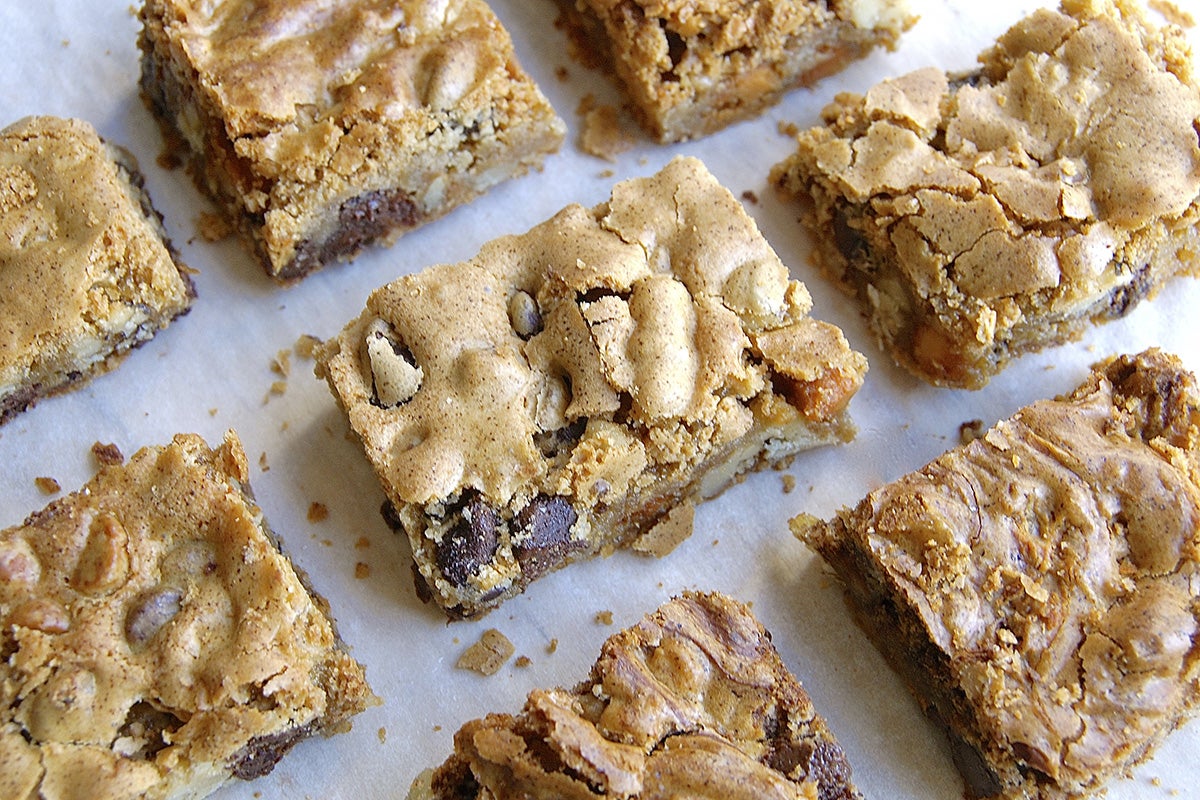 3. For classic cookies and bars, use vegan butter.
If you're just beginning to explore dairy-free baking, meet your new best friend: vegan butter! This is something worth getting excited about. It's creamy, usually easy to find, and makes fantastic dairy-free cookies and brownies.
Simply replace the butter in your recipe with your favorite vegan butter. (We like Earth Balance Vegan Buttery Sticks.) Voilà, your baked goods will be practically indistinguishable from their butter-filled counterparts.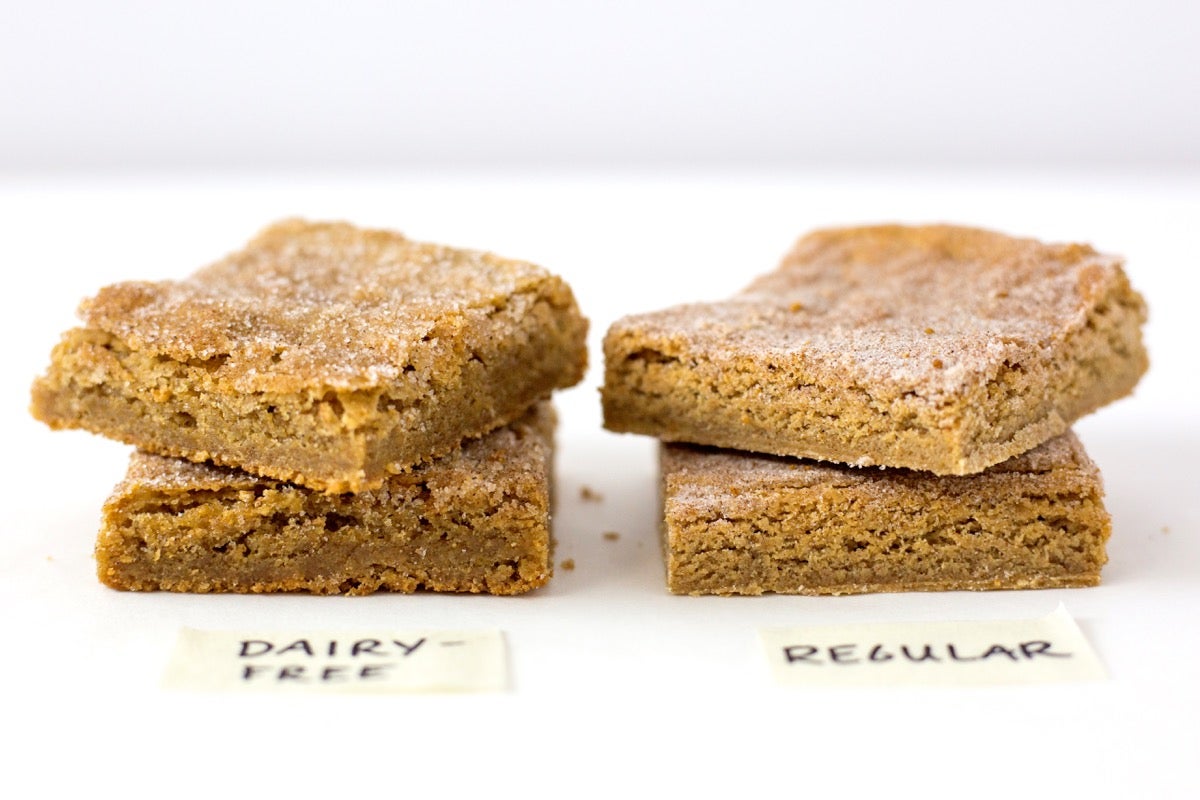 Can you tell the difference between these two Vanilla Chai Bars? Our taste testers can't! Both are delicious.
4. Bake brownies using oil (or vegan butter).
Oil makes baked goods moist, tender, and in the case of brownies, super fudgy — yum! Some brownie recipes call for vegetable oil as the only fat, in which case you're all set to bake dairy-free. Other recipes call for butter, and some even call for both butter and oil, like our Quick and Easy Fudge Brownies recipe.
This is another opportunity to whip out that vegan butter. Or if you don't have any on hand, you can make your brownies using only oil instead. Really, it works!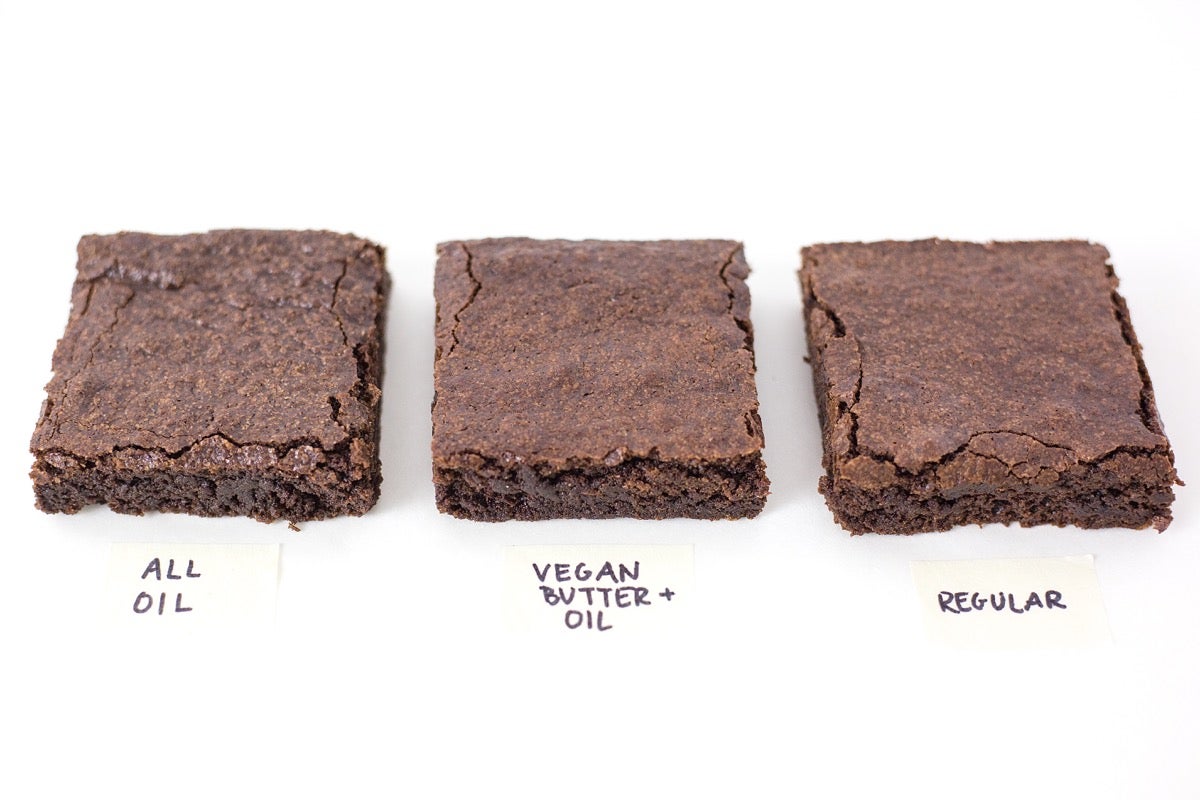 We learned that brownies are practically foolproof and can easily be made with whatever dairy-free fat you have on hand.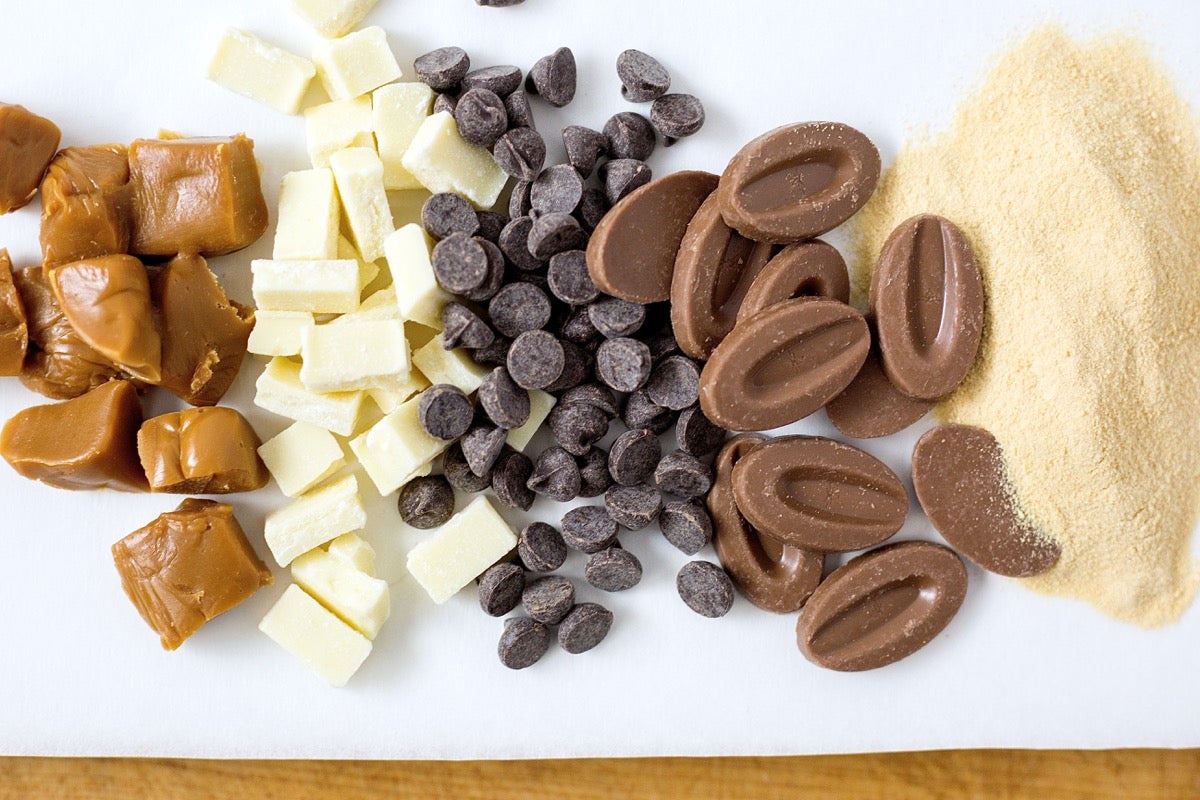 5. Look out for hidden sources of dairy.
Beware of chips and chunks — most chocolate chips, cinnamon chips, and butterscotch chips contain dairy to impart a creamy texture.
Some baking ingredients obviously contain dairy (like malted milk powder). But there's also a category that discreetly contains dairy (like caramel), so be on the lookout and check the ingredient list before baking.
Don't fret: there are lots of other tasty mix-ins that are dairy-free. Dried fruit, dark chocolate, coconut flakes, and toasted nuts are all flavorful options to add to dairy-free cookies and brownies.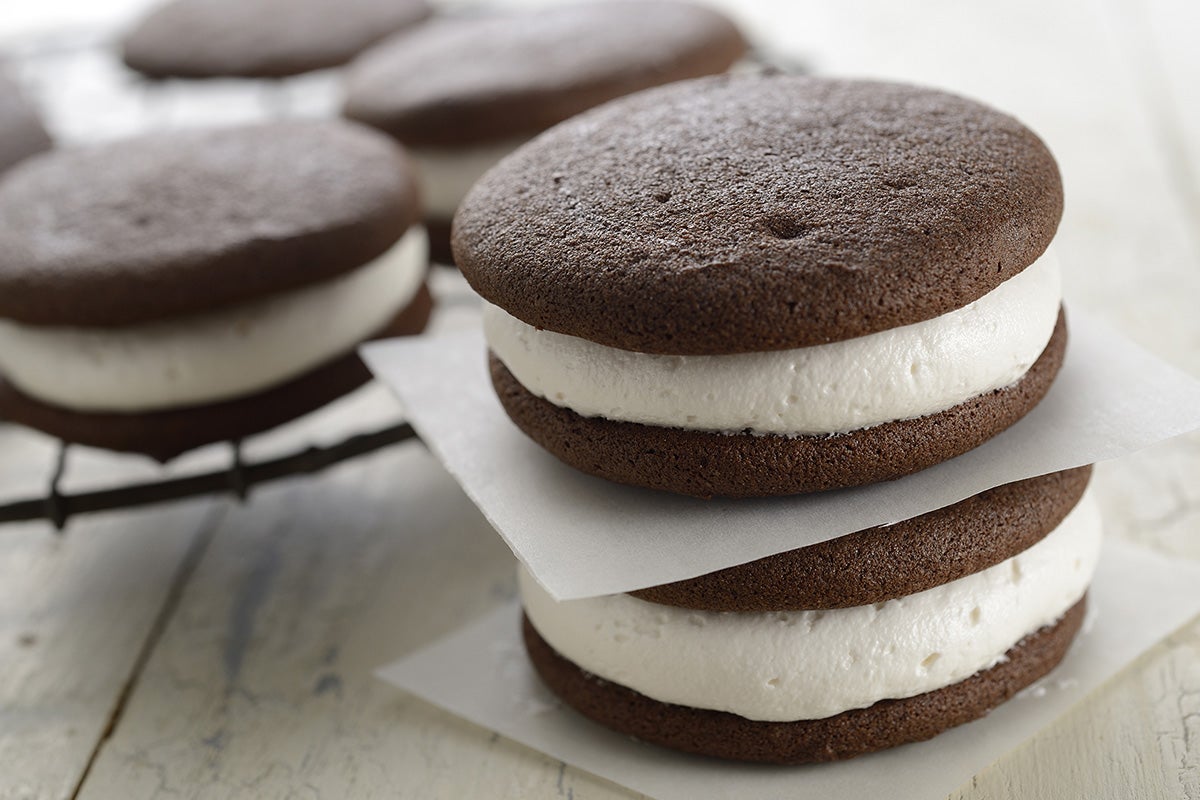 6. Use your favorite plain, unsweetened non-dairy milk in "cakey" cookies.
There are a number of cakes masquerading as cookies: think Whoopie Pies, Black and White Cookies, even Baltimore Berger Cookies. Milk is one of the ingredients responsible for their cakey texture.
First, make a simple swap for the butter if necessary; then use your favorite non-dairy milk to replace the regular milk in your cookies.
Any kind of dairy-free/vegan milk will do (soy, coconut, almond milk) — just be sure it's an unsweetened, unflavored variety for best results.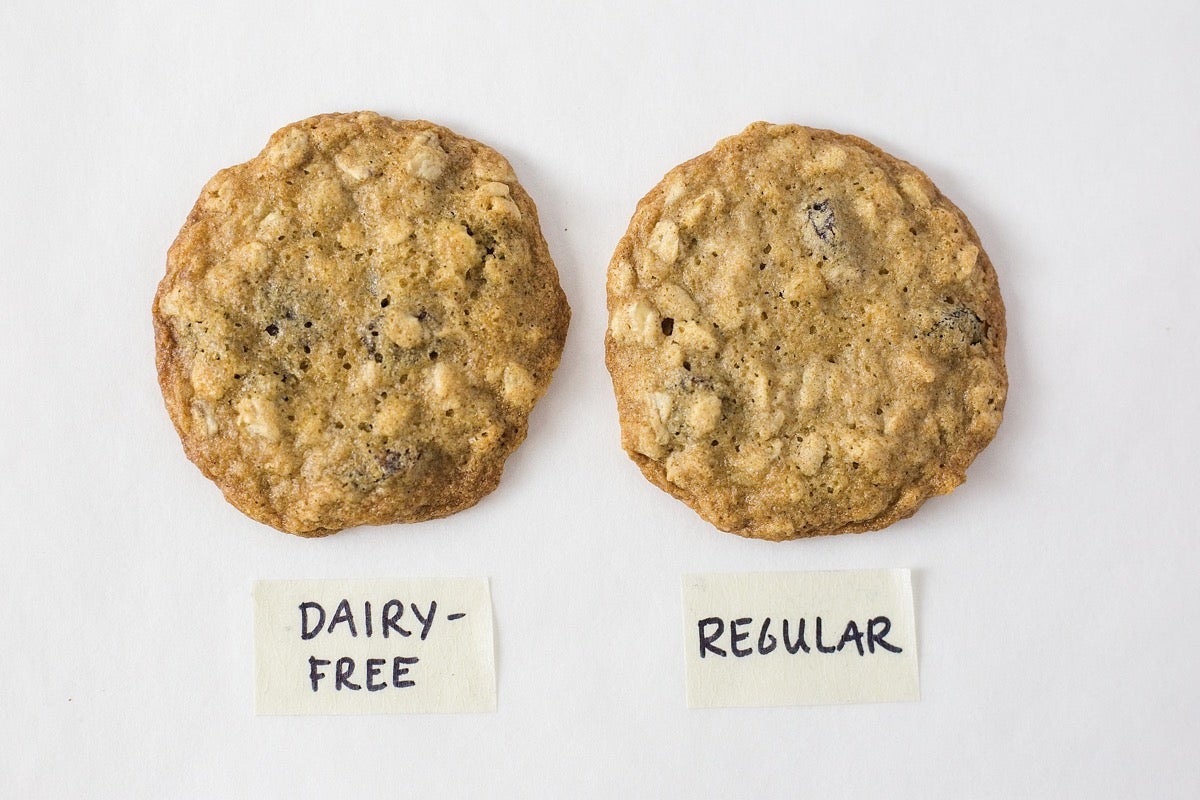 7. Use plain non-dairy yogurt in cookies that call for sour cream or yogurt.
Similarly, don't let sour cream or yogurt scare you away from a recipe you'd like to make dairy-free (like Rugelach or Cinnamon Snails). Make good use of the non-dairy section at the grocery store and look for soy, coconut, or even almond-based yogurt. Again, unflavored and unsweetened are best.
If you can find non-dairy sour cream, score! You can use it if your recipe calls for sour cream; it's typically just a bit harder to find than non-dairy yogurt.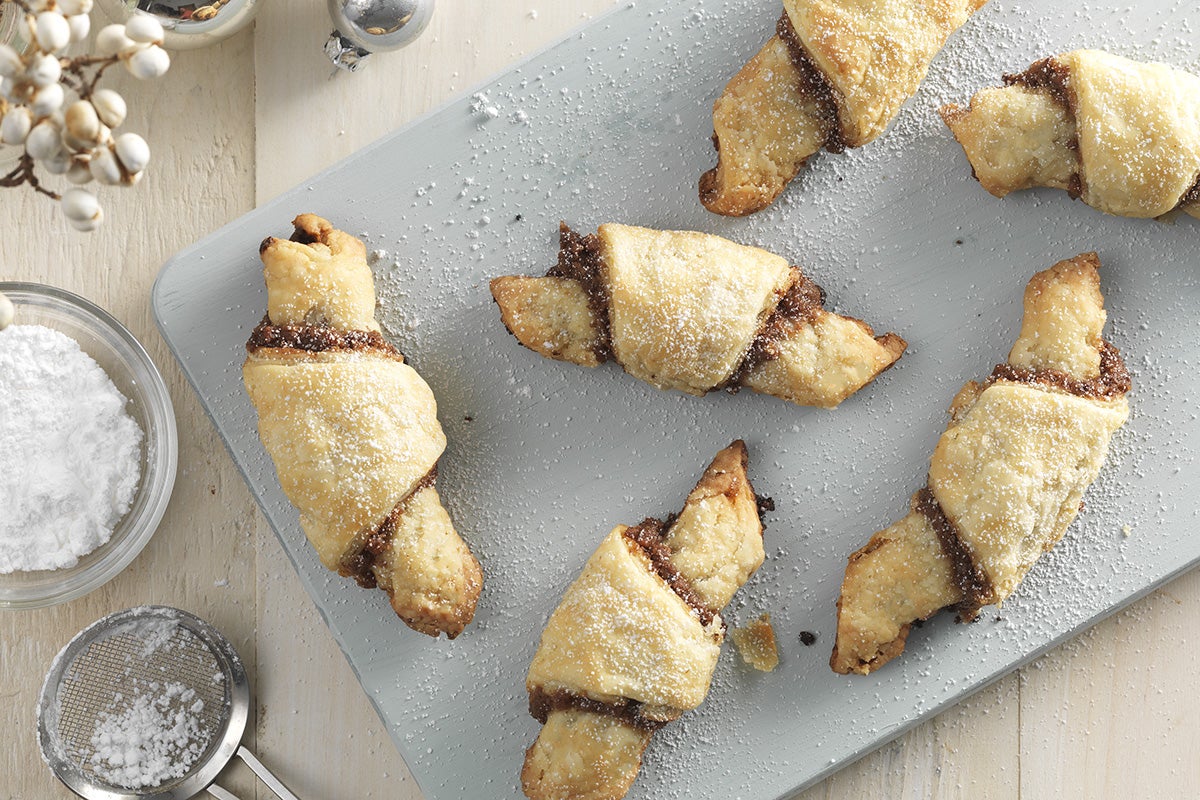 8. For cookies with a pastry base, use dairy-free cream cheese.
Some pastry-based cookies call for cream cheese. This gives them a super-tender, melt-in-your-mouth texture (think Fig Segals). Despite "cream" being right in the name, dairy-free cream cheese exists and is actually quite tasty.
Daiya, Vegan Gourmet, and WayFare all make dairy-free cream cheese that can be used in baking. You can even use it in conjunction with Earth Balance or dairy-free sour cream if you're baking a recipe that calls for more than one dairy ingredient (like Rugelach).
9. Use coconut milk when making toppings/glazes.
Time to top off your dairy-free cookies and brownies! There are a plethora of glazed bars to choose from: Nanaimo Bars, Thousand Dollar Bars, or even ganache-coated brownies.
This is when you can put all the tips to the test: Use vegan butter in creamy fillings and non-dairy milk in frosting or icing. (Avoid using non-dairy milk in fillings that are thickened with cornstarch — it won't set properly.) Use dairy-free ingredients like yogurt or sour cream if necessary, and avoid other dairy-based components like caramel.
You can do this — you can even make dairy-free ganache! It's typically made with heavy cream, but you can use full-fat coconut milk (the kind that comes in a can) instead. The results are luscious and glossy.
And simple glazes, like the kind you'd use to flood cookies or drizzle on scones? You can use practically any liquid in place of the milk. Dairy-free milk, water, or even juice works. You may need to adjust the amount of liquid that's added in these cases since they're lower in fat. Just add liquid slowly until you get the consistency you're looking for.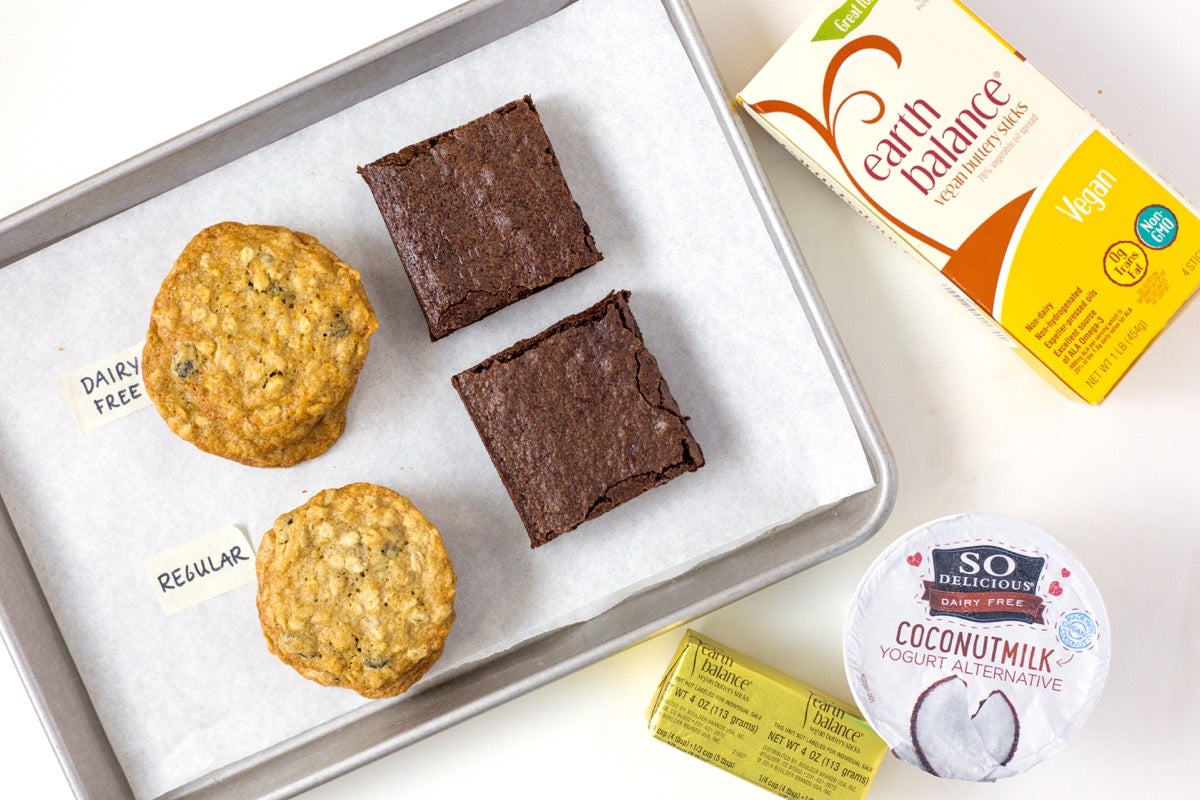 Dairy-free cookies and brownies: Treats everyone can enjoy
Time to invite over family and friends, regardless of dietary restrictions, and treat the crowd to something delicious. (Need to bake gluten-free too? No problem, use our Gluten-Free Measure for Measure Flour in place of the regular flour in your recipe.) And for those who want something a little less sweet, check out our post about making the staples of breakfast dairy-free.
But let's be honest: No day is complete without a little dessert. Now you've got all the tools you need to make some fantastic dairy-free cookies and brownies. Happy baking!
Jump to Comments