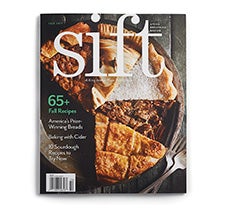 The Fall 2017 issue of Sift magazine features one of our favorite secret ingredients – boiled cider – and the story of a family's effort to preserve this New England tradition.
Wood's Cider Mill sits on a rolling hillside, overlooking a sweeping valley below. Steam billows out of the boil room into the crisp autumn air, where the Wood family has been turning fresh apples into boiled cider for nearly 150 years.
Thicker and darker than maple syrup, boiled cider is made from freshly-pressed apple cider that's transferred to an evaporator (not unlike those used to boil sap), and is heated until it reaches peak viscosity. Its nuanced apple flavor is at once robust and sweet, and varies slightly each season, reflecting the changing qualities of the year's weather, soil, and air.
The cider mill has been a family operation from the start; to this day, owners Willis and Tina Wood's children come from all across the country to help with the harvest. Apples are hand-loaded from a truck parked in the back of their converted sugarhouse, then transferred onto a belt where they're washed, macerated, and then poured onto the press.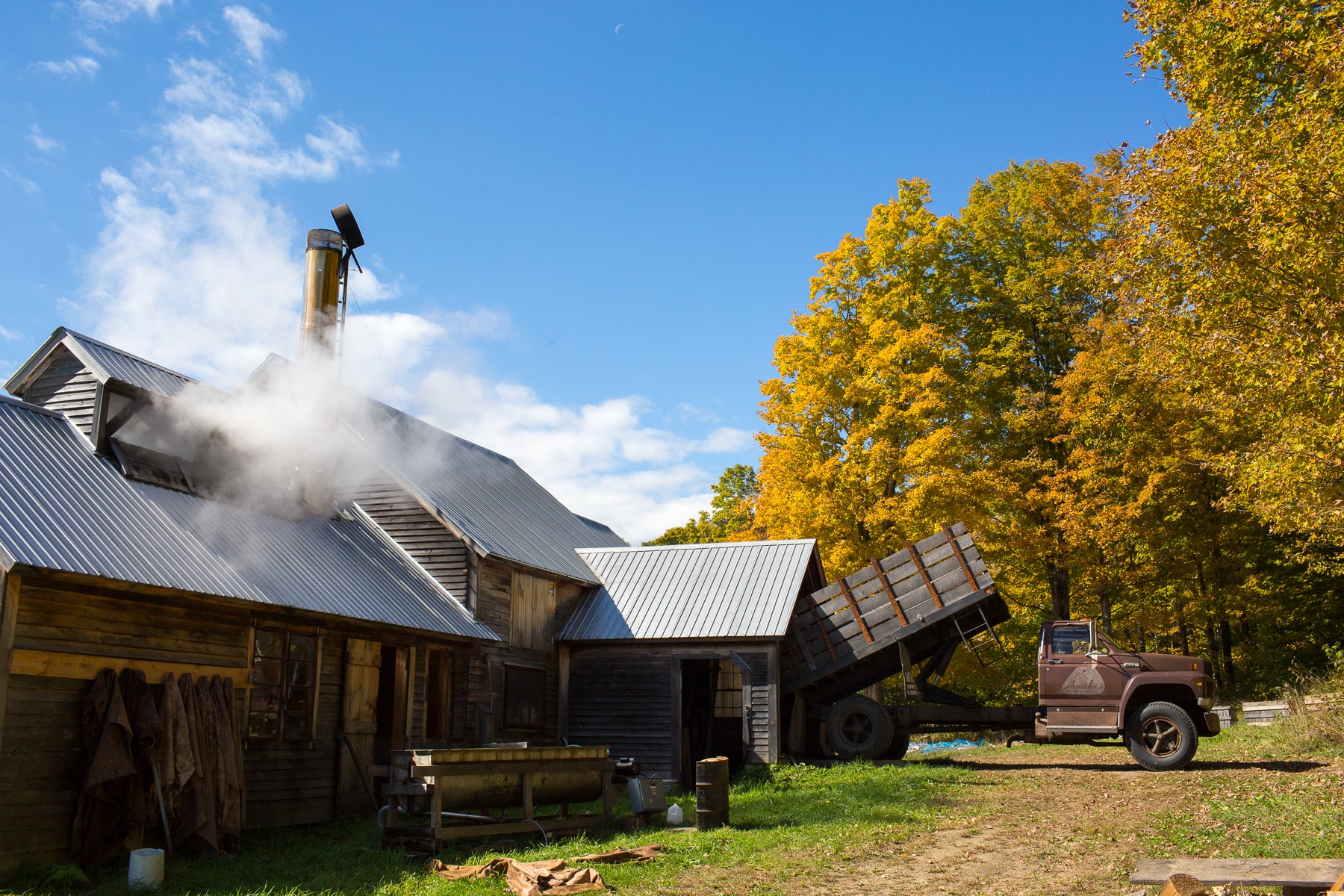 Originally a sawmill, the business was converted into a cider operation toward the end of the 1700s when the logging industry moved west, harnessing the power of water to mill apples instead. Cloths and wooden hydraulic racks sandwich the mashed apples in layers, which are then strained using the original Twin Screw Press that was purchased by the Wood family back in 1882 and has been used ever since.
"Back then, there was no refrigeration," Willis explains, "so once you'd had all the cider and hard cider you could stand, you had two choices [for what to do with the rest] — boil it down, or make jelly preserves."
In Springfield, Vermont alone, there were three cider mills at the turn of the century, but around 1930, demand began to fall. Willis believes that as canned and pre-packaged convenience items began to replace home cooking, the need for specialty ingredients such as boiled cider declined. One by one, cider presses disappeared from towns around New England. When Willis took over the business from his grandfather's 80-year-old cousin, Augustus Aldrich, in 1970, sales of boiled cider were at an all-time low.
"Boiled cider was for 'old-lady cooks,' " Willis jokes. "They'd come and get a bottle because their husband shot a deer and they wanted to make mincemeat with it, or they'd grown up with it, but no one else wanted it."
Then things changed. Fifteen years ago, the interest in home cooking and baking began its resurgence. Access to the internet made specialty ingredients easier to incorporate into everyday cuisine; the demand for cider began to pick up. A new generation of epicures began to appreciate the many uses for boiled cider, beyond its traditional roots.
"You could say it was the millennials," says Willis, "or the boomers retiring – I don't know who's cooking more, but people cooking is what brought back the cider."
Boiled cider's rich, concentrated apple flavor makes it a perfect pairing for many culinary applications: A few tablespoons of it in your favorite apple pie recipe elevates the filling, adding a complexity that the fruit alone can't achieve. Its syrupy tang is an ideal sweetener for homemade muffins, and cocktail aficionados can turn to it as a flavorful replacement for sugar, adding nuance to autumn-inspired drinks.
Today, there are only two companies in Vermont making boiled cider commercially, and the Wood family is widely credited with keeping the tradition alive.
"There's some reason to change with the times, and there's some reason to stay the same and cross your fingers," says Willis. As boiled cider regains popularity, and bakers and cooks discover its potential, we'll all be glad that the Wood family chose to take their chances, preserving this beloved-once-more regional food tradition.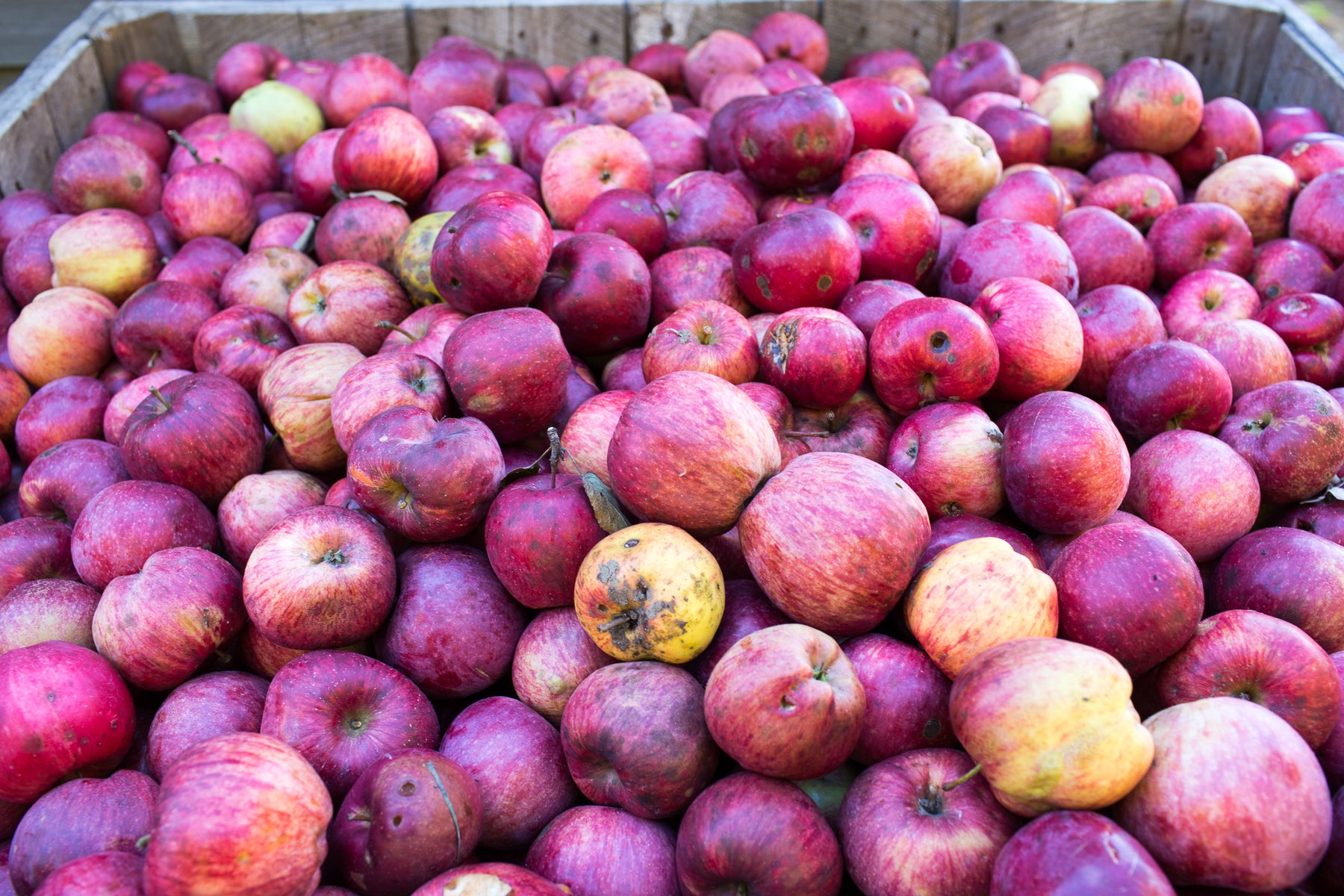 10 fresh ideas for boiled cider
Boiled cider is so much more than a baking ingredient. Once you get to know it for the flavor powerhouse it is, you'll find hundreds of ways to use it to amp up your recipes. Here's a small sampling of ways we like to cook with it, courtesy of fellow employee-owner Susan Reid.
Roasted root vegetable glaze
Toss diced parsnips, squash, rutabagas, carrots, turnips, and Brussels sprouts with 2 tablespoons each boiled cider and olive oil. Season with salt and pepper and roast on a parchment-lined baking sheet until the vegetables are tender and the edges are browned.
Cider vinaigrette
Whisk together 2 tablespoons boiled cider, 1 tablespoon cider vinegar, 1 tablespoon minced shallots, 1/2 teaspoon mustard, salt, and pepper to taste along with 3/4 cup sunflower oil or mild olive oil. Excellent on grain or spinach salads.
Cocktails
Boiled cider's deep, concentrated flavor makes it an excellent mixer in all kinds of cocktails. Add it to your next Cape Codder for a cran-apple touch. Make a cider Moscow Mule, or add some boiled cider to your next batch of hot buttered rum, stirred with a cinnamon stick.
Cider-mustard meat glaze
Combine 1/4 cup each boiled cider and whole-grain mustard. Brush over pork tenderloin or chops when roasting.
Boiled cider sweet potatoes
When mashing your next batch of sweet potatoes, add 2 tablespoons boiled cider with the butter, salt, and pepper for an extra dash of flavor.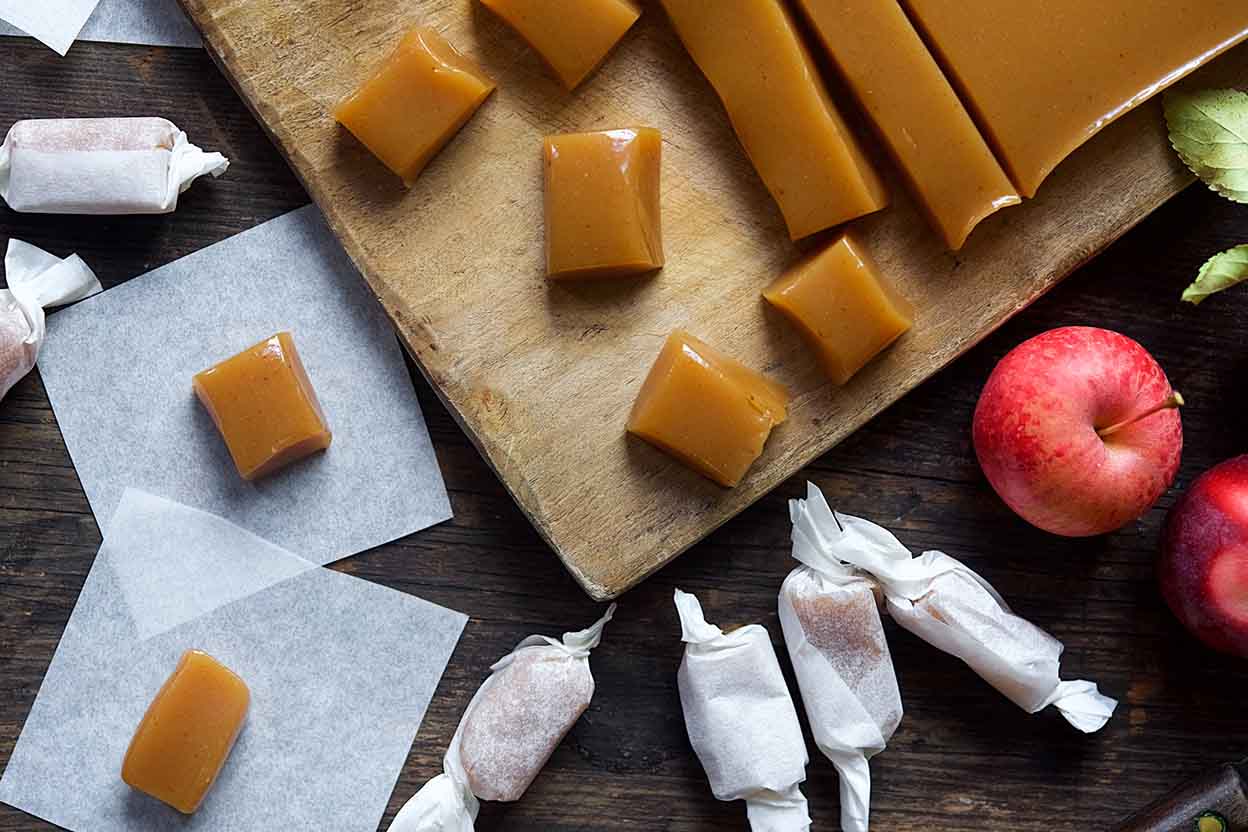 Cider caramels
Apple pie meets caramel in these soft, chewy candies. When wrapped in parchment they're the perfect homemade treat to hand out on Halloween. The full Apple Cider Caramels recipe comes together in just 35 minutes.
Cider-cranberry chutney
Simmer together one 10-ounce bag of cranberries, 1/2 cup diced onion, 2 tablespoons minced fresh ginger, 1/2 cup sugar, 1 teaspoon red pepper flakes, 1/4 cup cider vinegar, and 1/4 cup boiled cider until the cranberries collapse and the mixture thickens. Spread on turkey sandwiches or sliced ham.
Cider syrup
Melt 1/4 cup butter with 1/4 cup brown sugar, a teaspoon of cinnamon, and 1/2 cup boiled cider. Stir until the sugar is dissolved. Pour over pancakes or waffles.
Soups and stews
Add a splash of boiled cider to your next batch of squash-and-ginger soup or chicken curry for a touch of rich apple flavor.
Cider drizzle
Whisk together 2 cups confectioners' sugar, 2 tablespoons boiled cider, and 1 tablespoon heavy cream (add more if needed for consistency) for a quick and tasty glaze to drizzle over cookies, cinnamon rolls, coffeecake, or muffins.
To make any of these tasty options and add more rich apple flavor to your baking, order your bottle of boiled cider today. 
Jump to Comments