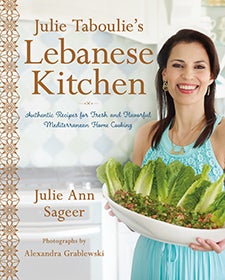 With the debut of her first cookbook, we invited Julie Ann Sageer, host of the Emmy-nominated PBS show Cooking with Julie Taboulie, to share one of her family's favorite breads. Her recipe for Mediterranean Khebez Arabi transforms a versatile yeasted dough into a light and airy pocket bread. We'll let Julie take it from here. — Edit.
In Lebanese cuisine and culture, bread is considered "the breath of life." For centuries, my culture has been making, baking, and sharing bread with family, friends, and neighbors – for bread is believed to be the body, a symbol of peace that brings people together and around the table. Thankfully for me, my maternal grandmother and my mother are master bakers, and have passed along authentic recipes like Khebez Arabi, which I am now gratefully able to share with you.
My new cookbook, Julie Taboulie's Lebanese Kitchen, includes a chapter dedicated to the traditions of making and baking bread the Lebanese way. Today, I am offering two of the most important and introductory recipes.
The first is ajin, my all-purpose yeasted bread dough. I would consider this the "mother recipe" in my repertoire, upon which many of my other recipes are built: from my savory dough pies and pastries to my succulent stuffed turnovers and delectable dumplings.
The other recipe that I am sharing with you is Khebez Arabi, my thin pocket bread. After you have made a beautiful batch of ajin, I'll show you how to transform it into large dough rounds, and then bake it into puffy pocket bread that you can boast about!
Ready, set, and get ready to bake the Lebanese way.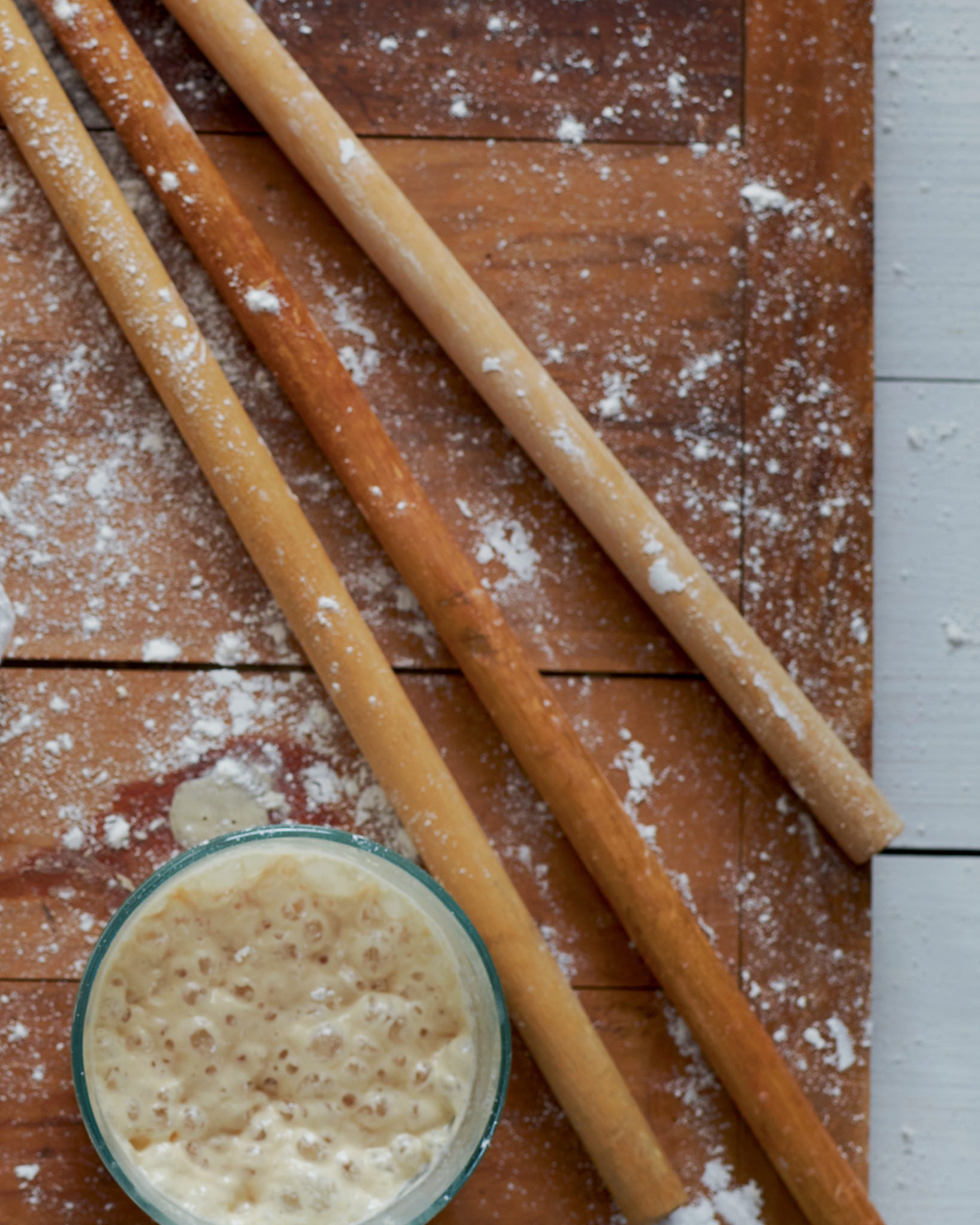 Preparing the ajin
When I think of ajin, which means "dough" in Arabic, I immediately think of my mother. Since I was a little girl, I grew up to the sights and smells of this heavenly dough surrounding me while my mother would be baking away.
Every Sunday for as long as I can remember, I've seen my Mama making this dough in the biggest stainless steel mixing bowl you can imagine. In one sitting, she'll make up to fifteen pounds of ajin for use in all of our family's favorite bread dishes, like Manoush (breakfast dough pies), Fatayer (triangular stuffed spinach and meat pies), and, of course, Khebez Arabi (Arabic pocket bread). There are just so many wonderful things you can make with ajin, and lucky for you, I've got a lot of ideas!
Let's get started. Gather your ingredients:
1 teaspoon active dry or instant yeast
1 teaspoon sugar
5 cups (21 1/4 ounces) plus 1 teaspoon King Arthur Unbleached All-Purpose Flour
1 to 2 teaspoons fine (not coarse-grain) sea salt*
1 3/4 cups (14 ounces) lukewarm water, divided; bottled spring water preferred
2 tablespoons plus 1 teaspoon (1 ounce) extra-virgin olive oil
*Editor's note: Why the large range in salt? Julie's original recipe calls for 1 teaspoon salt; but Americans tend to like saltier foods, and 2 teaspoons salt produces bread that's more in line with American tastes.
In a small bowl, combine the yeast, sugar, 1 teaspoon of the flour, and 1/4 cup of the lukewarm water. Mix thoroughly and set aside at room temperature to rise for about 5 to 10 minutes. Once the yeast begins to foam and small bubbles form on the surface, it's ready.
While waiting for the yeast to foam, place the remaining 5 cups of flour into a large mixing bowl and add the salt. Working in a circular motion, thoroughly mix in the salt with your fingers.
Make a deep hole in the center of the flour and add the 2 tablespoons of olive oil, the remaining 1 1/2 cups of water, and the yeast mixture. Mix everything loosely together with your hands, starting from the outside of the bowl and working your way into the center.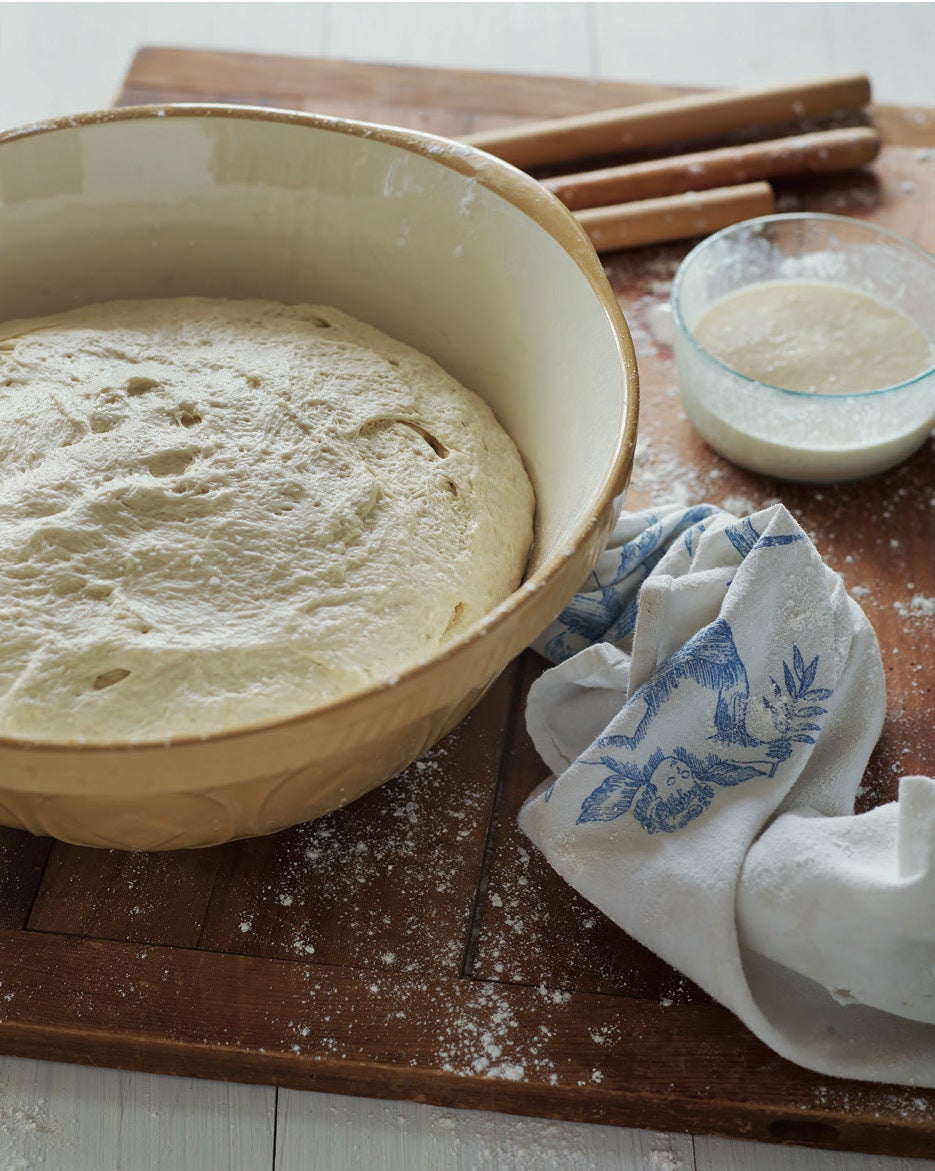 Knead the dough by punching and rolling into it with your fists, then flipping the dough over and repeating the process. The dough should be moist but not too sticky. If it's too dry, add more lukewarm water by the teaspoon; if too wet, add a bit more flour by the teaspoon. Once the dough is soft and bounces back when you press a finger into it, it's ready.
Pour the remaining 1 teaspoon olive oil into the bottom of a large bowl, and roll the dough in the oil until it's completely coated.
The temperature of your kitchen is an important factor in this recipe. If it's colder, it will take longer for the dough to rise; if warmer, it'll take less time. The rising time can vary between 1 and 2 1/2 hours.
If you're using the dough within about 2 1/2 hours: Securely seal the bowl with plastic wrap, leaving plenty of space at the top for the dough to rise. Cover with a large clean kitchen towel. When the dough has doubled in volume, it's ready to use.
If you're not using the dough within 2 1/2 hours, but within a couple of days: Cut the dough in half, place each piece in a roomy plastic bag, and refrigerate. When you're ready to bake, remove the dough from the refrigerator and allow it to rest at room temperature for 1 hour before using.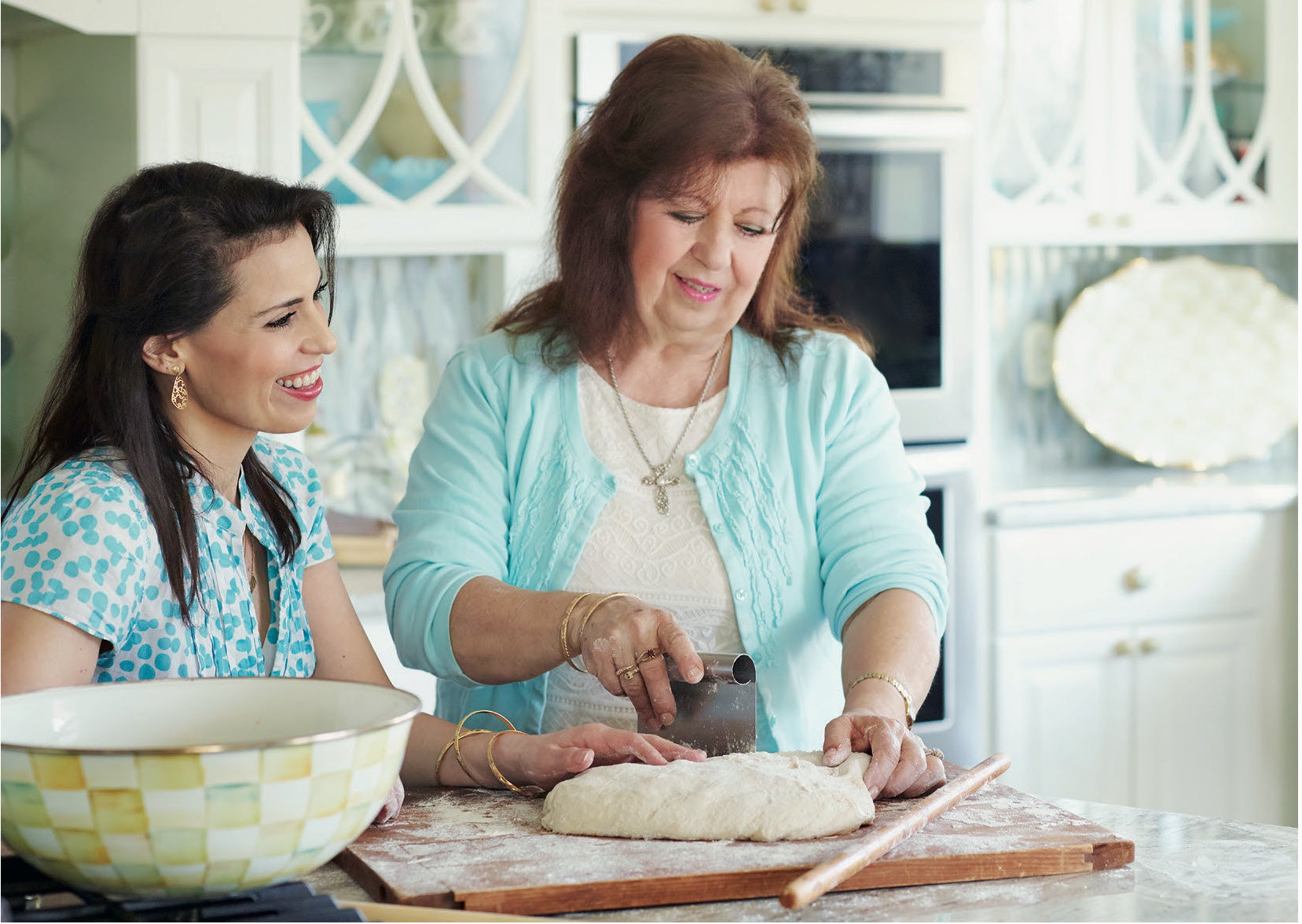 Shaping the Khebez Arabi
Khebez, which means "bread" in Arabic, is an irreplaceable part of Lebanese cuisine and culture. It's so important to our rich culinary heritage that if you accidentally drop some on the floor, you must immediately pick it up and kiss it to let God know how highly you regard it.
The Lebanese version of pita bread, khebez, often replaces utensils — who needs a fork, knife, or spoon when you can scoop up spreads, salads, stews, and meat dishes with warm, fluffy pocket bread? To enjoy Lebanese food is to enjoy khebez.
Once your ajin is ready to go, preheat the oven to 500°F. Before you begin to roll out the dough, place two to four baking sheets (as many as you can fit) into the heating oven.
Lightly flour a work surface and place the dough in the center, sprinkling a little flour on top. Using a sharp knife or bench knife, cut the dough into two halves, then cut each half into quarters for a total of eight pieces.
Working with one piece of dough at a time, pull the edges of the dough downward to create a smooth top surface, tucking the edges underneath. Roll the resulting ball between the palms of your hands to smooth it out. Repeat with the remaining dough pieces.
Place the dough balls on a lightly floured surface and allow them to rest for 10 to 15 minutes, covered; this will make them easier to roll.
Again working with one ball at a time, stretch it into a smooth, flat circle, making sure not to pull so hard as to create holes. Place the circle on the floured work surface and roll it 1/4" thick, about 8 1/2" wide. Repeat with the remaining pieces of dough.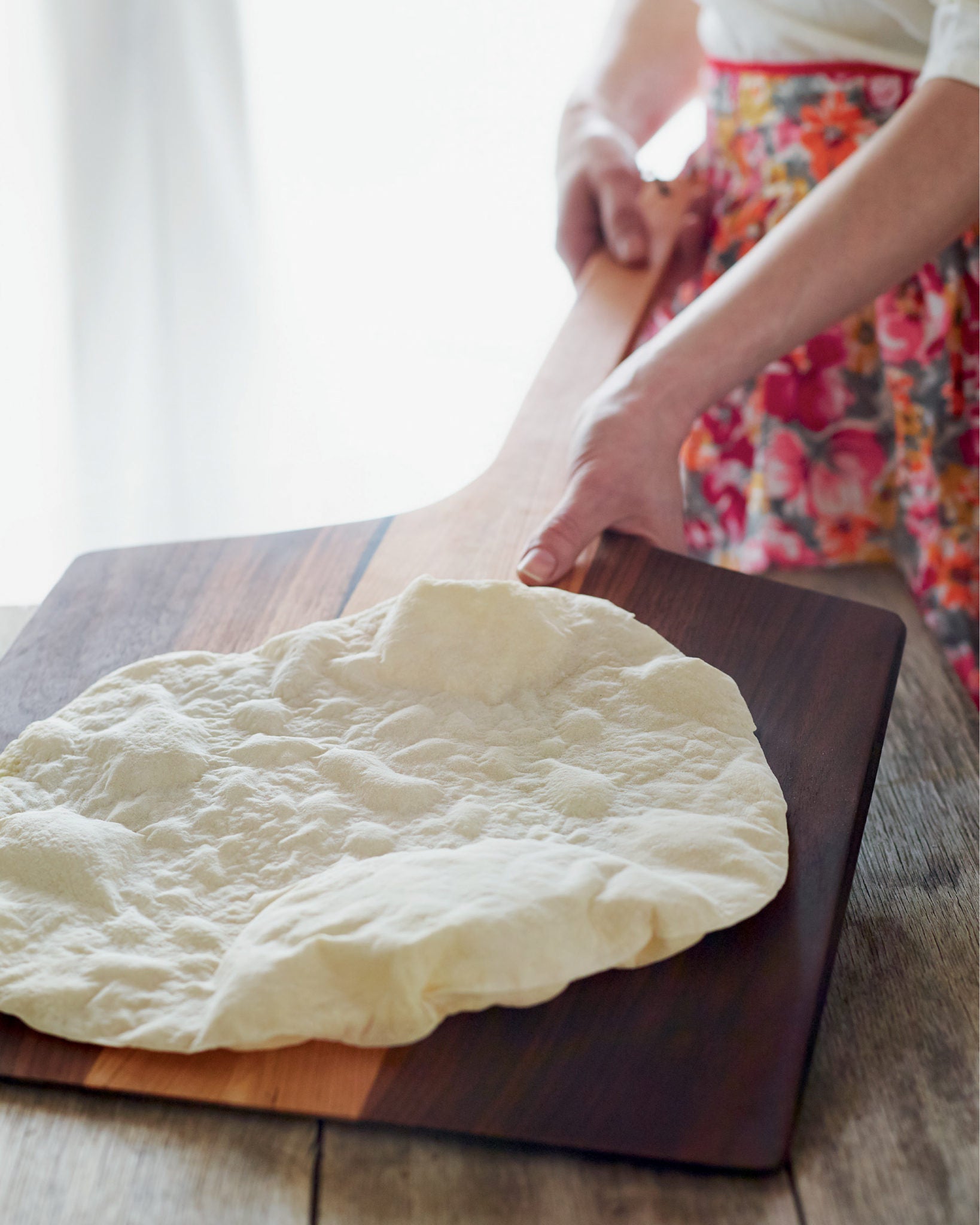 Into the oven
Carefully place two dough rounds onto one of the hot baking sheets, and place on the center rack of the oven.
Bake for 5 to 7 minutes, until the dough puffs up and turns light golden brown. Remove from the oven and immediately transfer the breads to a rack; cover with a clean kitchen towel to retain the heat.
Serve the khebez hot out of the oven or warm.
Takloull bil' hanna – eat in happiness!
Our thanks to Julie for sharing this recipe. One note: If you read the recipe in Julie's book, you'll notice that her ajin calls for 4 cups of flour, while we call for 5 cups here. The difference is strictly in how different people measure flour by volume; some pack it into the cup, some sprinkle it in gently. The easiest way to get good results consistently is to measure by weight. To make a soft but workable ajin dough, you need about 21 ounces of flour for the 14 ounces water in the recipe.
Photographs copyright by Alexandra Grablewski. Reprinted with the permission of St. Martin's Press.
Jump to Comments