How to make Norwegian lefse
A family recipe lives on(line)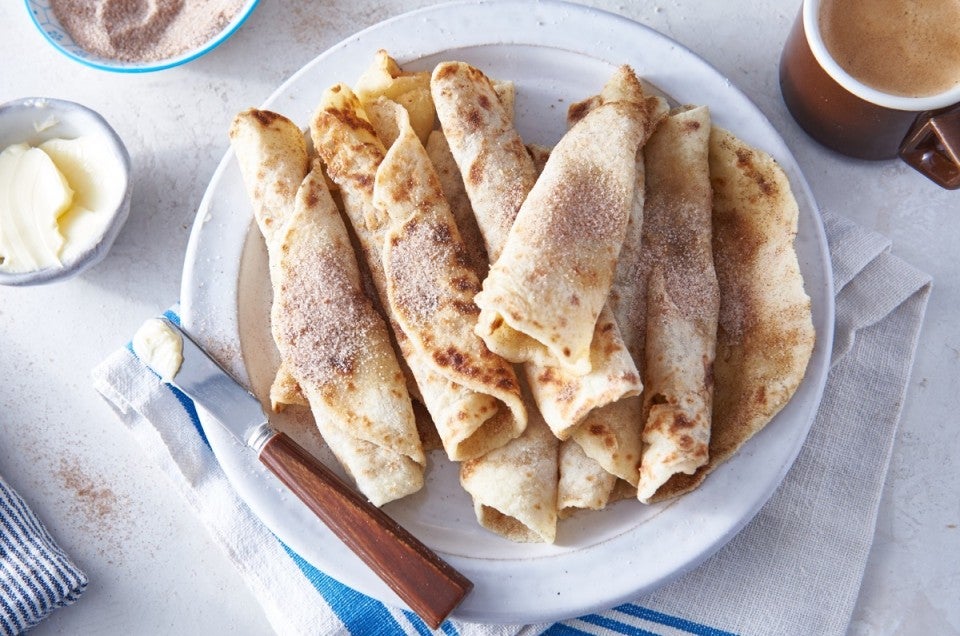 What's your favorite recipe in the whole world?
If you're a baker, visions of cake, bread, cookies, and pie probably just flooded your mind. "Let's see, is it the strawberry cake Mom baked for my birthday every year? Or maybe those crazy macadamia chocolate chip cookies my roommate and I made and sold in college …"
Notice the connection: Your best-loved recipe is accompanied by happy memories, its history as familiar and comfortable as a favorite pair of jeans. When you bake a treasured family recipe from a tattered index card, you're not just baking cake; your grandma or dad is standing beside you, guiding your hands as you measure and stir, scrape and pour. 
Every recipe has a story. And it's one that goes far beyond a list of ingredients and what to do with them. 
All of us at King Arthur, young and old, carry certain recipes in our heart. And many of those special recipes appear on our website — now 2,000+ recipes strong and growing steadily.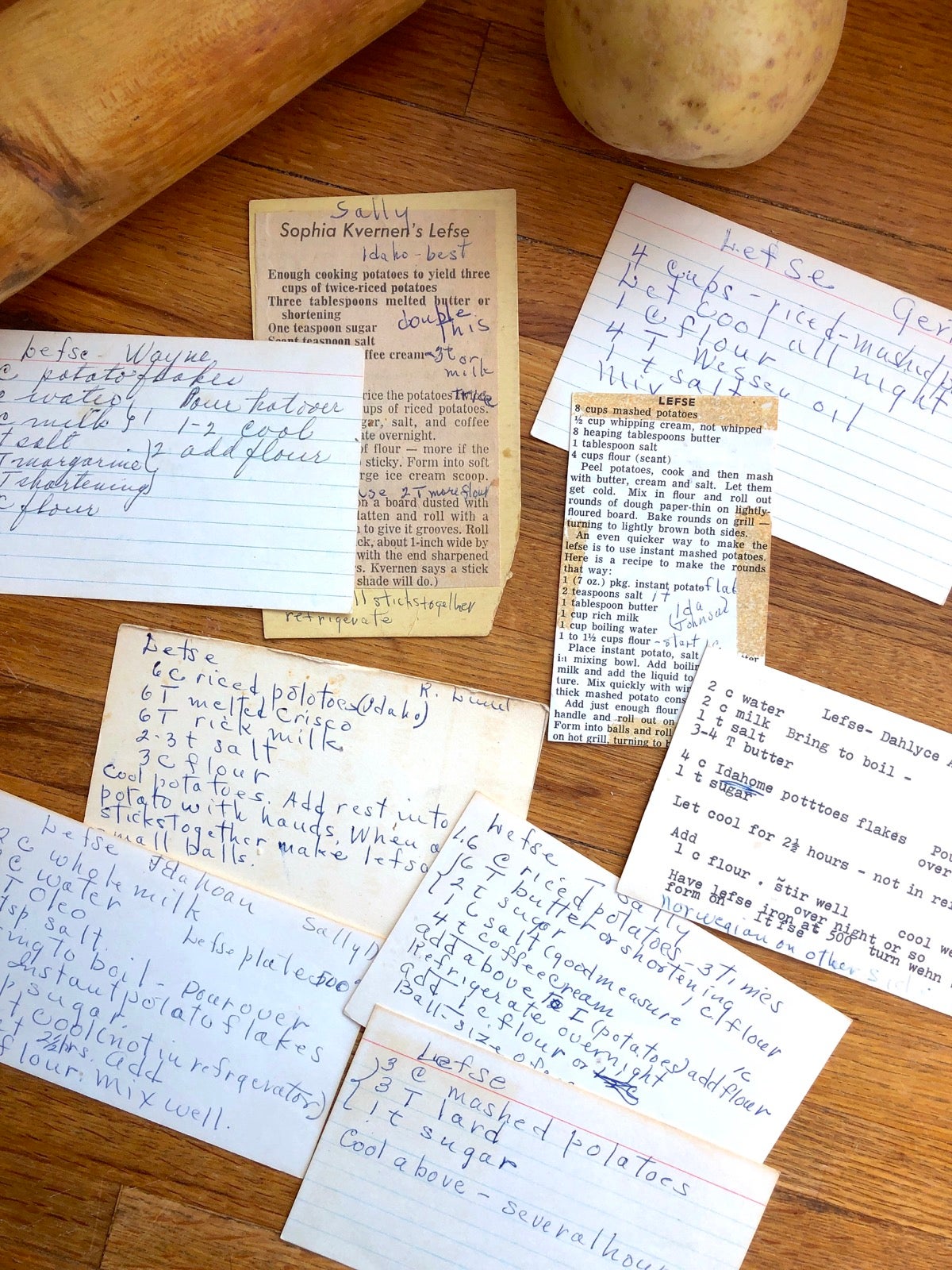 For instance, Lefse (a.k.a. Norwegian Potato Flatbread). This recipe for Norway's signature comfort food was inspired by my grandmother, a rural Wisconsin schoolteacher who learned to make it from her mother, a Norwegian immigrant.
How well do I remember Grandma standing at the worn enamel counter in her comfortable old kitchen deftly rolling out lefse and flipping them into her well-seasoned cast iron frying pan ...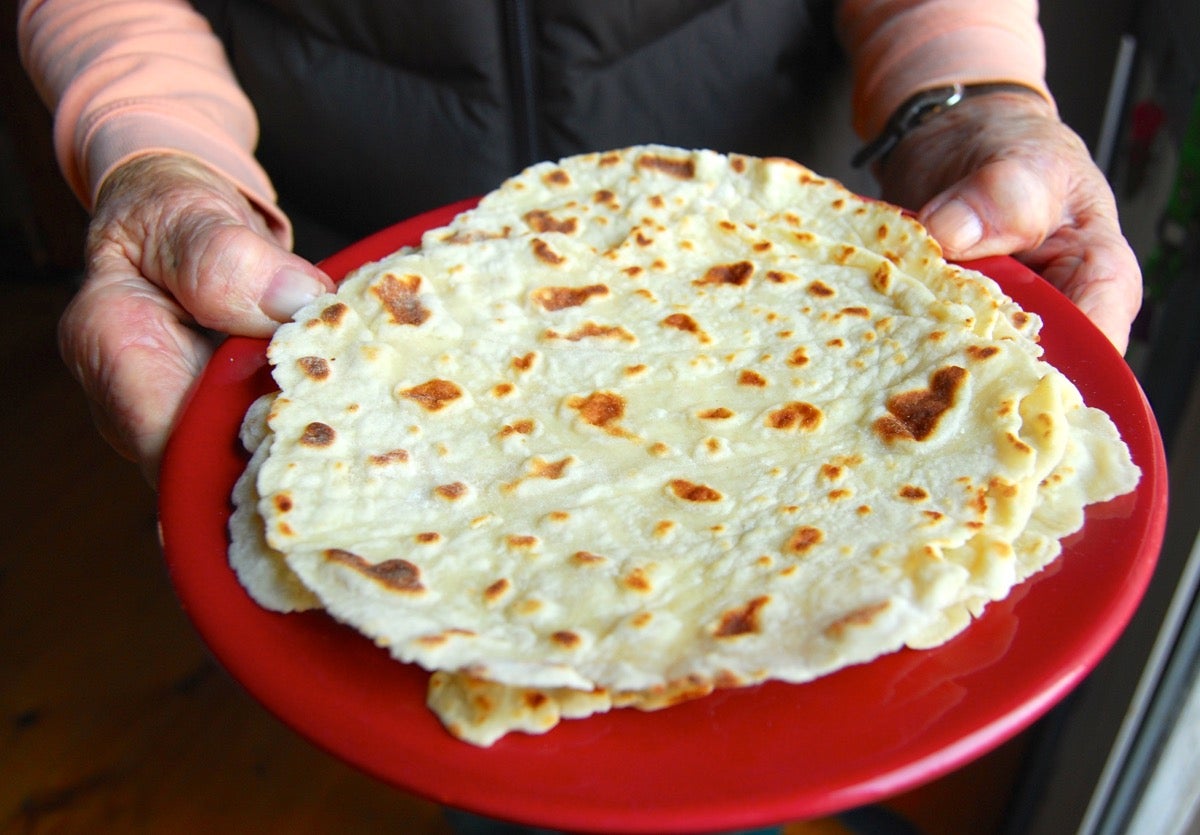 My mom learned the art of lefse-making from her mother. Then, after years of me watching, Mom passed the torch to me. As she entered her 90s and arthritis gradually claimed her hands, Mom taught me the secrets of lefse: how big to make the balls of dough, how thinly to roll them, when to take them off the griddle.
Mom is gone now and, sadly, I have no one in my family interested in carrying the tradition forward. But thanks to the King Arthur recipe website, my family's lefse won't die with me but will live on: in the kitchens and hearts of those who read, make, and share this special recipe with their own family and friends.
An evolutionary lefse recipe
This recipe has gone through many incarnations over the years, and what's written below is where it currently stands. My grandma's "a little of this, a little of that" has been translated to specific amounts for the modern baker and, if I didn't quite nail her 1930s version, this is a tasty approximation. 
1 3/4 cups (269g) peeled and cooked boiling potato*, riced or mashed
1/3 cup + 4 teaspoons (53g) King Arthur Unbleached All-Purpose Flour, divided
2 tablespoons (28g) butter, softened
2 tablespoons (28g) milk, half and half, or cream
scant 3/4 teaspoon salt
1 teaspoon sugar
*Yukon Gold, chef's, white potatoes, or other boiling potatoes (rather than russet or baking) are the best choice here.

Mix your ingredients
Stir together the hot riced or mashed potatoes, 4 teaspoons (10g) of the flour, the butter, cream or milk, salt, and sugar, mixing gently just until well combined. The hot potatoes should melt the soft butter, so you shouldn't have to stir for very long.
Cover the mixture and refrigerate it for several hours, or overnight. This will make the lefse easier to roll out.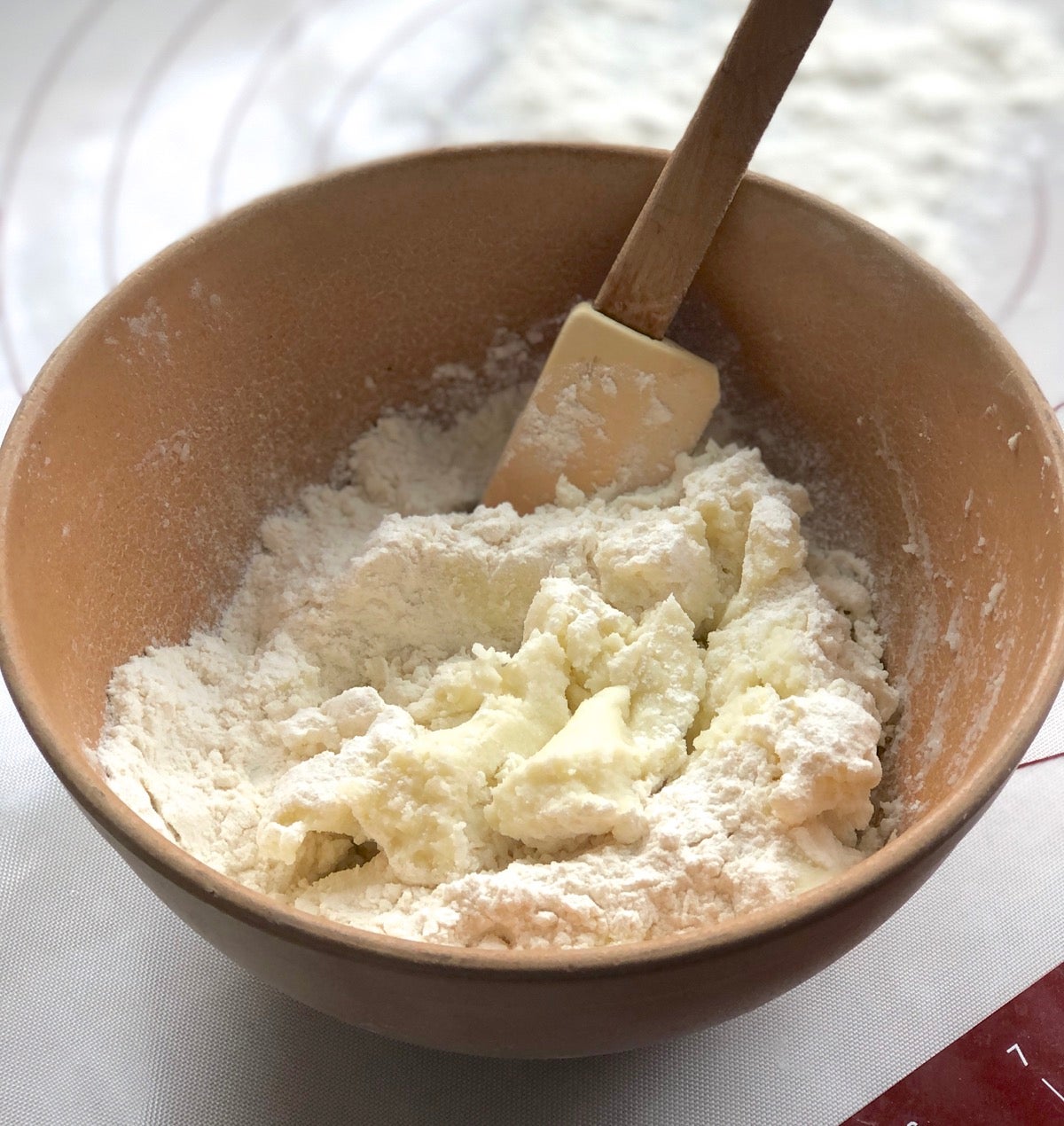 Remove the chilled dough from the refrigerator, and gently (but thoroughly) stir in the remaining 1/3 cup (43g) flour.
Preheat a griddle to about 375°F, or preheat a skillet over medium heat. No butter or oil are needed for the pan; you're going to dry-fry the lefse.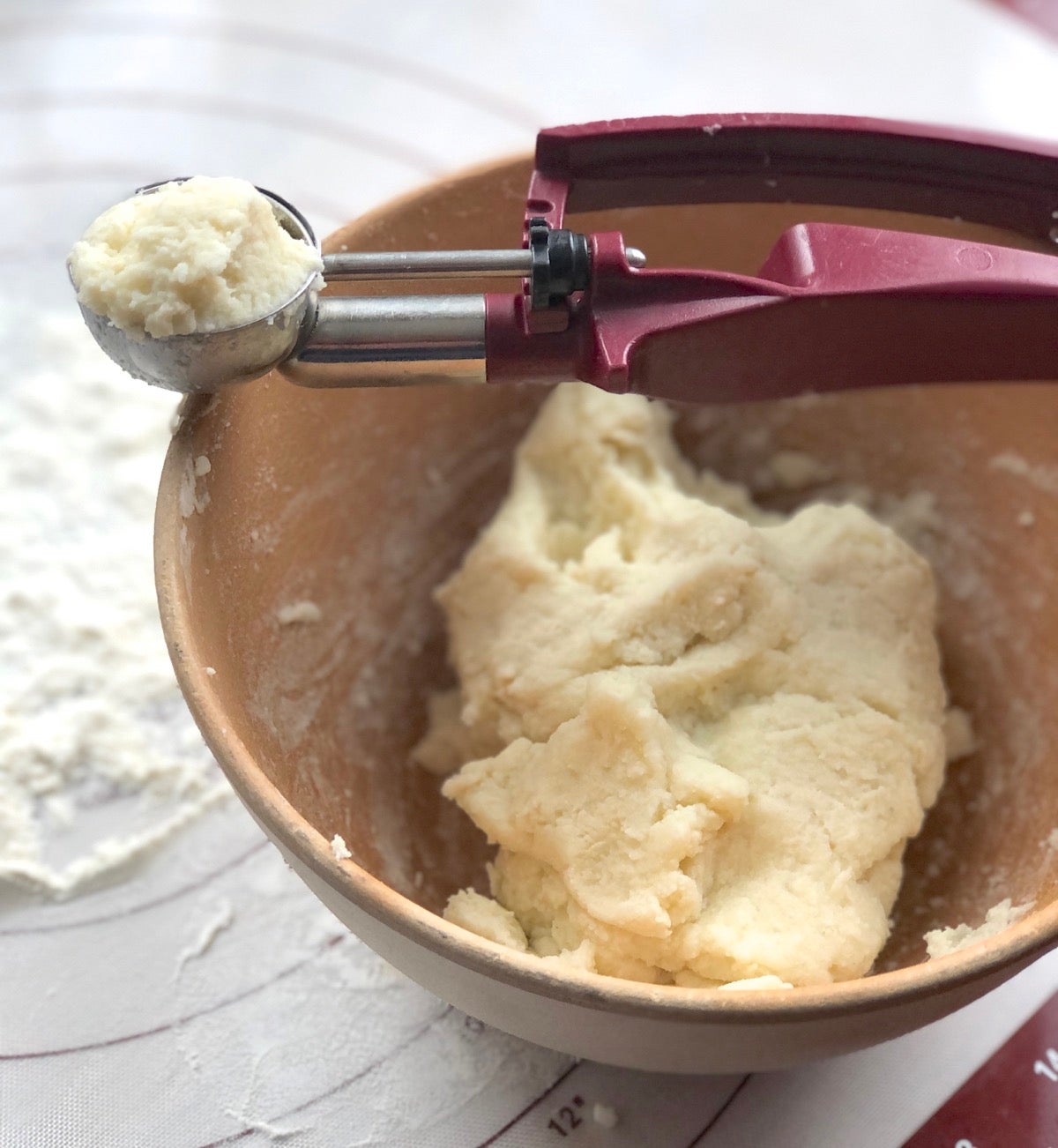 Roll the dough
Divide the dough into 12 pieces; each will weigh about 30g.
Working with one piece of dough at a time, quickly and gently roll it into a ball, then place it on a well-floured work surface or rolling mat.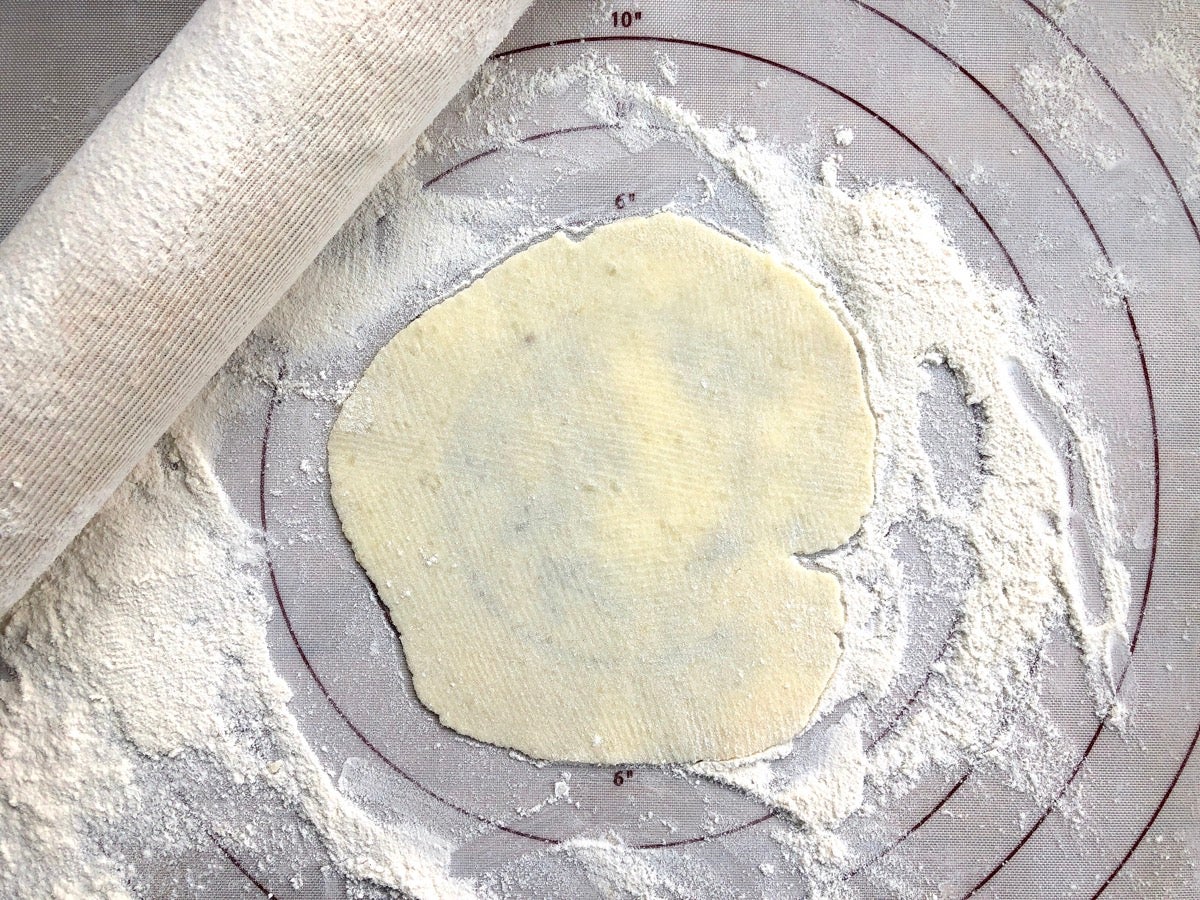 Pat it into a 4" circle, then use a few quick, gentle strokes to roll it to about 6" in diameter, about 1/16" thick.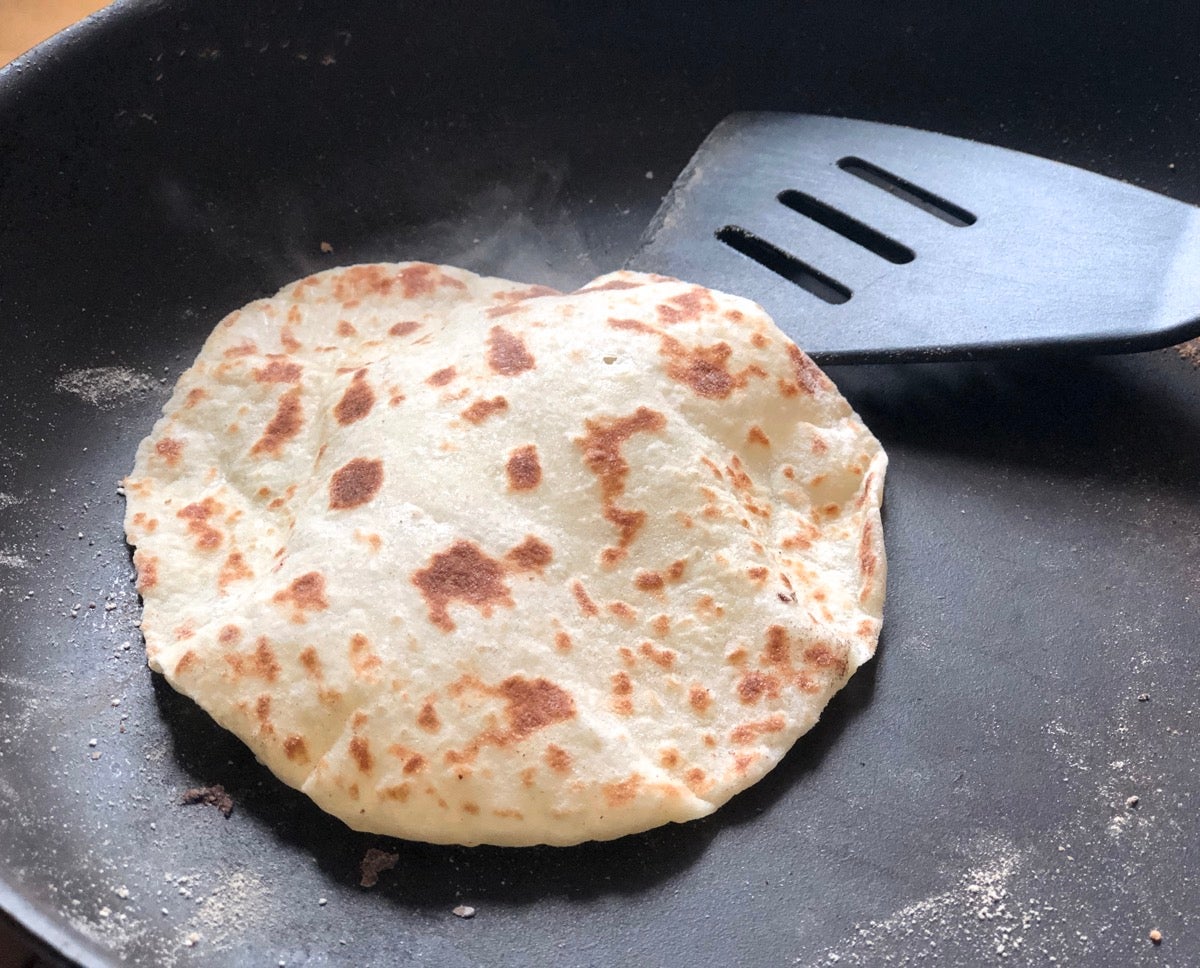 Cook the lefse
Place the lefse onto the griddle or into the skillet.
Cook on one side until speckled with brown spots; this should take about a minute. If it's longer or shorter than that, adjust the griddle's heat. Flip the lefse over, and cook the other side until it's flecked with brown, about 1 minute. Transfer the cooked lefse to a parchment-lined baking sheet, cutting board, or large serving plate.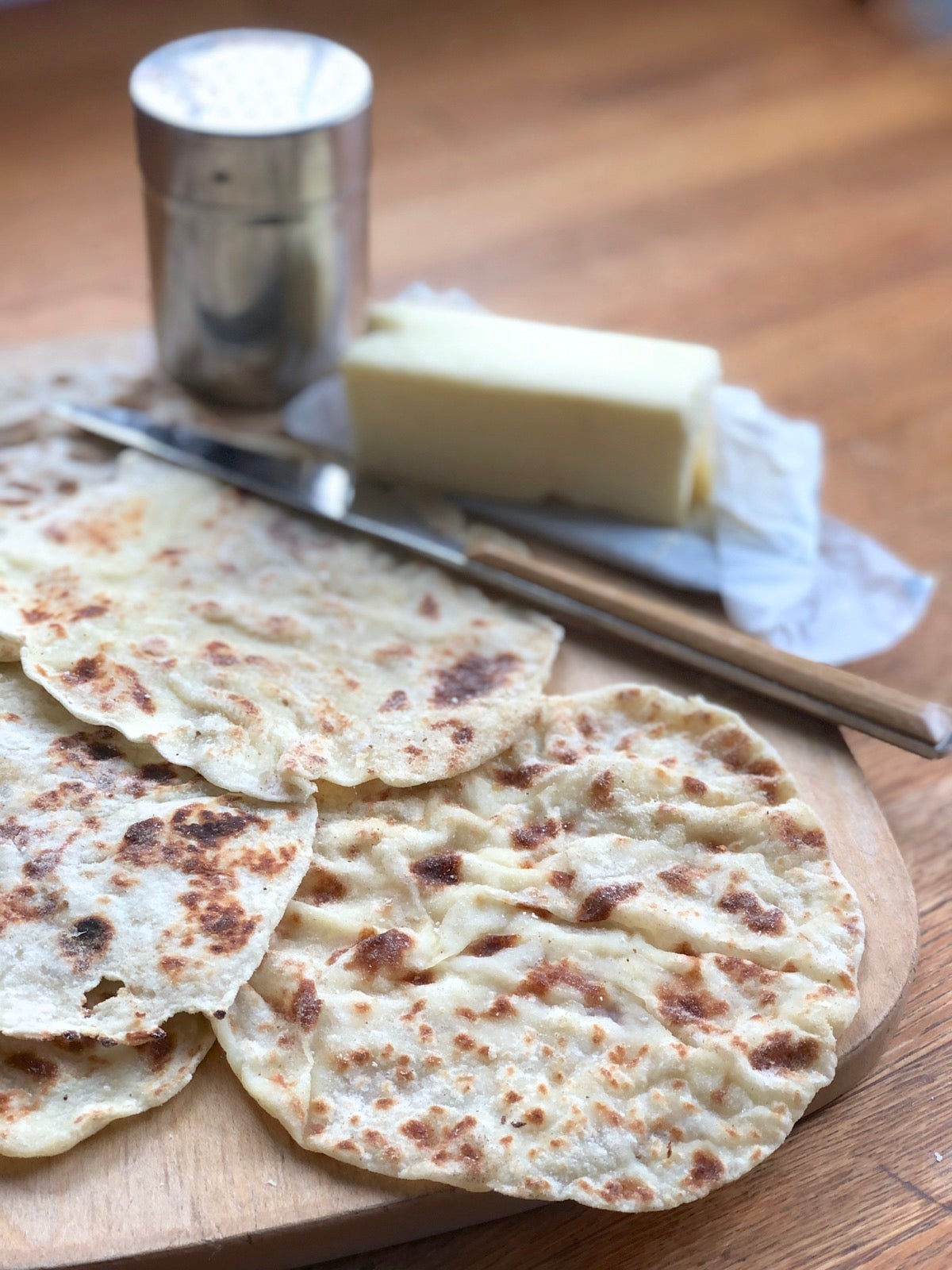 Repeat with the remaining dough, fanning the cooked lefse out so they don't stick to one another as they cool.

Butter, sugar — enjoy!
Serve lefse warm or at room temperature, spread with softened butter and rolled into a cylinder or folded into quarters. Add sugar or cinnamon sugar for a sweet treat.
While in my family lefse was always a cinnamon-sugar thing, in Norway lefse is often served with savory fillings, like smoked salmon and cream cheese, diced onion and sour cream, or cured meat and mustard. If you're adventuresome, give it a try!
Store any leftover lefse flat, wrapped in plastic, for several days at room temperature; freeze for longer storage.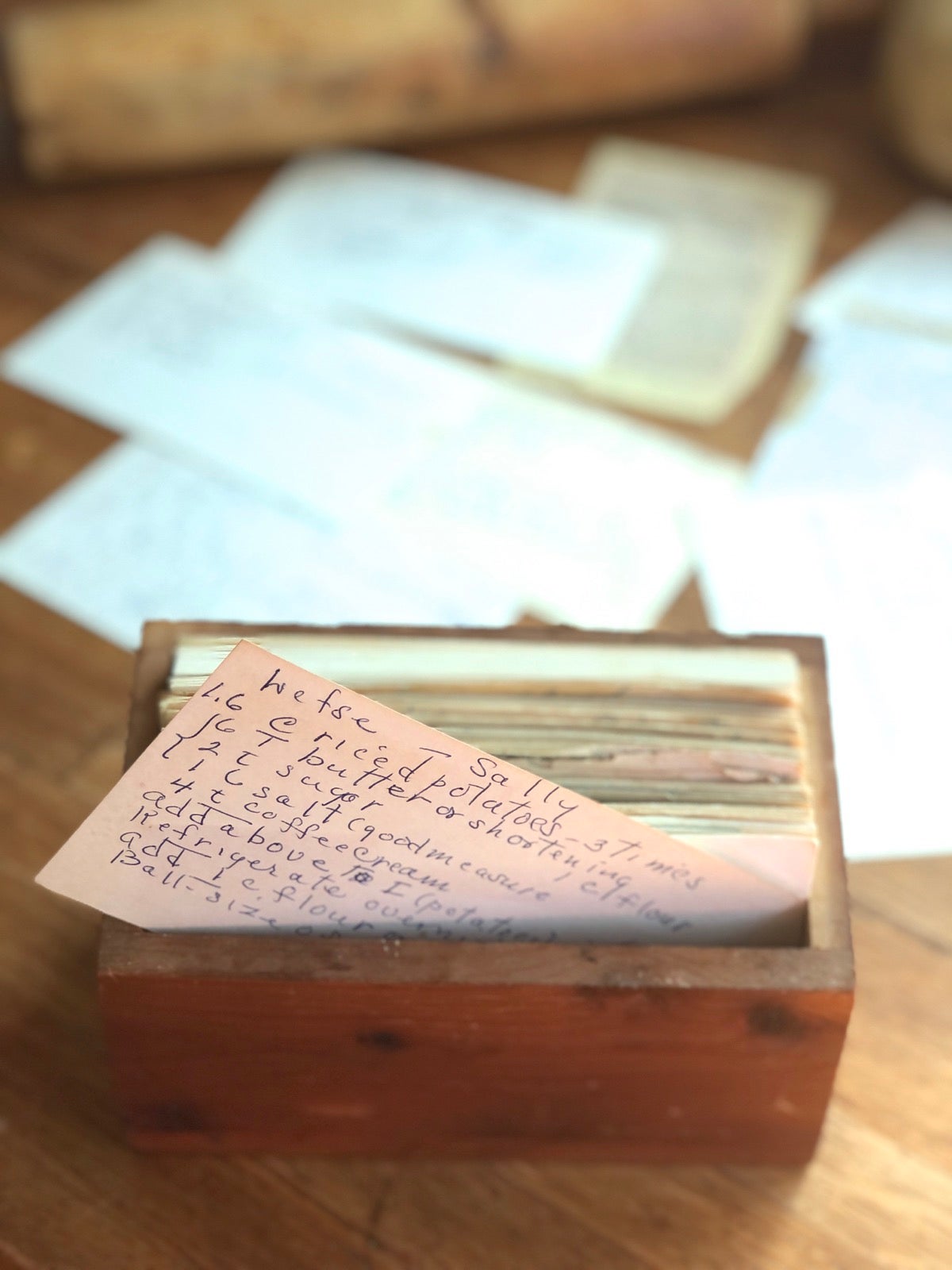 Family tips
Trial and error have taught me a few things over the years. Check out these tips designed to make your lefse-making as seamless as possible.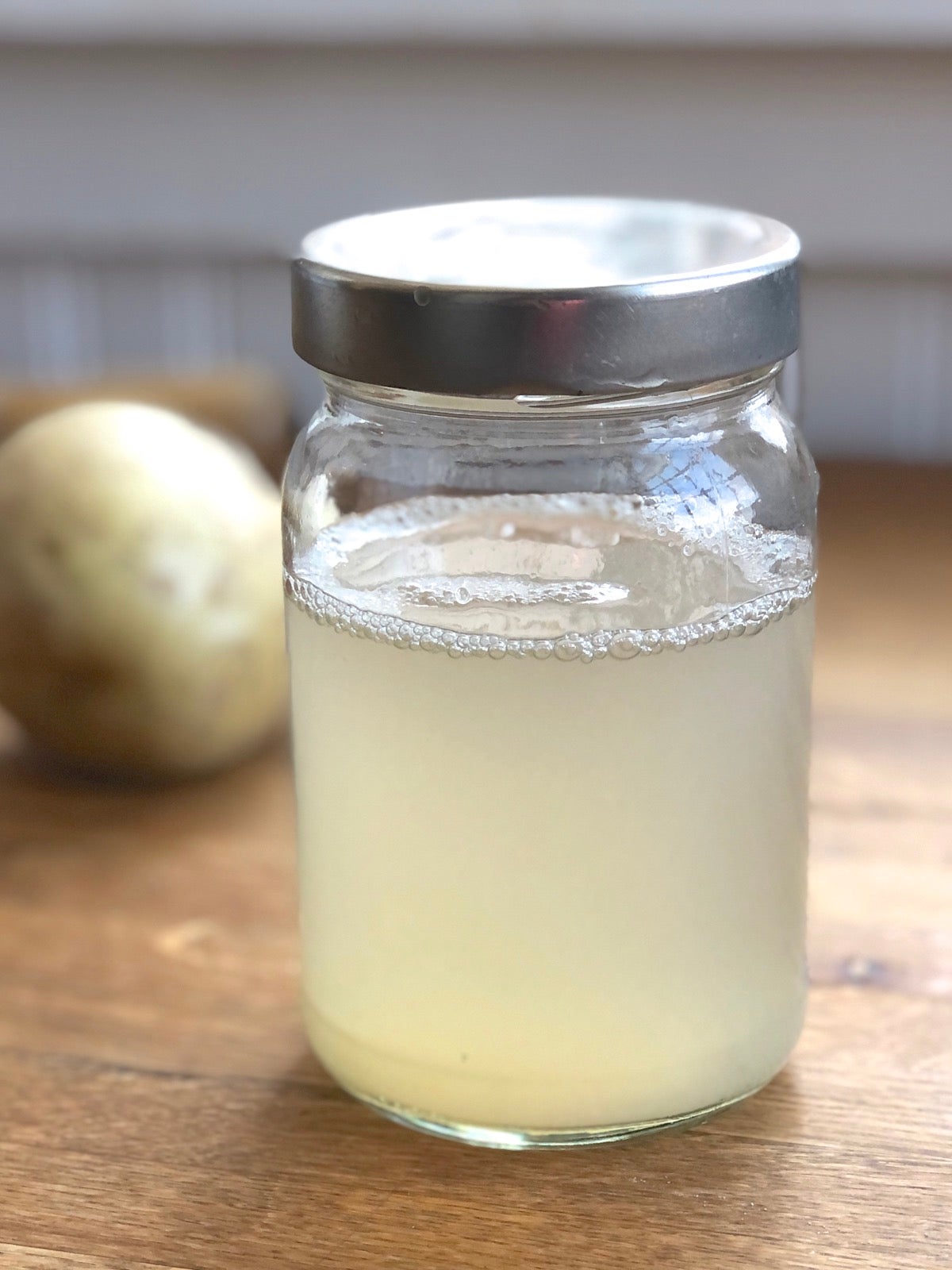 Save the potato water: When draining your boiled potatoes prior to ricing or mashing, save the starchy water. It's wonderful in any soft roll or pan bread recipe (e.g., Potato Bread) calling for water as its liquid: the starch will increase your bread's softness and extend its shelf life. 
Potato water will stay fresh in the fridge for a few days; longer than that, just freeze it until you're ready to bake.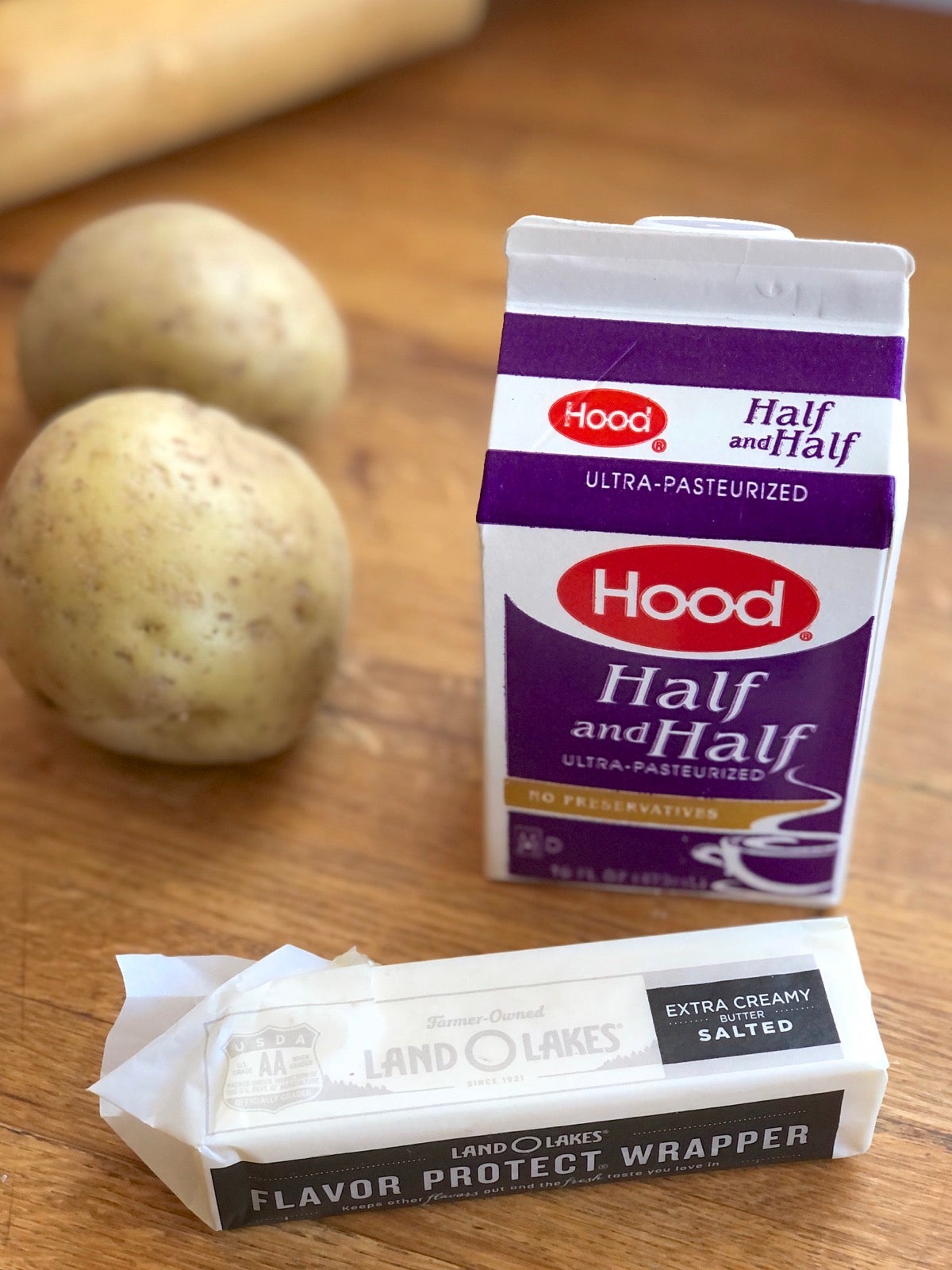 Don't dial back the fat: My grandma's lefse was made using rich Wisconsin dairy products; in her honor I drop my usual lower-fat choices for full(er)-fat options. Can you make lefse with skim milk, and cut back the butter? Sure; it just won't be the lefse I'm describing here. 
How about retrofitting lefse to be gluten-free and/or dairy-free/vegan? Yes again. Substitute our Gluten-Free Measure for Measure Flour, and/or a vegan fat and vegetable-based "milk." As they say, results may vary.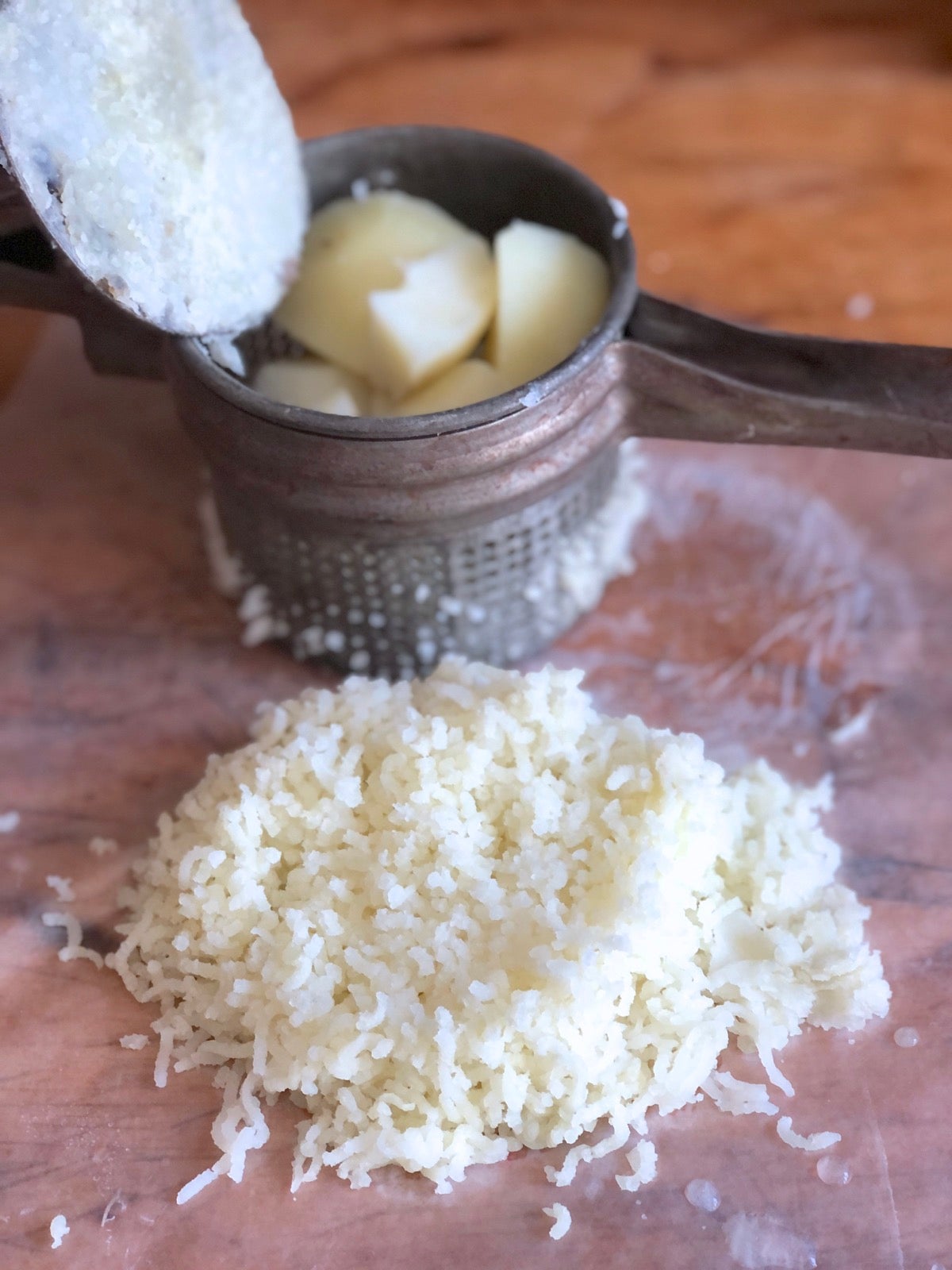 Why put the hot potatoes through a ricer rather than mash them? Family legend has it that your resulting lefse will be lighter and more delicate using riced potatoes. If you don't have a ricer or food mill, mash your unseasoned potatoes thoroughly, so no lumps remain. An old-fashioned potato masher is preferable to an electric mixer, as whipping potatoes at high speed can make them gluey and harder to work with.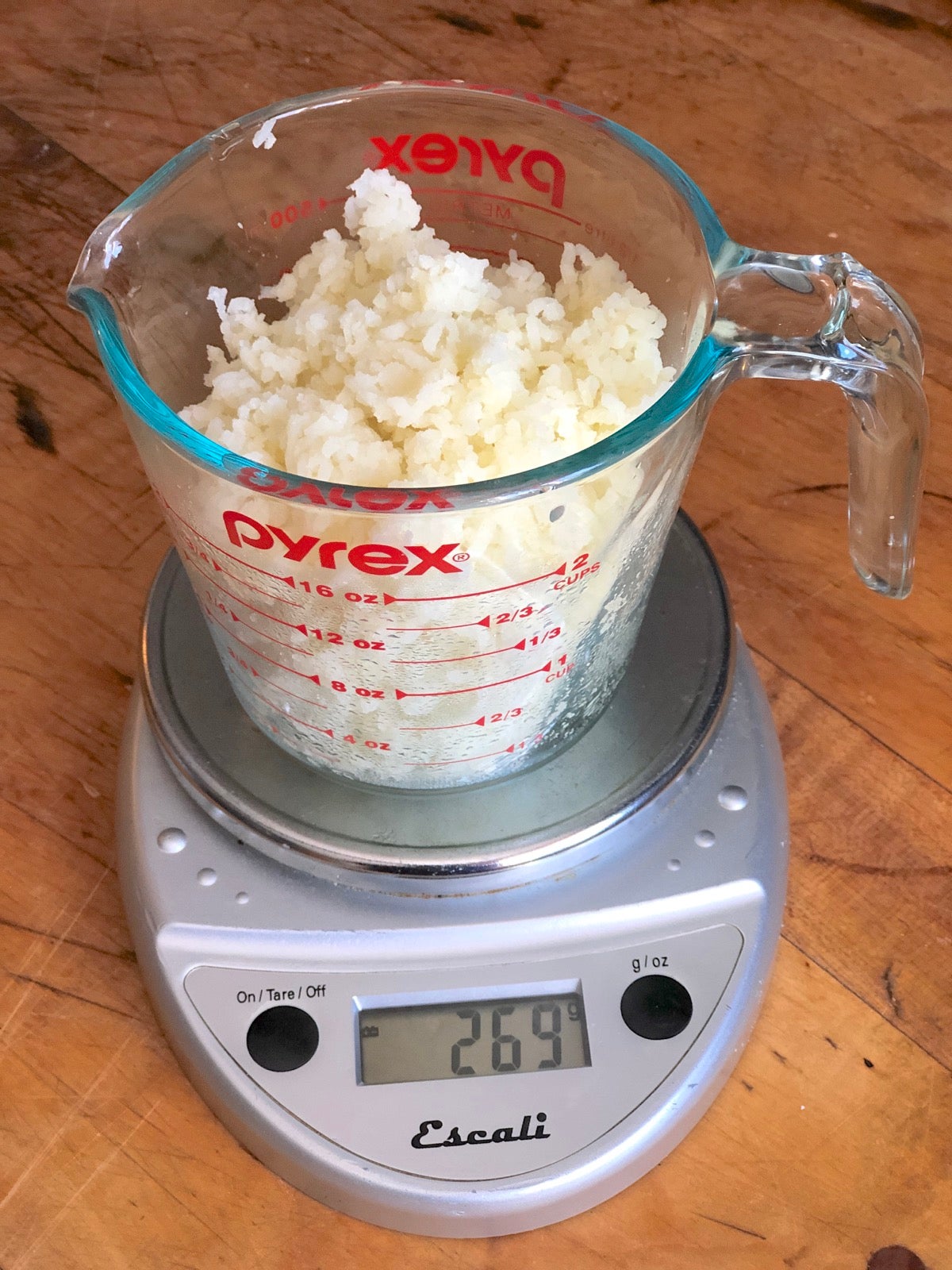 Grab a scale: The balance between potatoes, flour, and milk in lefse can be a bit tricky; you want just enough of each to produce a dough that's just barely strong enough to roll out. Thus measuring mashed or riced potatoes, which can vary a lot in volume depending on how much they've been handled, is best done using a scale rather than a measuring cup.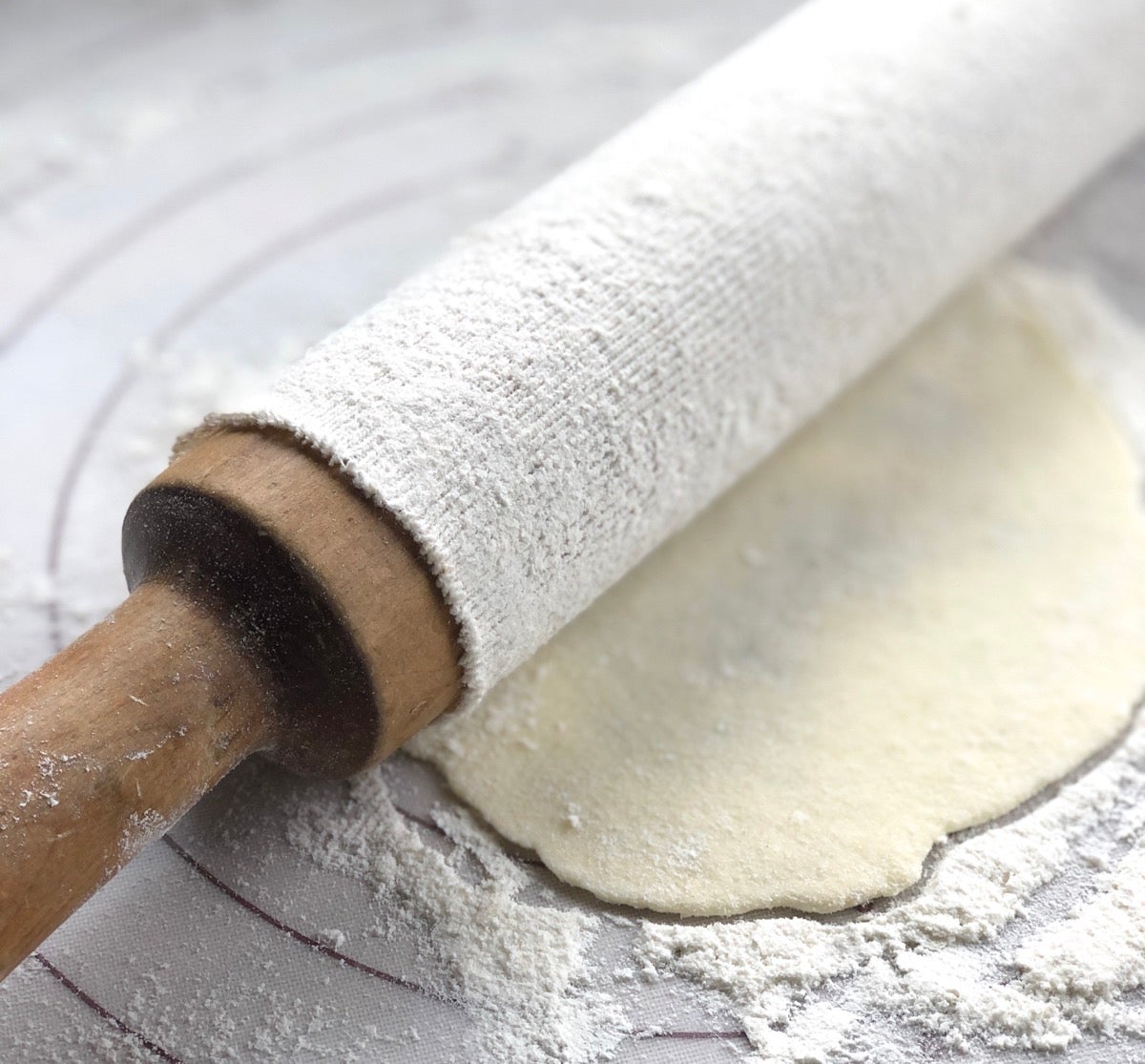 Nonstick rolling: My mom's old wooden pin, complete with its well-floured cotton cover, is the perfect tool for rolling delicate lefse dough. If you have trouble with pastry or any other kind of dough sticking when you roll it, get yourself a cover. Works like a charm!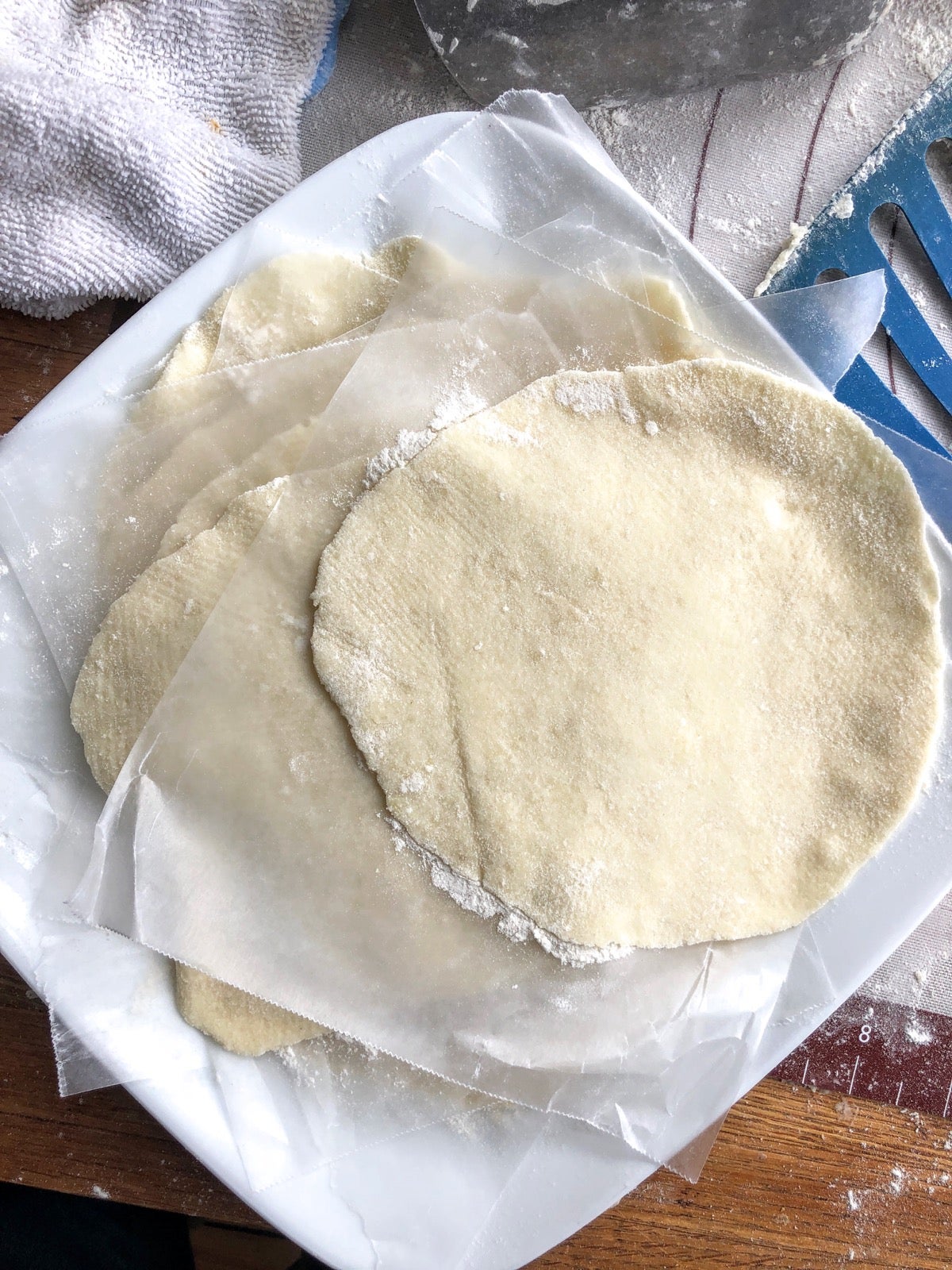 Do as I say, not as I (once) did: My mom always rolled her lefse out and cooked each one immediately. My brilliant idea, initially, was that I'd do all my rolling at once and simply stack up the rolled-out lefse with waxed paper between them. Wrong: they stuck to the paper like glue, despite their floury surface. So roll and cook, roll and cook. 
You may really want to do all your rolling at once. And I get that, I do; I'm not a big fan of rolling either, and like to get it over with as quickly as possible. You can roll the lefse out and place them on baking sheets or some other large surface as long as they don't overlap (or overlap only slightly). Keep them covered with parchment or plastic while you're cooking.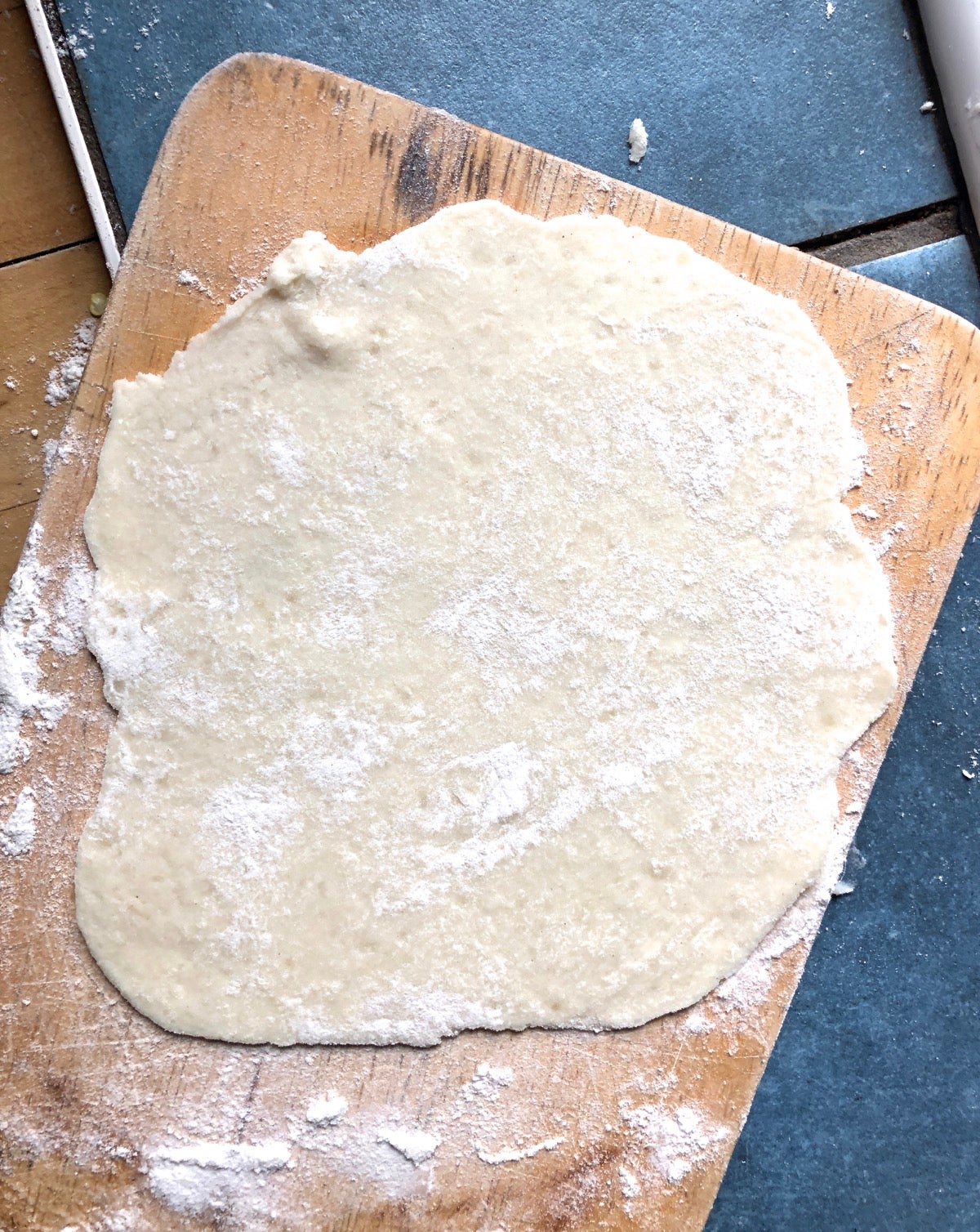 Do you have a small cutting board? If so, it's a handy tool for both rolling your lefse and moving it to the griddle. This 6" wooden board is the perfect size: I roll the lefse in a circle as wide as the floured board, then just slide it off the board onto the heat. 
Do you love "grandma" recipes? Here's another from my grandma, Norwegian Sour Cream Cake. And one from my King Arthur colleague Sue Gray's Swedish grandma, Scandinavian Gold Cake. (Be sure to read the "tips" at the bottom for the recipe's back story!)
Jump to Comments