We recently wrapped up the first year of our Bakealong challenge, and decided to take stock by asking for feedback from you, our readers.
An email and Facebook survey revealed most of you feel the recipes featured over the past 12 months were appropriately challenging and interesting, and the tips and photos were key to baking success.
One bit of information we hadn't expected: you want to try more international recipes. So we decided to kick off our second year of Bakealong with a classic Italian country recipe: focaccia.
Maybe you've tasted the American version of this flatbread, typically thick and tender with a soft crust. Easily split in half for sandwiches, our recipe for Blitz Bread: No-Fuss Focaccia is a good representative of the genre.
Now we'd like you to learn about true focaccia, the kind made in Italian towns from Genoa to Catania. Our Golden Focaccia Bakealong will show you how to create the real thing: Italian focaccia, usually a bit thinner than American-style, crusty and chewy and topped with olive oil, salt, pepper, and a scattering of herbs.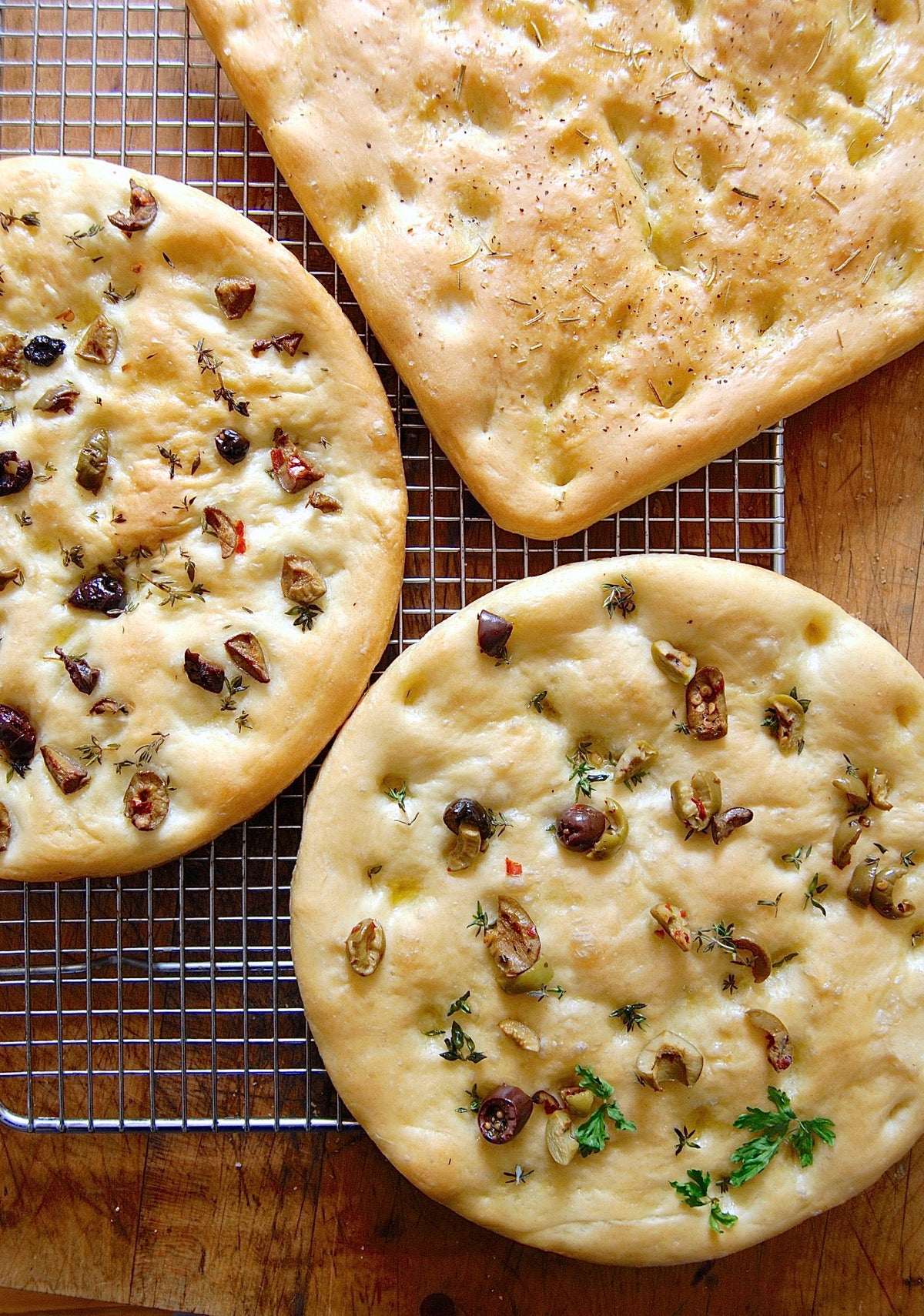 Fancy versions of focaccia will have chopped olives or onions, plus maybe a few curls of shaved Parmesan. But one trait common to all native Italian focaccia is this: there's no iconic recipe, and it's never made exactly the same way twice. Focaccia is a casual bread, enjoyed warm from the oven with family and friends — a dish made for sharing.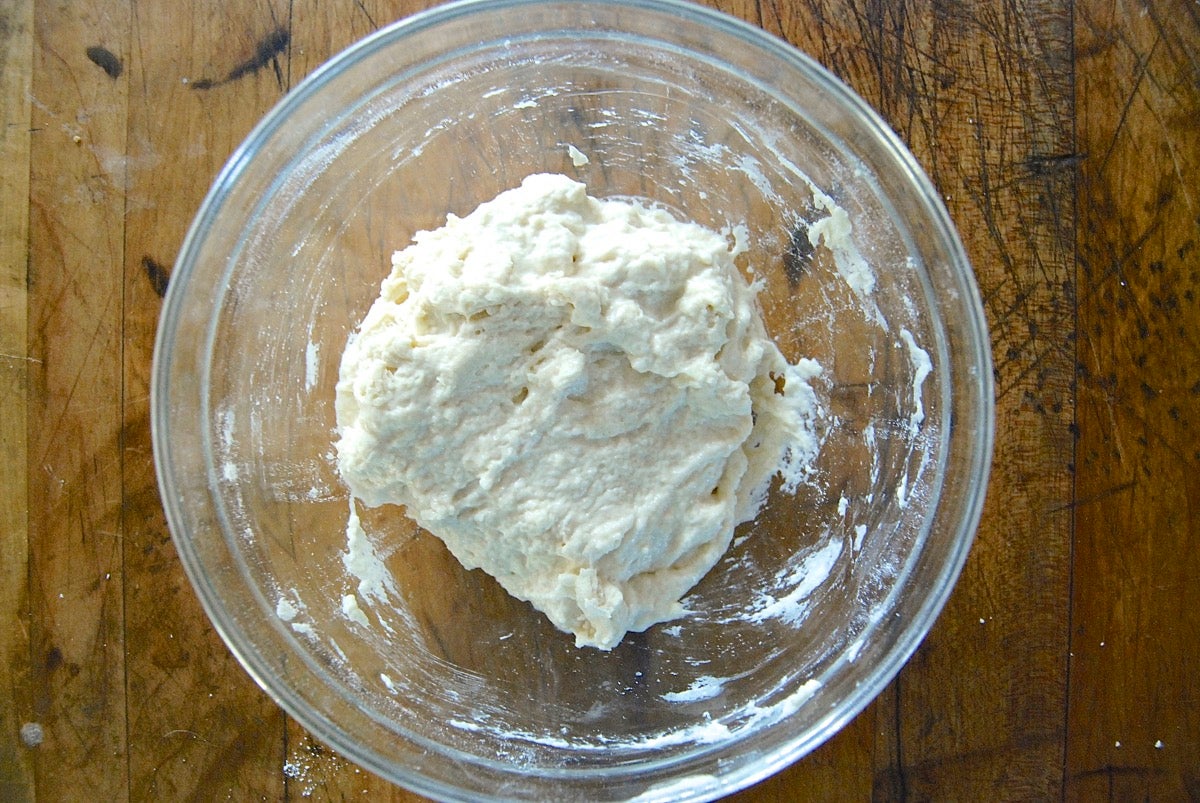 Make the overnight starter
1/2 cup (113g) cool water
1/16 teaspoon (a big pinch) instant yeast or active dry yeast
1 cup (120g) King Arthur Unbleached All-Purpose Flour
Mix the water and 1/16 teaspoon yeast, then add the flour, stirring until the flour is incorporated. The starter will be paste-like; it won't form a ball.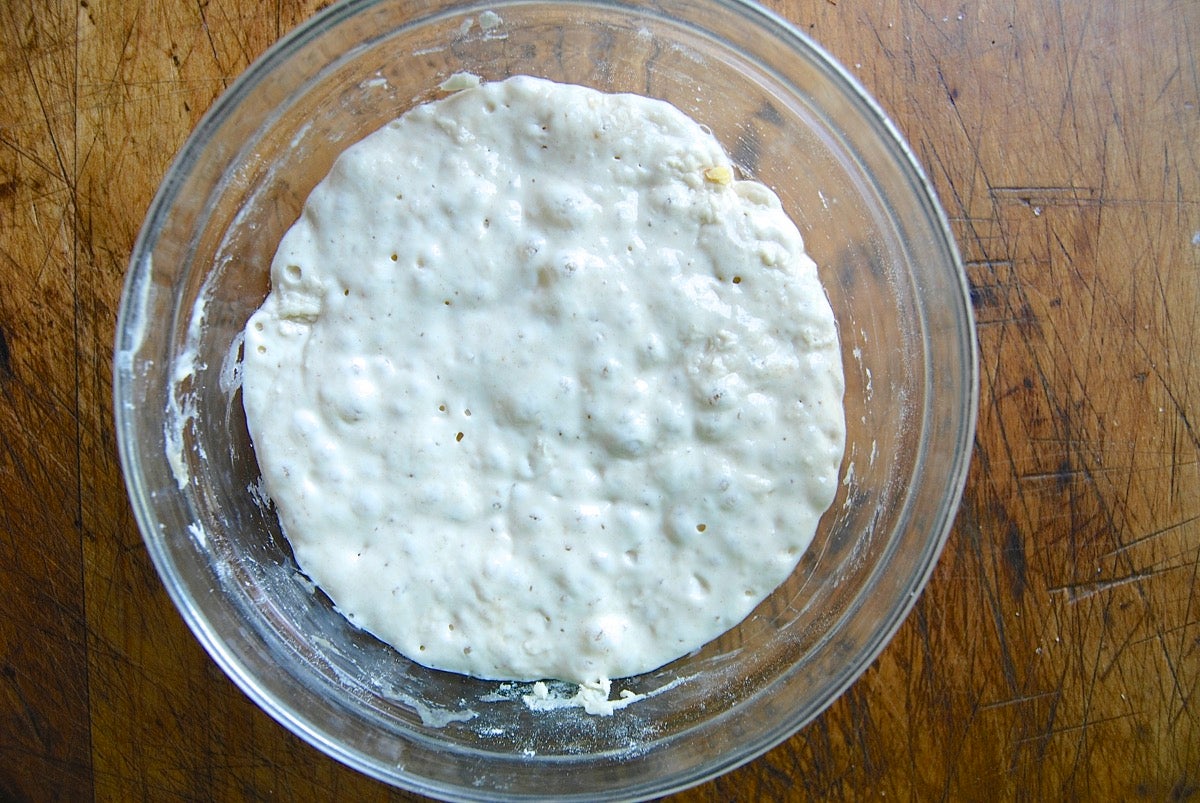 Cover and let rest at room temperature for about 14 hours; the starter will be bubbly. If you make this in the late afternoon, it'll be ready to go by the next morning.
The overnight starter does two things for your focaccia. First, it gives the yeast a chance to grow and really do its work, resulting in light-as-air flatbread with an appealing bit of chew. And second, as the yeast grows it releases organic acids and alcohol, both of which contribute immeasurably to the focaccia's flavor.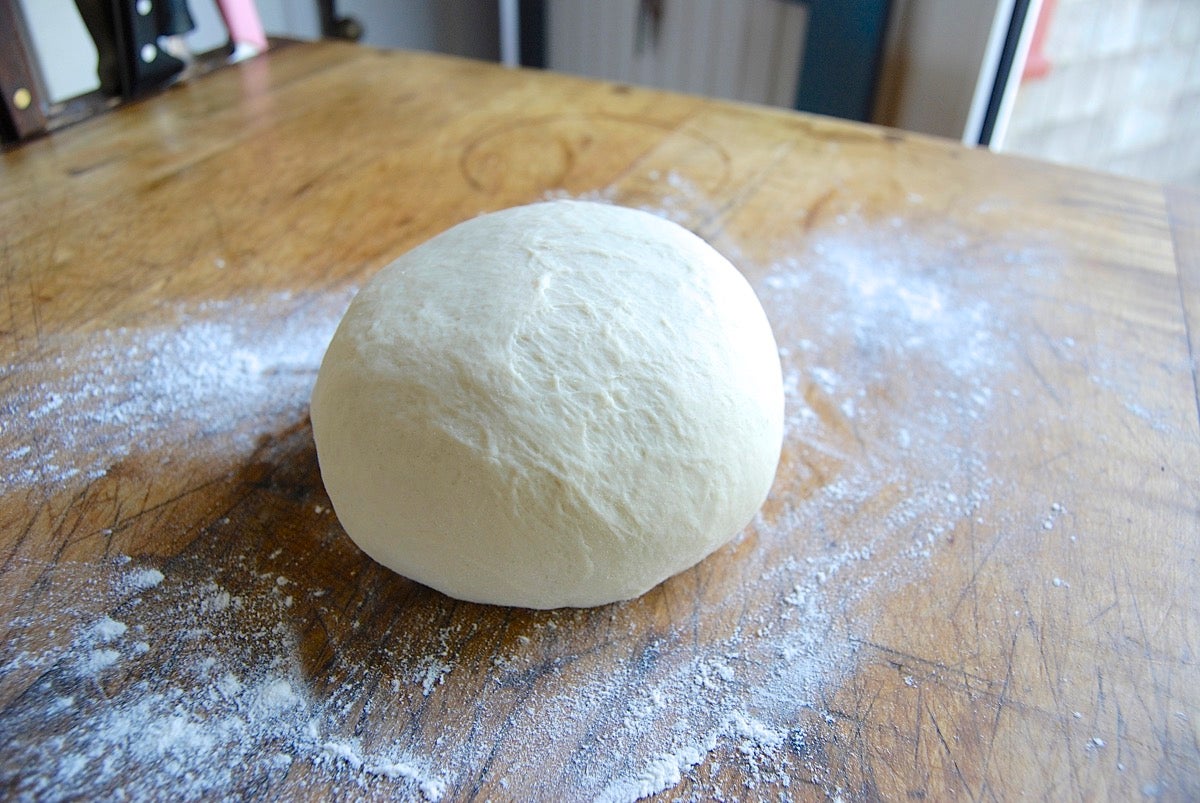 Make the dough
all of the starter (above)
2 1/4 teaspoons instant yeast or active dry yeast
1/2 cup (113g) lukewarm water
2 cups (241g) King Arthur Unbleached All-Purpose Flour
1 1/4 teaspoons salt
2 tablespoons (25g) olive oil
Combine the overnight starter with the remaining dough ingredients, and mix and knead — by hand, mixer, or bread machine set on the dough cycle — to make a soft, smooth, elastic dough. If you're kneading in a stand mixer, it should take about 5 minutes at second speed.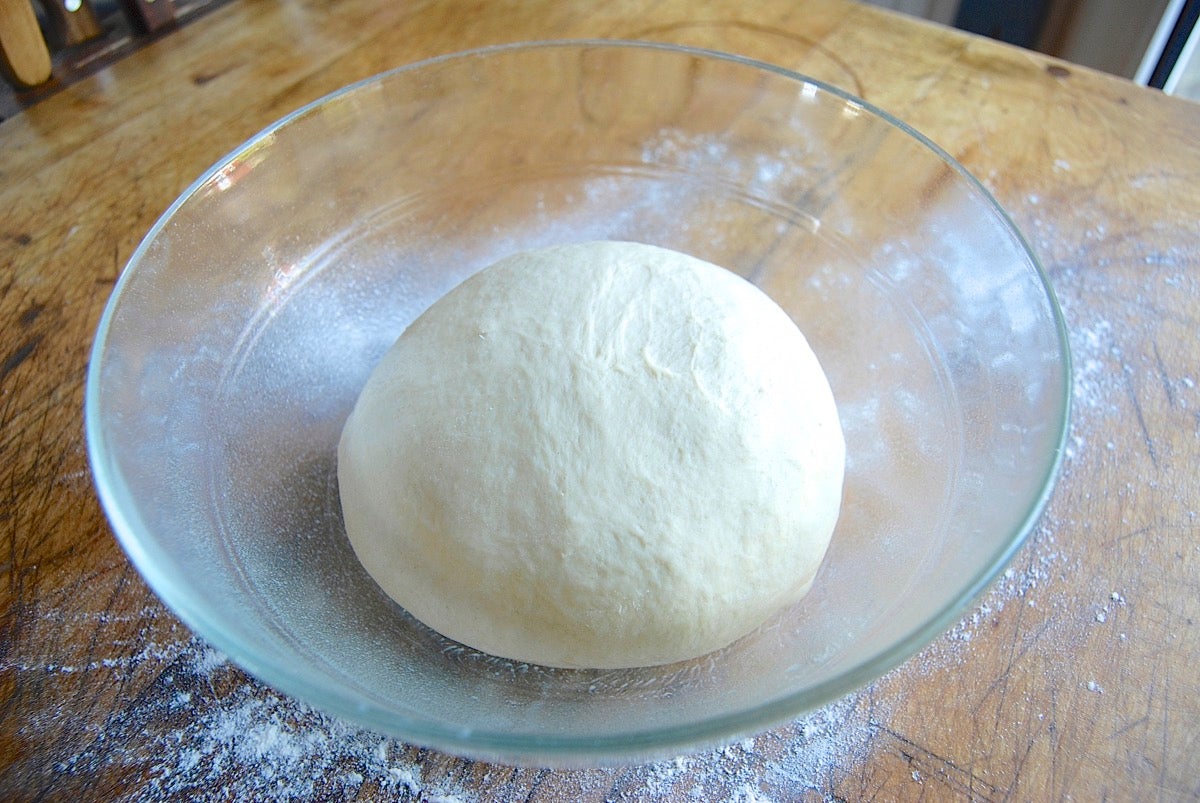 Let the dough rise
Place the dough in a lightly greased bowl, cover, and let it rise for 1 hour.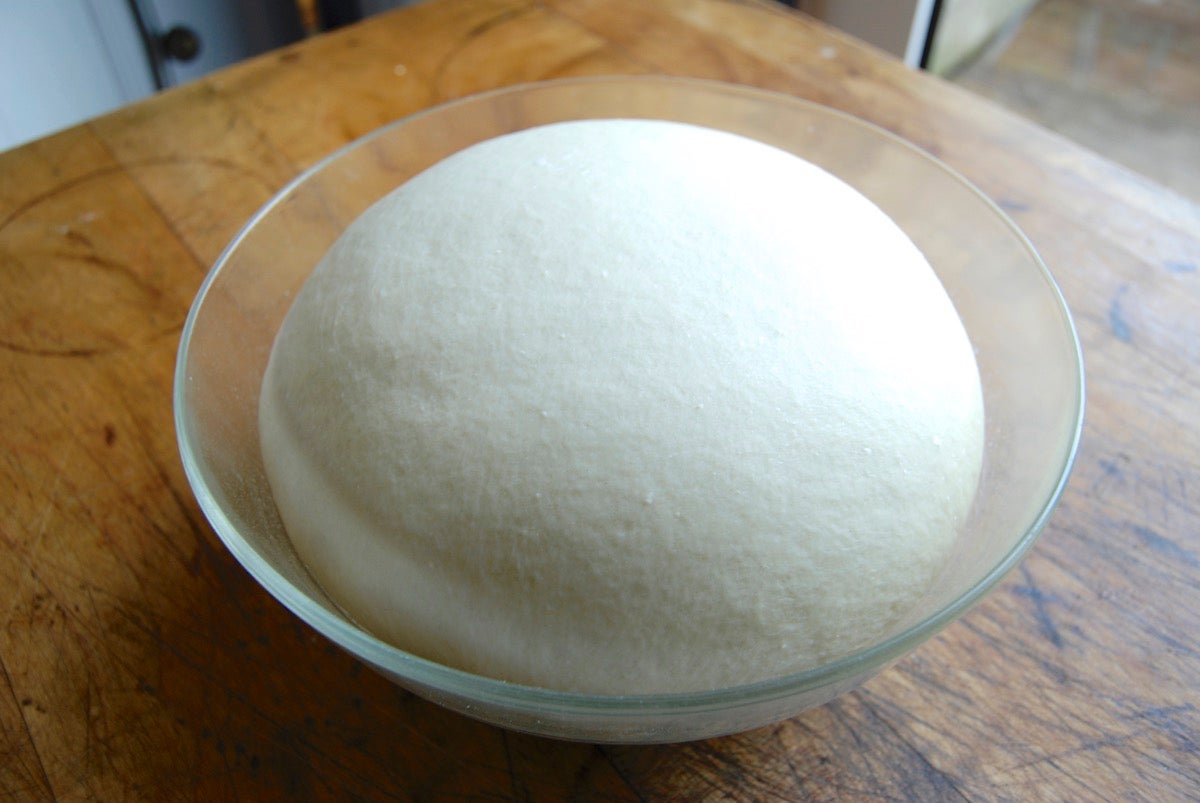 The dough will become noticeably puffy.
Select your pan(s)
A large baking sheet (e.g., an 18" x 13" half-sheet pan) will comfortably hold the entire batch of dough.
Want to make smaller focaccia? Try one of these options instead.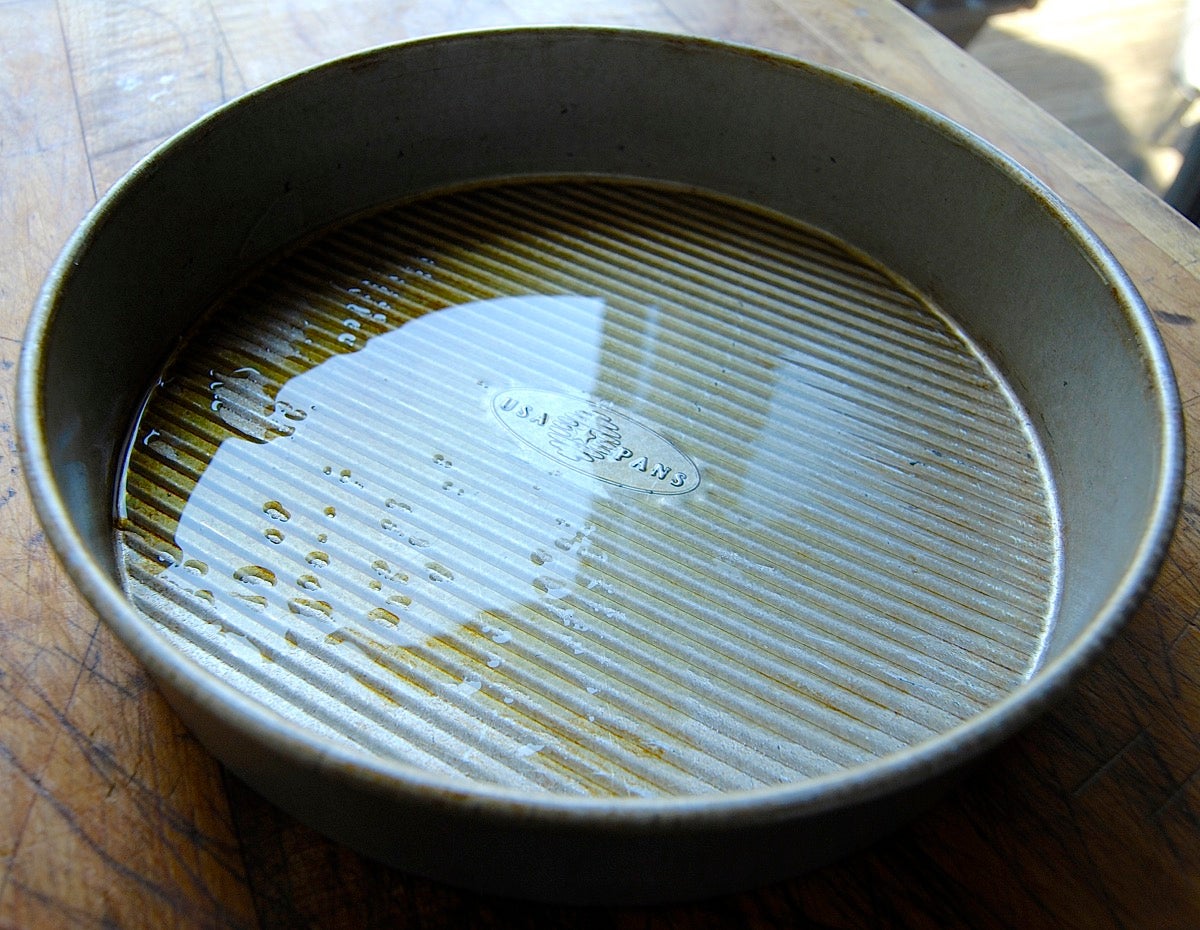 Grease and oil your pan
Use non-stick vegetable oil spray to lightly grease the pan(s) of our choice. Drizzle olive oil atop the spray — about 2 tablespoons is a good amount for a half-sheet pan; use less for each smaller pan, obviously. The spray keeps the bread from sticking, while the olive oil gives the bottom crust great crunch and flavor.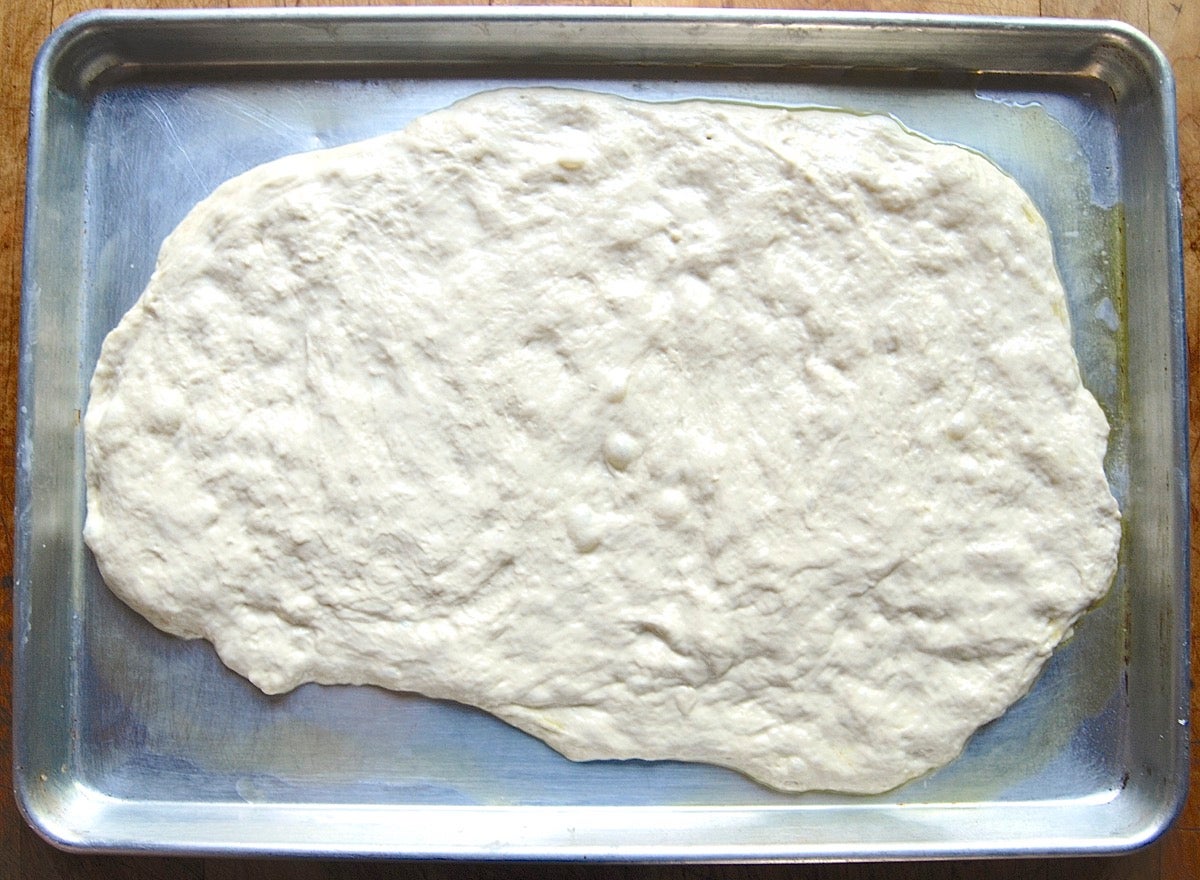 Press the dough into the pan
Gently pull and shape the dough into a rough rectangle, and pat it into the pan. For thinner focaccia (1/2" to 3/4" thick), pat it all the way to the edges of the pan. For thicker focaccia (3/4" to 1" thick; pictured above), don't pat all the way to the edges of the pan; leave an inch or so free around the perimeter.
Let the focaccia rise
Cover the pan(s), and allow the focaccia to rise for 30 minutes.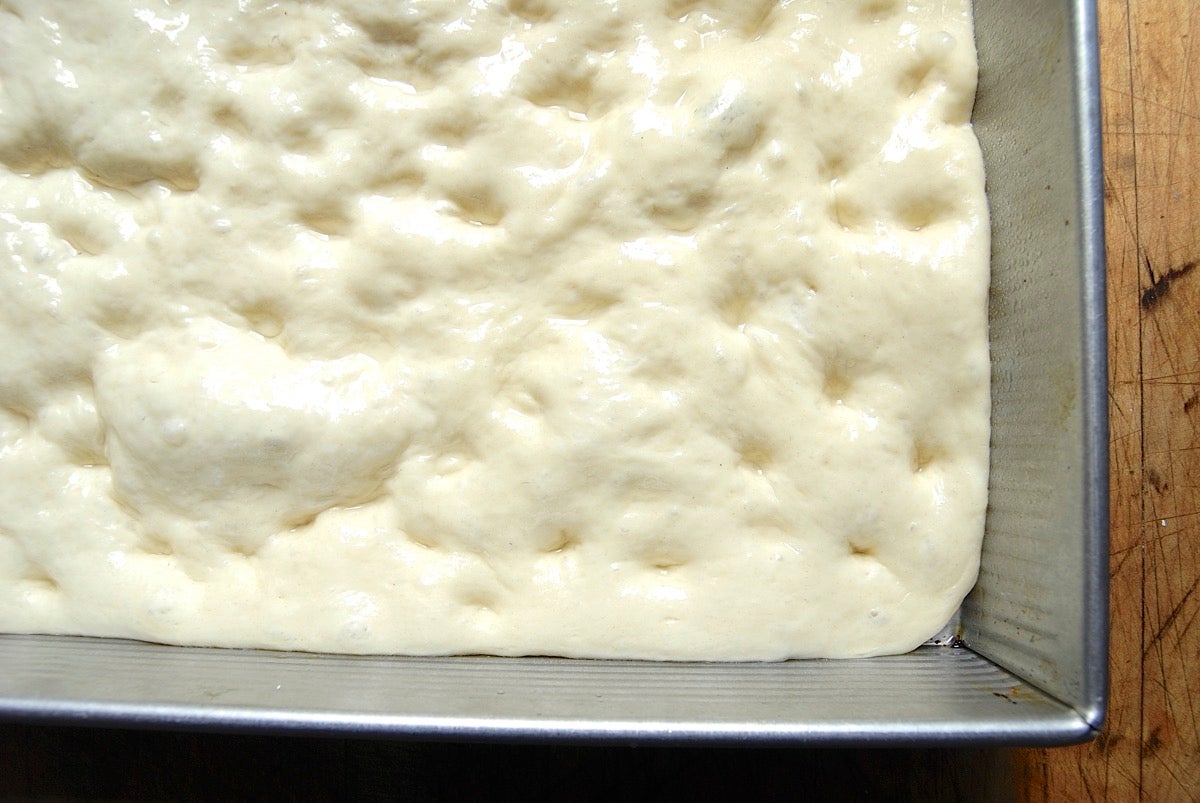 Dimple the dough
After the initial 30-minute rise use your fingers to make irregularly spaced dimples, pressing down firmly; your fingers should reach the bottom of the pan without actually breaking through the dough.
Let it rise some more
Re-cover the dough, and let it rise until it's noticeably puffy, about 1 hour. The dough should have expanded, but shouldn't seem fragile, or look like it might collapse.
Toward the end of the rising time, preheat the oven to 425°F. If you have a pizza stone or baking stone, set it on a middle or lower-middle rack.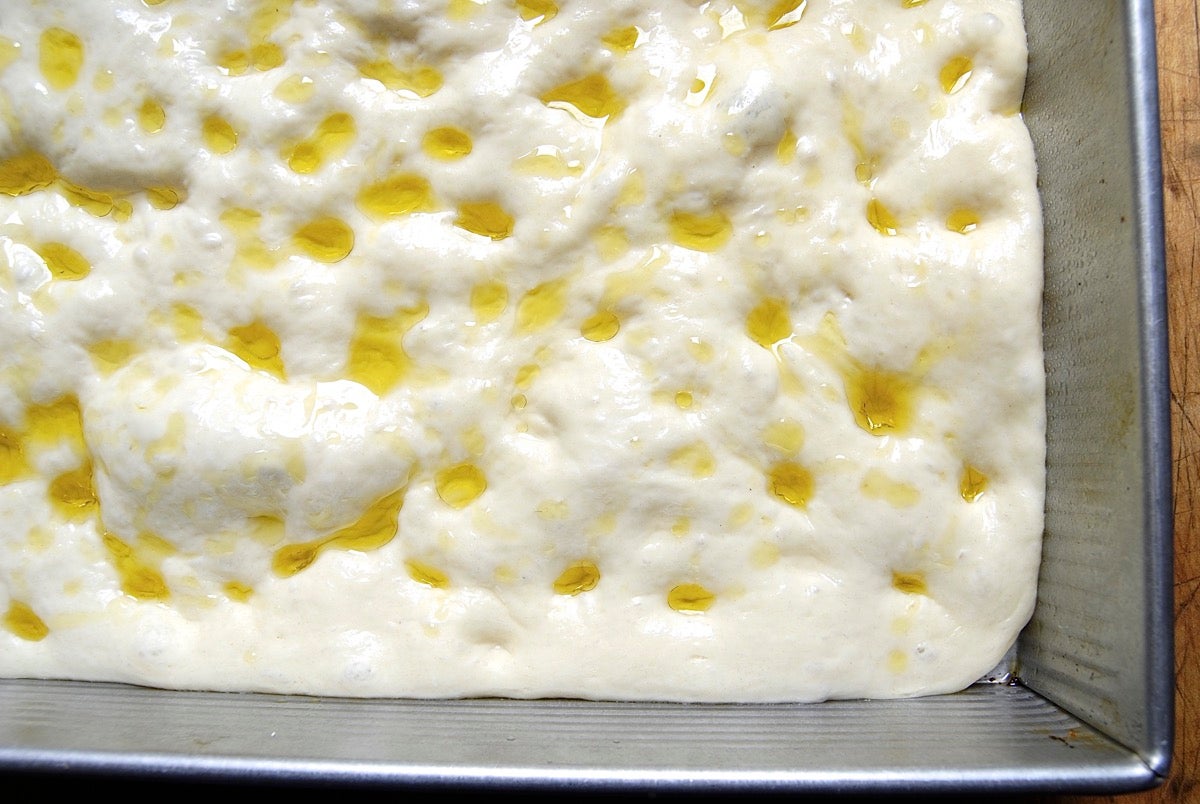 Add the toppings
Spritz the focaccia heavily with warm water; Italian bakers say this helps keep the interior soft. Drizzle with 2 tablespoons olive oil (or enough to collect a bit in the dimples).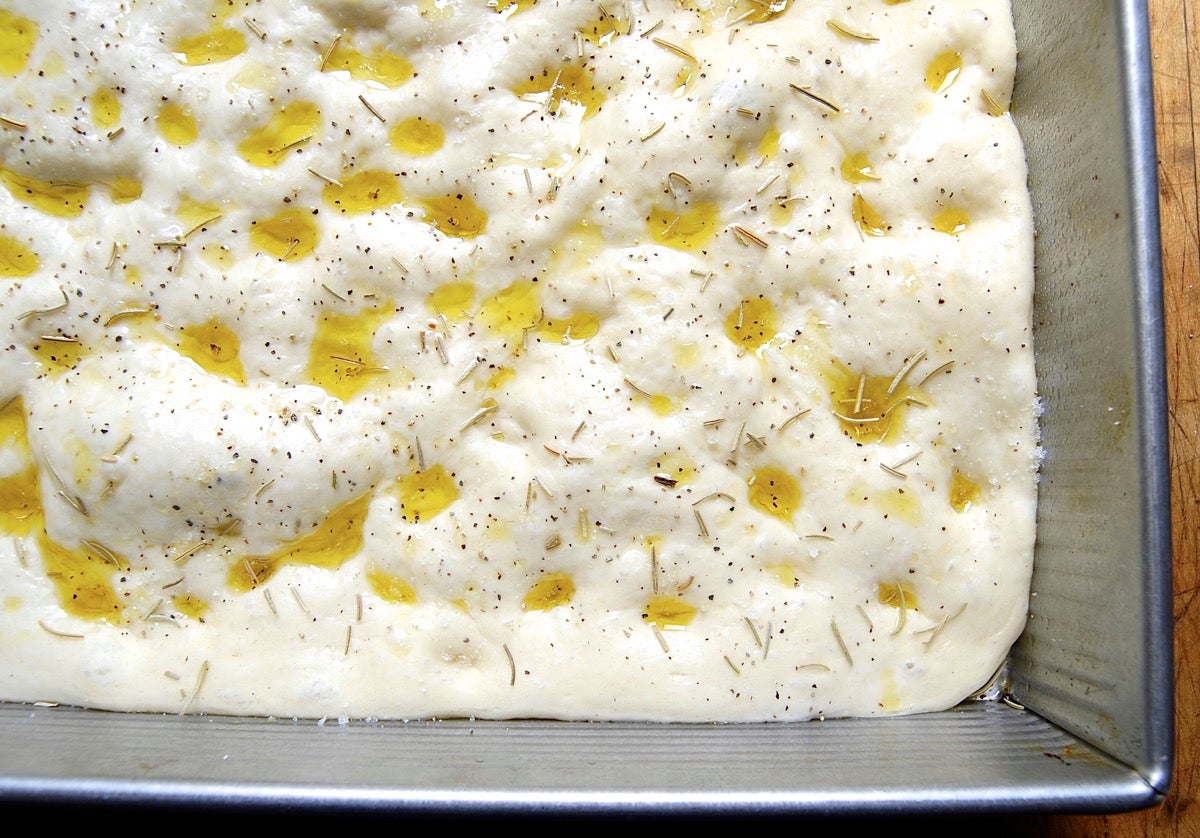 Sprinkle with rosemary (or the herb of your choice), black pepper, and coarse salt, to taste.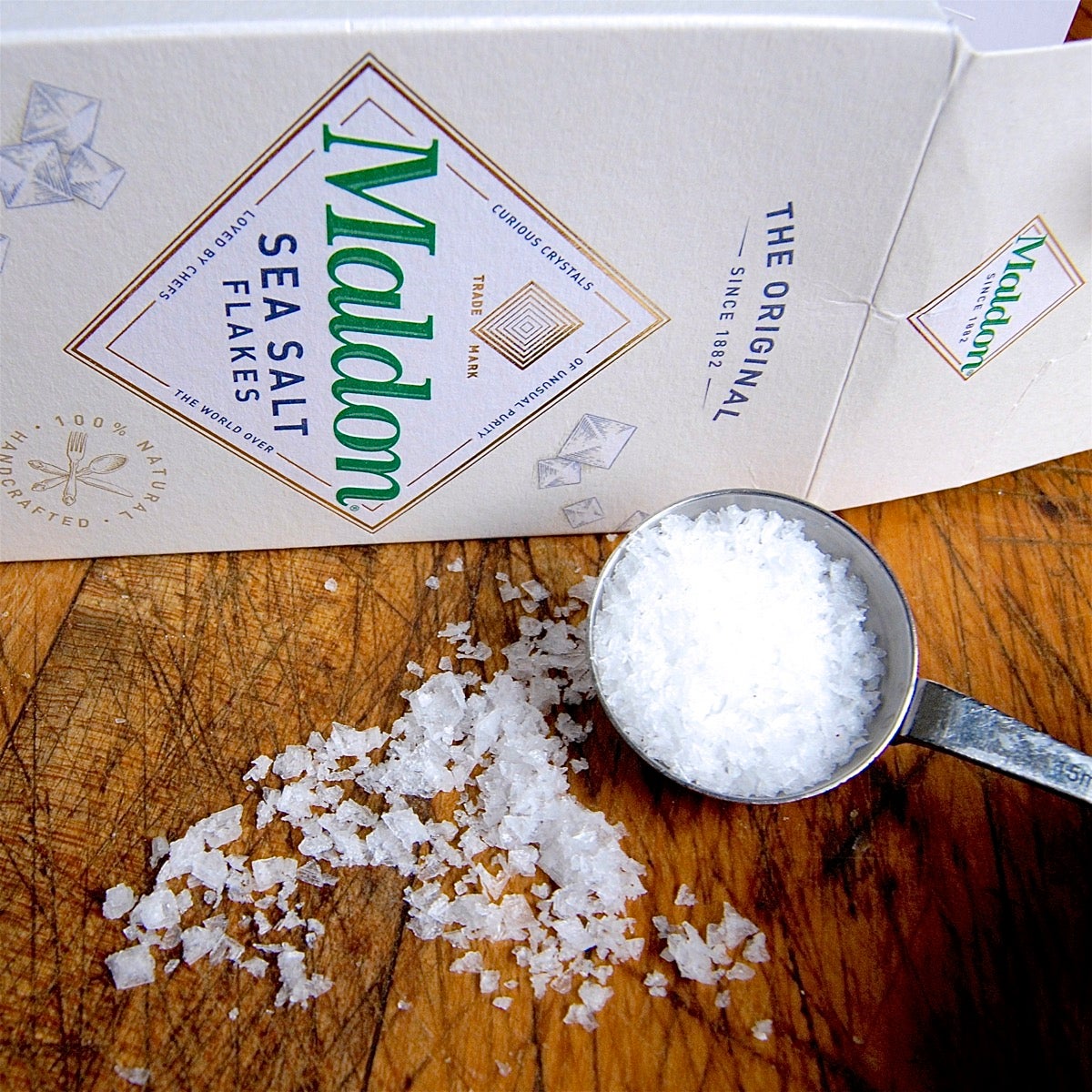 Choose flaked sea salt or kosher salt; the salt, pepper, and rosemary make a bold statement, and you don't want fine-grain salt getting lost in the mixture.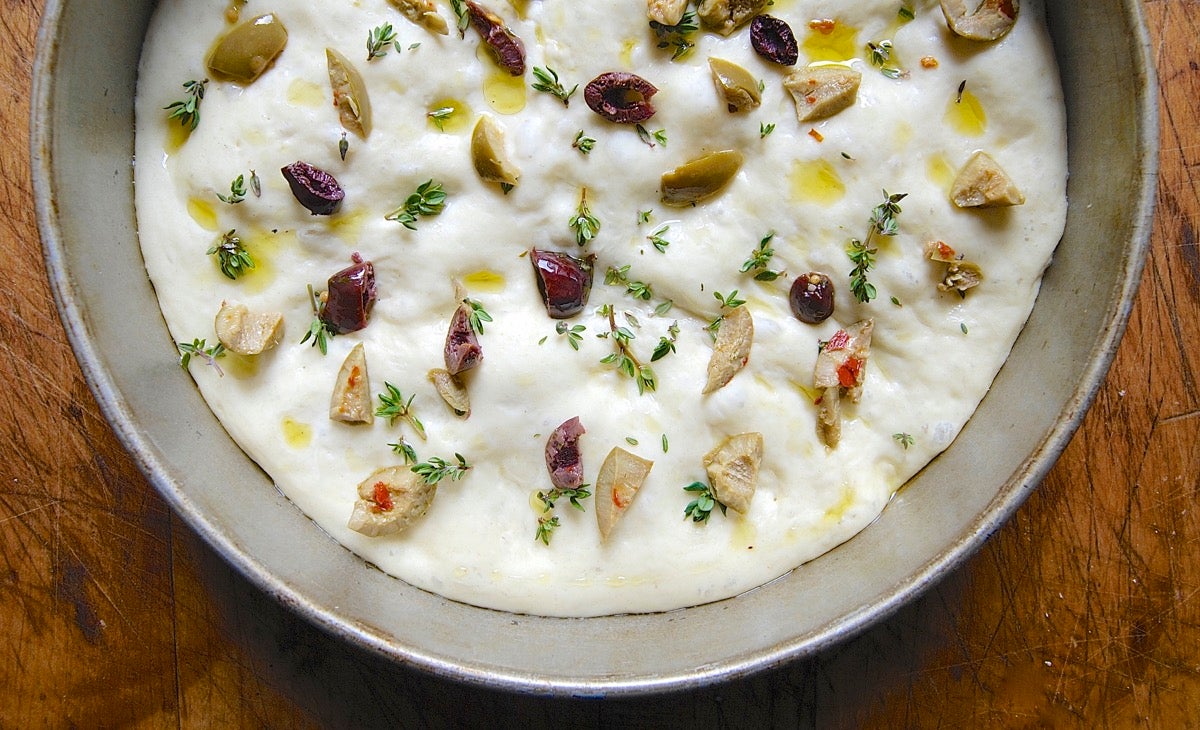 While often topped simply with herbs and sea salt, Italian focaccia also serves as a base for ingredients ranging from chopped olives, feta, and anchovies to sweet onions and capers. I've topped this round very simply with two types of olives and fresh thyme.
Use a light touch with any toppings; focaccia isn't pizza. But it's OK to be creative with these finishing touches.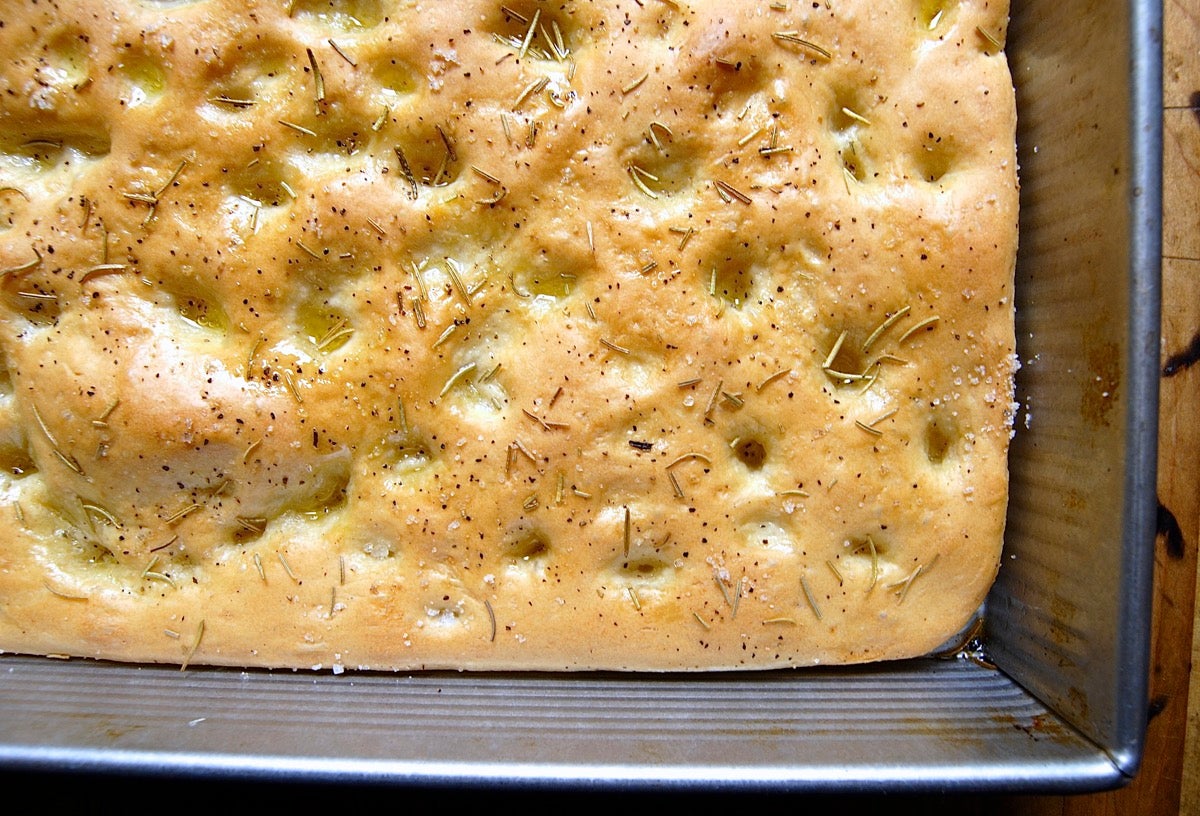 Bake the focaccia
Place the pan of focaccia onto the baking stone, or onto a middle oven rack. Bake the focaccia until it's light golden brown, about 20 to 25 minutes.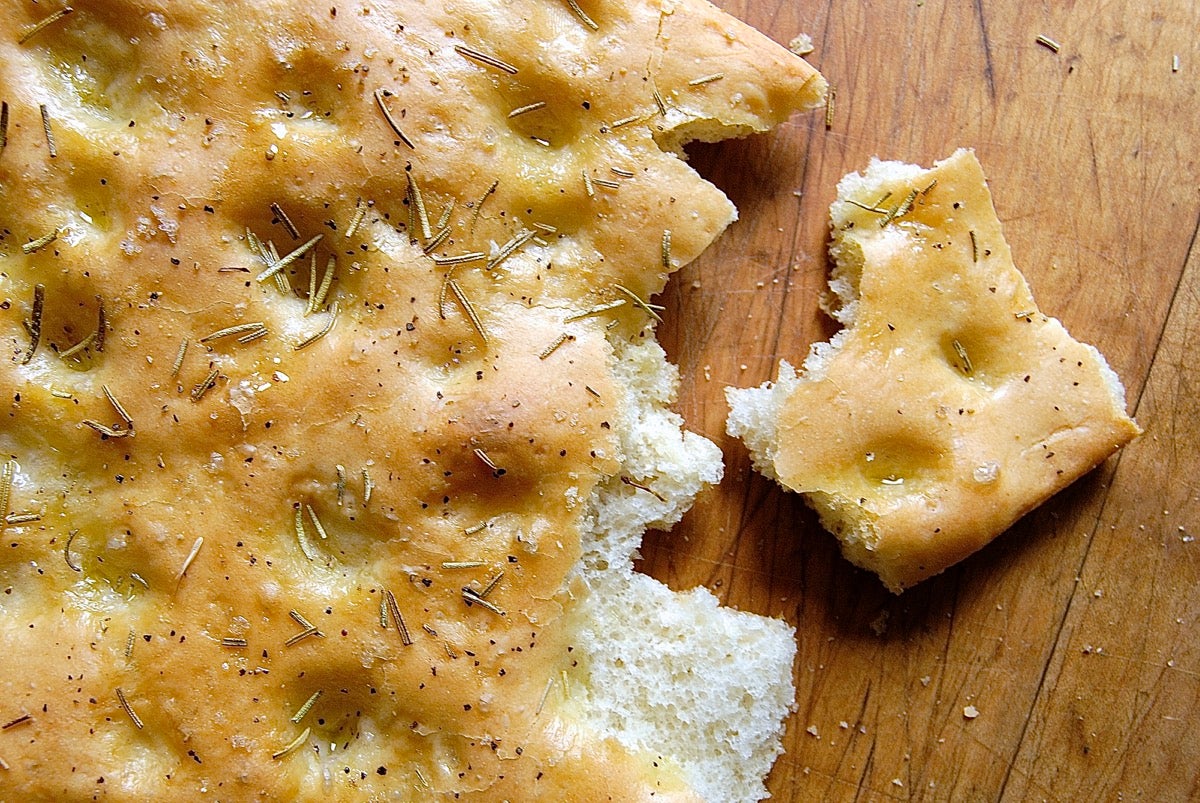 Serve with gusto!
Gather your friends. Open a bottle of wine. Enjoy focaccia hot from the oven, with pasta, or antipasto, or simply a saucer of garlic oil. But most of all, with laughter and love.
Focaccia is best the same day it's made. But leftovers can be successfully refreshed: slice and toast in a toaster, or place into a 350°F oven, heating just until warmed through.
Baking gluten-free?
We've got you covered! See our recipe for Gluten-Free Focaccia.
High-altitude adjustments
Do you bake at altitude? Check out our high-altitude baking tips.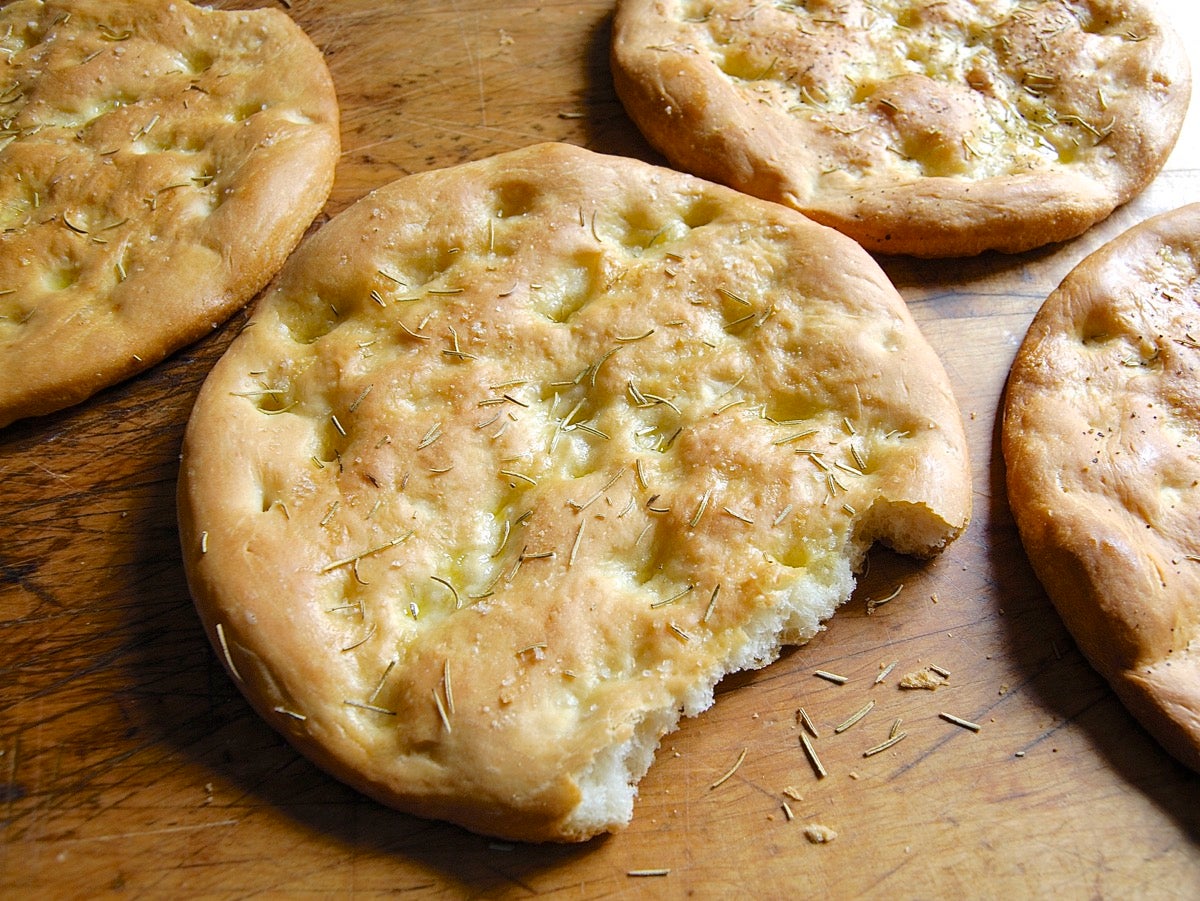 Interested in more? See our complete collection of Bakealong recipes.
Jump to Comments